To be honest, I was a little wary of going to Boracay in the Philippines. If you've ever taken a look at my blog header, then you know that I'm all about traveling off the beaten path, which Boracay definitely is not.
On my first day on the island I headed to White Beach, bracing myself for the hordes of tourists whom I would have to compete with for a spot on the sand. But when I got to the water, the scene I stumbled into was not what I had been expecting.
Probably because it was low season, about 90% of the tourists were Asian. And you guys know the funny thing about Asians at beaches, don't you?
They hate the sun and can't swim.
Okay, I'm obviously generalizing here, but it's a generalization based on four and a half years in Asia. In fact I spent two years on a tiny island in Japan with the most beautiful beaches I have ever seen, and they were always totally empty, even on hot hot summer days. It was crazy!
So what were all the tourists doing on Boracay, then?
Taking photos.
Seriously, White Beach was like one giant photo shoot. I self-consciously tugged at my baggy shorts as I passed through a crowd of gorgeous women in flowing dresses and – bafflingly – high heels. At first I was totally put off, but then I sort of fell in love with it.
Southeast Asians in particular really know how to pose for photos. None of that standing there and smiling stuff we love in America, or the cute but overdone peace signs of Japan. Or every travel blogger's favorite: the backwards-facing photo.
You guys, no. If my week on Boracay taught me one thing, it's that we need to step up our modeling skills. Luckily, one week gave me plenty of time to learn from everyone else on the beach. And lucky for you, I'm here to share those lessons, woohoo!
For my first two days on the island I shared a room with a girl I met on the boat over, and since she's from Indonesia she's an expert on posing for photos. My perfect introduction to the Southeast Asian photo shoot!
Lesson 1: Throw your arms up!
This felt very silly to me and I much prefer keeping my hands safely by my side, thank you very much, but when she was photographing me Stefy kept yelling "get your arms up!"
Lesson 2: Use props.
Seashells, rocks, fistfuls of sand – whatever you can find, but hold it up and make it look cute!
Lesson 3: Use a selfie stick!
Okay, so I may be a little out of touch here, but I had never seen a selfie stick before, except the ones people use with GoPros. But everyone on the beach had one, so I'm assuming they're everywhere now? Like, if you take a walk through Williamsburg you'll see all the hipsters using them to take their next Instagram selfie? Yes?
Update: Approximately 1 year later I think we all know the answer is a definitive yes!
Lesson 4: Walk through the waves kicking up water around you.
Even after carefully studying countless people doing this move, I just couldn't master it. The idea is to either look like you're having tons of fun splashing around OR stare out into the distance wistfully while kicking up water around you. I usually ended up smiling but forgetting to kick the water, or I would get the water up but be concentrating intently on the ground. Oops.
It looks really cool if you nail it, so I recommend spending the months leading up to your next beach trip practicing in your bathtub.
Lesson 5: Put on your prettiest outfit and take soft glowy photos just before sunset.
Okay you probably all know about golden hour already. But it was serious business on Boracay, with White Beach filling with a long line of people posing in the pretty light. Of course I set up my tripod and joined them!
Lesson 6: Photograph the sunset!
White Beach was crazy during sunset. It seemed like pretty much the entire island crowded onto the beach to take photos in front of it. At first it was too much for me and I just wanted to find a place to enjoy the sunset in peace, but then I realized how amazing it is for so many people to stop what they were doing to watch the sun go down – something that happens every day around the world!
Imagine if we always greeted sunsets with such fanfare. Businesses would announce that it was starting, and all the workers would file outside to admire it and take lots of jumping photos. Um, can we make that become a thing?!
Lesson 7: Take One Million Photos
I watched people spend hours posing for photos, just so they would get that perfect shot. I mean, it's not every day you're taking photos on Boracay! I sort of loved how little shame people had about it. Normally I feel like quite the prima donna getting out my tripod and camera remote for a little photo shoot.
But on Boracay no one even seemed to take notice of the blonde girl spending an hour trying to kick up water in a pretty way. It was so much fun to totally self-indulge like that. Because you know, blogging isn't vain enough.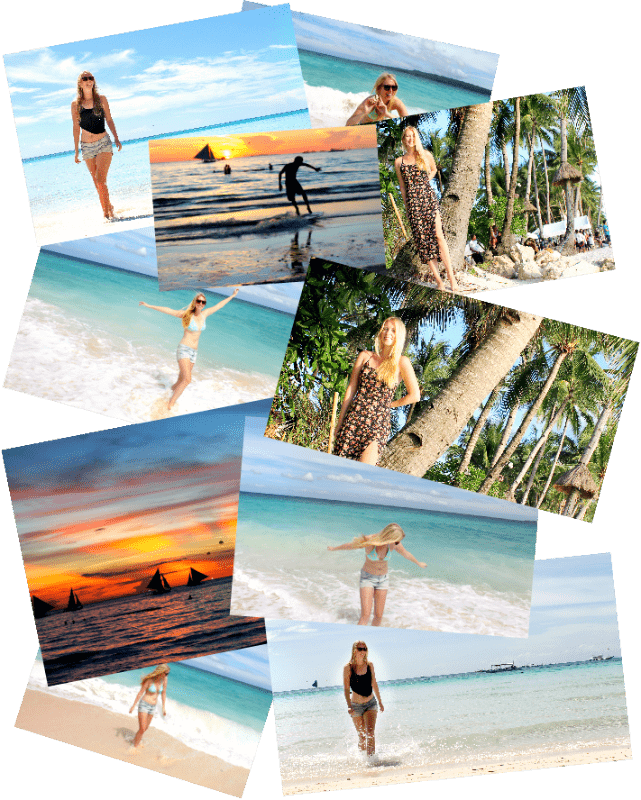 Okay so maybe these photos are also evidence of how bored I got being at the beach by myself. I did try my hand at another favorite Boracay activity: building sandcastles.
Ta-da!
Just kidding, I actually paid an island kid 20 cents to take a photo with his. I gave up on mine after just a few minutes, around the time all the locals started pointing and laughing at me. It's hard!
I loved that all the kids were building these, like Boracay's version of the lemonade stand. And if someone tells me in the comments that actually it's a terrible scam and their sandcastles are hiding places for drugs I will cry.
Did you find my photo tips SUPER useful? Of course you did. What's your favorite beach activity?
PIN IT!