A lot of people dream of seeing the Northern Lights and a trip up north to see them is kind of the most magical thing ever, but I also know that a lot of people are put off by the expense. A Northern Lights trip doesn't exactly sound budget friendly. Seriously though, why do the Northern Lights have to dance over some of the most expensive countries in Europe?
I think seeing the Northern Lights on a budget feels especially difficult because if you want the best chance of actually seeing the aurora, you'll want to make your trip as long as possible. That's not cheap.
But that's why I think Abisko might actually be the best place to see the Northern Lights on a budget, because thanks to its microclimate giving the village more clear nights than anywhere else under the aurora oval, you're almost guaranteed to see the Northern Lights if you stay for just 4 days.
Now, compared to Norway Abisko seems quite inexpensive, as Swedish prices are a lot lower than prices in Norway, but it's still Scandinavia so it's not exactly a budget holiday destination. But luckily I managed to get some inside knowledge from my friend Rachel who works in Abisko.
And she spilled all her secrets for how to visit Abisko on a budget!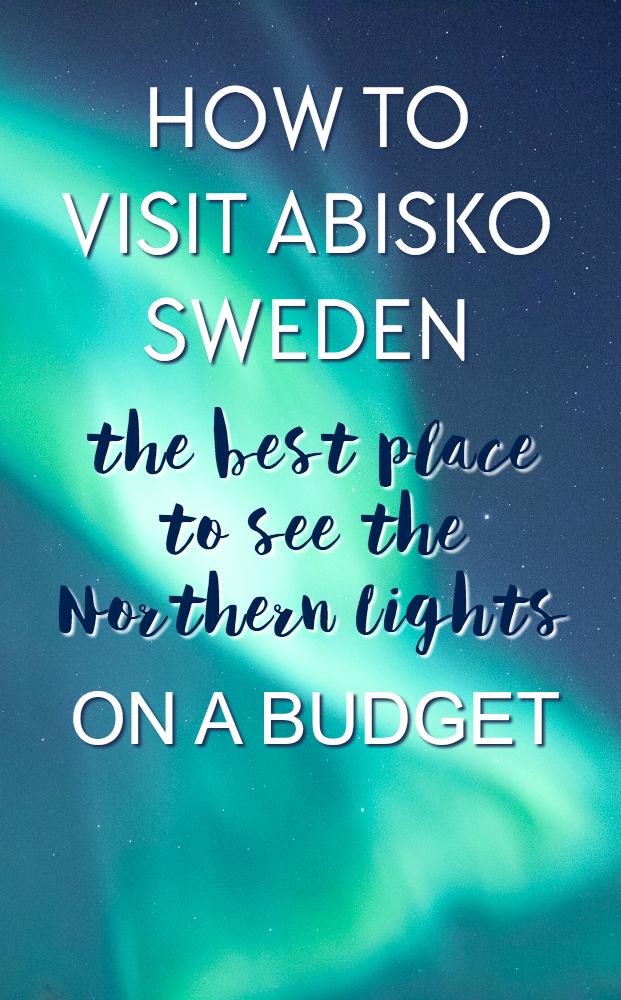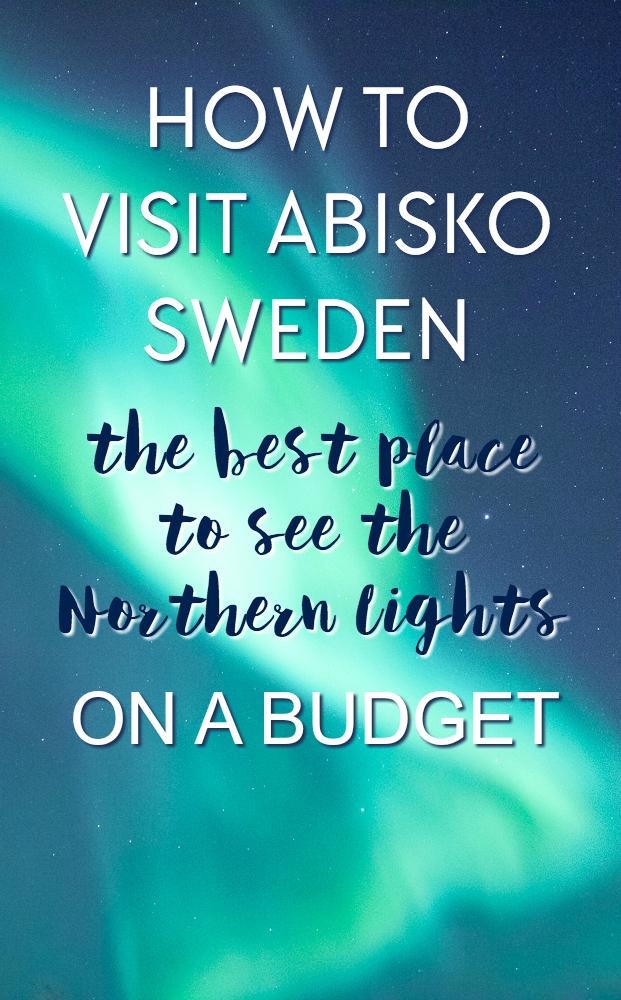 Getting to Abisko on a budget
First off, you need to get up to Abisko, aka the middle of nowhere. You can either:
Take the train from Stockholm (or Oslo!) to Abisko
The train takes a really long time, but I actually think it's the easiest option. You can book tickets on sj.se and you'll have two options from Stockholm: leave at 17:29 and arrive at 10:57 the next morning with no changes, or leave at 22:40 and arrive at 15:54 with one change in the morning.
When I last checked, one-way tickets cost around 900 SEK (100 USD) including a bed in a 6-bed compartment. You can also book tickets from Oslo to Abisko – you'll just have a short stop in Stockholm. My one-way ticket from Oslo to Abisko cost 1100 SEK (120 USD) and the journey took exactly 24 hours (!!).
The train also runs from Narvik to Abisko, if you're coming from Northern Norway.
I will say that the trains are quite old and don't have WiFi, but they'll drop you off either in Abisko Östra or the Abisko turistsation, which should be in walking distance to your accommodation.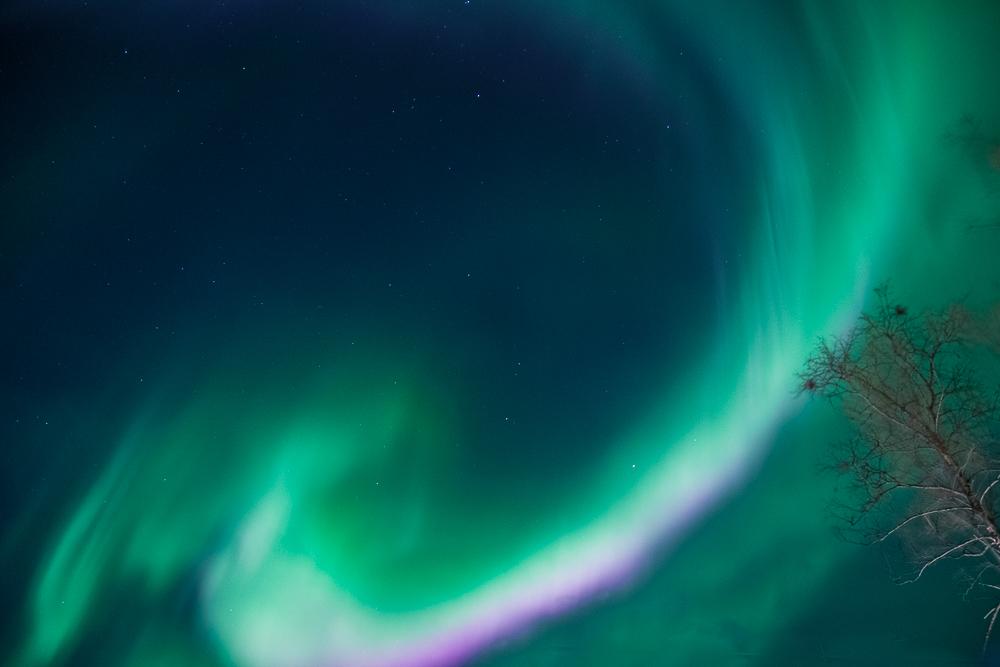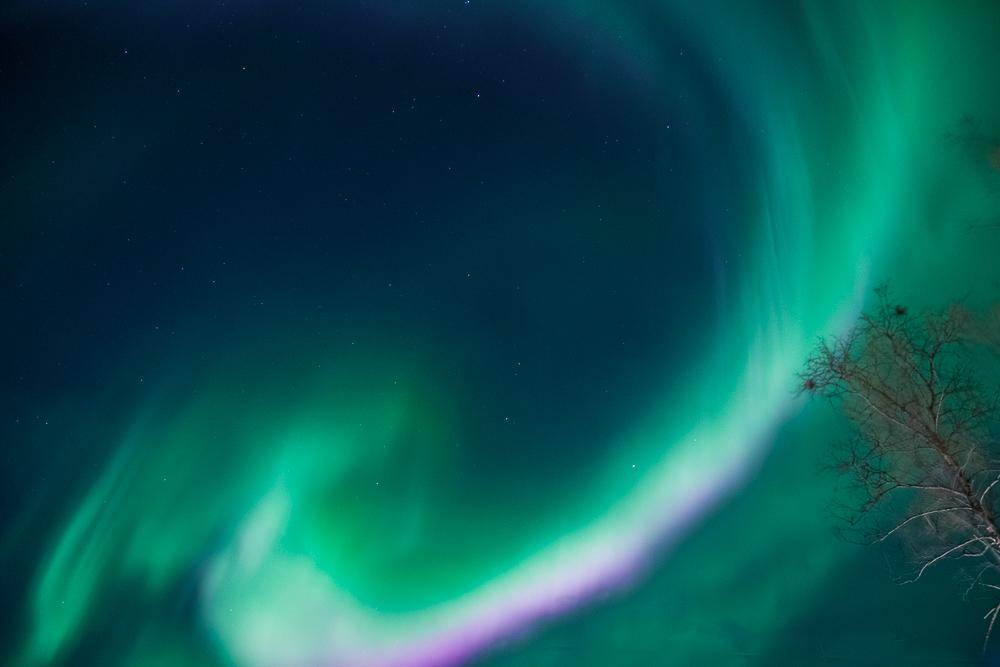 Fly to Kiruna
If you're short on time you'll want to fly to Kiruna, about 95 km from Abisko.
TIP: I just started using Kiwi to search for the cheapest flights and have found cheaper deals than on Skyscanner or directly through the airlines. The only catch is that they may charge more to add extra luggage later on, so make sure you know if you want checked baggage at the time of booking. 
A flight will of course get you up north much more quickly, but then getting from Kiruna to Abisko might be a bit of a hassle, depending on when your flight arrives. If you can time it right you can get the train from Kiruna to Abisko, but you'll have to either get a taxi from the airport to the railway station or walk.
You can also get a transfer directly from the airport to Abisko from Visit Abisko for 395 SEK, or there is a public bus but it doesn't run throughout the winter. I would at least try to figure out how you'll get from Kiruna to Abisko before booking your flight, because a taxi would be very expensive.
Budget accommodation in Abisko
Most of Abisko's accommodation is either in the village at the Östra train stop or by the turiststation train stop. There's also a hotel and some hostels in Björkliden, where the ski slopes are, but that could be a bit trickier to get to without a car.
In the village you'll find everything from dorms to private cabins, though be sure to check availability for your specific dates because some of the hostels are closed during much of the winter.
I've heard the best things about the Abisko Turistation STF and the Abisko.net Hostel & Huskies. Remember that in hostels in Sweden you'll usually have to pay extra for bedding (which usually is obligatory).
And if you can't find good budget accommodation in Abisko, I absolutely LOVED my stay at this Airbnb in Kiruna.
They offer husky sledding and lots of other tours and activities, but the best part is that the caravan is owned by two tour guides who also have a pack of huskies. They let you spend as much time with the huskies as you want – and you can even bring one of the huskies into your caravan at night! I wrote more about our stay at the husky Airbnb in Kiruna here.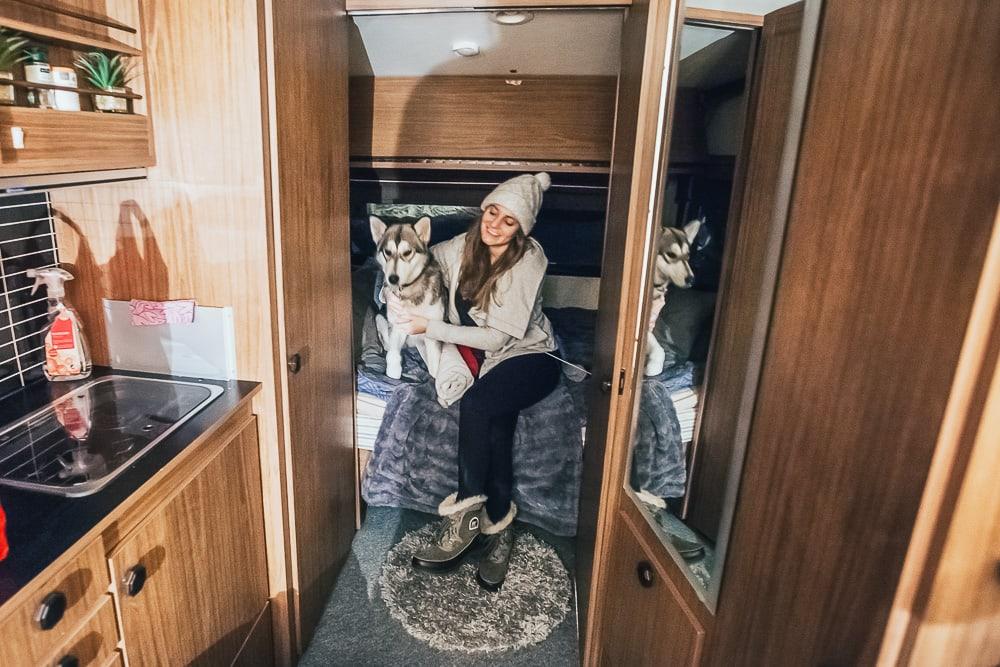 This is an especially great place to stay while hunting for the Northern Lights because you'll have an amazing time regardless of if you see them – because you'll be hanging out with huskies. It's also a good option if you're on a budget, because you don't need to book a husky sledding tour with them in order to hang out with the huskies (though I'd also recommend booking husky sledding with them if you can!). Check prices and availability here.
Where to eat in Abisko on a budget
Eating on a budget in Abisko can be a bit tricky, as (as of now at least) there's no grocery store in town. The sweet shop in the village does sell some food though, and I think they're meant to be expanding the food section soon. But if you're on a strict budget then you're best off bringing your own food to Abisko. The train station in Stockholm has a supermarket, so you can stock up there.
There's a food trailer outside the Abisko Guesthouse selling burgers, and the STF serves a breakfast buffet and lunch buffet for 120 SEK each – which I found a total bargain coming from Norway, but if you're from anywhere else you might not agree. I can at least confirm that the lunch buffet is delicious!
Björkliden Fjallet Hotel also serves a buffet lunch for 110 SEK and their dining room has an incredible view.
How to see the Northern Lights in Abisko on a budget
So it's helpful to join a tour to help you get away from the light (photo tours also provide cameras, which is helpful if you don't have a nice one yourself), but you definitely don't need to do a tour if you don't have the budget for it.
Instead you could go up to the Aurora Sky Station, which is near the STF and also walkable from the village. You have to book your ticket in advance, which will have you up there from 21:00-01:00. At 645 SEK (about 70 USD) it's still quite expensive, and although I didn't visit it myself, I did hear some complaints that it can get quite crowded.
Personally I think you might be best off just watching for the Northern Lights on your own! You can walk down to the harbor from the village and look north towards Mt. Noulja (where the sky station is located). It's really dark there, so if there's a chance to see the Northern Lights you should be able to down there!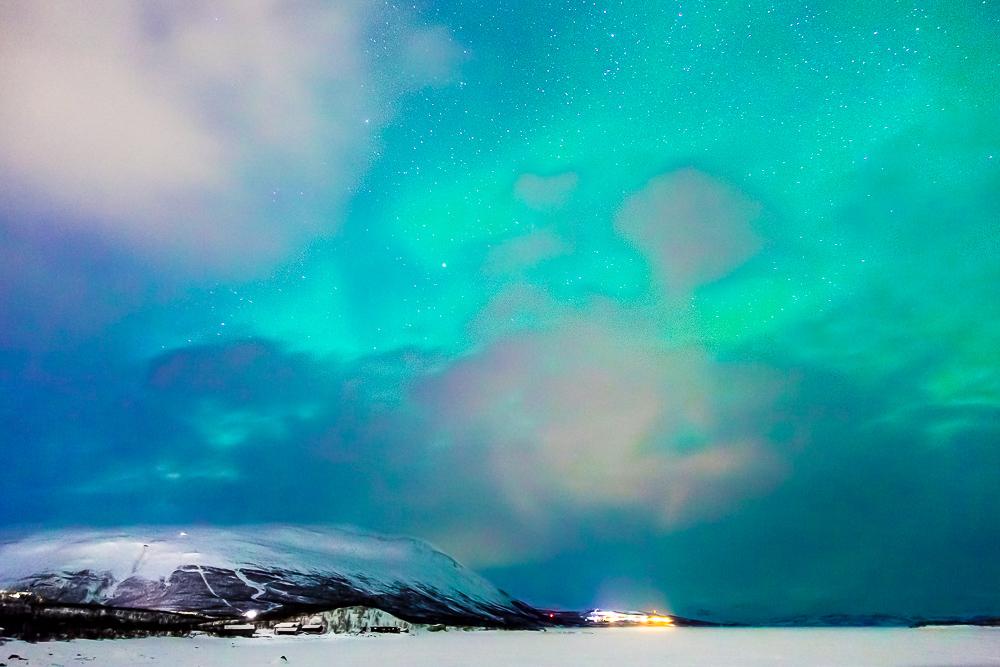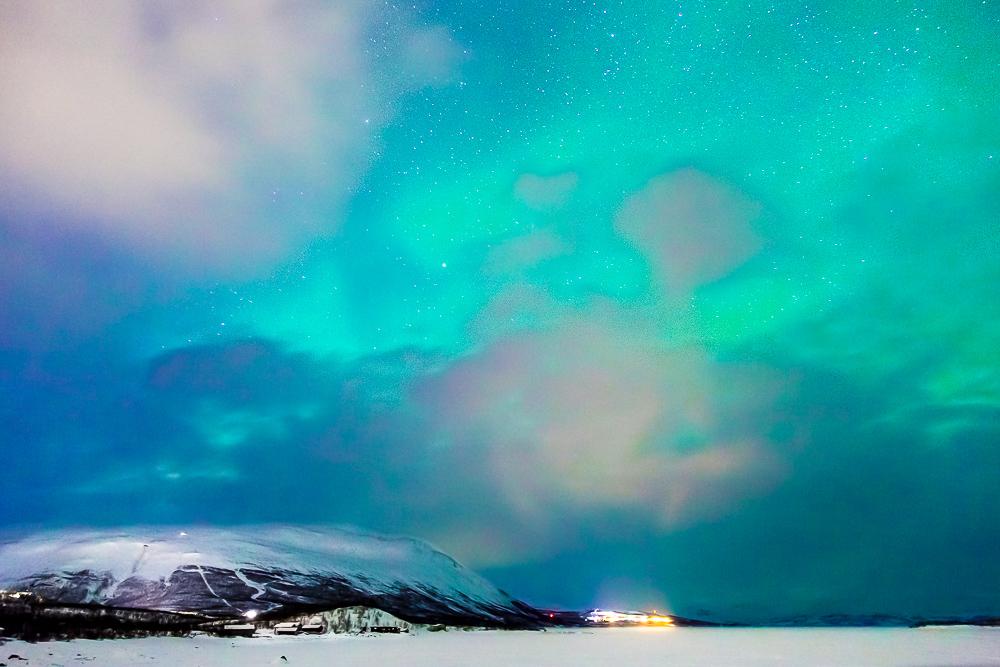 the view from the harbor
But if there's strong aurora all you really need to do is get away from any light sources, if even just a few meters.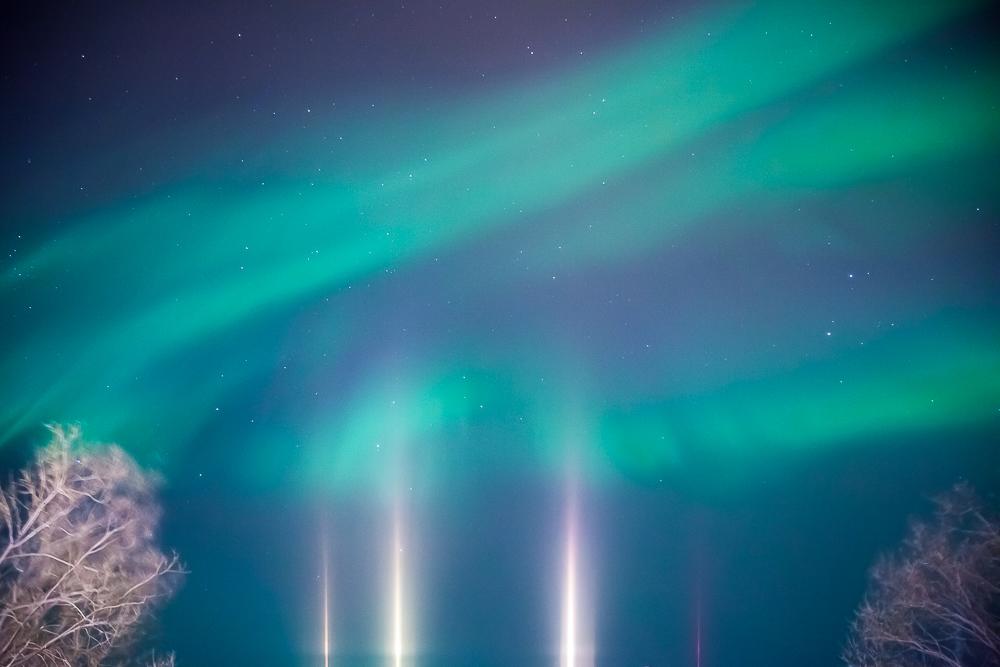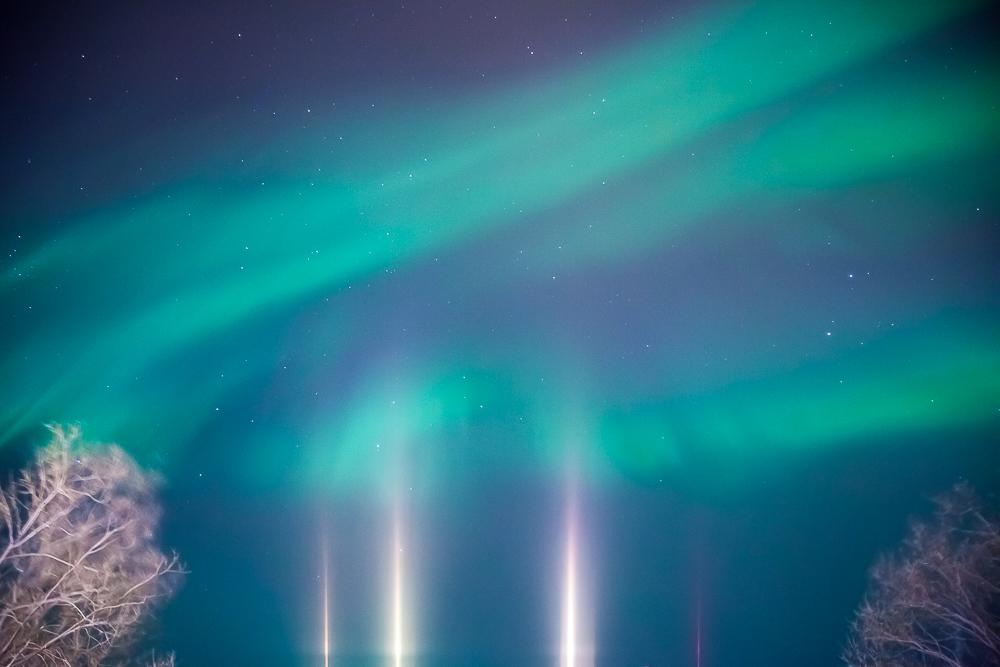 the verticle lines are light pillars!
The best aurora I saw in Abisko happened when I was in a well-lit bus depot and they were still spectacular! If you're not outside you can just keep an eye on the Aurora Webcam to see if you need to run outside. Just remember, sometimes the Northern Lights will only appear for a minute or two, so if you see them get outside as quickly as possible!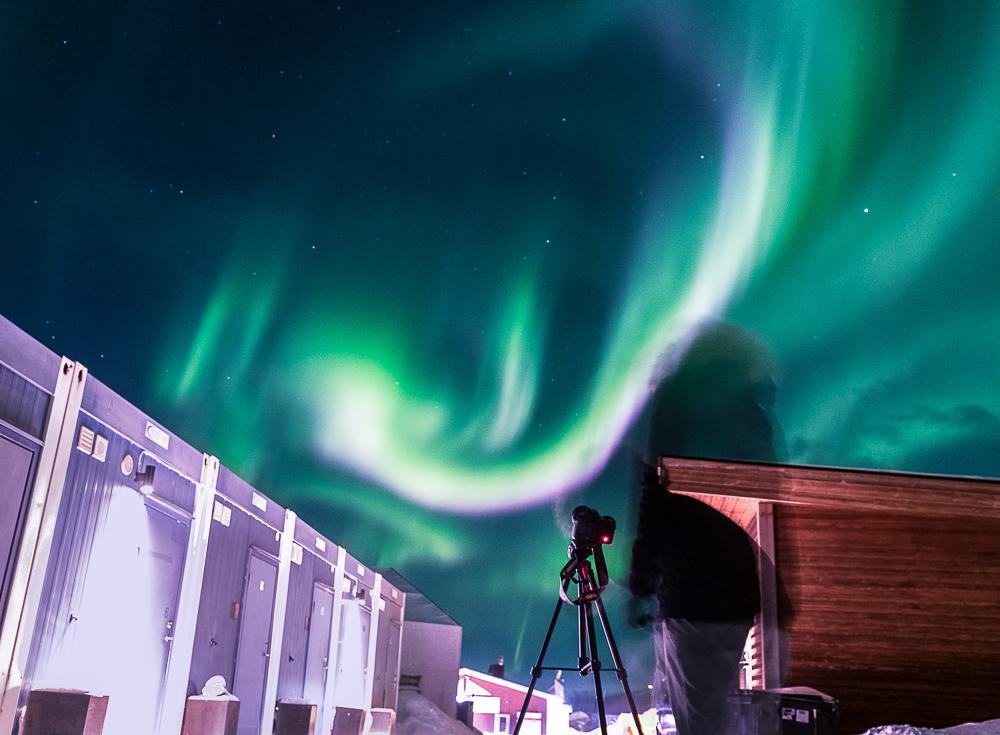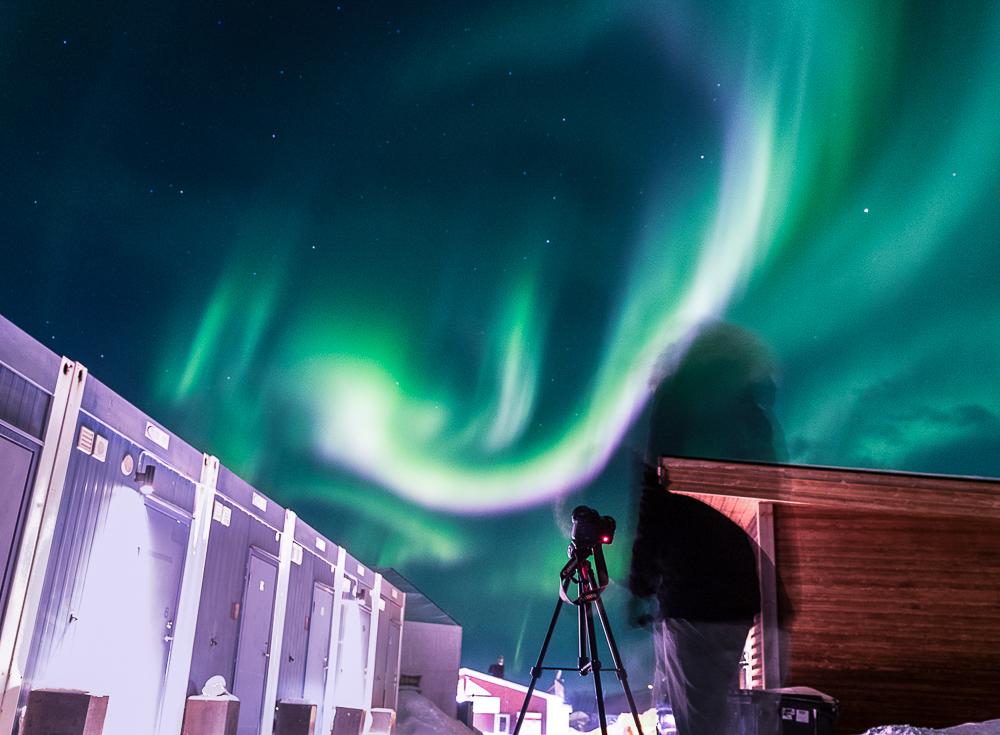 photo sneakily taken by Rachel
Northern Lights Guide!
I've also written an in depth ebook covering all aspects of planning your Northern Lights trip, including the best places in the Nordics to see the Northern Lights, the best time to see the Northern Lights, my top accommodation choices, tour options, how to chase the Northern Lights (including which apps I use), how to photograph and film the Northern Lights, what to pack for your trip, and other exciting Arctic activities to try on your trip up North.
If you want to ensure you have the best Northern Lights trip possible, you can purchase the ebook here.  
Final tips for seeing the Northern Lights in Abisko
Accommodation and tours in Abisko can book out really early – in fact while I was there in mid-February Rachel was telling me that some night tours for next winter were already fully booked. So plan in advance, especially if you want to find cheap accommodation!
Rachel also said that October and November can be really good for seeing the Northern Lights, as it's much quieter in Abisko then and not as cold (though that can also mean no snow).
If you want to know more about life in Abisko you can follow Rachel on Instagram @drivingchriscrazy. And then you can also see the inside of her amazing home, where I spent my week in Lapland! She spends her winters in Abisko and summers traveling.
You can find my packing tips for cold destinations here, and here are some of my cold weather essentials:

If anyone has any tips to add, please share in the comments!