I visited Salt Lake City as part of a paid campaign with Visit Salt Lake
Pretty much the only reason Anna and I decided to stop in Salt Lake City was that we were going to be spending a lot of time in national parks and rural areas on this trip and we figured that we'd need a bit of city time as well. And Salt Lake City is a city.
That's pretty much all I knew about it?
I mean, I also remembered from the 2002 Winter Olympics that Salt Lake was surrounded by lots of pretty mountains. But this was supposed to be our time away from the mountains, on the fun city break I had promised Anna when booking all those glamping sites in national parks.
So I crossed my fingers and toes that we'd be able to find a nice restaurant or two, and maybe they'd have a Sephora? And a Madewell, because I ruined my jeans in Zion and we don't have Madewell in Norway.
Salt Lake City certainly did not disappoint, and in fact whoa did it blow us both away.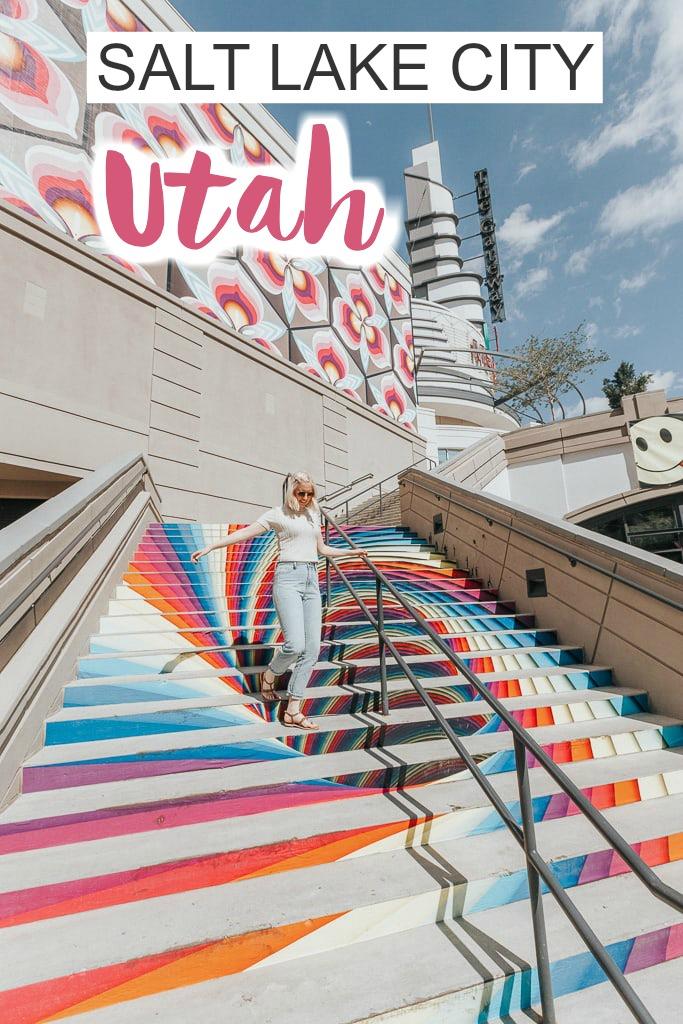 Salt Lake is so much fun. Like, I fully felt like I had stumbled on a hidden gem – unless everyone else already knew about Salt Lake? I mean I have been living out of the country for many years now.
And what have I been doing over those many years abroad? Traveling through cities in over 80 countries. It takes a lot to impress me now, and I loved Salt Lake City.
Salt Lake City is beautiful
Okay maybe this means that I'm not really a city girl at heart, because even in cities I'm all about the beautiful views. Though actually I checked with Anna, who is definitely 100% a city girl, and she also loved how beautiful Salt Lake is.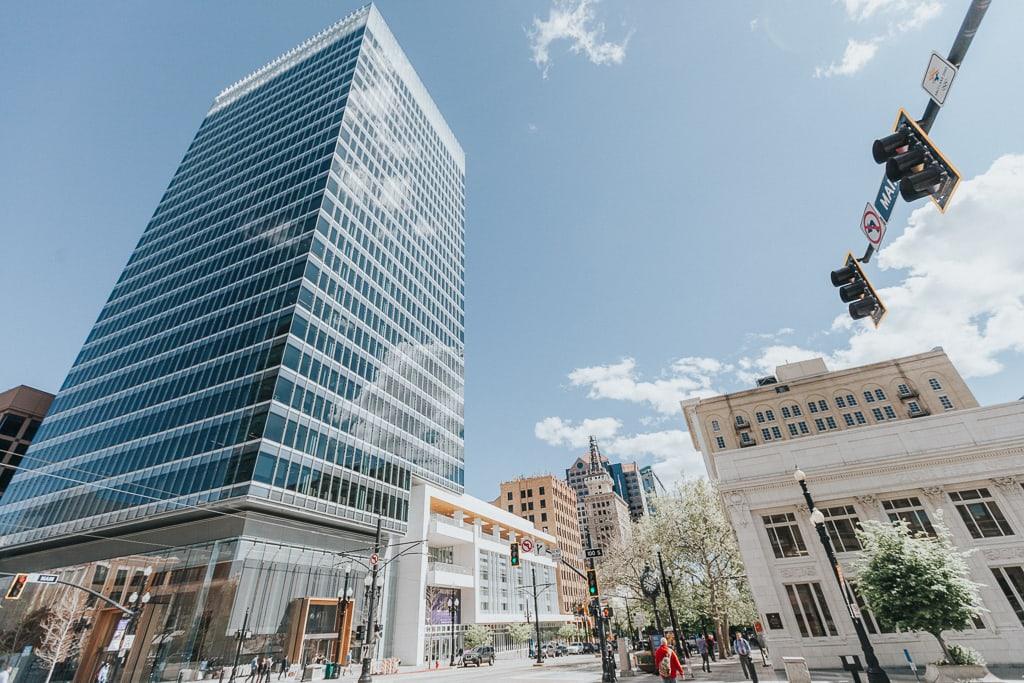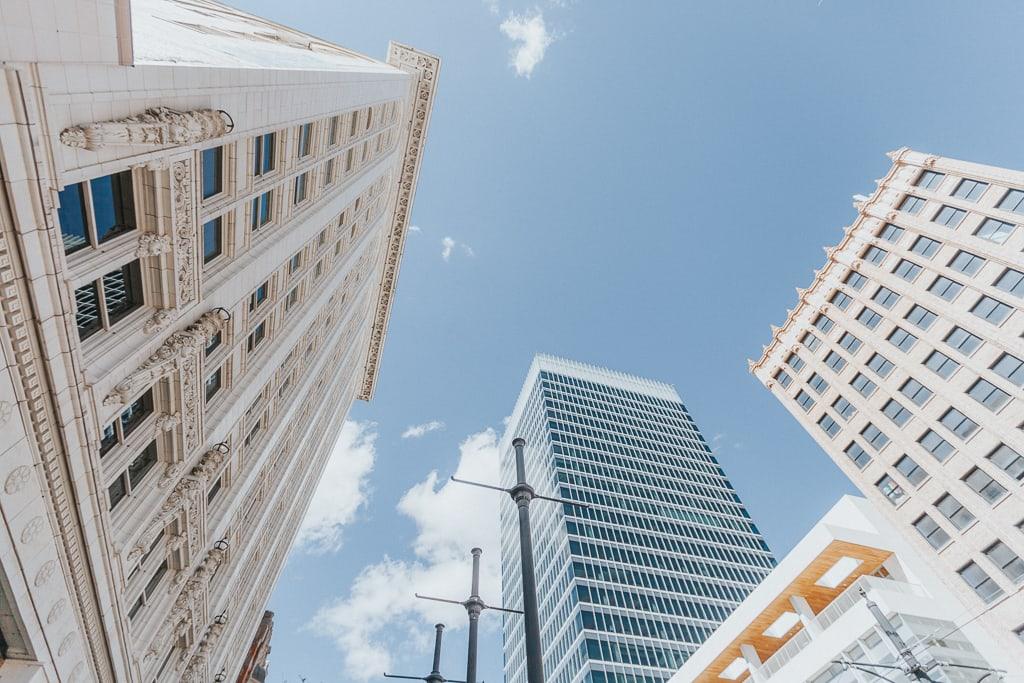 One of my favorite views of Salt Lake and the mountains around the city was actually from the garden at the top of the public library.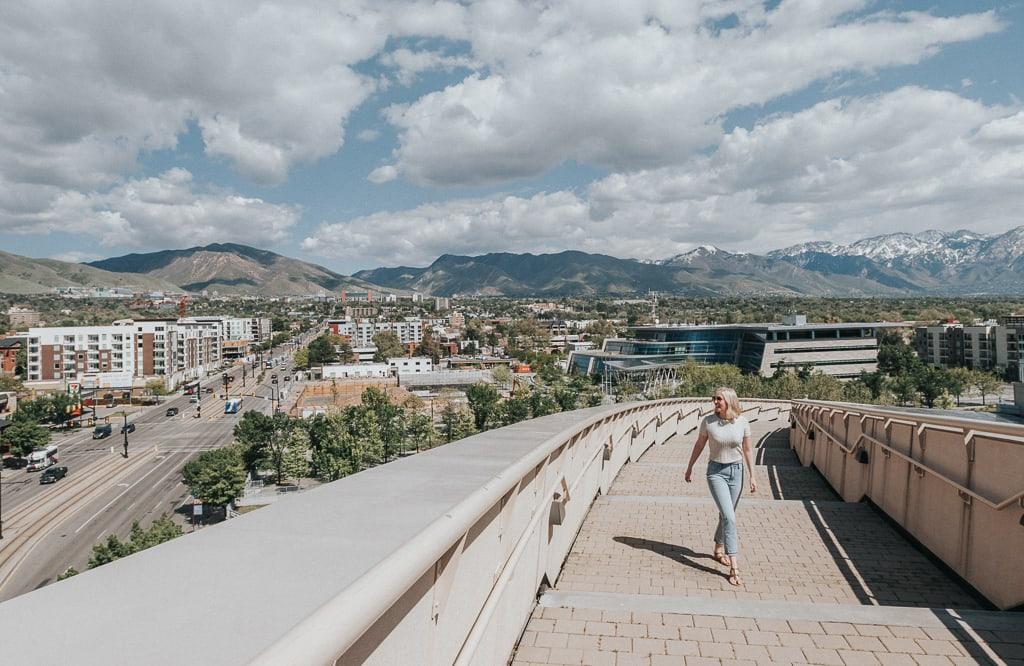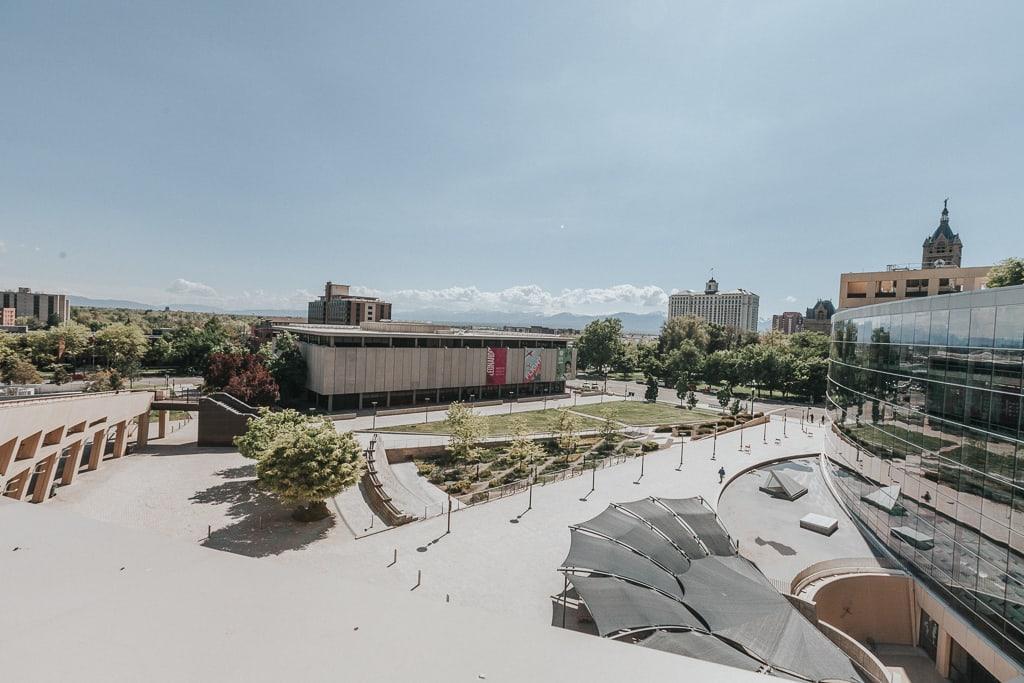 The street art
While maybe I was most excited about the mountain views surrounding the city, Salt Lake City itself is really pretty too.
It seemed like around every corner we were stumbling across another colorful mural. Just like Lodz!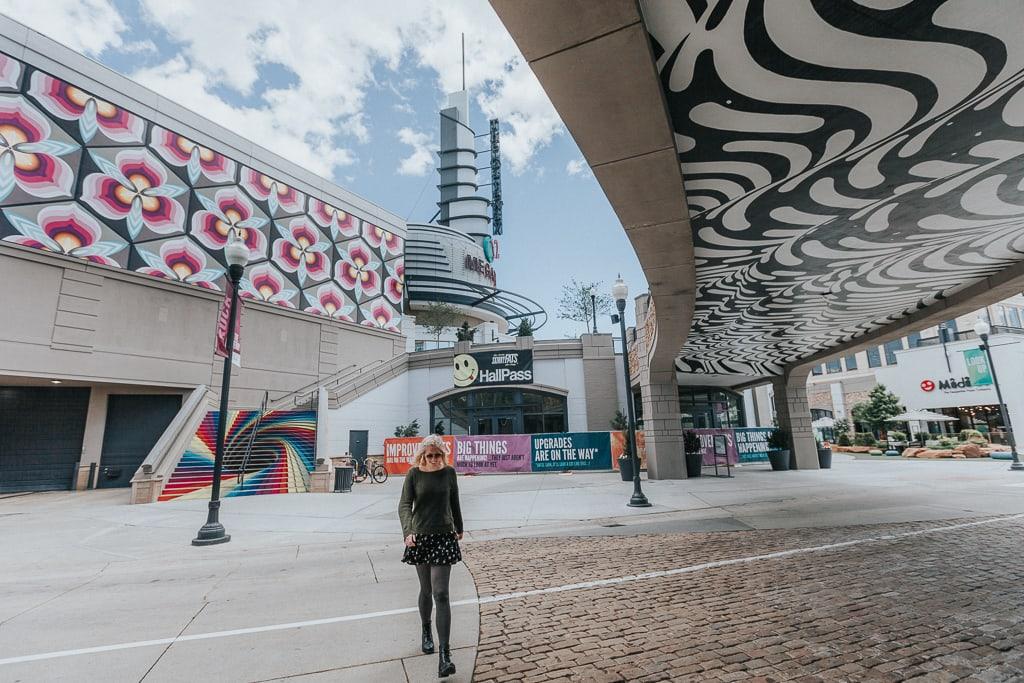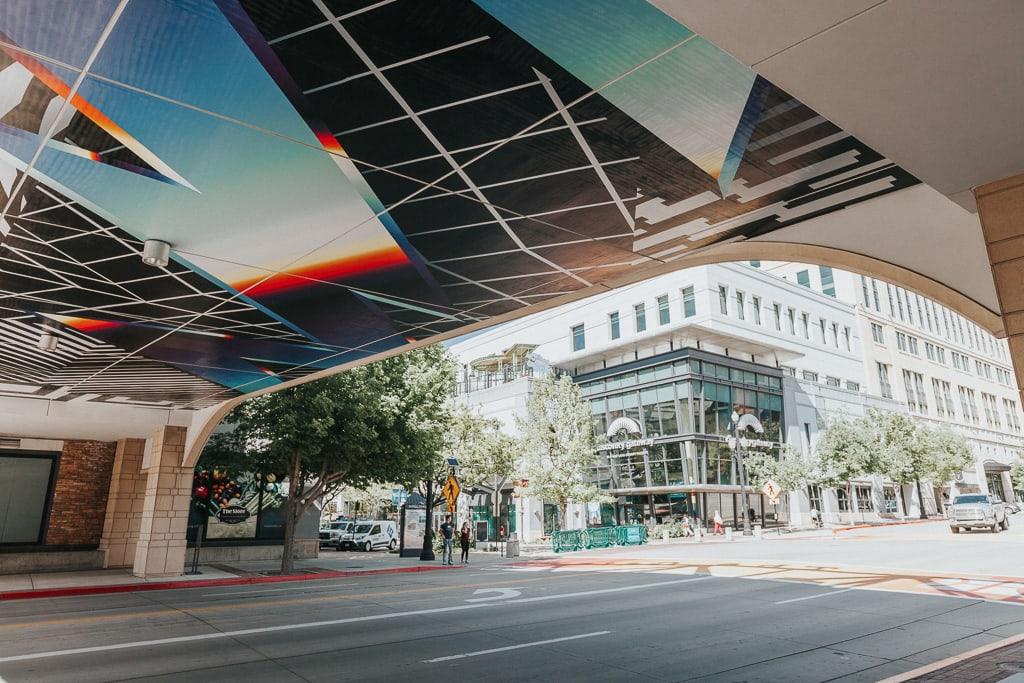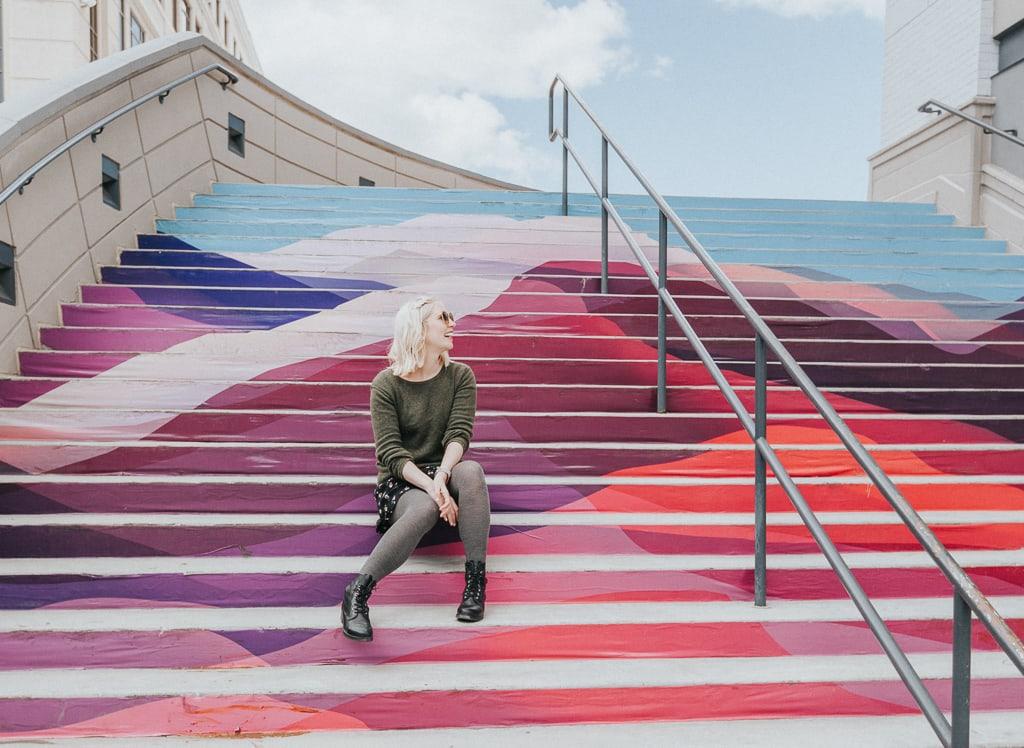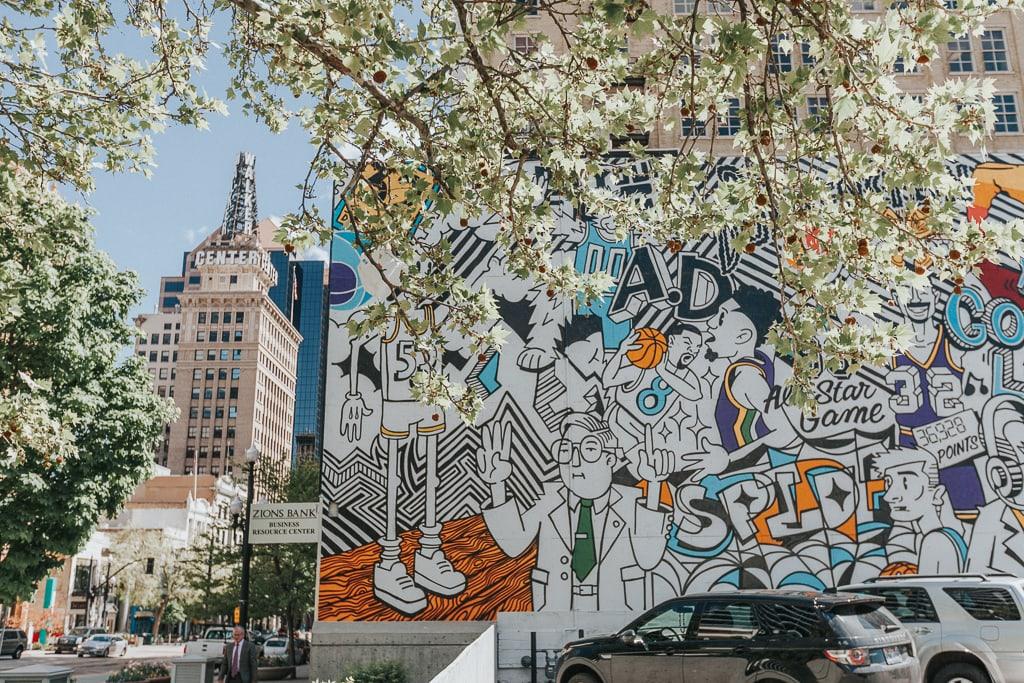 Sightseeing is super easy
I reached out to Visit Salt Lake before our visit asking if they'd like to partner for a campaign. They agreed, but instead of sending us an itinerary of places or experiences they'd like me to feature they simple told us to have a fun weekend, and they emailed us each a Salt Lake Connect Pass for the city.
I've worked with a lot of tourism boards, and I've learned that it's always a really good sign when they're laidback about what I do during my visit. That's when I know they're confident I'll love my trip because I'm visiting somewhere really cool – regardless of what I do.
It's like how if someone writes to me saying they'll be visiting Bergen I'm like, you're going to love it! Whereas if they say they're heading to Oslo I'm like, you're going to love it – but only if you do everything on this list. Some places win you over without even trying, whereas some require a bit more effort to get to know. And Salt Lake is definitely one of those effortless cities.
But I'm also so glad they included those Connect Passes, because otherwise I'm not sure I would have realized quite how much there is to see and do in Salt Lake. I would have happily spent all my time restaurant hopping and window shopping in downtown. But there's a lot more to do!
The Connect Pass is an all in one ticket for 16 offerings at 13 attractions around the city. You can buy a pass for your entire stay or just a day, depending on when you want to be out exploring.
Of course it saves you money on the attractions, but I also just loved that it encouraged me to visit a bunch of different places to make the pass worthwhile. Sometimes I need that extra little push to go out and make the most of my days in a new city, and the Connect Pass did just that. You can find more information and prices here.
I've used similar passes in cities before and I have to say, they so often end up being a bit of a pain, with people at some attractions not knowing how to redeem them. This was not the case in Salt Lake, to the point where it became a bit of a joke for me and Anna, because everyone we showed it to responded with such enthusiasm.
You have a Connect Pass! That's awesome! Fantastic! Amazing!
Like, why is everyone in Salt Lake so excited about this pass?
Or maybe these Massachusetts girls just weren't used to how friendly everyone in Utah is. Regardless, using the Connect Pass was such a breeze, and I'm glad I got it because otherwise I probably wouldn't have known about all the cool things there are to do in Salt Lake.
Like I said, there are 13 attractions included in the pass, but my favorites were the Clark Planetarium (definitely catch one of their shows in the Dome Theatre) and Red Butte Garden. Oh and the Natural History Museum has really pretty views of Salt Lake!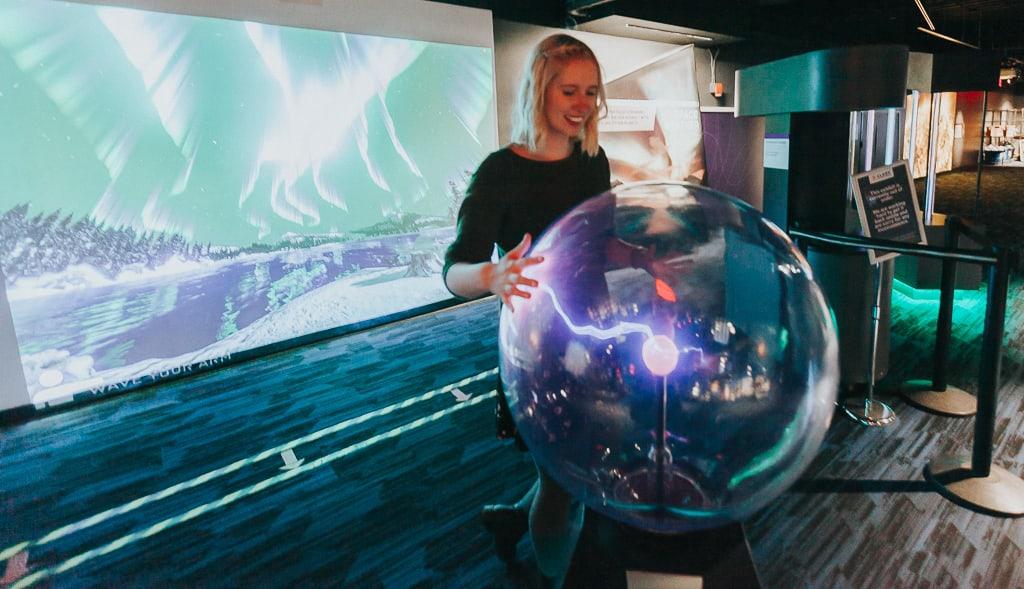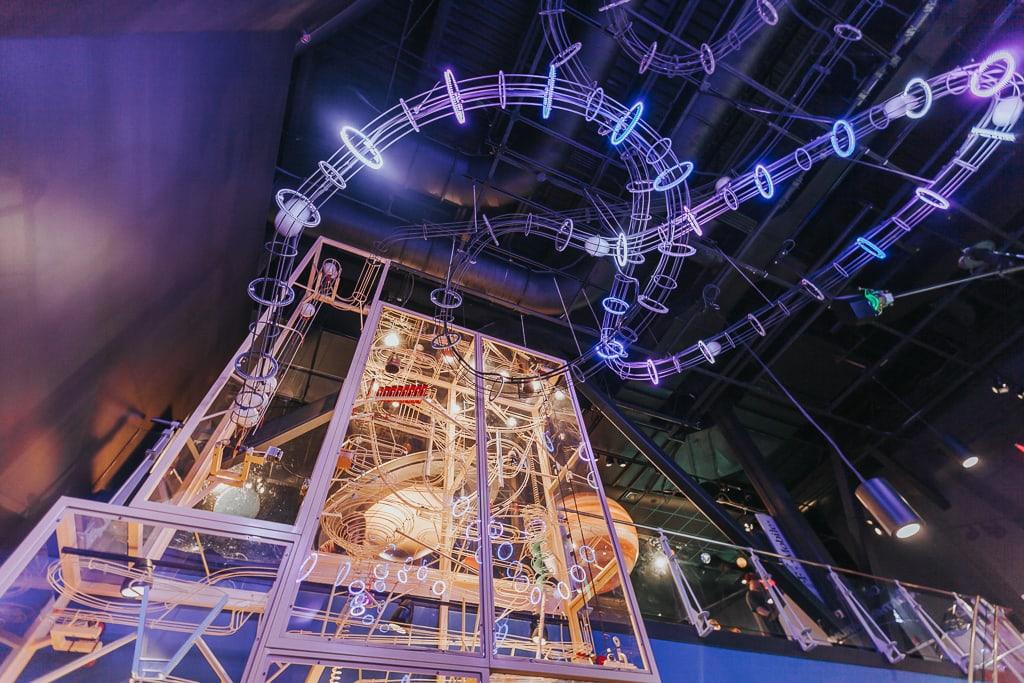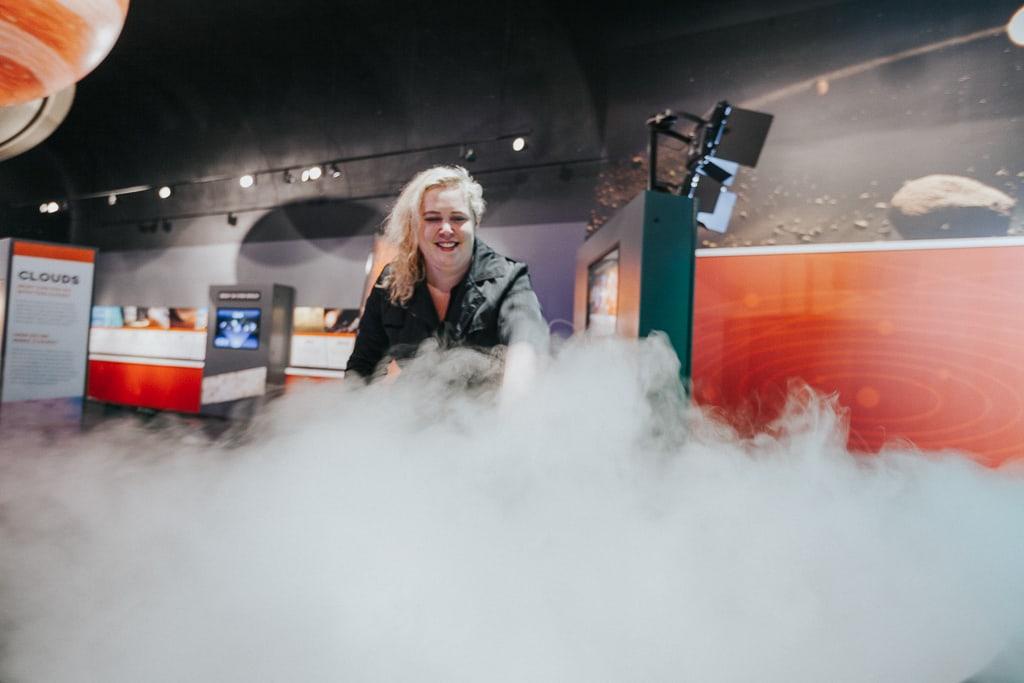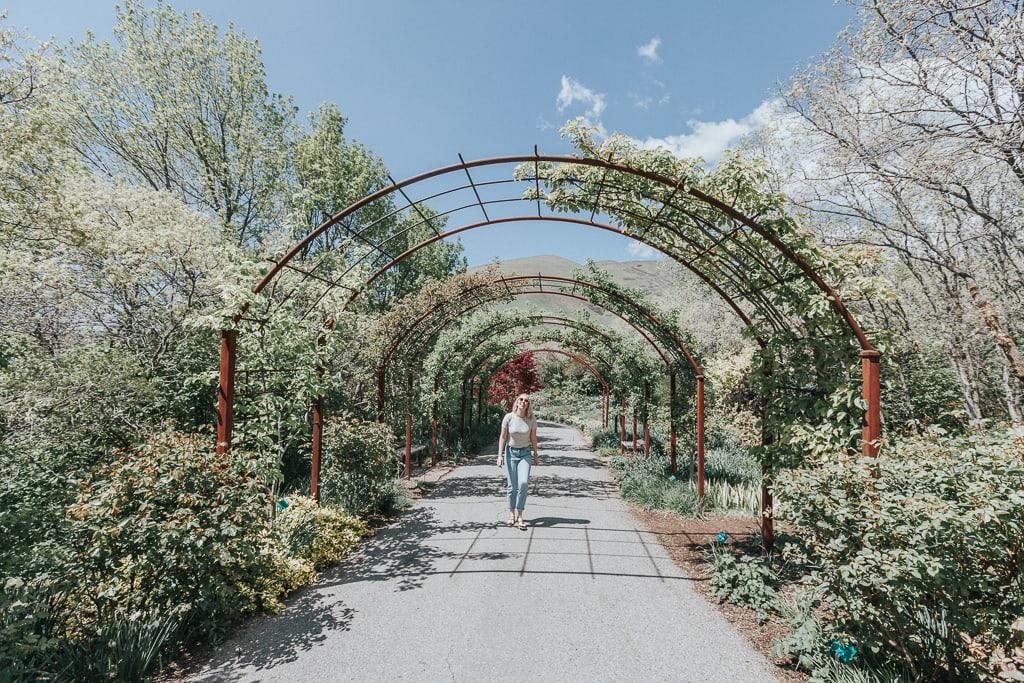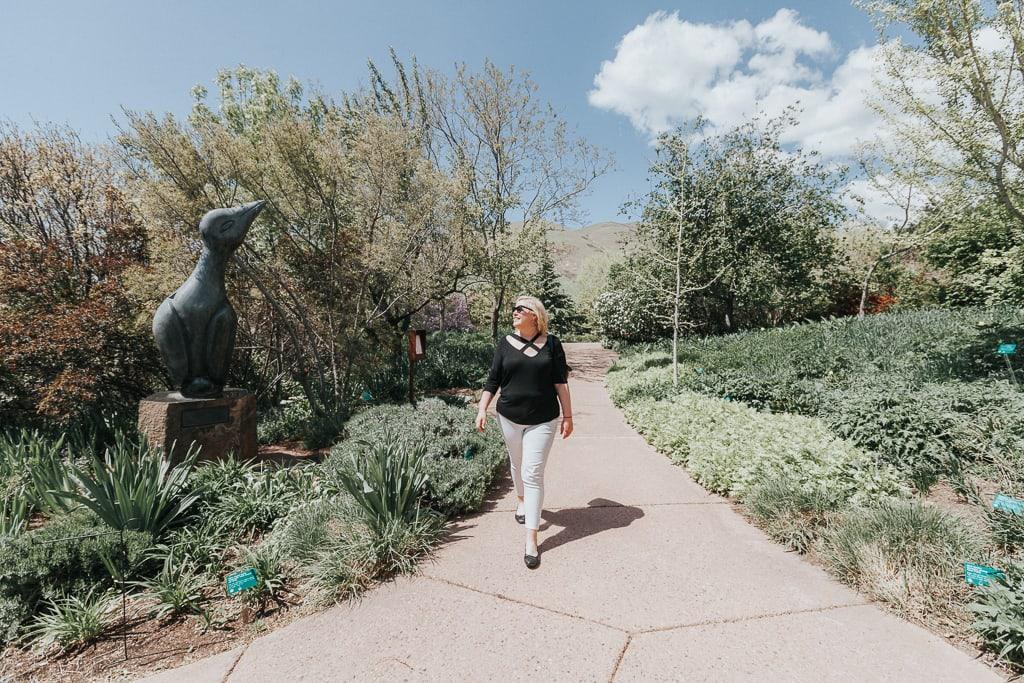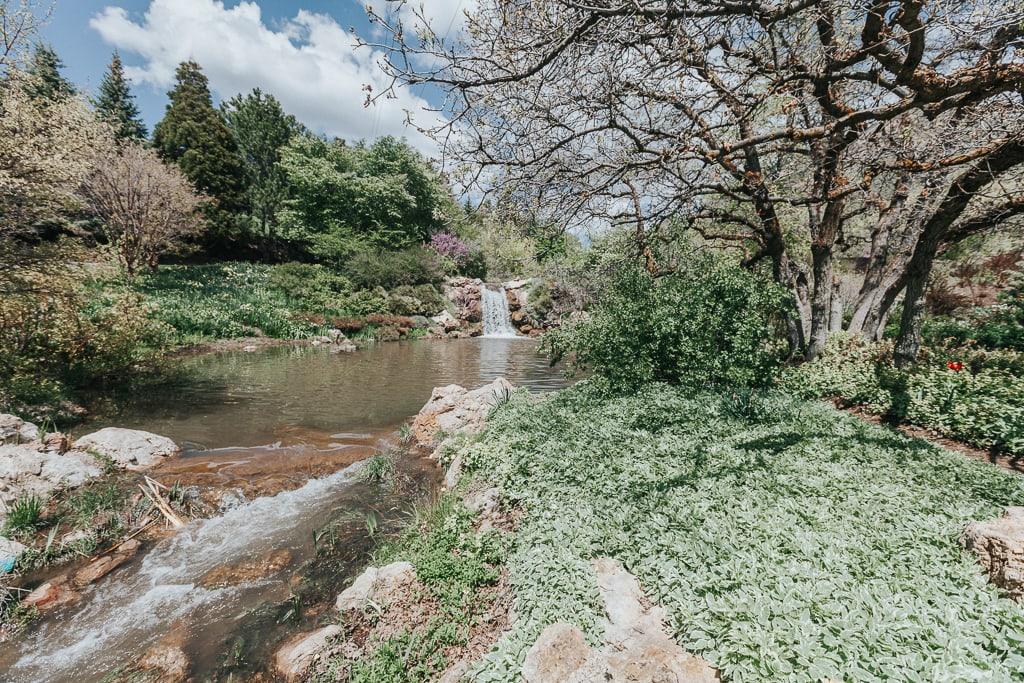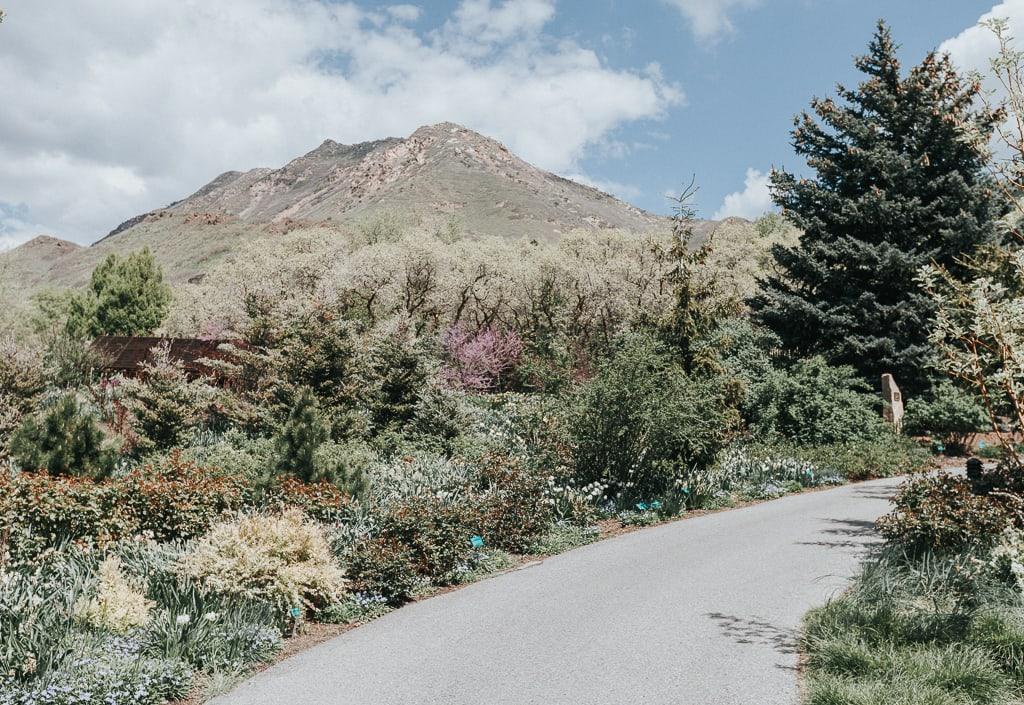 Downtown Salt Lake is totally walkable
While we did drive out to the botanical garden and natural history museum, for the most part we were able to walk places right from our hotel downtown.
I love getting to know a city on foot, and Salt Lake definitely felt very pedestrian friendly.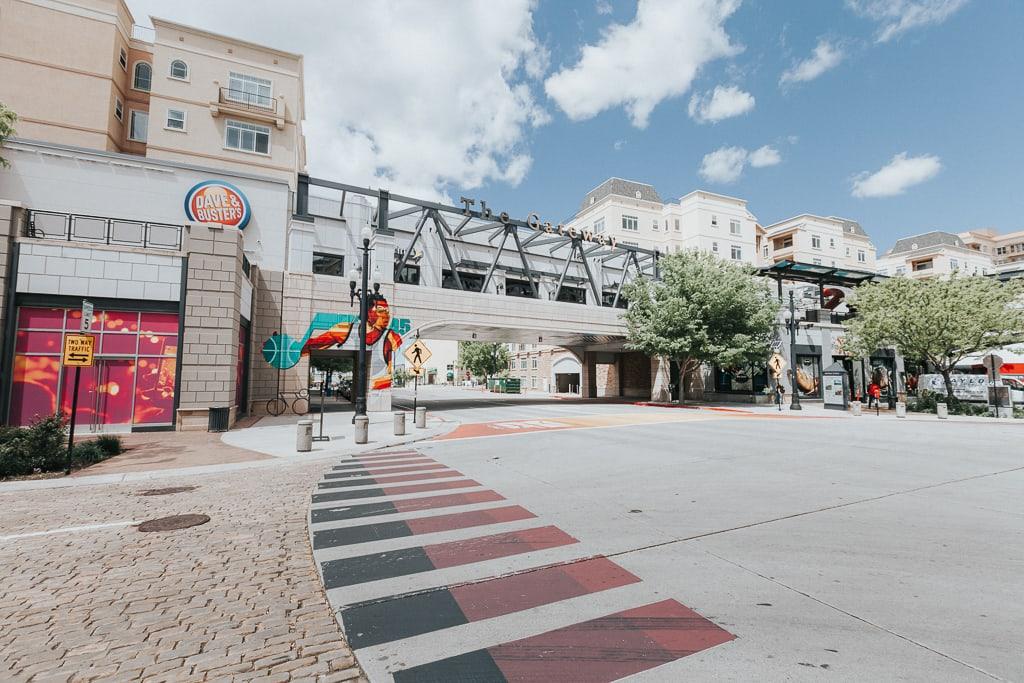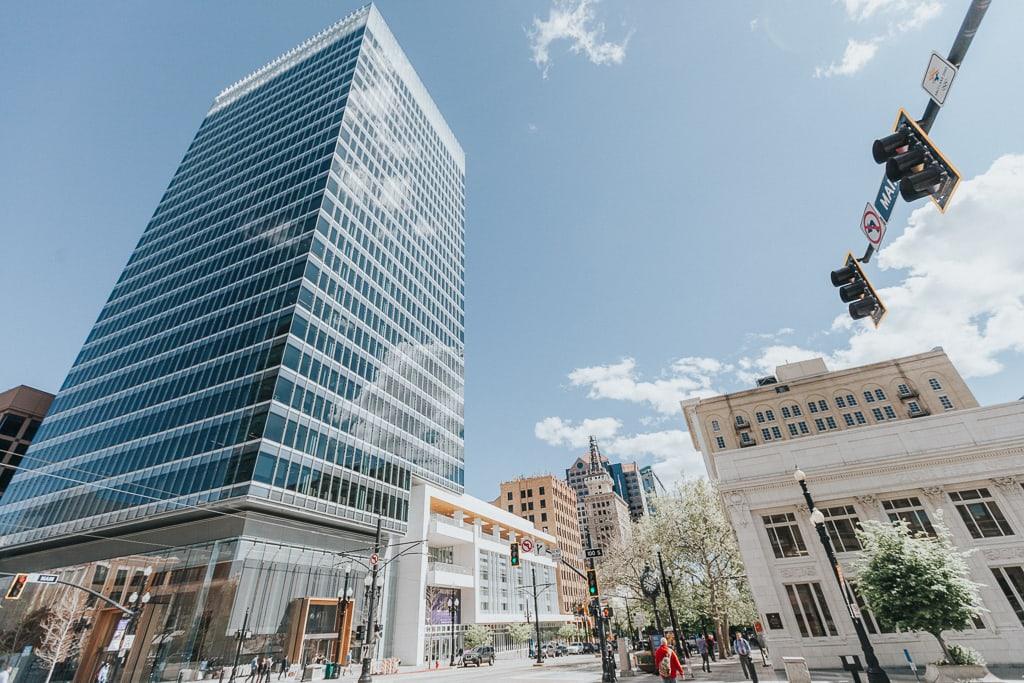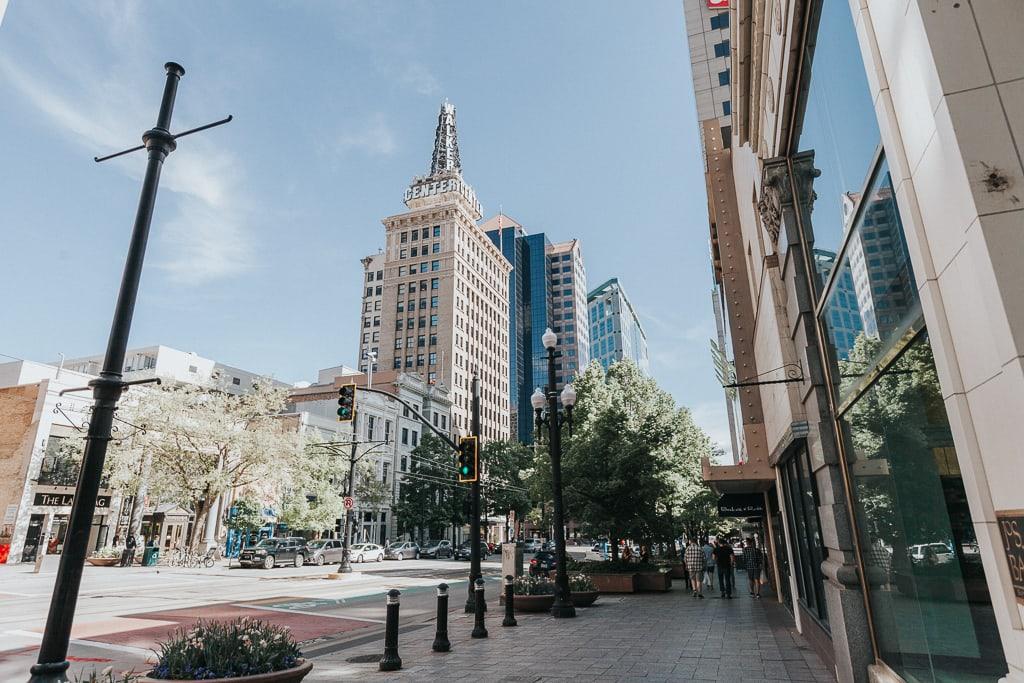 Though judging from all the trams running downtown, it looks like Salt Lake City's public transport game is strong as well.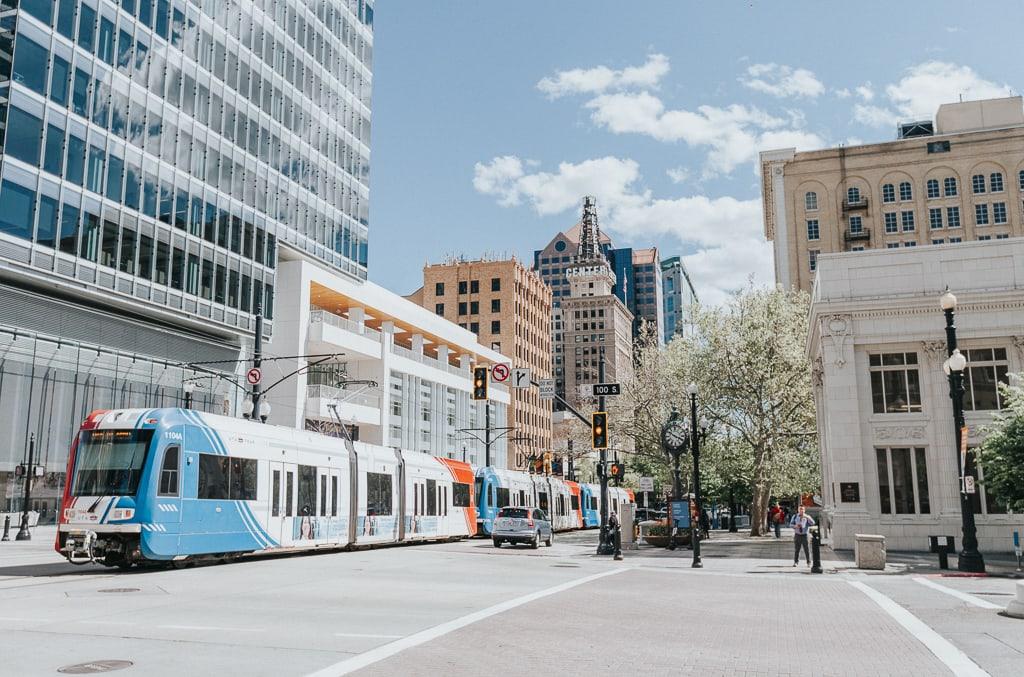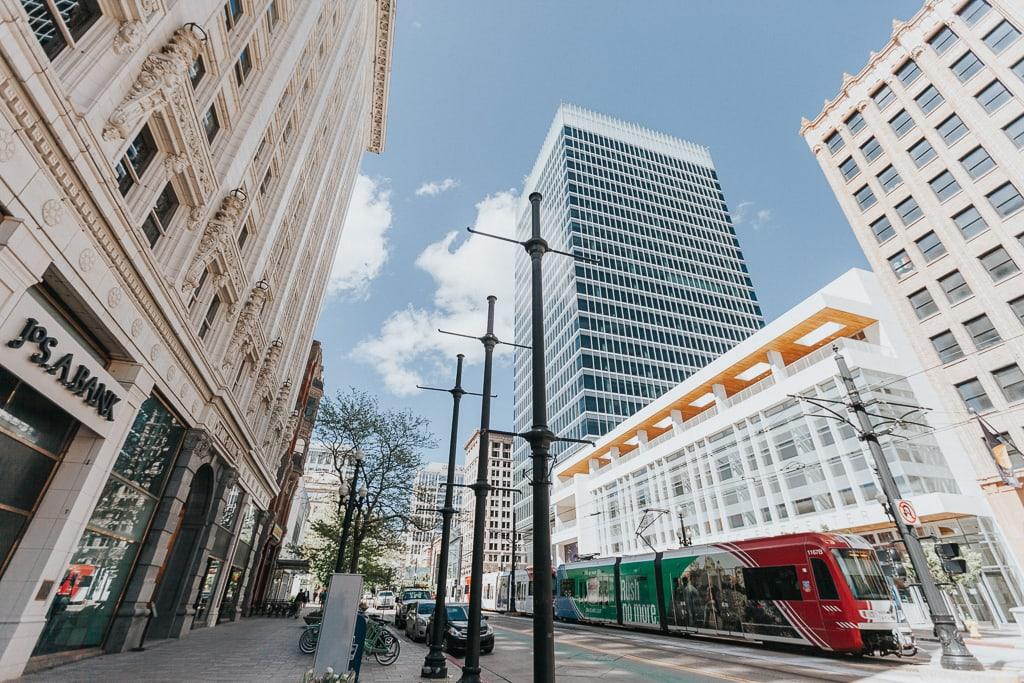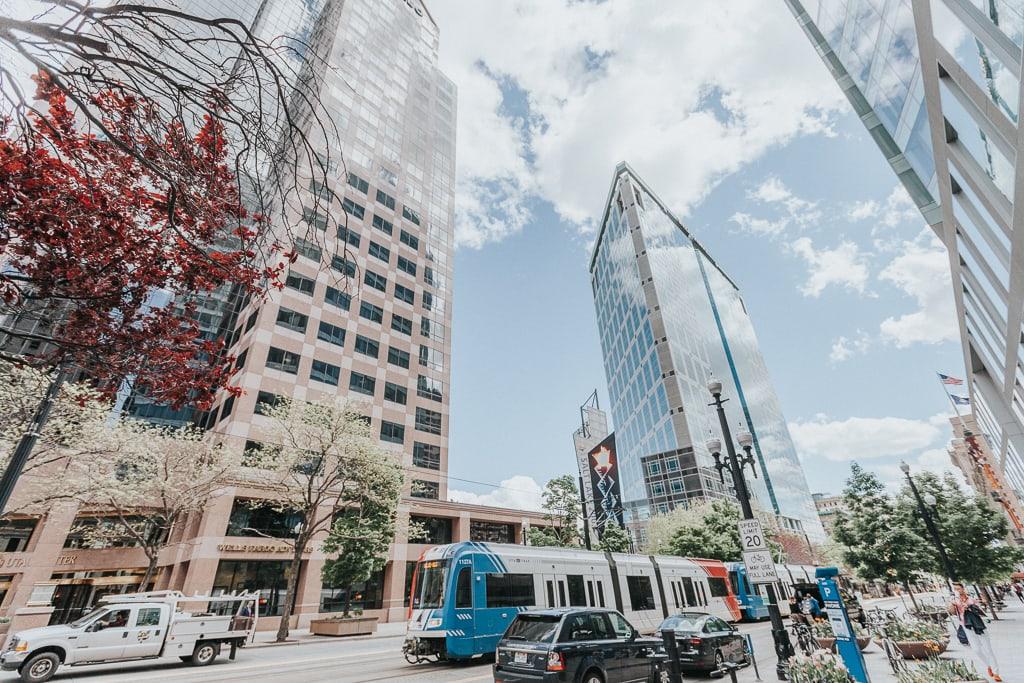 I also spotted some bikes and electric scooters for rent downtown.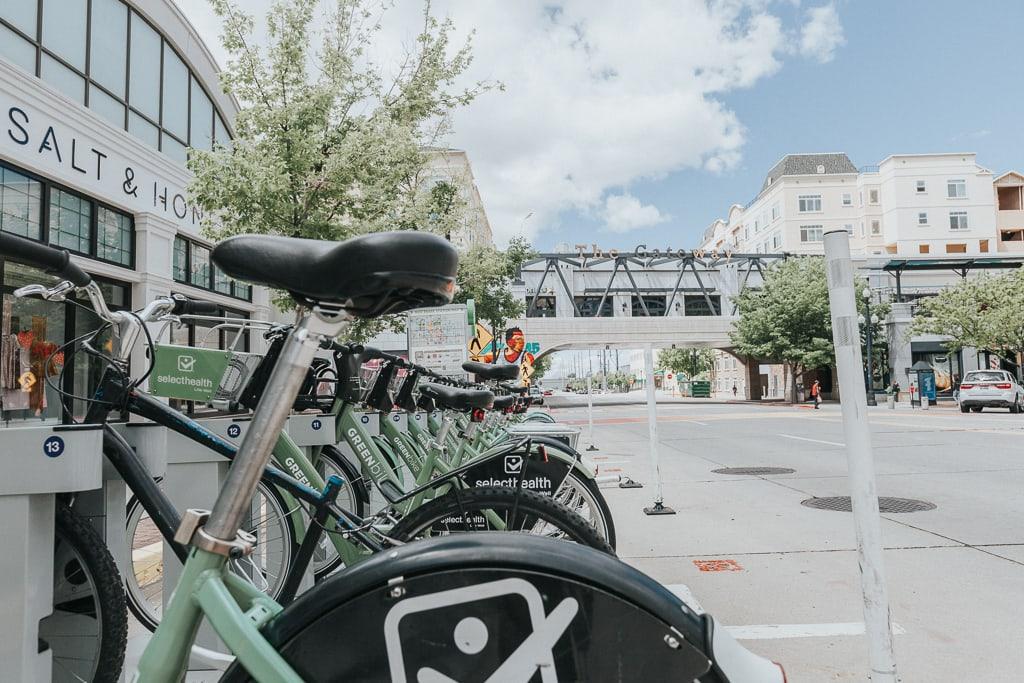 The food
Anna is a huge foodie, and we both agreed that the food scene in Salt Lake was on point.
My favorite meal wasn't really a foodie meal at all. We had breakfast at Mo's American Diner one morning and oh my goodness those pancakes. I'm a huge fan of diners and have learned that there are great diners out there and some really terrible ones, and this was one of the greats.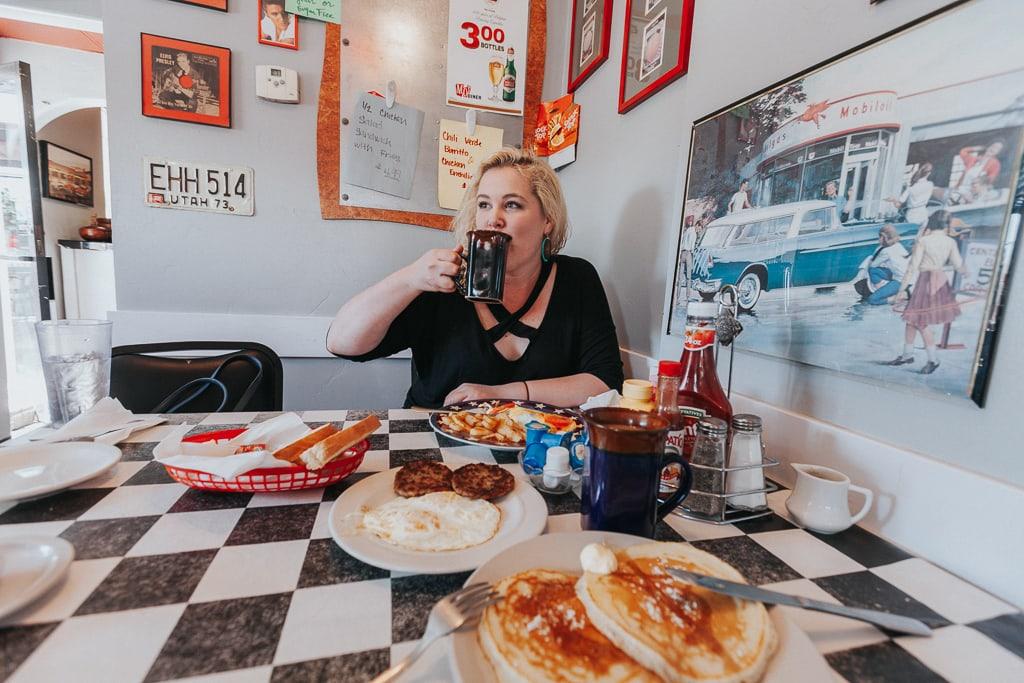 Meanwhile Anna was like, pancakes are pancakes, but the sushi at Takashi was actually the best she had ever had – no wonder the line for dinner was so long.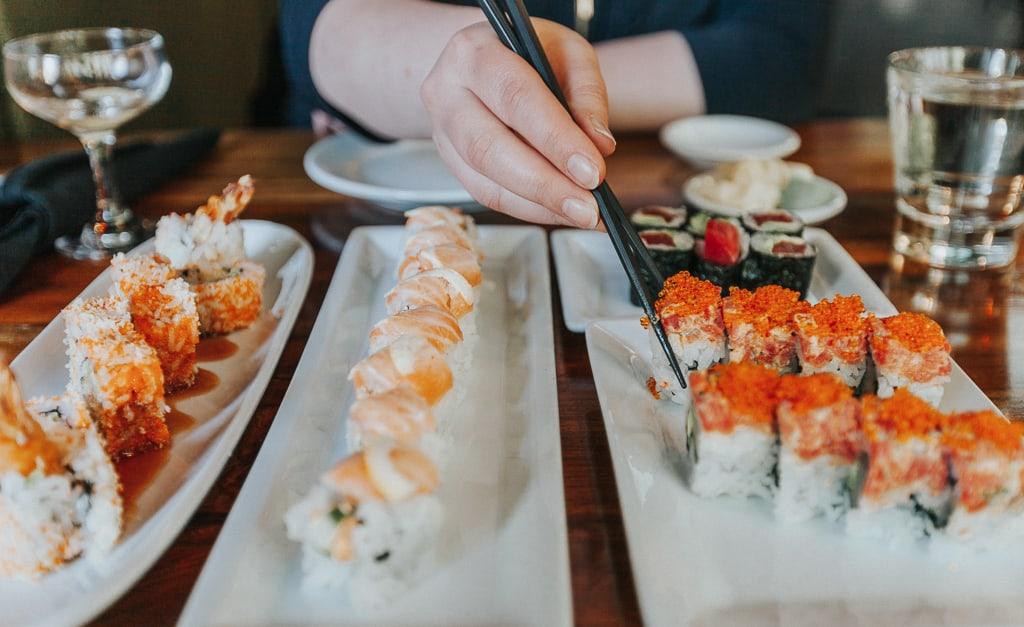 The coffee shops
My office is my laptop, so whenever I'm in new cities I always find myself checking out all the coffee shops, imagining what it would be like to get to work from there everyday. So I've become quite the expert on coffee shops now.
And Salt Lake has so many amazing coffee shops. My favorite was The Daily, which also had a big breakfast menu. If I lived in Salt Lake I would totally come here everyday to work. Plus it's in the center of downtown, so it made a great starting off point for the day.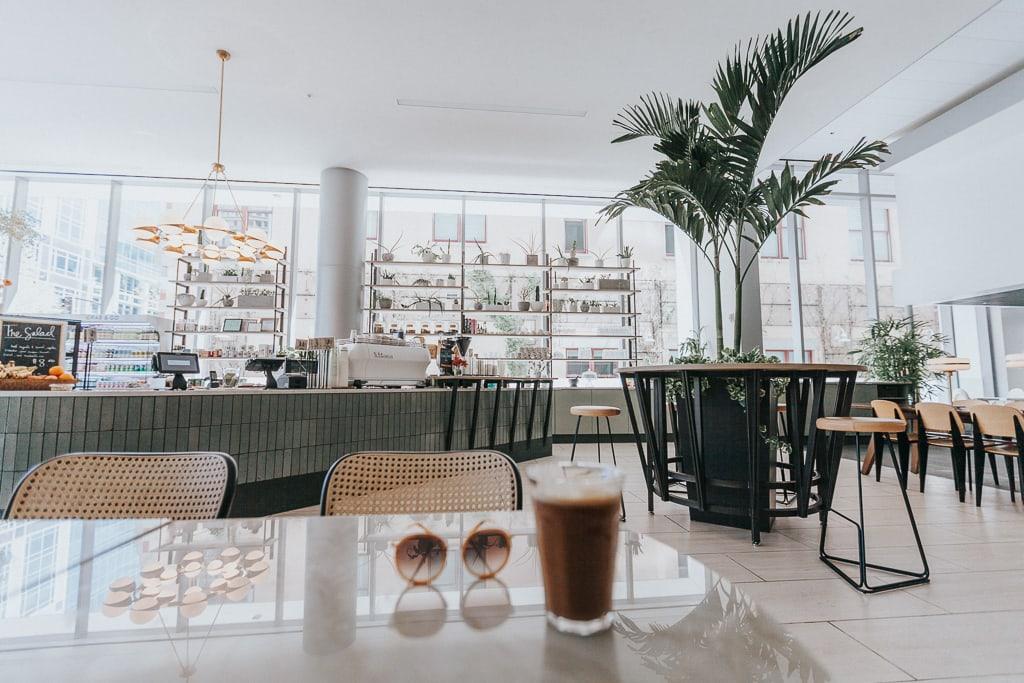 The shopping
I feel like I should include a disclaimer here: I live in a land without Amazon, where shopping is limited and very expensive.
So if it feels like whenever I visit a city outside of Norway I get super excited about going shopping, that's probably because I do.
Salt Lake was the only real shopping destination on our road trip itinerary, and it didn't disappoint. I finally upgraded my laptop (for about $400 cheaper than in Norway), and checked out some of those stores my friends always talk about but we don't have in Norway.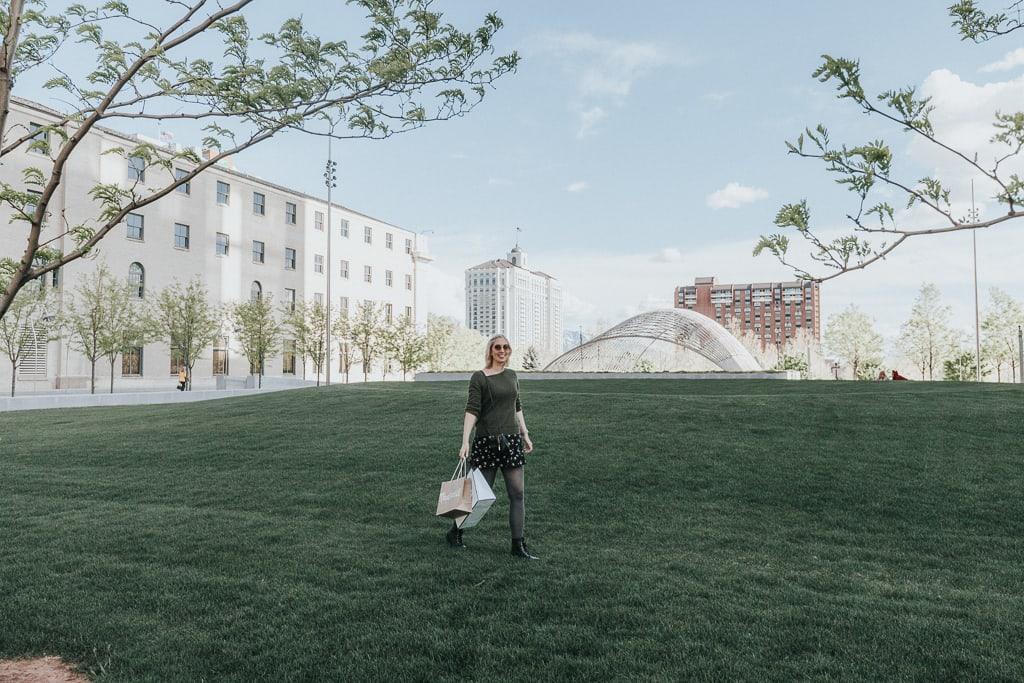 And again I was so pleased to find that all the shops I wanted to visit were right downtown, no car necessary. Plus the shopping center downtown is so pretty, don't you think?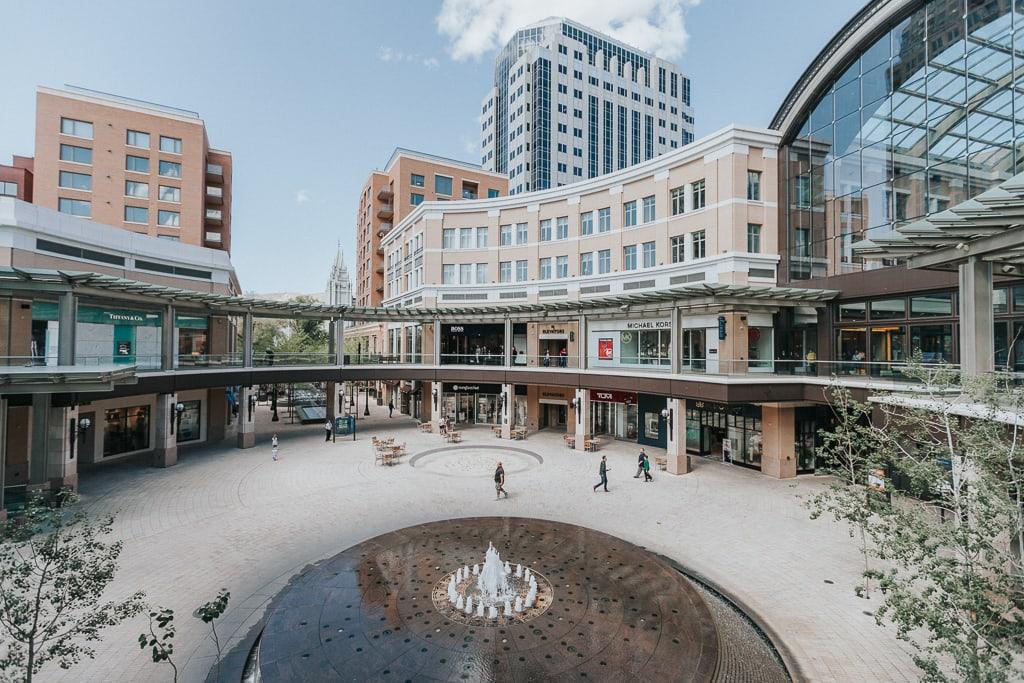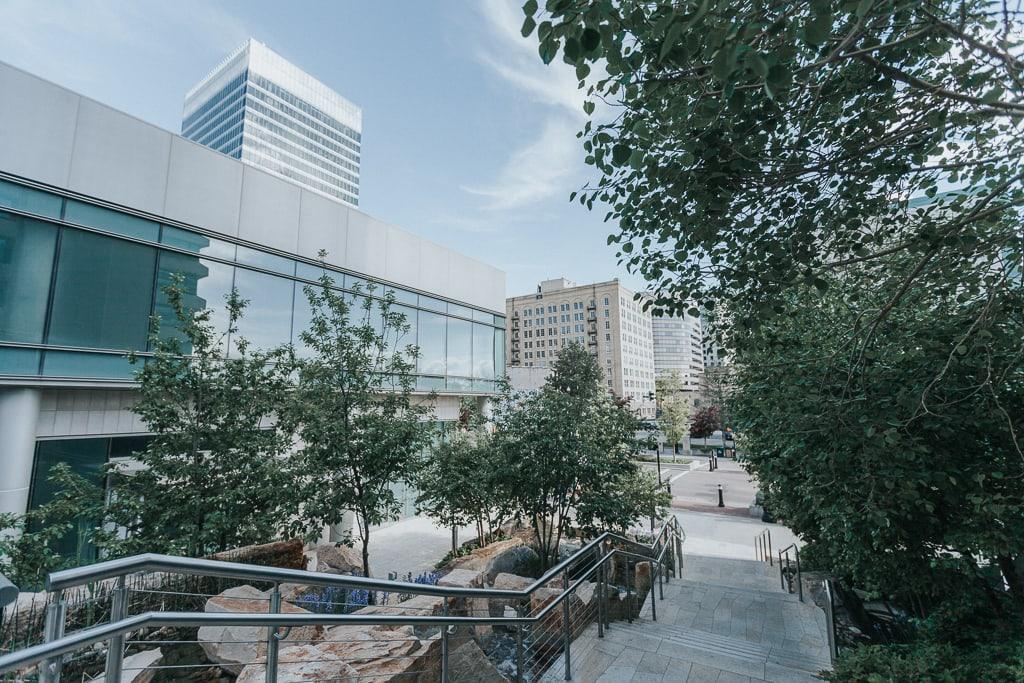 The nightlife
Nightlife is more Anna's domain, so she actually wrote a whole post about Salt Lake City's nightlife here. Spoiler: it was fun!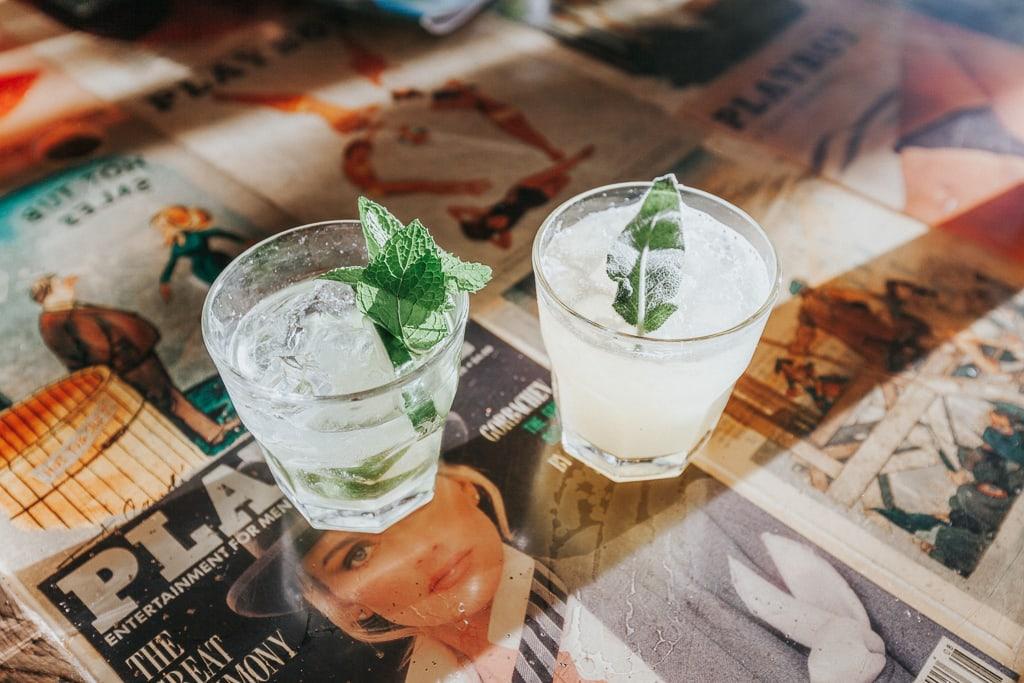 The Great Salt Lake
Anna and I stopped at the Great Salt Lake on our way out of the city sort of as an afterthought, and we were both stunned by what we saw – Anna was so excited she had to get out her phone to FaceTime her parents.
The Great Salt Lake, for which Salt Lake City is named, is the largest saltwater lake in the Western Hemisphere. It has been called America's Dead Sea, and it actually totally did remind me of the visiting the Dead Sea.
The beach around the lake was white from all the salt, and the mountain views were just so beautiful. Ugh seriously, Utah is the prettiest.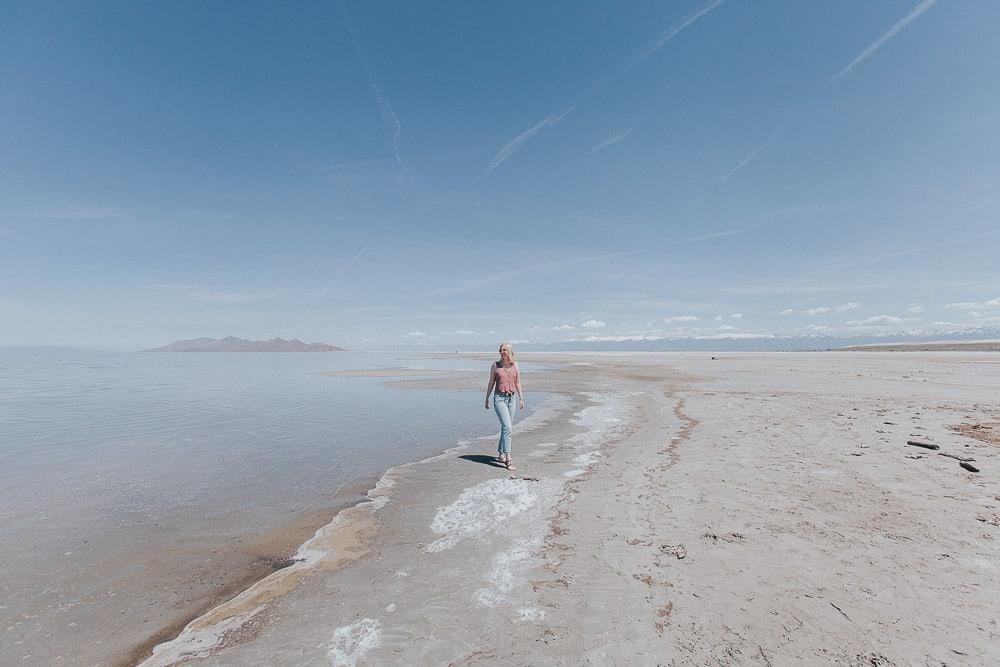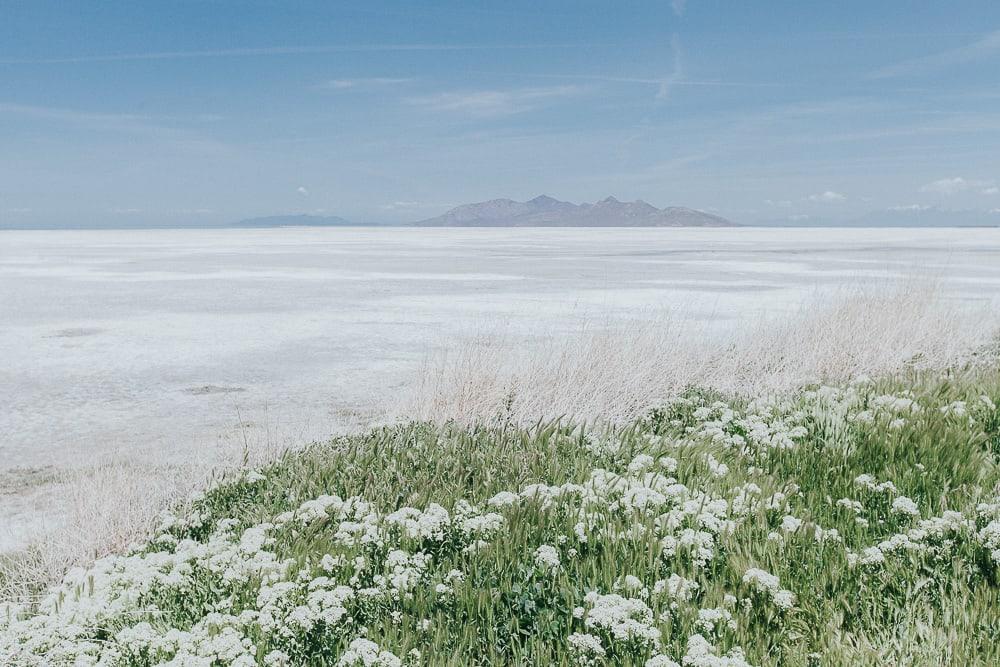 Where to stay in Salt Lake
We stayed at the Kimpton Hotel Monaco, right in the heart of downtown Salt Lake City. The location was perfect, and our room was beautiful.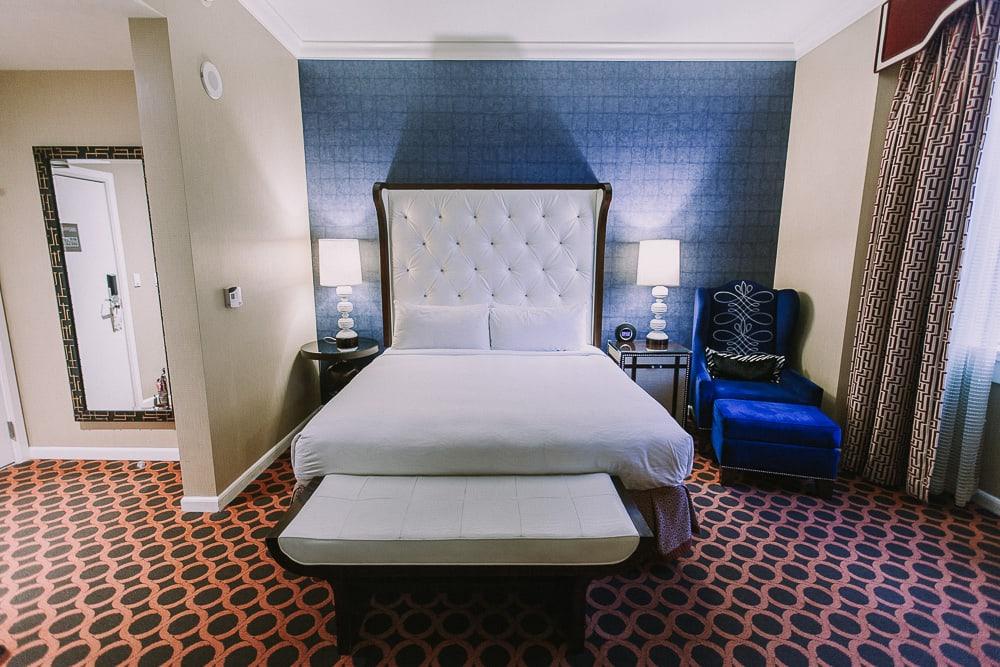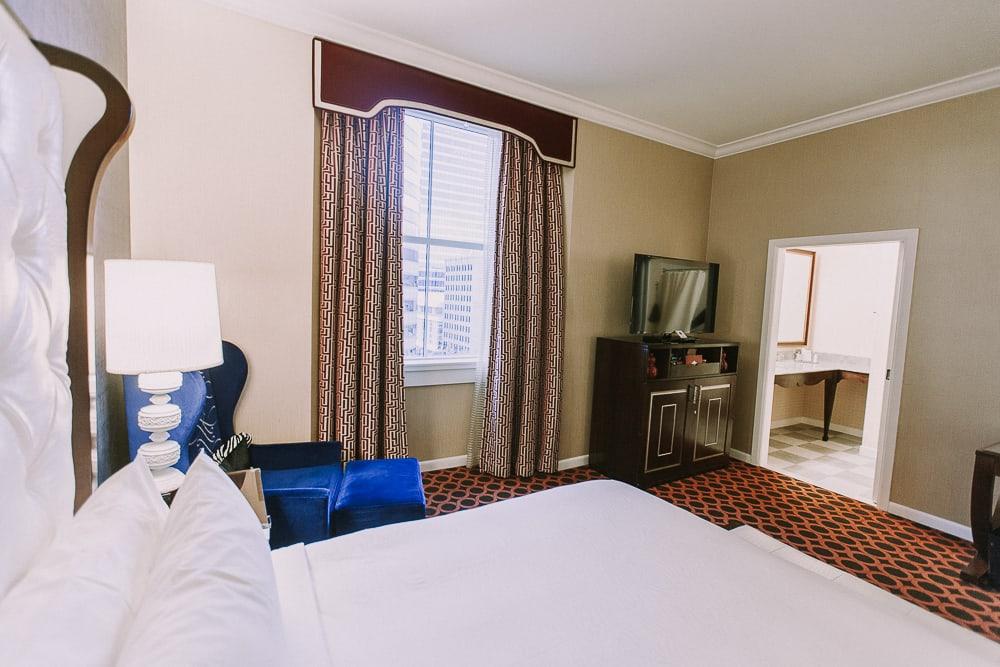 Plus in the mornings we'd fill our water bottles with cucumber water from the lobby and feel fancy all day.
Have you been to Salt Lake yet?