Okay, before you're like um… I want to see Mozambique but I don't have three weeks to spend there, don't worry, you could definitely just use part of this itinerary for a shorter trip – in fact I'd actually recommend that. Unless of course you're Norwegian and are looking for a way to spend your mandatory three consecutive weeks (of five weeks!) of annual leave, in which case, you're welcome.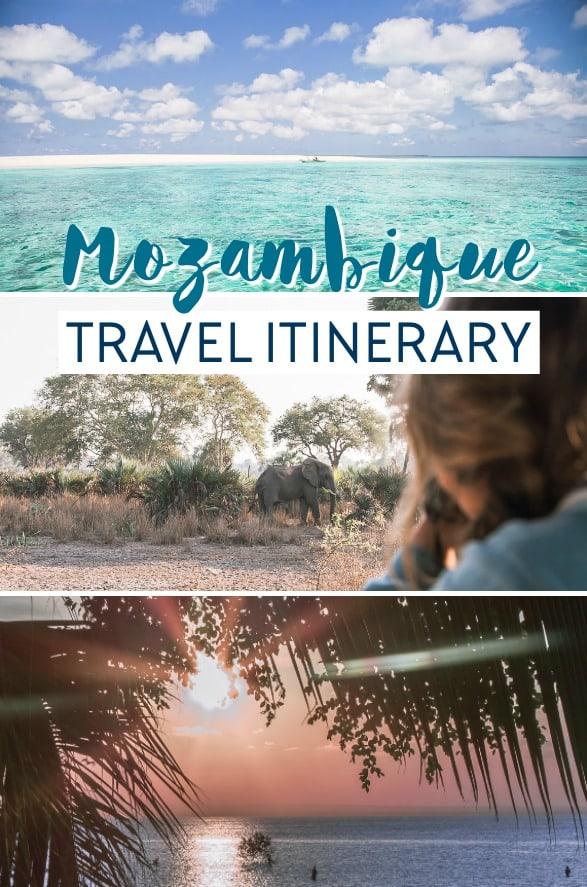 Danielle is in grad school so we planned this trip between her summer internship and the start of the new semester, which worked out to about exactly four weeks. We spent the first week in South Africa, and then the rest in Mozambique.
To be perfectly honest, while I absolutely adored Mozambique, three weeks was a little long for me. And I think part of that is because the first week in the north was by far my favorite, which sort of made the rest of the trip a bit of a let down? I mean, maybe we should have just spent all of our time in the north. Though I am glad I got to see the rest of the country as well!
I also want to emphasize that Mozambique is not the easiest African country to travel through, but if you'd love to see Mozambique without the stress my dear friend Helen actually runs guided Mozambique trips. I went on her two week trip to Uganda, Mozambique, and the Congo and it was seriously one of the best trips of my life, so I know you will love traveling with her and her team. Her Mozambique, Eswatini and South Africa tour looks incredible, and helped inspire my own trip to this part of the world.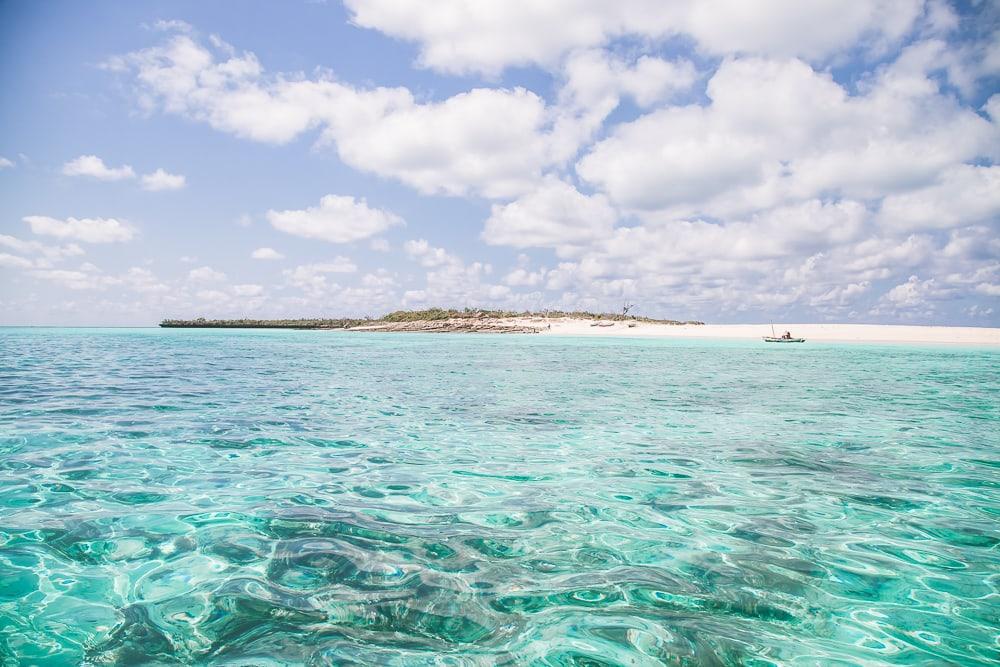 Ugh okay I said I would be perfectly honest, but then I wasn't.
It took me a long time to open up about how difficult this past year has been for me, and then when I finally did I was so overwhelmed by your kind messages and encouragement. I've read your comments over and over and they continue to fill me with such hope.
And yet now I really want to pretend I'm totally happy again and everything is amazing and omg Mozambique was such a fun trip! When the truth is, I'm still really struggling and flying to the other end of the globe didn't change that.
Why is that so hard to admit? And why does it make me feel so guilty?
I realize how lucky I am to be able to jet off to the other side of the world for an entire month, and I would never want to take that privilege for granted. And so I've been really hard on myself for not feeling happier – like who is still sad about a breakup after ten months?
Well, I am. And perhaps that's an important thing to admit in an age where everyone seems to be living their best lives on social media.
Danielle and I went into this trip wanting really different things. I had been feeling lonely and wanted to spend a month with my friend, whereas Danielle had had some boy drama of her own and really needed a carefree summer of traveling where she could meet guys. Which of course she did, because she is adored by all men in the world, as she should be.
And I was happy for her (and certainly did not want the guilt of taking that away from her), but playing the third wheel for a lot of our trip also made me feel lonely all over again.
So there, that's the truth about my time in Mozambique. I loved the country, but I did not love the trip.
And yes, I still love Danielle and am not blaming her for my experience – if I had been in a more emotionally stable place I would not have minded what happened nearly as much, or maybe even at all.
But now I will try to separate my feelings of sadness from my feelings about the places I visited, at least as best I can. Because now that I can look back on our Mozambique trip, I have to admit we had some incredible experiences in incredible places.
Getting to Mozambique
If you're coming from outside of Africa, your flight to Mozambique probably isn't going to be cheap. Danielle and I managed to cut the cost a bit by flying to South Africa first, and then getting a cheaper LAM flight to Maputo from Johannesburg, which is only about an hour-long flight.
And then of course if you're already in the region you can arrive by land.
We got our visas on arrival at the airport, which was especially convenient for me as Norway doesn't actually have a Mozambican embassy, so I would have had to travel to Stockholm to get a visa in advance.
Make sure to have your accommodation reservation, return flight out of Mozambique, and 50 USD in cash (or you can pay by card). The immigration officials weren't very pleased that we only had the documents on our phones, so you'd do better to print everything out.
Getting around Mozambique
Mozambique is about twice the size of California, and especially in the north the roads aren't great, so it can take a long time to get places.
The fastest way to get places by road are the big buses, but they drive really (really!) fast and have a lot of crashes, so it might be a better idea to take the smaller minivans, or chapas, which take longer and are more crowded and less comfortable. Usually you'll have to wait for a chapa to fill up before it leaves, so be prepared to spend an extra hour or so waiting around before your journey begins.
The buses and chapas often get stopped by the police, so make sure to always have your passport on you for inspection.
Another option is to take flights around the country.
We flew from Maputo up north to Pemba, and then from Pemba down to Beira. If you want to fly, I'd definitely recommend booking your flights as early as possible to save money. We booked our flight from Pemba about two hours before it left and it definitely could have been cheaper if we had planned in advance a bit.
Day 1: Maputo to Pemba
We spent our first day in Mozambique at the airport in Maputo, first waiting for our visa on arrival (the entire process took a couple of hours) and then waiting for our flight up to Pemba.
We arrived in Pemba in the evening so didn't do much aside from hopping on the back of a couple of motorbike taxis in search of food.
Pemba accommodation
We stayed at Residencial Lys, which is very central, very affordable, and very basic. We paid about $25 (together) for a double room with a fan and separate bathroom, but they have rooms with air conditioning and en suite bathrooms available as well.
We basically just chose this hotel because it was down the street from where we needed to catch the minivan up to Quisanga to get the boat to Ibo Island. The minivan left at 3:45 am, so we wanted to be close!
After talking to people on Ibo Island who often spend time in Pemba, I do wish we could have spent a few more nights there. I heard good things about Pemba Magic Lodge, which has both private rooms and dorm beds, Il Perata, and Ulala Lodge.
Days 2 – 7: Quirimbas Islands
Getting to the Quirimbas Islands was a journey, but we found a much easier (albeit more expensive) way to return to Pemba. I've covered all of that, as well as what to do and which islands to visit in the Quirimbas Archipelago in a whole separate Quirimbas Islands guide here.
Planning this part of the trip was incredibly difficult due to the lack of up to date information about these islands online, but oh my goodness were the Quirimbas worth the planning headaches!
This was my favorite part of the trip, and I have already been telling people if they want to go to Mozambique this is where they should head. Like if you have limited time or don't want to be traveling around a lot, I'd say just fly directly to Pemba, maybe spend a few days there, and then spend the rest of your time island hopping.
Here you'll find the most beautiful beaches, the friendliest people, and the best food. What else could you want?
I seriously loved the Quirimbas so much and would say these islands certainly deserve a place on everyone's Africa bucket list.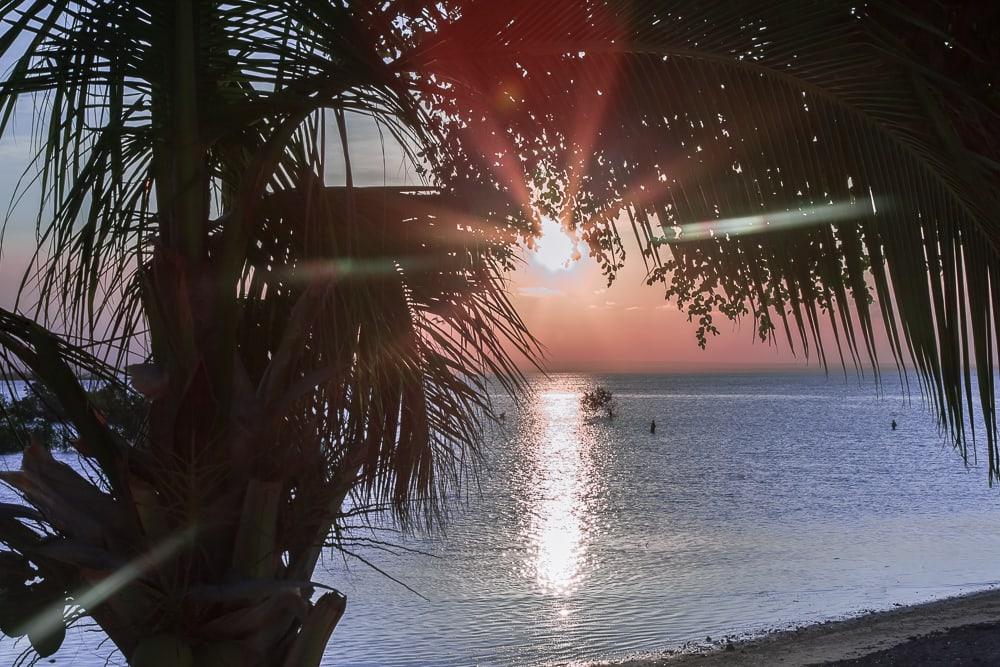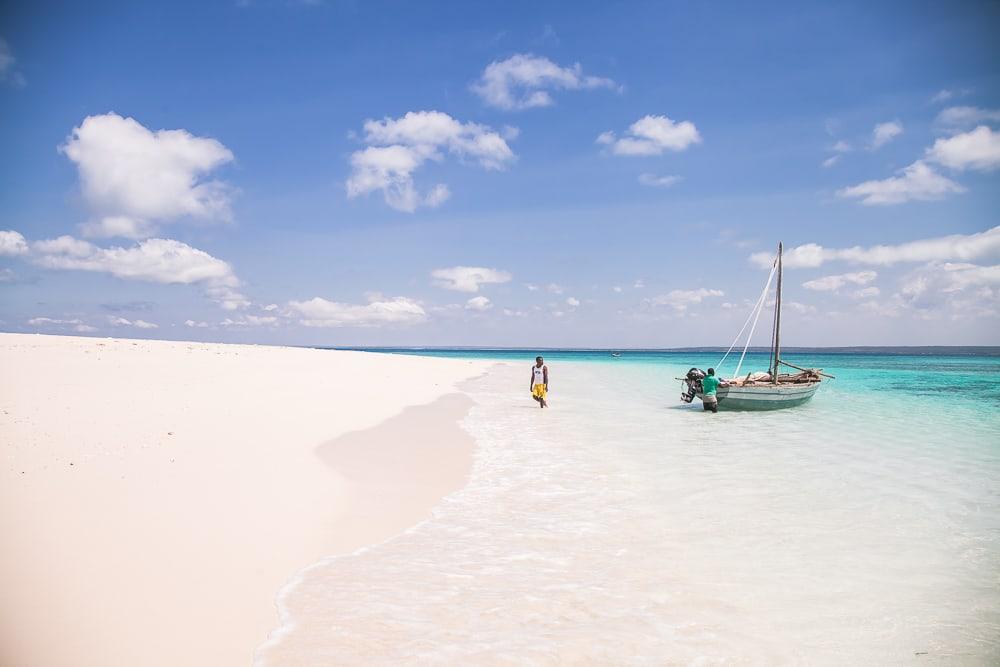 I've written more about this in the guide, but I should mention that yes, the Quirimbas were hit by a cyclone in spring 2019.
We could see damage from the cyclone, but the islands we visited were still gorgeous. If anything this gives you more reason to visit the Quirimbas, because they really need the tourists now! In fact news of the cyclone was actually what first inspired me to plan a trip to Mozambique back in the spring.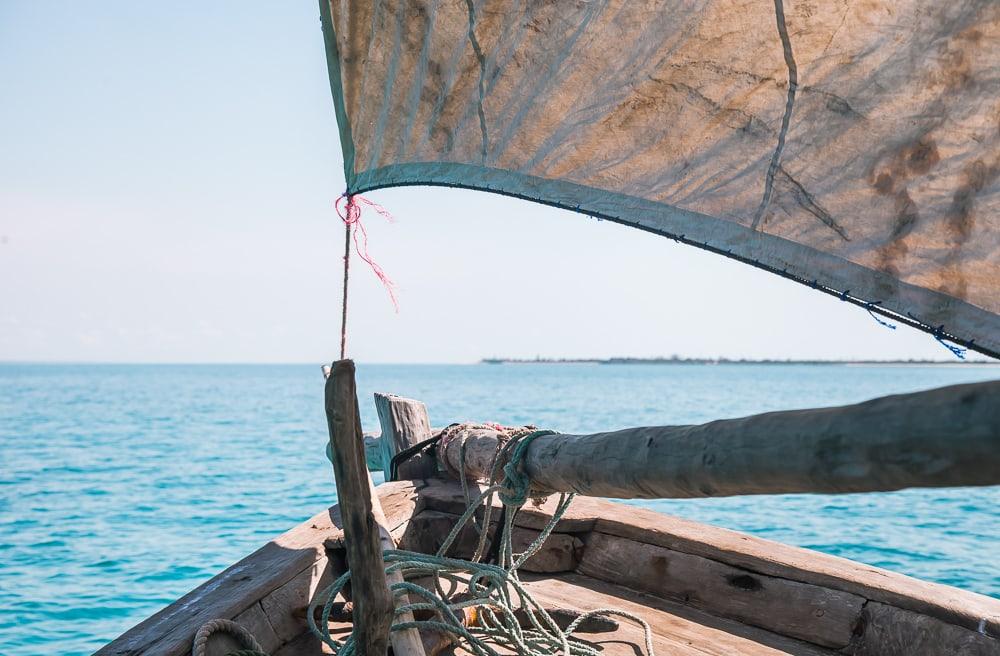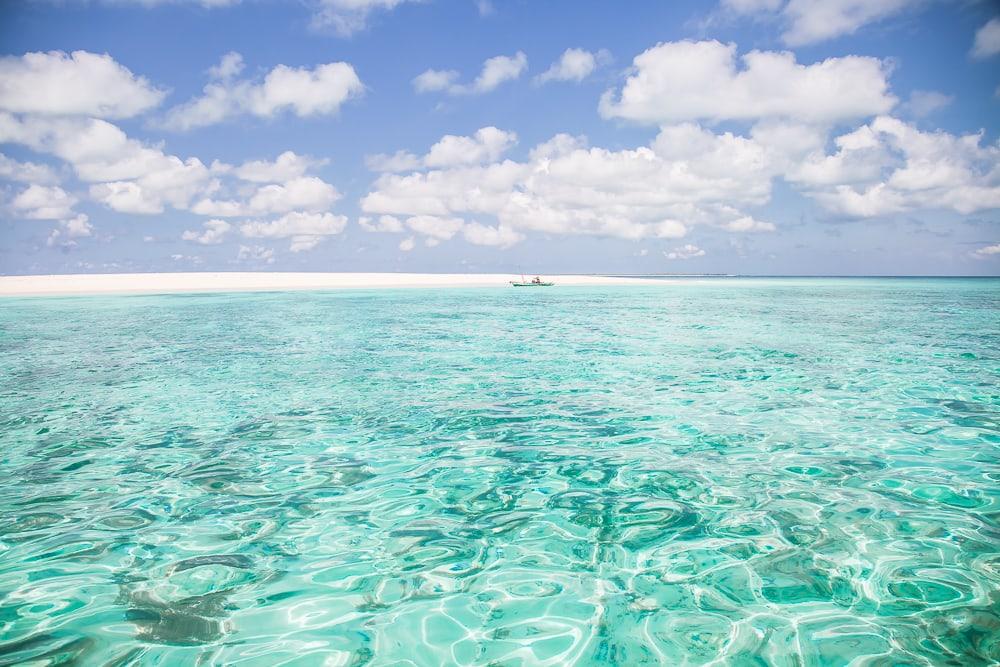 Days 8 – 9: Quirimbas to Gorongosa
Our next destination after the Quirimbas Islands was Gorongosa National Park, a casual 1,300 kilometers away.
Okay, not so casual.
While originally we were going to try to travel overland down to the park via Nampula and Beira, we managed to find a cheap(ish) last minute flight from Pemba to Beira. Looking now there are actually a lot of quite cheap flights, so I'd definitely recommend booking your internal flights in advance if you can.
We spent the night in Beira at Hotel Savoy, which was probably the most basic place we stayed on this trip, but it was fine and centrally located.
While in Beira we also ventured to the local Spar supermarket, just so I could reminisce about my days as a Spar worker!
Jk, we wanted to pick up groceries for Gorongosa, since our room there only came with breakfast.
Days 10 – 11: Gorongosa
To get from Beira to Gorongosa National Park we got the Beira – Quelimane bus that left from the bus station "between 4 am and 5 am" (it was about 5 when we left).
You can buy a ticket at the bus station when you arrive. We didn't actually buy a ticket though because they were only selling tickets all the way to Quelimane. Since we wanted to get off earlier the driver put us in the back of the bus (the tickets come with seat reservations, so the front was full), and we paid him 500 MZN instead of the 700 it would have cost to go all the way to Quelimane.
Annoyingly the bus drove right past the park entrance but wouldn't stop until Gorongosa Village, some 40 kilometers away. But maybe if you ask really nicely beforehand you can get them to stop at the park entrance. We couldn't, so we had to take a "my love" back to the park. Apparently they call these pickup trucks my loves because everyone gets very cosy squished in the back.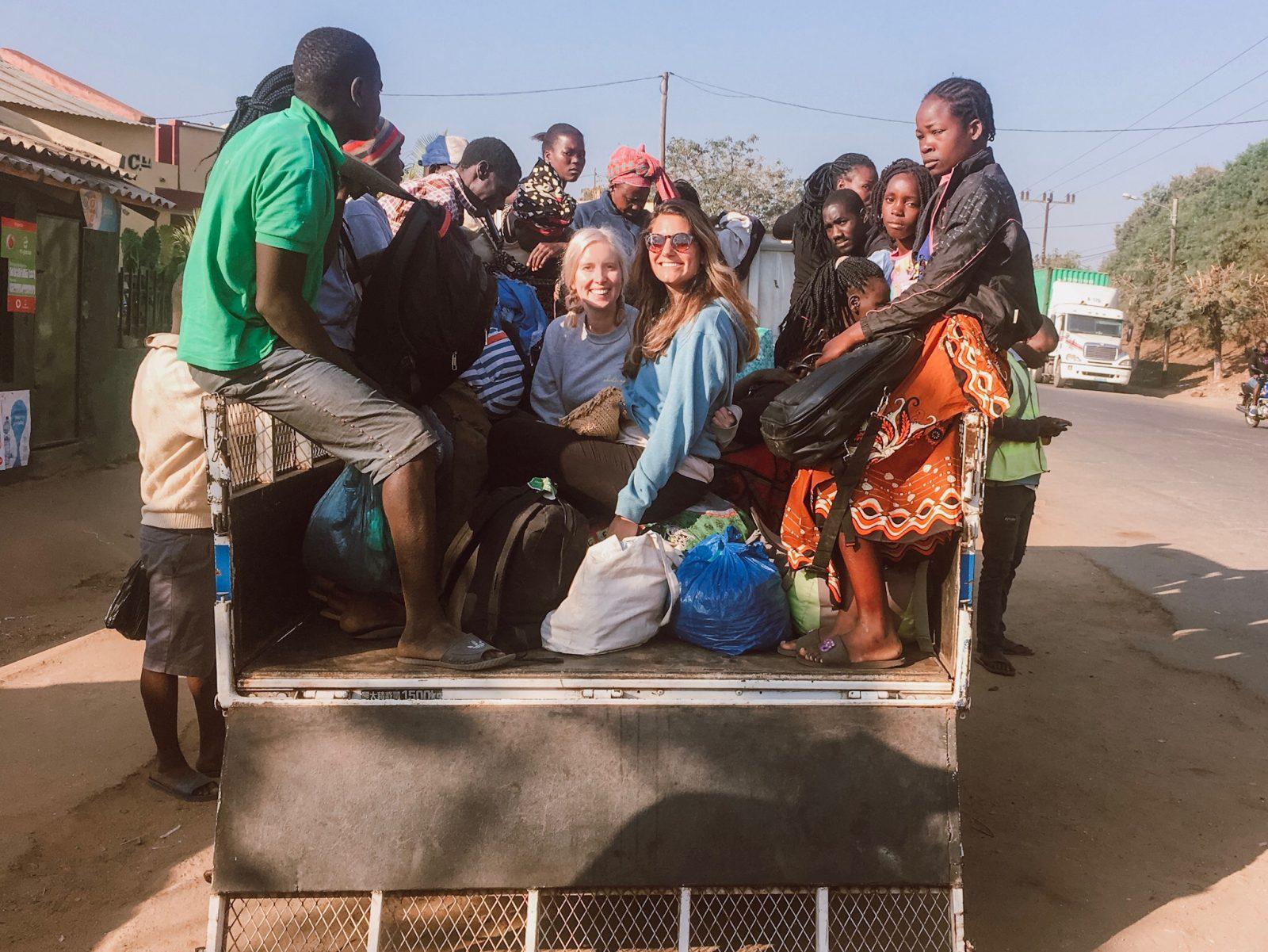 I have mixed feelings about Gorongosa National Park. There's a chance this is partly because by Gorongosa I was officially third wheeling and this is where those feelings of loneliness and being trapped in an uncomfortable situation started.
But also, Gorongosa is not what it used to be. Though hopefully it will be again in the future!
You probably already know that after gaining independence from Portugal, Mozambique was plagued by a 16-year civil war that lasted into the early 1990s. Like so many wars, this one was actually mostly about the US and Soviet Union, and over a million people died.
Gorongosa became a battleground, and the wildlife that didn't flee were shot for food, or in the case of the elephants, for their ivory to raise funds for arms and supplies.
Apparently Gorongosa National Park was at one time home to some of the densest wildlife populations in Africa, but this population was reduced by as much as 95% during the war. Now the park is making great efforts to bring those numbers back up, but it's a slow process.
Really this is all just reason to support the park, and you can still have a wonderful safari experience in Gorongosa.
We did an afternoon safari the day we arrived where we saw a bunch of lions, and then another safari the next morning where we saw several elephants. The park didn't feel quite as wild as other parks I've visited in Africa, but it was still such a special experience.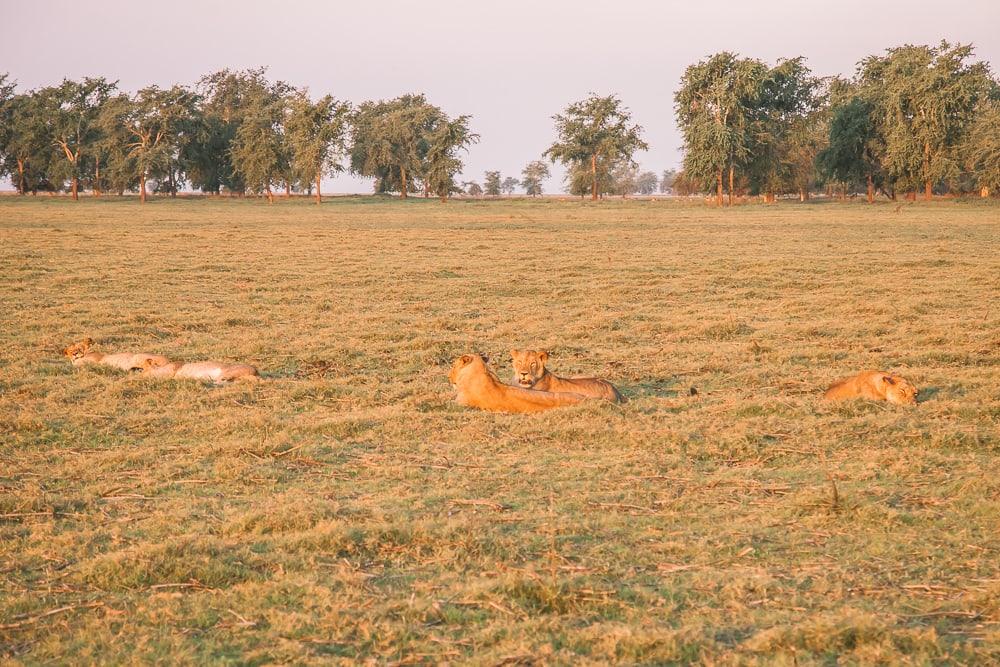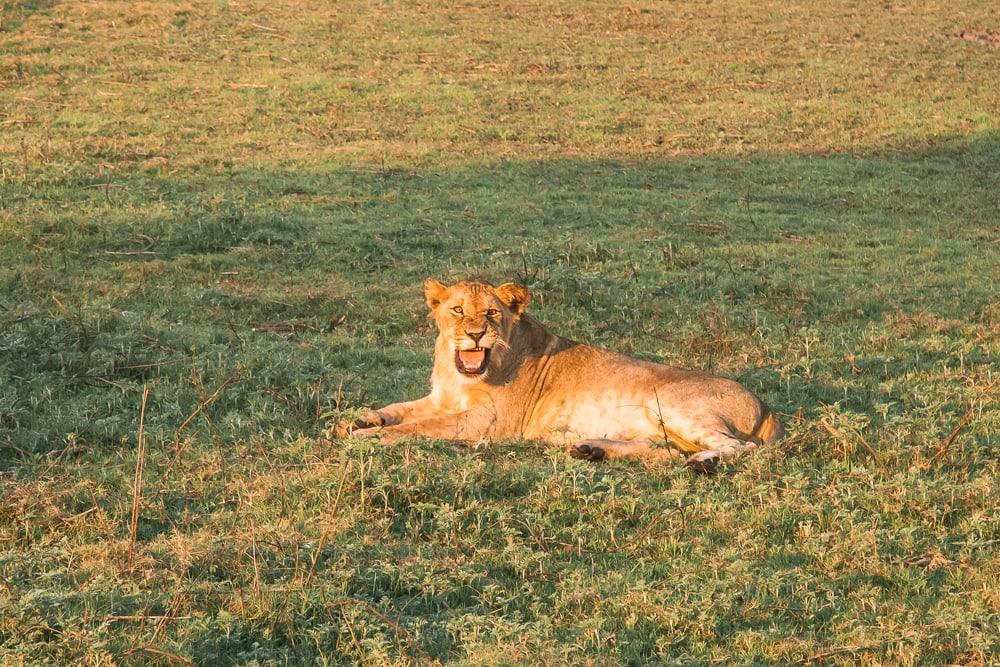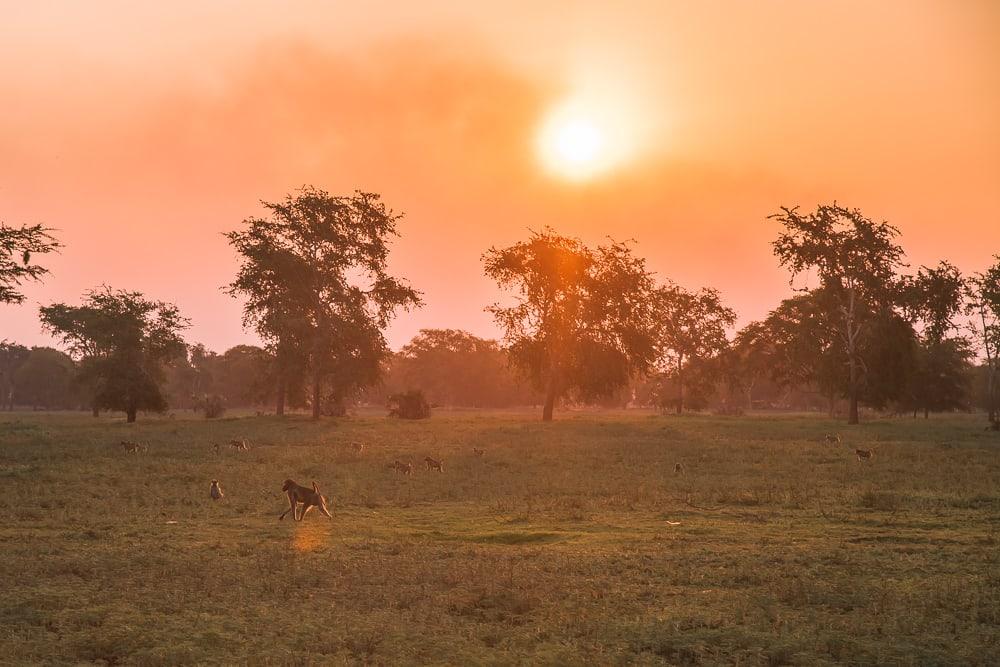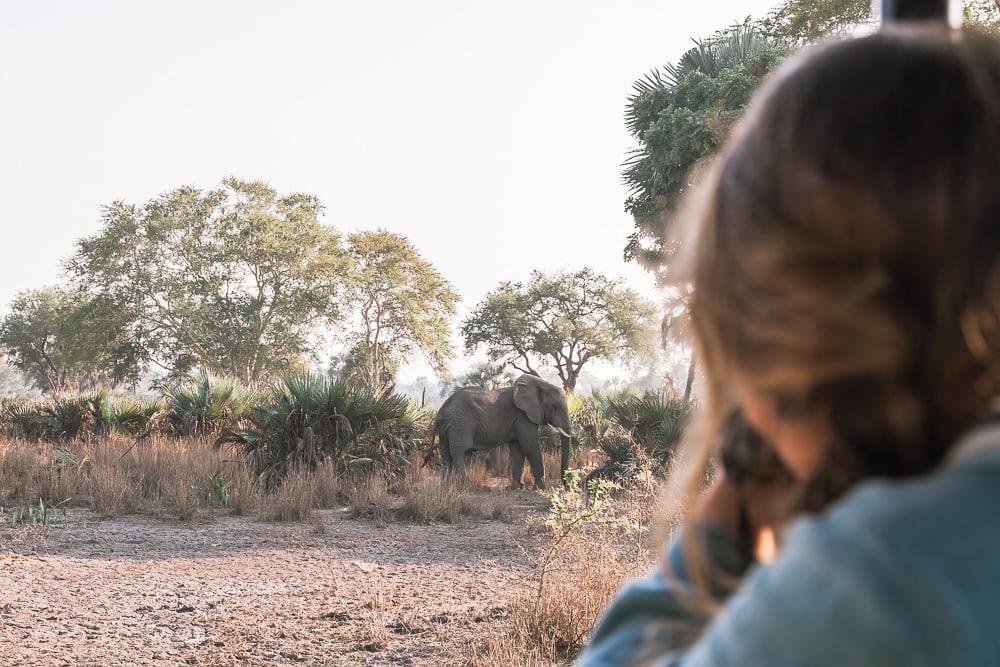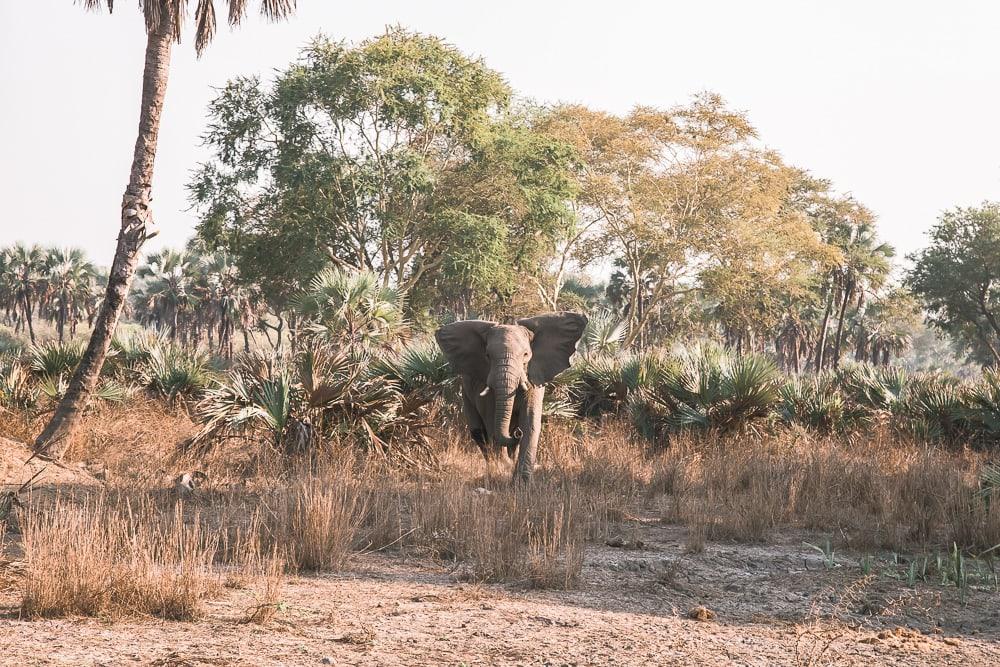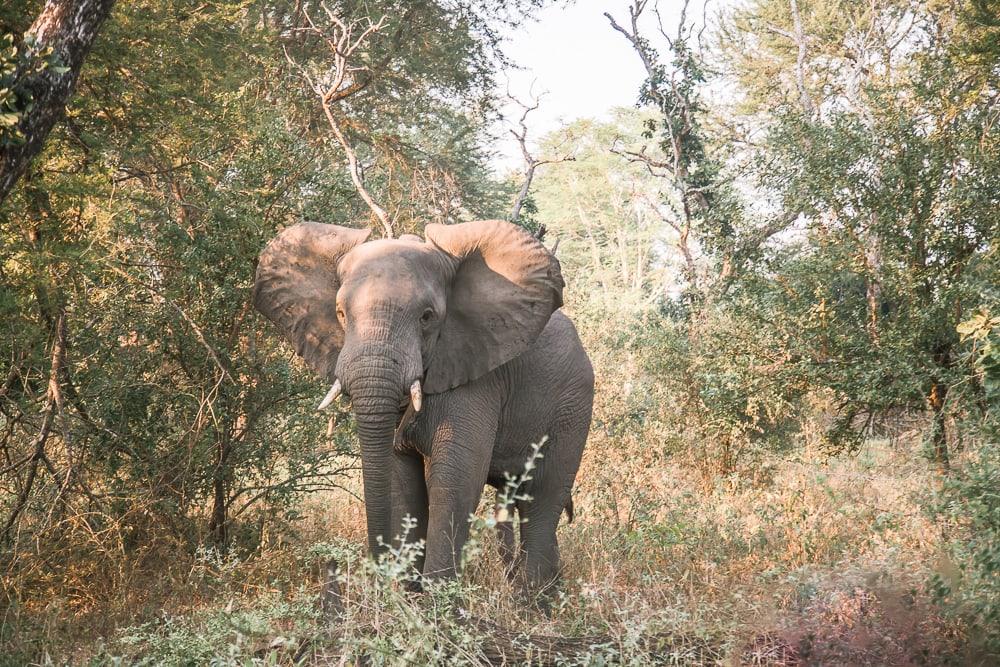 Gorongosa National Park accommodation
You can arrange both accommodation at Chitengo Lodge and your safaris through Gorongosa's website. We stayed in a standard bungalow with three beds, which also included breakfast.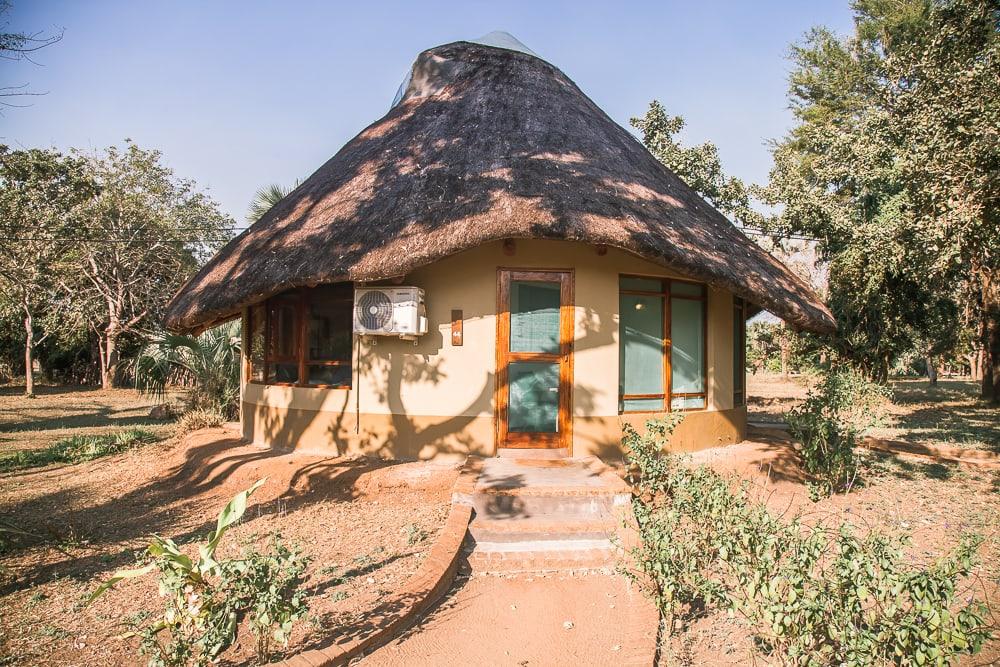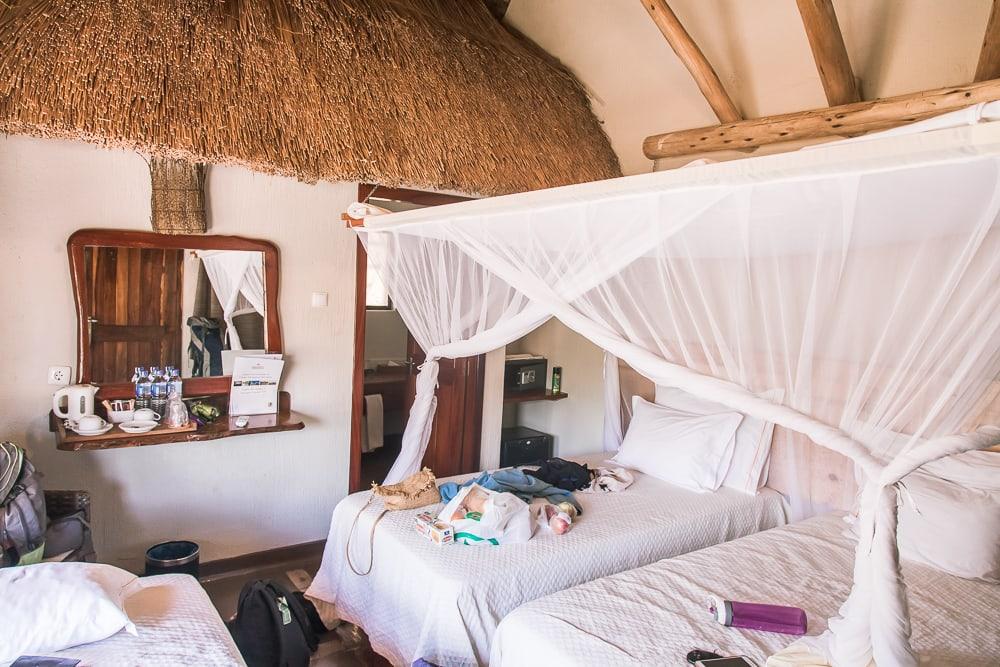 We left in the afternoon after our morning safari and spent the night in nearby Inchope, so that would could get an early morning ride down to Vilanculos.
Days 12 – 14: Vilanculos
Originally we had planned to take a bus from Inchope to Vilanculos, but then we ended up finding a guy who was headed there, so we paid for a ride in his truck instead.
The journey took about six hours, and the roads were so much better than what we had experienced in northern Mozambique!
The south almost feels like a different country because it's so much more developed. However it's a lot more touristy as well.
To be honest I didn't love Vilanculos. I think I would have appreciated it so much more if I hadn't already been to the Quirimbas. In comparison, the beach in Vilanculos wasn't as nice, and locals kept pestering us to buy things, which never happened in the Quirimbas.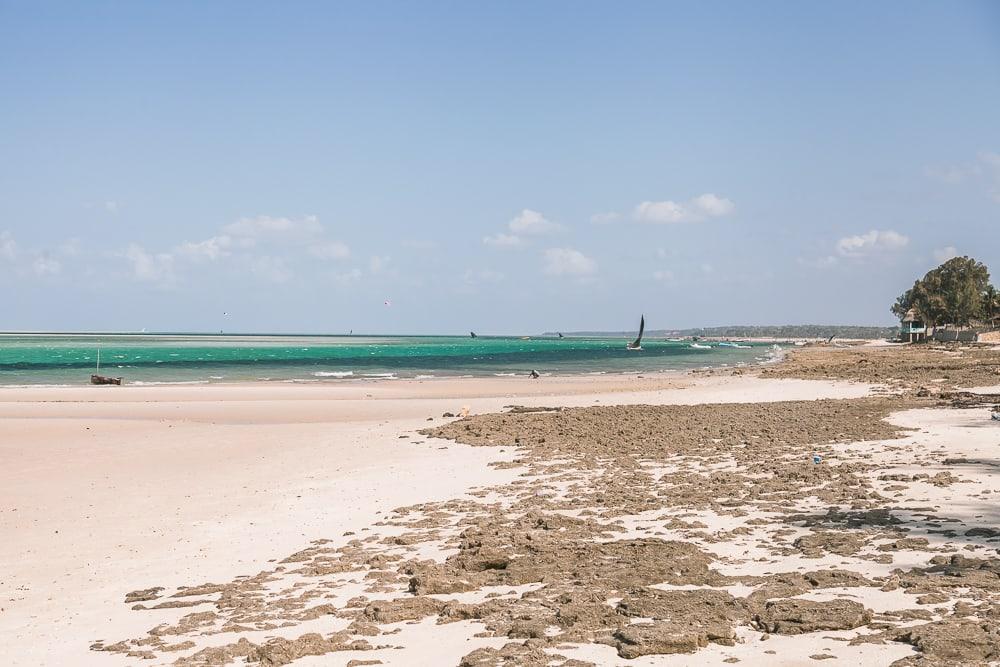 Honestly I would only bother coming to Vilanculos if you can't make it up north. They do have a lot of nice hotels and resorts, and while Bazaruto Island off the coast is more touristy than the Quirimbas Islands, it still looked very idyllic.
Vilanculos accommodation
We stayed at Baobab Beach Resort, which was right on the beach and has a bunch of different accommodation options.
Day 15: Vilanculos to Tofo
The journey from Vilanculos to Tofo took all day, but it's also possible to fly to Inhambane, which is about 25 kilometers from Tofo.
First we got a bus to Maxixe, which took about four hours, and then from there we got on a ferry to Inhambane. From Inhambane we got a chapa to Tofo, which took about an hour, including a long stop at a police checkpoint.
Days 16 – 20: Tofo
Tofo is Mozambique's main backpacker destination, and that's exactly what it felt like.
It's a laidback little town that seems to mainly exist for tourists. And it happens to lie along the prettiest beach.
Again, I would have preferred to spend this time in the Quirimbas (I feel bad that I keep saying this, but it's not because I didn't enjoy the rest of Mozambique – I just really adored the Quirimbas).
Tofo felt sort of like it could have been a backpacker spot anywhere in the world. I didn't necessarily feel like I was in Mozambique anymore, but we did have a great time there. The food was good, the beach beautiful, and I loved our hotel.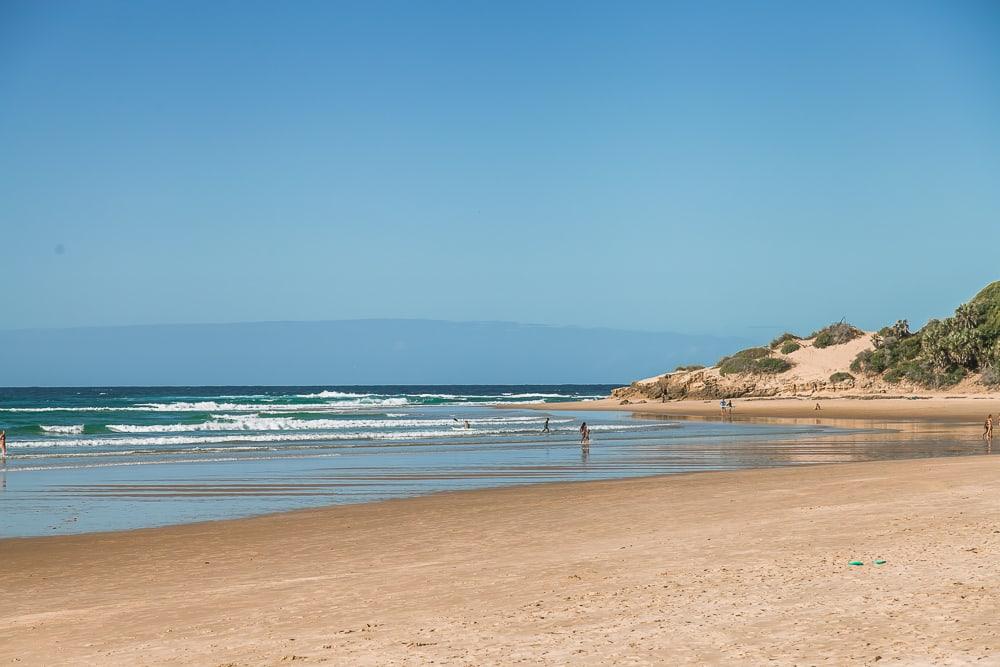 Tofo day trips
Tofo is a popular diving destination, but I can't tell you much more than that because oh my goodness, diving is way too scary for me. Like, I could never. In fact Danielle said she once attempted to get her certificate but it proved too stressful for her too. So I'm not the only baby here. 
Tofo also is home to lots of whales! We could see whales right off the coast, and Danielle and her friend went on a whale safari with Diversity Scuba. They saw a few humpback whales, but the safari only allows getting in the water with whale sharks, which they didn't see. Apparently the best time to swim with whale sharks in Tofo is from October to March.
We also went sailing for a day, with lunch on a neighboring island. It was nice to get back out on the water, but again it really made me miss the Quirimbas Islands! The boat trips up there were just so much more beautiful.
Tofo restaurants
We ate at a bunch of different places in Tofo, but as soon as we discovered Mama Bia that's where we had all the rest of our meals. It's a little restaurant inside the local market and oh my goodness, get the fried calamari with fries and a salad! We would also always buy an avocado at the market to have them put in the salad, because we're Millennials.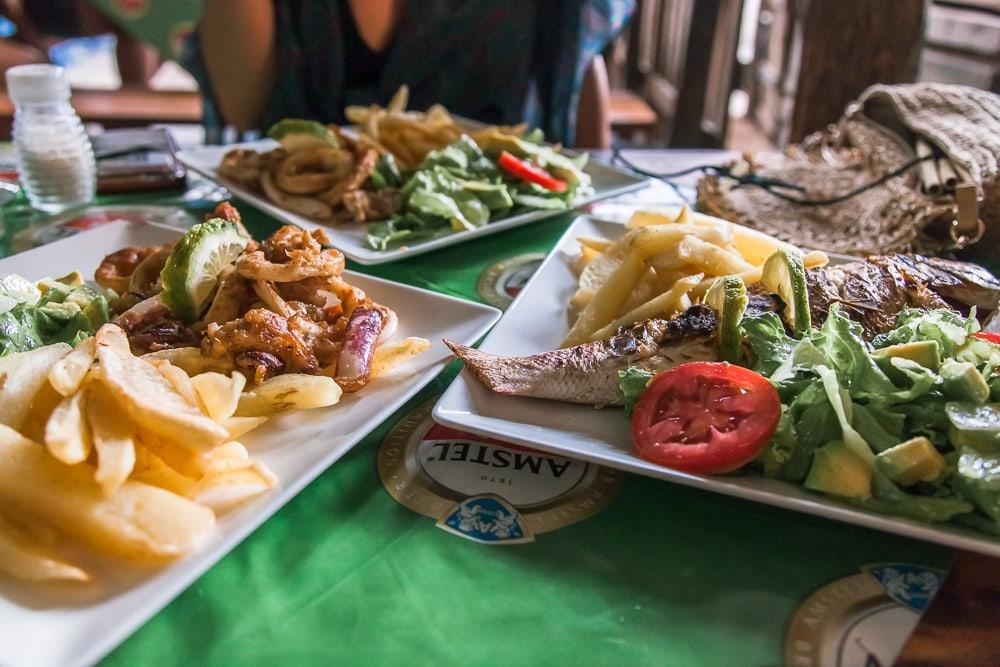 I also really loved Tofo Tofo, which is more upscale and has live music every Tuesday.
Tofo accommodation
We stayed at Casa do Mar which was the most bizarre and yet wonderful part of our Tofo experience.
Somehow I totally failed to get photos of the inside, which is decorated with lots of animal skins and 80s glam furniture. The owners are South African and I feel like they must be the biggest characters.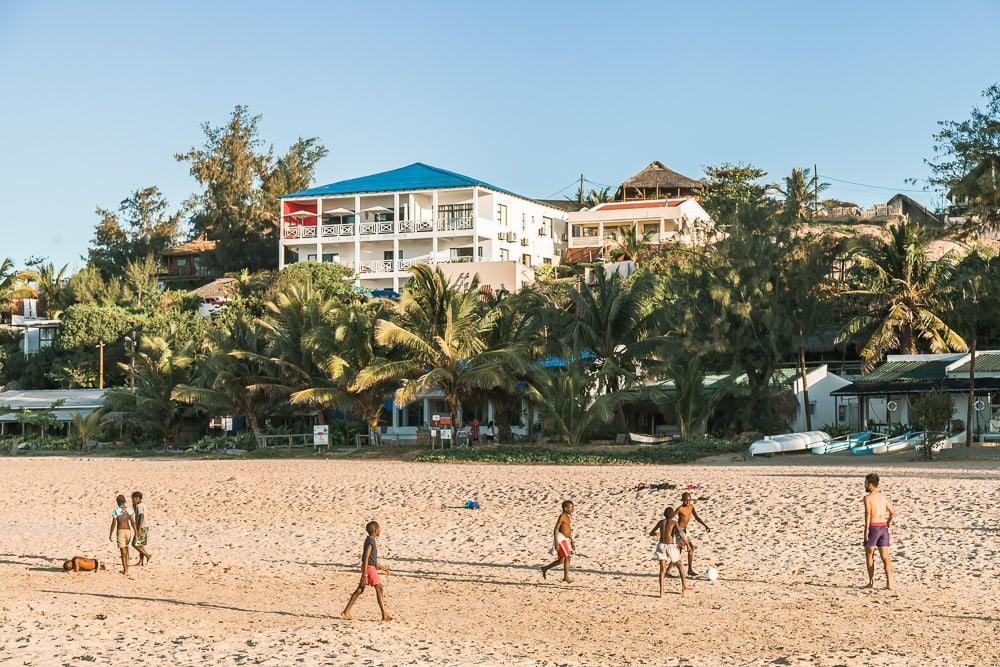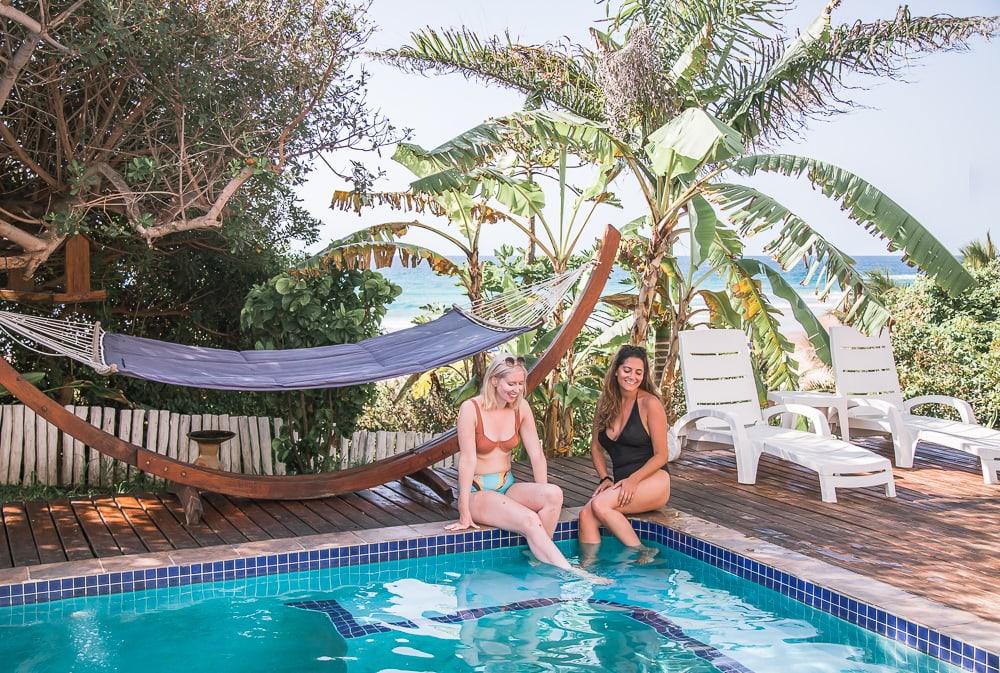 The staff were so nice there and breakfast was so good, but mostly I loved the views out over the beach and the swimming pool. It felt like such a vacation after all the long travel days across Mozambique. I think it was exactly what we all needed at the end of our trip.
Check current rates and availability at Casa do Mar here
Day 21: Tofo to Maputo
It seems like every bus in Mozambique leaves at 4 or 5 am. But this was our final early wake up call!
We took a private car from our guest house in Tofo to Inhambane, and then the Etrago bus from Inhambane to Maputo. You can also get Fatima's shuttle directly from Tofo. We had heard that the Etrago bus was supposed to be nicer, but it was still just a minivan, so it probably would have been easier just to go with Fatima's shuttle.
To be honest I can't actually remember where we stayed in Maputo, because we chose it last minute and only spent one night there. But after seeing the little bit I did of Maputo I did sort of wish we had had at least an extra day there.
The city is much more laidback than I had expected. I felt safe walking around alone and I just really enjoyed the vibe of the city. Sorry that's so vague – I didn't see very much!
Day 22: Home
My journey home was long. I flew back to Johannesburg, then Cape Town, then Istanbul, then Oslo, and then Trondheim. And then I took a five-hour train up to Mosjøen. But Mozambique was certainly worth it.