I probably wouldn't have visited Lodz without my Polish friend Kami telling me about it, but as soon as she mentioned the words "industrial" and "street art" I knew I had to see it.
You should really see it too. In fact, stop reading this post and go book tickets there now. Trust me.
Unless you were also taught not to trust people you meet online, in which case I guess you had better read on (and also, ouch).
In many ways Lodz looks like a rundown, once-booming industrial city with impressive but in many places deteriorating Art Nouveau architecture. But in a remarkably successful effort to reinvigorate the city, the Urban Forms Foundation has saturated the city with art, most noticeably with its permanent exhibition of street art scattered through Lodz.
And I don't mean just a few murals drawn on some walls. I mean some serious street art.
Street Art in Lodz, Poland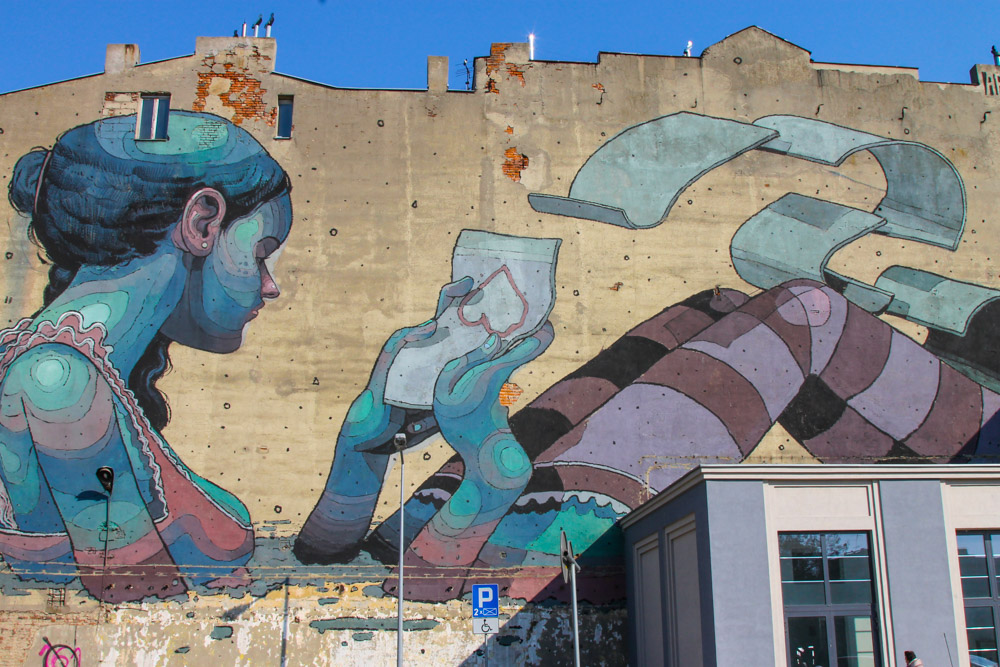 street art murals in Lodz, Poland
Artists from around the world have transformed the sides of Lodz's buildings into some quite amazing pieces of art.
Um, why doesn't every city do this?
On Kami's advice, we downloaded a map of Lodz's street art and spent the day in search of the murals.
It made for a great walking tour of the city as it took us around the main areas, plus it was fun to always be peeking around corners in anticipation of a new painting.
I loved the contrast between the crumbling art nouveau buildings and bright murals. I also loved the huge variety in the street art. I kept announcing that each new mural I saw was my favorite, ha! So hard to decide.
Most people I spoke to in Poland seemed surprised that Lodz was one of my favorite cities here, but can you blame me?
While I love the cute old town centers of Poland's main tourist cities, Lodz was something totally different. And yet it was definitely one of the most enchanting cities I traveled to in Poland.
Where to Stay in Lodz
Dan and I stayed at Flamingo Hostel in Lodz, and it was probably one of the most beautifully decorated hostels I've been to! I loved the bright colors and huge common areas, and the extensive breakfast buffet certainly didn't hurt either.
We stayed in a double room with one of the most comfortable mattresses of my trip (I also love when hostels use white sheets). I wholeheartedly recommend staying there! The staff were incredibly friendly and helpful, and clearly enthusiastic about Lodz – though really, who wouldn't be? Check current rates and availability here
Pin it!


Many thanks to Flamingo Hostel for hosting us in Lodz. As always, all opinions are my very own!