I've really slowed down my international travel over the past few years – partly for obvious reasons, but also partly because I haven't had that same drive to see the whole entire world that I used to. We can blame Alfie. I used to say yes to any opportunity to travel, but these days I've become a lot more selective with the places I go.
But one place that remained at the top of my travel wish list was Greenland.
A couple of my friends visited Greenland and loved it and I've always tried to catch glimpses of Greenland out the airplane window when flying between Norway and the US.
So when Realdania contacted me asking if I wanted to join a press trip to the new Kangiata Illorsua – Ilulissat Icefjord Center in Ilulissat, Greenland, you know I was packing my wool sweaters before I even finished their email.
I'll admit I had sky high expectations, but Greenland surpassed all of them. I think my trip to Greenland will forever be one of my favorite travel experiences, and I really hope that I can travel to Greenland again (and again) someday.
I've been so lucky to travel to many different places around the world, so now it's not so often that I'm truly surprised when I travel somewhere new. And that's actually one of my favorite things about travel – I love discovering how similar people and places can be, even if a map sets them nearly a world apart. But it's also so exciting when I do find somewhere that feels completely new to me. I felt that way on the Falkland Islands, and then on Svalbard, and again in Greenland.
Wait, maybe I just really like islands near the poles?
Greenland actually felt quite similar to northern Norway in many ways. But there is one big thing that sets Greenland apart: the Greenland ice sheet. And I do mean big – the ice sheet covers nearly 1,710,000 square kilometers, making it the second largest ice sheet in the world, after the Antarctic. And wow, it's a stunner.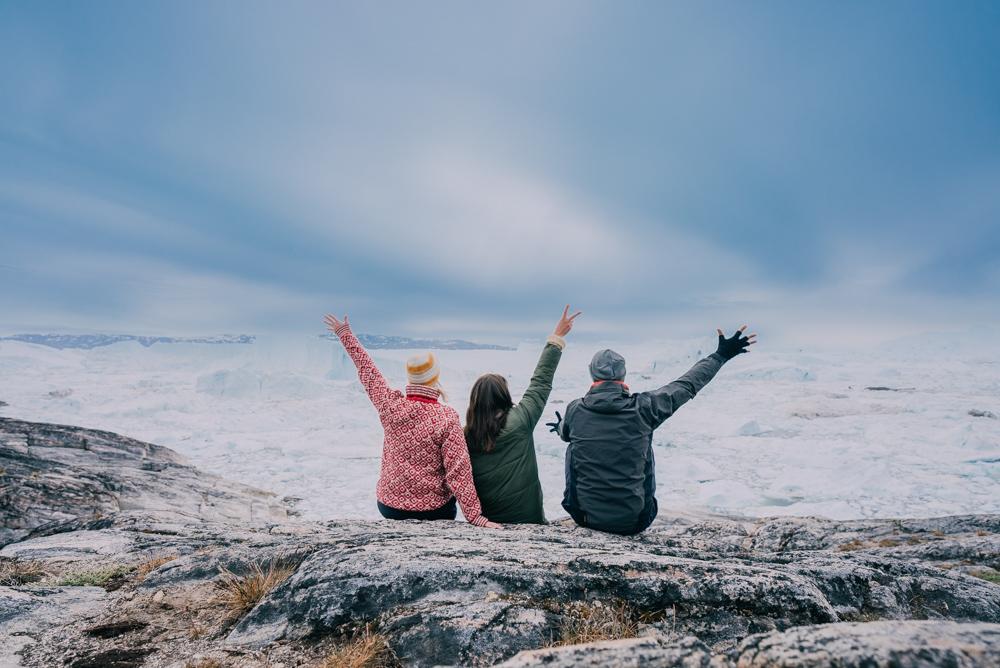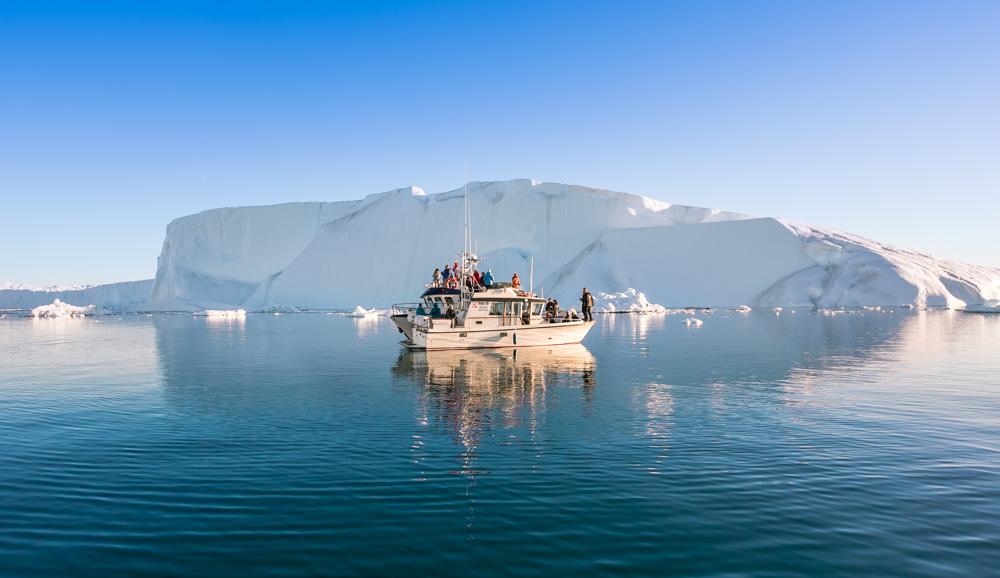 So if you're considering a trip to Greenland but aren't quite sure if it's worth the expense and effort, or if you've never even thought about visiting Greenland before, definitely try to go! And for what it's worth, I would choose to travel to Greenland over Iceland every time. Though actually Greenland felt a lot more similar to Northern Norway than to Iceland.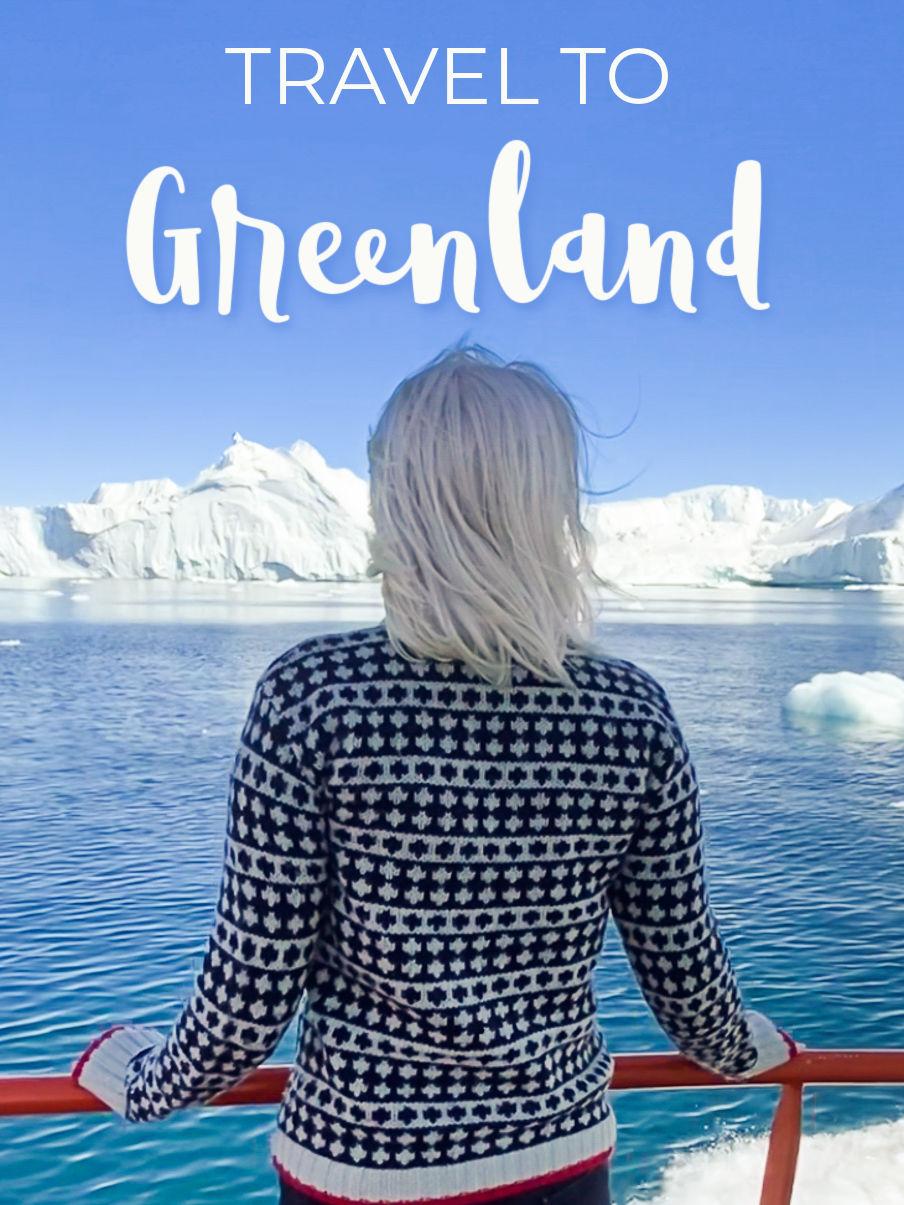 How to get to Greenland
The main reason it took me so long to visit Greenland is that travel around Greenland is a bit tricky. This is because Greenland's cities aren't connected by roads, so you have to travel by boat or plane to get around.
But similar to my experience traveling to Svalbard, I was actually really surprised how easy of a trip it was. I had always heard that flights to and around Greenland are super expensive, but I never actually looked into how much a trip there would really cost.
I flew Air Greenland from Copenhagen to Kangerlussuaq, Greenland's international airport, where I had a short layover before my flight up to Ilulissat.
My roundtrip flights from Copenhagen to Ilulissat, including the layover, cost 12,172 DKK, which is about 1,630 USD. And I just did a quick search for flights for November and the cheapest roundtrip flights from Copenhagen to Ilulissat were 4,318 DKK, which is about 585 USD.
Should we go?!
You can also fly into Greenland from Iceland, which even has some direct flights to Ilulissat.
Places to visit in Greenland
Nuuk
Nuuk is Greenland's capital and largest city, with a population of about 18,000. I haven't visited Nuuk yet, but my friend Vanessa has, and I interviewed her about her trip to Nuuk here.
Ilulissat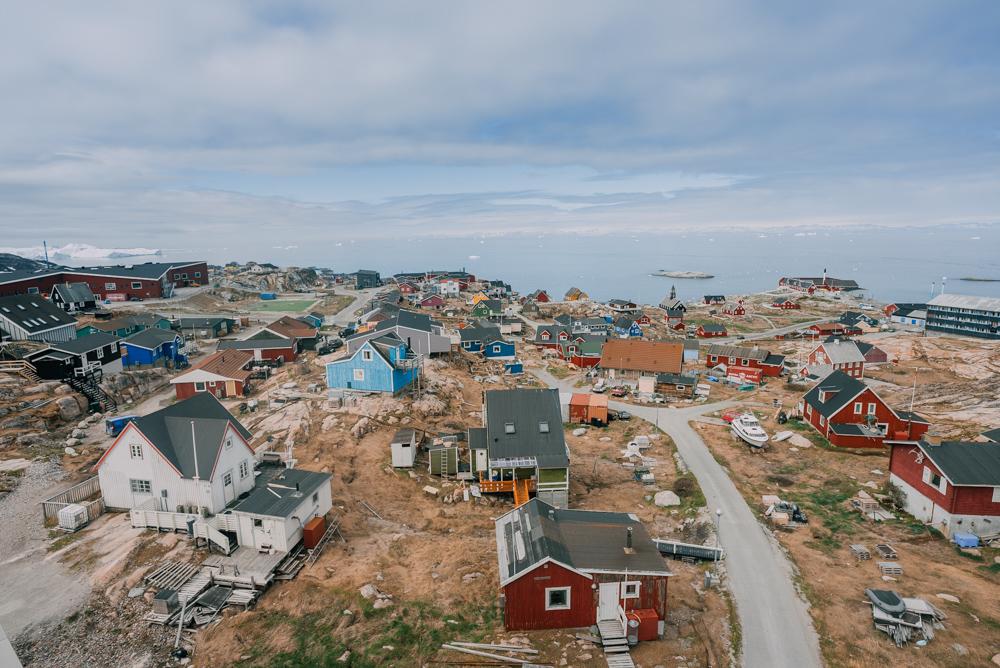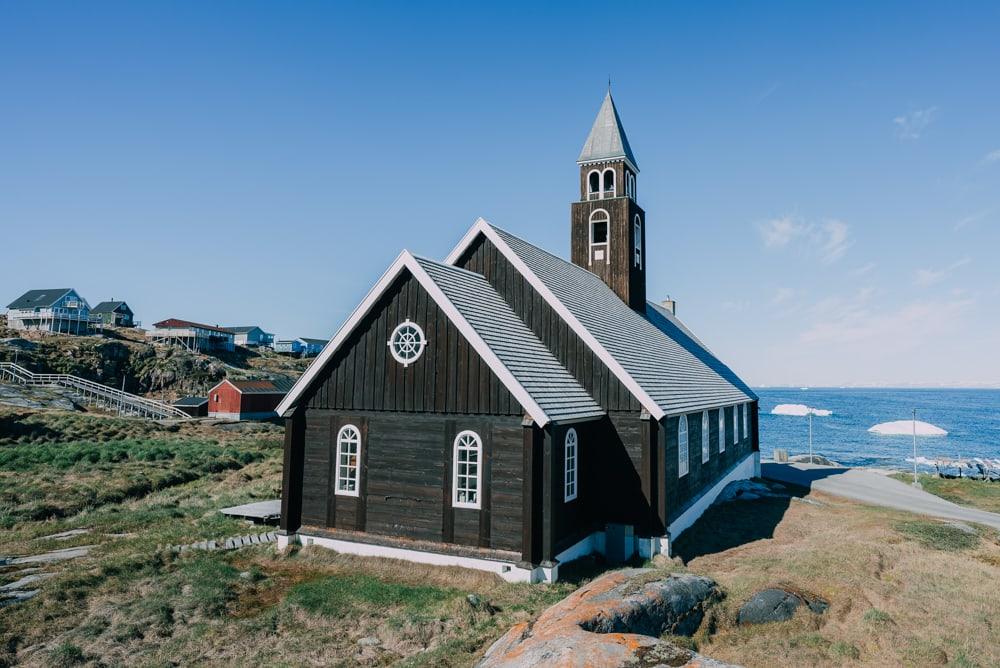 When I told my two friends who have visited Greenland that I was going to travel to Ilulissat, they were both so excited. That's where the giant icebergs are!
Ilulissat is on the west coast of Greenland above the Arctic Circle, whereas Nuuk is farther south. Though actually Ilulissat is still a bit south of Tromsø, so I joked that this was my southern vacation, or sydentur as we say in Norway, this summer.
Ilulissat is the perfect place for a first time visit to Greenland. Everyone I asked said that Ilulissat is more interesting to tourists than Nuuk. The main attraction here is definitely the UNESCO-protected Ilulissat Icefjord.
Greenland is famously covered roughly 80% by an ice sheet, and the Ilulissat Icefjord lies at the mouth of the Sermeq Kujalleq glacier, which is one of the few glaciers where the Greenland ice sheet touches the sea. Sermeq Kujalleq is also one of the most active and fastest moving glaciers in the world, which means the the Ilulissat Icefjord is an excellent place to see a lot of enormous icebergs.
Ilulissat is also well set up for tourism, with plenty of hotels to choose from and several tour operators offering tours around the area. And from Ilulissat you can also take a short boat ride to the nearby settlements of Ilimanaq and Qasigiannguit.

Sisimiut
Sisimiut is the second largest city in Greenland, on the western coast between Nuuk and Ilulissat, but it's not as much of a tourist destination as Ilulissat. Still, it's another great place to experience Greenland's nature.
Kulusuk
Kulusuk is an island in eastern Greenland, far away from Nuuk and Ilulissat. You can actually fly here on a day trip from Iceland, or spend a few nights at Hotel Kulusuk.
Best time to visit Greenland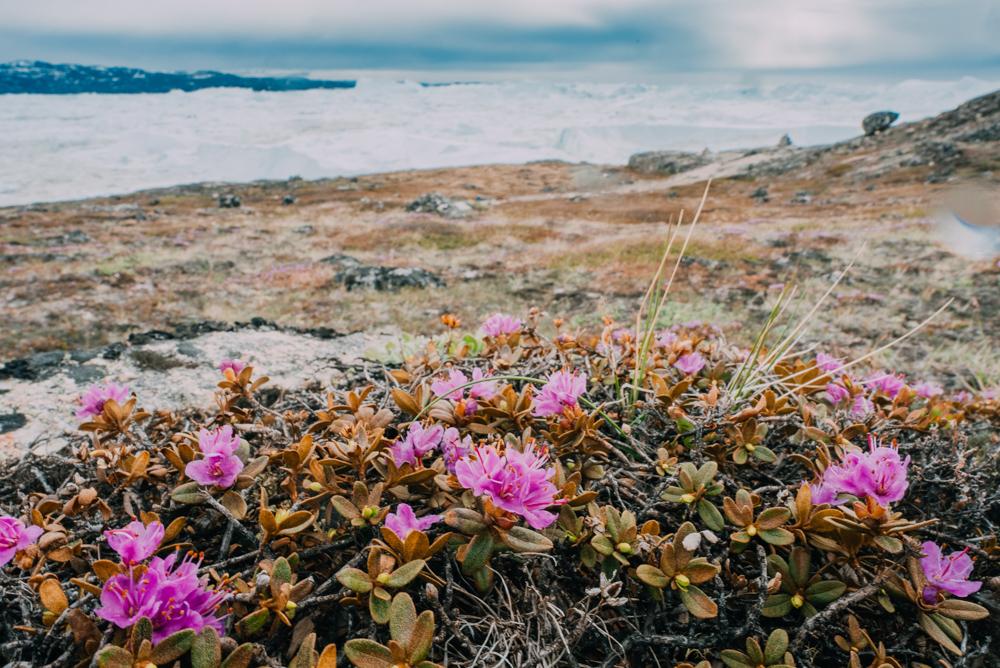 As it's a huge country, the best time to visit Greenland will vary a bit depending on where you want to go. But I asked our guides and their recommendations were actually pretty similar to my recommendations for visiting northern Norway.
I visited at the end of June, during the Midnight Sun period. Peak season in Greenland is summer for hiking under the Midnight Sun and other outdoor activities, and winter for northern lights and dogsledding. But you can also see the northern lights in the fall and early spring, and March and April are a good time to enjoy the snowy landscape when the sun has returned.
I spent five days in Ilulissat, which felt like the perfect length of time to get to know the city a bit. If you want to take a longer trip to Greenland, I would consider splitting your time between a couple of different places.
Things to do in Ilulissat
If you decide to base your Greenland trip in Ilulissat you'll have lots of options for fun things to do.
Icefjord center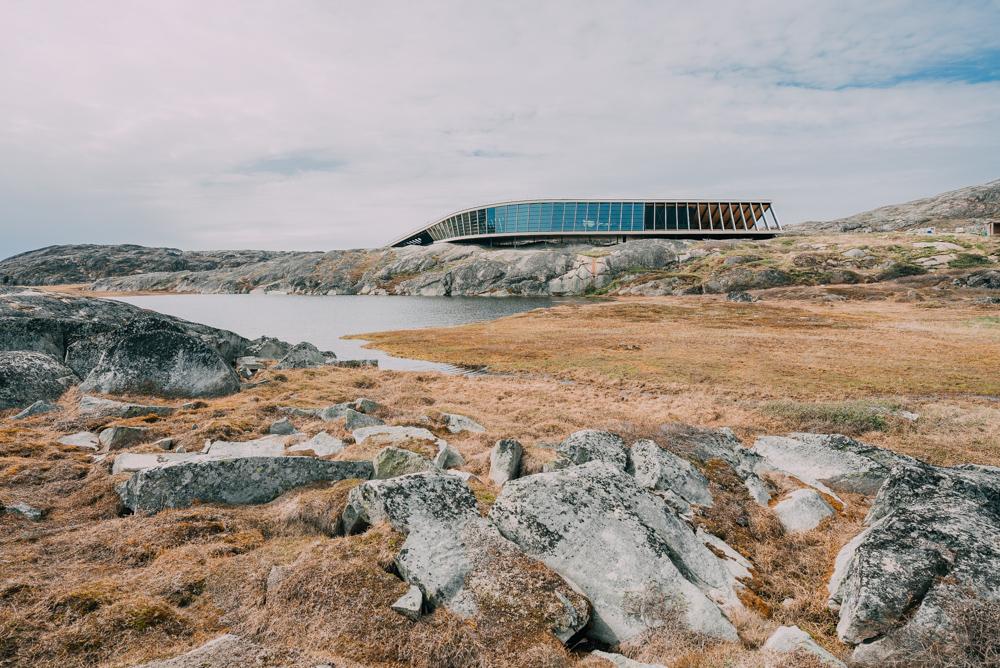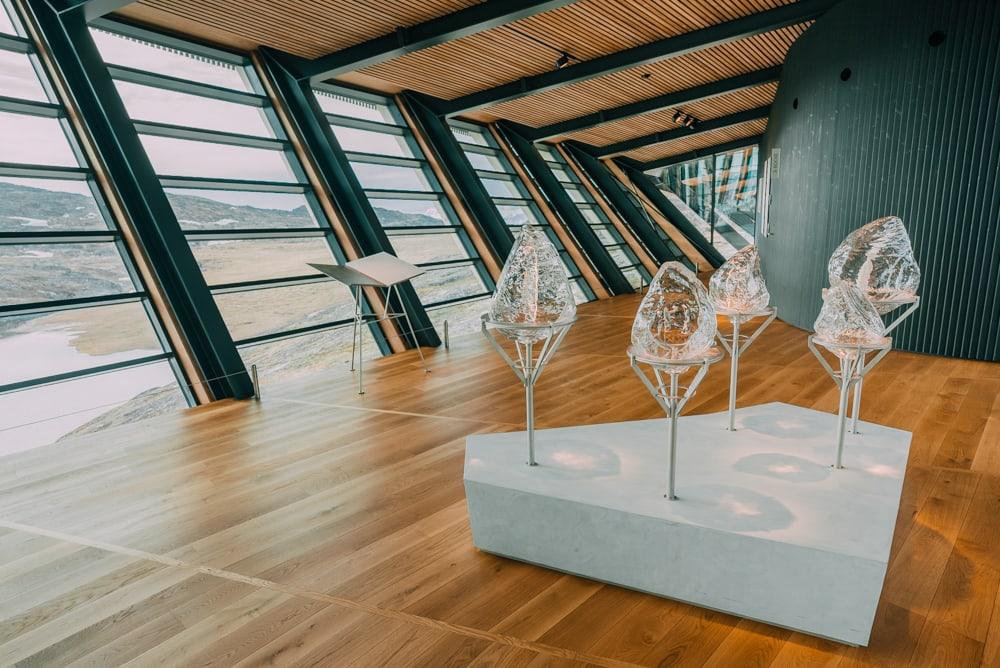 The whole purpose of our trip to Ilulissat was to visit the new Kangiata Illorsua – Ilulissat Icefjord Center. And I would say the Icefjord Center is yet another excellent reason to base your Greenland trip in Ilulissat.
The Icefjord Center opened in 2021 and quickly became a popular gathering spot for locals and tourists alike. The center was designed by Danish architect Dorte Mandrup to fit harmoniously into the natural landscape, and it really is a work of art. Here visitors can read books about the local culture and landscape, as well as make their way through interactive exhibits about the Icefjord's unique natural and cultural history.
The Icefjord Center makes an excellent starting off point for your trip to Greenland, as here you can not only learn more about the region, but the center also serves as the trailhead for many hikes in the area. The center also has a lovely café where you can relax and chat with other visitors.
Hiking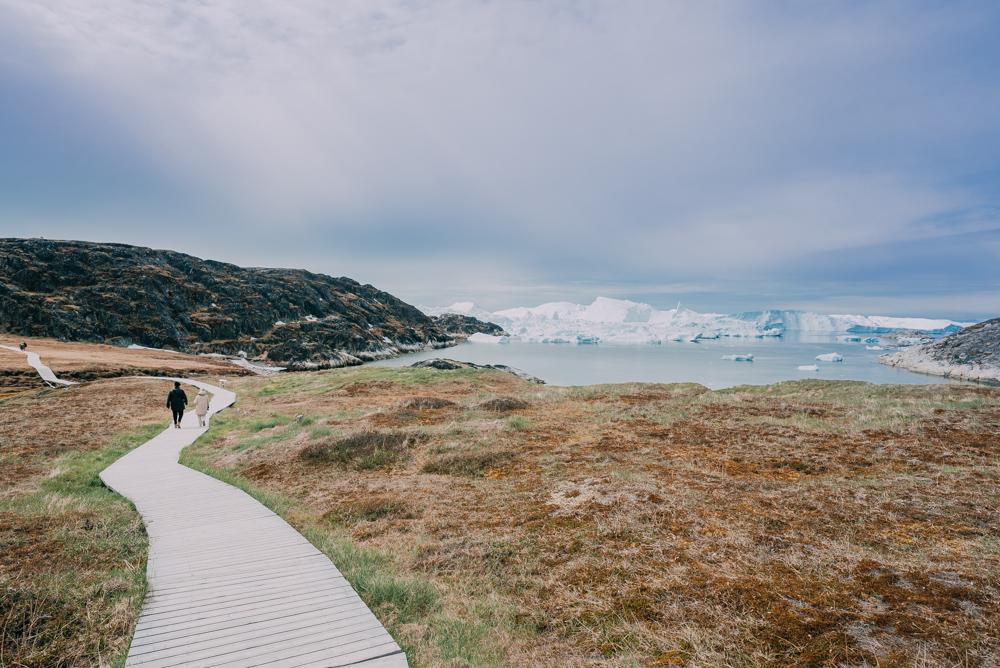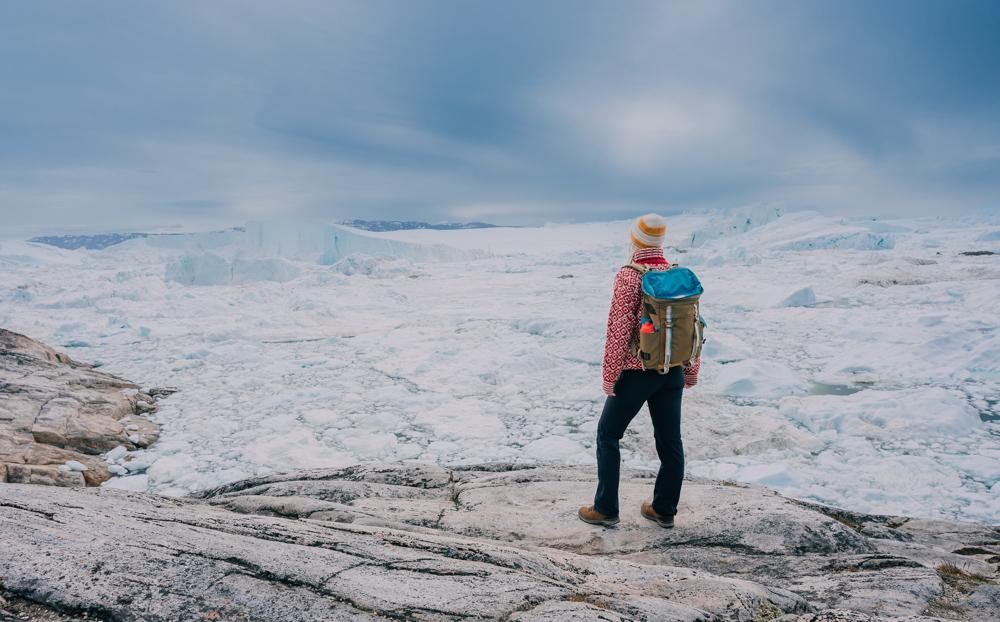 I went on one of the shorter hiking loops from the Icefjord Center, which took me towards the Icefjord with its towering ice.
I'm not sure when I turned into a Star Wars geek, but my first thought when I reached the edge of the Icefjord was that it looked like something from Star Wars. In other words, standing here truly felt like I was on a different planet. We have plenty of glaciers in Norway, but nothing like this.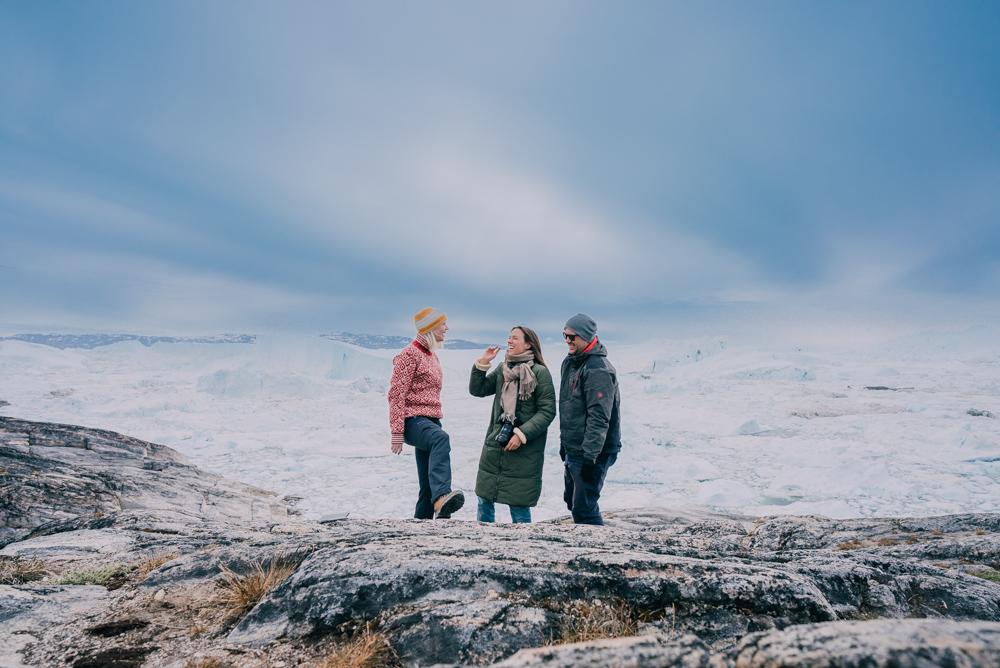 Ilulissat walking tour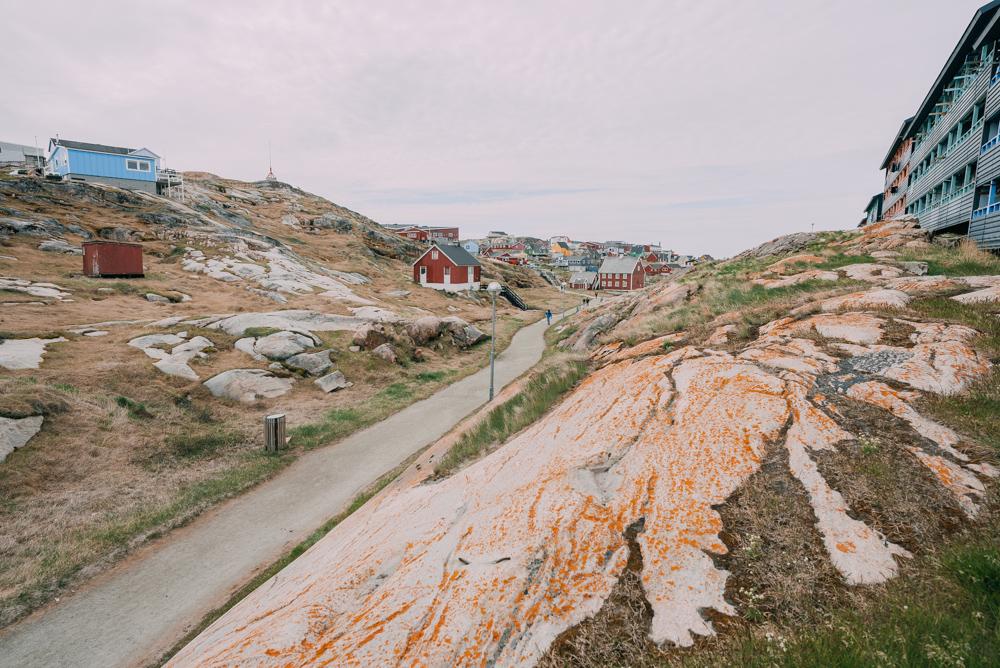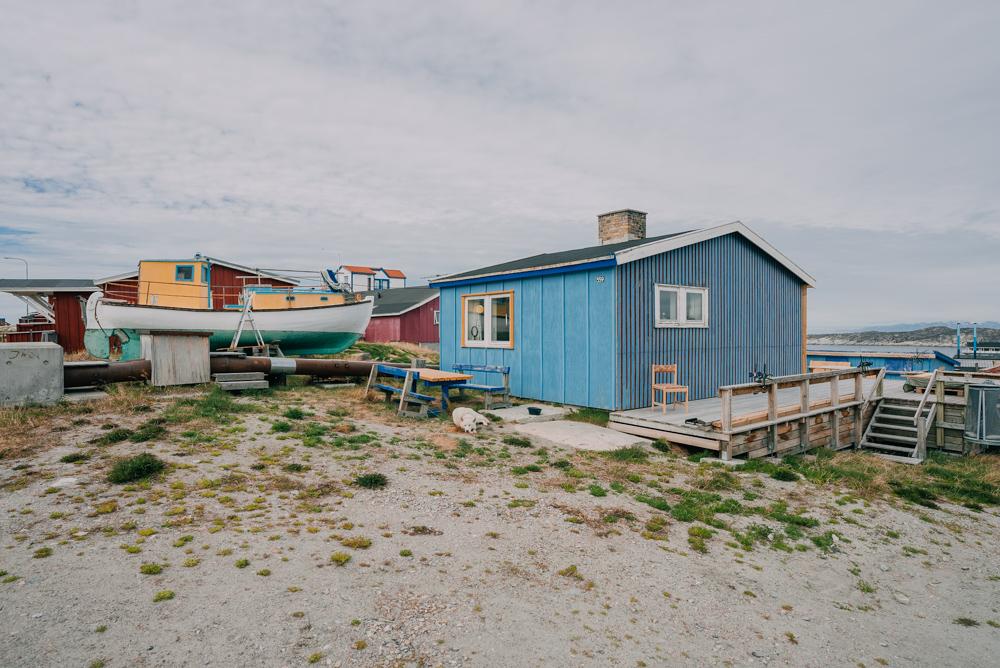 On my first afternoon in Ilulissat I joined a walking tour of downtown Ilulissat, which was the perfect way to learn more about the town and get to know my way around. Ilulissat is fairly small, so it's easy to explore most of the town on foot.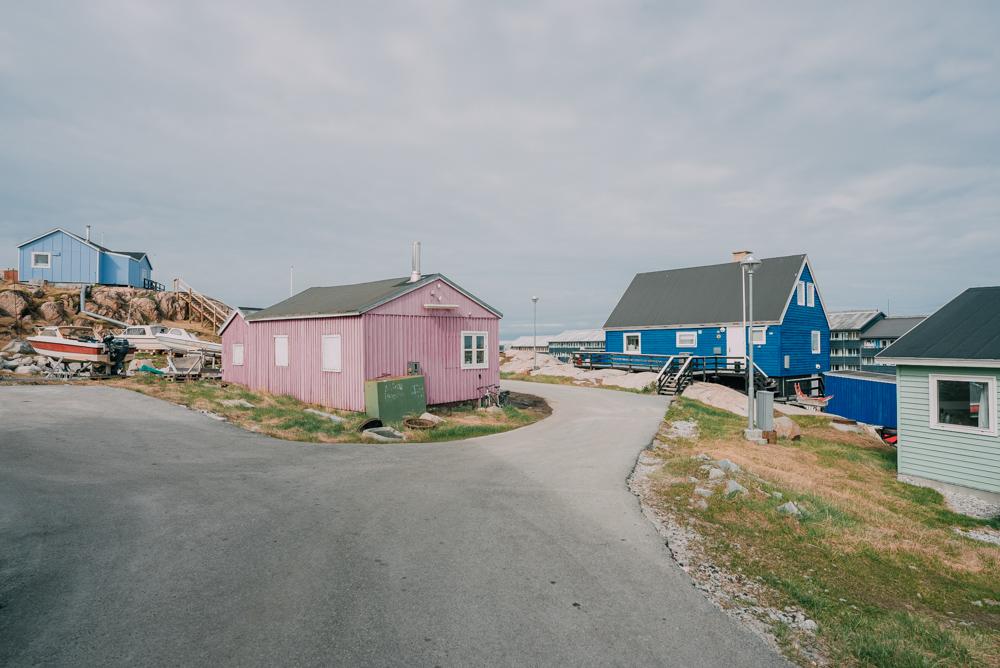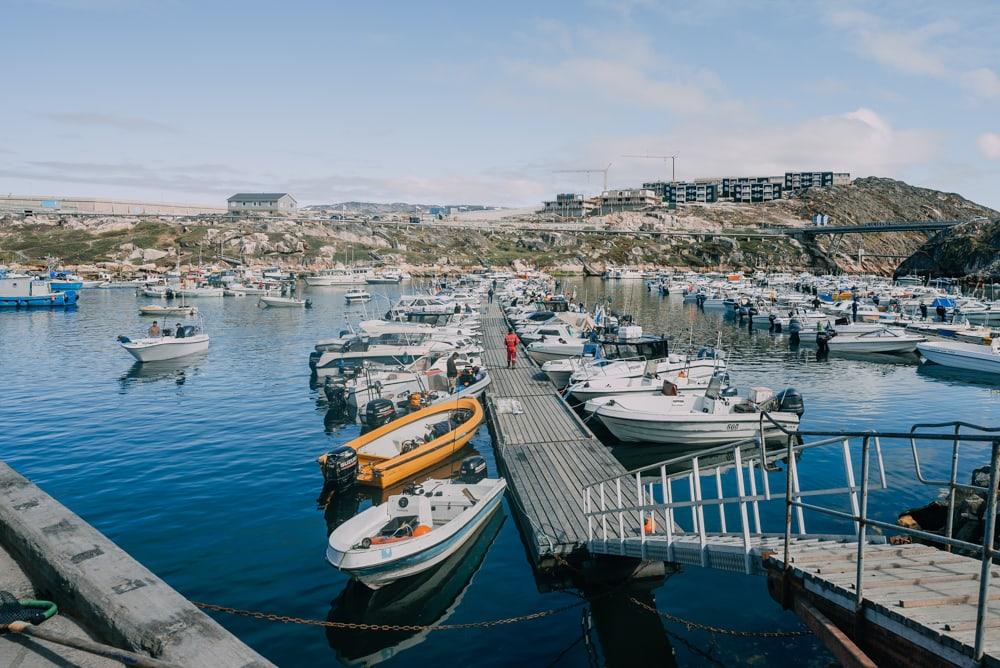 Icefjord cruise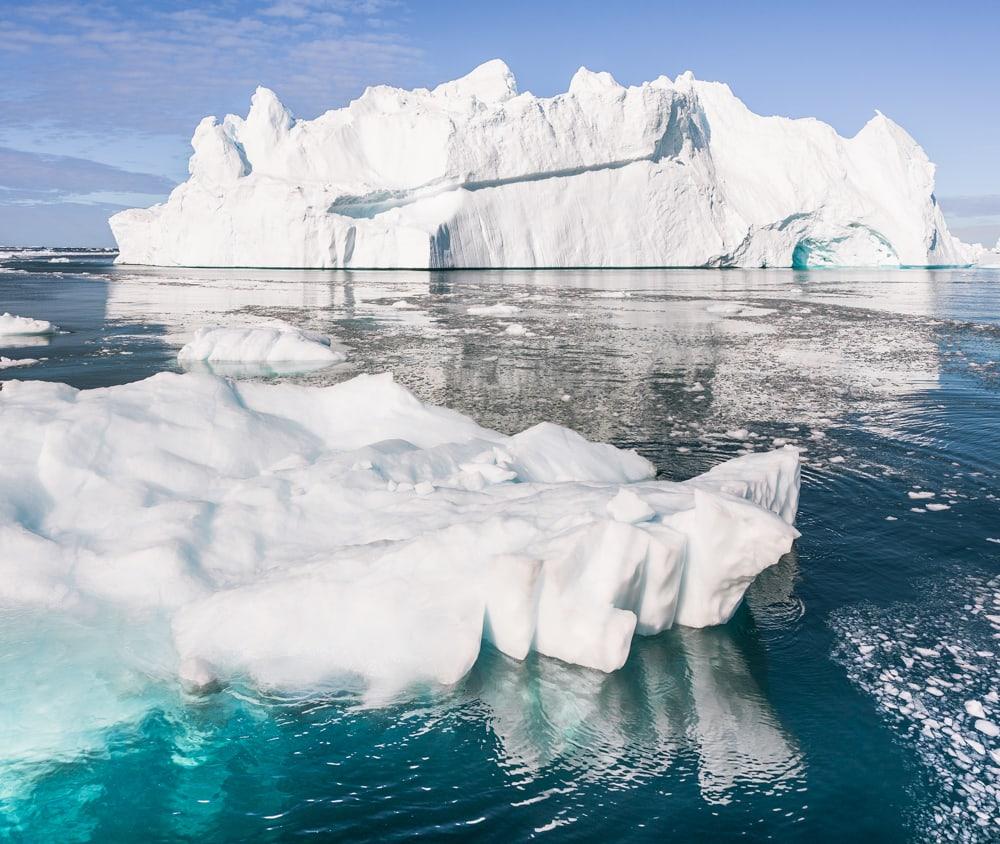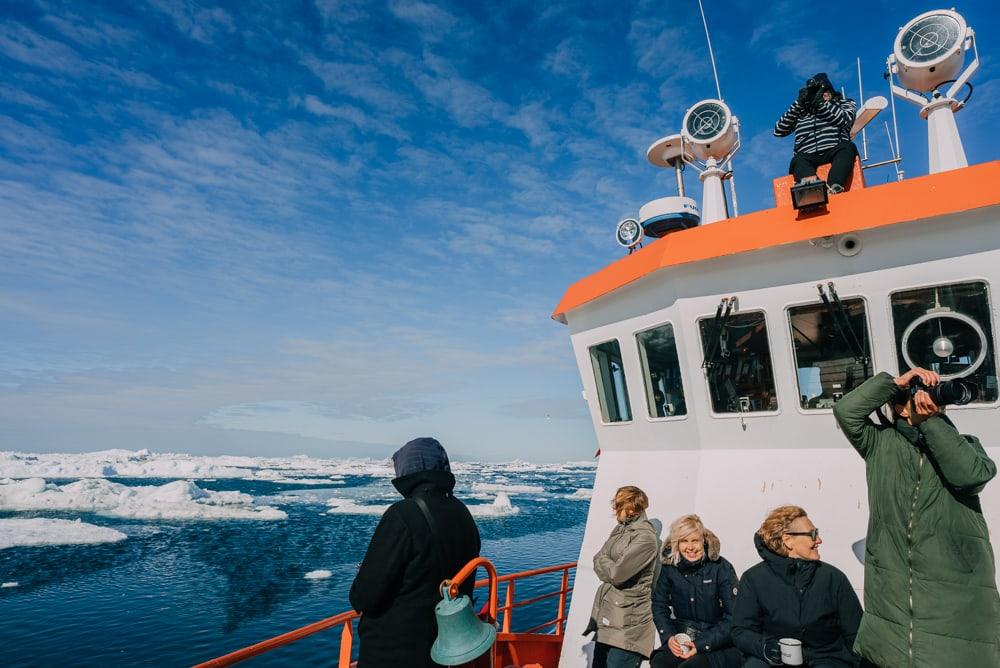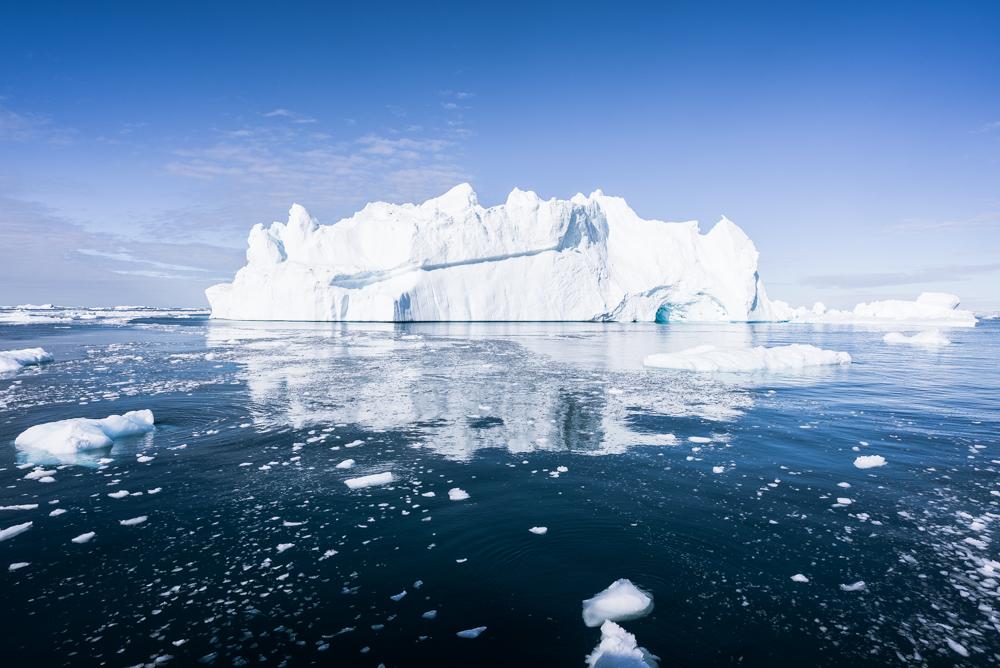 The highlight of my trip to Greenland was definitely taking a cruise through the Ilulissat Icefjord. Once again, my photos couldn't quite capture the incredible experience of sailing through enormous icebergs.
In fact I would say sailing through the Icefjord is a good enough reason alone to make the trip to Greenland. While I had sailed on icebreaker boats through ice filled fjords in the Baltic Sea and Barents Sea, I had never before seen anything like the towering icebergs in the Icefjord.
We actually did this twice, first during midday on our way from Ilulissat to Ilimanaq, and then again for a midnight cruise. The midnight cruise was definitely my favorite, as the sun was really low so the the icebergs were bathed in the most beautiful golden light.
Our tour guide also made us cocktails with ice she scooped out of the Icefjord. It was wild to think that the ice we were drinking came from an ice cap with ice as old as 250,000 years. I watched air from the inside of the ice bubble up to the surface of my drink and thought about how different the world was when that ice first froze.


Ilimanaq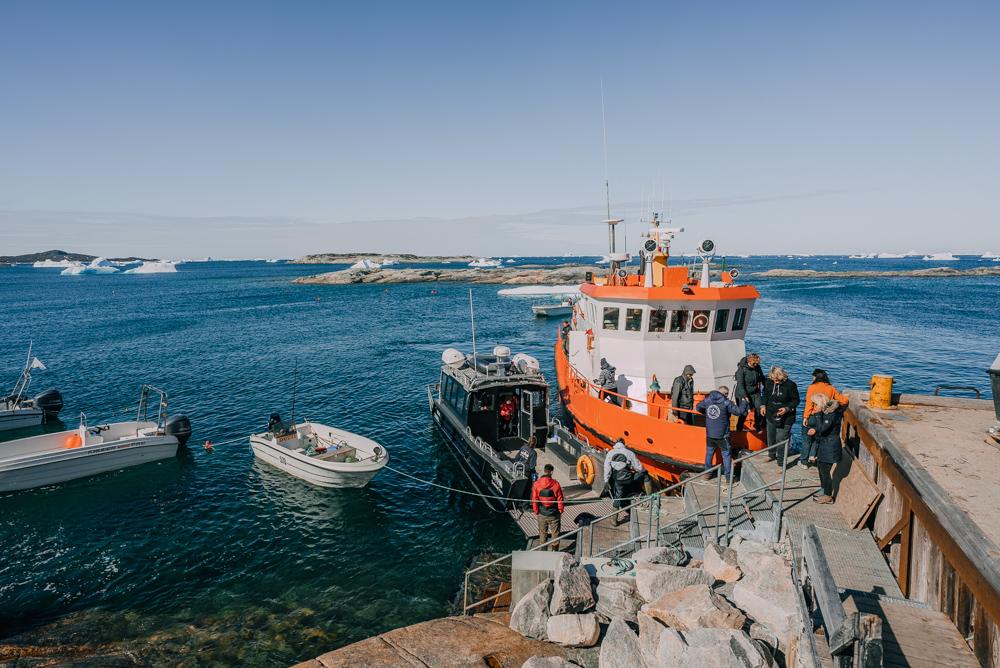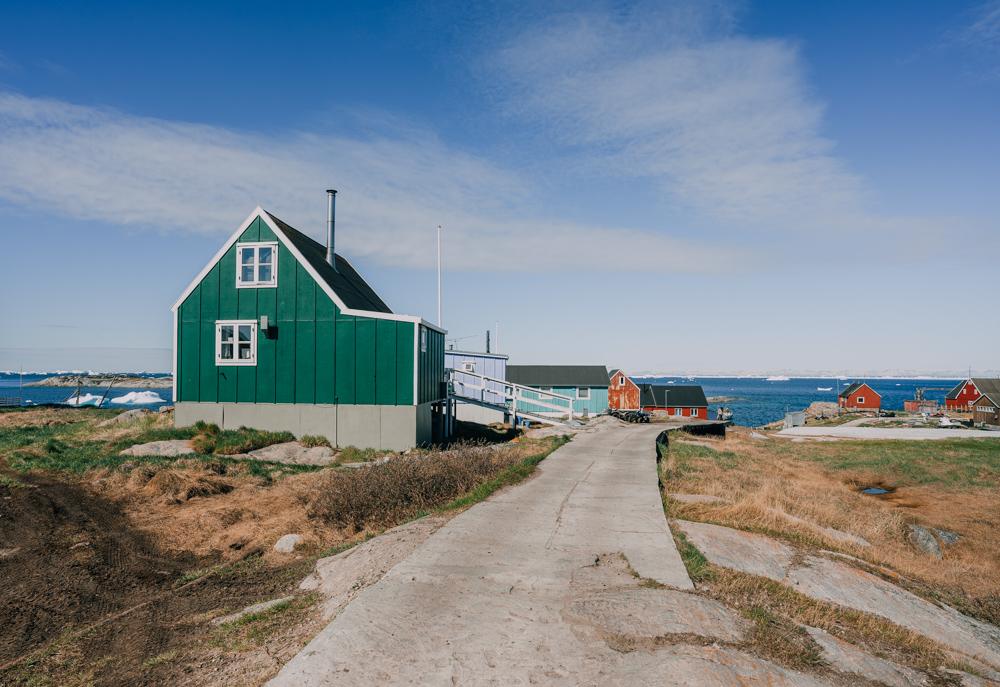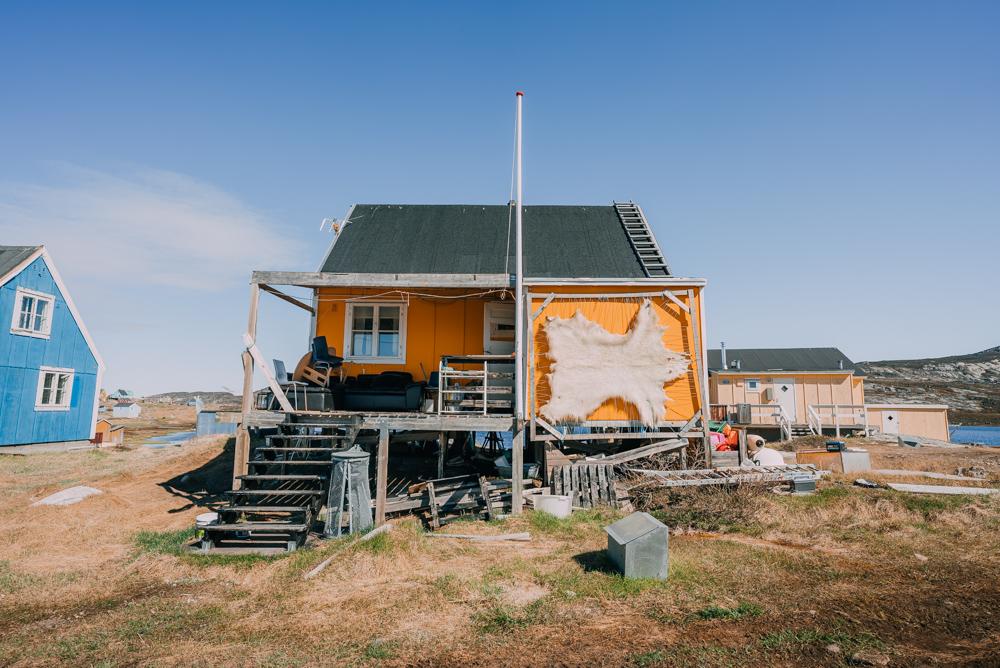 When you're in Ilulissat you should definitely take a boat to see the nearby village of Ilimanaq as well. The boat ride takes about 45 minutes and goes through Disko Bay in the Icefjord, so you'll also get to see all the spectacular icebergs on your way here (the journey is very similar to the Icefjord cruise, so if you're on a budget or pressed for time you don't really need to do both). You can book the boat shuttle from Ilulissat to Ilimanaq here.
Ilimanaq was definitely my favorite place I visited in Greenland. The boat ride here was spectacular, and the village itself is tiny but so special. I took this Ilimanaq settlement walking tour and it was so interesting to hear more about life here and the history of Ilimanaq.
Here you can also see two of Greenland's oldest buildings, which have been restored and now serve as a visitor center, restaurant (temporarily KOKS) and shop offering local products.
You can even stay in Ilimanaq if you want, at one of the gorgeous bungalows of Ilimanaq Lodge. The bungalows are built on the edge of a cliff and have incredible views out across the water. You can book a stay at Ilimanaq Lodge here.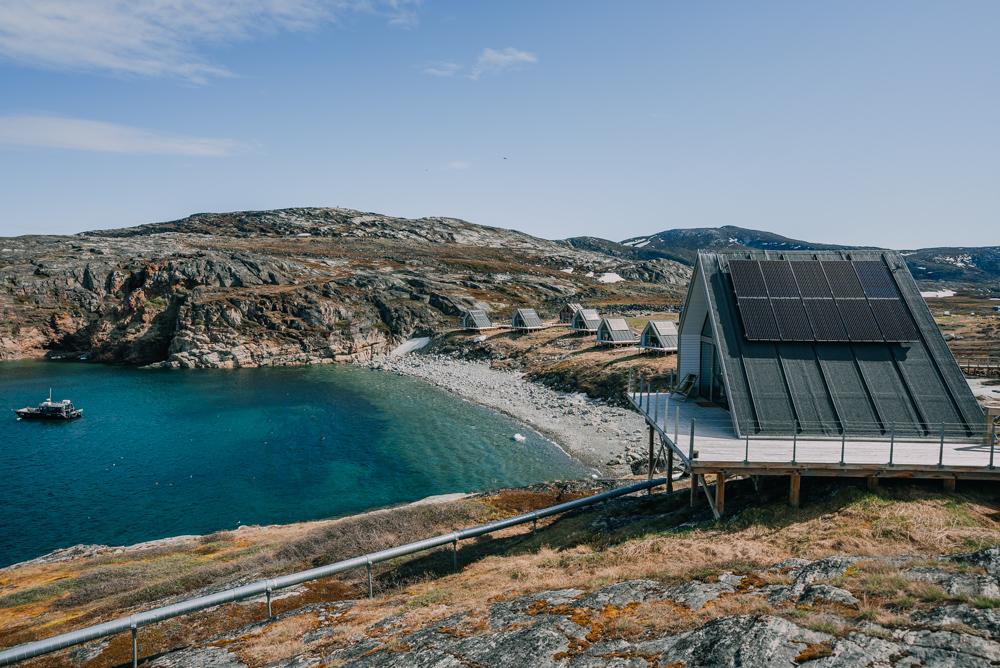 Eat at KOKS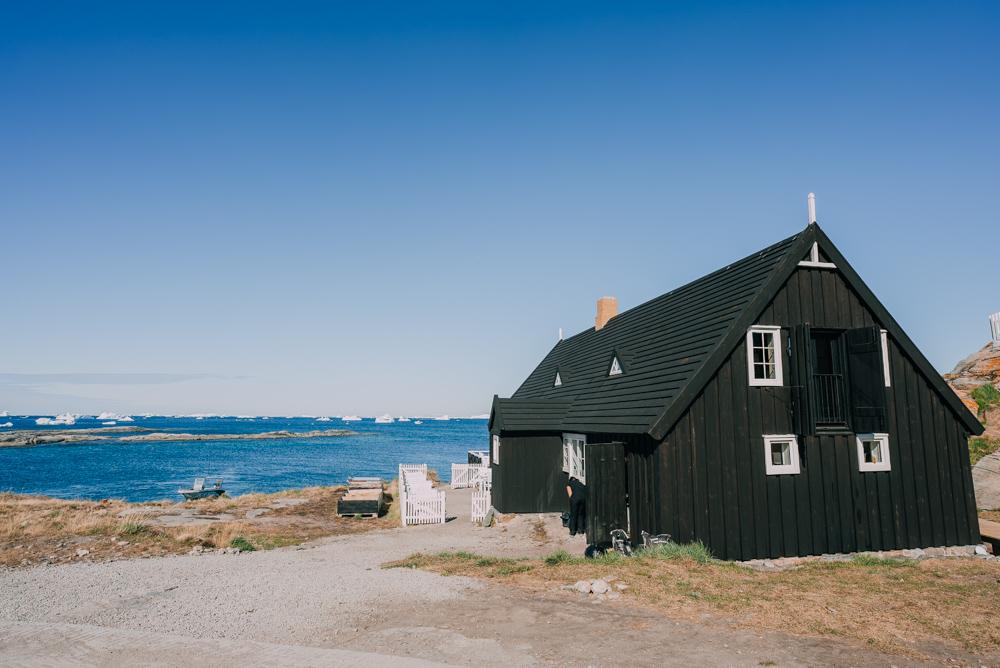 And if you stay at Ilimanaq Lodge during summer 2023, you'll have the opportunity to eat at the 2-Star Michelin restaurant KOKS, which used to be in the Faroe Islands but now is temporarily at Ilimanaq Lodge for the 2022 and 2023 summer seasons. Bookings for 2023 open on September 12th!
I'm not much of a foodie – or at least not the kind that really appreciates fine dining. When I travel I usually blow my budget on fancy accommodation and then find cheap food at a supermarket. So eating at KOKS was definitely a different experience for me, but such a fun one! Each of the 16 courses was so surprising and delicious, and the meal took us on a wonderful journey through Greenland's local products.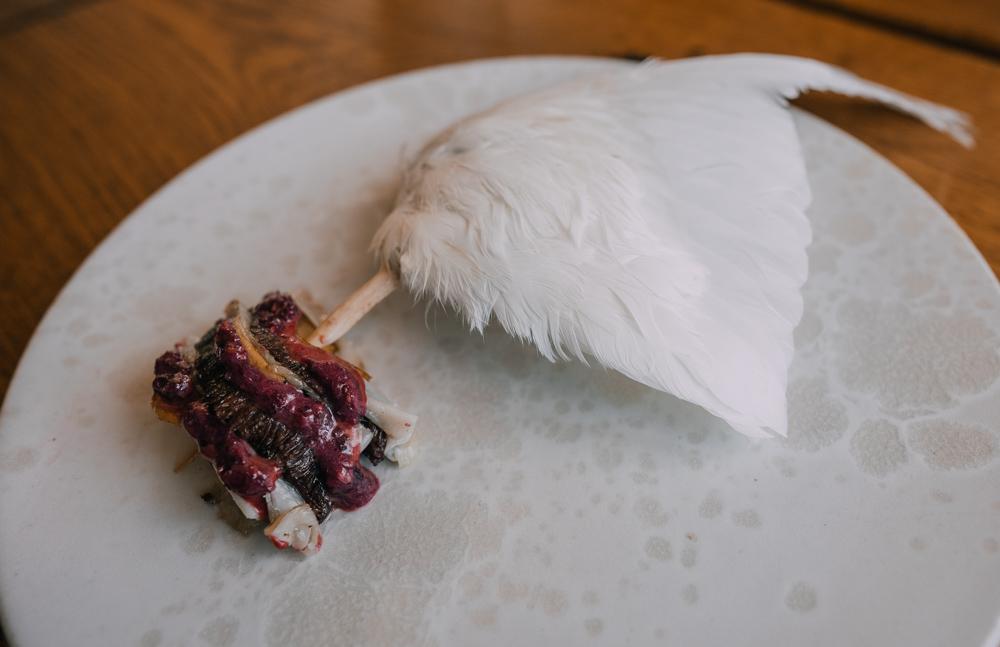 Greenland sled dogs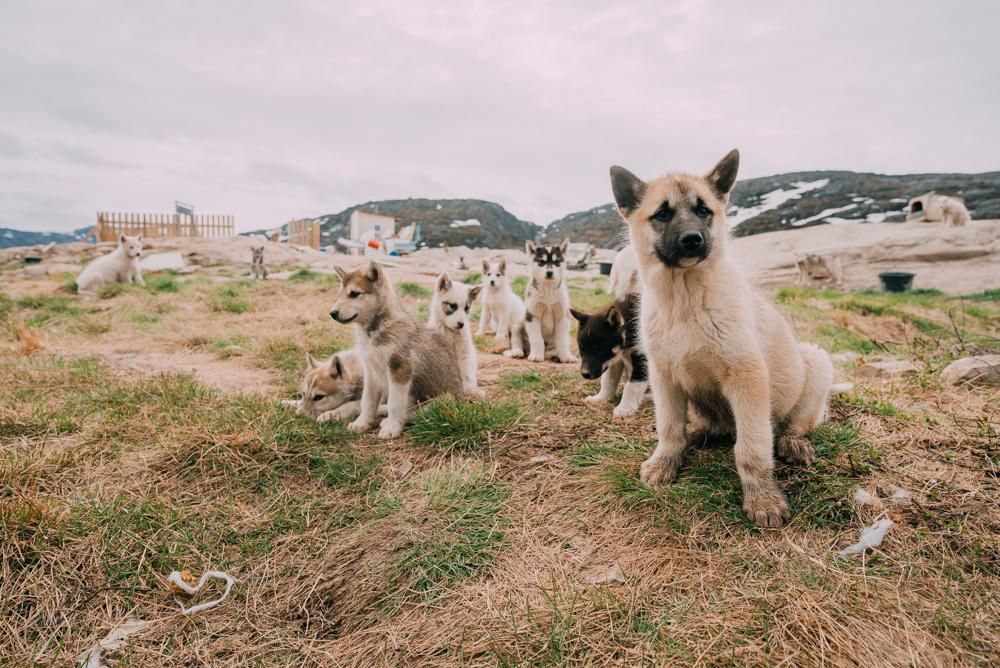 Dogsledding is not just a tourist activity in Greenland, but also an important way of getting around in the winter. Dogsleds are still used to transport Greenland halibut from the Icefjord to Ilulissat. I would love to experience dogsledding in Greenland one day, but as I was here in the summer I instead visited the dogs at their kennel. You can book a visit with the dogs here.
I've been dogsledding many times in Norway and people often ask me about the ethics of it, and I always say that the dogs love sledding so much, which is very clear when you experience it with them. And personally I think huskies living outside in a kennel in the Arctic are going to be more comfortable than huskies kept as pets in Florida.
But it can be an adjustment seeing working dogs, as they are treated differently than pets. And I would say the huskies around Tromsø are downright spoiled compared to the ones we saw in Greenland, who really are working dogs.
Some of the kennels said they only feed their dogs every other day in the summer because their activity level is so much lower in the heat, and some didn't allow people to pet their dogs. So while visiting the sleddogs might be an obvious choice for a dog lover, in some cases dog lovers might feel a bit of culture shock as well.
Kayaking
I didn't go kayaking in Ilulissat, but one of the journalists on my trip did and she really loved it. You can book kayaking here.
Whale watching
In the summer you can see humpback whales, minke whales and fin whales in Disko Bay outside of Ilulissat. The same journalist who went kayaking also went whale watching, which again she loved. And she said if she had to choose one of the two to do again she'd go for the whale watching. You can book a whale safari here.
Ilulissat Art Museum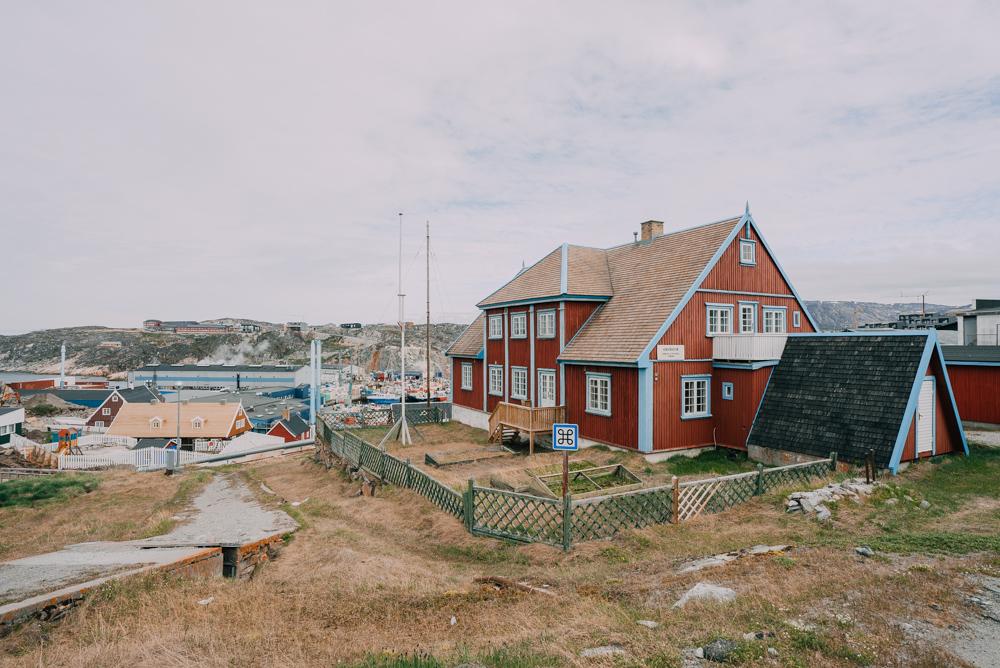 I'm not a big museum person, but I actually really loved the Ilulissat Art Museum. It's right downtown and definitely worth a quick peek inside.
Where to eat in Ilulissat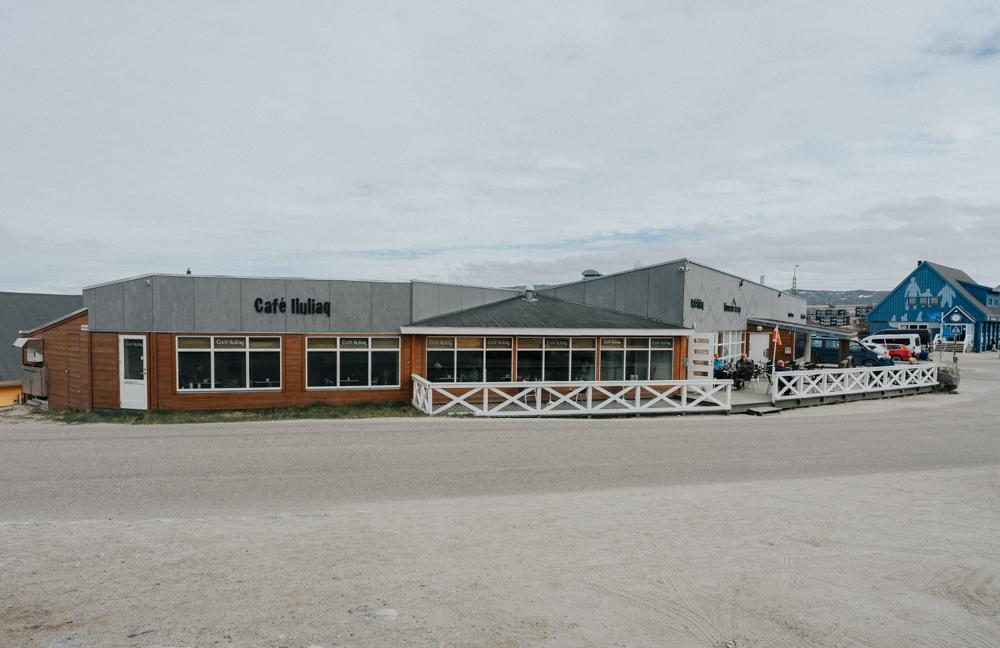 There are several cafés and restaurants in Ilulissat, so you definitely won't go hungry while here. Prices seemed pretty similar to Norway. So like, it's expensive.
I was staying at Hotel Ilulissat and had lunch at their rooftop restaurant a couple of times and the food was delicious, plus it came with a wonderful view of Ilulissat.
I had dinner one day at Café Iluliaq, which had tasty food and also seemed like a popular hangout amongst locals. Other options include Cafénnguaq, Cafe Tupilak and Inuit Café.
And then our group had dinner at Hotel Hvide Falk, Hotel Icefjord, and Hotel Arctic, which were all excellent. I think my favorite was probably Hotel Icefjord.
Or if you travel like I do and spent all your money on a room at Hotel Arctic, there are also several supermarkets downtown with cheaper food options!
Where to stay in Ilulissat
While I only stayed at one hotel while in Ilulissat, I did have dinner at several other hotels, so I got a bit of a feel for each of them. My top recommendations for hotels in Ilulissat would probably be Hotel Icefjord if you're on a tighter budget and Hotel Arctic if you want to splurge.
You should also try to book your hotel as soon as possible, as they do get fully booked surprisingly quickly.
I stayed at Hotel Ilulissat, which is a new hotel located conveniently in the center of town. The views from the rooftop restaurant are incredible and the staff were super friendly. Though I did feel like Hotel Ilulissat didn't have as much character as the other hotels I went to for dinner because it's so new. This was actually probably my least favorite hotel in Ilulissat, but I generally prefer older hotels to modern ones, so I think it just wasn't as much my style. Check current rates and availability here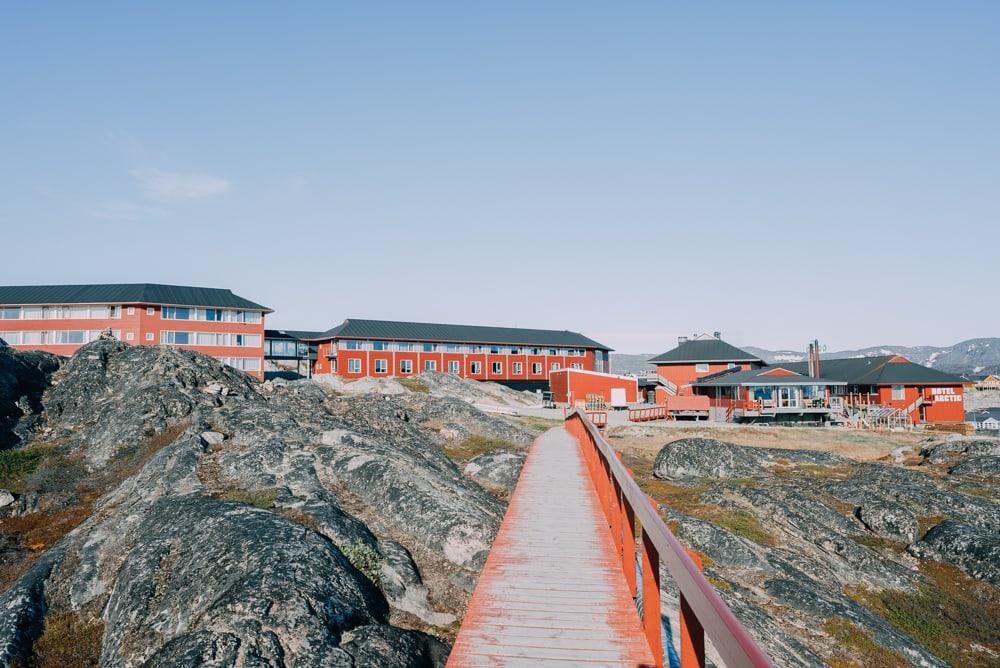 Hotel Arctic is the fanciest hotel in town, and it was definitely my favorite. The one downside of staying here is that it's a bit of a walk from town, but they do have a free shuttle into the town center, as well as to the airport. The hotel itself is beautiful, with great views out over the water, and dinner here was excellent. Check current rates and availability here
Hotel Icefjord was another favorite of mine. I love that all the rooms here have views of Disko Bay and the icebergs, so you don't have to pay extra for a room with a view. Plus the rooms have skylights for spotting the northern lights, so this would definitely be my top choice if you're visiting in the winter! I also had my favorite dinner in Ilulissat here, though all of the hotels had excellent food. Rooms here are also surprisingly affordable (or perhaps I am too used to Norwegian hotel prices). Check current rates and availability here
Hotel Hvide Falk is the oldest hotel in Ilulissat, and I really loved the food here. The hotel is built right on the water's edge with beautiful views. Check current rates and availability here
What to pack for Greenland
Packing for Greenland is really similar to packing for Norway. These are my recommendations for a summer trip to Greenland, but if you're visiting in the winter my winter packing list for Norway should work!
Wool under layers
Even in the summer Greenland can be quite cold, so you'll definitely want some warm layers for when the temperature drops. I wore my Kari Traa thermals under my clothes almost every day.
Wool sweaters
You know I love a wool sweater, and I was so glad that I brought my thickest, 100% wool sweaters with me on this trip. I've shared some of my favorite nordic sweaters here.
Waterproof jacket
I love to layer a light waterproof jacket over a thick sweater so that I can just go in the sweater and keep my jacket in my backpack for if it starts to rain. But if you don't have any really warm sweaters you might want to opt for a warmer jacket – something like a ski jacket would work well, even for the summer.
Daypack
You'll also want a day pack to carry your water bottle, snacks, camera, rain jacket, and extra sweater, in case things get chilly or wet.
Hiking trousers
If you plan on hiking in Greenland you'll want at least one pair of wind and water resistant hiking trousers.
Jeans
I almost didn't bring jeans on this trip and I'm so glad I did, because I ended up wearing nearly every day. Jeans aren't great for wet weather, but we had almost all sunny days here. I did wear wool leggings under my jeans when we went on our Icefjord boat cruise, which helped keep me warm.
A couple of nice outfits for dinner
Tromsø fashion is so casual that you can easily get away with wearing your hiking gear everywhere. I've even seen people in their hiking clothes at bars at night. Ilulissat felt slightly fancier to me, with people dressing up a bit more for dinner, at least at the nice hotels. You definitely don't need to bring heels and dresses here, but I was very happy to have a few nice pairs of trousers and shirts with me for the evenings.
Waterproof hiking boots
I only wore my hiking boots once while in Greenland, but I was still very happy I had them, as I was hiking through some muddy areas. The rest of the time I wore sneakers.
Mosquito repellent
There were a lot of mosquitos in Ilulissat, so you'll definitely want some mosquito repellant. You can also easily buy this when you get to Greenland.
Sunglasses & sunscreen
Warm hat
I really appreciated having a warm wool hat with me for the chilly boat rides.
Sleep mask
If you're visiting in the summer definitely bring a sleep mask in case the curtains in your hotel room don't fully close, as the sun will be shining all night.
Bank card
Greenland uses the Danish krone and most places accept payment by card. There's an ATM downtown where you can withdraw cash, though I think the only place that I visited that required cash was the Ilulissat Art Museum.
Travel Insurance
I now use a Norwegian travel insurance company, but as a backpacker I used to use World Nomads and had to file claims twice with them and they paid me promptly, no additional questions asked. They also helped get me to a hospital in Beijing when I was too overwhelmed/dying to find one on my own, so I am forever grateful to those guys.