Honestly, the beaches on the Comoros are so beautiful that I was seriously tempted to plop down my towel and not leave the beach for my entire ten days in the country, but it turned out that there are so many things to do on the Comoros that I ended up spending surprisingly little time lazying on the beach.
I've already written a guide to everything you need to know about planning a trip to the Comoros, but I thought I'd also share the top things I'd recommend doing while you're there!
And if you're interested in getting off the beaten path in Africa yourself but are wary about going alone, my dear friend Helen runs guided small group Africa trips. I went on her two week trip to Uganda, Mozambique, and the Congo and it was seriously one of the best trips of my life.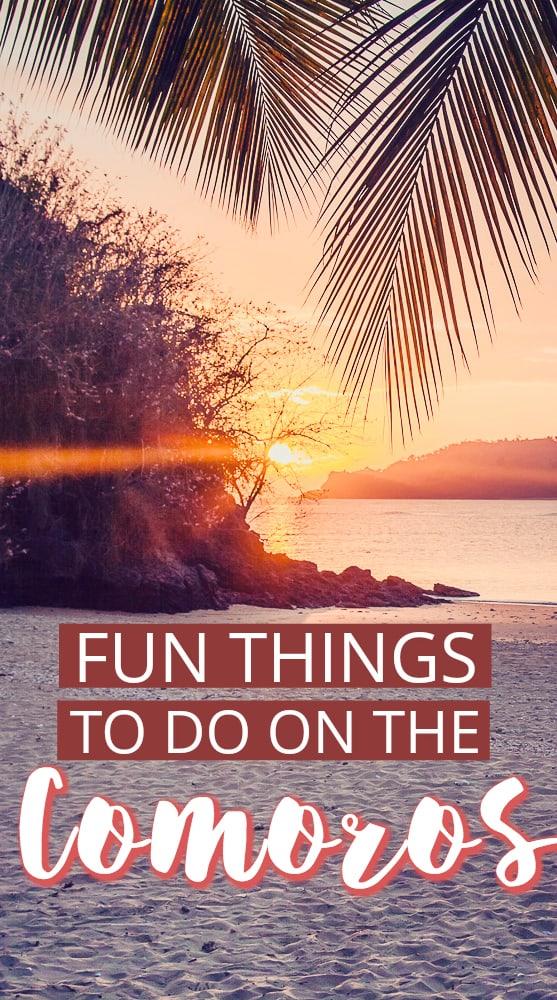 Grande Comore
A lot of people seem to mostly skip Grande Comore, just spending a night there on the way to and from Mohéli, which is widely considered the most beautiful of the Comorian islands. And if it's a beach holiday you're after, you might want to do just that.
However I really liked Grande Comore as well! Though I probably didn't need to spend six nights there.
If I were to plan my trip again, I'd probably stay one night in Moroni before heading to Mohéli, and then two or three nights in Moroni before leaving the Comoros (I'd arrange to spend more time in Moroni after Mohéhli instead of before so that I'd have a little leeway in case my boat or flight from Mohéli was canceled or delayed).
Moroni is a really interesting capital city in that it doesn't feel like a capital at all – it barely even feels like a city. The only tourist sites here I guess would be the Grand Mosque du Vendredi and the market, as the rest of the city is not very attractive. But I really loved the vibe there – it's lively and everyone I met there was very friendly.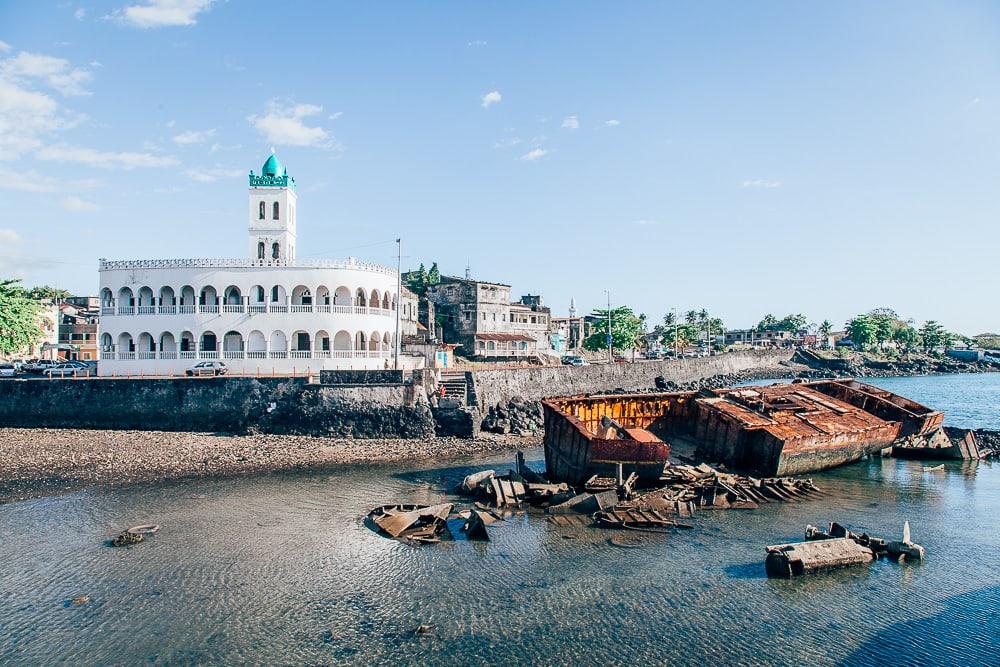 You probably don't need more than a day to get a feel for the city, but I enjoyed hanging out there for longer.
If you have time, I'd also highly recommend hiring a car for a day to take you to the beaches along the north of the island, some of which were even nicer than the beaches I went to on Mohéli. Your guest house should be able to arrange this (I paid 40 euros for a taxi for the day), and they'll know where you should go.
In the north I visited:
Mitsamiouli Beach
This might have been my favorite beach on the Comoros.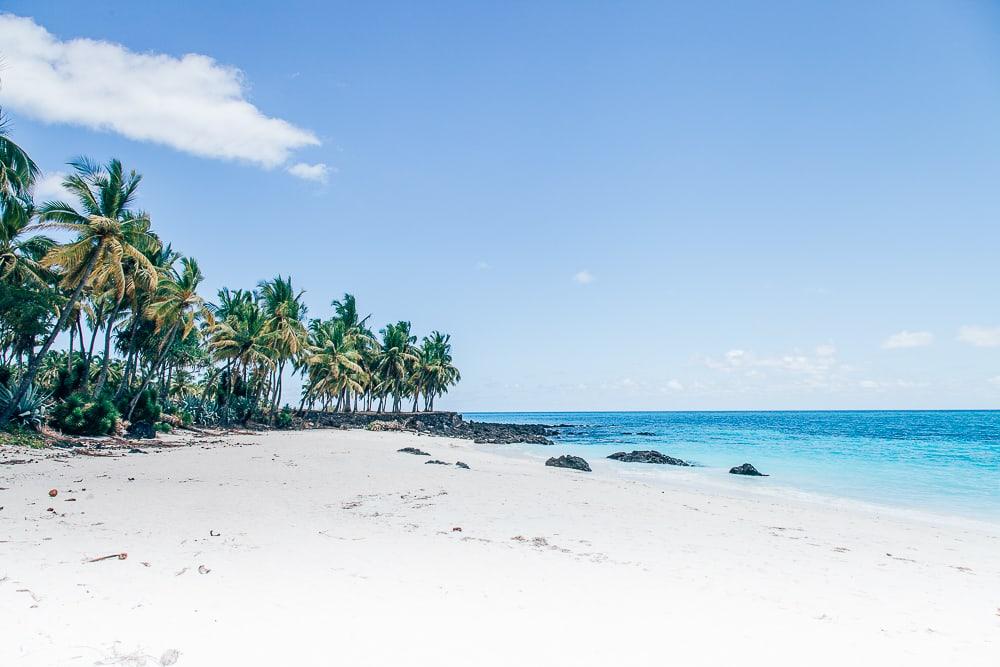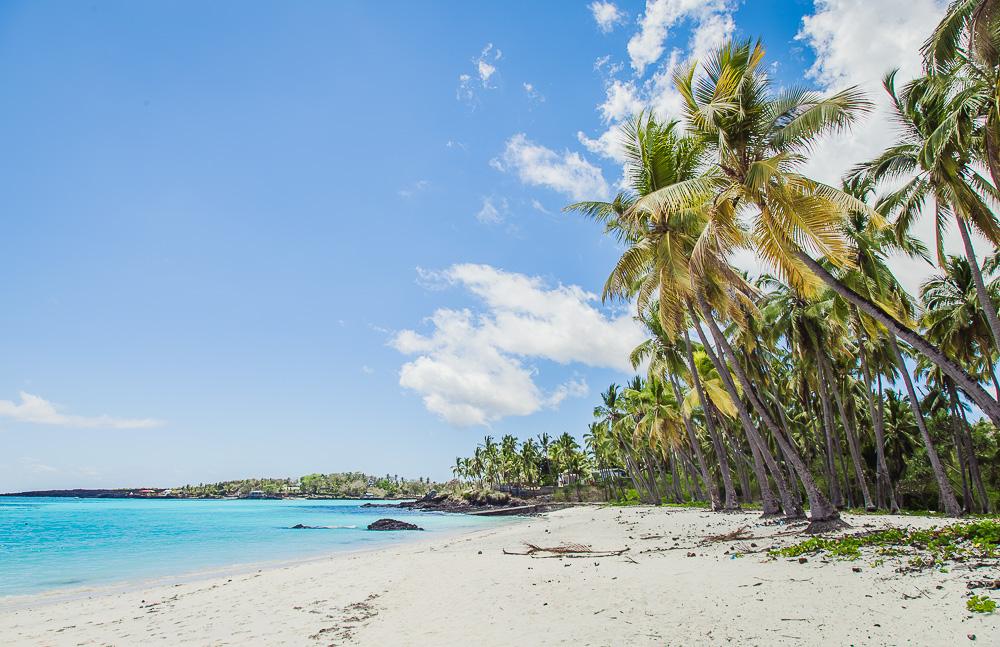 Trou du Prophète
This is a beach and restaurant, and I believe you can also spend the night in tents here.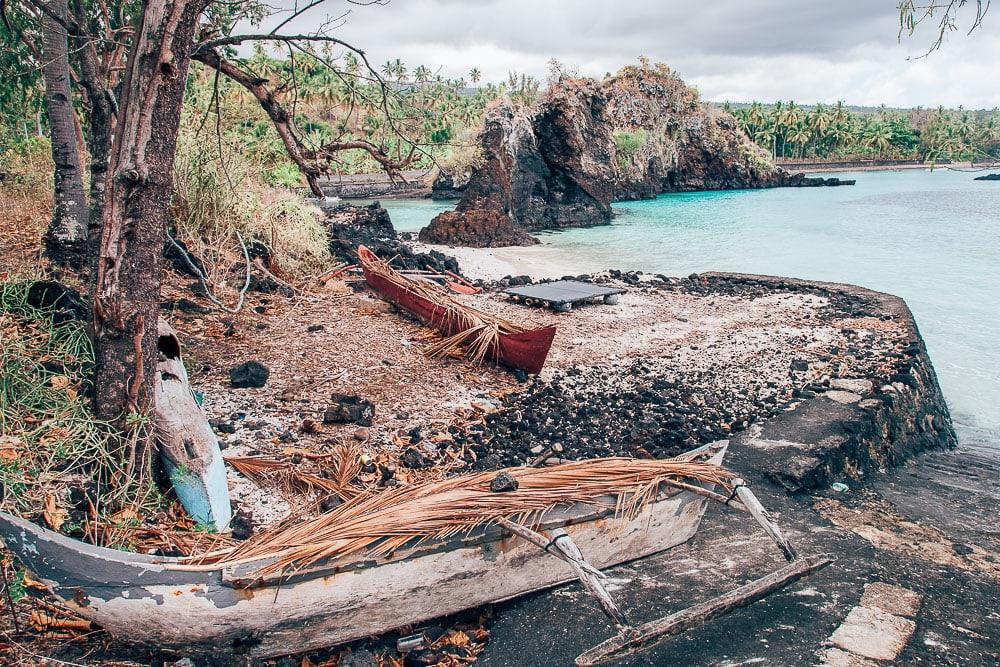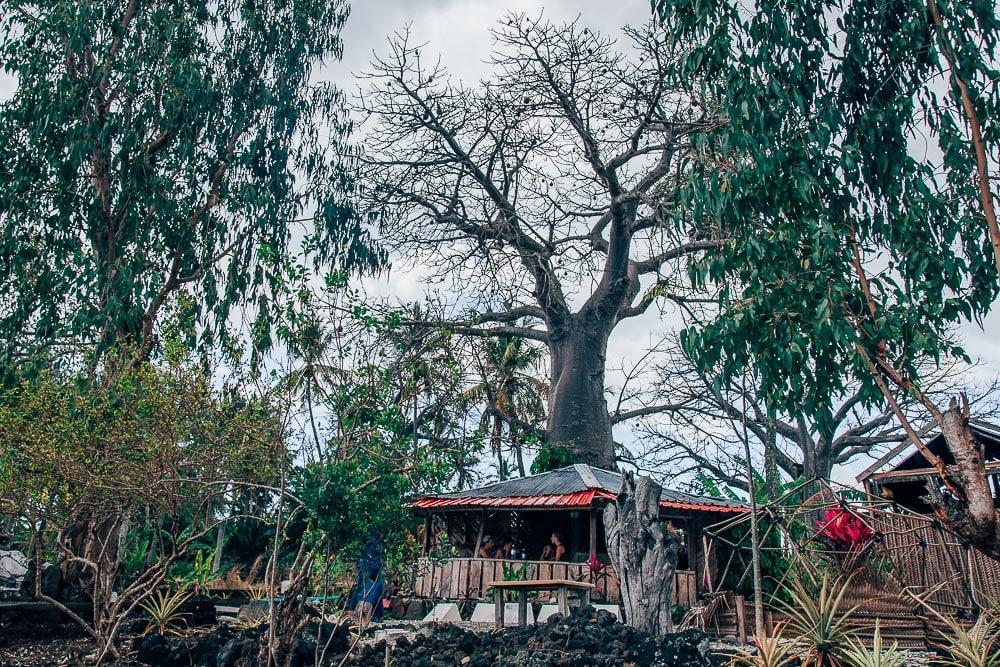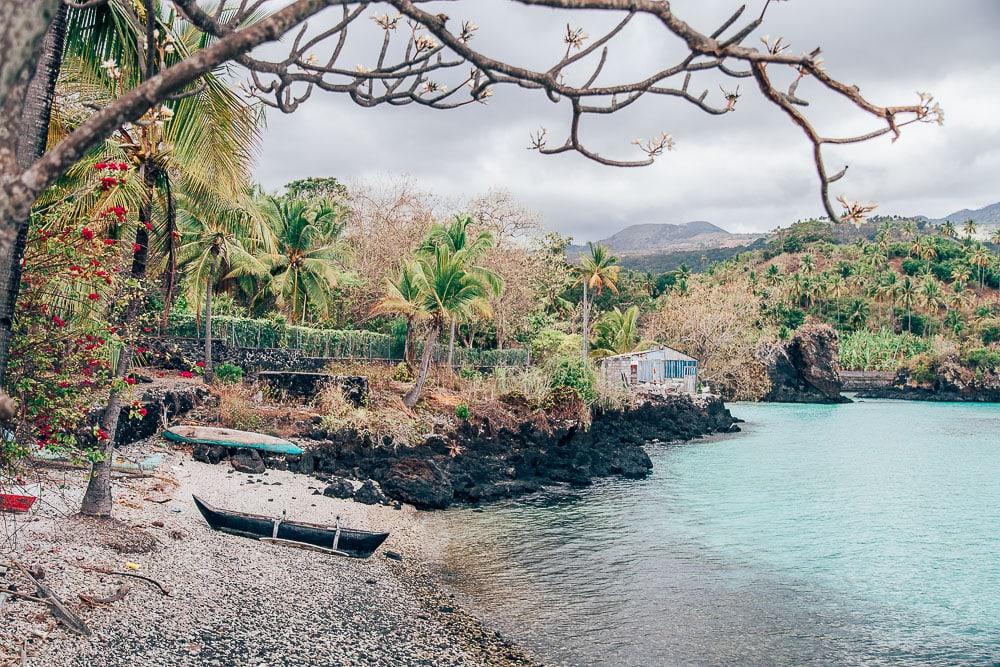 Lac Salé
This is a "bottomless" saltwater lake right on the coast.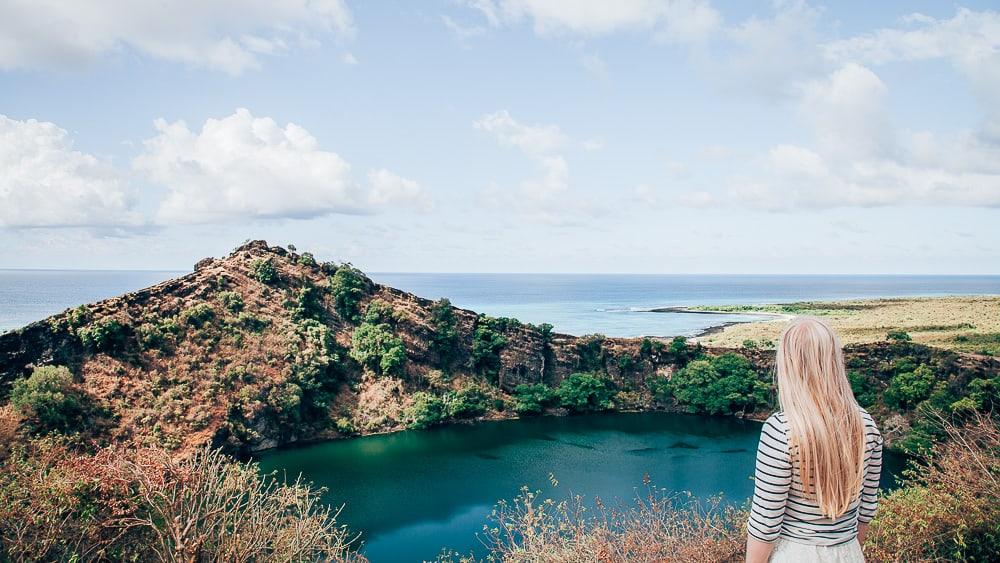 L'île aux Tortues and Ndroudé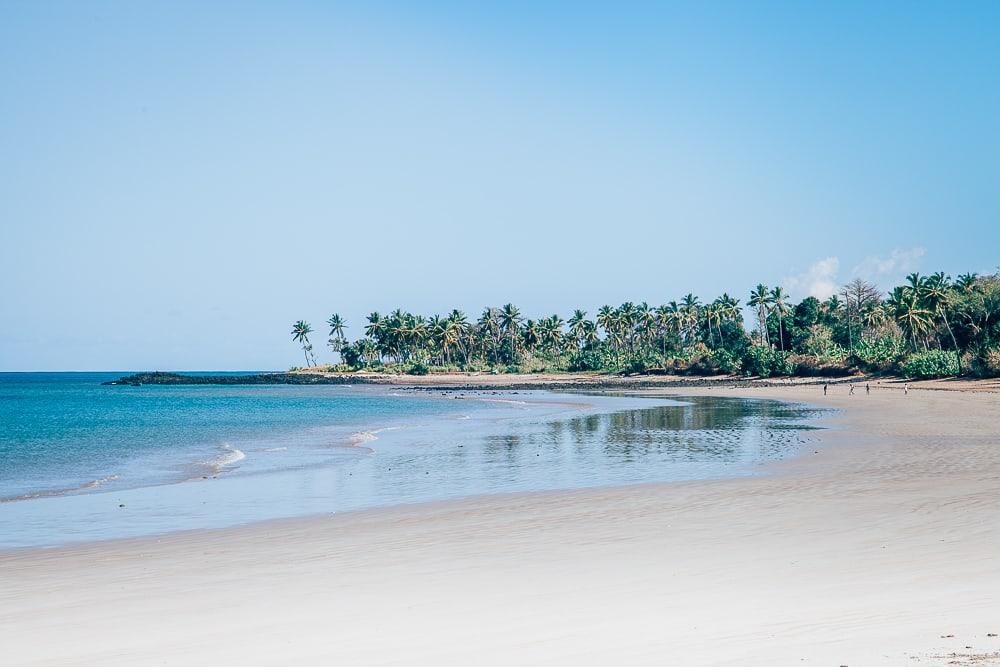 Itsandra Hotel
And I also spent some time hanging out at the Itsandra Hotel, which is the fanciest hotel on the island and has a private beach, restaurant, and most importantly, WiFi! Though if you're in Moroni you can also use the WiFi at Le New Select Restaurant in the city center.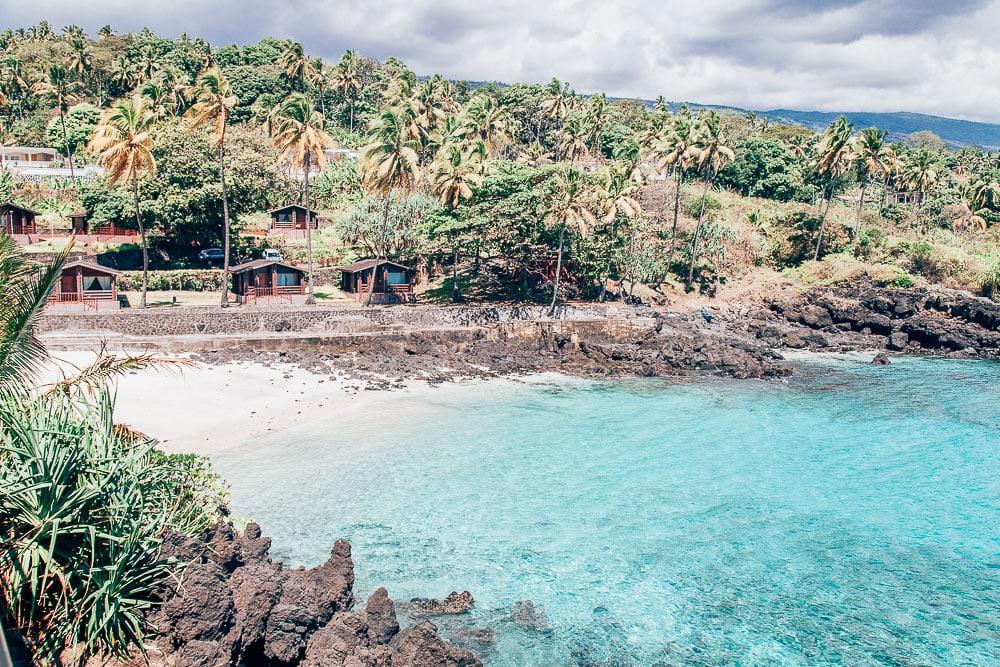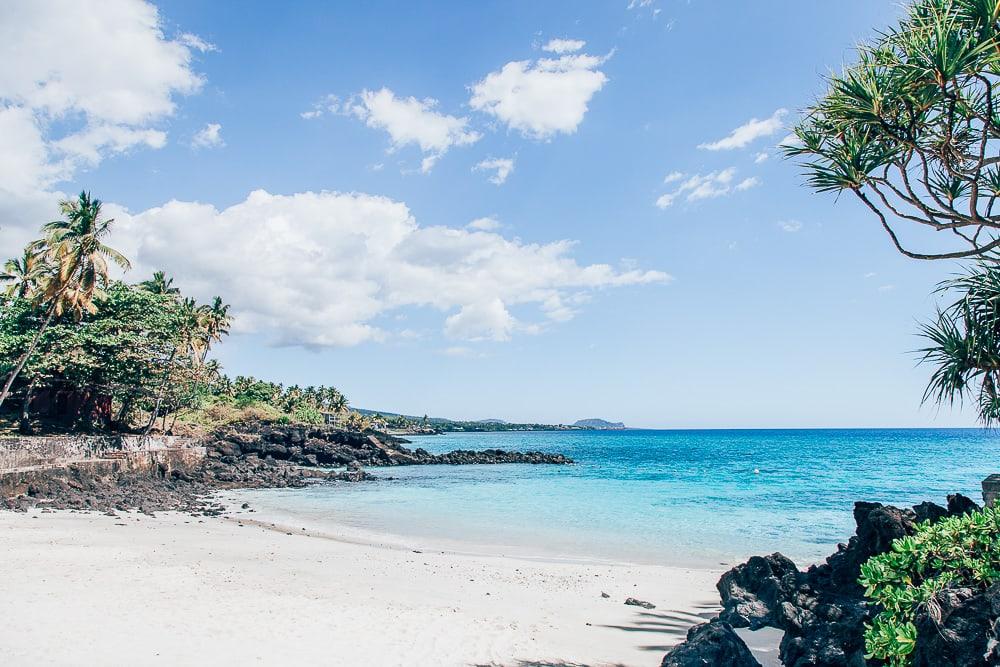 Take a trip down to Iconi
I had also planned to drive down to Iconi one day, as the town has an interesting history, but I didn't end up making it there.
I'd also love to climb Mt. Karthala volcano one day, which takes a full day.
You can see all of the places I visited on Grande Comore in my first vlog from the Comoros:
Mohéli
I could have happily spent my entire holiday on the beach in Mohéli.
It was also really nice swimming at the private beach at my guest house Laka Lodge because I could just wear a bikini instead of swimming in shorts and a t-shirt. Plus since most of the visitors were there to snorkel and dive, I often had the beach to myself during the day!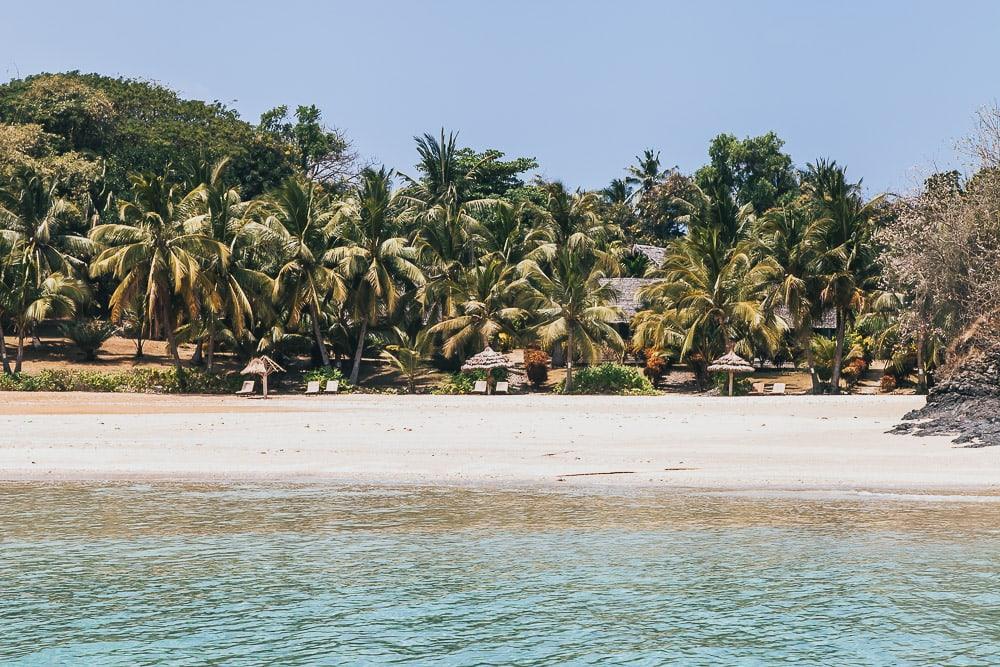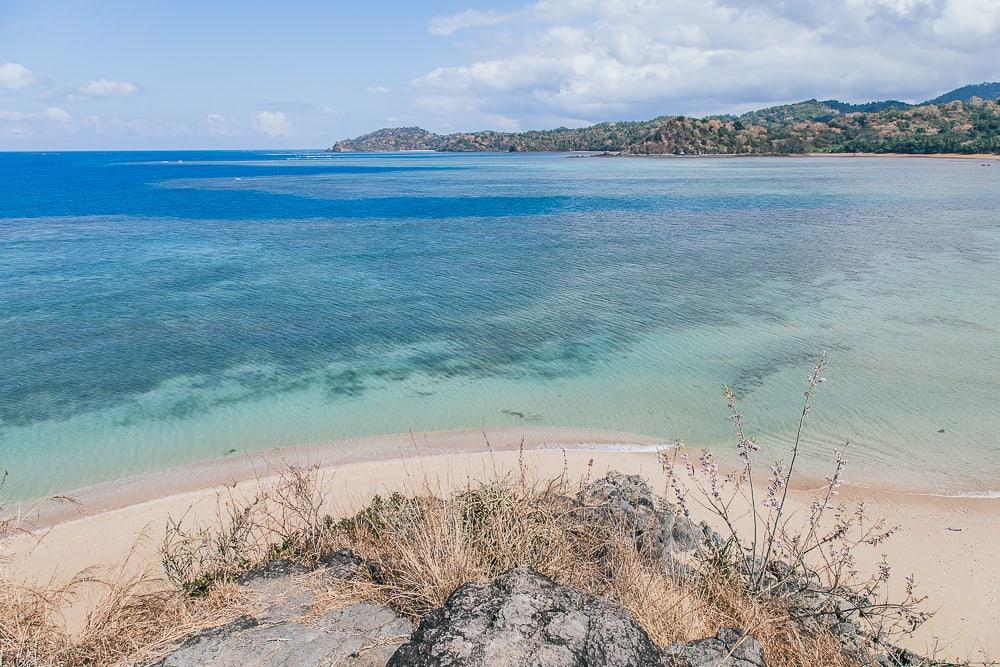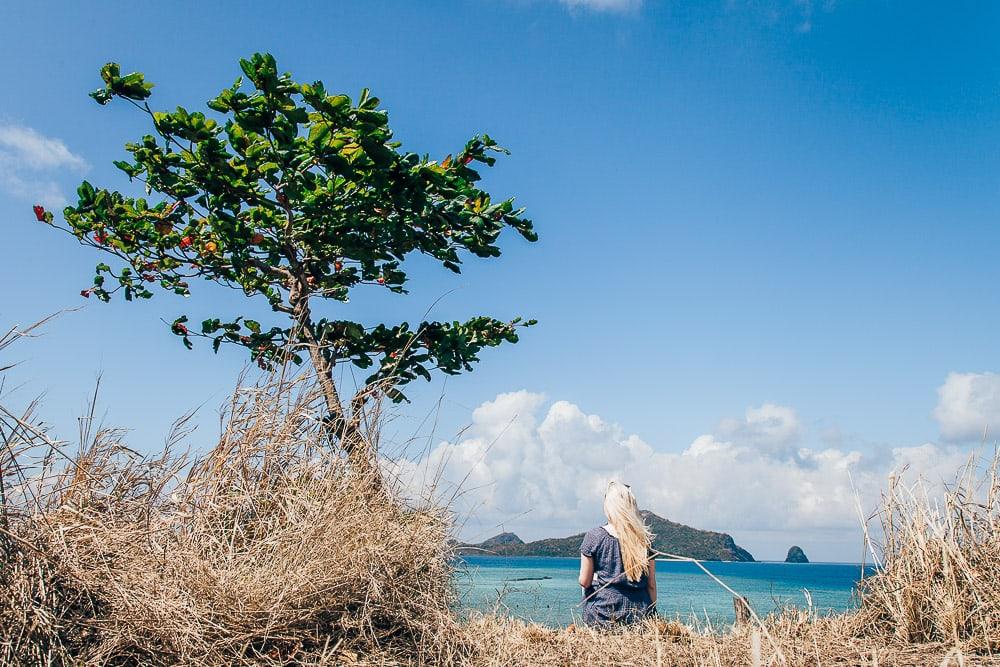 But as I said, very few people seem to come to Mohéli just to lie on the beach all day.
Laka Lodge is part of the National Marine Park of Mohéli in Nioumachoua, protecting the coral reefs, sea turtles, and dugongs. This makes Mohéli an ideal place for snorkeling and diving.
If you visit Mohéli between July and October you can also see humpback whales! Every year about 1000 humpback whales come to Mohéli from Antarctica, and while I was there Laka Lodge was organizing daily boat trips taking us out to see the whales and even snorkel in the water with them.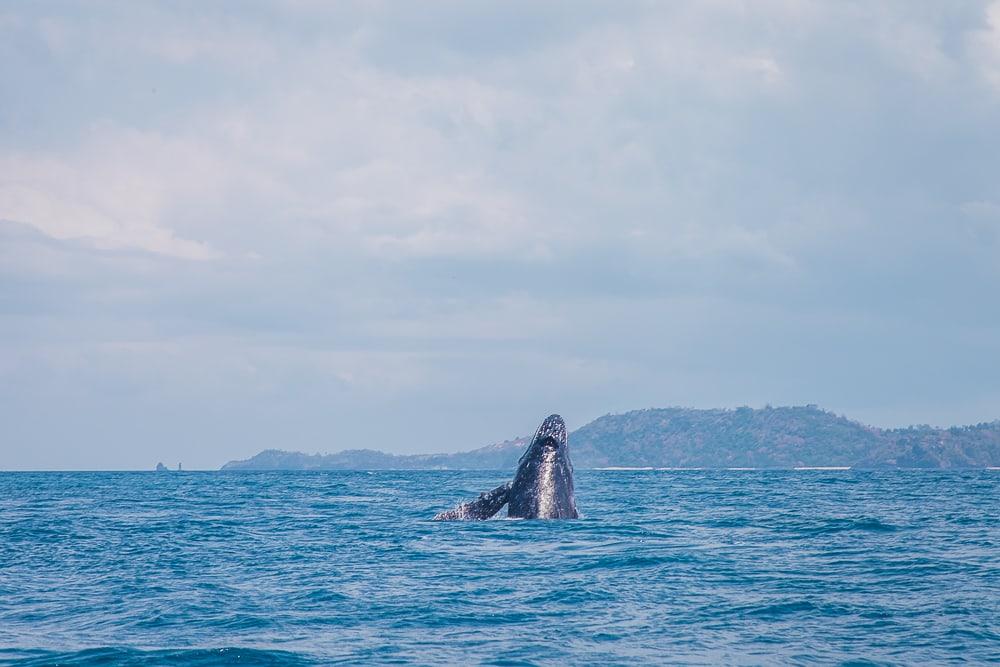 I also took an early morning (as in 3 am!) excursion to Itsamia to see the sea turtles laying their eggs, though I was unlucky and none came while I was there.
You can also take forest excursions to see the Livingstone fruit bats, also known as the Comoro flying foxes, lots of birds, and the Comorian lemurs (you can also see lemurs at Laka Lodge each night!).
I also really enjoyed just wandering around Nioumachoua, the town next to Laka Lodge, on my own. The people there were just so friendly and I ended up rarely walking for long on my own as locals kept joining me to chat and try to teach me Comorian phrases.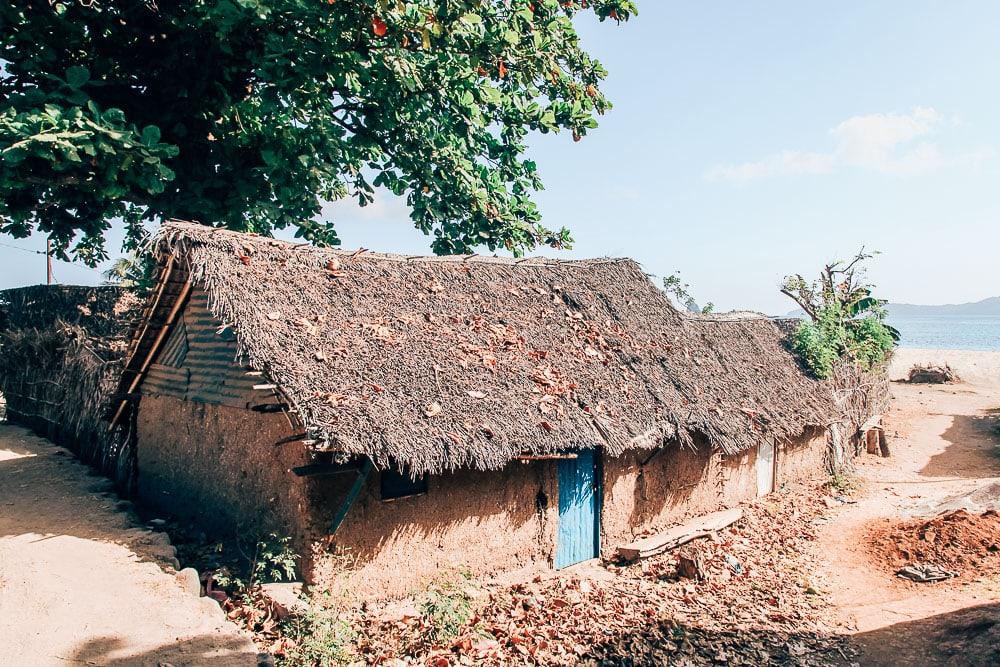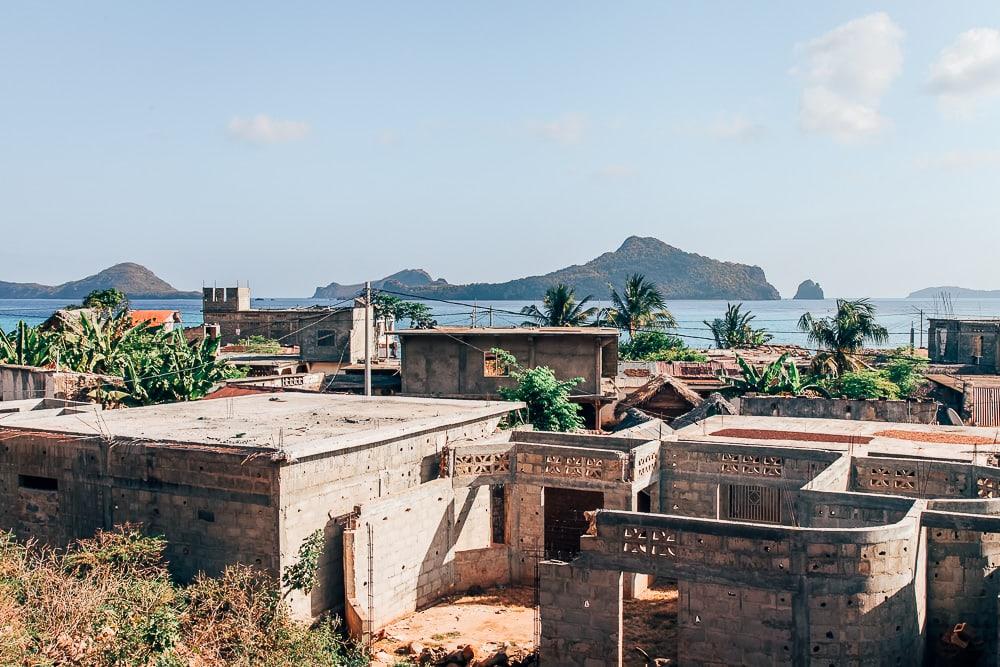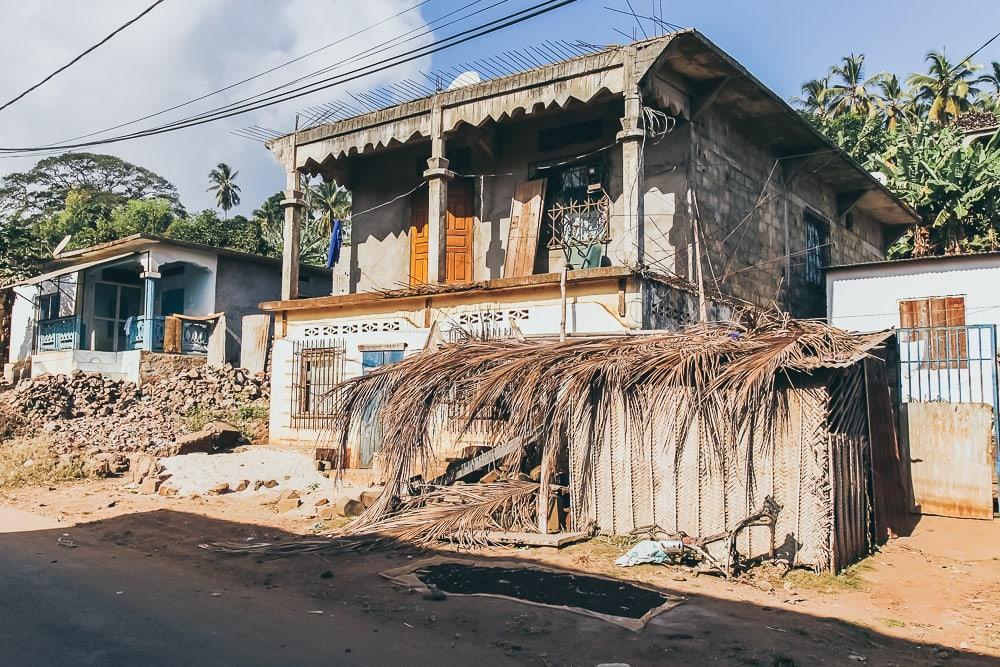 Most of the houses in town had cloves spread out in front of them to dry in the sun.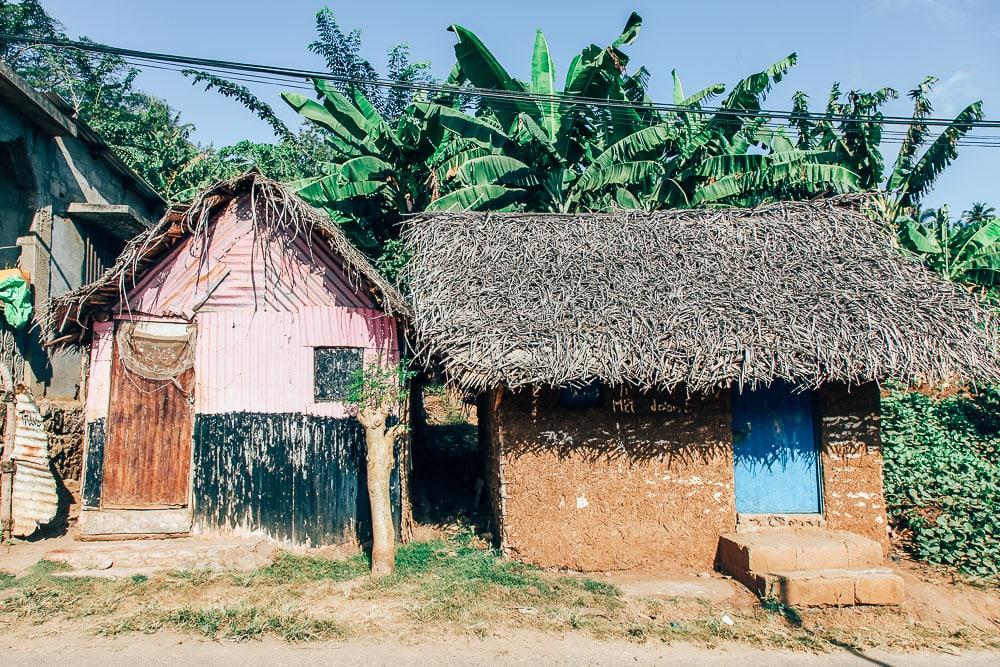 I also loved going up to a lookout point by Laka Lodge for sunset every evening. All of the sunsets I saw on Mohéli were incredible!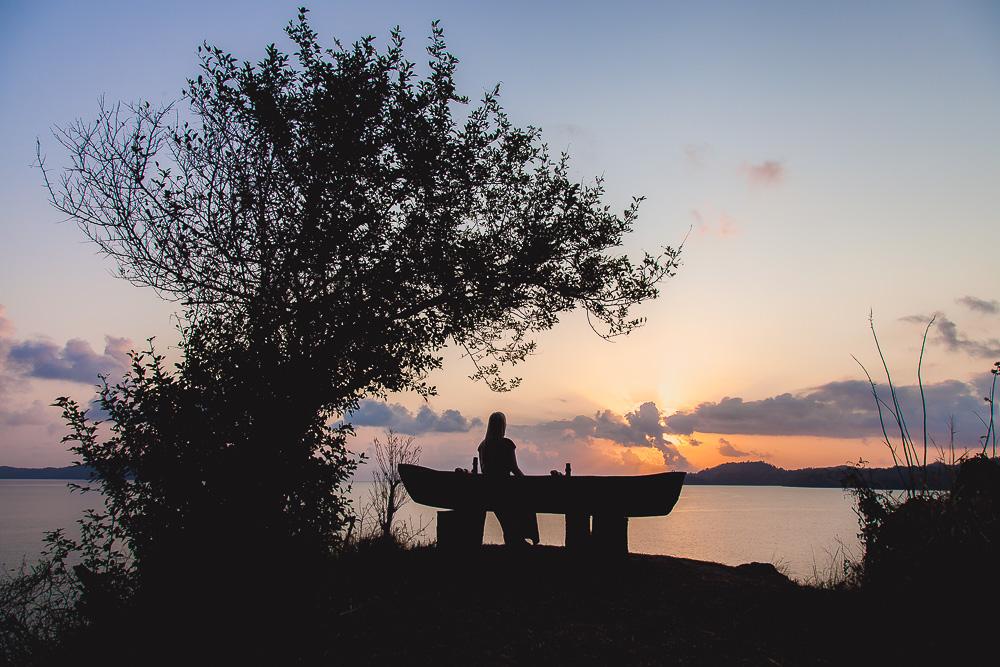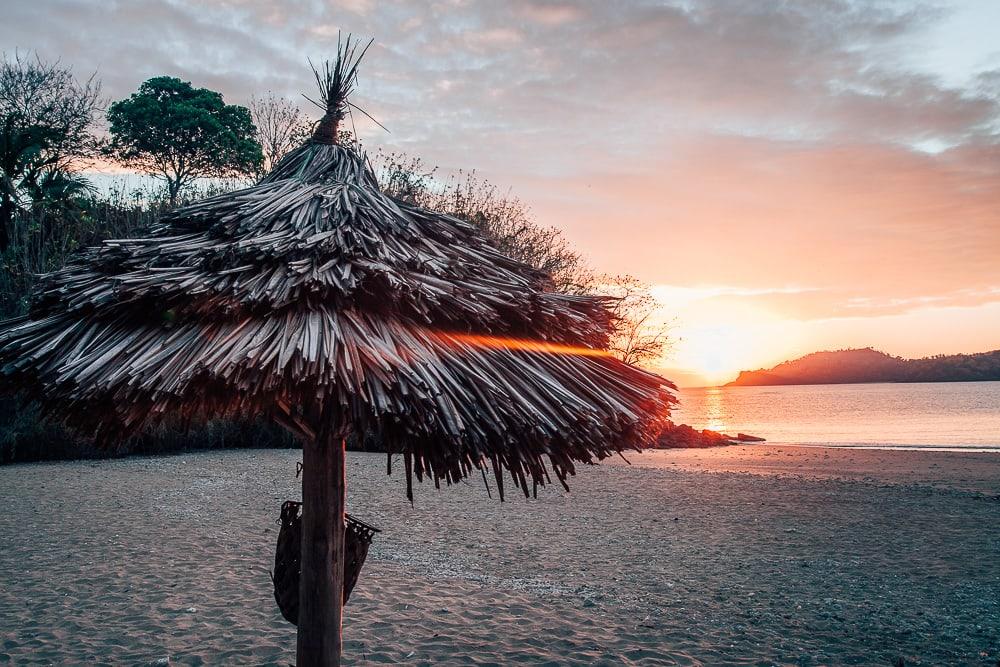 You can see everything I got up to on Mohéli in my second vlog from the Comoros. Skip to the end (14:10) if you just want to see the humpback whales!