At least that's the question Dan and I were asking each other when planning out our Northern Norway road trip. I had been to Narvik before, on a day trip from Abisko, Sweden, but while it made for a nice escape from Sweden (I mean, obviously), I wasn't sure if it was worth spending a couple of nights there.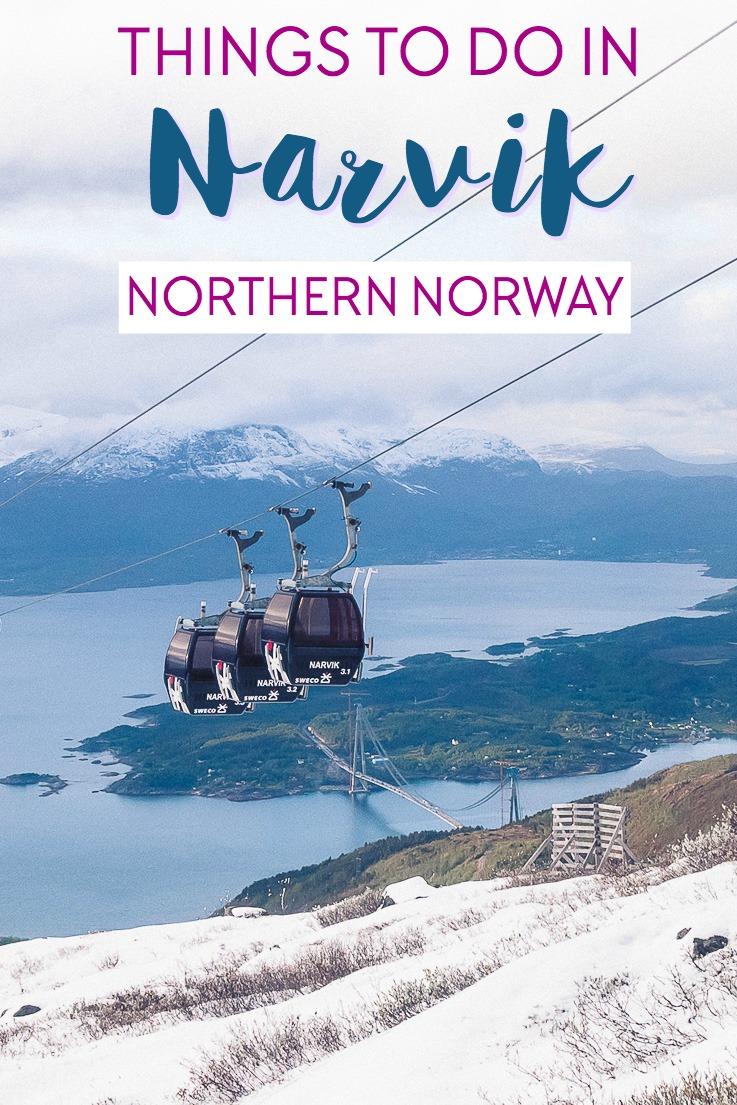 In the end I think we made the right decision, though not for the reasons I had expected.
Probably the best thing about Narvik is the stunning landscape surrounding the town. And that's not saying anything bad about the town itself – it's just that the mountains around Narvik are so beautiful.
In fact we could tell we were getting close to Narvik when the landscape got really dramatic.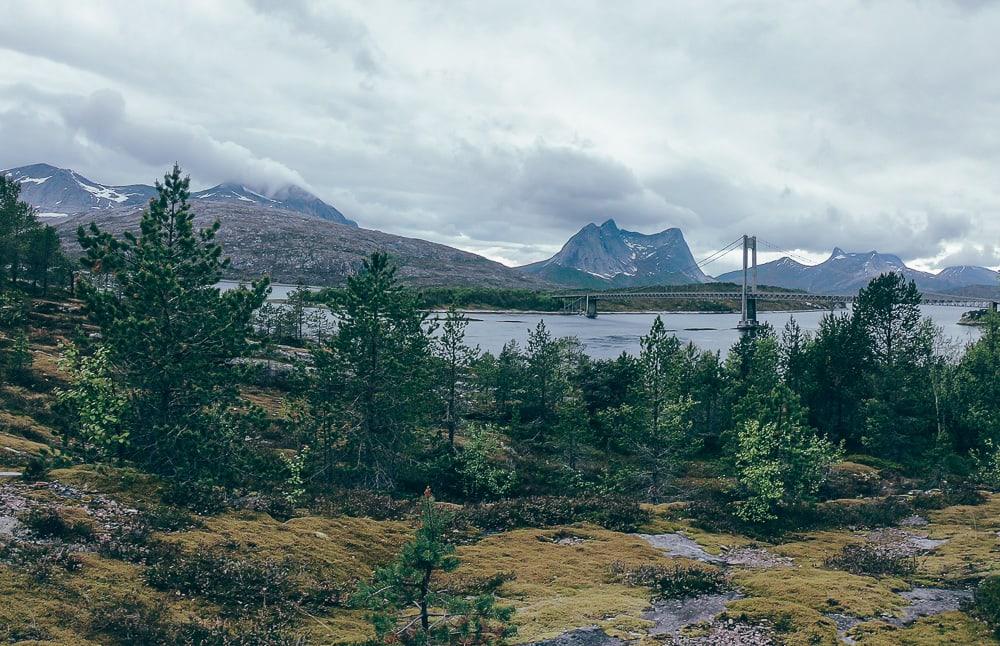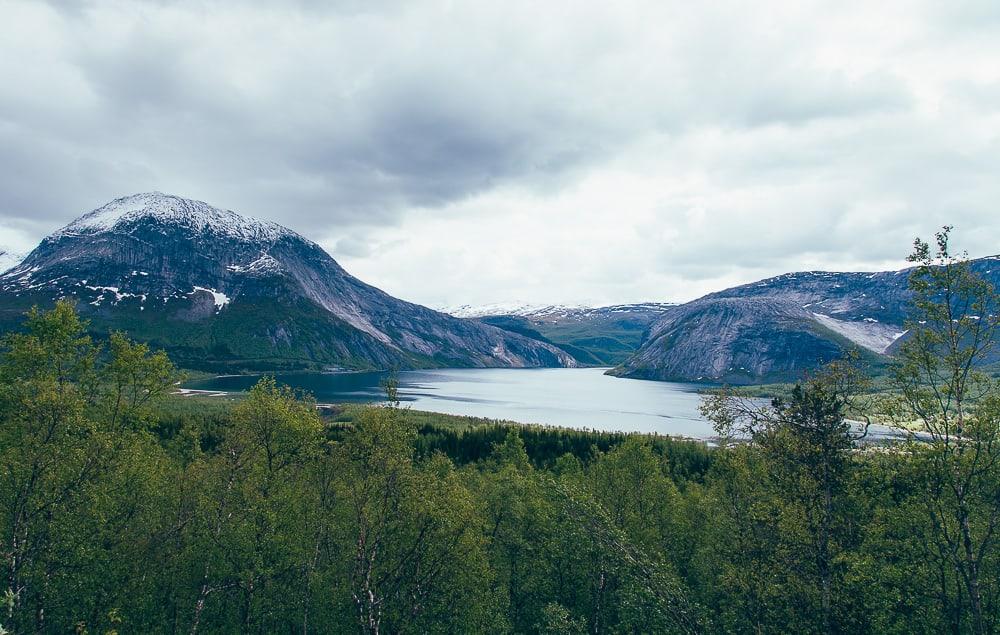 So of course we wanted to go hiking! But when we woke up the next morning in Narvik the weather was, well, not exactly hiking weather. On the bright side, Dan finally got to experience snow on his birthday!
We scrapped our hiking plans and instead came up with a list of things to do in Narvik that would keep us warm and cosy.
First up: a train ride!
One of the great things about Narvik is that it's on a train line, even though the Norwegian train line ends some 300 kilometers south of Narvik in Bodø. Instead Narvik is connected to Sweden through the Ofoten line, which many say is one of the most spectacular rail journeys in Scandinavia.
The Ofotbanen was originally built to transport iron ore from Sweden to the coast, but now there's a passenger train as well that gives you easy access to Sweden. You could even take the train all the way down to Stockholm if you wanted.
Dan and I didn't want to go to Stockholm, but we did go just over the border to Riksgränsen, where we waited about ten minutes to catch the train back to Narvik.  The total journey took exactly 2 hours, and we each paid 110 SEK round trip. You can book tickets and check the timetable here.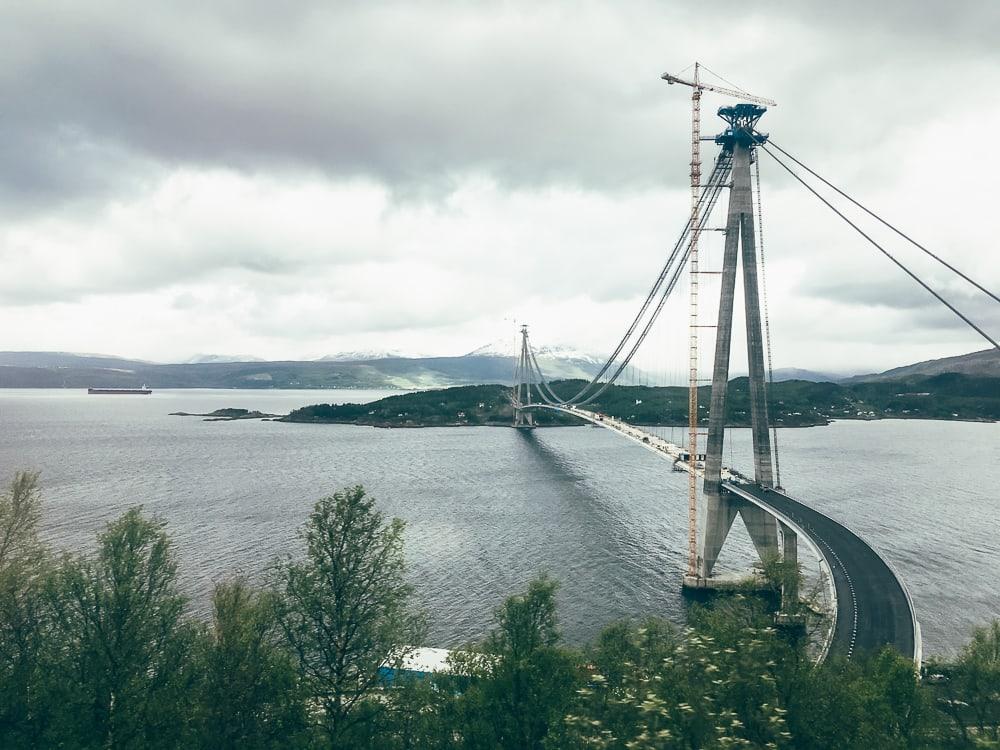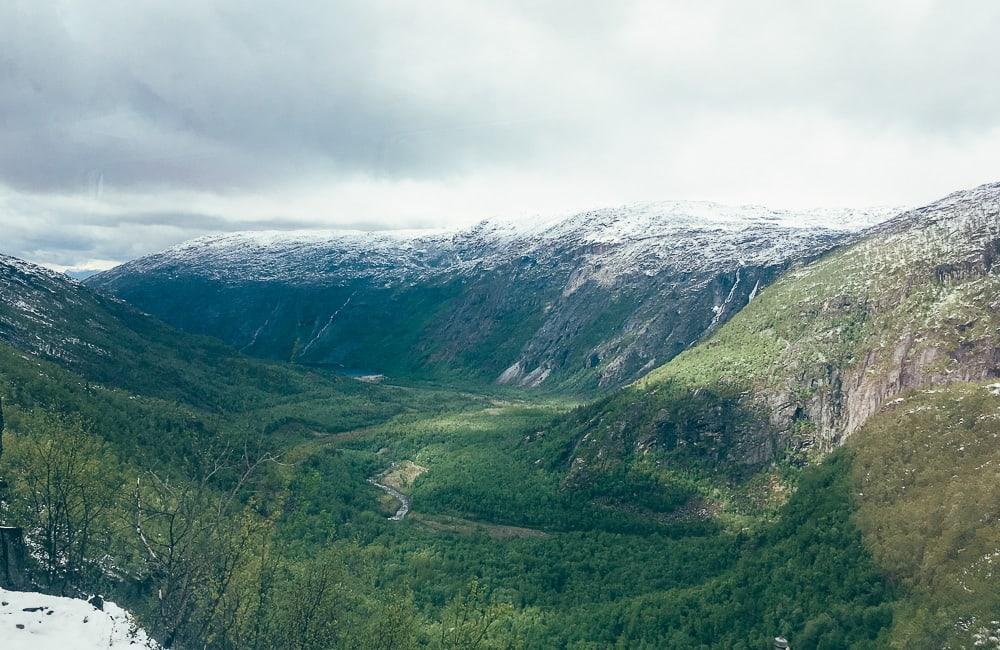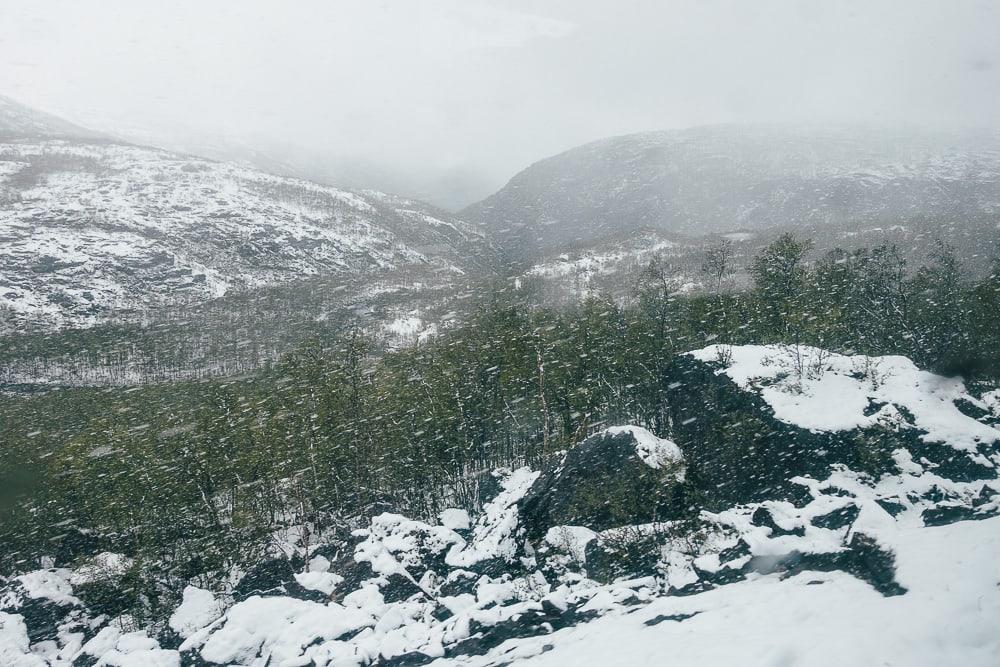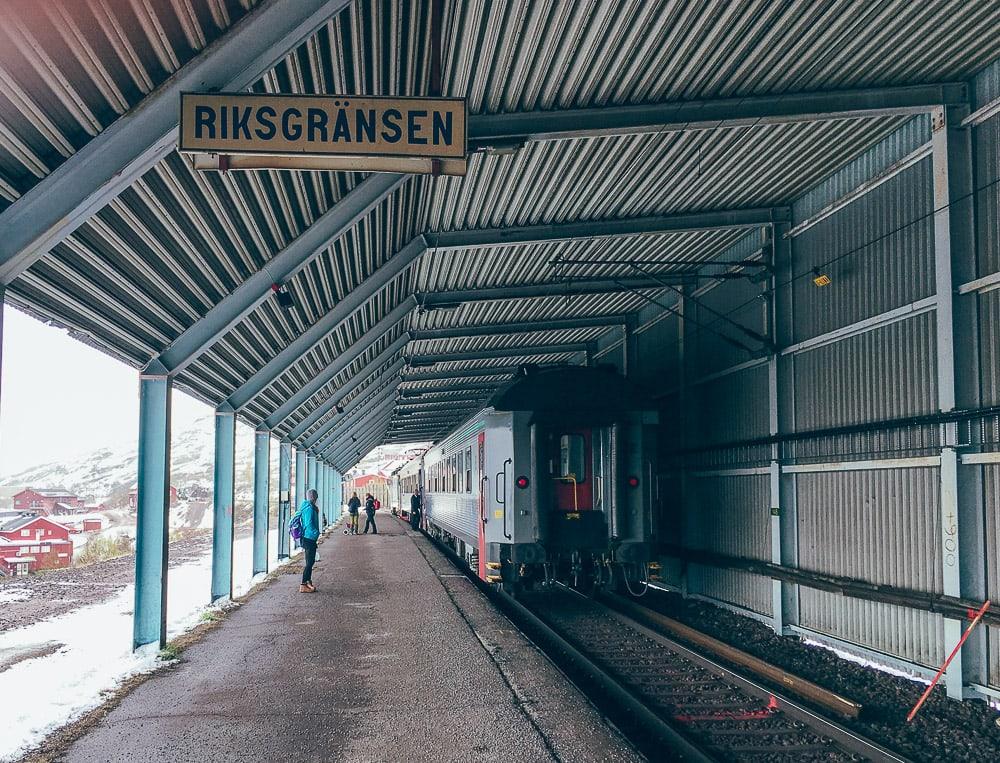 And then when we got back to Narvik we decided to go for another ride, this time on a cable car.
The cable car up Narvikfjellet costs 200 kroner roundtrip and takes 8 minutes each way.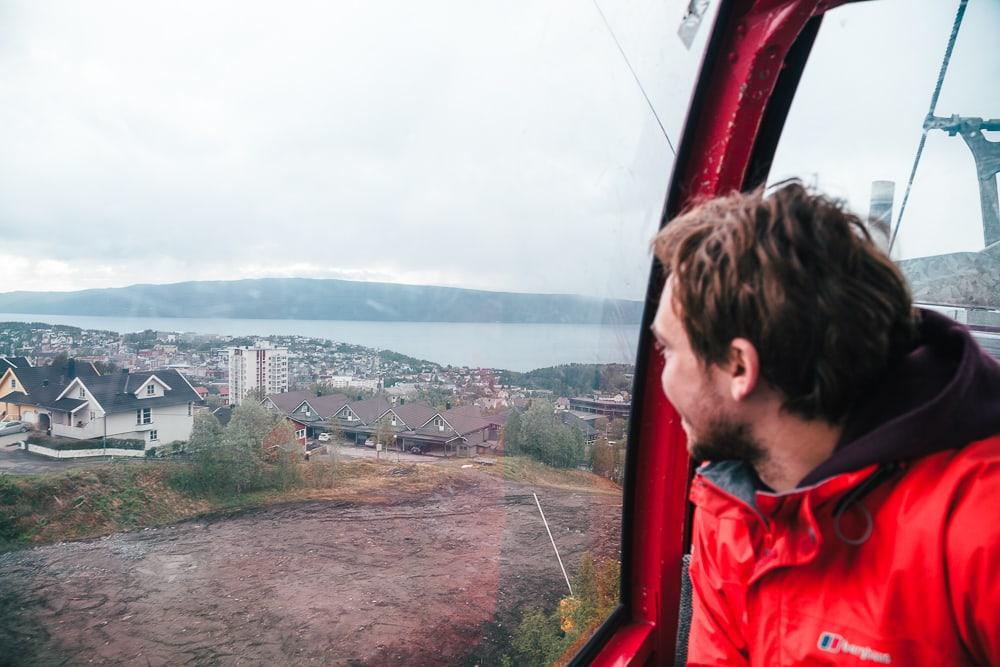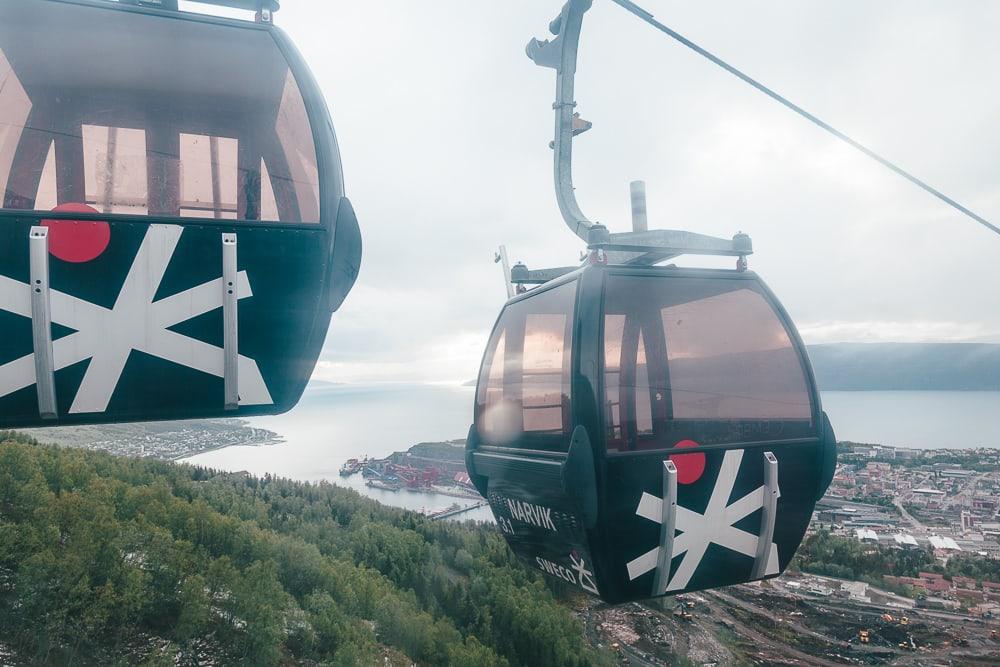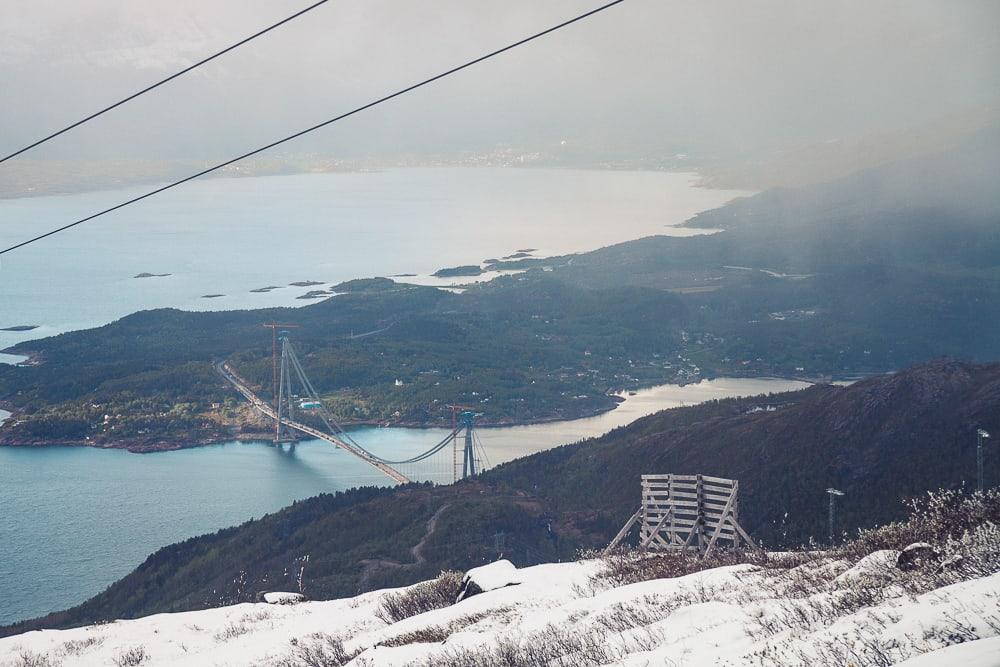 And then at the top there's a restaurant and bar where you can enjoy the beautiful view over Narvik. In the winter you can watch for the Northern Lights, and in the summer you can admire the midnight sun.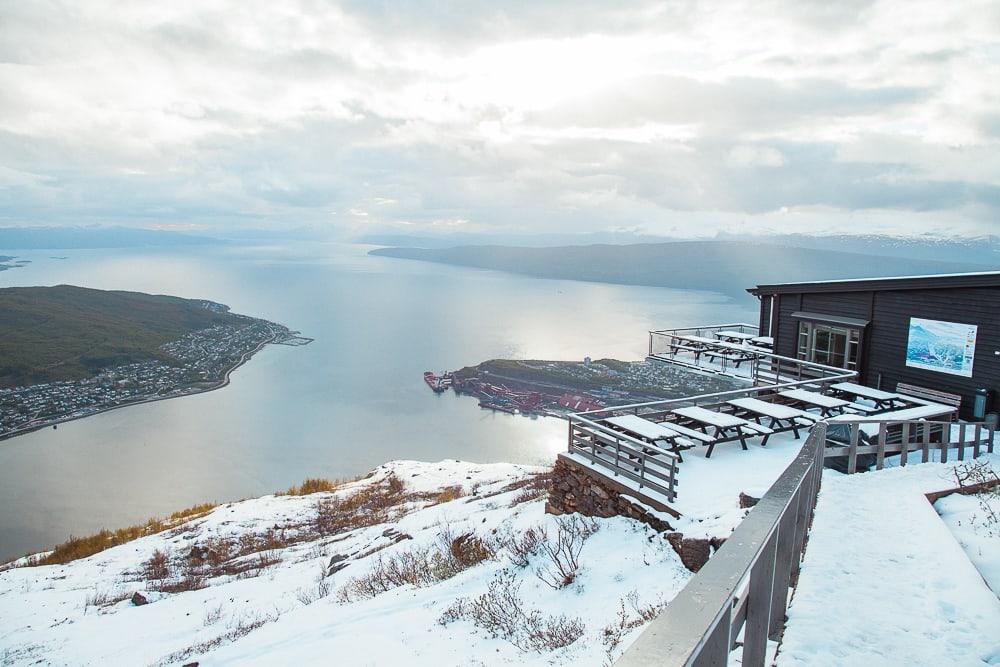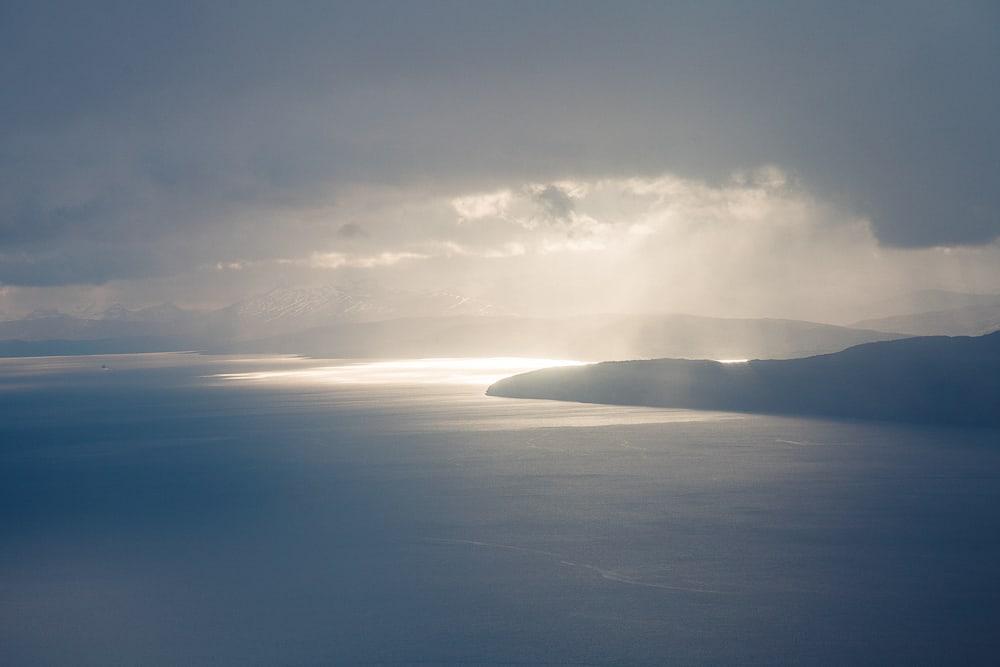 Well, in theory you can see the midnight sun. If the skies had been clearer we would have had a late dinner up here and stayed to see the midnight sun. Though the clouds did end up parting briefly for us!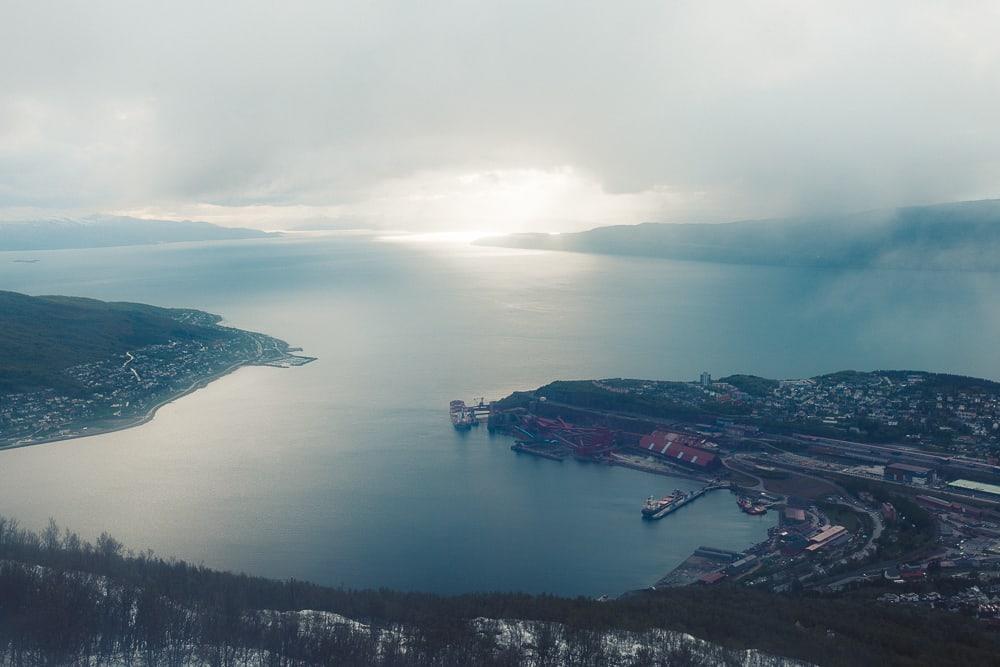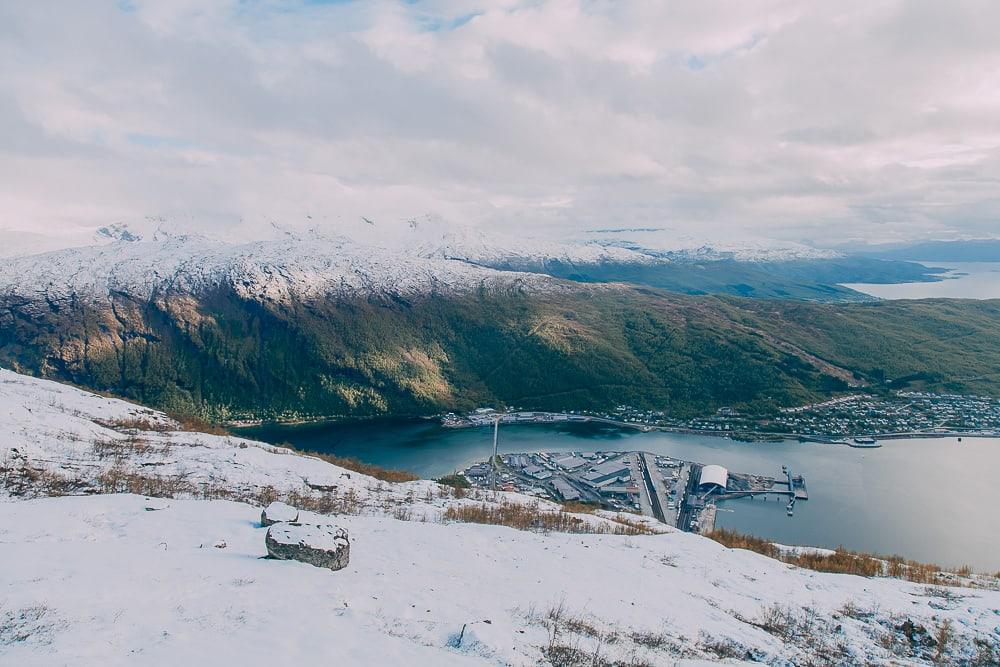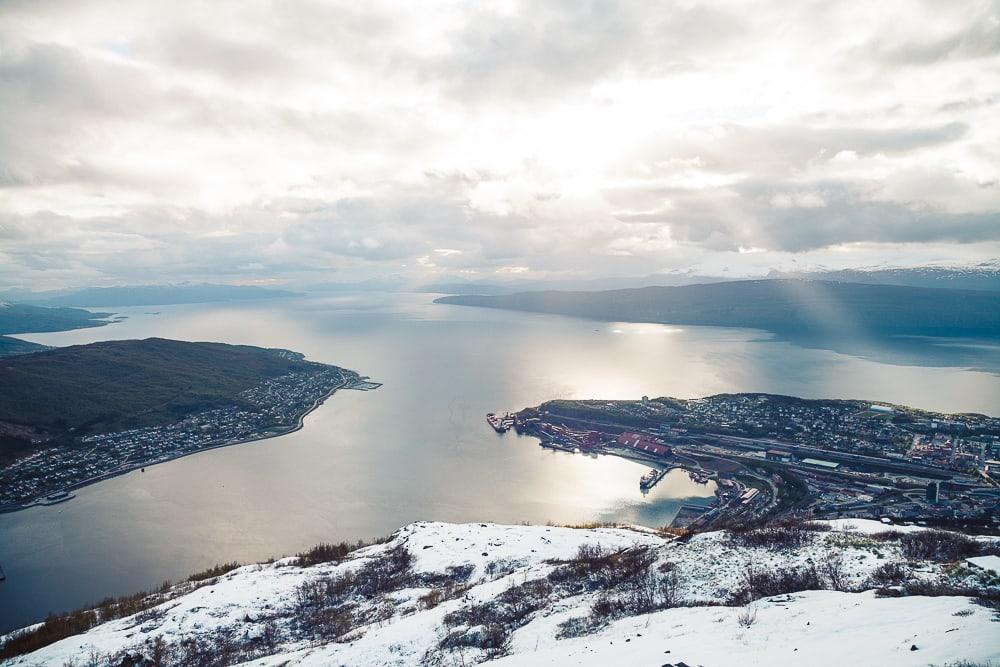 Then when we got back to town we set off in search of a cosy cafe for some coffee and birthday cake. We ended up at Astrupgården Cafe, a beautifully decorated little cafe with lots of delicious cake. I definitely recommend coming here if you're ever in Narvik!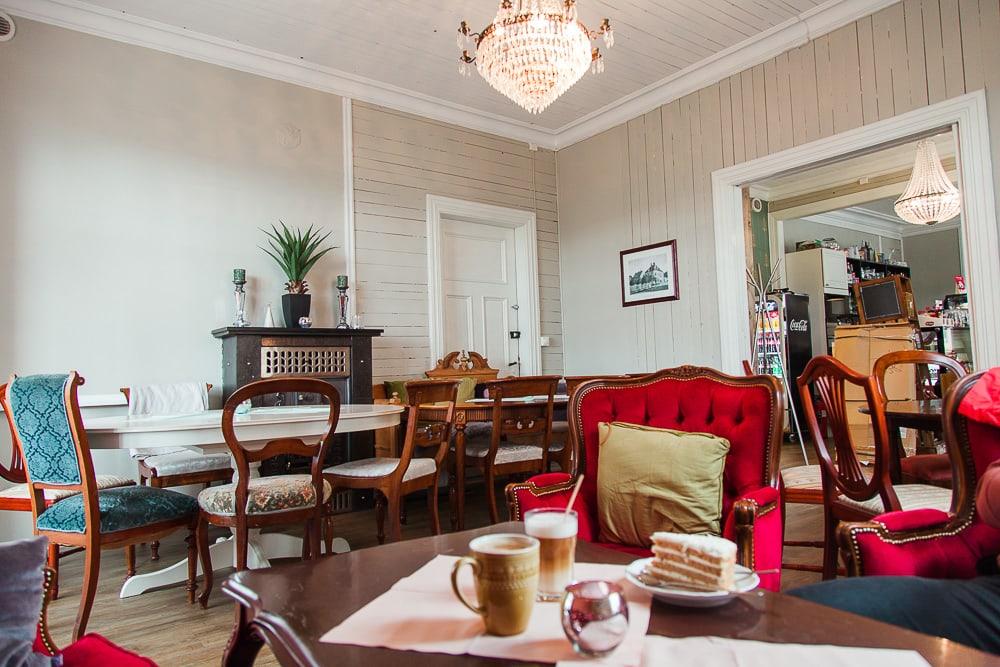 And then for dinner we ate at Rallar'n Pub & Kro, mostly out of convenience because it was right next to our hotel, but it actually ended up being one of my favorite meals of the trip, and the staff were so sweet and friendly. Dan had the brown cheese ice cream for dessert, which he raved about – and I just had to trust him because blech, brown cheese.
We ended the night at Narvikguten Pub, which might have been a mistake because the atmosphere was so lovely there and everyone so friendly that we walked home feeling a little bit sad that we don't live somewhere with any nice pubs. Maybe one day though!
So, what's the verdict? Is Narvik worth a stop on your Northern Norway itinerary?
While the town itself just seems like a gray industrial town, I actually really loved my time there. What the weather lacked in warmth the people more than made up for, and I especially loved taking the Ofoten train and the cable car up Narvikfjellet.
But perhaps the best part of Narvik is that it's positioned perfectly between Abisko, Sweden, aka the best place in Europe to see the Northern Lights, and Lofoten, aka the most beautiful place in Norway. So not only will you get to see this cool Northern Norwegian town and its beautiful surroundings, but afterwards you can easily hop on a train over to Abisko, or drive down to Lofoten – or both!
Where to stay in Narvik
If you really want a unique experience, consider staying in Narvik's amazing Arctic Dome. It's amazing in the winter, when you can see the Northern Lights from the comfort (and warmth!) of the dome, while in the summer there are amazing views out over Narvik. You can read about my stay in the Arctic Dome here.
But on this trip Dan and I stayed at the Quality Hotel Grand Royal, which I also could not recommend more highly. The location downtown is perfect, as it's close to the town center but also on the side with the train station and cable car, and the staff at reception were probably the friendliest reception staff I've met in Norway. Check prices and availability here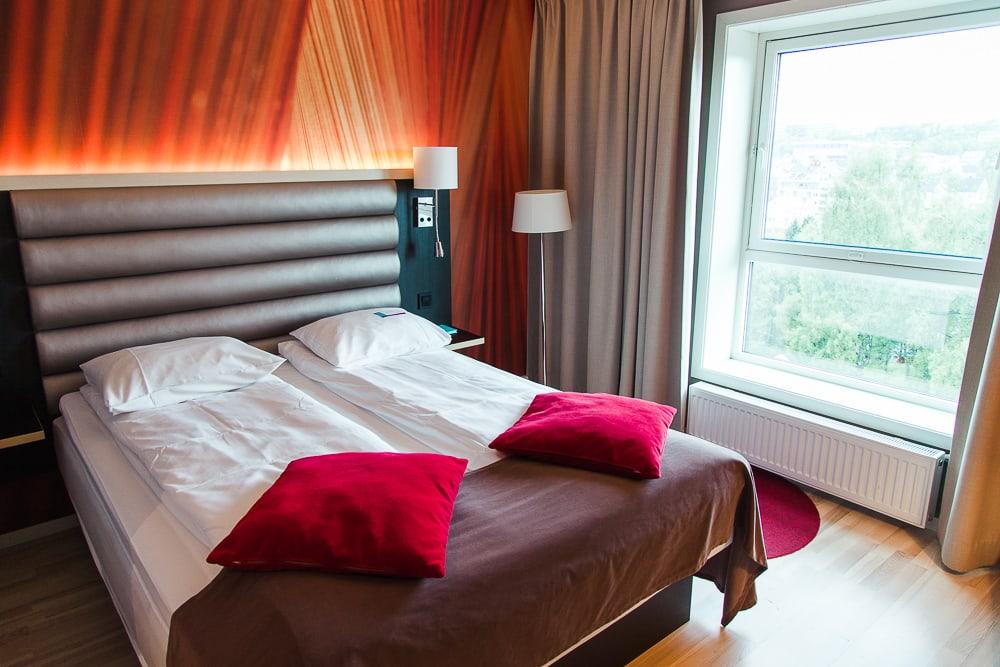 And of course the restaurant next door where we had dinner was really great, and there's also a rooftop restaurant and bar which is supposed to have wonderful views over Narvik.
I visited Narvik in collaboration with Northern Norway and Visit Narvik