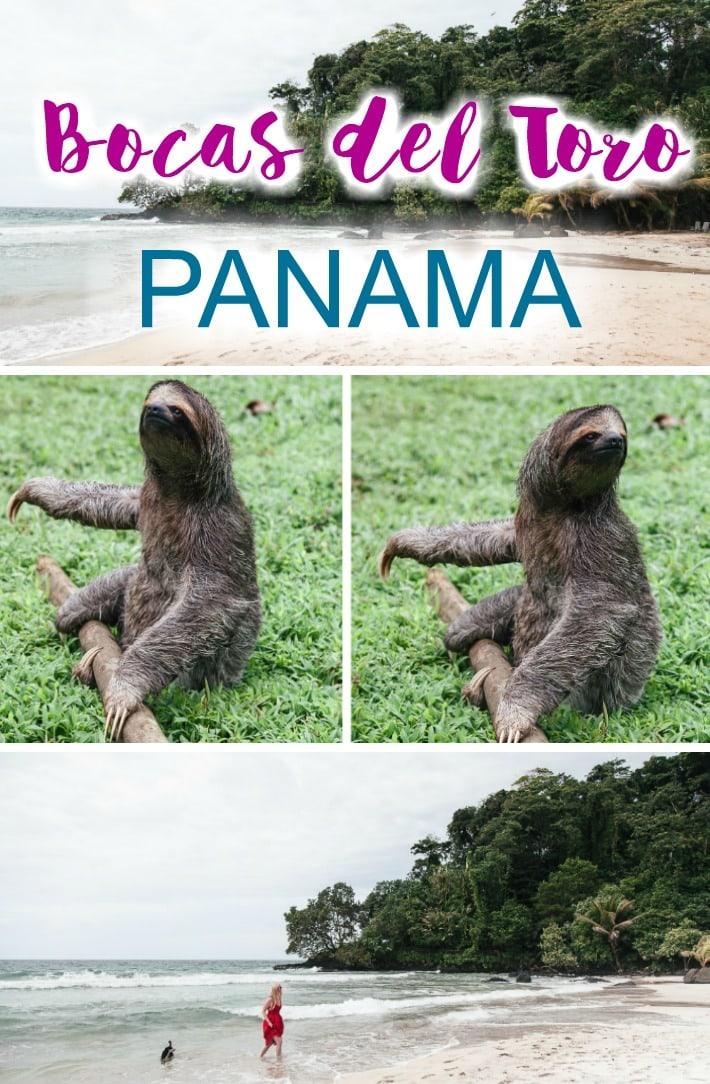 Bocas del Toro Panama has always been on my radar as the place to go in Panama for an island escape. In fact, aside from the Panama Canal, Bocas del Toro was always at the top of my places to visit in Panama.
And did it live up to my expectations?
Um, not really.
Though I will say, I think it was a mistake to visit Bocas del Toro last on our Panama itinerary, and if Rachel and I had gone there first we might have loved it. I also know a lot of people just pop over to Bocas from Costa Rica without seeing anything else in Panama, and if you do that you might love it.
Because the main reason Bocas del Toro didn't really excited me was that I had loved everywhere else we visited in Panama.
In fact when we told locals that we were heading to Bocas del Toro AND that we had already visited the San Blas Islands, literally everyone we spoke to shook their heads. They said that we might have loved Bocas on its own, but there's no way it could compare to San Blas.
And they were right.
I should also add that Rachel and I are both 30, and while we backpacked a lot in our early 20s, now we're not really as into the backpacker scene. And Bocas del Toro is a total backpacker party hub. I feel like I would have loved it if I hadn't been to so many other backpacker party hubs that were actually more fun and more beautiful.
So if you're looking for a fun "intro" to backpacking place, Bocas del Toro Panama could be perfect for you. It's easy to get to from the US, everyone speaks English, and the currency is even US dollars – how easy is that?
And if you're not a backpacker, there is another part of Bocas del Toro that's less about hostel parties and more about pristine beaches and beautiful jungle hideaways.
We asked around a bit before getting to Bocas del Toro, and everyone told us that if we wanted a quieter experience we should avoid the main island of Isla Colon and instead try to stay on Isla Bastimentos, which is what we ended up doing.
So read on if you're trying to figure out if Bocas del Toro, Panama is worth a trip or not. My short answer is probably not really, but there were some things about Bocas that I did really love, and some things that you could love even more than I did.
We were also a bit unlucky with our accommodation because we booked really last minute (rookie mistake!), and there are some accommodation options on Bocas del Toro that look so dreamy. I feel like if we had stayed somewhere a bit more special we could have really loved our time on Bocas del Toro.
And if you're still in the process of figuring out where to visit in Panama, you can read my list of the best things to do in Panama here, my San Blas Islands guide here, my Boquete Panama guide here, and my experience staying in a luxury bungalow on the Gulf of Chiriqui here.
Getting to Bocas del Toro
You basically have three options for getting to Bocas del Toro, depending on where you're coming from: you can take a bus, a shuttle, or plane.
We took a shuttle bus (+boat) to Bocas, and then when we left we flew from Bocas to Panama City.
The shuttle from Boquete was $30 and took 4.5 hours, though that included an hour long break at a gas station. I'm not really sure why the break was so long, and we all basically just waited outside the van for the driver to be ready to leave again. So if you're lucky maybe your shuttle will only take 3.5 hours.
The shuttle was a minivan that was packed to the max – not going to lie, it wasn't very comfortable (and in the 80+ countries I've visited I've gotten used to crowded minivans). It was basically fine though, like everyone had their own seat, it was just a bit crammed. Oh and all of our luggage was kept on top of the van, and we were traveling during rainy season so everyone's stuff got soaked. Luckily my hard shell suitcase is waterproof so my clothes and stuff were totally fine though.
The last leg of the journey is actually a boat to Isla Colon, but that's included in the shuttle fare.
Though if you're not planning on staying on Isla Colon you'll definitely want to book your accommodation in advance, as they'll include a shuttle to your accommodation for free. We stayed at the Red Frog Beach Resort, and they picked us up from Isla Colon as soon as we arrived.
We booked the shuttle the day before we left Boquete, though one of the companies was already sold out by then so maybe try to book earlier if you can, especially considering we were traveling in low season.
We also considered booking a private car service from Boquete to Bocas del Toro, which was going to cost $170 via ventas@cloudforestours.com. I didn't really regret going with the shuttle instead because we did save a lot of money and it was less than five hours of traveling anyway, but if you want to be more comfortable or are traveling with more than two people it's definitely worth considering booking a private transfer instead.
And then leaving Bocas del Toro we got an early morning flight. The airport is teeny tiny – like one of the smallest I've ever been to – but our flight left right on schedule and everything was really easy.
Bocas Town
While we stayed at Red Frog Beach, Rachel and I did take the Red Frog shuttle boat into Bocas Town, the main town in Bocas del Toro, for one day.
Bocas Town is kind of the backpacker hub for all the tours and activities on Bocas del Toro, so a lot of backpackers will stay here and then take day tours to the other islands. At night it's a bit of a party hub, though we were also warned against going out alone at night in Bocas Town, so maybe use caution.
And even when we were visiting during the middle of the day a few people offered us drugs, so I can sort of imagine what the vibe is like at night. I feel like it could be fun if you're in a group and just go to some bars, but I don't think I would have loved it if I had been traveling solo.
If you're not into the backpacker scene you probably won't find much to do in Bocas Town, as it is tiny.
For me personally, I don't think there would really be enough to do there to justify spending a night in Bocas Town, but it was great for a day trip!
Bocas Town is basically made up of two main streets with lots of tourist shops selling beach and surf gear, lots and lots of restaurants and cafes, and like ten supermarkets. Seriously, so many supermarkets.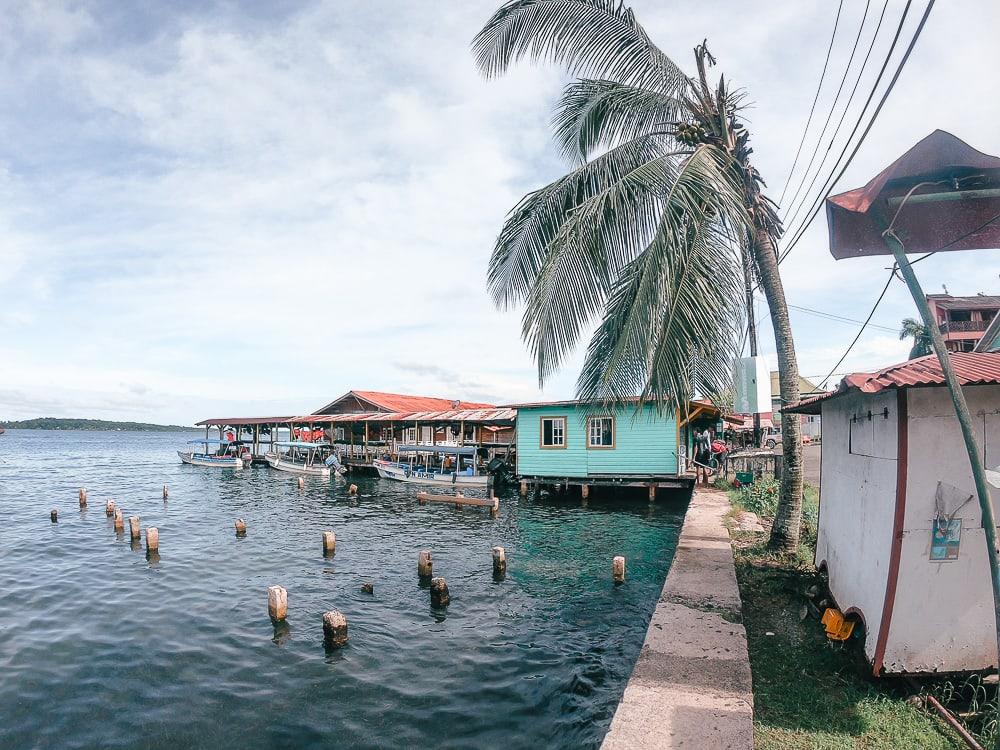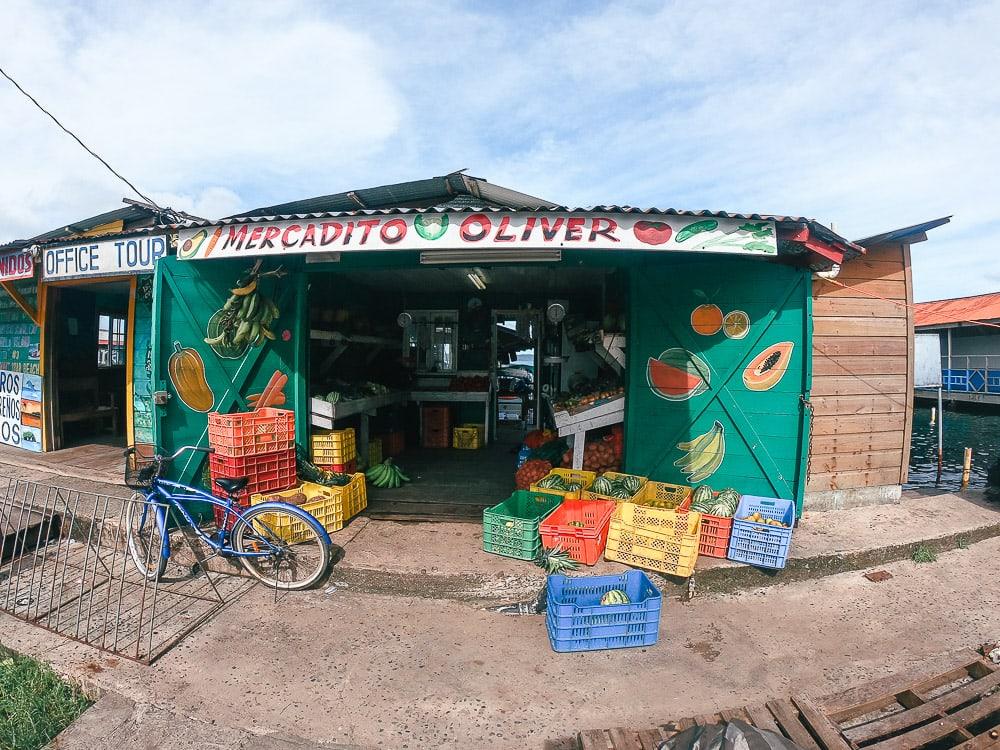 My favorite part about Bocas Town was definitely all the restaurants and cafés. The shops mostly just had tacky souvenirs, but the food at the restaurants was seriously so good. And I loved the designs as well. And since the food at Red Frog Beach wasn't great and had really limited menus, it was nice coming to Bocas Town for some better meals.
We had lunch at La Buga Dive & Surf, which is super cute and right on the water, and my falafel burger was perfect.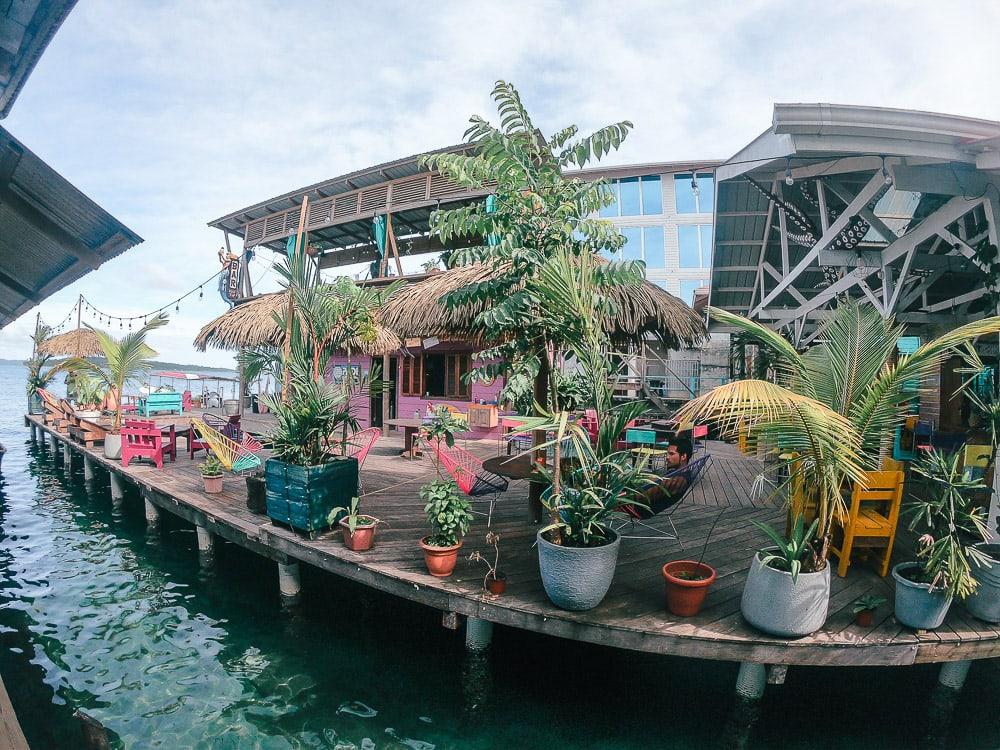 And then we had dinner at Buena Vista, which again is right on the water and has amazing food. We way over ordered so we ended up bring the rest back to Red Frog to eat later, which actually worked out perfectly.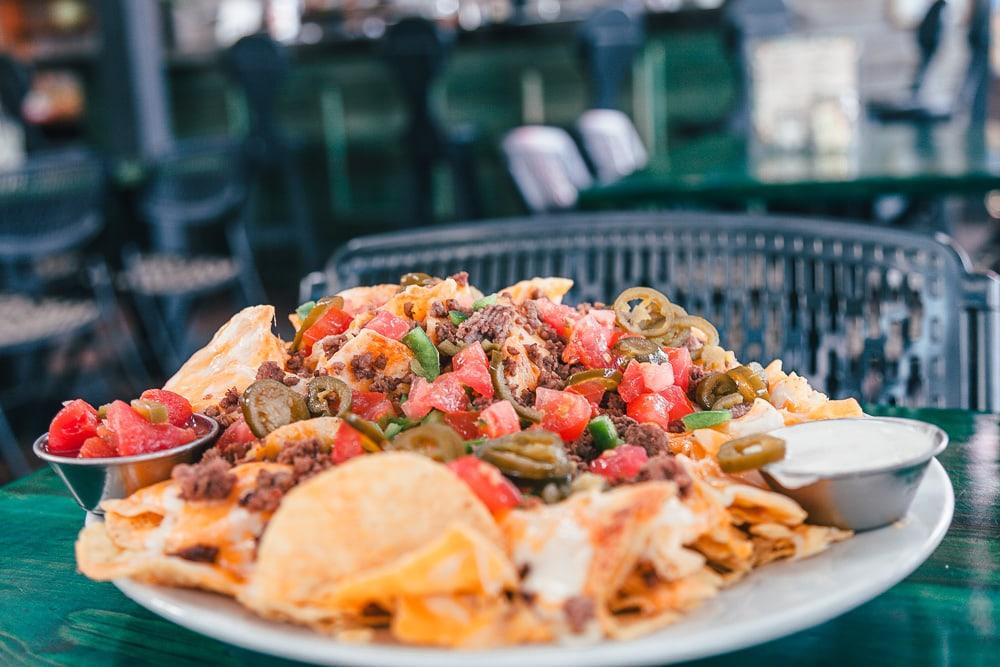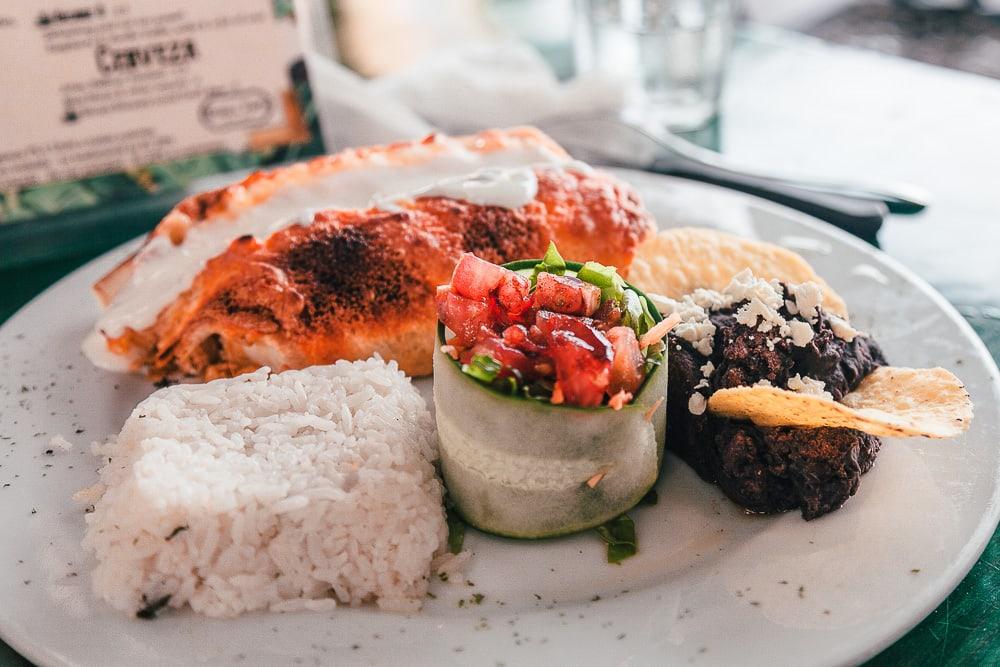 Where to stay in Bocas del Toro
There are a bunch of hostels in Bocas Town, but if you're looking for a bit more luxury you're going to want to get off of Isla Colon.
I stayed at Red Frog Beach, which is more of a big resort than luxurious island get away (scroll down for my thoughts on Red Frog Beach). We booked really last minute, so Red Frog Beach was one of our only options.
So I definitely recommend booking your Bocas del Toro accommodation well in advance!
Here are a few other places we had on our list for Bocas del Toro:
La Loma Jungle Lodge and Chocolate Farm // This was actually my top choice for Bocas del Toro as I've heard it's amazing, but it's actually only open from Tuesday to Thursday (at least during rainy season?) and we weren't here on the right days. Such a bummer! Check current rates and availability here
Casa Cayuco // I was seriously so sad that this place was closed when we were visiting, because it looks amazing. Definitely check it out if you're looking for a luxurious escape – hopefully it will be open when you're visiting. Check current rates and availability here
Finca Vela Lodge // This also looks so gorgeous, but it was booked up by the time we were looking for accommodation. Seriously, I really learned my lesson about booking early when I was looking for a place to stay here! Check current rates and availability here
Urraca Private Island // If you want to really get away from it all, this looks perfect. You'll be sort of stuck here (of course they offer tours and shuttles at an extra cost), but it does look so idyllic with the pink bungalows over the water. Check current rates and availability here
Bluff Beach Retreat // This is more central and easy to get to Bocas Town, but far enough away that you still have some nice island vibes with a beautiful beach. Check current rates and availability here
Monkey Treehouse Retreat // This is also easy access to Bocas Town and I love the treehouse style and jungle vibes. Check current rates and availability here
Bocas del Toro Airbnbs // There are also tons of Airbnb options for Bocas del Toro and some of them look really beautiful. You can check all the listings here, and if you're new to Airbnb get a discount by signing up here.
Red Frog Beach Resort
Okay, so let me tell you about Red Frog Beach resort.
Red Frog Beach Resort is a funny place. The property is enormous and filled with different types of bungalows and villas offered at different price ranges. What I found interesting though is that a lot of the villas are owned by people in the US, and Red Frog then essentially rents them out to visitors when the owners aren't in Panama.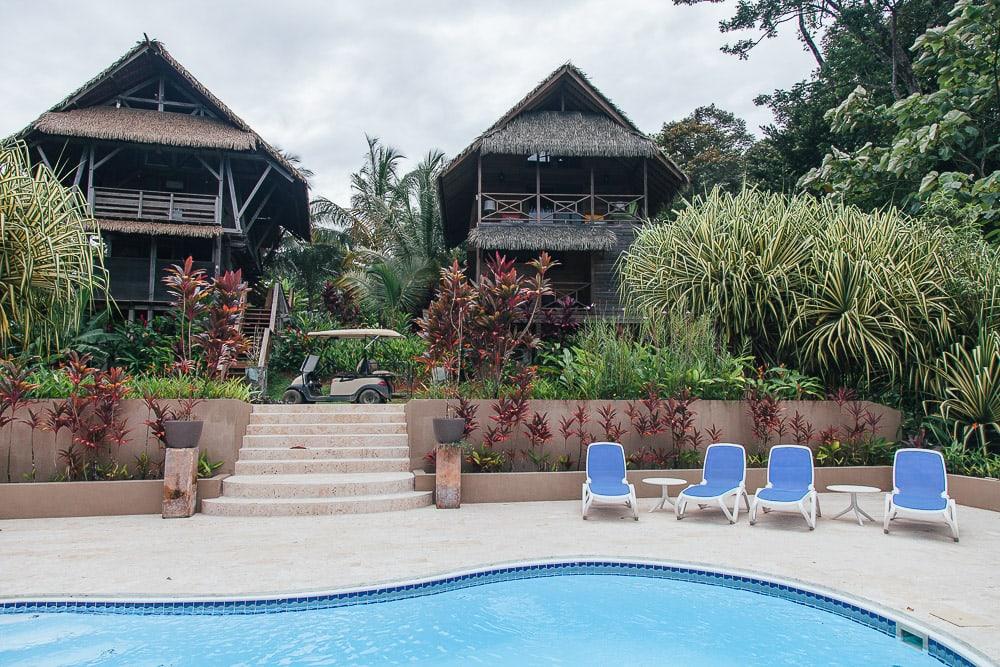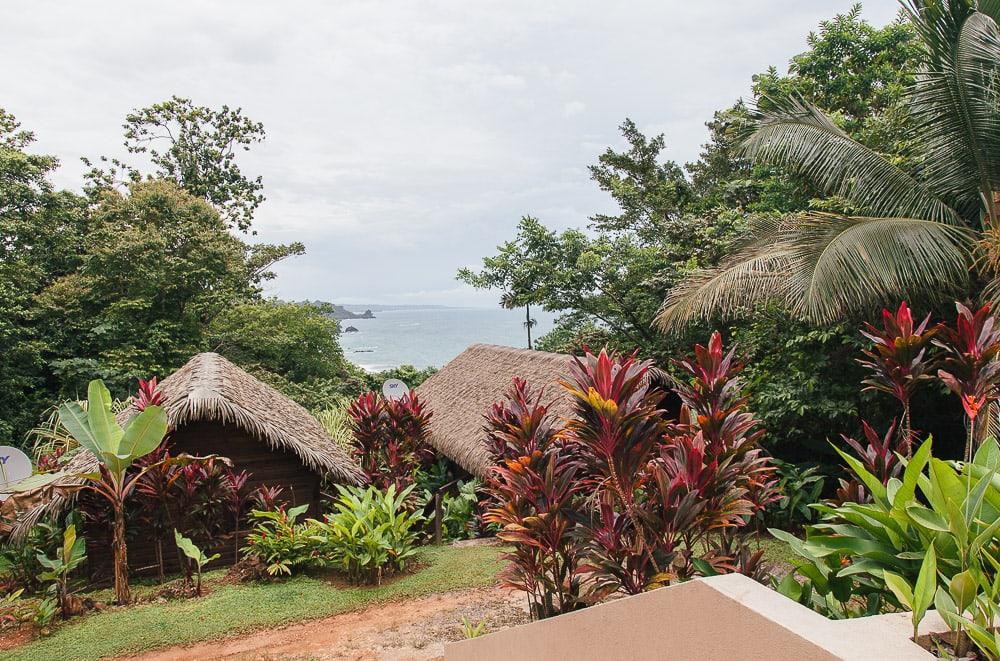 This means that the villas feel like they're in the US – at least the design of ours felt like something I'd find in Florida. And this also creates a nice sort of community at Red Frog, as a lot of the guests actually come here every year.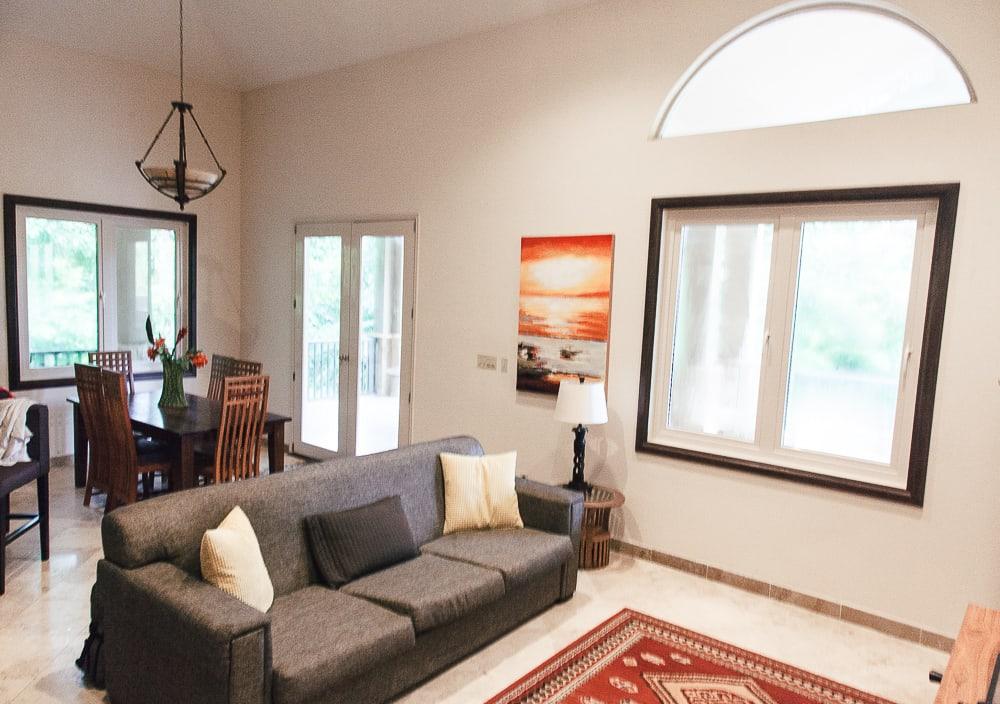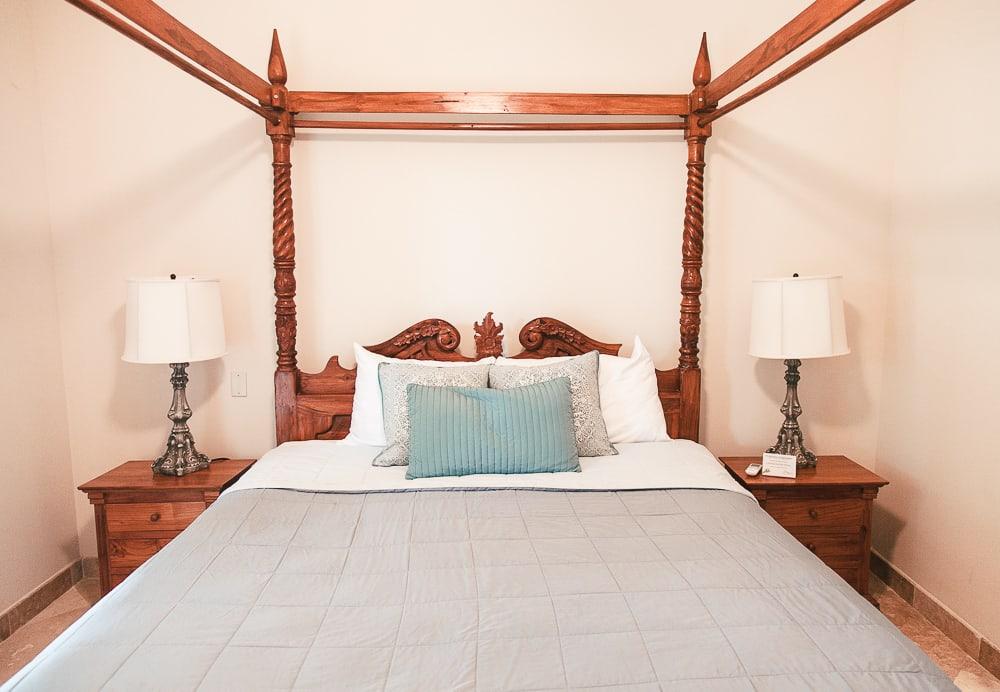 The only downside to this is that the quality of each villa will vary a bit, so we had a few issues in ours. One of the showers didn't work, there were some repairs that needed to be done around the villa, and one of the beds had mites! Rachel woke up the first morning with tons of bites all over her back, which really sucked. I also got them on my arms the next evening, though I think maybe it was from the couch?
I just feel like the owners of our particular villa hadn't been there in a while and everything had gotten a bit damp. However I talked to a Dutch family who were staying at another villa and they said theirs was perfect, so I think we just sort of had bad luck. In retrospect we should have just asked to switch to a different villa, but we're both so used to getting bug bites in the tropics that we didn't really think too much of it.
Probably my favorite part about Red Frog was the private beach and pool area, which was stunning and just the most perfect place in the world to relax.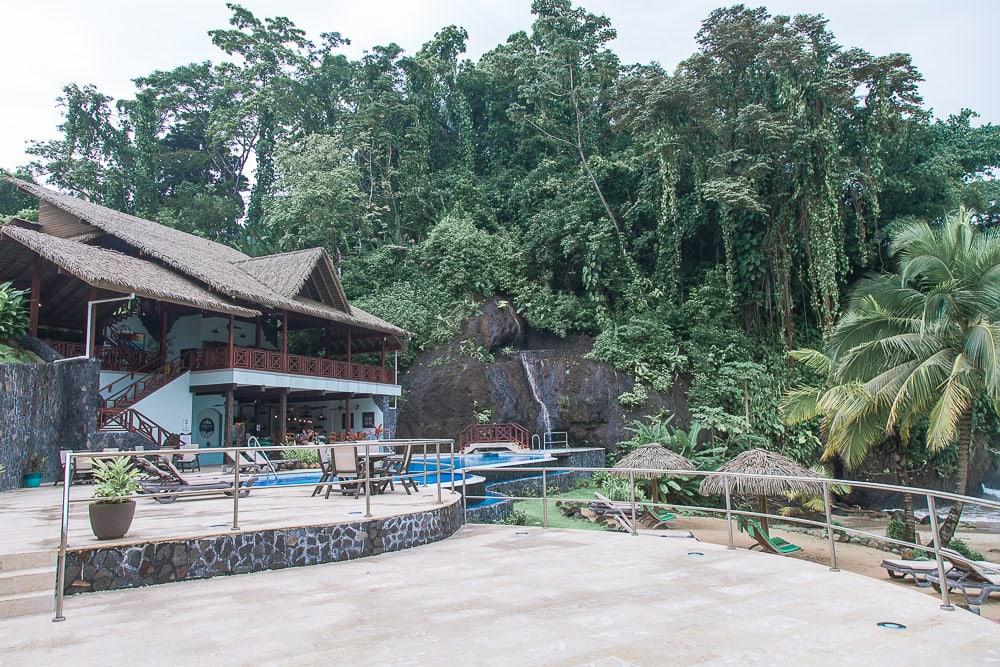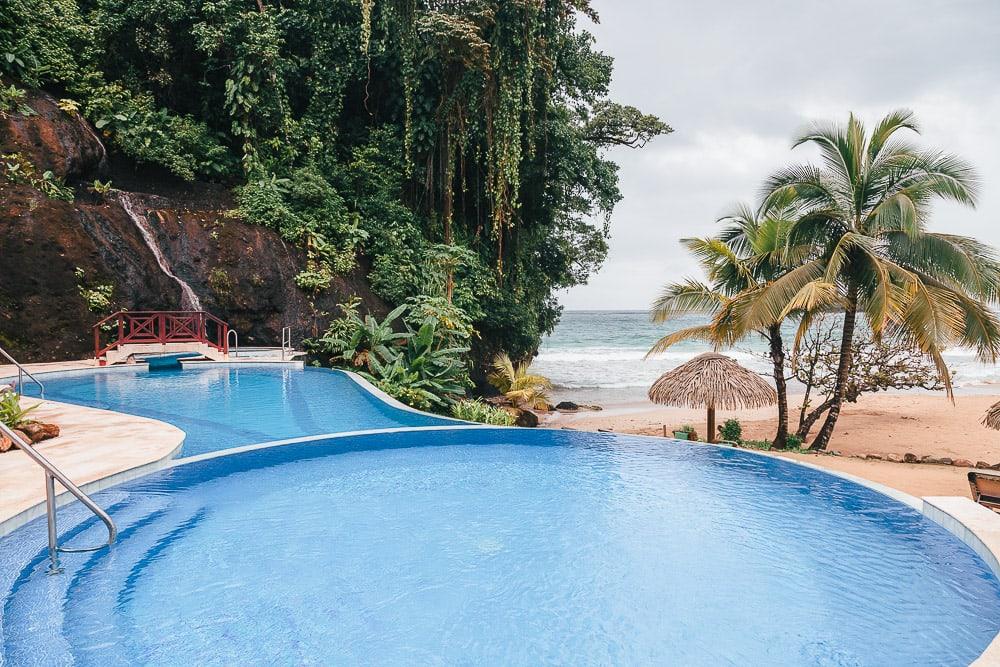 There's also a public beach area called Turtle Beach where people who aren't staying on the resort can come on day trips.
Again, it's a fine beach but nothing like the amazing white sand beaches of San Blas. The winds were so strong when we were there that we also couldn't go swimming in the ocean, but that was totally fine because the pool was really nice.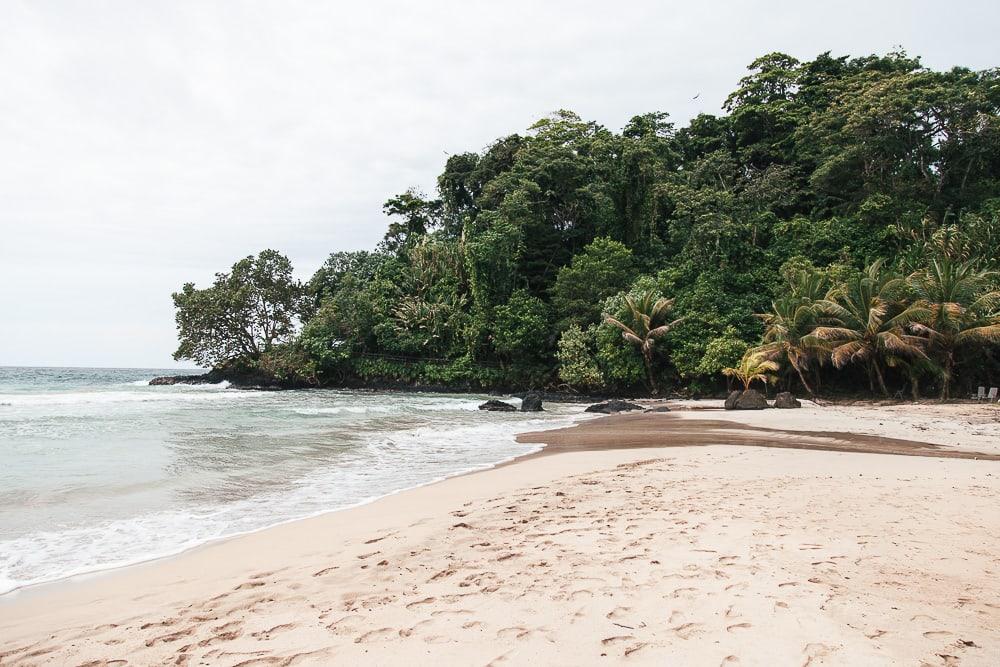 We even made some new canine friends!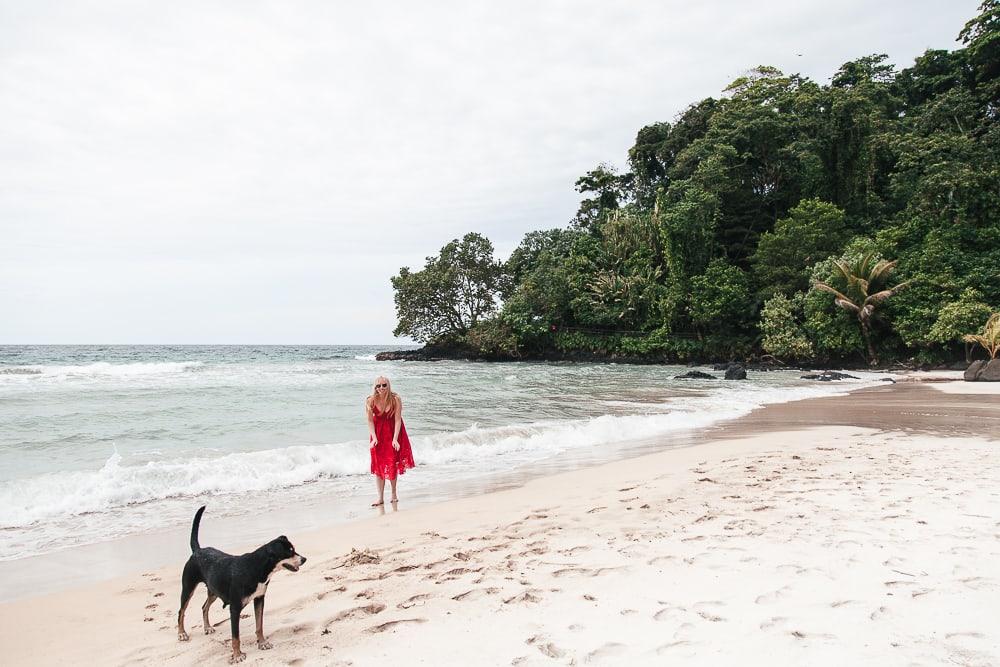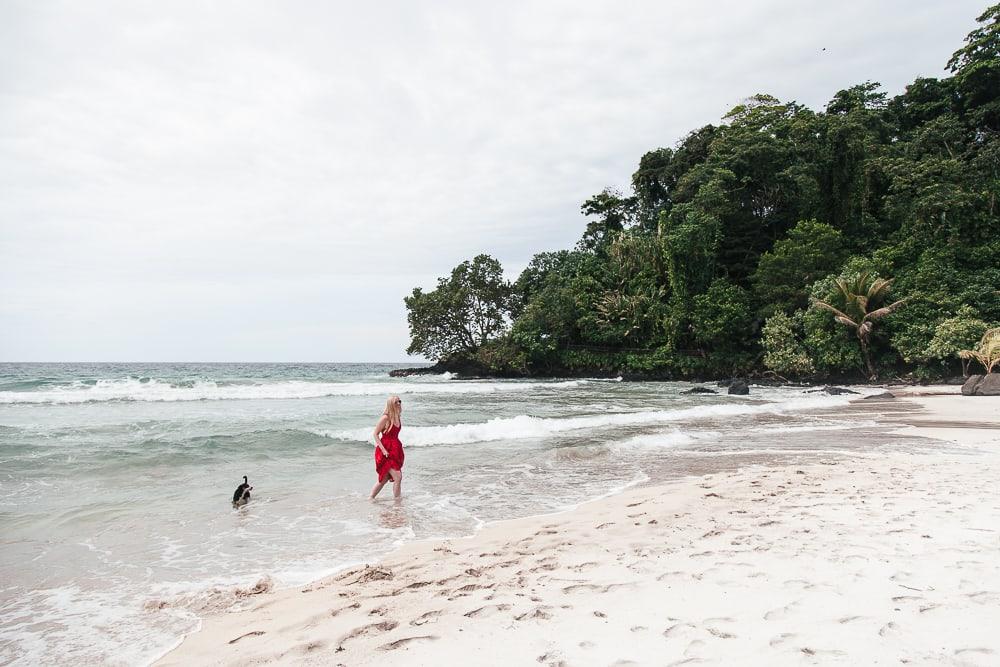 Meals aren't included with the stay, which gave us the freedom to eat at the different restaurants on site (the beach bar was my favorite over the restaurant at Turtle Beach), and we even went into town one day to pick up some nostalgic ingredients for a good old American dinner of mac and cheese and grilled cheese sandwiches!
I feel like I should add that Rachel and I are both Americans living abroad, so we really loved the American vibes of Red Frog Beach and that we could buy our favorite American snacks at the supermarket in Bocas Town. But if you're coming from the US it might not be as exciting, and in that case I would definitely recommend choosing San Blas instead.
You can check current rates and availability at Red Frog here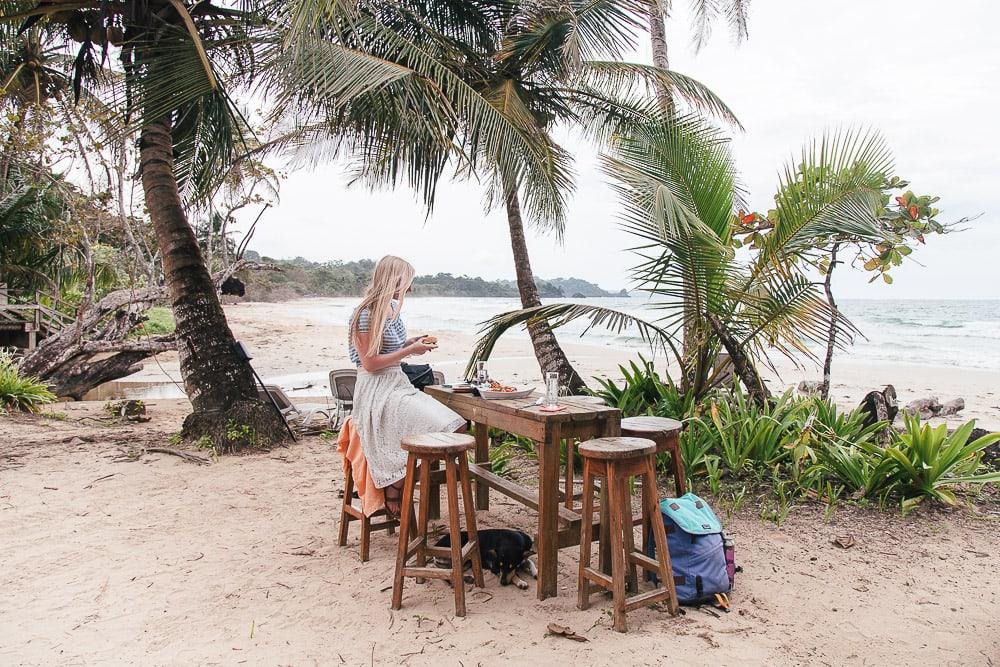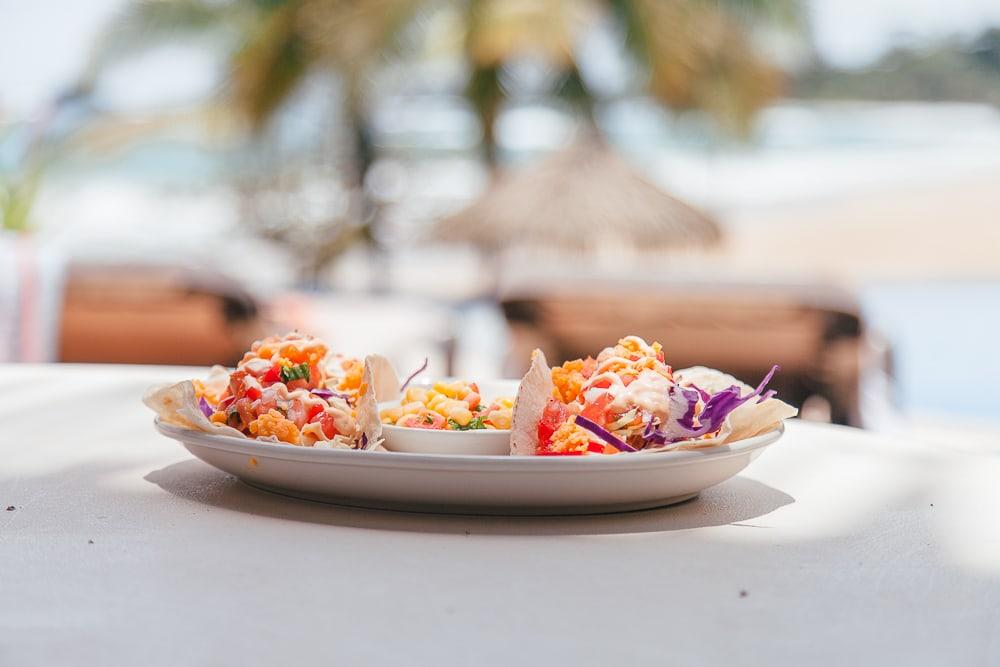 The Zapatilla Islands & Other Bocas del Toro Day Trips
Then again, as for it being a mistake visiting San Blas before Bocas del Toro, I actually found both places offer something unique. Yes, San Blas looks like paradise, but Bocas del Toro has a lot more accommodation and food options, and you can't find as luxurious accommodation as Red Frog on San Blas.
If you don't have time to visit San Blas as well, I would instead try to get to the Zapatilla Islands while on Bocas del Toro, as these two islands are meant to have the clearest water and most beautiful beaches on Bocas del Toro.
I know Red Frog Beach Resort organizes tours to Zapatilla, or you can also book a snorkeling tour from Bocas Town that will take you here as well.
We almost did a snorkeling tour so that we could stop by Sloth Island, where you can spot sloths from the boat (you aren't allowed onto the island though), but then we ended up coming across a sloth right on our resort!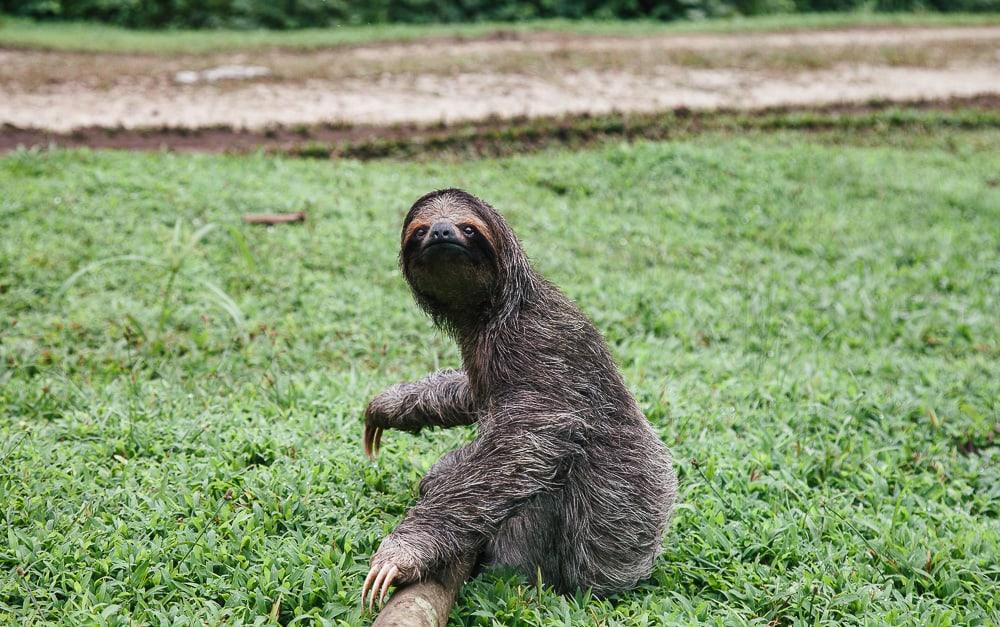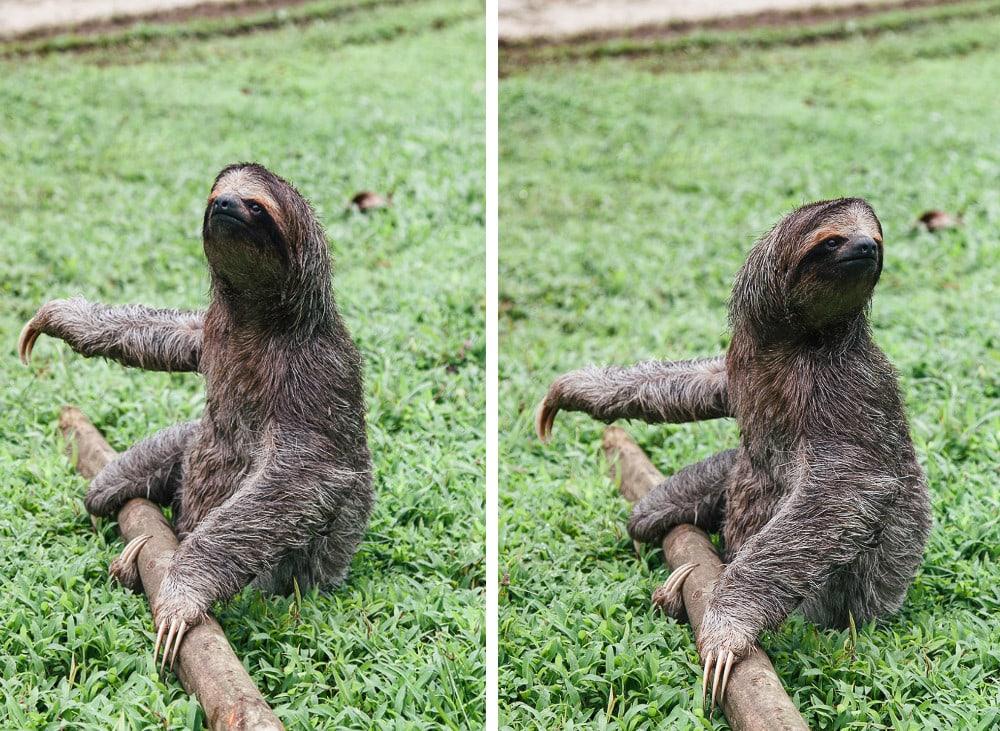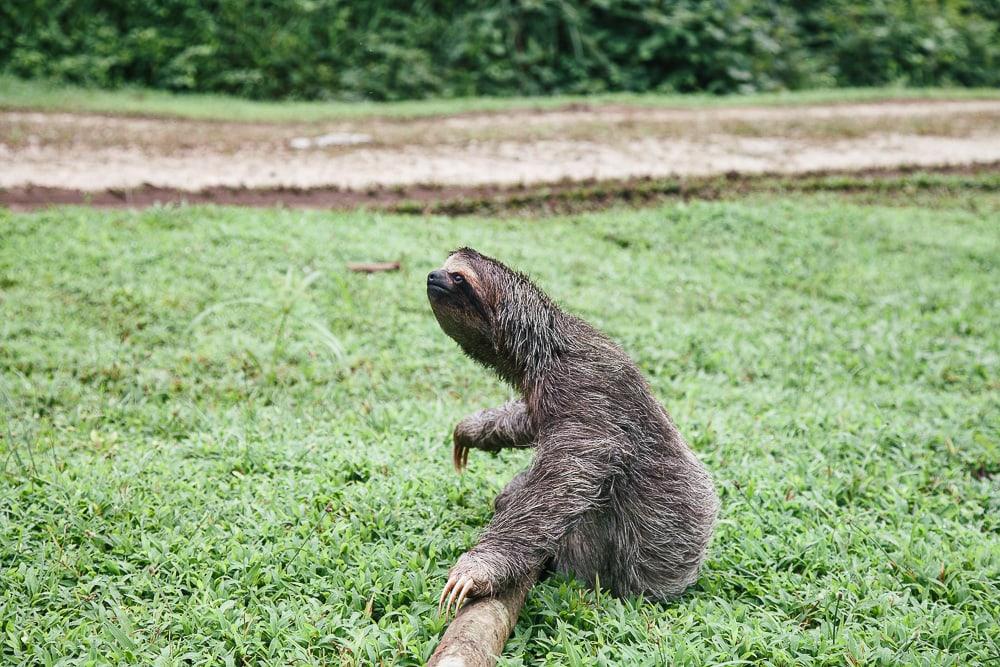 You can watch him slowly crawling away here:
After talking to some people who own one of the villas at Red Frog Beach, it sounds like the Zapatilla Islands tours are the best tours in Bocas del Toro. There are tons of other options for island hopping and also for more jungle vibes like visiting a chocolate farm, but if you're heading to Boquete as well you'll experience a better version of that in Boquete.
It was funny because when Rachel and I looked at the list of tour options from Bocas Town we were just like, we have literally already done all of these things, even though this is our first time in Panama. I think they were mostly just really generic tours that you'll find anywhere from Panama to Thailand, like snorkeling, island hopping, glass boat trips, etc. So if you haven't done anything like that before you will love it, but if you've already been to a lot of islands in Central America or even Africa and Asia, you might not find anything new here.
So… is Bocas del Toro, Panama worth it?
Basically I would say that I really enjoyed my time on Bocas del Toro, as it was a really nice and easy beach holiday. I loved relaxing at Red Frog Beach, and since it was the end of our Panama trip it was nice to have a few days to just totally unwind (and catch up on blogging work!).
That said, Bocas del Toro was my least favorite place I visited in Panama – mostly because I really, really loved everywhere else I went. There was just nothing about Bocas that really stood out to me. Well, aside from seeing the sloth – I was so excited to finally see a sloth in real life! But that was also just really good luck.
I think you'll like Bocas del Toro the most if you're a backpacker, especially if you're new to the region and/or new to backpacking. It's such an easy place to visit, it has a nice vibe and good food, and you will have a lot of fun here. It just might not be the absolute highlight of all your travels. But that's totally fine!
Or I think Bocas del Toro could be a magical escape if you book one of the really nice island hotels and just stay there the entire time.
Otherwise I guess I would recommend Bocas del Toro as a stop on your travels, if they're taking you through Panama or Costa Rica. But I also wouldn't necessarily go out of your way to plan a trip here. If you're going to go out of your way, definitely, definitely head to the San Blas Islands.