Most travelers to Norway are coming here for the fjords and mountains and northern lights, giving little thought to what they'll be eating while here. But Norwegian food is actually really great! Or at least you'll find a few interesting foods to try while in Norway.
My mom is Norwegian so I grew up eating a lot of Norwegian food and am a big fan, but I'll admit not all visitors to Norway agree with me. Apparently Norwegian food can be quite bland? And mostly white? And yes, a lot of vegetables are expensive and not of the highest quality. Are you excited yet to try the food in Norway yet?
No, no, I promise that even if Norway isn't Europe's most beloved foodie destination, there are at least a few Norwegian food experiences well worth having.
Okay I just finished my list and there are no fewer than twenty-seven Norwegian dishes you need to try. I promise I tried to narrow it down!
Unfortunately Norwegians traditionally eat a lot of dairy, fish, and meat, so if you're vegan this list isn't for you. But don't worry – in recent years Norwegian restaurants and supermarkets have started to offer a lot more plant based options, so you definitely won't go hungry here. In fact aside from fish, I typically eat mostly plant based here.
Oh and if you'll be traveling Norway on a budget, I've also written a Norwegian food guide for ten very Norwegian meals to make in Norway for under $10.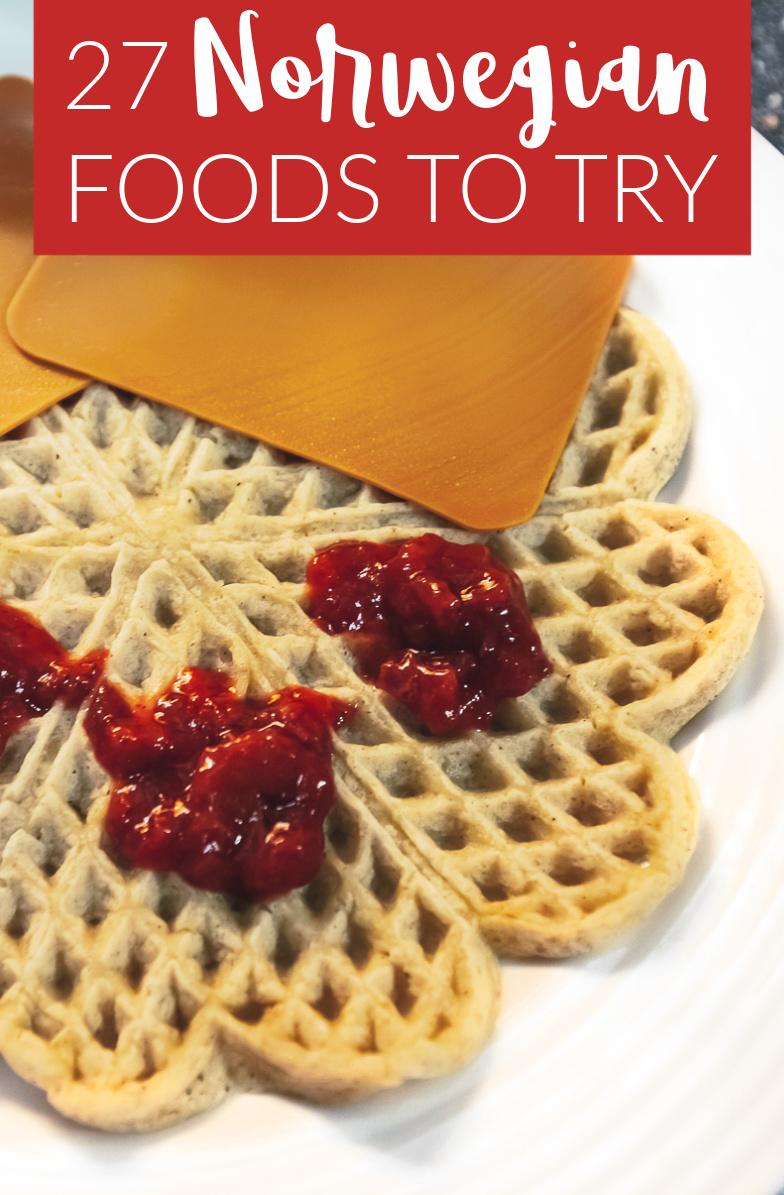 Southern Norway Guide!
I've gathered all my best advice for planning an incredible trip through southern Norway (from the far south up to Trondheim) in a 93-page ebook covering my top recommendations for places to visit (both on and off the beaten path), the best times of year to visit, how long to visit for, the best accommodation choices, transportation, what to eat, what to pack, and a sample itinerary that covers my personal favorite route through the south.
Brown cheese
If there's one Norwegian food you have to try while here it's Norwegian brown cheese, or brunost. Am I saying that because I know you'll love it? Absolutely not. Norwegian brown cheese is definitely one of those love it or hate it foods.
Norwegians started making brown cheese back when Norway was a poor country. They wanted to use the leftover whey from regular cheese so they made this brown cheese from the whey, along with milk and cream. It looks and sort of tastes like caramel, with a side of barn flavor. Or at least that's how I would describe it.
I don't enjoy it on bread or waffles as most Norwegians do, but I do really love adding brown cheese to sauces for a distinct Norwegian flavor.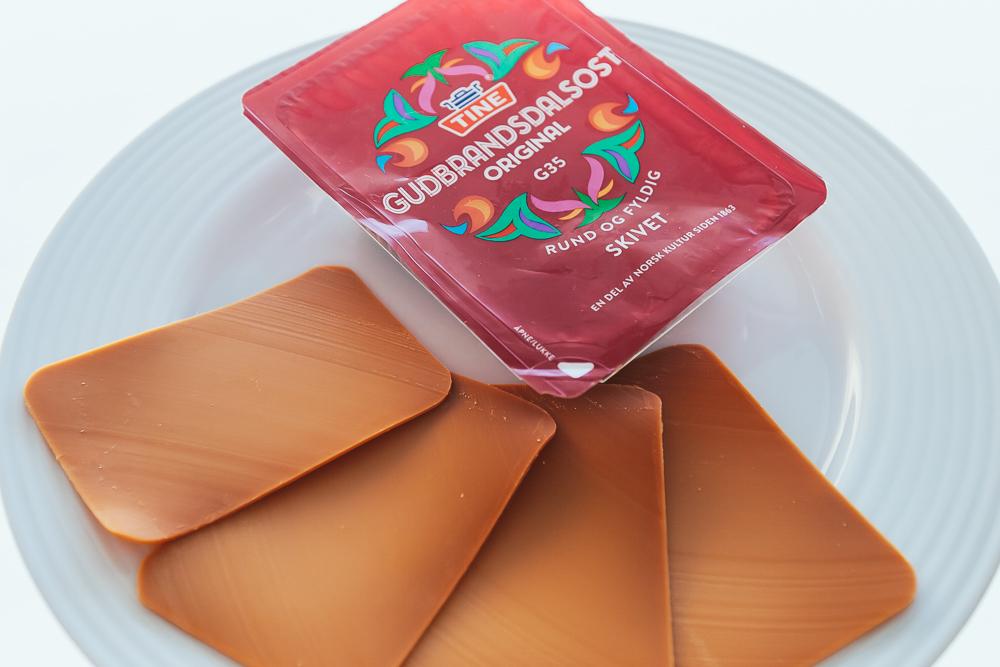 Norwegian Waffles
Did I quickly whip up a batch of waffles just so that I could photograph them for this post? I mean, that was my excuse, yes.
Norwegian waffles are seriously so good though. They're thin and made with cardamom, and if you're really lucky you'll eat them with fresh berries on top, or if you want to feel extra Norwegian eat it with brown cheese.
And even if you're not coming to Norway anytime soon (when are the borders going to open?!), you can make your own at home if you buy a Norwegian waffle iron!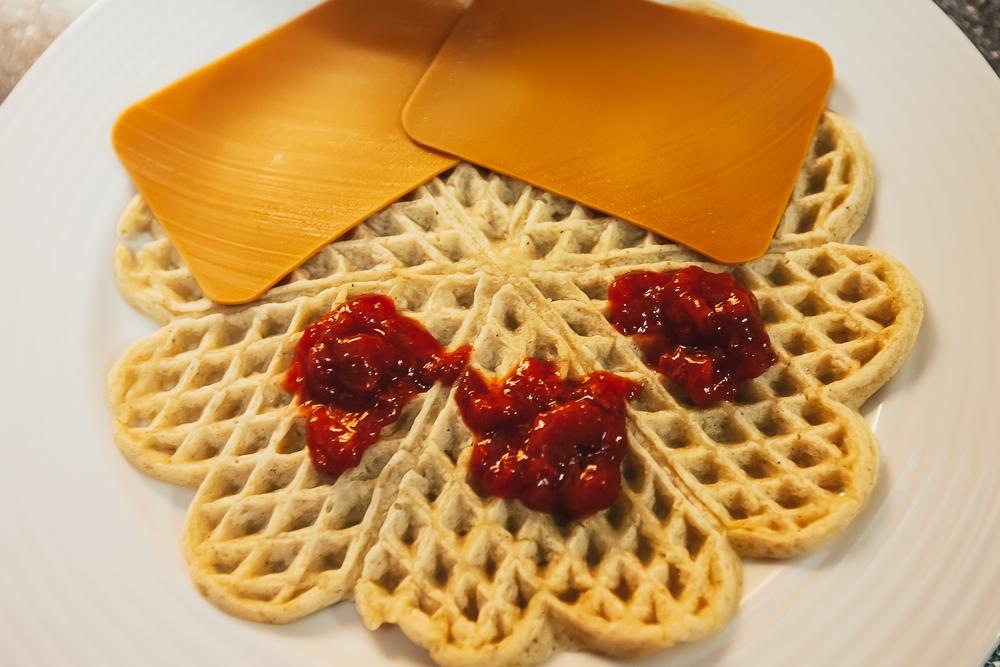 Skolebrød
Okay now cardamom infused sweets are on my mind, so next up is the famous skolebrød, or "school bread" bun.
Are these famous? They should be. They're sweet buns filled with custard and topped with icing dipped in coconut.
I used to make these back when I worked in a Norwegian supermarket and it took all my self restraint not to gobble them all up in the baker's room.
Most cafés will serve these, or you can pick one up at a bakery or supermarket. The supermarket ones are freshly baked each day and often just as good as the more expensive bakery ones.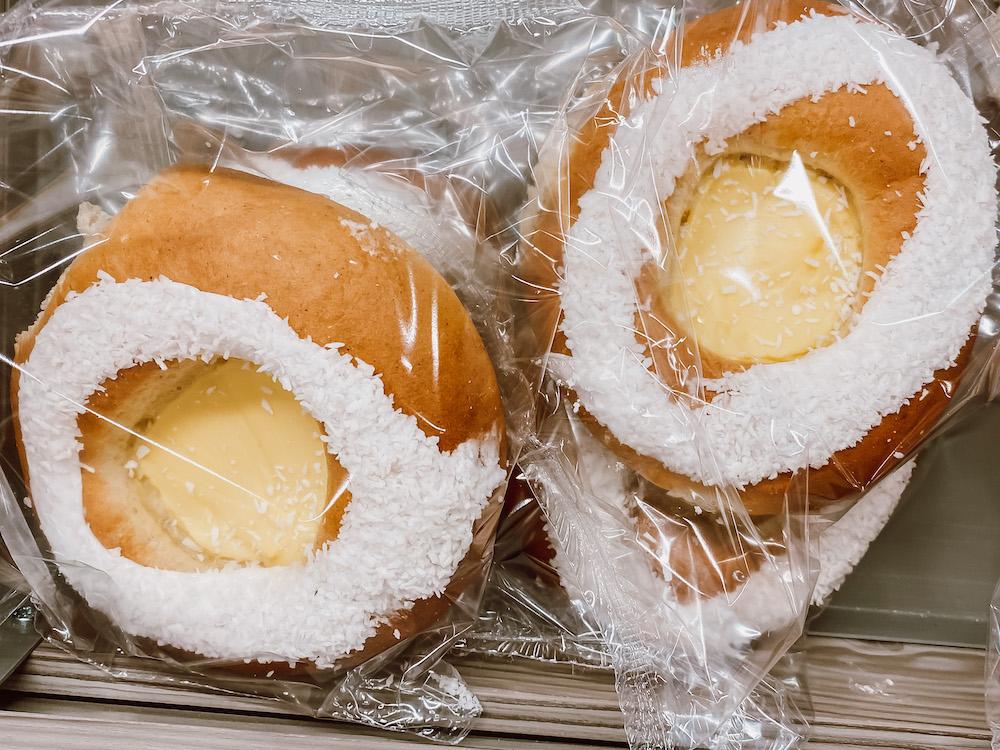 Gravlaks
If you're a fish eater you've probably already eaten Norwegian smoked salmon, as it's sold around the world, but if you want a bit of a twist try gravlaks instead. Gravlaks is salmon cured with salt, sugar and dill, often served with a mustard sauce. You'll find it at a lot of breakfast buffets here.
Herring
There are so many different types of herring, or sild in Norwegian, which you also often can sample at breakfast buffets. Or if you're in Trondheim Baklandet Skydsstation in have a great herring buffet for lunch.
Norwegian Flatbread
Norwegian flat bread is really flat. As in, sometimes as thin as a piece of paper. Flatbread has been a Norwegian staple for thousands of years, dating back to the Vikings.
Lefse
Lefse is another Norwegian food staple and comes in many different forms. It can be sweet or savory, thick or thin, and made from wheat or potatoes. You'll find it wrapped around hotdogs, filled with sugar, butter and cinnamon (my favorite), or topped with brown cheese and jam (not my favorite).
Rakfisk
Rakfisk is freshwater fish, usually trout, that is sprinkled with salt and fermented in water for up to a year. It's a delicacy – I've only had it at fancy parties – and probably an acquired taste. But I personally find it super tasty!
Sushi
Okay no, sushi is not a traditional Norwegian food. However it was Norway that introduced the idea of salmon sushi to the Japanese. In the 1970s Norwegians were beginning to farm salmon and needed people to sell it to, and who likes eating fish more than the Japanese? They eventually convinced Japanese to include salmon on the sushi belt, and now it's a staple.
But even if you're not a fan of salmon, Norway is a great place for sushi because there's so much fresh seafood here.
Tørrfisk
Norwegian stockfish, or tørrfisk, is dried and matured Arctic cod, typically wild caught just outside the Lofoten Islands.
Traditionally Norwegians use stockfish for making lutefisk, curing the stockfish in lye, however these days you'll find lots of modern twists here that are perhaps more appetizing than the lye version (though personally I love lutefisk!).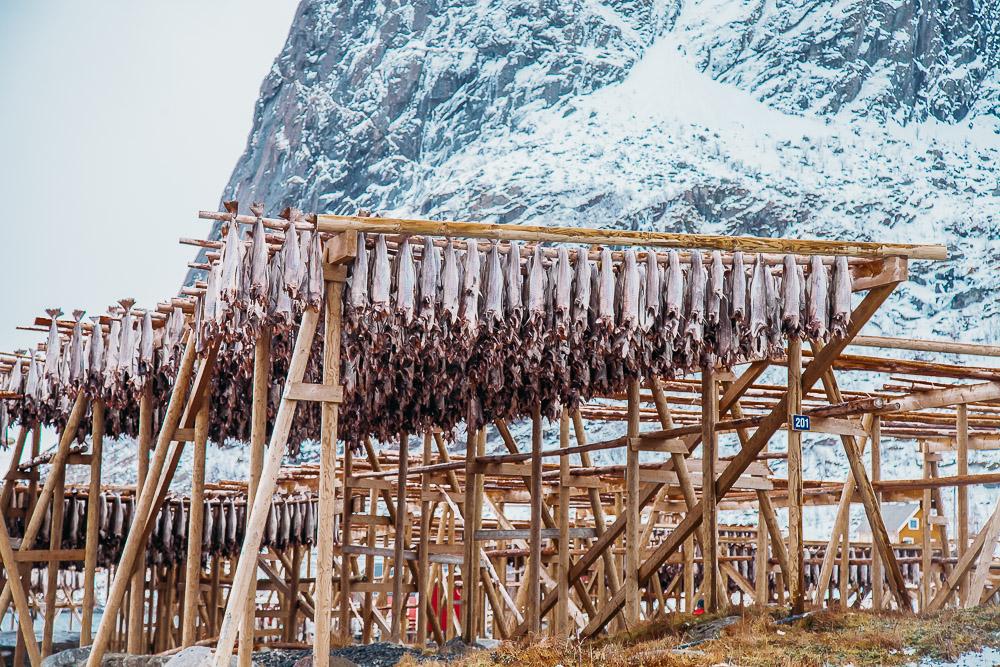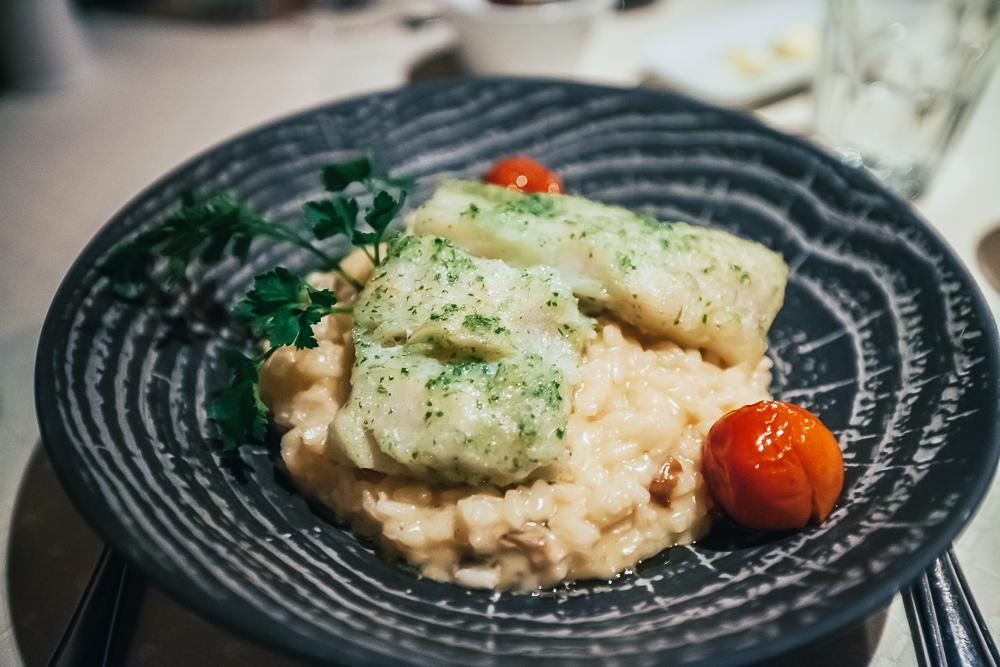 Fish soup
You'll find fish soup on most restaurant menus here, so please promise me that you'll get it at least once while here (unless you're vegetarian, of course). There are many variations, but they're all so good.
Reindeer stew
Whenever I have international visitors (who eat meat) I make reindeer stew. It's easy, and very Norwegian.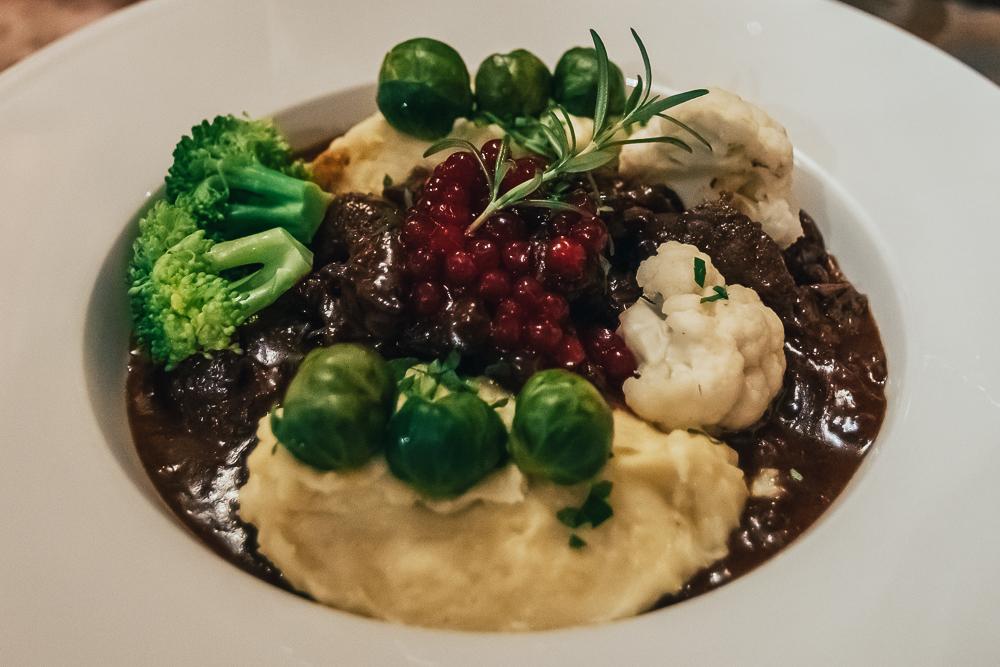 Norwegian Meatballs
Swedish meatballs get all the glory, but Norwegian meatballs are delicious too! They're usually served with potatoes, stewed peas, and gravy and are definitely a favorite comfort food amongst Norwegians.
Freshly picked berries
If you're visiting Norway in the summer you'll definitely want to keep an eye out for blueberries – pretty much all of Norway is covered in them in July/August, and you're free to pick those you find in nature (so, not on someone's property).
And if you're hiking in the mountains look out for cloudberries, or "the gold of the Arctic." Norwegians are very secretive about their cloudberry spots, but if you're especially charming maybe you can convince a local to point you in the direction of a cloudberry patch. Otherwise just head up – they're often found at the top of mountains.
Norwegians love to gather big batches of berries in the summer and freeze them to have throughout the rest of the year, so if you're not here in the summer you might still get the chance to sample Norwegian berries. And of course if you're not coming to Norway, you can always order some cloudberry preserves online.
Whale and seal meat
These are controversial, but if you're visiting the north of Norway especially you might find whale and seal meat on menus. In fact when I stayed at Mary-Ann's Polarrigg on Svalbard both whale and seal meat were served at the morning breakfast buffet!
Fårikål
Fårikål is Norway's national dish, and sure enough each September it seems like the entire country is feasting on fårikål. Translating to "lamb in cabbage," fårikål is basically just cuts of lamb wrapped in cabbage and black pepper. I'm not sure how often restaurants serve fårikål, so you might need to get invited to a Norwegian home for this one – or make your own!
King Crab
The king crab was introduced to Norway in the 1960s when Soviet scientists brought them to nearby Murmansk, so they make for a relatively new Norwegian food. But the crabs quickly took over and now you'll find king crab on many Norwegian menus, especially in Northern Norway. And oh my goodness, it is so delicious.
You can also go out on a king crab safari to sample the crab right from the net. I did this during my stay at the Kirkenes Snow Hotel and loved it.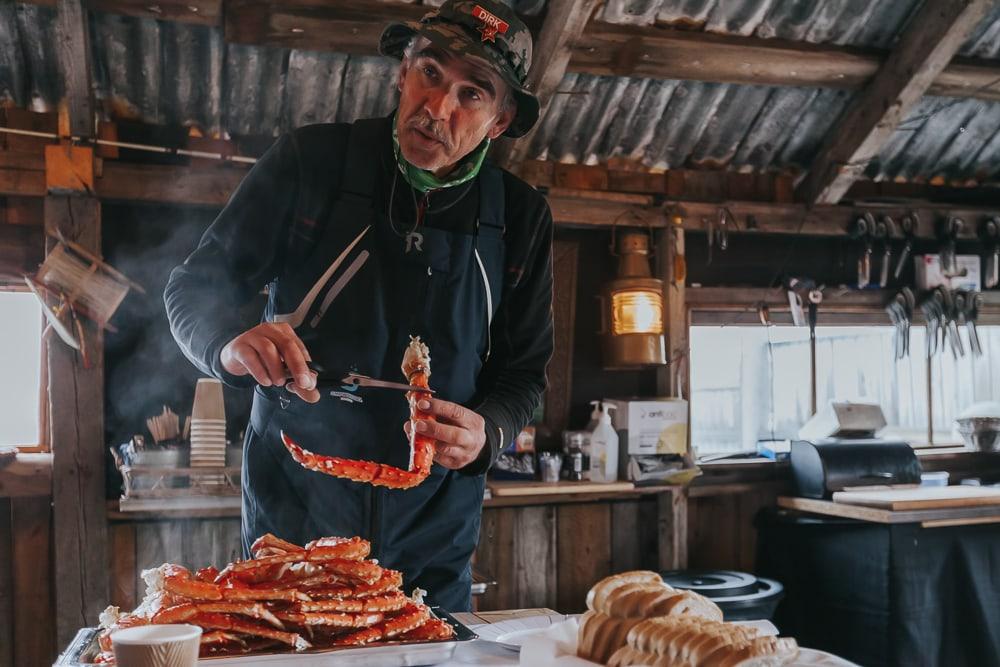 Milk chocolate
Freia milk chocolate truly is the best chocolate in the world, I'm not even biased. I mean okay, I'm totally biased. But I also really do think I'm right about this! There are about twenty different flavors, but my favorites are the classic milk chocolate and the hazelnut.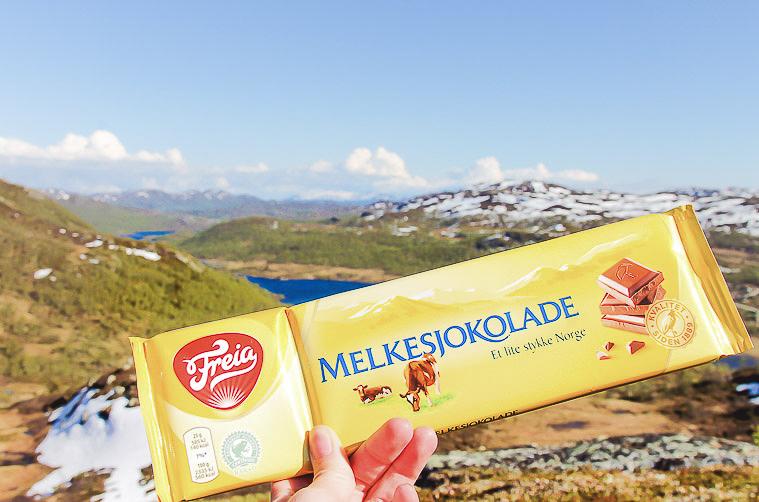 Kvikk Lunsj
Yes it looks like a Kit Kat bar and yes, it tastes like a Kit Kat bar, but never, ever say this to a Norwegian. Kvikk Lunsj is Norway's "hiking chocolate," so if you go on any hikes here – which you should! – then definitely bring a couple of these with you.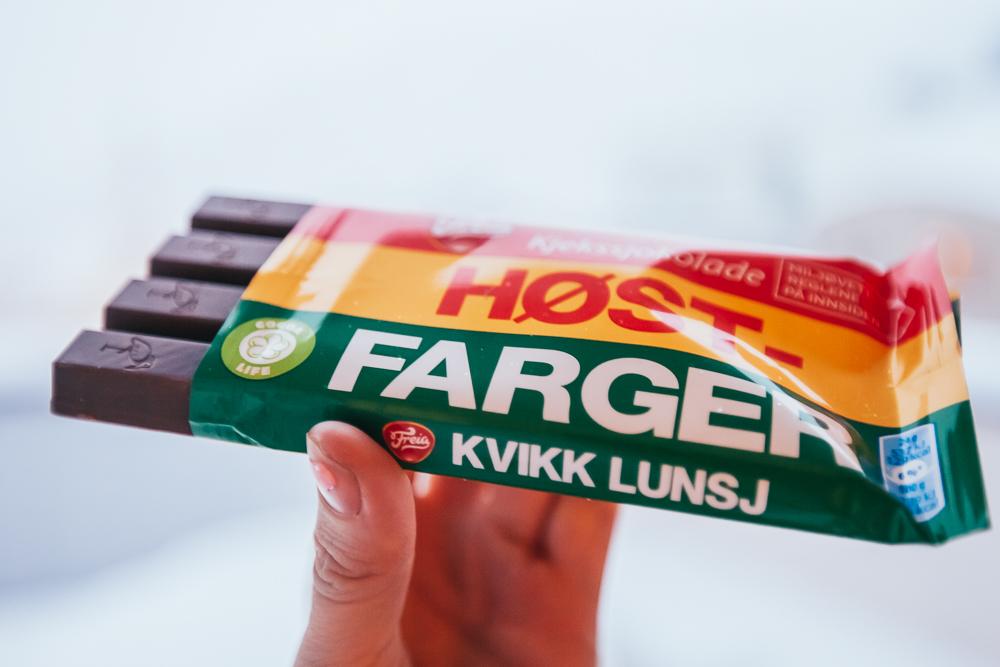 Smash
Smash is essentially chocolate covered bugles and consistently proves to be a favorite amongst my visitors. Like, try this and you'll most likely be bringing several bags of Norwegian Smash back home in your suitcase.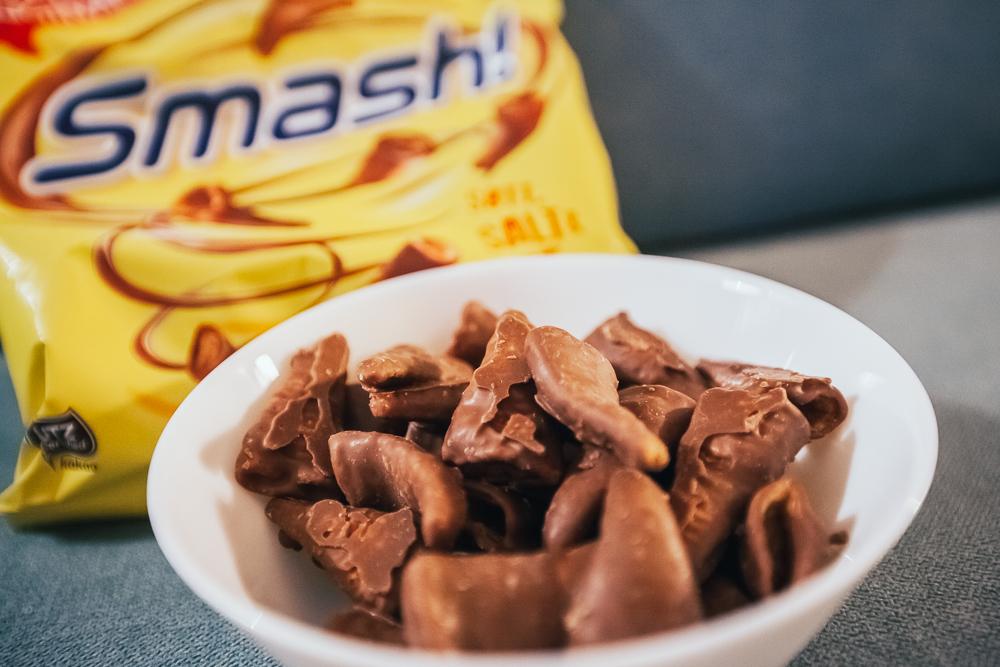 Fiskekaker
Norwegian fish cakes are a delicious staple. You can buy really cheap ones, or slightly less cheap and fancier ones, at a supermarket. But if you can I recommend buying a bag of fresh fish cakes from a seafood shop – they make for the perfect snack when exploring a new place.
Rømmegrøt
Rømmegrøt is porridge made with sour cream, and if that sounds gross I promise you it is anything but. It's traditionally a summer dish, though it's so rich and comforting that I love it in the winter.
You can buy a ready made pot of rømmegrøt at a supermarket, though if you're staying at an Airbnb with a kitchen I recommend buying this dry packet and making it yourself over a stove – all you need to add is sour cream, and then top it with sugar and cinnamon.
Tacos on Friday
I wasn't going to include this on the list because tacos of course aren't traditional Norwegian food. But Taco Friday is such a Norwegian institution these days that I decided it would be wrong to leave it out.
And as someone who used to work at a supermarket I can confirm that all of Norway does indeed eat tacos on Friday – or at least it seems that way judging from the amount of taco ingredients we would sell.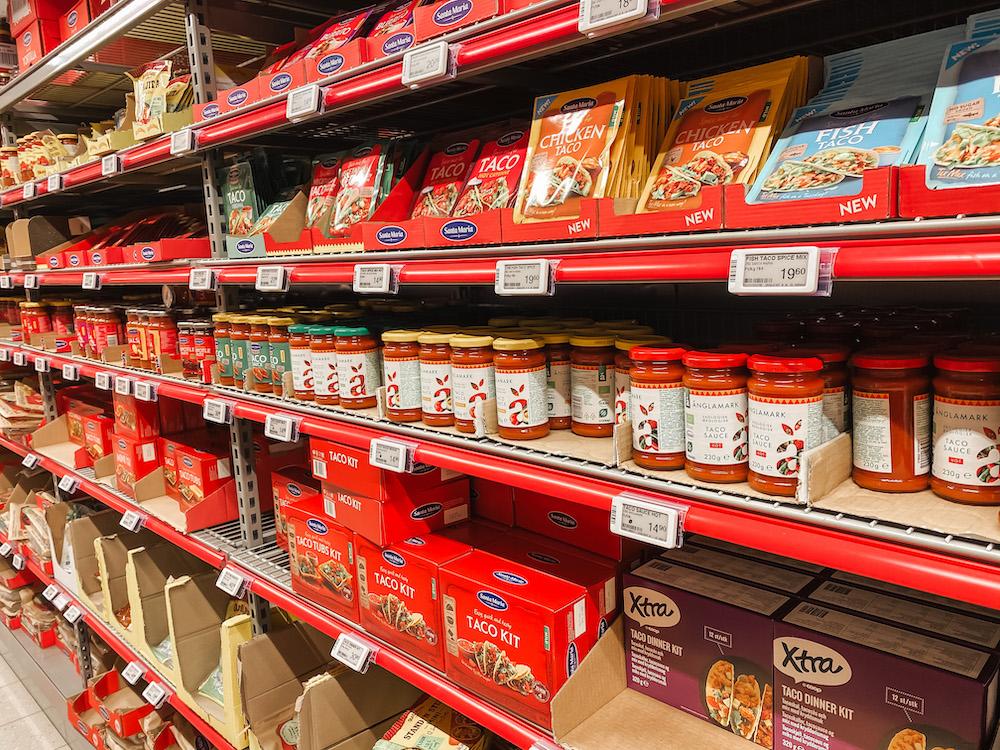 Smågodt on Saturdays
Norway has seriously good pick and mix candy (I think COOP stores have the best!) and if you want to indulge the Norwegian way, get yourself a bag of lordagsgodt, or "Saturday candy," which you might be able to guess is candy that you eat on Saturday. Norwegian children are usually allowed candy on Saturdays, which seems like a good rule for me as an adult as well.
This is also a great way to sample some salty licorice, which I personally think is delicious, but you might not want to buy a whole bag of it.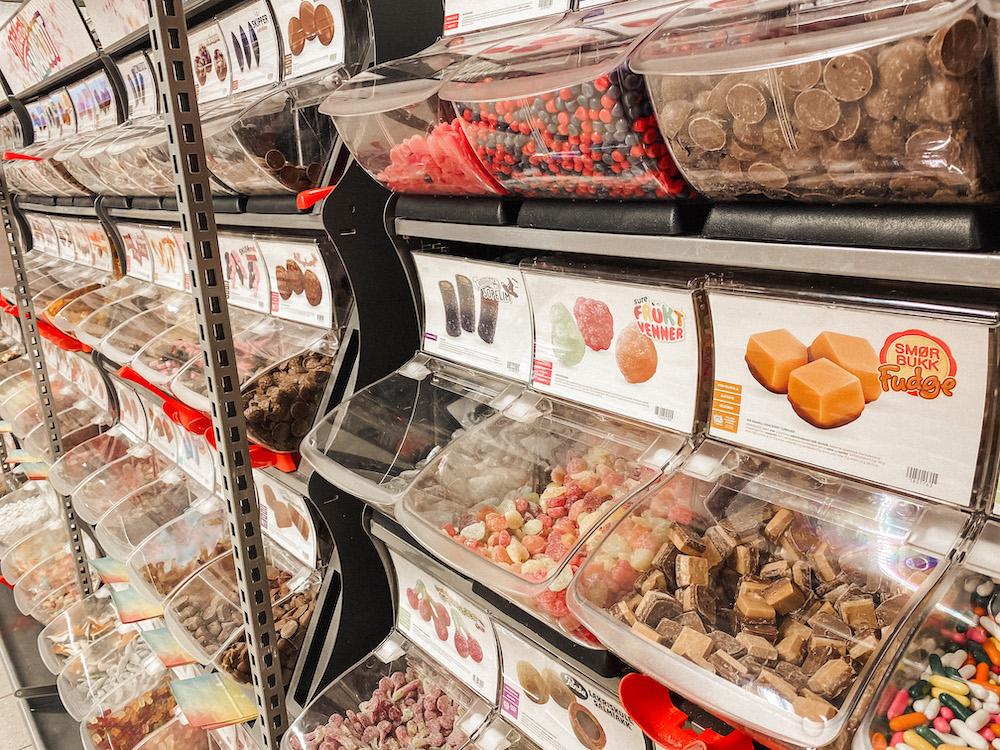 Nugatti
Did I include Nugatti on this list mostly so I'd have an excuse to buy some? No comment.
Nugatti is Norway's version of Nutella, but it is so much better than Nutella. Actually though! It's more hazelnutty and has more of a fudge texture.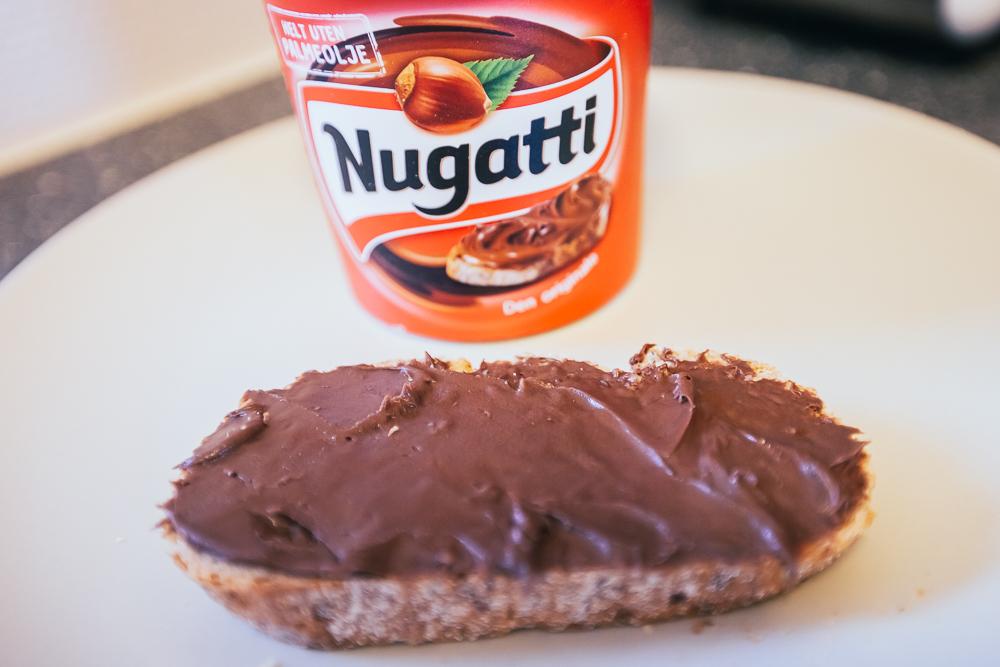 Leverpostei
Last but not least, leverpostei, or liverwurst, is a really popular spread here.
I was about to say that it doesn't seem to be much of a thing in the US, but then I remembered Charles Wallace's love for those liverwurst and cream cheese sandwiches in A Wrinkle In Time. But aside from Charles Wallace, I don't know many Americans who are fans of liverwurst. But if you try the Norwegian version you might just become a convert!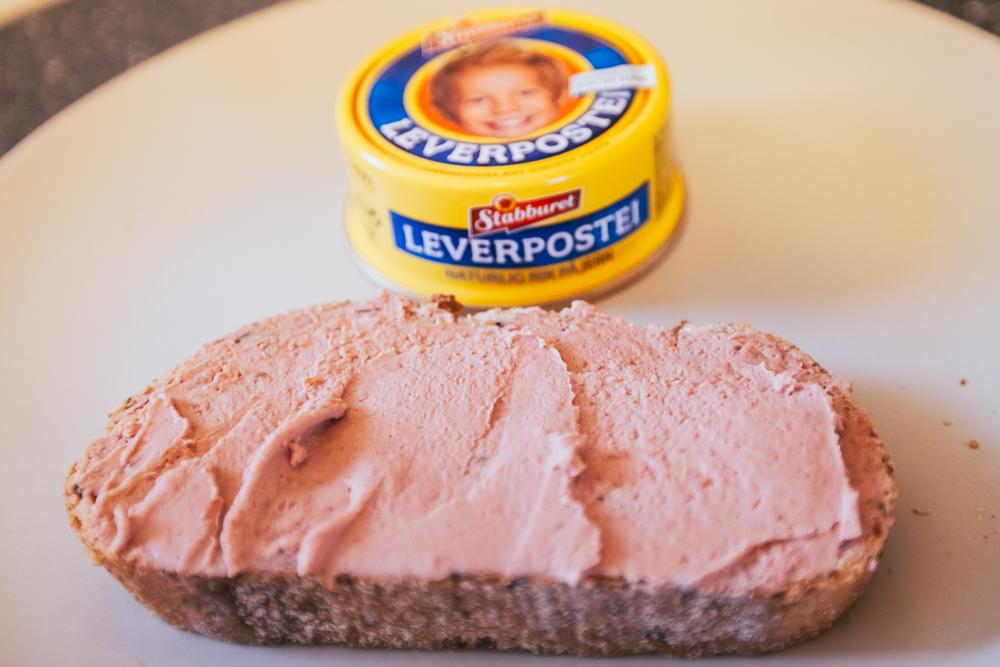 And that's it! I mean, that's not really it, but I had to end the list somewhere.
But what do you think – have you tried any Norwegian dishes that didn't make the list but should have? Let me know in the comments!