This time last year Danielle and I were on a flight to Athens. We were seated next to a friendly college student from Pennsylvania who was on his first #EUROTRIP (sorry but I'm pretty sure that's only allowed to be written in all caps with a hashtag). Sadly he didn't get a chance to tell us about his crazy antics in Amsterdam and Munich though, because Danielle and I were deep in discussion about curtains.
We had just spent 16 hours in Belgrade and decided that we simply had to live there, which we were going to manage by opening a hostel! Sure, 16 hours isn't long to get to know a place, but when you know you know.
When I returned to Belgrade in May I was curious if I would love it as much as last time.
Danielle and I are always scheming up new business plans to fund our travels (by the time we landed in Athens we had decided instead to bring the 2 liter plastic beer bottle packaging that's so popular in Eastern Europe and Central Asia to the U.S. We would call it Picnic Ale and the hipsters would love it). But should we have stuck with our Belgrade hostel idea?
In short, no.
It turns out Belgrade already has over 90 hostels. I think the term here is saturated market. I know, I know, I'm a travel blogger so that's clearly not the sort of thing that bothers me, but Belgrade also happens to be home to the best hostel in the world. Danielle and I could never have competed.
I guess I'll have to come up with a new career plan because, you guys, Belgrade is it. The best city in Europe.
There, I said it.
This is going to sound vague and annoying, but it just has that vibe. Dan described it to his mom as similar to Berlin, but I think it's more than that. It's what Berlin is trying oh so very hard to be, but Belgrade just is, you know?
No?
You see? There are no words. Here are some photos:
Belgrade is full of character, life and yes, a few battle wounds (you can still see remains from where NATO bombed buildings in 1999).
But most importantly, Belgrade has some of the world's best food. Seriously.
I've been dreaming about burek since Nate bought a slice each for Danielle and me when we visited last year and it was oh so good to bite into that freshly baked meat (or spinach or cheese) pie again. It's usually served with a glass of yoghurt, which is the perfect refreshing complement to the greasy layers of filo pastry.
I'd be drooling on my keyboard just writing about it, but luckily burek is common throughout the Balkans, so I'm typing this in Albania with a fresh slice next to me.
*Unrelated* Does anyone know a good way to remove grease stains from a keyboard?
And then there's pljeskavica, aka the best burger in the world. It has a flatter patty and somehow much, much more flavor than a traditional hamburger.
I'm not a big fan of hamburgers, but I've been craving this one ever since my last bite.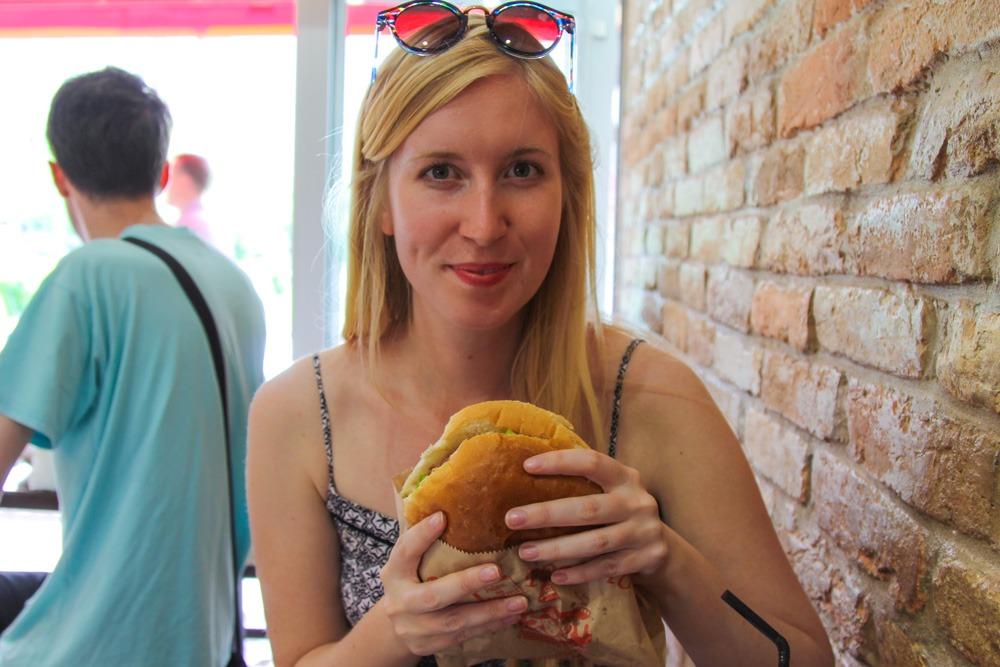 Yes I realize this is basically just a picture of me, but the burger is in there!
If you're still hungry, there are pizza and palacinke (Serbian pancake) stands around every corner. After being cheese-deprived in Asia for so many years, I don't want to admit how many slices of pizza I ate in Belgrade.
So you see, food heaven. And that's not even mentioning the delicious tinned meat pâtés that I first discovered in Macedonia last year and cannot get enough of – I'm not mentioning them because it's been suggested that my lack of Balkan language skills may have led me to fall in love with cat food.
Um, let's talk about street art.
If you're a fan of street murals and ruin bars, then Belgrade is your place.
And if you have any interest in Brutalist architecture at its most bizarre, then just head across the river into New Belgrade.
The staff at our hostel were fairly horrified to hear that we had spent one of our few precious days in Belgrade roaming the Communist styled streets of New Belgrade instead of say, Zemun, which used to belong to the Austro-Hungarian Empire and with its old cobblestone streets and views of the Danube is now one of Belgrade's most picturesque neighborhoods.
I would love to visit Zemun next time I'm in Belgrade, but Dan and I have priorities, and they look like this:
But don't worry, I'll be back in Belgrade very soon.
Where to Stay in Belgrade
Remember how I said Belgrade has the world's best hostel? I really think it might be true. Dan and I chose to stay at Hostel Bongo because Dan's cat in London is named Bongo, but it could not have been a better choice.
In fact, Hostel Bongo is so nice it's almost absurd. There were lots of whispers amongst guests about how nice it was.
Hostel Bongo is beautifully decorated – I particularly loved all the beautiful wallpaper – ideally located in the city center, and basically perfect in every way. It's like a boutique hotel with dorm rooms and a hostel vibe.
 Dan and I still sometimes talk about these amazing mattresses.
My only problem with Hostel Bongo was that I had such huge friend crushes on the staff that I often tried to come up with excuses to stay and talk to them instead of go out and explore the city like a good tourist. Whoops. Check here for current prices for Hostel Bongo
This post contains affiliate links, which means if you book any hostel or hotel through my link I may earn a small commission, at no extra cost to you. This helps keep my site running!