Mallorca is one of my favorite beach destinations. I love that it has a great mix of a beautiful city, charming small Spanish towns, stunning mountain landscape, and the most gorgeous beaches. And because of the island's diverse offerings, you can have incredibly different experiences in Mallorca depending on where in Mallorca you stay. But this also means that you need to choose wisely where to stay in Mallorca.
I've also written guides for things to do in Mallorca and the best beaches in Mallorca.
While I certainly wouldn't say there are any bad places to stay in Mallorca, there are some places I personally like to avoid because they don't offer the type of holiday I most enjoy.
But more importantly, different areas of the island offer different experiences, so it's a good idea to know what type of vacation you want before deciding on where to stay. Mallorca is such an interesting place to visit because some of its towns and villages feel super Spanish, while the bigger resort areas are full of Irish pubs and souvenir shops. Both can be fun experiences of course, depending on what you like.
In the past when I spent two weeks in Mallorca I split my time between four places so that I could get a bit of everything, which worked out really nicely! But when I visited for just a week it was easier to stick to one or two places.
I do recommend renting a car for your time in Mallorca, unless you're just going to stay at your hotel the whole time. I rented through Rentalcars and had no problems.
Palma
Palma is such a lovely city I would definitely recommend spending at least a night or two here before venturing out to Mallorca's beaches, mountains, and/or villages.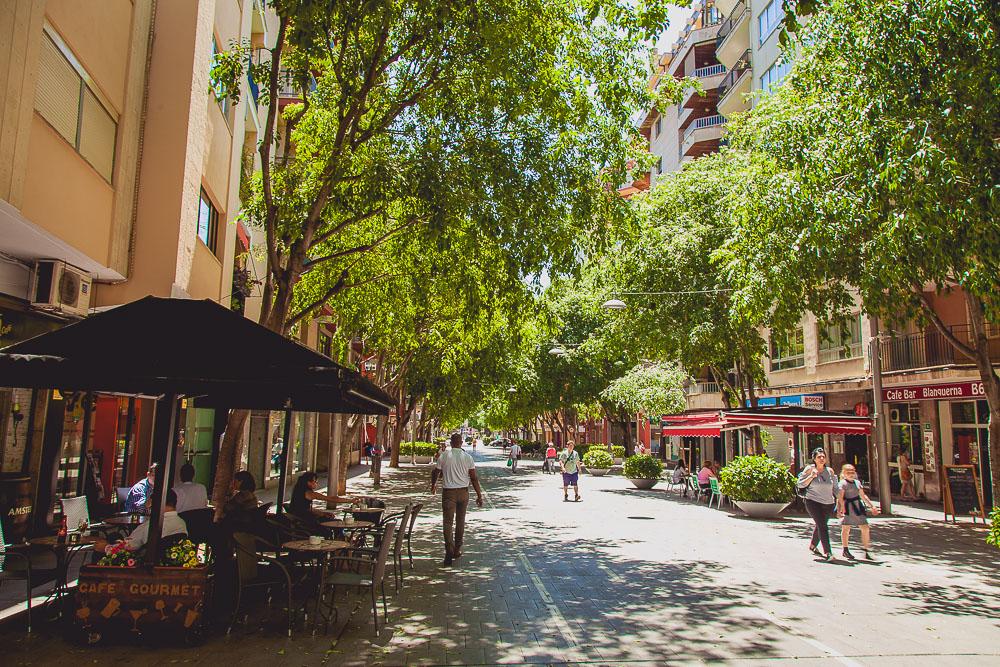 In Palma I've stayed at the Mallorca Suites, which is really affordable and right in the city center.
Another great option is the gorgeous Brondo Architect Hotel, also right in the center. And if you want to splurge, the Sant Francesc Hotel Singular looks absolutely incredible, as do the Nakar Hotel and Es Princep.
South Coast of Mallorca
Outside of Palma, the rest of the south coast of Mallorca is home to most of the island's big beach resorts. To be honest I don't love this area, but if you're looking for a nice resort holiday you'll probably find it here.
I would say this area has less Mallorca character and feels a bit like you could be on a beach holiday anywhere in southern Europe, but it's also probably the easiest place to stay if you want a hassle free holiday. Hotels here will be a short drive from the airport and Palma.
Cala Pi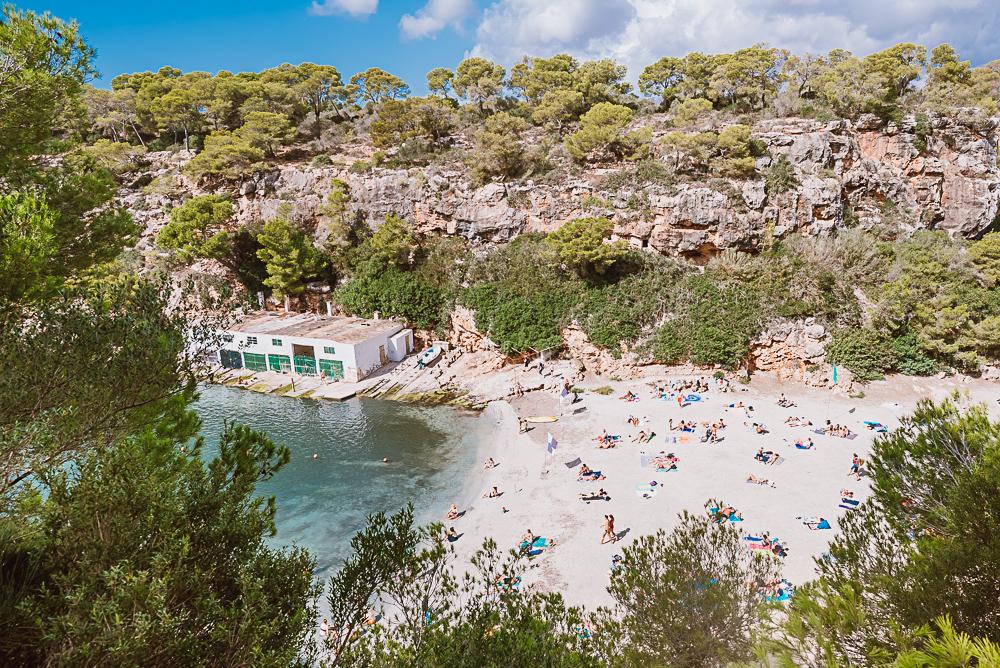 My favorite beach in southern Mallorca is Cala Pi. It's one of the busier beaches I went to, but I love its setting in between tall cliffs and it just has a really nice vibe. There's a beach shack where you can get drinks and snacks, and the beach itself while quite narrow does stretch back pretty far so there's a lot of room to spread out on the sand.
The hotel area by Cala Pi also has a fun beach town vibe, whereas some of the bigger resort towns can feel a bit seedy.
Aparthotel Cala Pi Club and Finca Gomera are both great options nearby Cala Pi.
Cala Major
I spent a girls weekend at the Be Live Adults Only Marivent in Cala Major, a 15 minute drive from Palma and 20 minutes from the airport.
I wouldn't say this was my favorite visit to Mallorca as personally I prefer the smaller villages and beaches, but it was perfect for what I wanted at the time: a beach holiday in the sun with my friends.
We got massages at the hotel spa, and enjoyed swimming both in the pool and the sea, which was right in front of the hotel. I also loved that every room has a balcony overlooking the beach, and the hotel restaurant was great and so convenient. I would absolutely return here again for a short beach vacation.
This was the view from my room: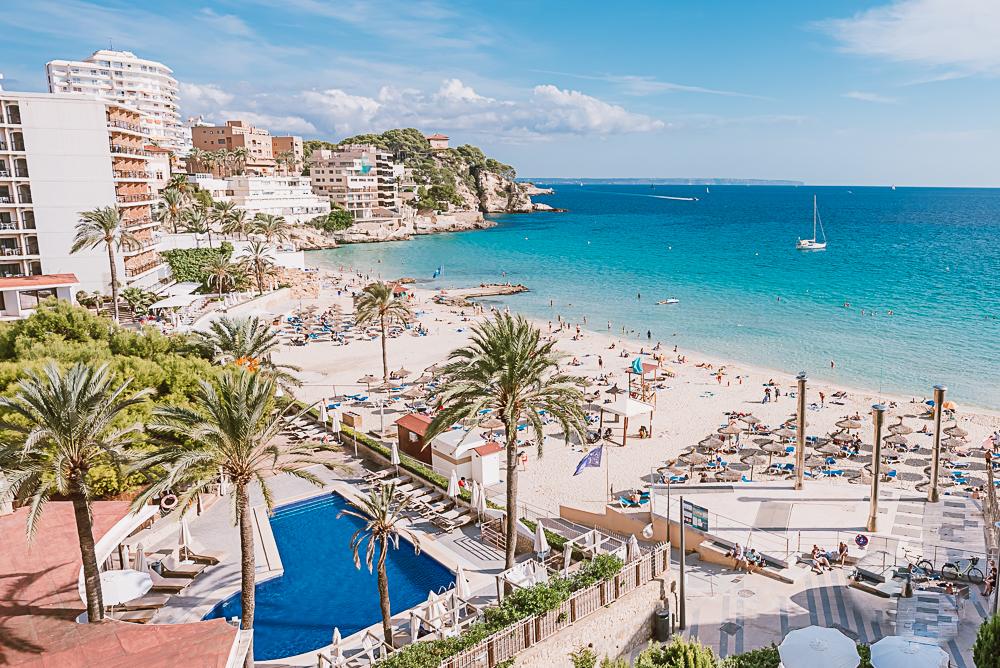 Or if you want top luxury in Cala Major, I had drinks at the Nixe Palace Hotel and wow, what a gorgeous property. I wasn't at all surprised to hear that the Nixe Palace Hotel was a popular haunt in the 1950s for Hollywood stars.
If you do stay in Cala Major, definitely go to Il Paradiso for cocktails and/or a meal. The view out over the ocean here is spectacular.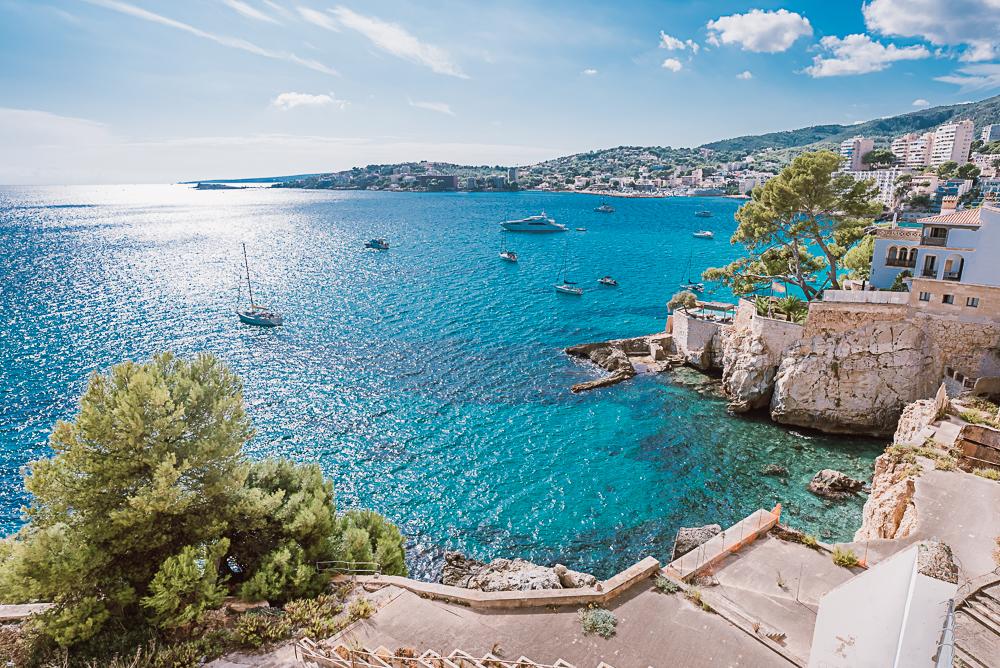 El Arenal
If you're looking for a livelier town with your beach vacation, El Arenal is a lovely option with lots of bars and a fun nightlife. It's much smaller than Palma but with a similar vibe with its long white sand beach in front of the town. I spent an afternoon here and really enjoyed the laidback beach town vibe, and it felt more Spanish than the resort towns of Magaluf and Colonia Sant Jordi.
Whala Fun and Hotel Xapala are both wonderful hotel options by Playa S'Arenal.
There are also lots of water activities on offer here, like parasailing and jetskiing.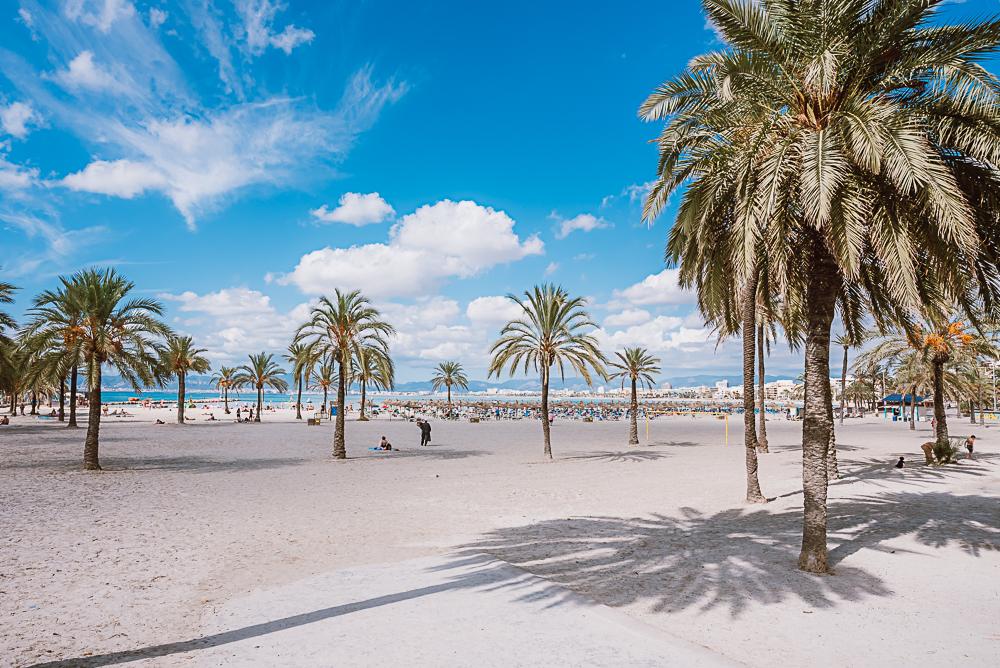 Palma Bay (Cala Blava)
If you want the ultimate luxury experience, check out Cap Rocat Hotel in Palma Bay, just a 7-minute drive from El Arenal. This is one of the most stunning hotels in Mallorca, and you can even book a suite with your own private pool
Colonia Sant Jordi
One of my Norwegian friends has also stayed at the Hotel Honucai right by the beach in Colonia Sant Jordi and loved it. Colonia Sant Jordi is another resort town, so you won't find as much Mallorca character here, but you will find all the conveniences and comforts for a beach holiday!
Magaluf
Magaluf is another popular resort town with lots of hotel options. INNSiDE by Calviá Beach and Meliá South Beach are both beautiful. Magaluf is also a popular party spot, so if you want to go out at night you'll have lots of fun options here.
East Coast of Mallorca
The East Coast of Mallorca is my top pick for a beach holiday. Eastern Mallorca is home to many of my favorite beaches in Mallorca, and I find the towns and villages here more charming than the tourist resort towns of the south.
Cala Figuera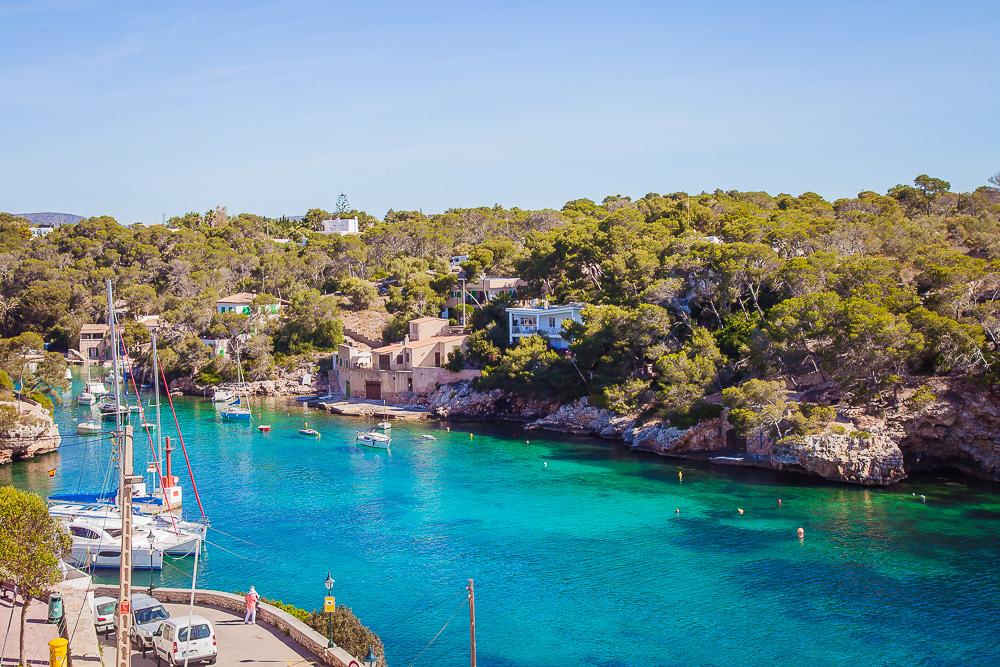 If you want to go off the beaten path a bit, head to Cala Figuera.
Cala Figuera doesn't have a beach, but if you're renting a car then you can easily drive to lots of nice beaches, including Calo des Moro, one of the most beautiful beaches in Mallorca. A private foundation owns and cares for this beach, so you won't see any hotels or beach bars here.
Cala Figuera is a working fishing port and because it doesn't have a beach, it feels beautifully disconnected from the tourist side of the island. Here I stayed at Hostal Can Jordi, which is a simple and budget friendly hotel, and the rooms have balconies with gorgeous views out over the water.
Or if you're looking to stay somewhere a bit more upscale, Hotel Villa Sirena also looks really nice. It's right on the water (ask for a room with a sea view!) and has a restaurant and pool.
Cala Mesquida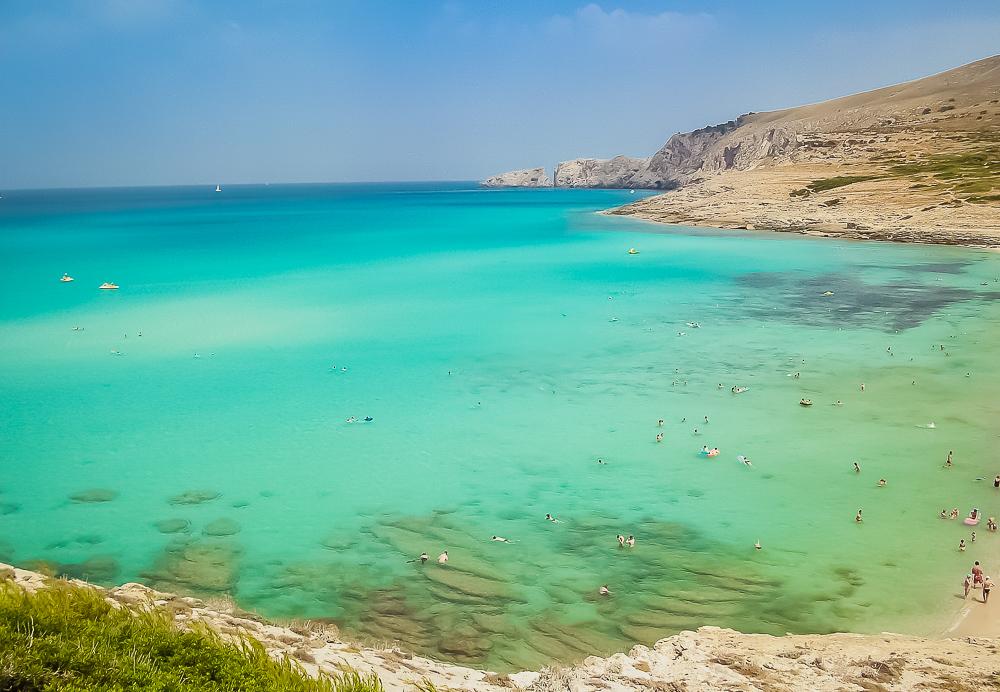 One of my favorite beaches in Mallorca is Cala Mesquida, and you can actually stay here! I love that the beach is so long – it stretches 300 meters – so you can find a quiet spot even when it's busy.
One side of the beach is protected due to its importance to bird life, so that side is made up of natural sand dunes and pine trees. And then on the other side you'll find VIVA Cala Mesquida Resort & Spa.
Cala Millor
If you're looking for a beach resort, Cala Millor has a long beautiful beach lined with big hotels. There are lots of great options here, including Hotel Millor Sol, Hipotels Said, and Senator Cala Millor.
Cala Ratjada
Another great resort beach is Cala Ratjada, which is home to some stylish yet affordable hotels, including the beachfront Grupotel Aguait Resort & Spa and Mamboo Hotel.
Canyamel
If you want a truly special (and exclusive) experience, Cap Vermell Grand Hotel is perched on a hill with views of the Mediterranean Sea to one side and the Canyamel valley's rolling hills on the other. The hotel itself is stunning, with several pools and outdoor jacuzzis, a spa, and four restaurants, including 2-Star Michelin VORO. Staying here would be a dream.
Northern Mallorca
The north coast of Mallorca is a lot quieter than the east and south. I personally really love the beaches here, and then the north and west are also where you'll find Mallorca's beautiful mountains! The landscape here is simply stunning and well worth the longer drive from the airport.
Colonia de Sant Pere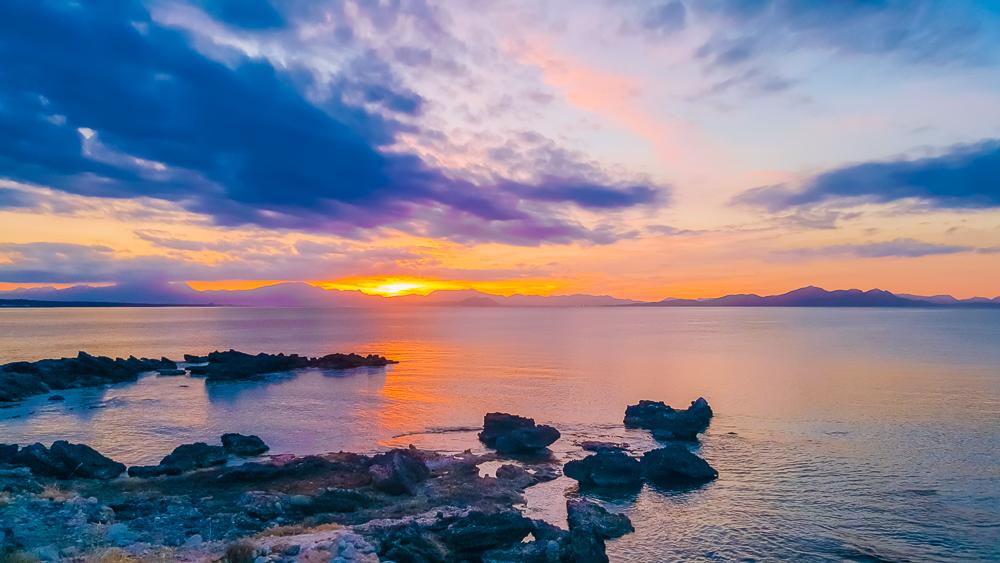 Colonia de Sant Pere in northeastern Mallorca is a quiet coastal town near Cala Mesquida and Cala Formentor, two of my favorite beaches on Mallorca. Colonia de Sant Pere has lovely views and a good beach holiday feel without being crowded or bland. I'm actually surprised this town isn't more popular – the mountain backdrop makes the beach all the more lovely, and there are lots of seaside restaurants to choose from at night.
In Colonia de Sant Pere my friends and I stayed at Del Mar 37, which was lovely.
Port de Pollenca
Pollenca is the prettiest little town. I love the town square here, and the mountain road from Pollença to Sóller is spectacular.
But if you want to stay by the beach, you can stay in the nearby Port de Pollenca, which has lots of great hotel options. My top choice here would be Hotel Miramar, which is stunning and right on the beach. Or if you're on a tighter budget, Hotel Capri and Hoposa Bahia are also great options right on the beach.
Port d'Alcudia
Port d'Alcudia is another lovely beach in the north with lots of hotel options. For luxury, VIVA Golf is gorgeous, or Sofia Alcudia is also beautiful but a bit cheaper.
Western Mallorca
Western Mallorca is my favorite area of Mallorca, maybe because I live in Norway and really love mountains. The mountainous landscape here is incredible, the mountain towns and villages are so pretty and quiet, and there are a few lovely beaches here as well (most with small pebbles instead of sand).
Most of the west coast of Mallorca feels a bit detached from the tourist beach resorts of the island, in a good way.
Sóller
I spent four nights at the incredible Hotel La Vila in Sóller, a beautiful town near Mallorca's west coast. Gran Hotel Soller is another good option, or Hotel Ca'l Bisbe has an outdoor pool, as well as a sauna and hot tub. L'Avenida is another beautiful hotel with an outdoor pool, or if you're looking for a budget hotel Hostal Nadal looks wonderful.
Sóller is up in the mountains, so this is a great place to add in some hikes to your island vacation. Or you can just relax in town. Sóller probably has the prettiest town square I've seen on Mallorca, complete with an old wooden tram that runs through the town and down to the port.
You can also stay in Port de Sóller if you want to be by the water, though personally I think Soller has more character.
If you aren't renting a car, you could instead take the old wooden train that connects Palma to Sóller. It was originally used to transport citrus fruit from the Sóller valley to the capital, and leaves from its own train station (right by the main train and bus station in Palma) and the journey is supposed to be really scenic. Apparently sometimes there's even a photo stop included.
Serra de Tramuntana
And if you want to go farther into the mountains, Sa Tanqueta de Fornalutx is set right in Mallorca's beautiful Serra de Tramuntana mountain range with incredible views.
Deià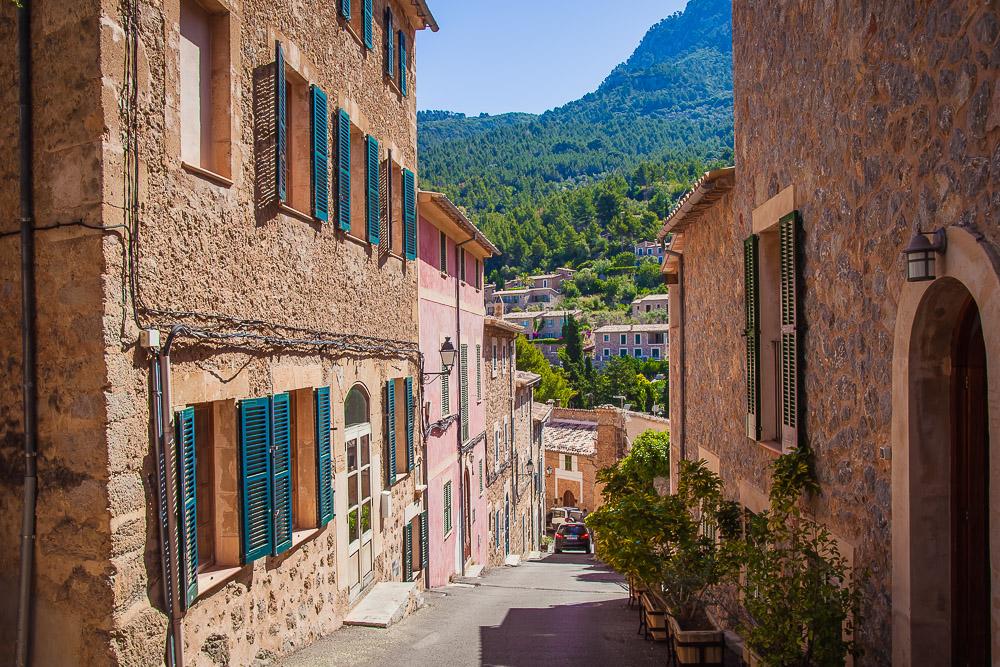 Deià is so lovely. It also happens to be a favorite haunt of a bunch of rich and famous artist types, largely thanks to Robert Graves making it his home in the 1930s.
Because so many wealthy foreigners vacation here, it's not surprising Deià almost feels a little too polished. But if rich island holiday is your vibe (and it is a great vibe) then Deià might be perfect for you!
Es Moli is a gorgeous hotel set in a 17th century mansion with panoramic views of the sea, Deià village and the Tramuntana Mountains. It has a huge pool as well as access to Sa Muleta, a rocky sea cove, a few miles from the hotel (there's a free shuttle that takes you there).
Banyalbufar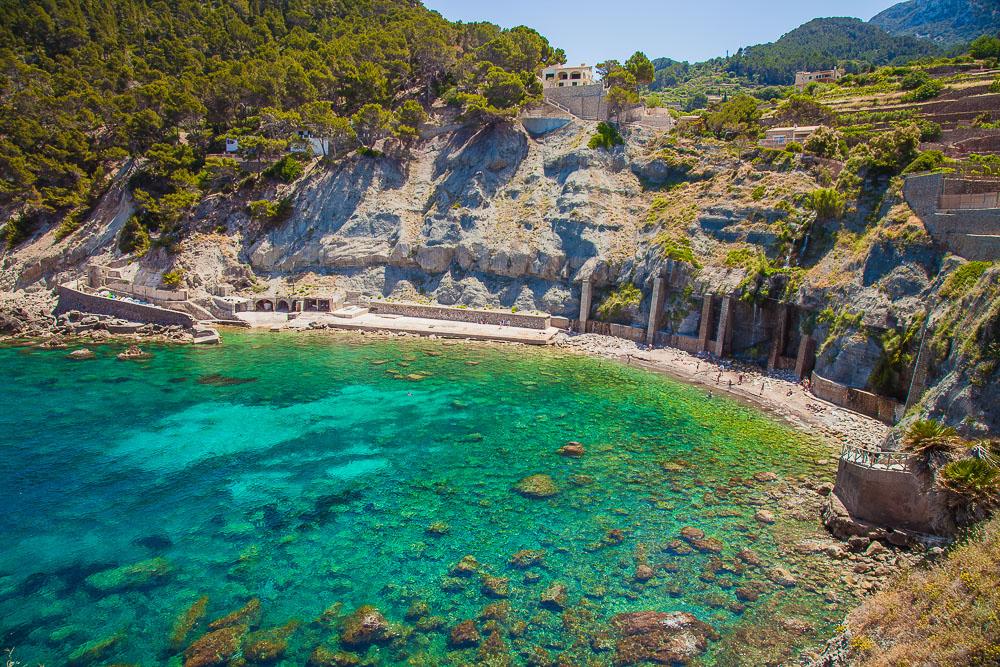 Banyalbufar is another town popular amongst foreign artists. It's worth stopping here to see the terraces going into the water. The Moors built these terraces for their vineyards, but now they're mostly just growing vegetables. There's also a beach at the bottom of the the terraces. It's so pretty here. Hostal Sa Baronia is a great option in Banyalbufar – I recommend getting a room with a balcony!