With its lucrative production of silk, China always functioned as the beating heart of the ancient Silk Road, sending goods to places as far away as Europe and Africa. The silk trade was so important to China that the Han dynasty even extended the Great Wall to the western edge of their territory to protect the caravans arriving from Central Asia.
Beijing was a focal point in the trade, with merchants coming from far off lands to visit the city's markets. However, another Chinese city, while often overlooked in the present day, also functioned as one of the Silk Road's most important stops: Kashgar.
Getting a visa to China: Kashgar is in China, where most travelers need a visa to visit. I had some massive problems the first time I went to China and tried to get a visa independently, so I highly recommend using iVisa if you want to take the hassle out of it (or if doing it yourself, pay very close attention to all the details of the application and factor in a lot of extra time in case you're denied at first). Check iVisa rates here
If you're a Chinese history buff or know a lot about minority conflicts in China, then you've probably heard of Kashgar. As for everyone else… it might sound familiar?
Before I started planning my trip through China and Central Asia, I think I had some vague idea that Kashgar was an old trading city somewhere in the Middle East. Clearly I'm no expert in Chinese history or current events. Though actually, in a way I was not actually too far off.
When my friends and I first arrived there last summer, Kashgar looked much like the other Chinese cities we had visited: we walked past elderly Chinese women selling vegetables from small street stalls, tall buildings covered in brightly colored signs, and an impressive bridge covered in neon lights.
However, while we had often found ourselves to be some of the only foreigners in most of the cities we had visited in China, here we were surrounded by plenty of other tourists.
Or… were they tourists? Most of them didn't speak Chinese and they looked more European than Asian, but they also seemed to know their way around the city quite well.
Eventually, somewhere in my sleep-deprived state (thank you, 72-hour train ride from Beijing) it hit me: I was in Kashgar, home to a diverse population including Uyghur, Kyrygz, Tajik, Uzbek, and Han Chinese people!
Indeed, while many of Kashgar's streets seem only to be filled with Chinese staples, a trip downtown to Kashgar's Old Town feels like entering a new country.
Arabic script replaces Chinese characters on signs, food stalls offer piles of naan bread instead of rice dishes, locals bustle through sporting doppa hats and headscarves, and instead of Buddhist gongs the Islamic call to prayer rings out over the city. The only Chinese you will hear spoken here will be by the handful of Chinese backpackers passing through the city.
Really, Kashgar's Old Town feels much more like a city in the Middle East than one in China. This may have something to do with the fact that Uyghurs, who make up 90 percent of Kashgar's population, are a Turkic ethnic group.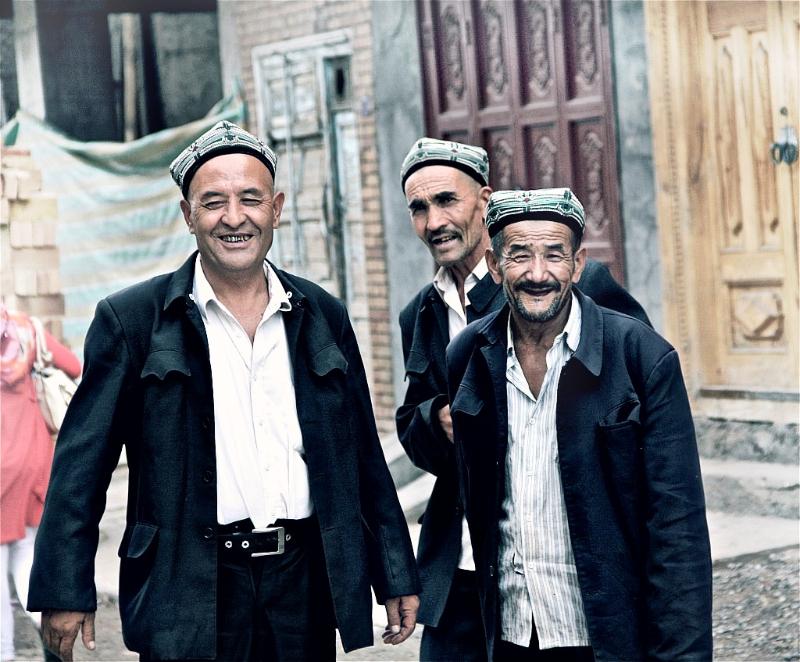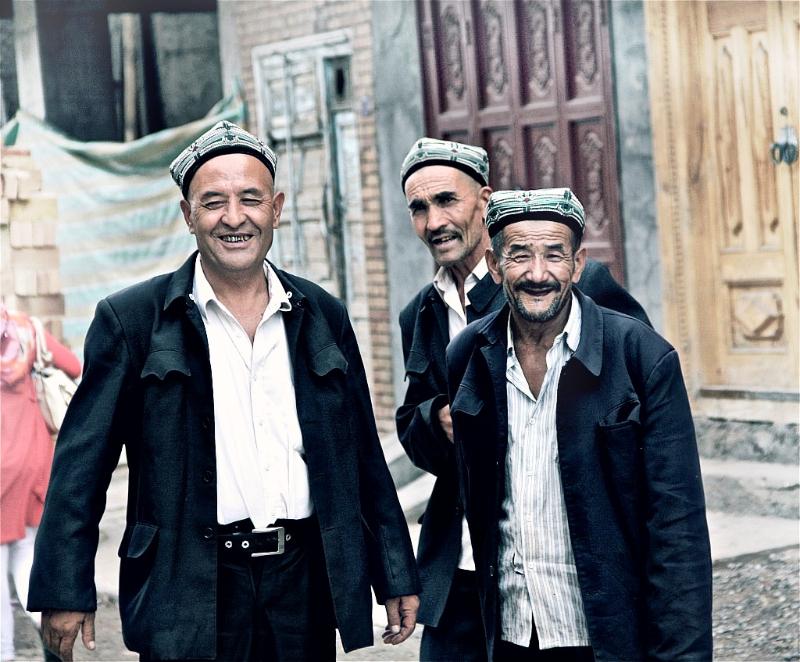 Kashgar's diverse population makes it a fascinating city to visit, however housing such a diversity does not come without problems. As a minority group within China, Uyghurs are constantly struggling to establish and maintain their rights, and conflicts continue to arise between the Uyghurs and dominant Han Chinese in the city, often ending in violent bloodshed.
This does not mean that Kashgar isn't safe for foreigners to visit, as simply avoiding any demonstrations or riots will keep visitors out of harm's way, but it has meant that there is a degree of tension between Uyghurs and Chinese in the city.
You can see this tension in the stark divide between Uyghur and Chinese areas of the city. Cross one of the wide streets running along the Old Town's perimeter and you'll leave an alleyway filled with piles of rugs and Uyghur antiques for sale and enter a wide square in front of towering Chinese shopping center. It really does feel like a different city. The contrast is bizarre, and raises countless questions regarding Kashgar's future in China.
While a visit to Kashgar offers an interesting insight into the situation for ethnic minorities within China, the city's distinct history and culture alone should secure its place on your bucket list of travel destinations. You will find plenty to keep you busy in the city, but be sure not to miss out on the Mal Bazaar, a trip through the Old Town, and a visit to the Gaotai Residences.
Visit the Mal Bazaar in Kashgar
If you're lucky enough to be in Kashgar on a weekend, you should absolutely check out the animal market held every Sunday a short bus or taxi ride out of the city. The animal market is not only a great place to see tons of animals, ranging from goats and sheep to giant buffalo and bulls, but it is also an ideal place to sample some authentic Uyghur food and take sly photos of leathery-skinned Uyghur cowboys.
Visiting Kashgar's Old Town
Visit Kashgar's Old Town to see the bustling center of Uyghur life. The old Uyghur-style architecture is beautiful, and you can also stop by the mosque for a bit of culture. The markets in the old town are overflowing with delicious nuts, fresh figs, freshly baked bread, and surprisingly tasty dishes like lung soup and grilled goat hooves! This is also the perfect place to sit and chat with locals or other tourists, taking in the foreign aromas and high energy of Kashgar's Old Town.
Bizarrely delicious lung soup
Visiting the Gaotai Residences in Kashgar
Kashgar's old "mud house slums" are crumbling, but they remain an integral part of Uyghur history and culture in Kashgar. Built over six hundred years ago, these homes continue to function as a center for Uyghur customs, and the residents are always happy to greet some foreign visitors!
The Best Kashgar Hostel and Hotel
If you're visiting Kashgar as a backpacker you should definitely stay at the Kashgar Old Town Hostel – it's right in the Old Town, and the hostel itself is beautiful. It's also a bit of a gathering place for travelers heading into Kyrgyzstan, Pakistan, or back through China. Check current rates and availability here
If you want to stay at a hotel instead, then you're best choice is the Radisson Blu Hotel, which is the nicest hotel in town but also very affordable. Check current rates and availability here
PIN IT!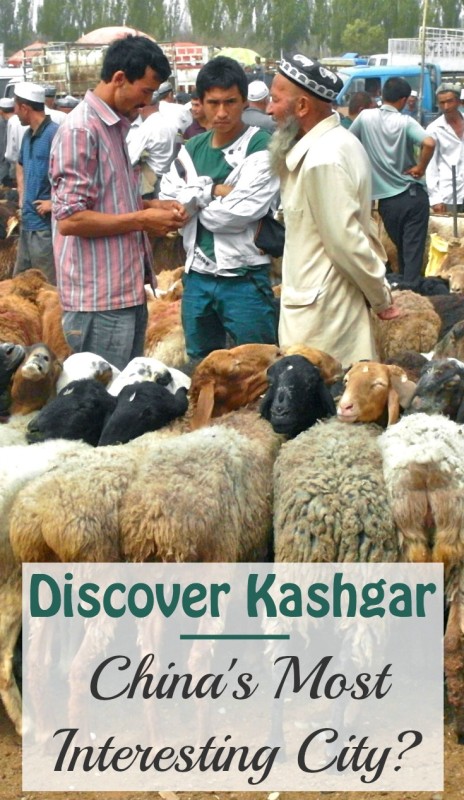 p.s. Please, please do not forget to get travel insurance for this trip!
After being hospitalized in Beijing I swear by travel insurance. I use World Nomads, which has by far the best reviews and is really affordable. They helped me find a hospital when I needed, and then when I filed a claim with them all I had to do was send my receipts and I had a check in the mail from them within a couple of weeks. So easy!
You can get a quote here:
This post contains affiliate links.