I know what you must be thinking: "Off the beaten path in Thailand? Is that even possible?"
True, Thailand is the most popular tourist destination in Southeast Asia, and most of the time travelers will find themselves surrounded by plenty of other foreign faces. But there is at least one last special place in northeastern Thailand that still remains nearly tourist-free: Isaan.
Okay, so it might be unpopular with vacationers because most guidebooks describe Isaan (or Isan) as "flat, boring landscape filled with endless rice paddies," but after a week traveling through Isaan I would beg to differ!
Isaan offers tourists beautiful views of Laos out over the Mekong, authentically Thai cities that feel a bit like traveling back in time, some seriously delicious food, and extraordinarily friendly locals!
After wandering through Nong Khai's bizarre statue park, Dan and I rented a motorbike to explore some neighboring towns perched along the Mekong river.
Sangkhom
This small town is 50 kilometers from Nong Khai and while at first glance it didn't seem particularly special, once I realized that all of the restaurants and guest houses were set with beautiful views of the Mekong I was hooked. Dan and I spent two nights at Buoy Guest House, and oh my goodness, this guest house alone warrants a trip to Isaan!
After crossing a precarious looking bridge we stepped onto a grassy cliff dotted with the prettiest little bungalows I ever did see. And then a huge bright blue butterfly flew by. Yup, I had landed in a Dr. Seuss book.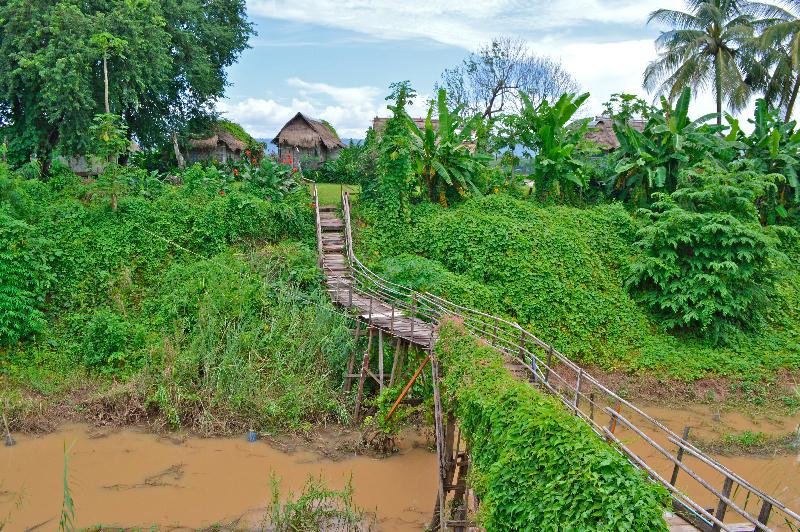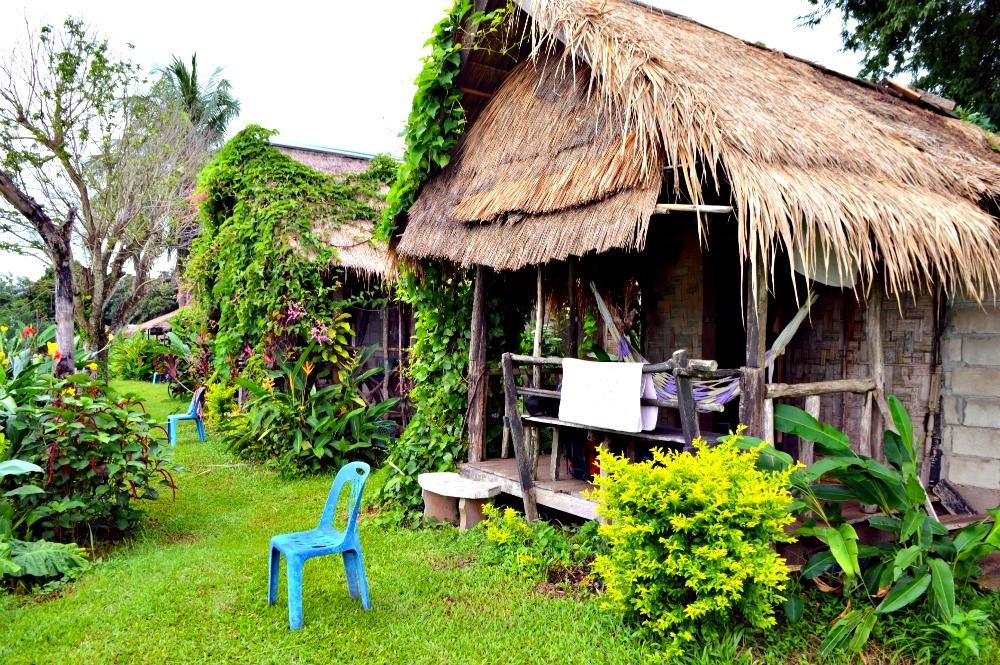 Our bungalow even had a hammock – perfect for some riverside blogging!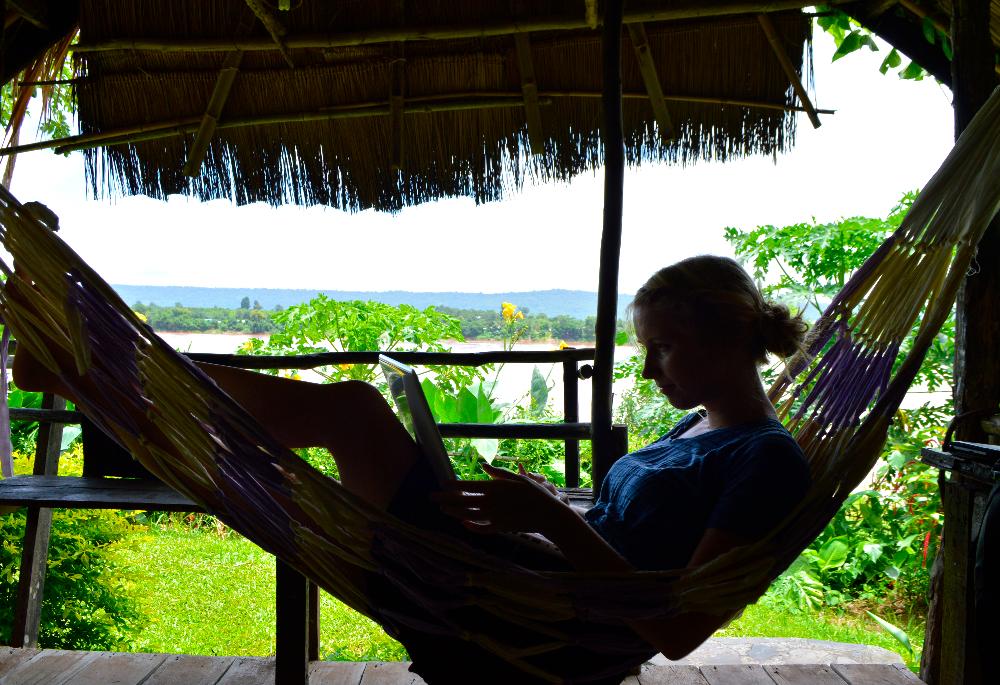 Though apparently I still need to work on my hammock-mounting skills. Am I the only one always managing to whip myself over onto the ground every time I try to get into one? You'd think after two years in Southeast Asia I'd have gotten the hang of it…
Someone even managed to wake up to watch the sunrise over Laos (hint: it wasn't me).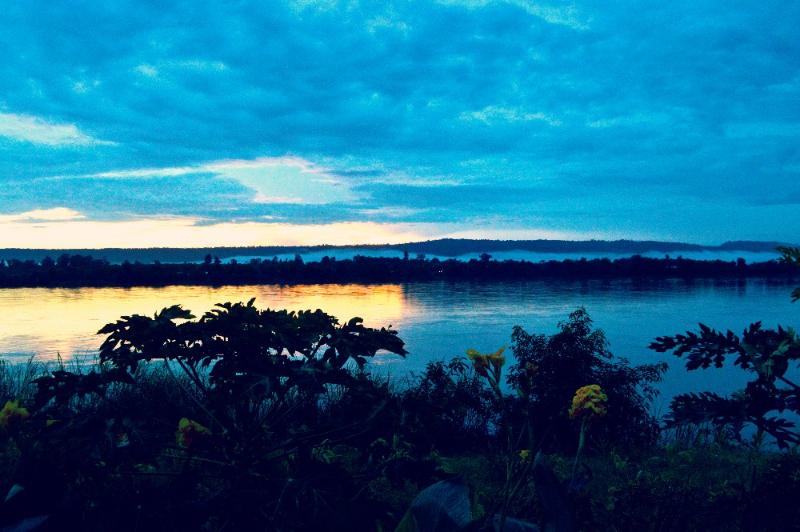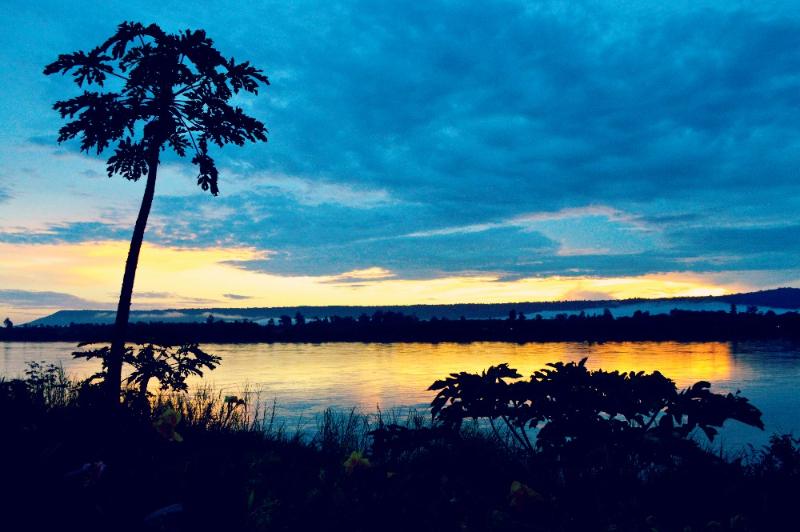 But my favorite part about the bungalow was the mosquito net!
Uh, let me explain.
Firstly, all the creatures loudly scampering about in the middle of the night made me oh so grateful to be safely tucked into a mosquito net. But even better, at night a bright light shining outside squeezed through the tiny holes in our hut's woven bamboo walls to project stars of light onto the net. It was like sleeping in a planetarium! I wish I could have photographed it.
Than Thip Waterfall
The 13 kilometer drive along the Mekong to Than Thip waterfall was beautiful, but also left us pretty sweaty, thanks to a very hot and humid wet season going on in Thailand right now. It was the perfect time for a dip in Than Thip's chilly waters!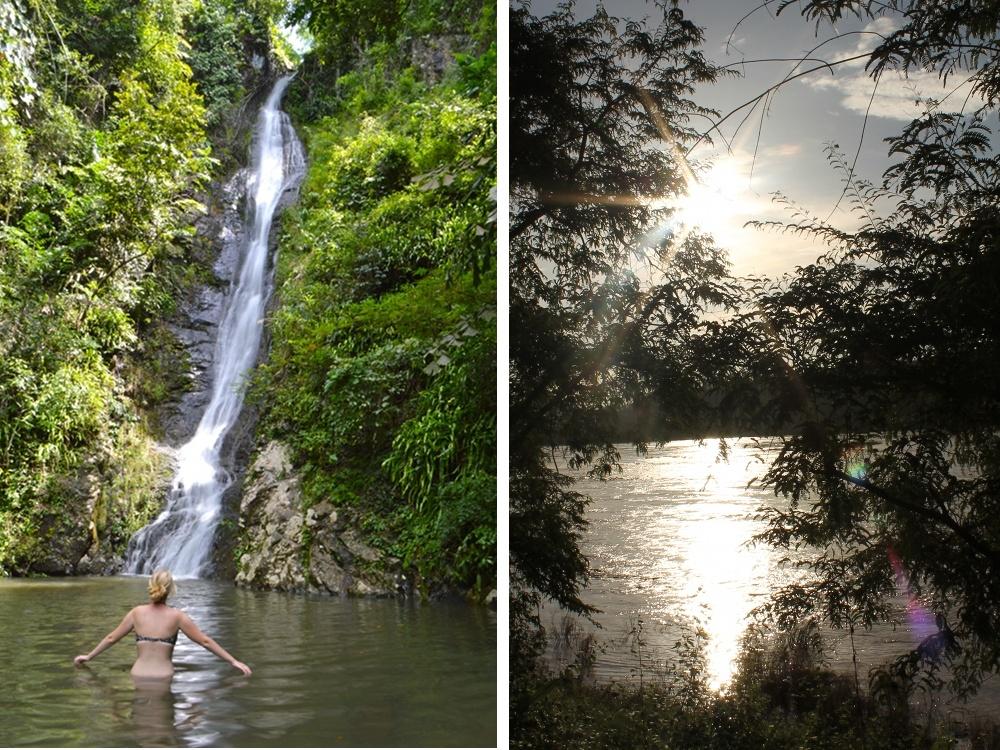 Pak Chom
From Than Thip waterfall we drove another 50 kilometers to Pak Chom, and oh what a pretty drive it was!
We then returned to Nong Khai to catch a train to Nakhon Ratchasima.
Nakhon Ratchasima
Nakhom Ratchasima, or Khorat, was a strange city to visit, mostly because it felt just like Chiang Mai, except without the tourists and brand new sparkling malls. Seriously, just like Chiang Mai. Its old city is the same size as Chiang Mai's and is also surrounded by a moat.
We spent two days in Nakhom Ratchasima, Isaan's second largest city, mostly just wandering through its markets in search of delicious food (which we found!), watching locals nudge each other and excitedly whisper farang (foreigner) to each other as we walked past.
Ubon Ratchathani
After a day exploring the city, Dan announced that if he were planning to stay in Thailand next year, he would want to live in Ubon Ratchathani.
The locals were (again) super friendly and seemed happy to see some foreigners, the food markets could give Chiang Mai's a serious run for their money, and the many quirky riverside bars would make the perfect place to unwind after a hard day teaching English to Thai schoolchildren (or whatever else an expat would do in Ubon Ratchathani).
To travel along the Mekong, we rented a motorbike in Nong Khai for 250 baht ($8) a day.
In Sangkhom we stayed at Buoy Guesthouse in a riverside bungalow. Check current prices for Buoy Guesthouse
We took the train from Nong Khai to Nakhon Ratchasima, which took about seven hours and cost 60 baht ($2) each.
The train to from Nakhon Ratchasima to Ubon Ratchatani was 57 ($2) baht each and took about six hours.