If you follow me on Instagram you probably already know all about my new dog Alfie, but I realized I've never shared him here! Alfie is a seven month old border collie who moved in with me in January. And if you missed them, you can see my favorite Alfie photos and videos under the "Alfie" highlight on my Instagram profile (the video of us playing hide and seek is the best).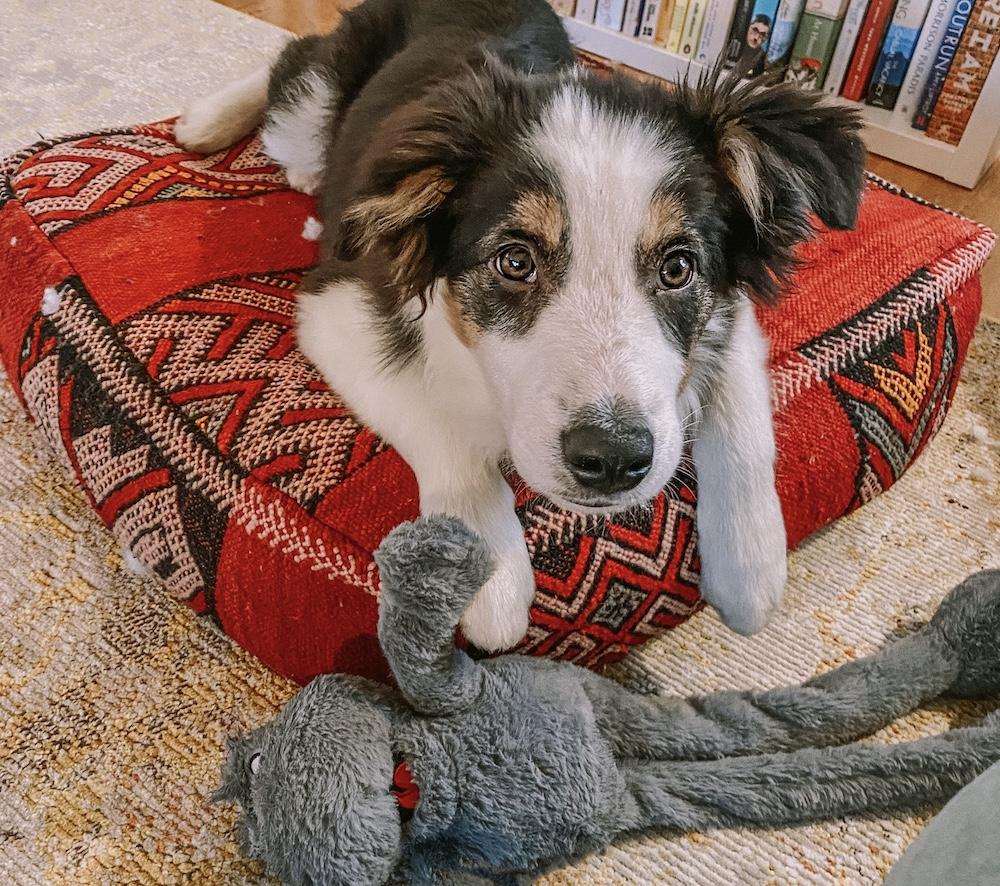 I have wanted a dog for years but never felt like I could have one because I travel so much, and because I've always rented apartments where I haven't been able to have a pet.
But that all changed when I moved into my Tromsø apartment last August and my landlord casually mentioned that pets are allowed. After that I would say the thought of getting a dog crossed my mind about eighteen times a day.
And while I still work as a travel blogger, this past year taught me that I can continue making money even without traveling internationally all the time, and in fact I've quite enjoyed exploring closer to home this year.
But maybe most importantly, my therapist really, really wanted me to get a dog. Almost every week she would bring up getting a dog and gently point out that now that I was living in an apartment that allows pets my reasons against getting a dog were getting weaker and weaker, and it was clear I really wanted one.
I feel like a broken record at this point, but I truly cannot recommend therapy enough. I really believe everyone can benefit so much from therapy and it's well worth spending this money on yourself if you can. Sign up for BetterHelp through this link (or enter the BetterHelp promo code "heartmybackpack" at checkout) to get 10% off your first month of online counseling. 
Throughout December a wilderness center outside of Tromsø was posting daily photos of retired sled dogs up for adoption, and each day I would stare at the photos wondering if any of these huskies would want to live in a city apartment with me.
But then one day in January when I was searching for figure skates on Finn (the Norwegian version of Craigslist) I decided to just take a quick look and see if anyone in the area had dogs up for adoption.
Norway has very few dogs up for adoption in animal shelters, so looking for announcements on Finn or Facebook seems to be the way to find dogs here. I eventually scrolled down to an announcement for four border collie puppies needing homes, and as the listing was a month old I figured they were already all taken, but I sent a message just in case.
They had two boys left, so a couple days later I drove out to their farm to see them, just to look, and that evening I came home with Alfie!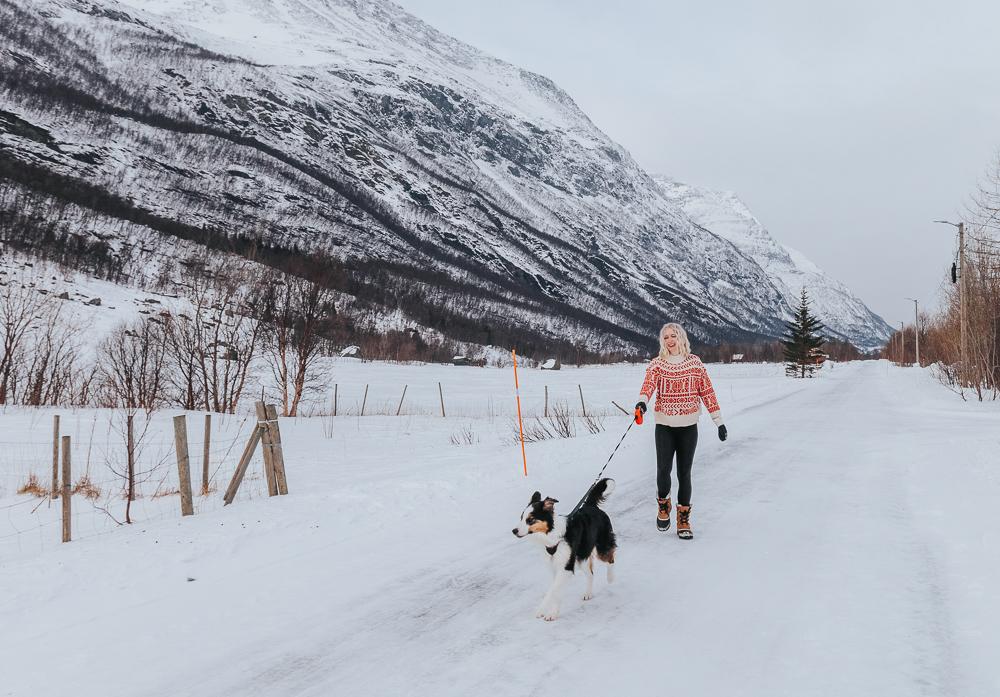 My family had a border collie when I was younger so I was more comfortable getting one than I would have been with a husky, and coming across the old announcement and their still having Alfie available felt like fate. Alfie's parents are both working sheep dogs and seemed very sweet and friendly, and his brother was super energetic so I chose Alfie instead, as he seemed to mostly just want cuddles.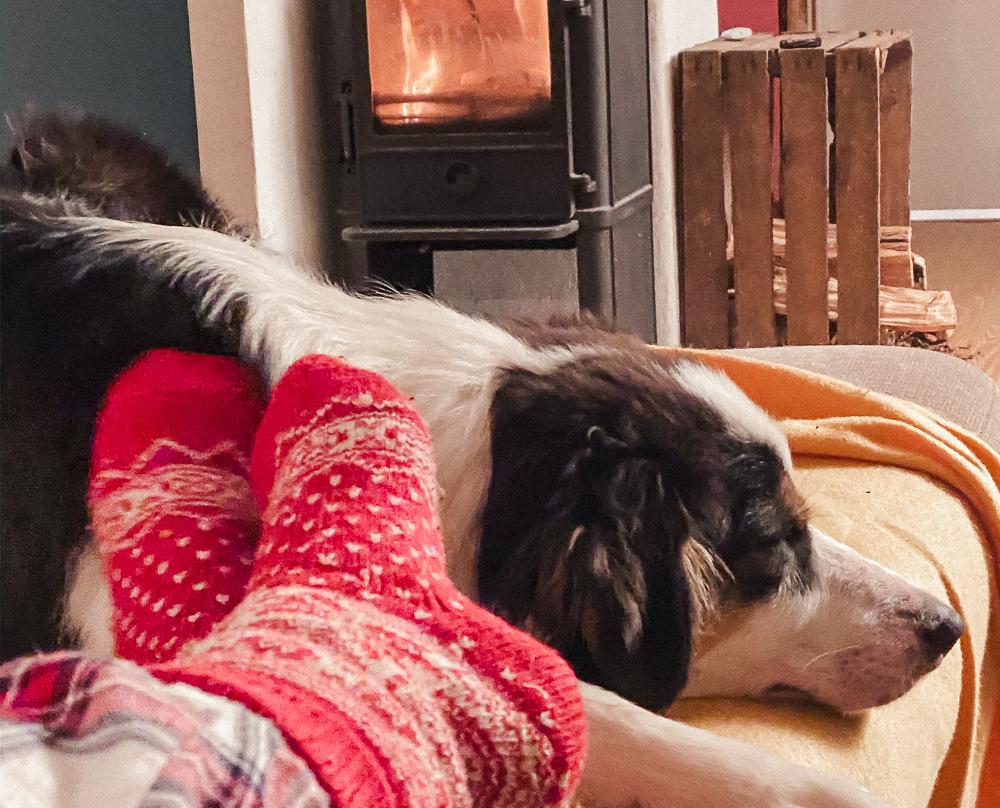 Alfie was four months old when I got him so I skipped the most difficult puppy stage, though he had been living as a farm dog so he did have to learn to walk on a leash and adjust to apartment life.
It's funny to think back to all the reasons I had come up with for why I couldn't get a dog, because now I can barely remember my life without Alfie. I've probably been quite lucky with him, as he is way easier than I had anticipated. I had always thought that getting a dog would be a huge, impossible change, so I've been surprised by how easily Alfie has fit into my life here. Yes, a lot has changed with him, but I think they're mostly good changes!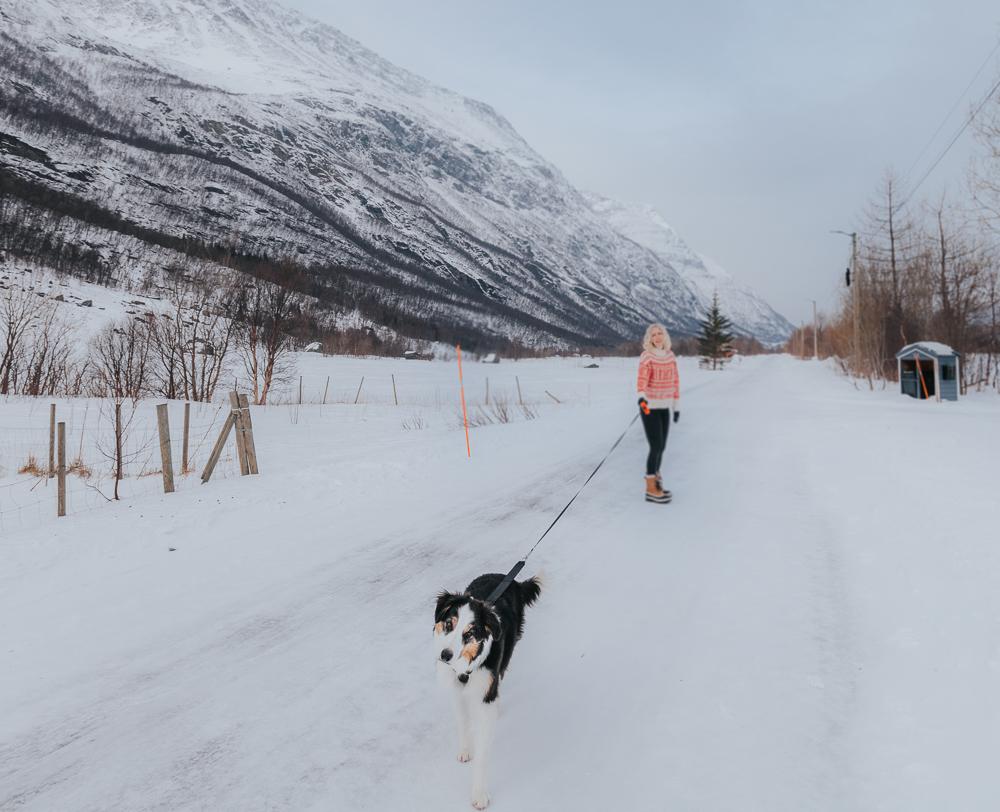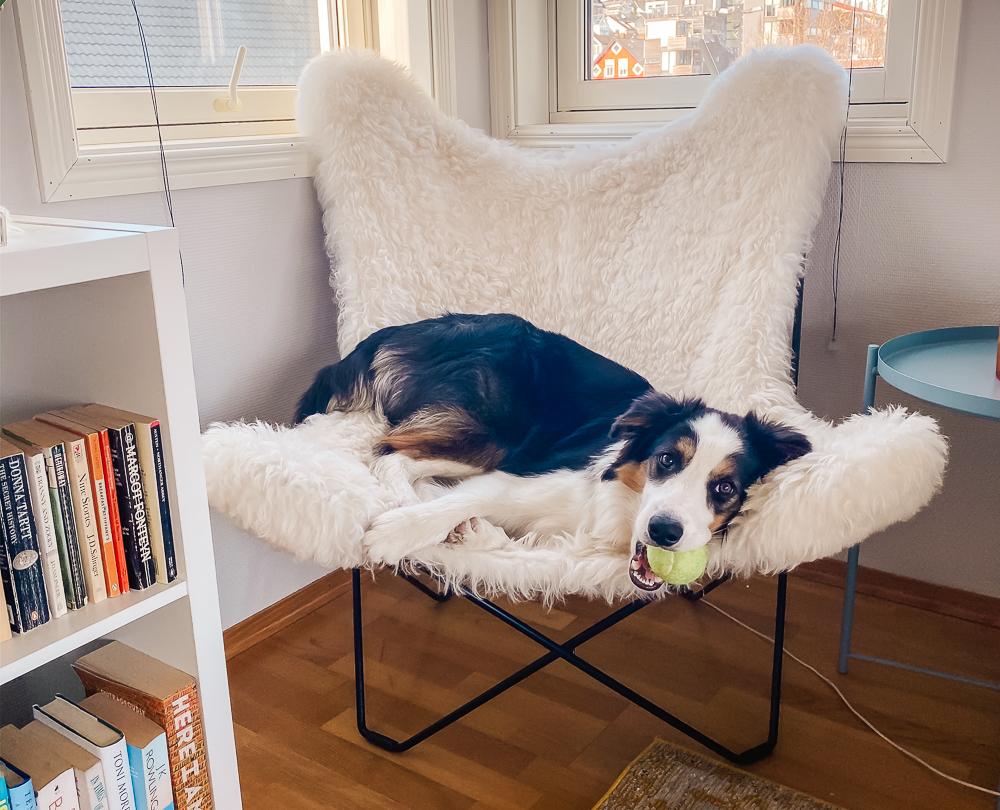 Border collies are super smart and active so they do require a lot of mental and physical activity, but to be honest I like a lot of attention as well so I think we're a good fit. I love how quickly he picks up new tricks and games and life with him is just so entertaining.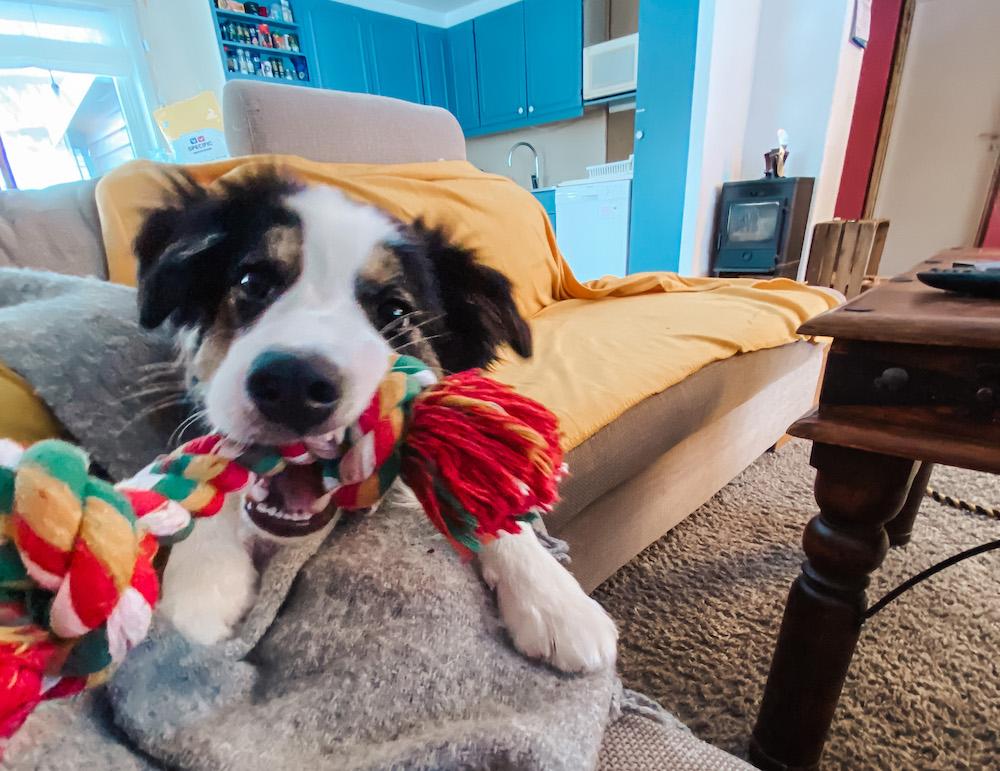 Plus it's really nice to have company on all those walks I take each day.
I talk a lot about wanting to set down roots somewhere and while realistically Alfie and I could easily pick up and move again, having him here in Tromsø does give me a stronger feeling of home. For a long time I felt as if life at home was just a waiting period between trips, whereas now even when I just go out for a few hours I'm so excited to get home and see Alfie.
I'm also excited for a new way of exploring Norway – with a dog. There are lots of cabins and a few hotels that allow pets but I imagine we'll also be taking a lot of camping trips together.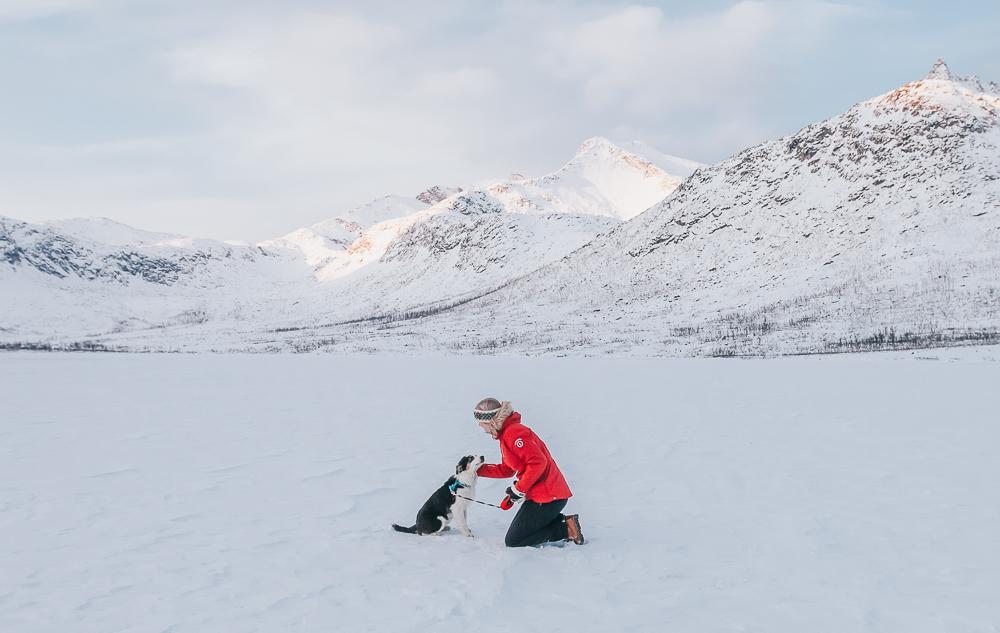 So far Alfie and I have only taken one trip together, but I definitely see a lot more road trips in our future. We spent three nights in a cabin by Kåfjord, about two hours from Tromsø, and it was so much fun to be out in the countryside together.
There's a part of me that's tempted to buy a little house on the edge of a fjord somewhere and move out there with Alfie, but I don't think I'm ready to abandon city life (and all my dance classes!) quite yet. Maybe someday though!