I've mentioned before that I was a bit unsure of Tromsø when I moved here. I hadn't loved the city on previous visits, and mostly just chose to move here because it's the biggest city in Northern Norway, and I wanted to live in a city but didn't want to move south. But when I moved there was at least one thing I knew I would love: my apartment.
I was nervous about apartment hunting in Tromsø because I had heard it's really hard to find housing here, and I ideally wanted to find a place really quickly so that I didn't have to make the eleven hour drive up from Mosjøen multiple times. But actually it ended up being super easy to find a place.
I was looking in June with the hopes of moving in August, and maybe I was lucky to be looking during a pandemic because at all five of the apartments I looked at the owners messaged me immediately after the viewing asking if I wanted to take it. I ended up only viewing apartments I had found listed on FINN, but I also joined a Facebook group for housing in Tromsø that posts more listings, including spare rooms in housing collectives.
Renting in Tromsø is expensive. I'm paying twice as much here as I did in Mosjøen, both for two bedrooms, though my apartment here is also way nicer. Norwegians usually prefer to buy than rent, as housing loans are relatively cheap and easy to get, but I guess because I'm American buying just feels like way too much of a commitment and responsibility. Maybe next year?! (I've been saying that for years.)
Anyway, I love, love, love my Tromsø apartment and have been meaning to share photos of it for ages, but somehow ended up waiting until polar night when there's no sunlight to brighten it up for photos, whoops.
I figured I should at least share photos before I decorate for Christmas next week. And if you're curious how it will look for Christmas, I'll be posting daily Vlogmas videos in December on my YouTube channel, and I imagine I'll be spending a lot of time at home, because pandemic. 
I live right in the city center, which is perfect, especially now while I'm still getting to know the city.
Oh and yes, I have fallen in love with Tromsø since moving here. In fact I find myself liking the city more and more each month, and I could totally see myself living here forever. Fingers crossed!
And now for lots and lots of apartment photos:
Balcony
The number one thing I wanted in my Tromsø apartment was a balcony. My Mosjøen apartment didn't have an outdoor space and I really wished it had. It might sound silly as I'm living in the Arctic, but just something about always having the opportunity to step outside whenever I want is really calming to me, even if it is freezing and dark out.
In fact this balcony was probably the selling point of the apartment to me. It's the only apartment on the top floor of my building, which I love because I don't have neighbors next to me or above me so it feels more private. It also means that mine is the only balcony on my level, which again offers a nice level of privacy.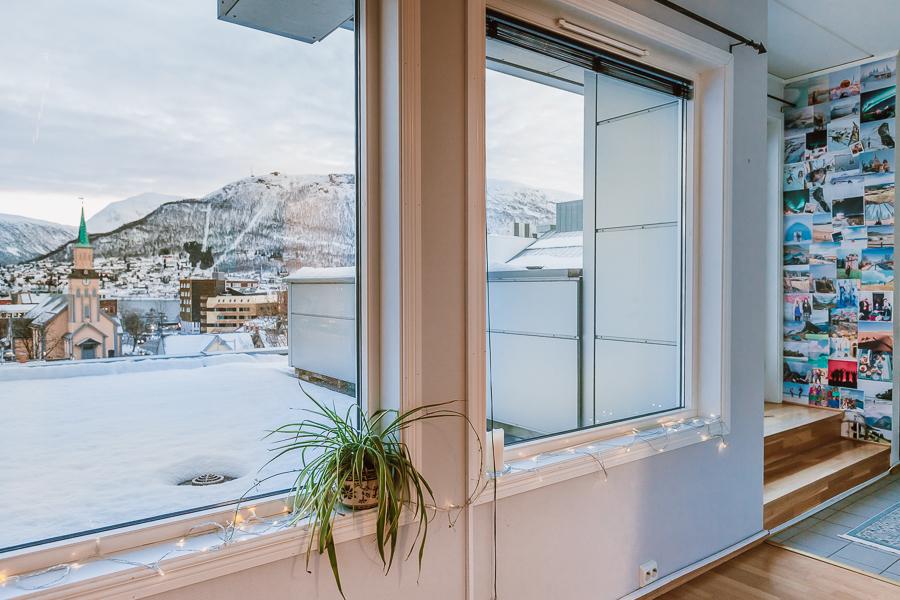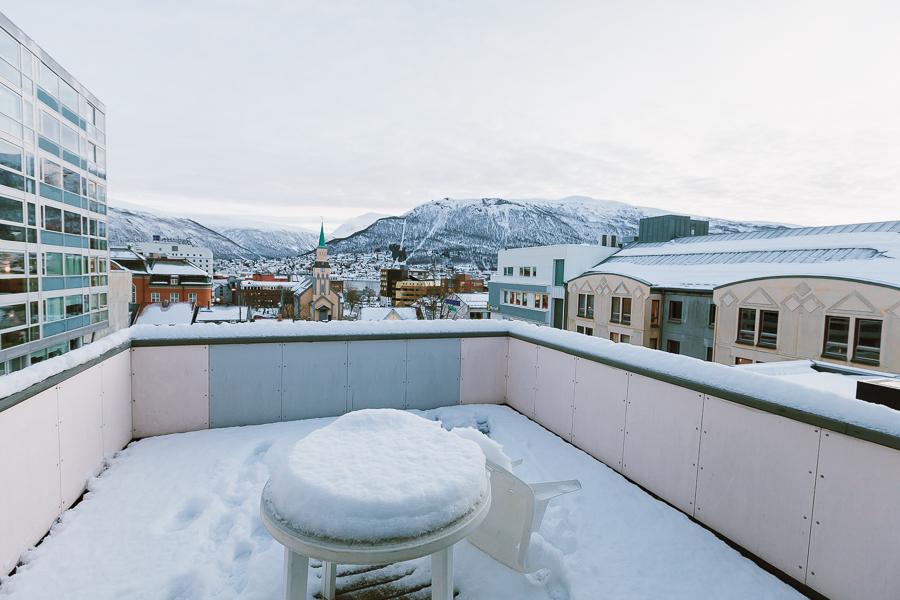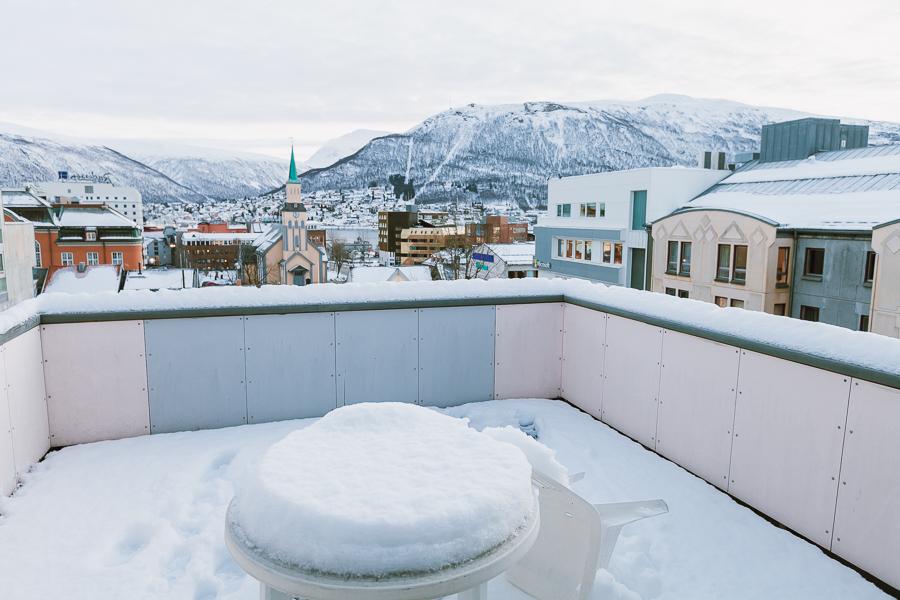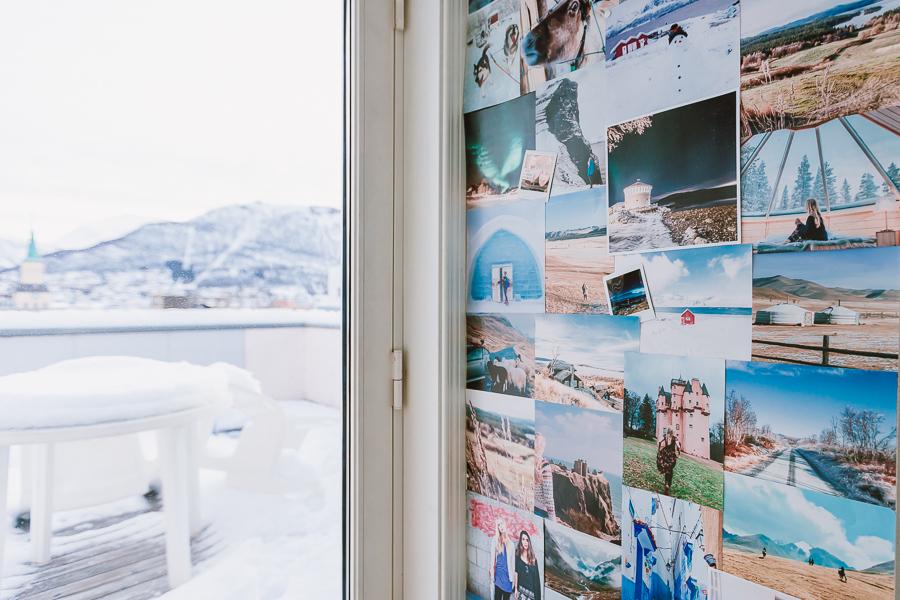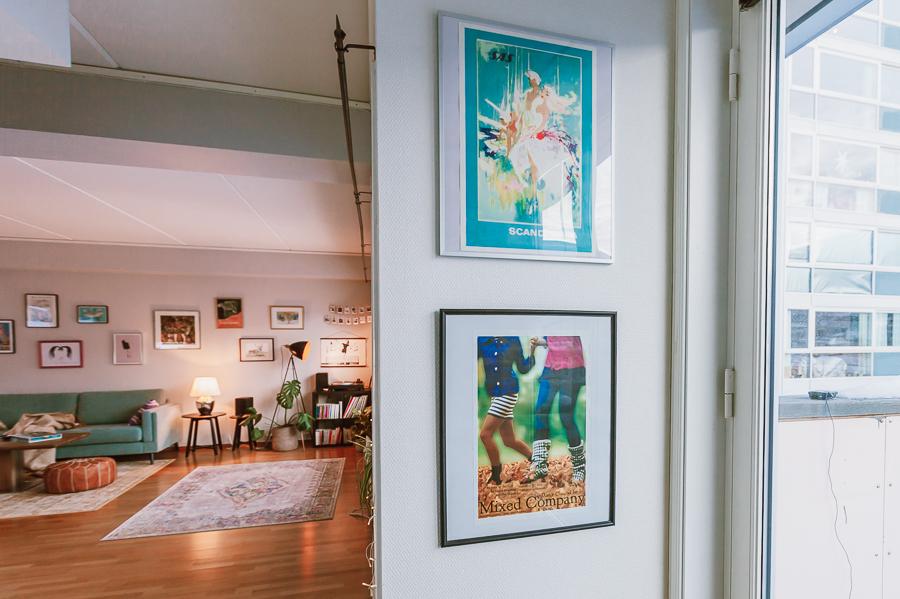 Living room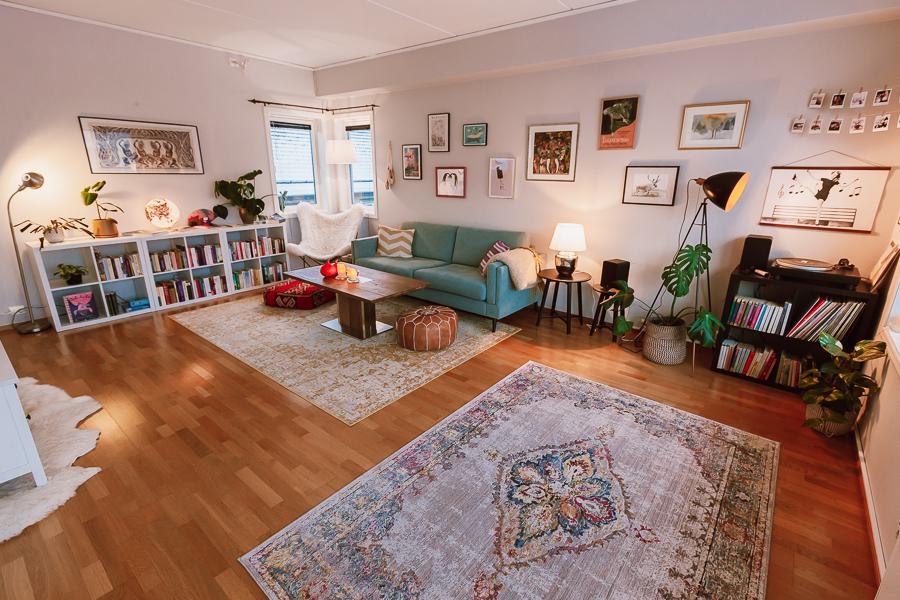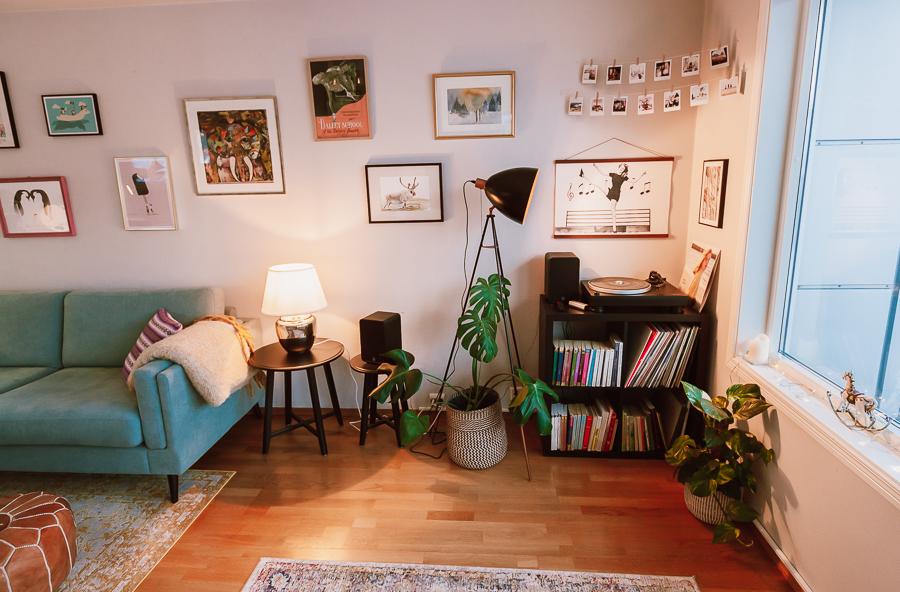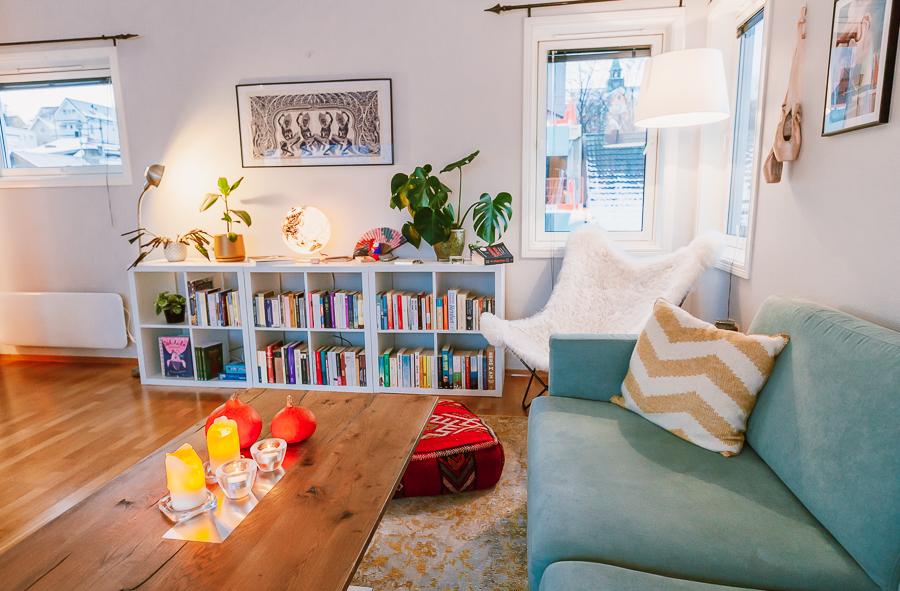 The best part of the living room is definitely the view from the sofa: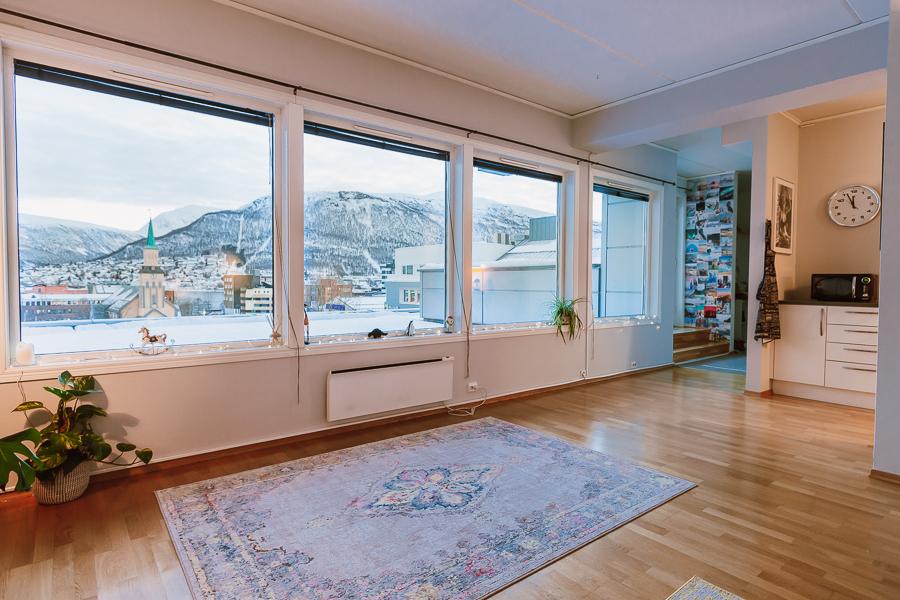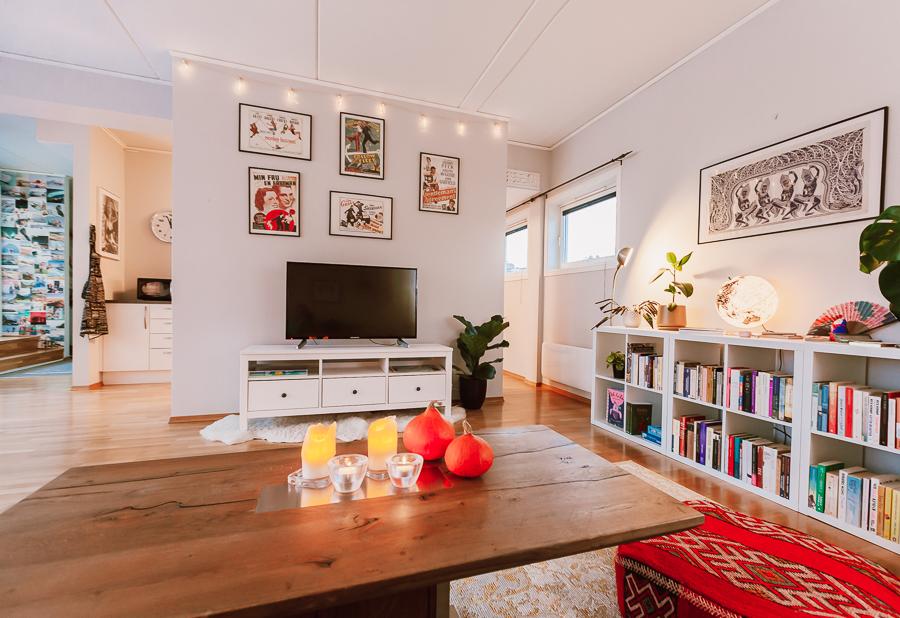 I bought these posters, as well as the blue rice paper temple rubbing from Angkor Wat on the right, while I was living in Japan, and it's so crazy to think back to when they were up in my house in Japan. I don't think I ever would have guessed I'd one day be hanging them up in Tromsø, which of course makes me wonder where else in the world they might one day go up!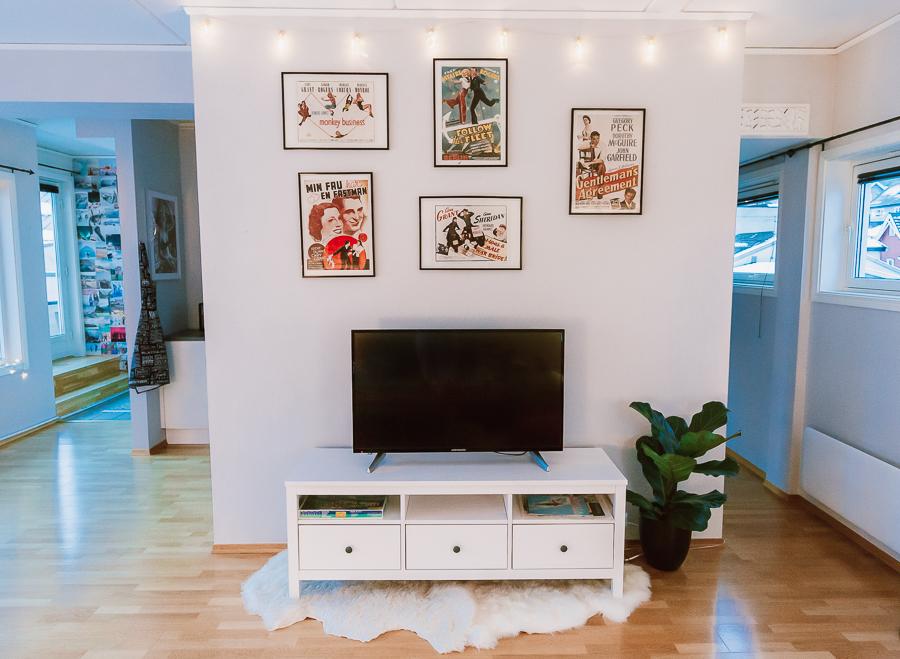 And then the kitchen is behind the this wall.
Kitchen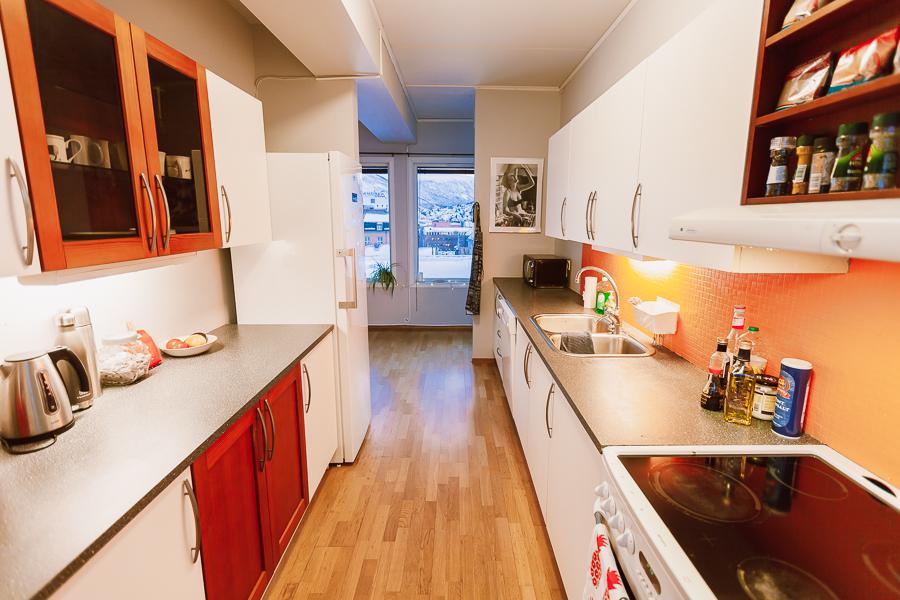 Bedroom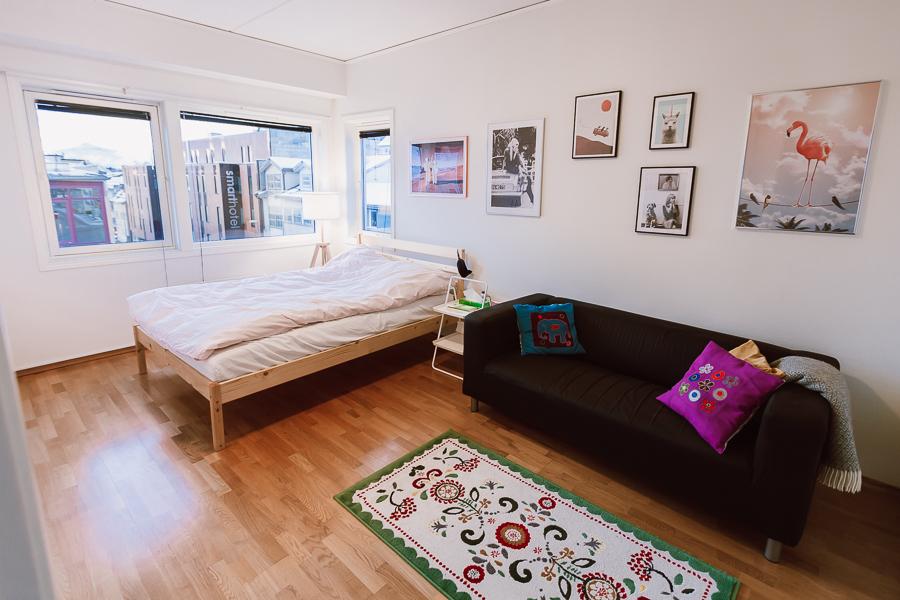 My bedroom is unnecessarily big (there were actually three kids sharing this room before me), but I really love all the closet space for my many wool sweaters!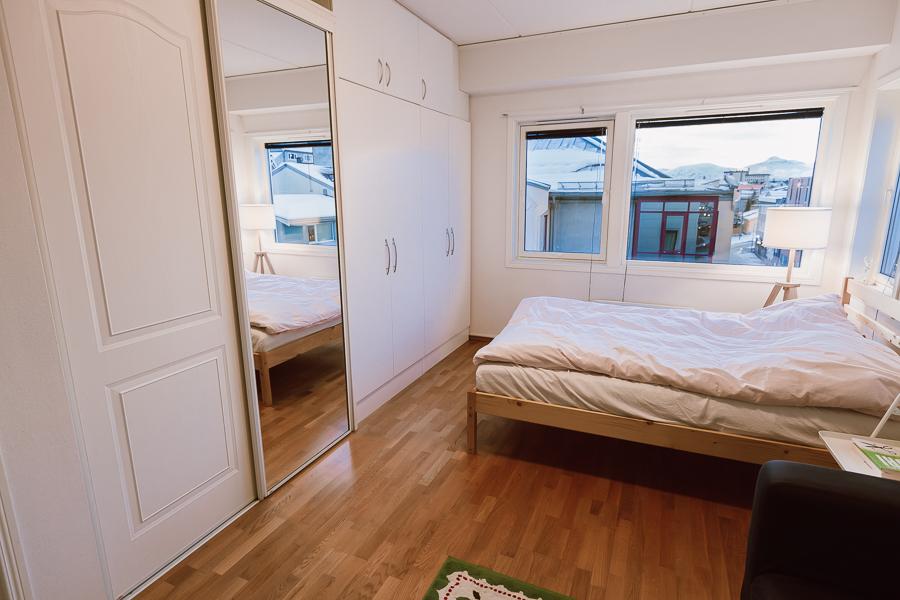 Office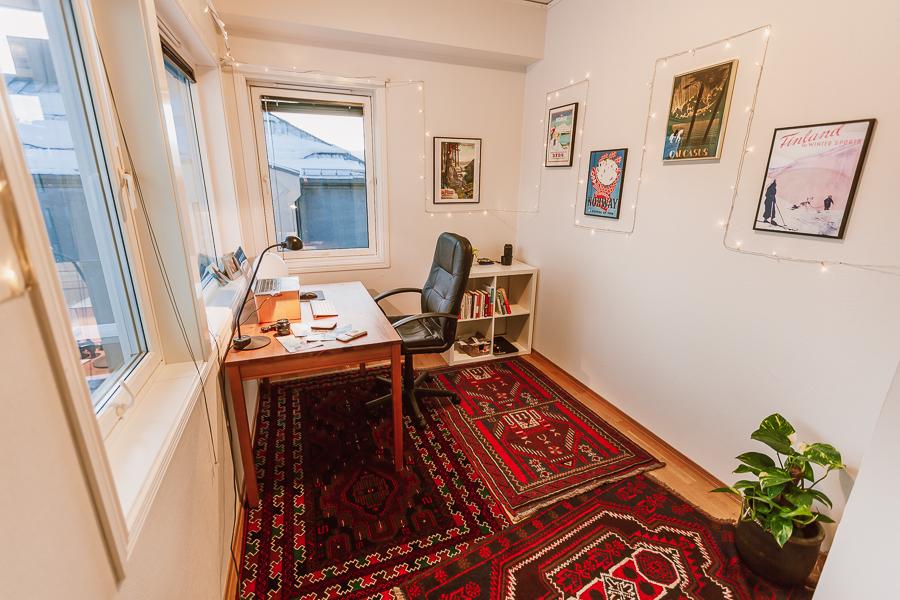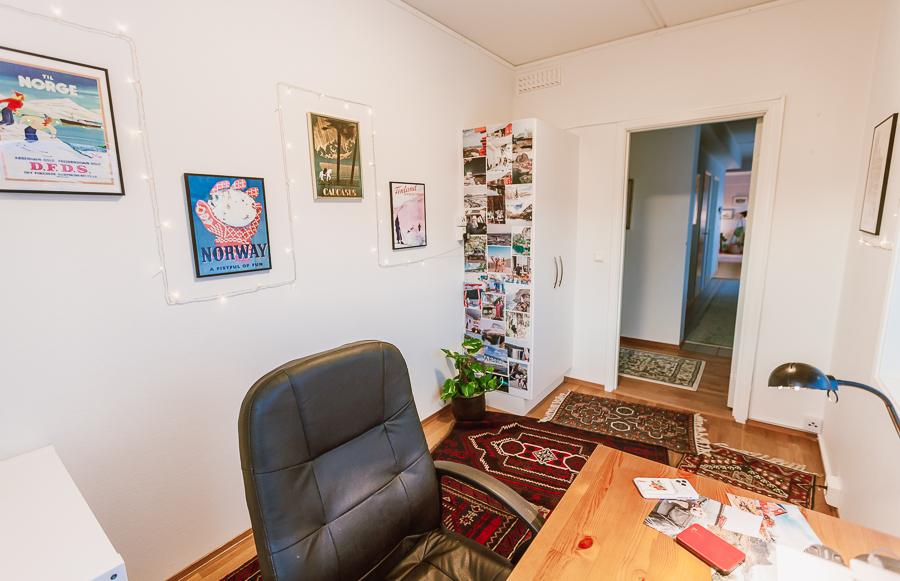 I haven't done much with my office aside from pile all my extra carpets in here, but I do really love the view from my desk. I also have my light therapy lamp set up here during the polar night so that I still get my daily dose of sunlight during these sunless months.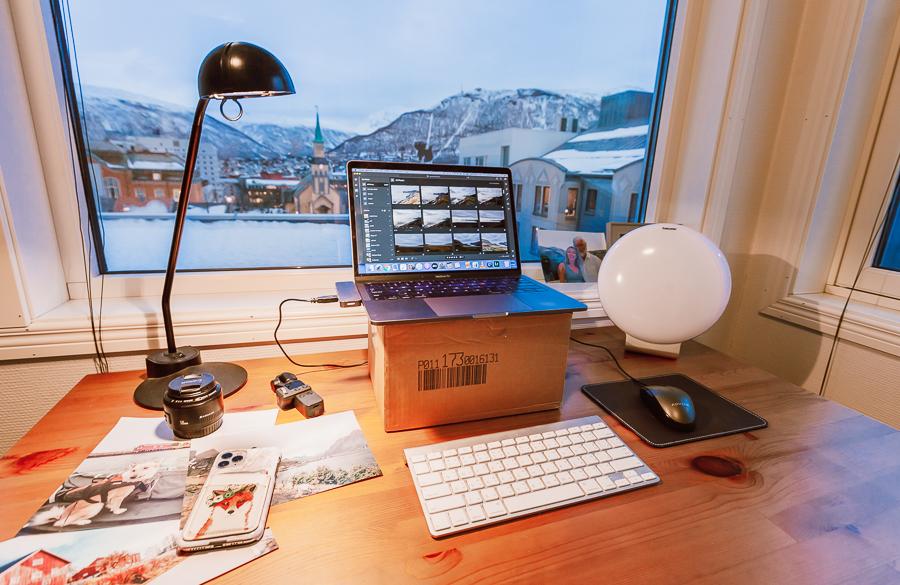 And that's it!
Or I guess there's also a small storage room and then the bathroom (where I have my washing machine) and the guest toilet (lol yes two toilets for one person is excessive) but I didn't take photos of them, so you can just use your imagination.