If you want to travel to Tibet from China, don't forget that you will also need a visa to China! The Chinese visa can be a bit of a hassle to get, so I recommend going through a company like iVisa if you don't want to worry about it. 
Last night while feeling a bit overwhelmed by how much Norwegian I have yet to learn I had to take a step back and remind myself that at least Norwegian is the simplest language I've ever studied. The hardest? Tibetan! I think the moment I gave up on Tibetan was when I asked my Tibetan host parents how to spell the word for "book" and they couldn't figure it out. Tibetan is hard. 
Studying Tibetan probably sounds like the most random thing ever, and no, I wasn't going through Buddhist phase, but instead this all happened while doing a semester abroad in university.
I enrolled in a Tibetan and Himalayan studies program which was meant to take place in India and Bhutan, but at the last minute the Bhutan portion was switched out for Tibet, which was then eventually replaced by two months in Nepal. While I loved my time in Nepal, I'm still a little sad that I missed out on Bhutan and Tibet – especially after my Tibetan host family had gotten so excited over my going to Tibet.
So when Samantha contacted me and offered to write a post about her time in Tibet I couldn't have been more thrilled! I'm ashamed to admit, however, that that excitement quickly turned to jealousy when I read her post. I want to go!
Side note: travel to Tibet is a bit controversial, but with proper research you can find ethical ways of visiting without only supporting the Chinese (hint: you're going to want to get out of Lhasa) and I maintain that there is no better way of getting to know a country, its problems, and ways you can help than visiting and speaking to locals.
The Place
Tibet
Why You Need to Visit Tibet
Tibet is absolutely beautiful.  The scenery is unlike anything I have ever seen before, and it is still relatively untouched.  China does have a few military posts here, but we were left completely alone during our 4 day trek.  The people are also extremely friendly and it provides a much different experience to urban China.  Foreigners must book a tour in order to enter Tibet due to political reasons, but it is quite easy to find a guide or use a tour company to get your entrance letter.
Where You Need to Go in Tibet
Lhasa is a very interesting capital.  There is a good mix of native Tibetans and Chinese, and you can see a cool mash-up of cultures here.  The highlight of Tibet, though, is the mountains.  Just 30km outside of the city provides you with gorgeous rolling hills, rocky mountains, and pretty lakes.  There are tons of options of where to trek too, so you can base your trip around difficulty levels and particular sights you'd like to see (eg. Mt. Everest!).
We chose to stick close to Lhasa as we didn't have a lot of extra time, but you can explore as far west as the border of Tibet and Nepal and trek through the Himalayas.
How to Get to Tibet and Travel Around Tibet
To get to Lhasa, we decided to take the train from Chengdu, China.  The reasoning for the 40 hour train was was that it would help us acclimate to the altitude more easily than flying.
Unfortunately, we still felt under the weather and experienced a few symptoms of altitude sickness.  The views from the train were beautiful, but it was pretty packed and not very clean.  The benefit, though, was that it was much cheaper than flying and soft-sleeper compartments are fairly comfortable.
Once you arrive in Lhasa, there are cabs and public vans that you can take, but since you need a tour guide to enter Tibet as a foreigner, most groups have a van for hire.  This makes getting to your initial trekking point much easier.  Once you get to your starting point, you walk!  I trekked 40km in three days, which was a great pace for my group.  There are several other options based on how fit you are and how high you choose to hike.
Where to Stay in Tibet
We stayed in downtown Lhasa at a hotel but loved camping and staying at a monastery.  I would definitely recommend checking with your guide to see if it is possible to stay with locals as you get so much more out of your experience.
What to Pack for Travel in Tibet
This depends on the weather.  We were horribly underprepared for how cold it would be at night in early October.  I highly recommend bringing lots of layers, a nice hat, warm socks and gloves for the evening.  Leggings, t-shirts, and light jackets were great during the day.  At night we ended up putting on everything we brought to stay warm.  You can wear normal trainers as most of the hiking isn't too complicated, but if you plan on hiking up Everest you may need some more serious footwear.  I also suggest sunglasses.  It was bright up in the mountains!  Our local guide brought tents, sleeping bags, water, and food, so check with yours before packing as you may not need to bring anything other than your clothes and your camera.
What to Eat in Tibet
The most popular dish in Tibet is the yak momo.  It is similar to a dumpling, but filled with delicious spiced yak meat.  You can also try the yak butter and yak cheese.  These dishes definitely have a unique flavor!  Many Tibetans prefer to eat yak meat because it aligns with their Buddhist beliefs.  One yak can feed 50 or more people, which is much better for the planet than chicken or fish in their eyes.  Plus, its delicious!
The Best Tours to Tibet
And if you'd like to explore more of Tibet, taking a tour can be a really good option, especially if you want to go for two weeks or more. G Adventures and Intrepid Travel both offer several good Tibet tours (some of which also include a tour through China as well).
Check current prices and availability for G Adventures Tibet tours here
Check current prices and availability for Intrepid Travel Tibet tours here
About the Author:
Samantha is a nomadic teacher with a serious case of wanderlust.  She is from Washington, D.C., but currently lives and teaches in Shanghai, China.  Samantha fills her time by planning her next trip and working out how to reach 40 different countries by the time she is 40.  At 29 beautiful countries so far, she is right on track.
You can read more about her travel adventures on her blog!
PIN IT!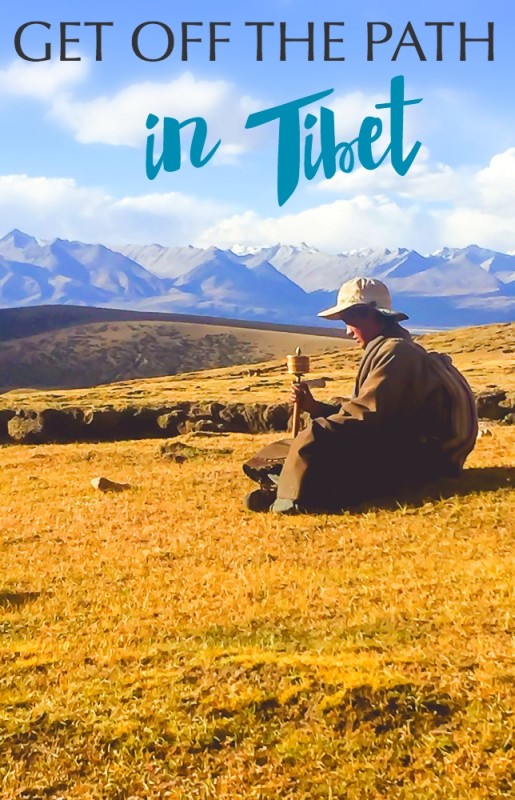 Is Tibet on your bucket list – or have you been?

Have a special place off the beaten path you'd like to share? Email me at heartmybackpack@gmail.com with the destination and I'll send you some questions to answer about it!