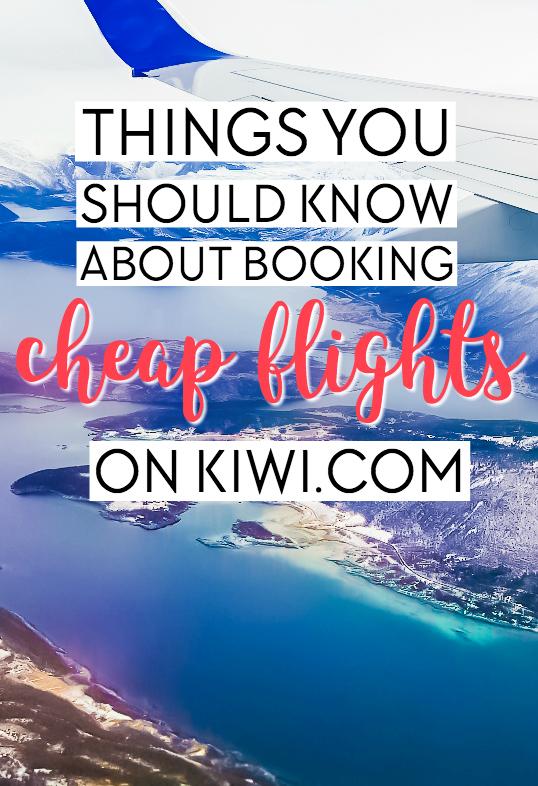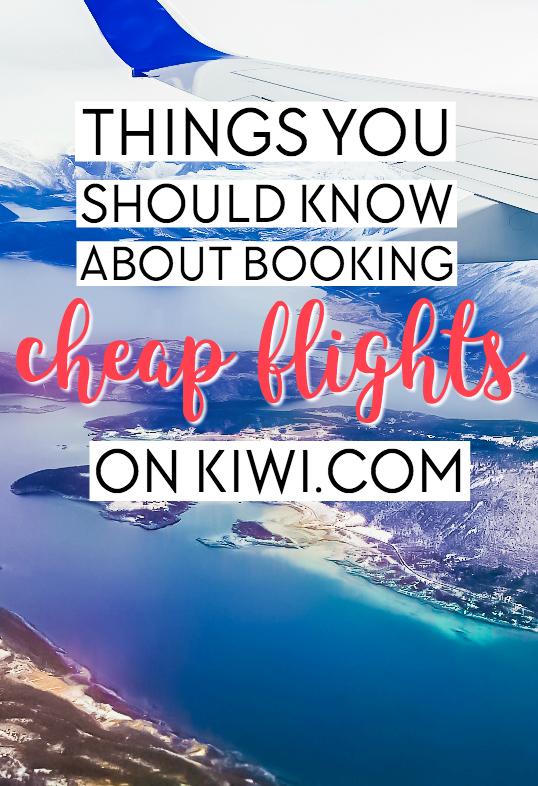 Step aside, Skyscanner, there's a new kid on the block and she works harder than you do: Kiwi.com.
Have you used it yet?
If you don't know about it, Kiwi.com is the newly popular flight booker that everyone has been talking about lately, as it's taken the flexibility of search engines like Skyscanner but added a bunch of incredibly useful features to find even better prices and routes.
In fact Kiwi recently found me a route to Morocco that was $120 cheaper than what I had found on Skyscanner or Momondo. I most recently used Kiwi to book a flight from Johannesburg to Pemba in Mozambique in August (2019) and it worked great.
There are, however, some things you should know about using Kiwi to book flights if you want to get the most out of the site and not run into any difficulties later on.
And no, this post isn't sponsored by Kiwi – I'm just a little obsessed with it at the moment!
First though, here are the things I love about Kiwi (and why I think it's become so popular):
Kiwi searches for the cheapest route, regardless of codeshares
And this is what makes Kiwi so awesome. While other flight search engines will try to get you booked through your entire route on either the same airline or airlines with codeshares, Kiwi will look at all of the cheapest possibilities, even if it means putting you on two totally separate flights (where you have to check in again during your layover) or sending you to a random airport totally off route.
While this isn't ideal for people looking for the fastest and easiest way to get somewhere, it's perfect for people looking for the absolute cheapest option.
In fact, this is what I used to spend hours doing myself – often I'd end up booking a flight from Oslo to London, and then London to wherever I was actually going, as it tended to be much cheaper.
So basically Kiwi does flight hacking for you. It's a HUGE timesaver.
They offer a flight guarantee for unprotected flight routes
The obvious downside of booking a bunch of separate flights somewhere is that if your first flight is delayed and you miss a connection, you won't automatically be put on the next available flight, but will instead have to pay for a brand new one.
Luckily this has never happened to me, but I've had a few close calls that seriously stressed me out!
But Kiwi actually offers a guarantee that covers cases of flight delays, cancellations, and schedule changes.
If your flight is suddenly canceled or there wasn't enough time to make your connection, Kiwi will put you on a new flight for free. The only condition is that if the new flight is more than twice the cost of the original you will have to pay for any amount over 2x the original price.
Plus, if your flight is delayed for over 4 hours you'll get a $10 food voucher, if you need to switch airports they'll cover your transport, and if the delay is more than 8 hours overnight they'll cover your accommodation (up to $50, and you must show them your receipt).
You do have to reach out to Kiwi directly as soon as something happens with your flight – there are stories of people missing out on the guarantee because they didn't actually contact Kiwi but tried to sort their flights out at the airport independently. I asked a representative about this and she stressed that you MUST contact Kiwi before booking yourself on any new flights if you want Kiwi to cover them.
And just so you know, two of my friends separately had to use Kiwi's guarantee and had no problems – they said Kiwi responded quickly and got them each on new flights for free. Again though, it's important to contact Kiwi to book the flights, as they will not reimburse you for flights you book on your own.
You can read the guarantee here, and email them with any further questions (I emailed them before writing this post and they were super responsive).
While this guarantee isn't perfect, as there's a possibility you'll have to pay a bit extra for your new flight or part of your accommodation, it's a far better option than booking separate flights yourself and having no guarantee at all.
I think of Kiwi as an upgrade from flight hacking where you're putting together the flights yourself – it does the same thing for you (in less time) while also giving you a good degree of insurance should things go wrong.
However, do note that this is still less safe than flying on connected routes, where you'll automatically be put on a new flight by the airline. If money isn't an issue then I would book directly with airlines instead of using Kiwi, as it can be a bit of a gamble.
Kiwi flight refund
And if your travel plans change and you need a flight refund from Kiwi.com, you can find the Kiwi cancellation policy here.
You can search flights from and to regions, instead of specific cities
While a lot of other flight search engines offer this to a degree, Kiwi has the most flexibility I've seen.
Like, come to think of it, maybe this feature is the coolest thing about Kiwi.
First, you can search flights to or from "anywhere" if you want the ultimate flexibility. So you can find the cheapest flight from your departure point, or even the cheapest departure point for your destination.
Even cooler though, if you click on any area of the map on the Kiwi.com homepage, a circle will appear and you can drag it to whatever region you want and adjust its size to determine where you would like your flight to depart from. And then you can either type in a specific destination (or destinations), or you can click the map again and draw a circle around the region you would like to fly to.
This is super helpful if you're planning a longer trip in two different regions and don't really care which specific city or even country you fly to or from. But it's also convenient if you have a few different nearby airports in different cities that you'd like to search for all at the same time.
So like, when looking up where to go in May, Dan and I drew a circle around southern Norway for our departure (as there are a few different airports near us) and then a circle around all of southern Europe, since we want to go somewhere warm.
Then we just zoomed in on the map and could see all the different city options with the price next to them. Super easy!
And then we drew a circle around Japan, you know, just in case it was magically super cheap (it wasn't).
You can search multiple destinations at once
Before I switched over to Kiwi I almost always used Skyscanner to search for flights (since it also includes budget airlines), and something that would drive me crazy was having to do separate searches if I wanted to change my departure or destination city.
Well, if you want to be more specific than circular regions, Kiwi lets you search a bunch of different departure cities and/or countries as well as a bunch of different destinations, all at the same time. Again, huge time saver!
You can search for flights over no specific dates, a set range of dates, and a specific duration
If your schedule is flexible, Kiwi also lets you search for flights "anytime" or over a set range of dates. You can also specify how long you would like your total trip to be, so if you know you want to take a holiday for about 10-14 days sometime over the summer, you can search for flights in a date range of June to August, and then select your "Time of stay" to be 10 to 14 nights.
This way you can figure out not only where your cheapest holiday option is, but also when and for how long.
You can use Kiwi.com's "nomad" tool to book the cheapest possible multi-city trip
I still can't get over how cool this is. With the nomad tool you can enter all the cities you'd like to visit along with how long you'd like to stay in each city, and Kiwi.com will work out the cheapest possible option. So you don't need to keep checking different dates or changing up the order of your trip, because Kiwi.com will tell you which order to book it for the cheapest possible flights.
This tool is especially helpful if you're going on a longer trip to a bunch of cities, like backpacking through Europe or visiting a bunch of places across the US, for example.
Things you should know about booking with Kiwi.com
Okay, so I covered all the things I love about using Kiwi, but there are also a few important things you should know before booking your flights through Kiwi.com.
Adding extra baggage after booking your flight can be more expensive than direct with the airline
This one is kind of annoying, though if you're lucky it could actually work in your favor.
If you realize after making your booking that you want to add extra checked luggage, you have to do so through Kiwi, not directly with the airline.
And because Kiwi deals with so many different airlines, instead of charging exactly what each airline charges for extra luggage, they have their own set price list. This is an average of the luggage costs for different airlines, so while in some cases Kiwi might charge you less than the airline does, in other cases you might end up paying more (though of course it will still be less than you would have to pay at the airport).
It's something to be aware of when booking your flight.
When flying unprotected routes you might need to go through customs – and may need a visa!
Since part of the genius of Kiwi is finding unrelated flight routes to get you to your destination, you might have to go through customs and check in again during a layover.
I had to do this on my 5-hour layover in Paris during my flight from Morocco to Oslo. And on my way from Oslo to Morocco I actually spent a night in Lisbon, essentially having a free day in Lisbon thanks to the money I saved by flying two separate routes.
Your Kiwi ticket will clearly state if you have to collect your luggage and check in again during a layover. And this is really important: check to see if you need a visa for whatever country you'll be going through customs in! Even if it's not your final destination, there are some cases where they won't let you through to check in to your next flight if you don't have a visa.
So, if I had needed a visa to enter France or Portugal, I wouldn't have been able to go through customs and check in for my next flight.
This doesn't happen often, but I have heard complaints about Kiwi regarding this, from people who didn't realize that they would need to go through customs during their layover. While a lot of places do offer special transit visas, I usually try not to have a layover anywhere I'd need a visa, just to avoid any potential hassle.
You'll end up making way too many travel plans
All the flexibility Kiwi offers in searching for flights can be a little dangerous – at least if you're like me and want to travel everywhere. When Dan and I were looking at flights this morning I found all sorts of other places I wanted to visit that I hadn't realized where so cheap!
I mean, there are many worse problems to have.
Have you booked through Kiwi.com yet? Any tips to add?
Since I love using Kiwi to book my flights I just joined their affiliate program, which means I'll make a small commission if you book a flight through them. Most flight search engines have similar programs, but I only joined Kiwi's because I like it the most!