I fell in love with Ukraine pretty much instantly when I traveled through the western part of the country in 2015, so it's kind of crazy to me that it took me a whole two years to return and finally see the capital city, Kiev. I knew I would love it, and sure enough I did! Like, Kiev might even have just replaced Belgrade as city I'd most like to move to if I ever leave Norway.
I spent all of last week in Kiev, and a week definitely wasn't enough time there. There are so many things to do in Kiev, churches and museums to visit, Soviet monuments to photograph, and day trips outside of Kiev to go on.
But this blog post isn't going to be about any of that.
In fact, my week in Kiev wasn't meant to be about Kiev at all, as the city was really just the most convenient place to meet up with these girls: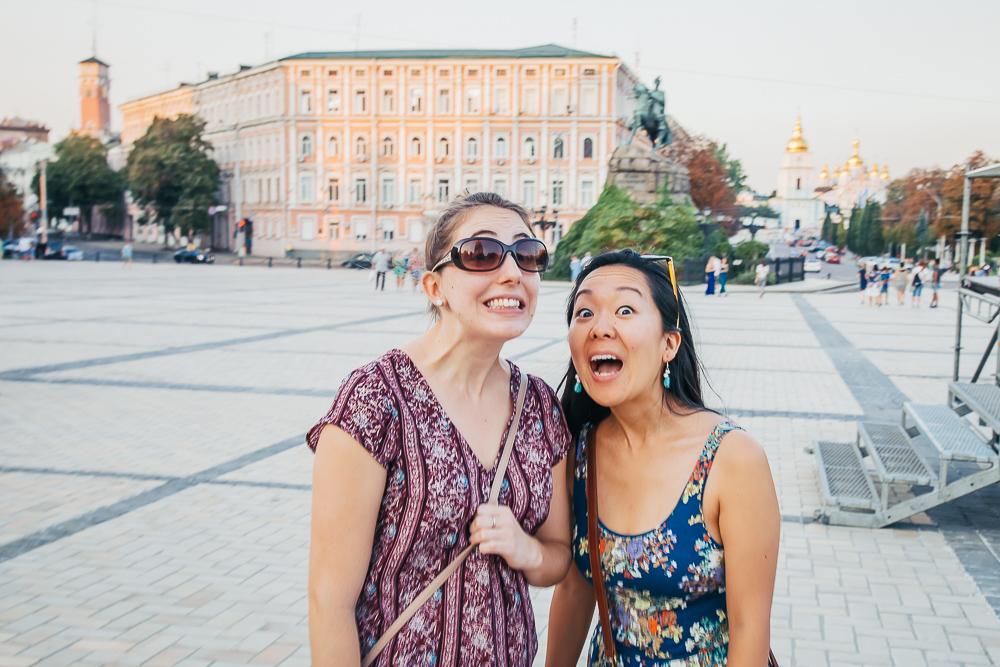 Stephanie and Alicia are two of my college besties, but somehow we've failed to end up living in the same place, which means that these days we have to travel farther than down the hall to see each other.
And this year it turned out that Kiev was the cheapest place for us to all get to from our homes in Norway, the US, and Jordan. Who knew Amman to Kiev was such a cheap route?
But! Cheap flights aside, Kiev turned out to be kind of the perfect place for a girls' reunion trip. In fact I can't think of any other city in Europe that would have suited this trip better.
Ukraine is cheap
Ukraine is probably the cheapest place in Europe right now – as in, even cheaper than Albania and Macedonia. Of course the reasons for this are really sad, but at least the low prices meant that we could do our very best to add to the economy.
So whereas in most other European cities we would have kept a very close eye on our spending, here we splurged on all the fancy drinks, meals, spa time, and hotel rooms.
Since the whole point of this trip was to enjoy each other's company, it was really lovely to totally relax and indulge in some luxuries.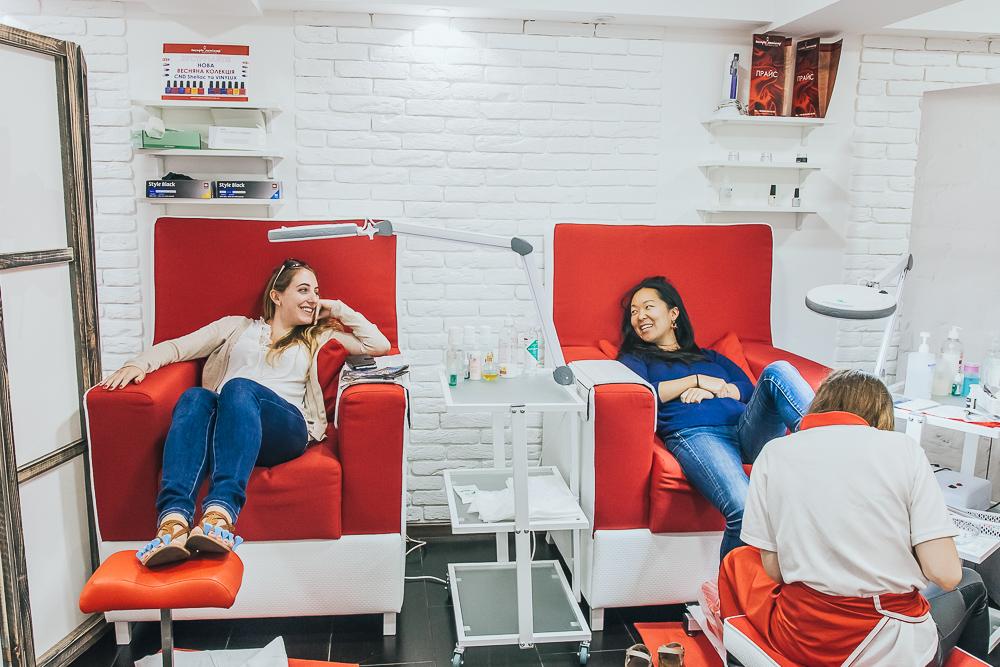 Kiev's café scene is ridiculous(ly amazing)
Since we were prioritizing hanging out over seeing sights, we ended up spending most of our time café hopping around Kiev, and oh my goodness, what a place to café hop!
Finding places to eat in new cities often makes me nervous and shy and I'll end up sticking to supermarkets instead, but in Kiev it seemed like every restaurant and café I popped my head into was cosy and super stylish, but also not at all intimidating.
I loved how beautifully decorated they were, every single thing I ate in Kiev was delicious, and I especially loved that the wait staff mostly just left us alone, even when we spent hours talking after finishing our food.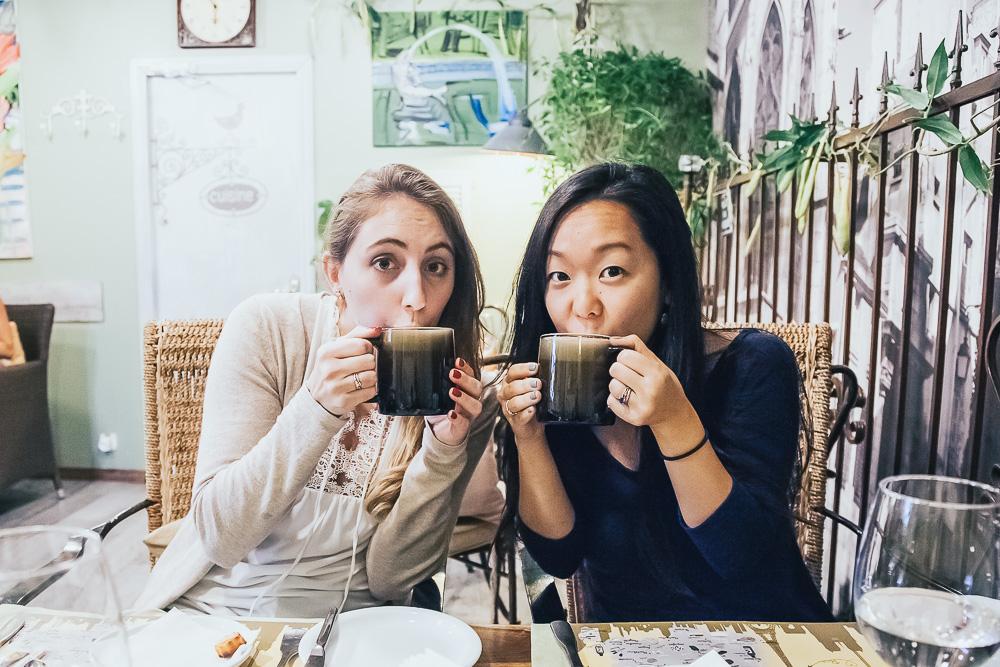 Tres Francais – the food was on the pricier side, but the walnut latte was amaaazing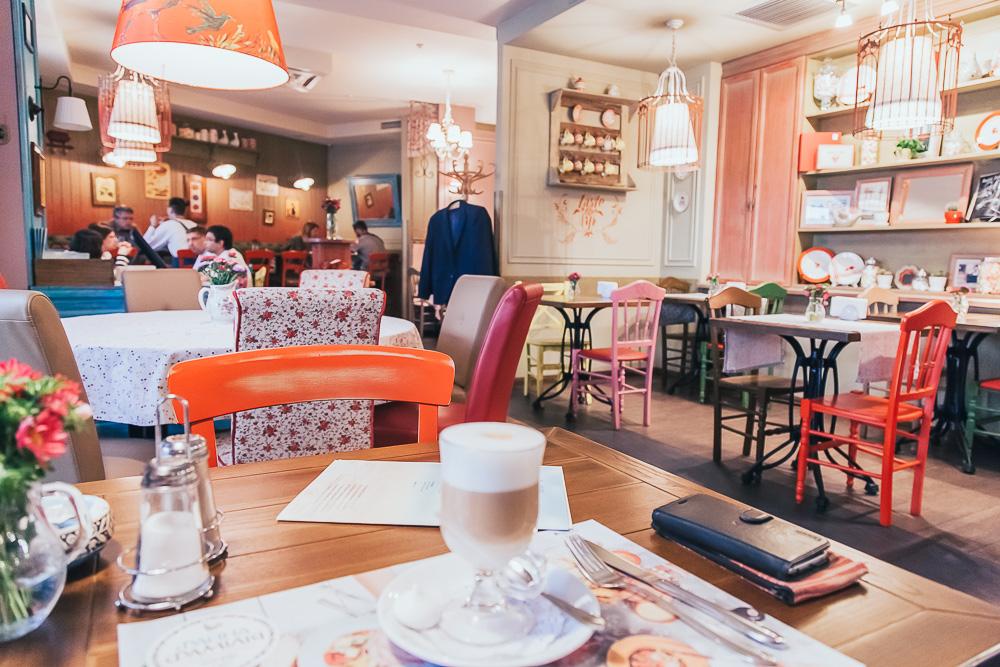 Fine Family – we went to two of these in Kiev and both were so pretty inside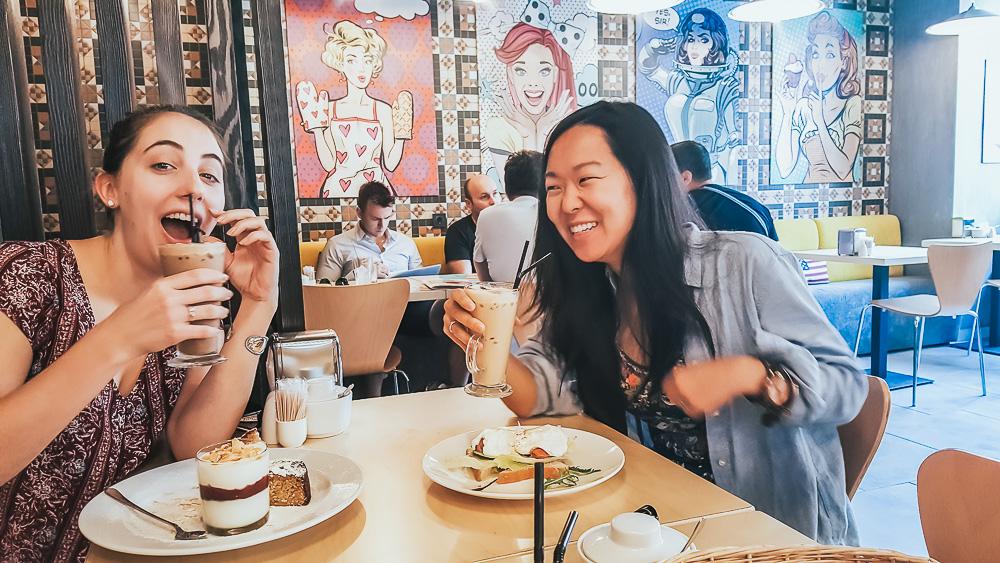 Zheltok – an American style diner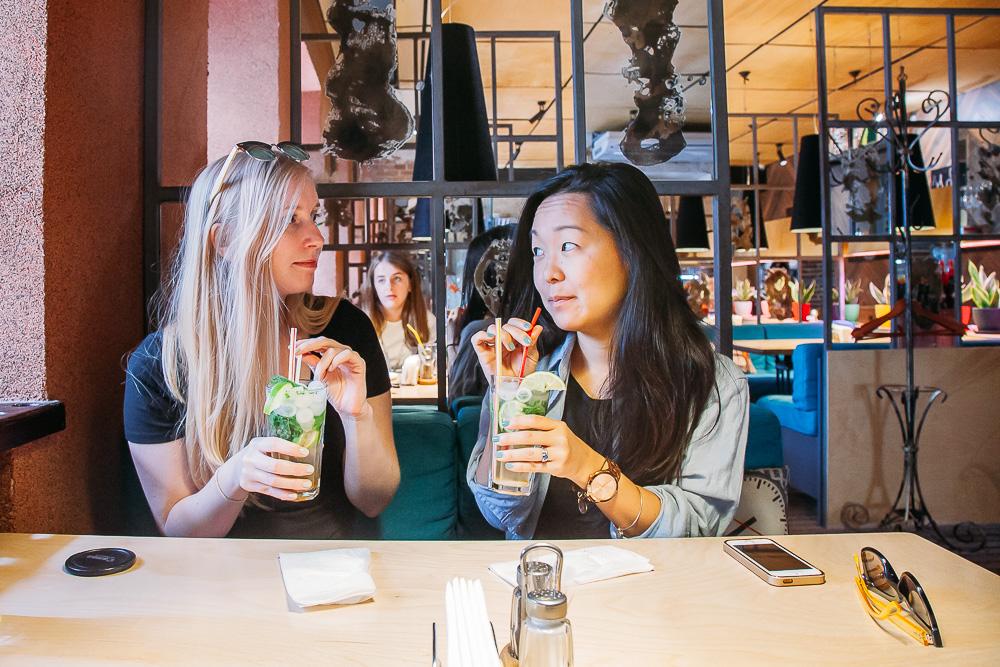 Mamamia – pizza! and… soul searching?
We went to a bunch more cafés that I can't remember the names of, which is actually kind of crazy considering how many times we also kept going back to the same places.
We actually ate at the Zheltok diner four times! It was perfect because it was right around the corner from our first apartment in Kiev, it serves breakfast all day (we never woke up before 11 am), it had strong enough WiFi for Alicia to get some school work done, and the wait staff didn't raise a single eyebrow when Stephanie pulled out her paint set.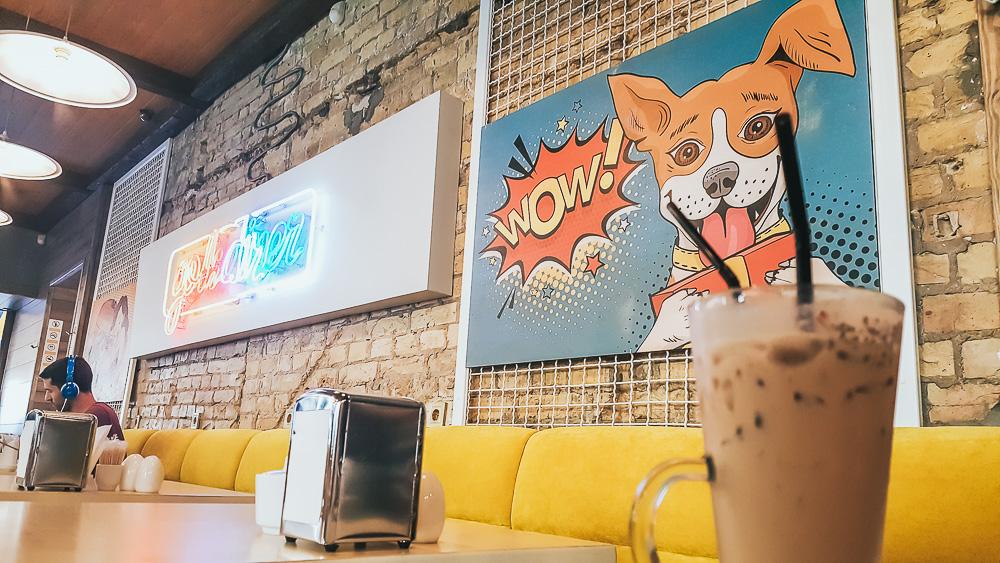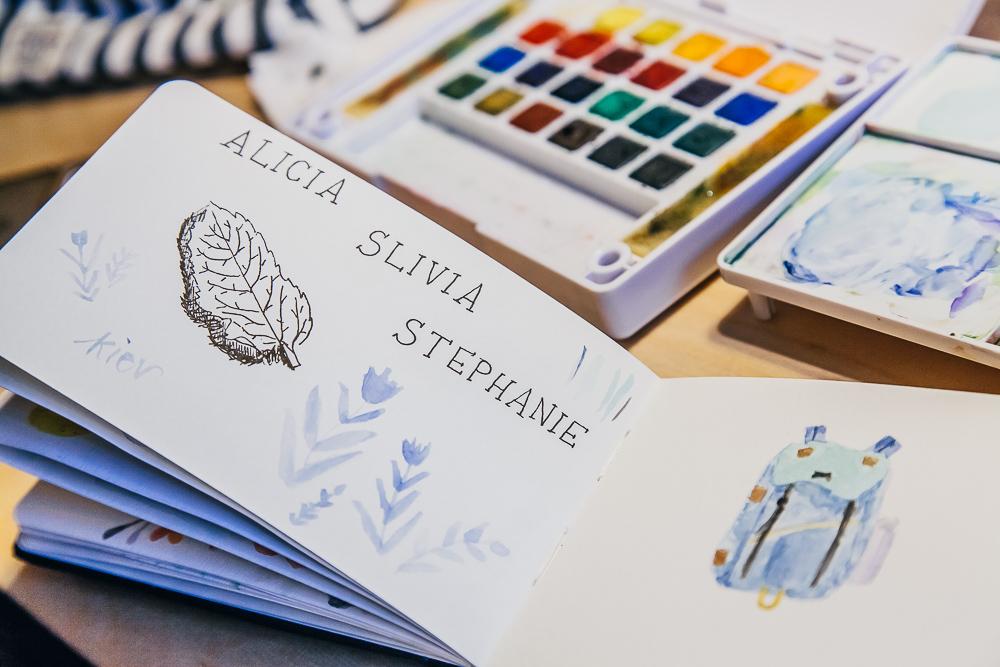 Stephanie and Alicia call me Slivia, because they are bullies
Kiev's city center is perfect for aimless walking
Downtown Kiev is so pretty that it didn't even matter that we never made a plan for where to go. We would just walk around talking and when we weren't stumbling on a new café to check out we'd be stumbling on a pretty building, church or park.
I do feel like I need to return to Kiev to see all the places I missed (and I realize I'm super lucky to be able to easily return), but it was fun to get to know the city without any planned itinerary.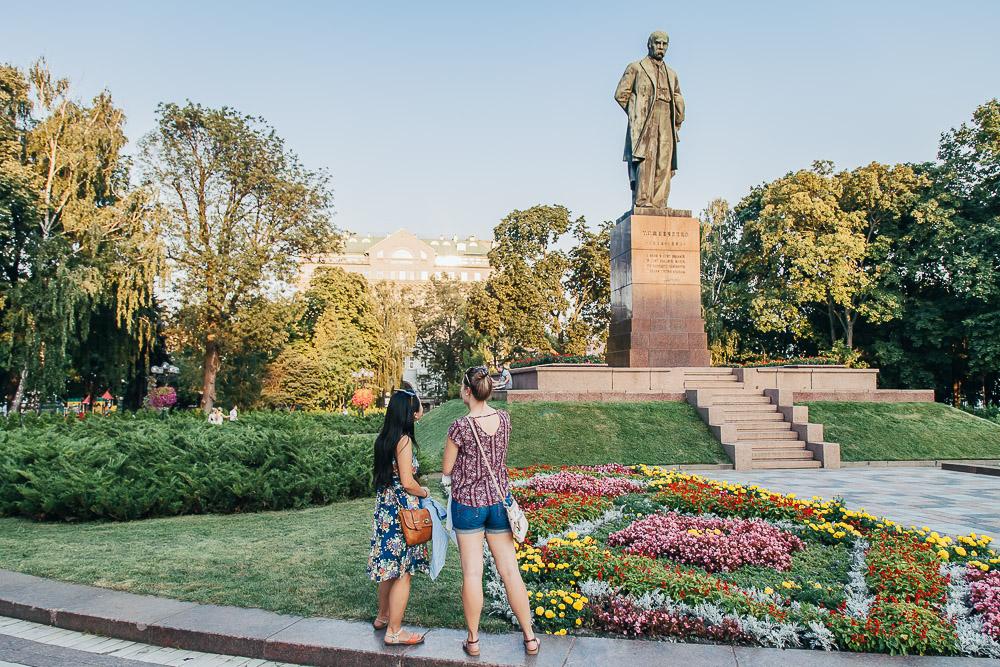 Taras Shevshenko Park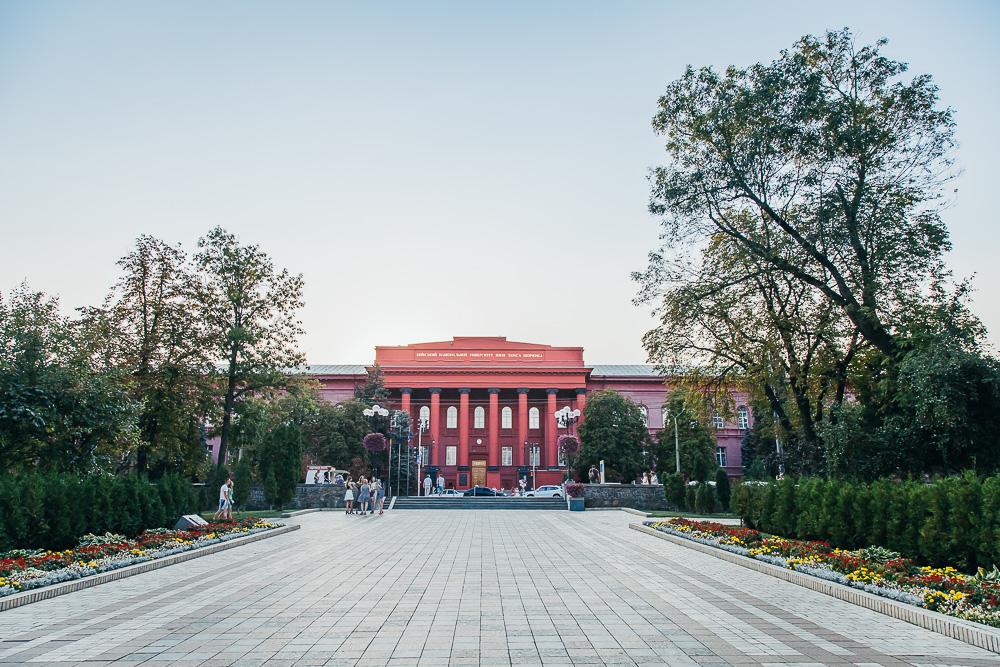 Taras Shevchenko National University of Kyiv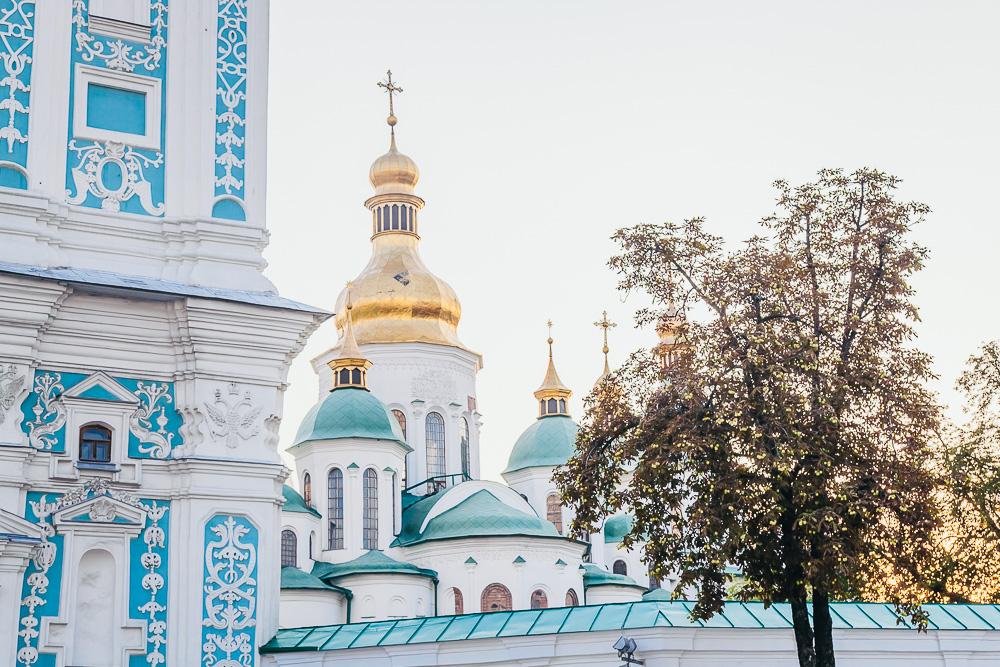 St. Sophia's square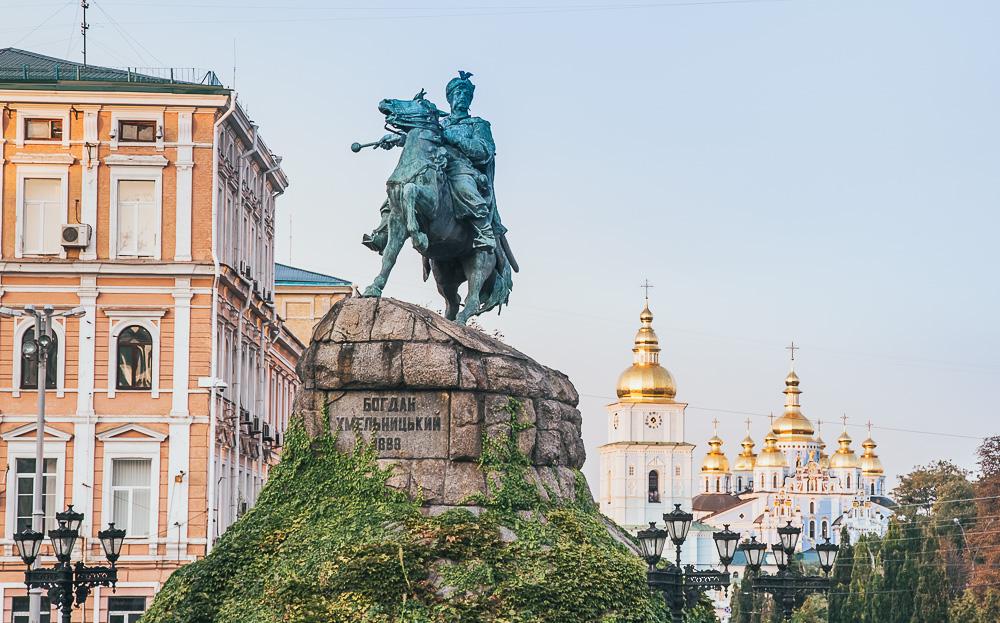 And we weren't the only ones wandering around enjoying the city. Over the weekend it seemed like all of Kiev was outside in the parks enjoying the sunshine and pretty views.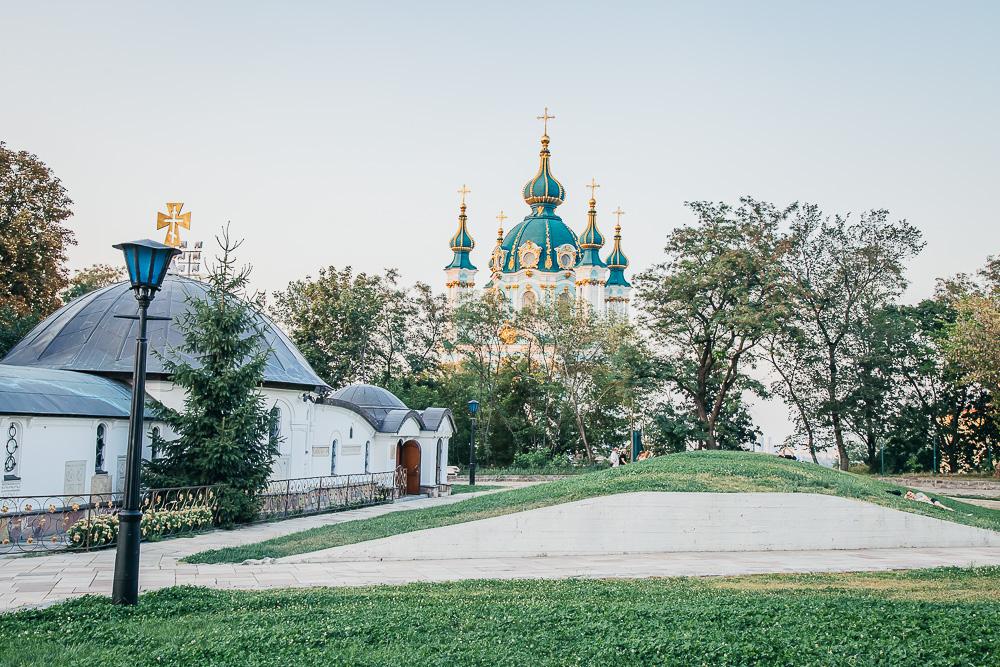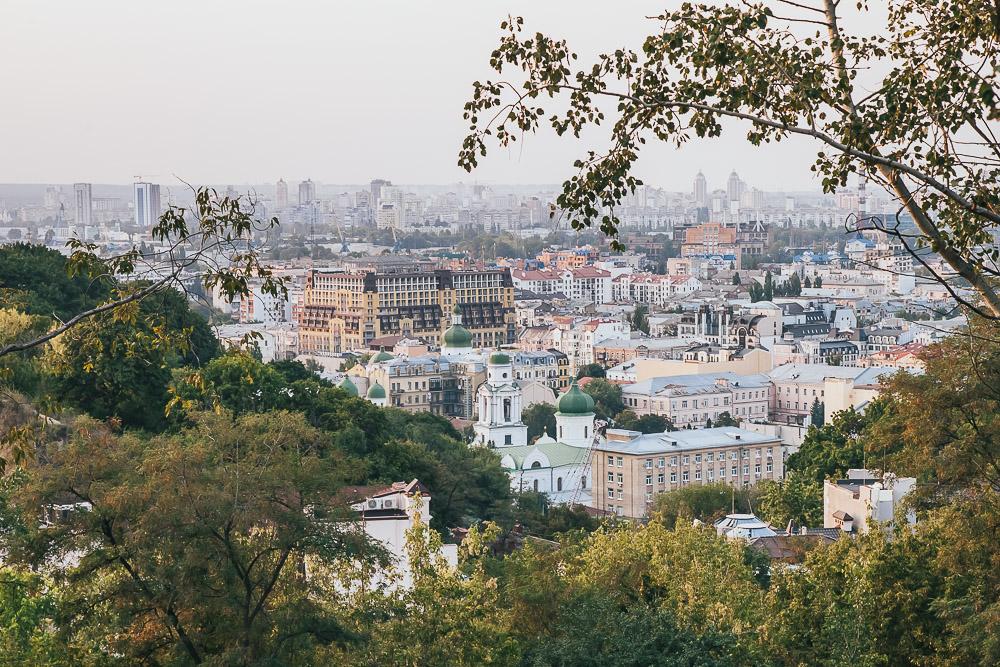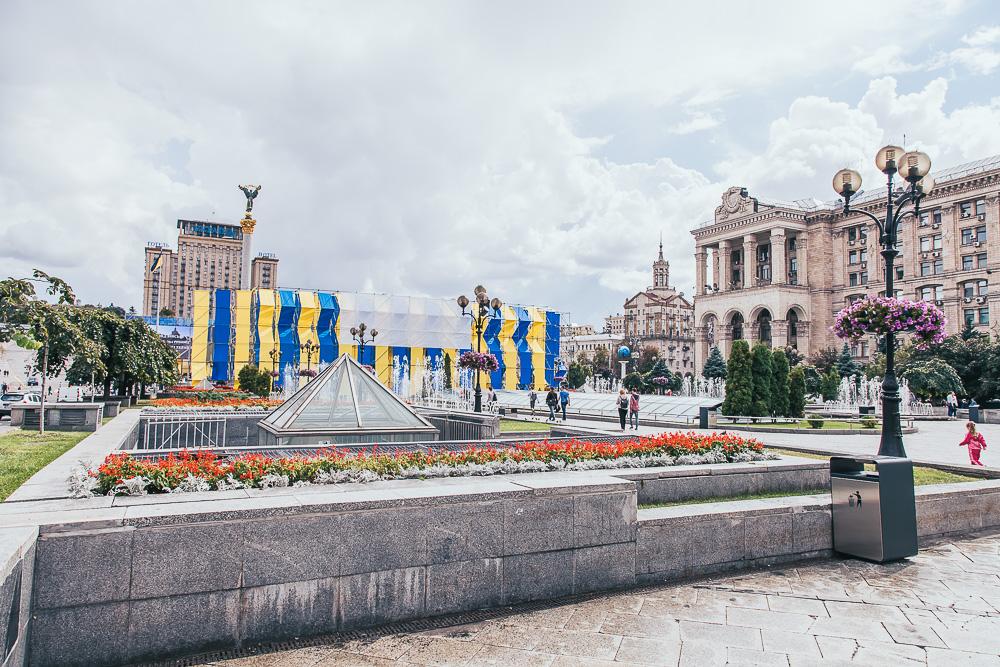 Maidan Nezalezhnosti – central square of Kiev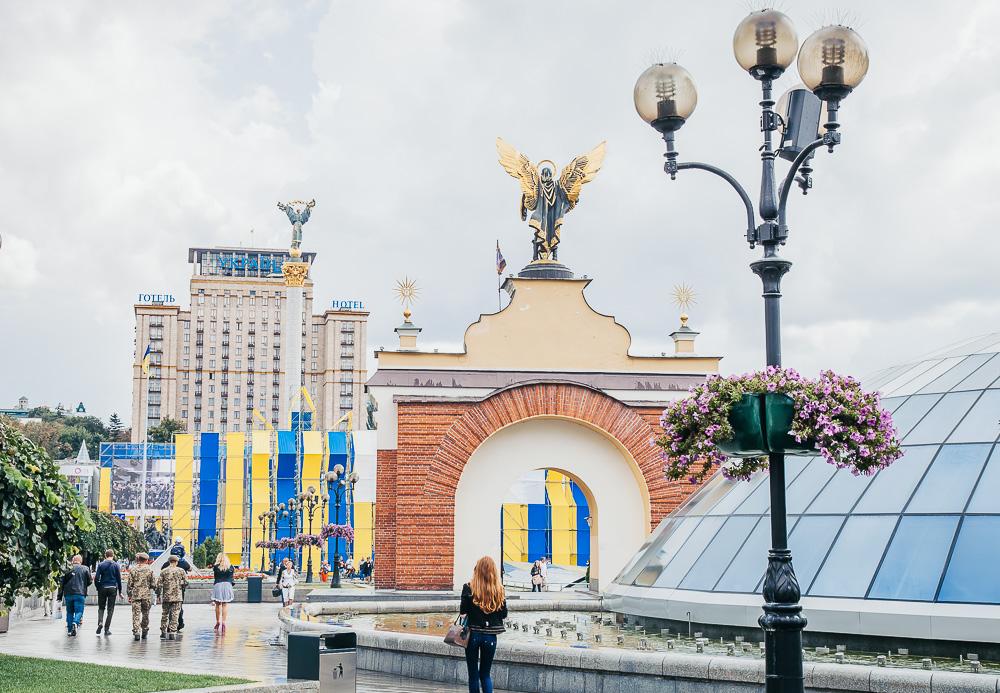 I had been expecting more gray and concrete from Kiev (which the outskirts of the city do have plenty of!), though after seeing how gorgeous Lviv is I should have known that downtown Kiev would also have some beautiful architecture.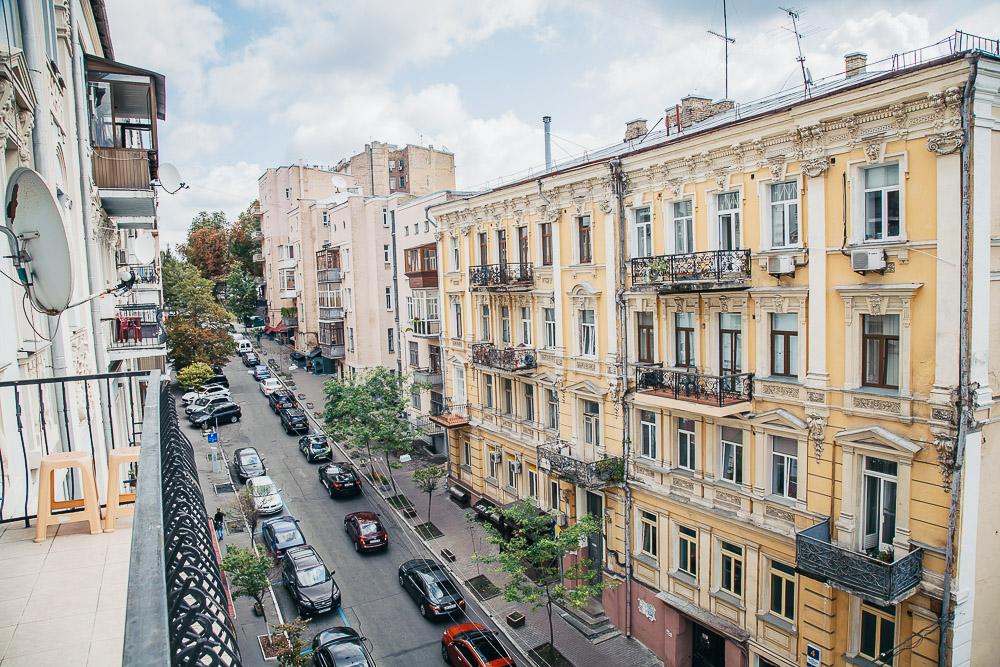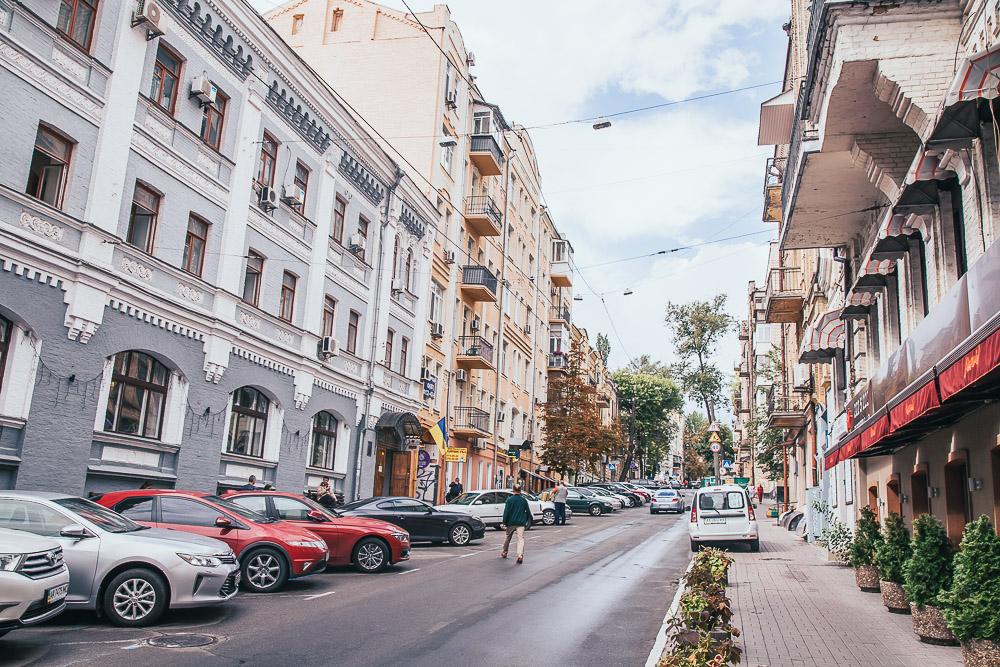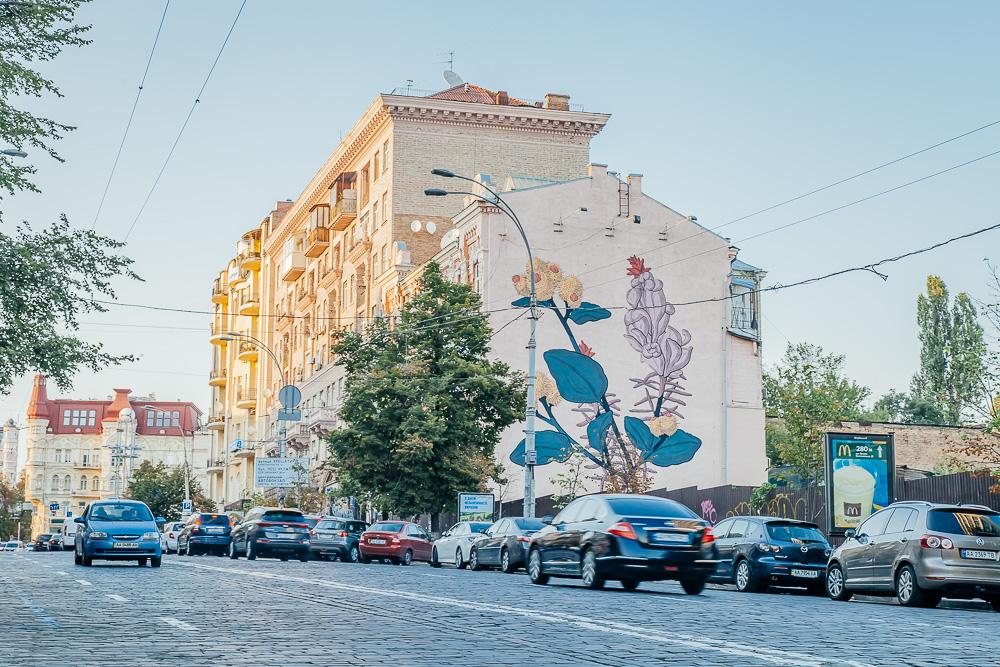 Kiev is hip and stylish but still has old Soviet quirks
Yes, Kiev's café scene is super trendy, but the city still has its quirks.
We decided to spend our last two nights in a five star hotel outside the city center, mostly because it was a billion degrees in Kiev and we wanted an outdoor pool, but also a little bit because we wanted to see how Kiev does lavish.
This was definitely the most random part of our trip, but maybe secretly my favorite too. The hotel is surrounded by big apartment blocks – and a couple buildings down from a Kia Motors! – and there was a wedding reception both nights we stayed there.
Now, if I were a cooler person this would be the part of the blog post where I tell you about my adventure crashing two Ukrainian weddings, but instead my friends and I just quietly peeked inside from the hallway, wondered out loud what Minnie Mouse was doing there, and went to the supermarket to find some Ukrainian delicacies to dine on while watching ten more episodes of This Is Us.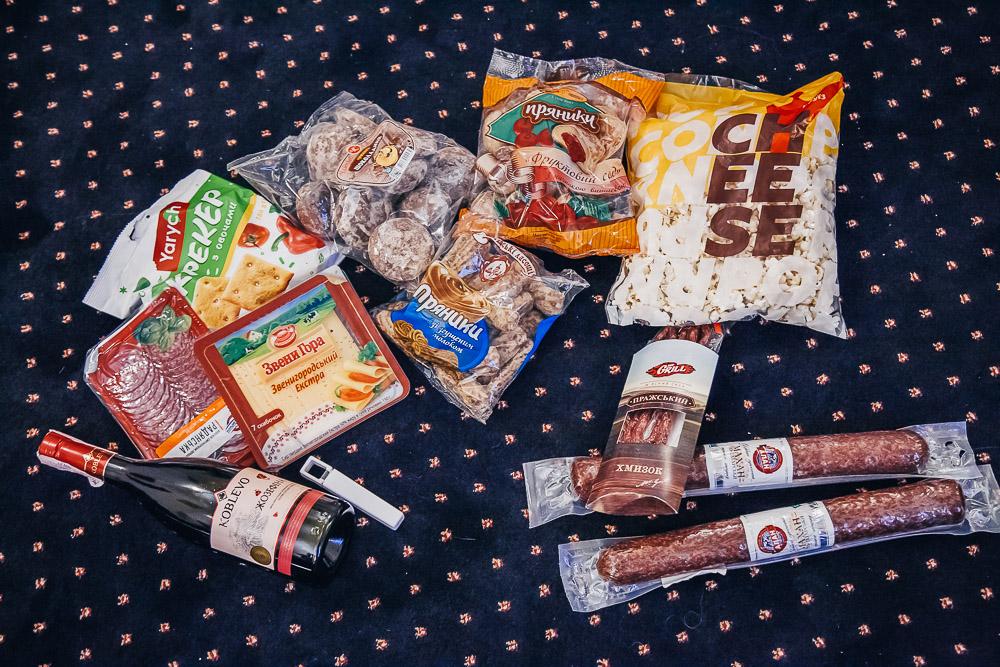 Accommodation in Kiev
We spent our first three nights in an apartment at Fire Inn, which was lovely and super cheap and right around the corner from our favorite American diner! It's right next to Taras Shevshenko Park and several streets with trendy restaurants. Check current rates and availability here
We then spent a couple of nights in a BestKievApartment. I loved this apartment – like, I kind of wanted to move in for good – and ours was right on the corner of Maidan Nezalezhnosti, Kiev's central square. The view was beautiful, and since we were there for the lead up to Independence Day we could watch the celebrations from our balcony!
The restaurants in this area were a bit more expensive than the ones by Fire Inn, but I think this apartment was nicer (and possibly slightly cheaper as well). The only downside is they don't have a reception, so we had to arrange to meet someone to get the key and couldn't store our luggage after we checked out. Check current rates and availability here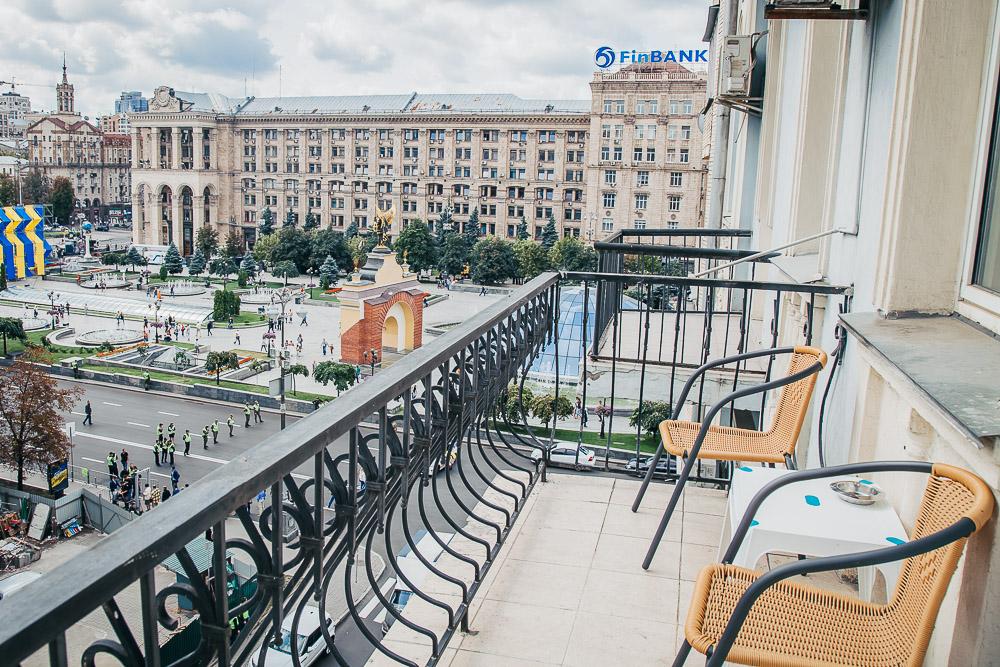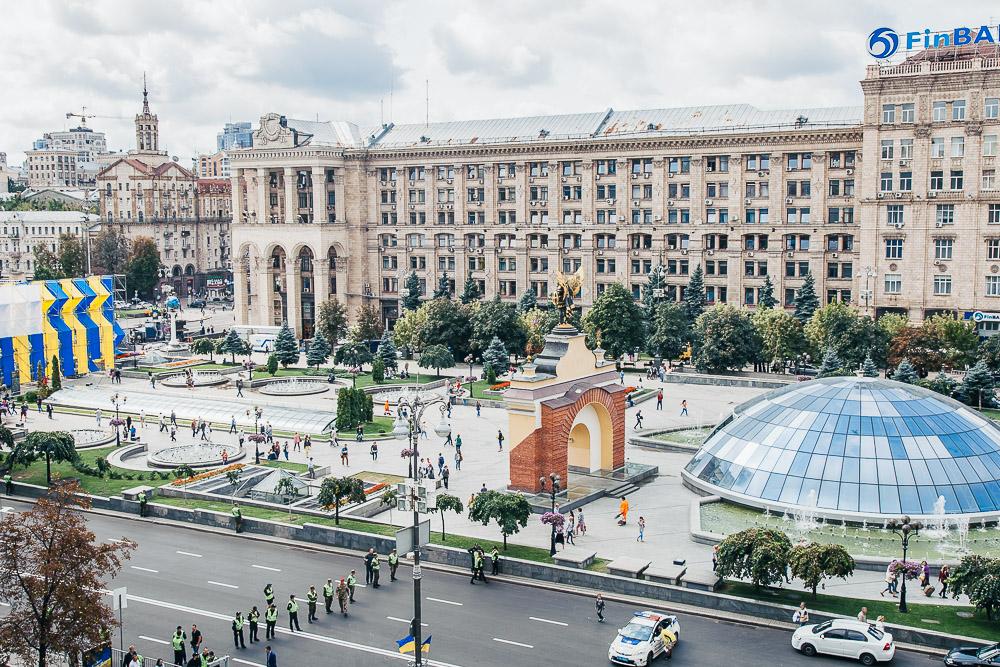 And then we spent our last two nights in Kiev at City Holiday Resort & SPA, which I don't know if I'd necessarily recommend, as it's far from the city center and not really nearby anything interesting.
But the hotel itself is super fancy (yet quite cheap), has indoor and outdoor pools, a spa, and while perhaps not giving the best experience of Kiev did feel like a special Ukrainian experience in itself. Check current rates and availability here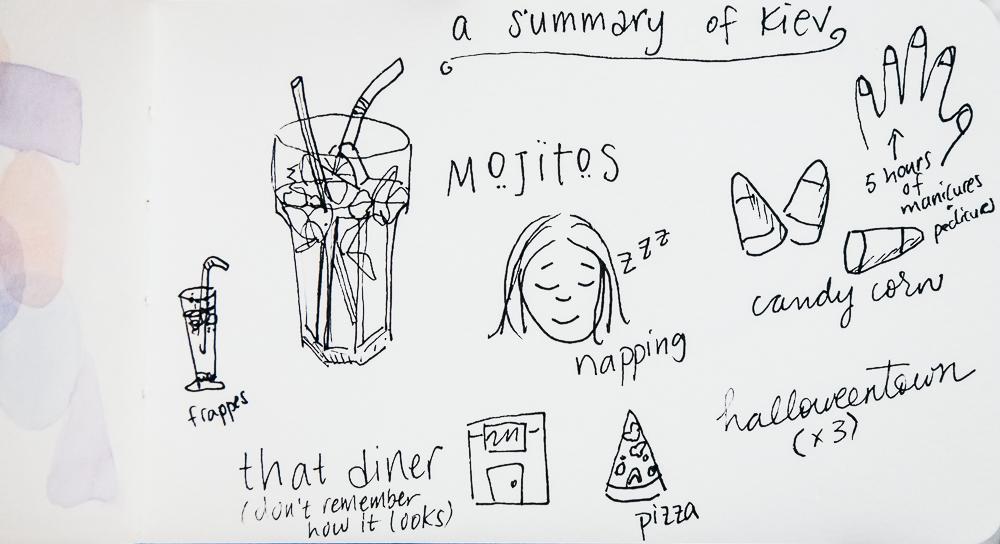 stolen from Stephanie's sketchbook
If you're looking for some more tips about traveling in Kiev and all over Ukraine, check out my friend Lena's fantastic travel guide,
Insane Ukraine: Your Guide to Hassle Free Travel
, which you can
get here.
 I can highly recommend it!
PIN IT