If you're traveling to Beijing and need a visa to China, I highly recommend getting one through iVisa, which is super easy and takes away all the hassle (I had some problems when I tried to get a visa to China independently on my first trip there). 
Remember that time I convinced Alicia to meet me in Egypt when everyone thought it was too dangerous to go? Or that time I convinced her and Bryce to fly to Burma to surprise all of our friends?
Well, can you guess whom I convinced to join Dan and me in China? I mean, who doesn't want to spend a day at a Chinese embassy the day after traveling for 25 hours? I think they made the right choice!
Our first full day in Beijing just so happened to be Alicia's birthday, so we immediately set out to make an epic birthday itinerary.
"We want to do something fun today. See the quirky side of Beijing," we told the staff at our hostel. They recommended going to the Hutongs.
The Hutongs are cool, but also flooded with tourists and not exactly what we were looking for, so we turned to Google to help us out. Except that, oh wait, Chinese Internet is insane, so we had to use Yahoo instead. Same same, I guess.
We went to Maan Coffee to do our research and wow, it's the biggest and strangest (quirkiest?) coffee shop I've probably ever visited. I sort of wanted to call it a day and just hang out at Maan Coffee for Alicia's birthday, but Alicia said that it wasn't quite birthday standard. Though she did say she'd like to get married there – I mean, look at the trees!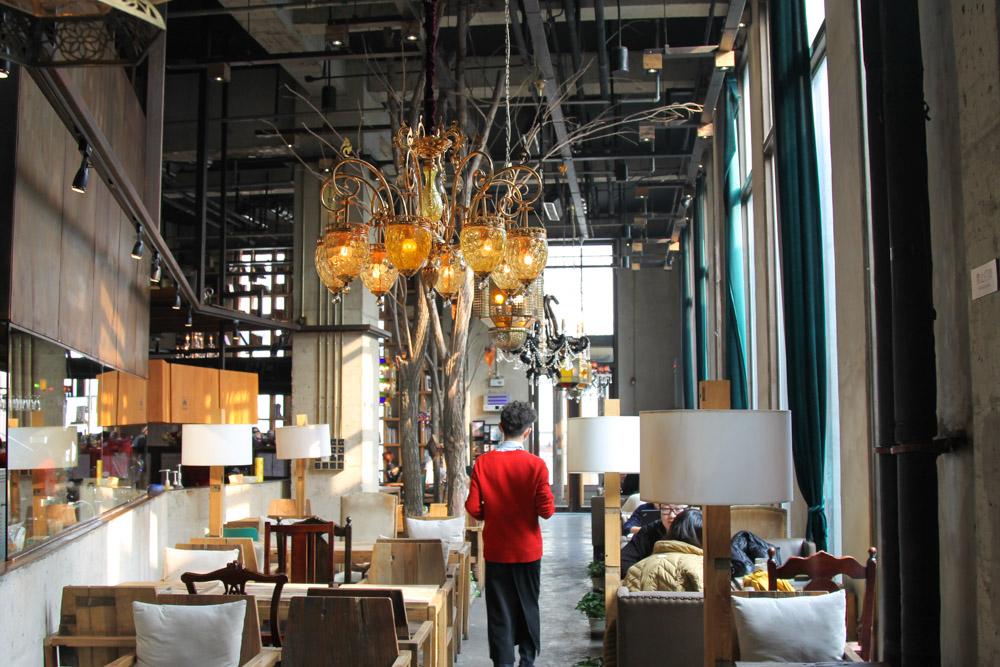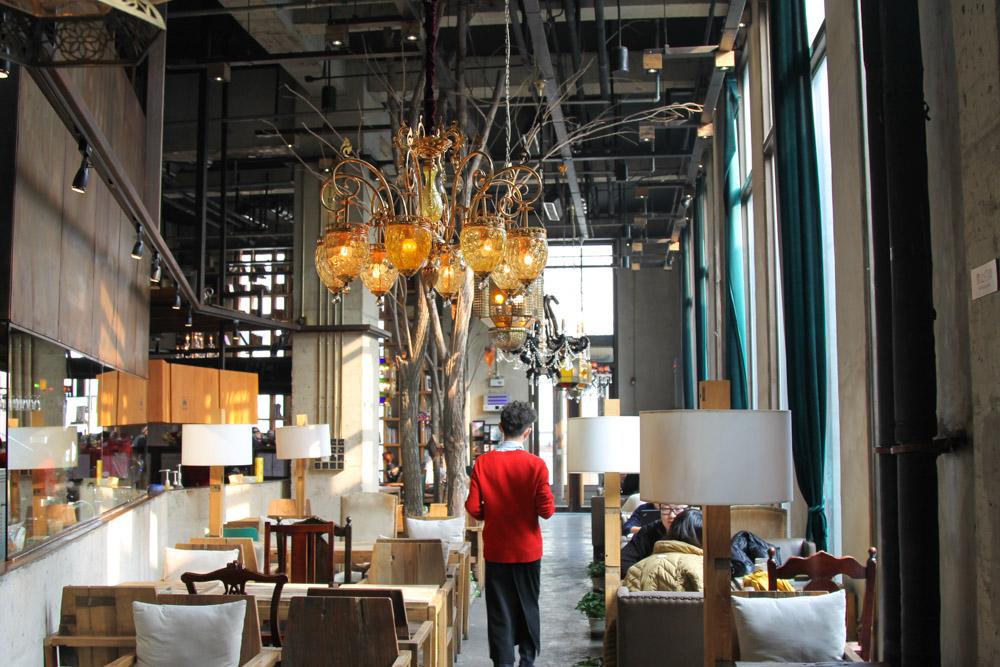 After sifting through endless lists of "Quirky Things To Do in Beijing" suggesting trips to the Great Wall, Forbidden City, and Tiananmen Square (maybe Yahoo and I have different understandings of the word "quirky") I realized I had to get more specific. I couldn't find any mall roller coasters, and sadly it looks like the abandoned amusement park Wonderland has finally been demolished, so we settled on ice skating!
We went to Shichahai because it was the closest skating rink that we could find, but what a lucky choice it was! We should have known that Beijing wouldn't be offering just plain old fashioned ice skating, oh no. For under $10/person, Shichahai rents out ice skates, ice sleds, ice bicycles, and rides on an ice slide. We chose two ice bicycles, which by the end of the day we all agreed was definitely the most fun ice vehicle on offer.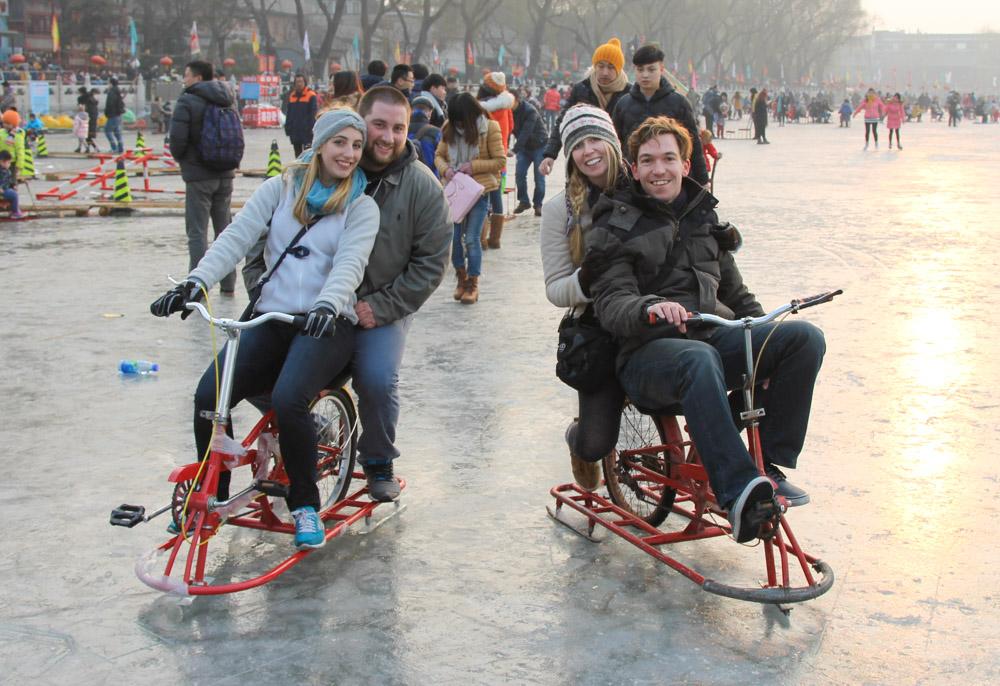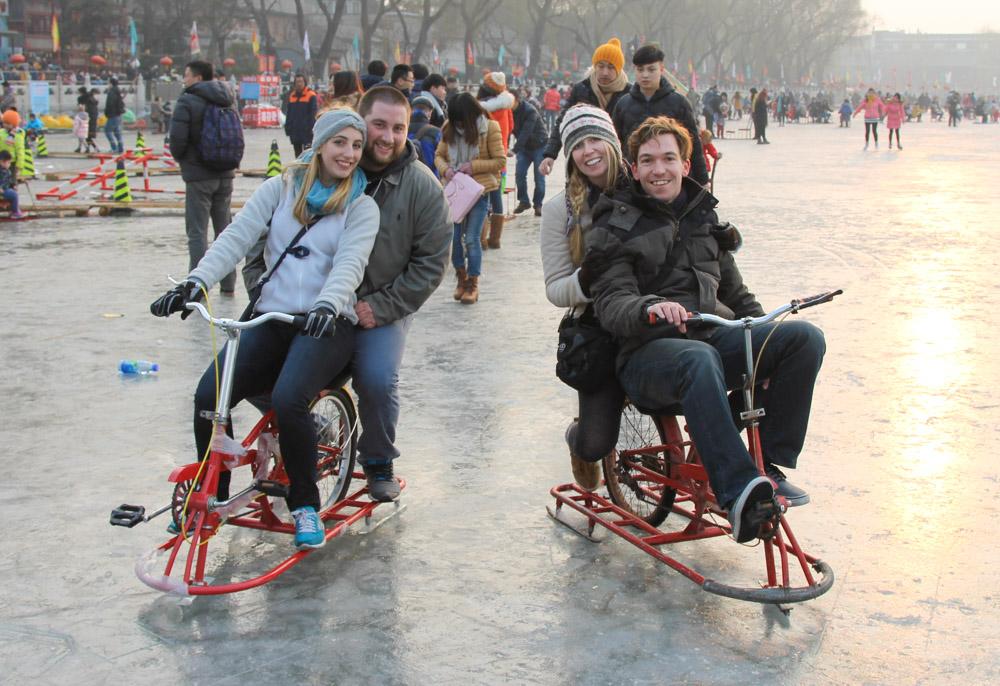 While it was super fun to race Bryce and Alicia and try to topple them, I also loved all the people watching at Shichahai. At any given moment at least 2/3 of the people on the ice were in peals of laughter – it was just so much fun! Seriously, if you are ever looking for something fun and unusual to do in Beijing in the winter, go ice cycling!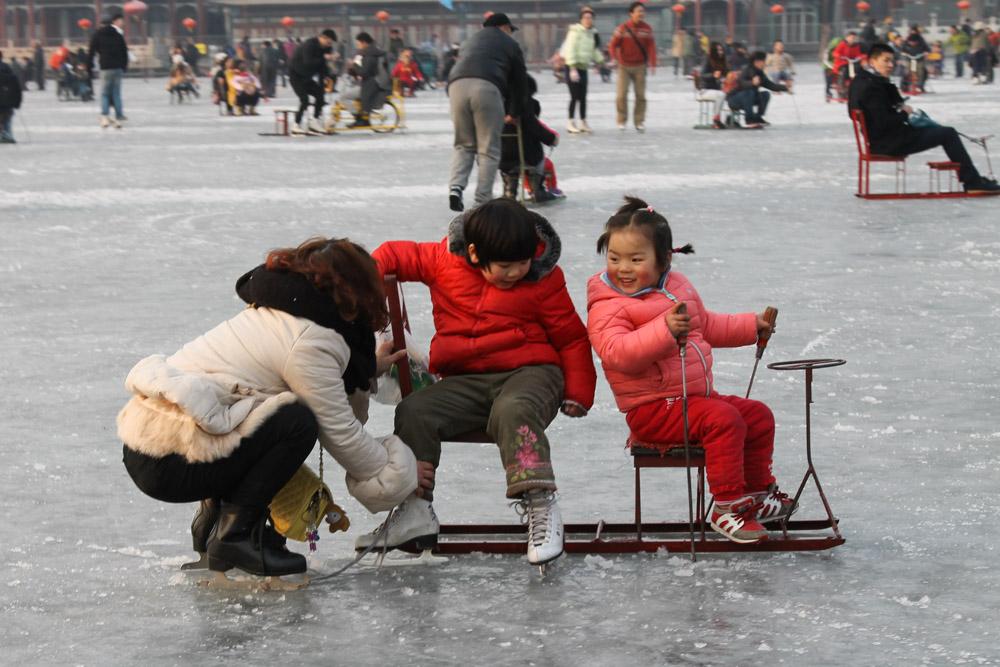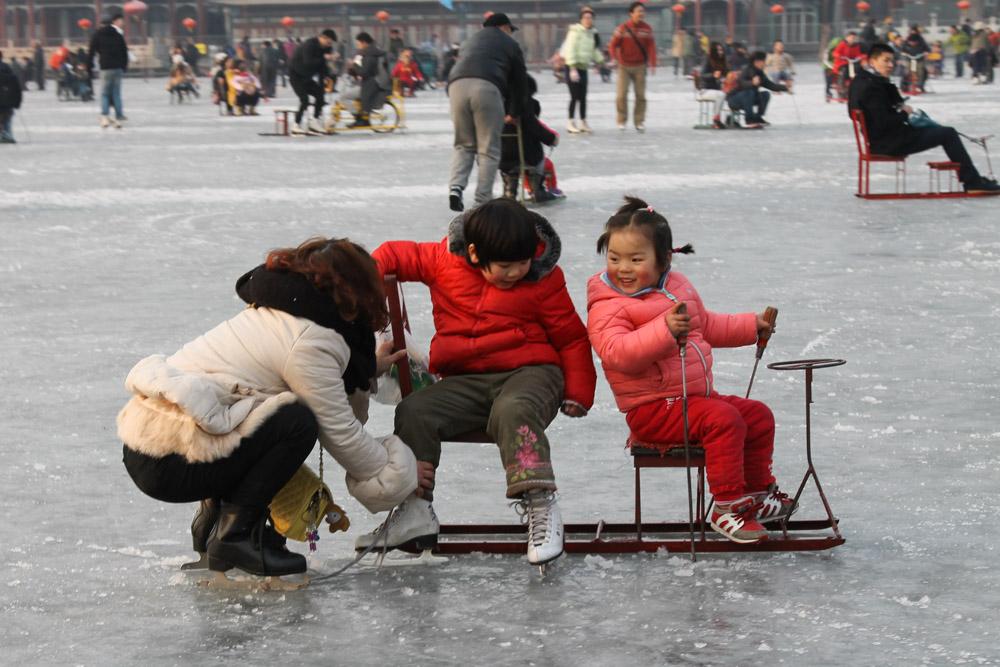 There were even yummy snacks to sample while cruising around the ice.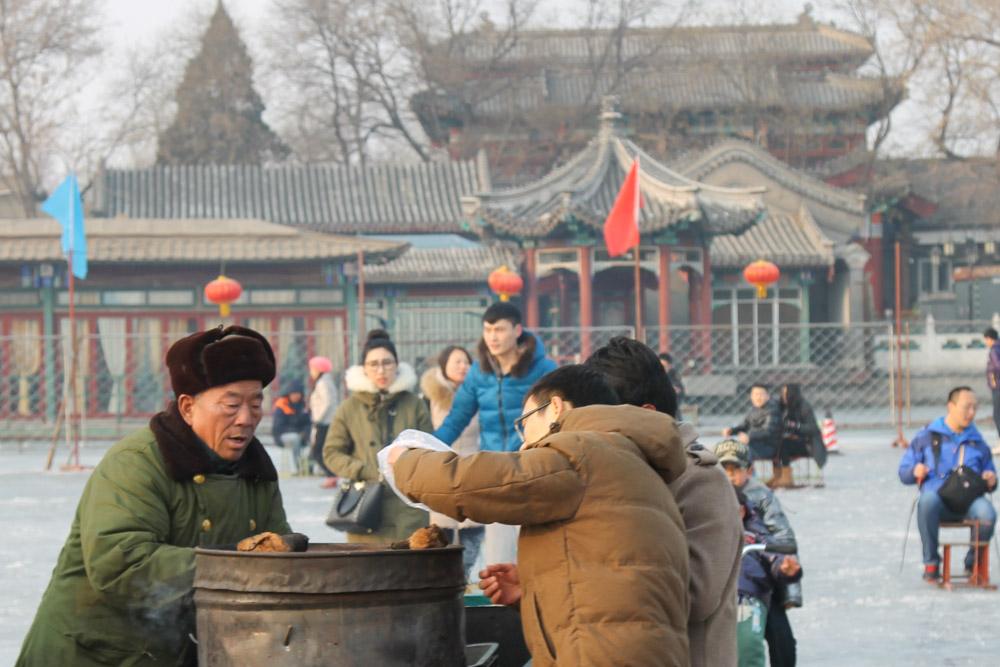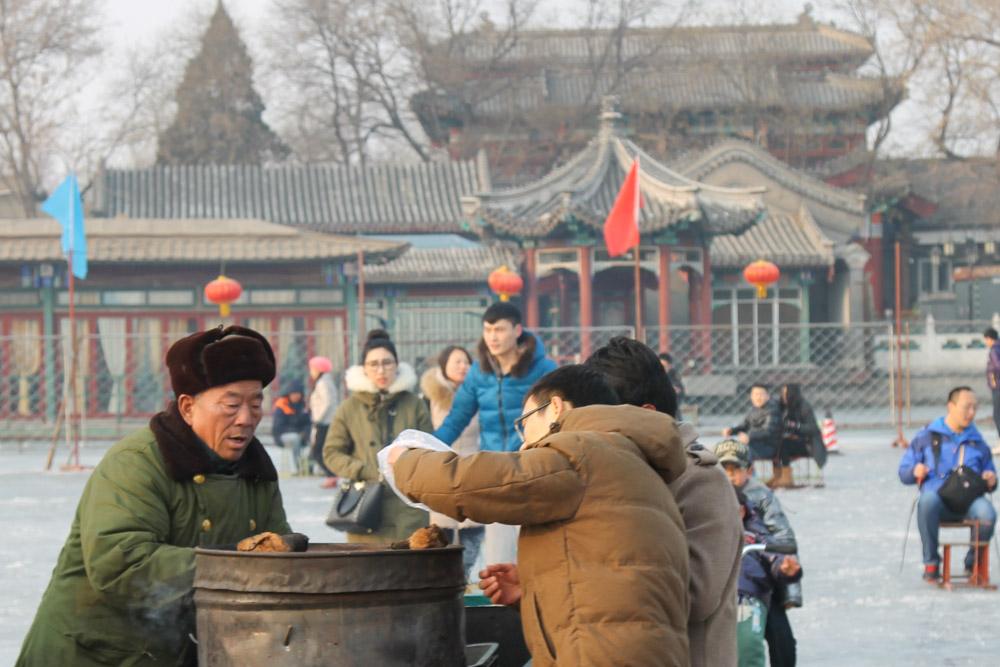 We of course had to go for the cotton candy, because Birthday.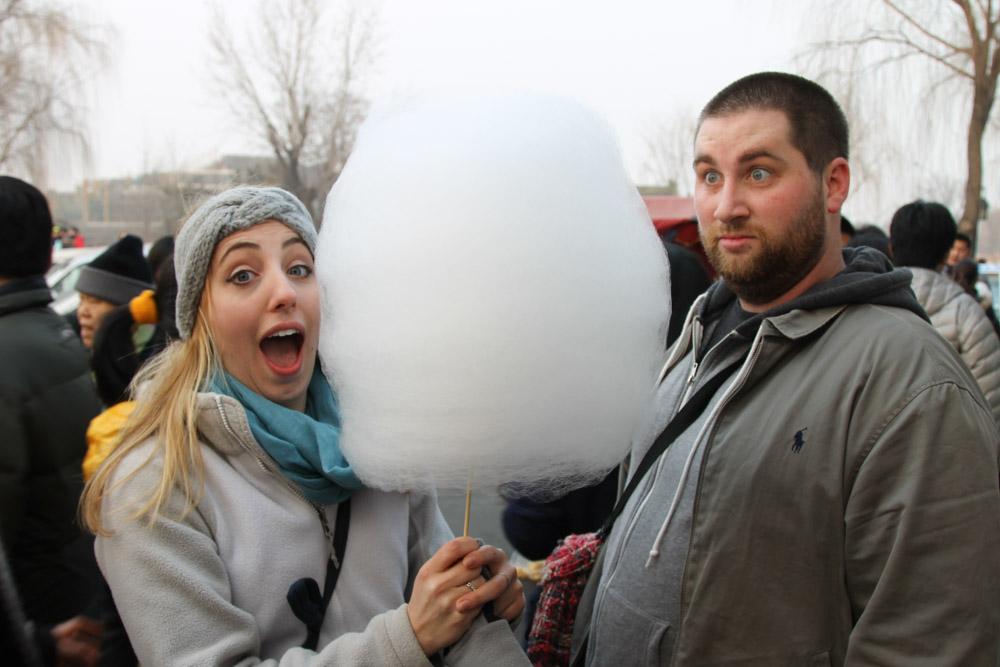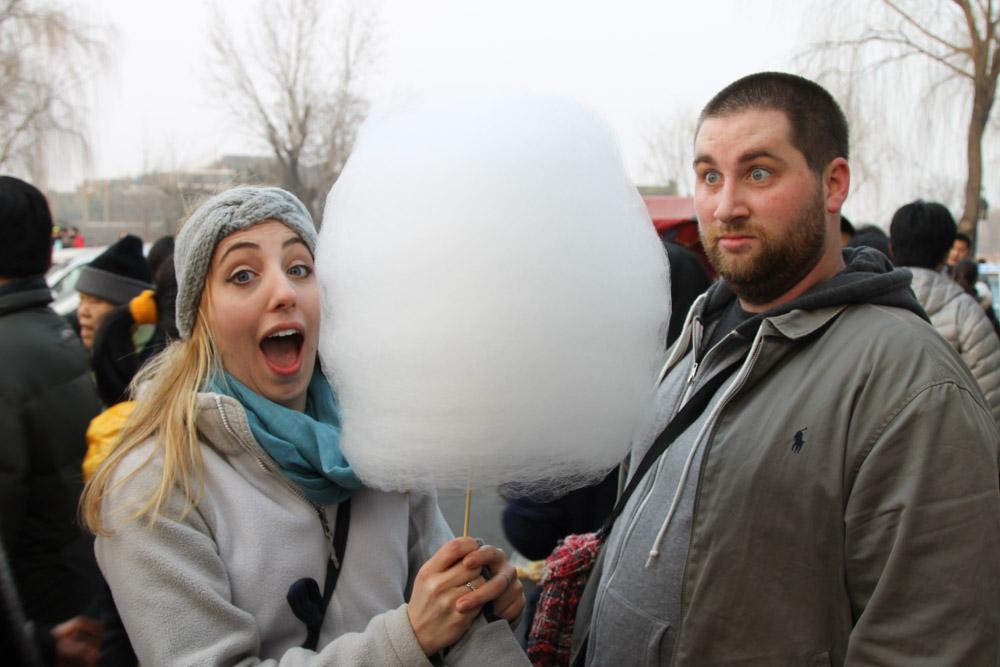 In the end our search for quirky and unusual things to do in Beijing didn't turn out quite how I had expected, but I consider it a resounding success. Now I just need to figure out where I can buy/make myself one of these ice bicycles in Norway!
Shichahai is a stop on line 8 of Beijing's subway. When you exit the station you should see the rink immediately, otherwise just follow the crowds!
In Beijing we stayed at Sanlitun Youth Hostel, which was clean and had a nice location, but the staff were so unorganized and unhelpful that I can't really recommend staying there.
https://www.youtube.com/watch?v=4N6jLrGCmSM&feature=youtu.be
PIN IT!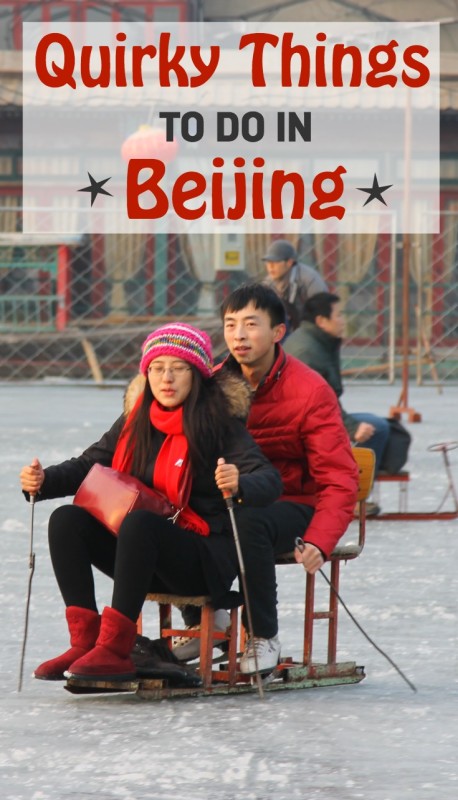 p.s. Please, please do not forget to get travel insurance for this trip!
After being hospitalized in Beijing (on a previous trip there) I swear by travel insurance. I use World Nomads, which has the best reviews, and they helped me find a hospital when I needed PLUS when I filed a claim with them all I had to do was send my receipts and I had a check in the mail from them within a couple of weeks. So easy!
You can get a quote here: