I'll be honest, I was skeptical about booking a holiday to Mallorca (or Majorca if you're English). In fact, the first time I visited Mallorca the only reason I agreed to go was that my boyfriend really wanted a beach holiday but was only able to get time off in May, and most of the other beach destinations in Europe would have still been too cold for swimming. Plus his mom's partner used to live on Mallorca and promised us that there's more to the island than big resorts.
I had only ever heard of Mallorca as a resort destination, and while maybe someday a resort holiday will appeal to me, right now it really doesn't. I mean, if I was going to go to Spain, I wanted to feel like I was in Spain, you know?
But it turned out Tim was right about his old home, and by the end of my two weeks on the island, I realized that I might just be turning into one of those Norwegians who wants to holiday in Mallorca every year. And sure enough, I have since gone back to Mallorca several times! I've also written a guide for where to stay in Mallorca here.
I most recently visited Mallorca in October and the weather was again perfect – not too hot, but still warm enough to go swimming.
I hadn't actually even planned to blog about my trip to Mallorca as it's such a popular destination I assumed I wouldn't have anything new to add to the Internet about it, but Mallorca surprised me so much that I thought maybe it could surprise some of you too. I now love this island so much and have lots of ideas and tips for what to do in Mallorca.
So if you're interested in staying away from Mallorca's resorts and experiencing the quieter (and more beautiful!) areas of the island, here are all of my favorite places and things to do in Mallorca: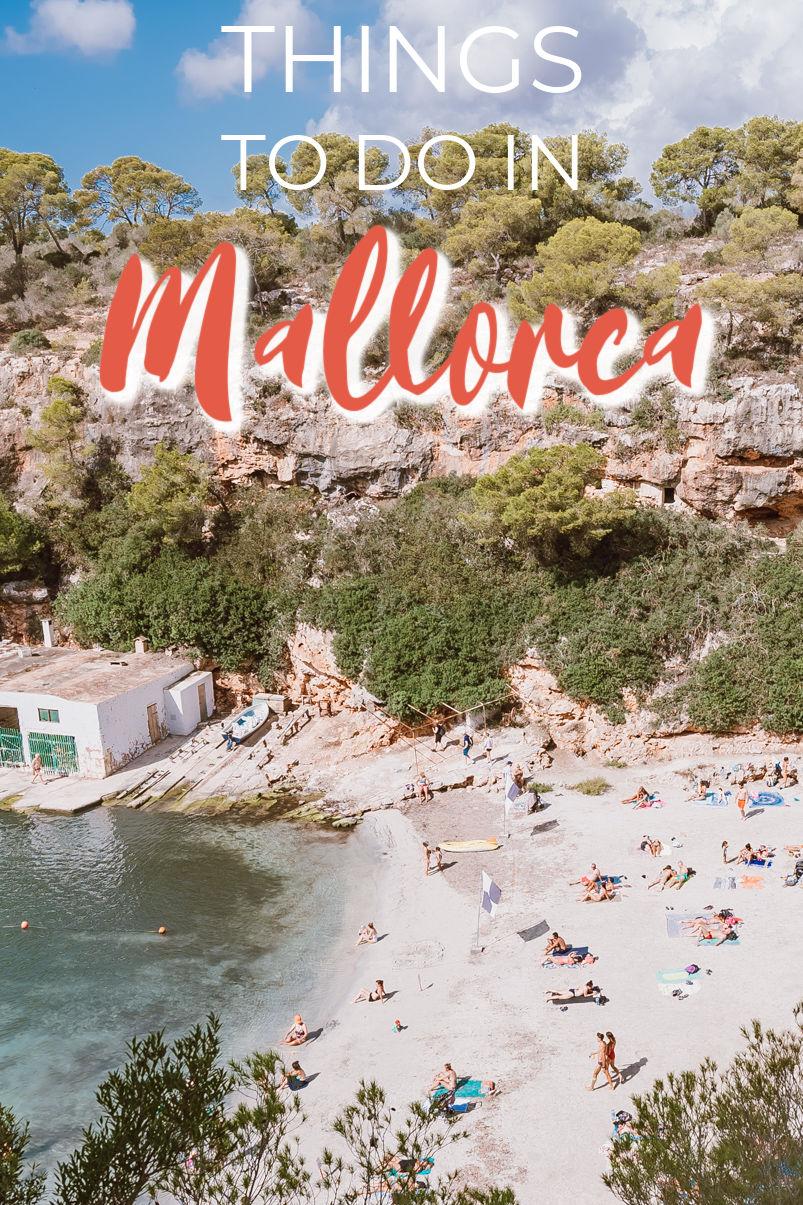 Rent a car
It's pretty easy to visit Mallorca without renting a car, as you can get buses and trains around the island and a lot of the big hotels will arrange a shuttle for you from the airport, but I've always chosen to rent a car in Mallorca so that I can explore off the beaten path a bit and easily access all the Mallorca's beautiful beaches.
I rented from rentalcars.com, which were the cheapest option when I looked – you can check their rates for Mallorca here.
I think I spent about half my time on the island just driving around – not really intentionally, but every time I got in the car to go somewhere I ended up driving off route to explore narrow roads and small villages.
Car rental on Mallorca is quite cheap, but if it's out of your budget or you don't drive, I also picked up a few hitchhikers who told me that hitchhiking around Mallorca is incredibly easy. As in, you probably won't have to wait longer than five minutes for a ride.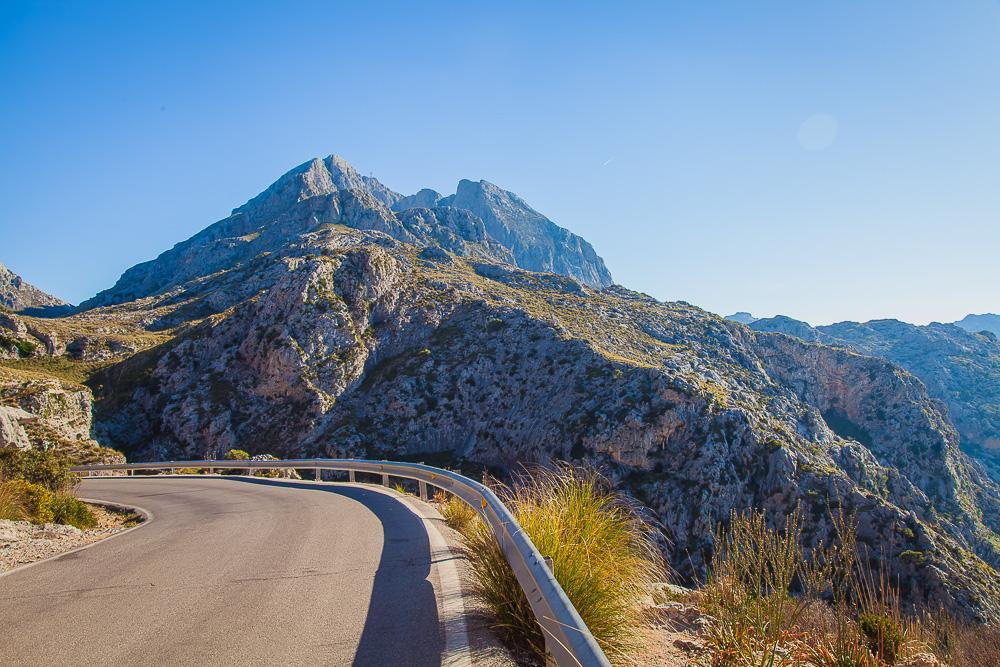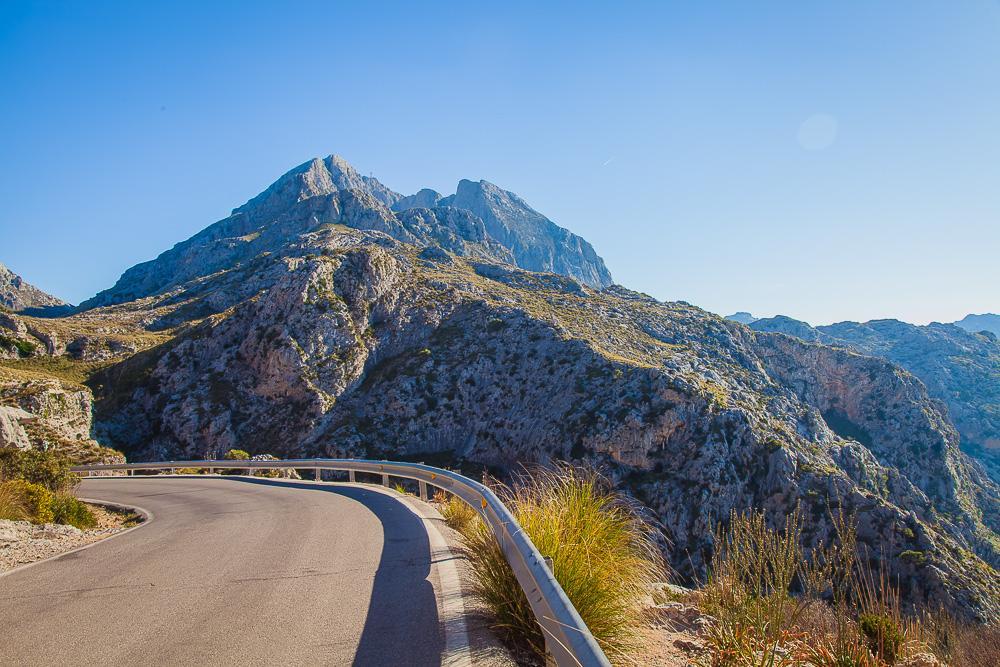 Spend a few days in Palma
My first stop on the island is always Mallorca's capital city: Palma. I've only ever spent a few nights here, but I always regret not staying longer.
I think I just love Spanish cities, and I really enjoy getting to experience a bit of Spanish city life while on a beach holiday.
I love that, aside from the very center, there aren't too many tourists here (people generally aren't visiting Mallorca for the cities), and walking through the neighborhoods makes me seriously consider replacing my Norwegian language books with Spanish ones.
In Palma I've stayed at the Mallorca Suites, which is really affordable and right in the city center. Another great option is the gorgeous Brondo Architect Hotel, also right in the center. And if you want to splurge, the Sant Francesc Hotel Singular looks absolutely incredible, as does the Nakar Hotel.
Also, for those that do want to see a little more of Palma, check out the many different tours around and near the city.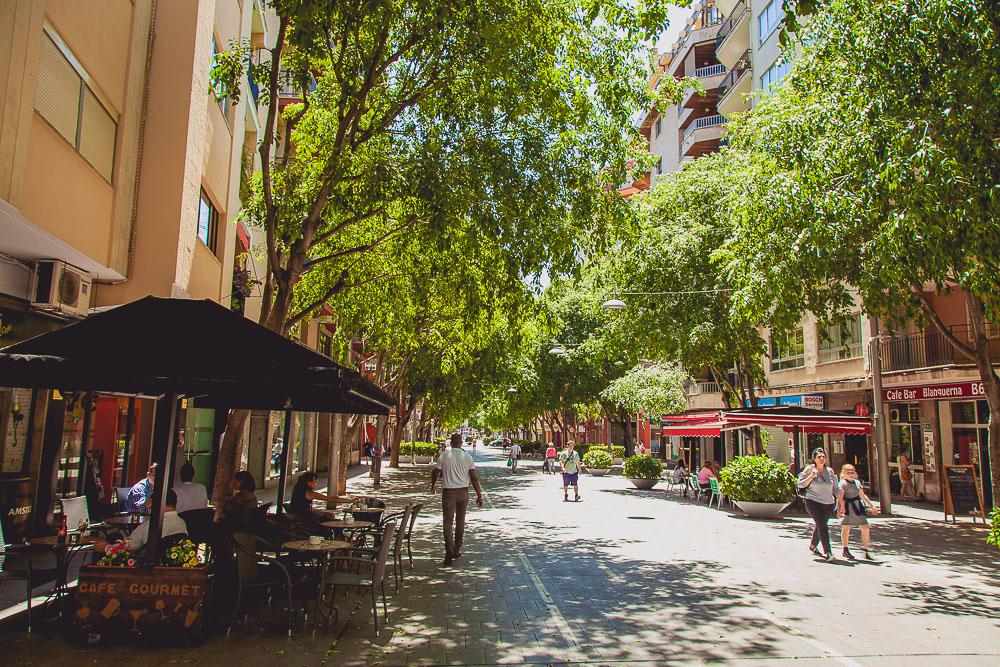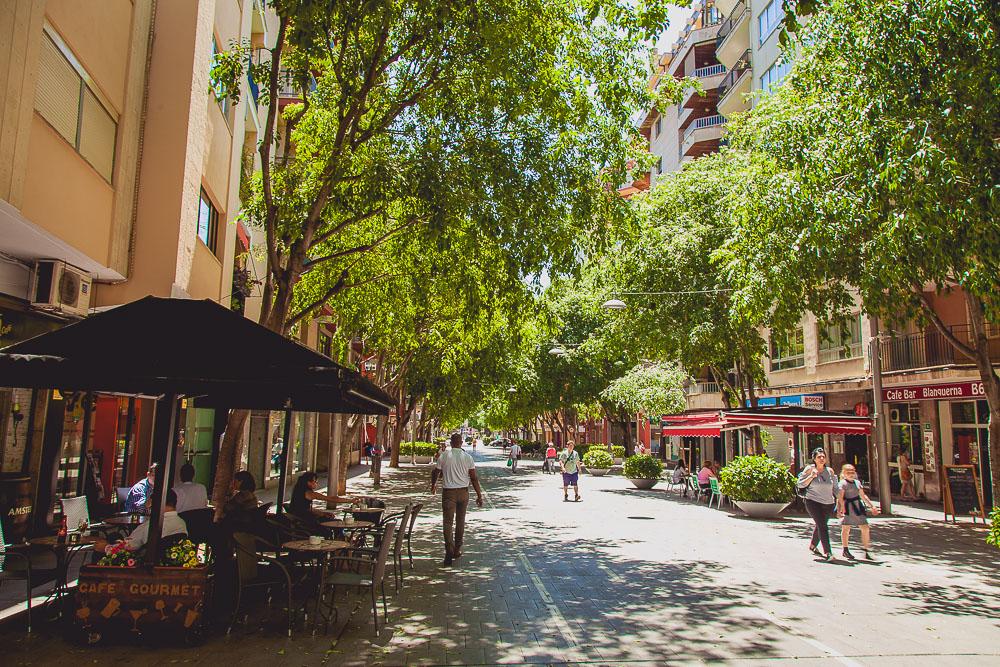 Hang out in Santa Catalina
Santa Catalina is my favorite neighborhood in Palma. This is where the fishermen used to live, and while the area is probably most popular for its huge indoor market, Mercat de Santa Catalina, Palma's oldest food market, I just love wandering through the pretty streets and imagining what it would be like living in one of those apartments.
There are lots of lovely restaurants here too – I probably would come here for dinner every night if I were in Palma longer.
Take a hot air balloon ride over Mallorca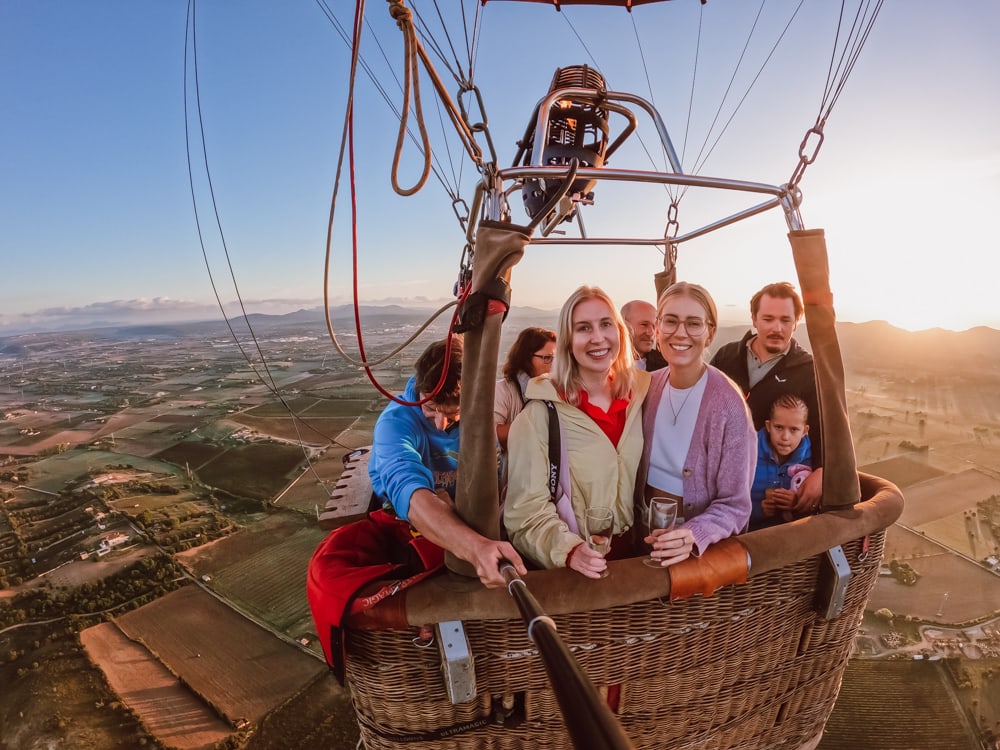 One of my favorite experiences in Mallorca was taking this hot air balloon ride!
The ride lasts one hour and you can do it either at sunrise or sunset. I'm actually kind of scared of heights, but the hot air balloon ride was so smooth and peaceful I actually felt totally safe and comfortable in the balloon. Plus Mallorca is so stunning from above.
I've written more about my experience taking a hot air balloon in Mallorca here.
Spend a few nights in Cala Figuera
While Palma was the place on Mallorca I'd most like to live, my favorite place to come on vacation was definitely Cala Figuera.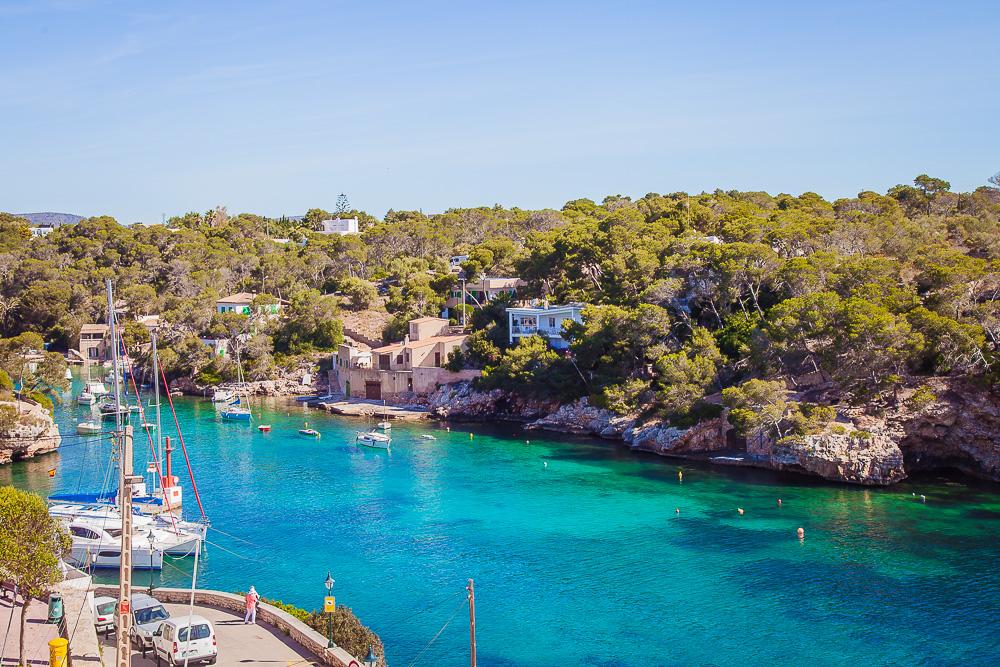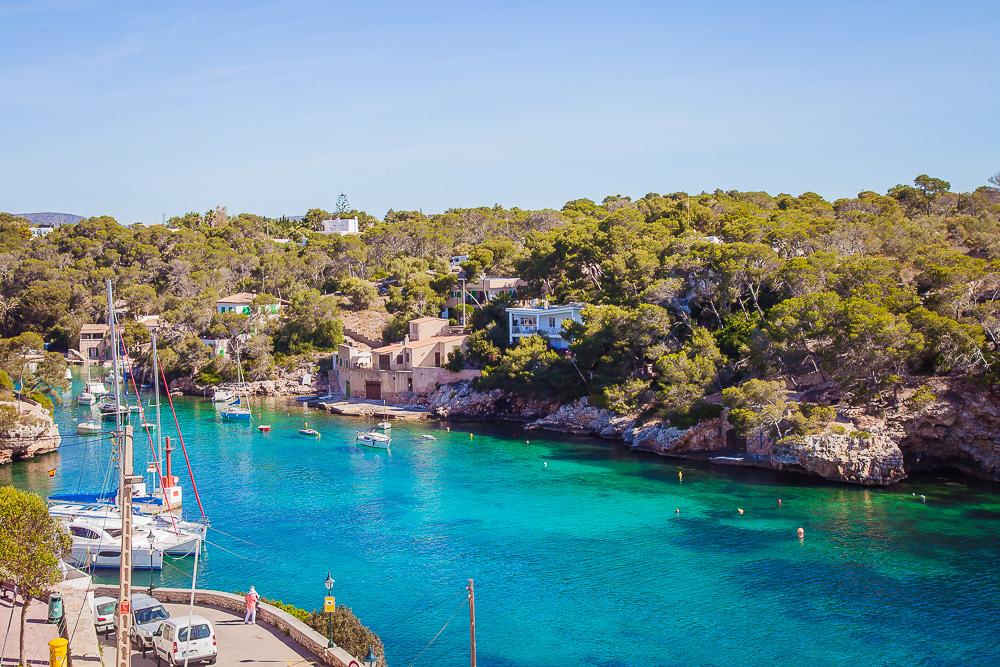 Cala Figuera is a working fishing port and doesn't have a beach, so it really feels tucked away from the tourist side of the island. I can imagine the village feeling different during the high season, but it was so quiet when I was there in mid-May. And now, maybe not everyone would consider this a positive thing, but the town was a bit rundown with several abandoned buildings that reminded me a lot of the Albanian coast.
And comparing any place to the Balkans is basically the highest praise I have.
I spent three nights in Cala Figuera and I could have happily stayed much longer. I stayed at Hostal Can Jordi, which has the best view out of all the places I've stayed on Mallorca. I loved looking out onto the water from the balcony and being woken up early in the morning by the fishing boats coming in with their catch.
Breakfast wasn't included, but instead, I would buy pastries and coffee at the local supermarket which had tables set up outside like a small cafe. Hostel Can Jordi is also such good value – it was the cheapest place I've stayed on Mallorca yet one of the nicest. Check current rates and availability here
If you're looking to stay somewhere a bit more upscale, Hotel Villa Sirena also looked really nice. It's right on the water (ask for a room with a sea view!) and has a restaurant and pool. Check current rates and availability here.
Eat at La Petite Iglesia
There are several restaurants along the water that were quite lively at night, but my favorite restaurant was a few streets back from the water in an old church. La Petite Iglesia is run by the sweetest french couple and the food there was so, so good.
Go sea caving
If you want a really cool adventure, you can go on this sea caving excursion. During the 5 hour excursion you'll explore Mallorca's most beautiful caves and get to see a totally different side to the island.
Coasteering on Mallorca's cliffs
I'm way too scared to climb cliffs, and certainly to dive off of them, but if you're braver than me this coasteering excursion looks so fun! And the views are truly epic. In fact maybe I will do this on my next Mallorca trip.
Spend a day out on the water
Why just admire the sea from land when you can get out on it? Mallorca offers tons of different boat cruises leaving from different parts of the island, like this yacht cruise.
Or you could go jet skiing! You don't need any previous experience with this jet ski trip.
Explore the beaches in Mondrago Natural Park
I had so many favorite beaches on Mallorca that I've written an entire blog post detailing my favorites, but I'm going to mention the beaches in Mondrago Natural Park here as well because they were my favorite favorites.
The beach is beautiful, and it also just had a really great vibe. It was busy, but mostly with Spanish people (again, this might be different during the high season), it has a little shack selling drinks and sandwiches, and since it's in a park there are no hotels or resorts by it.
Hike down to Calo des Moro
I wrote more about Calo des Moro, the prettiest beach I visited on Mallorca, in my post on the beaches, but I also wanted to mention in here because the hike down to the beach was so beautiful. If you visit this beach, definitely work in some time to hike around the surrounding cliffs as well!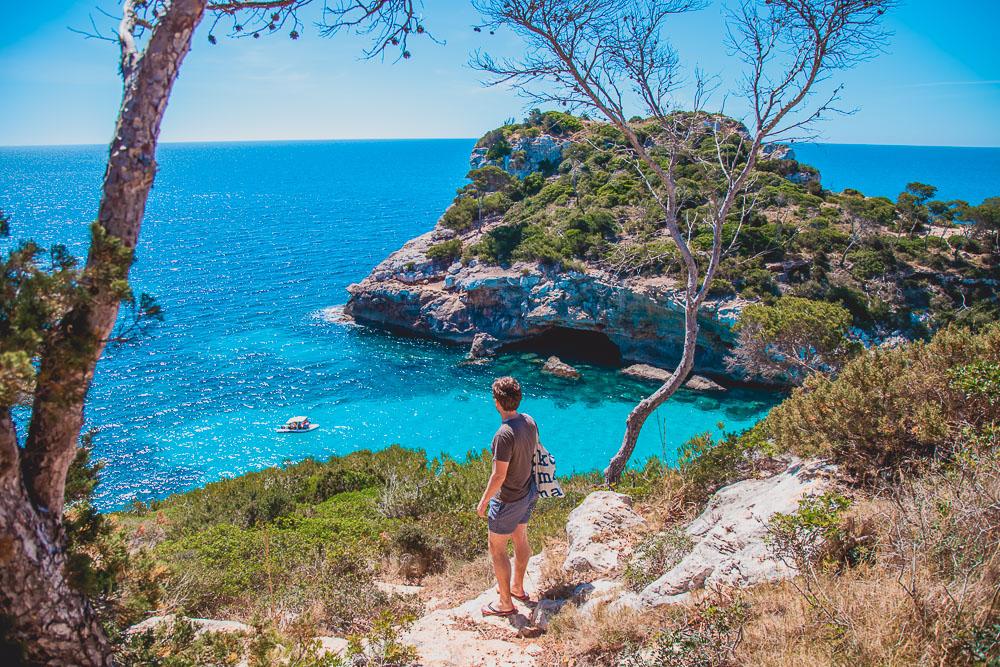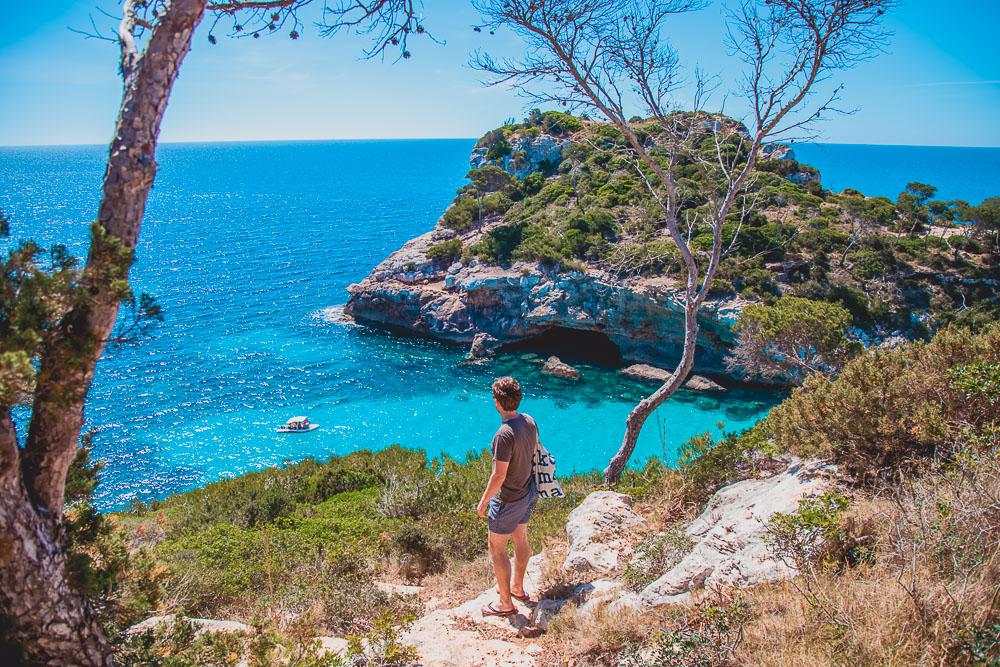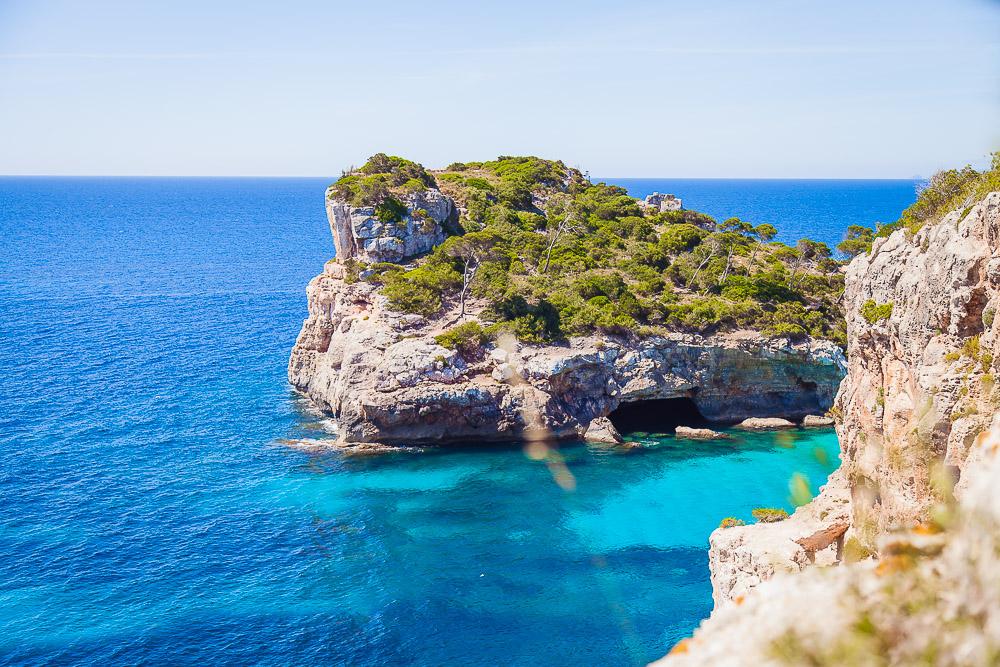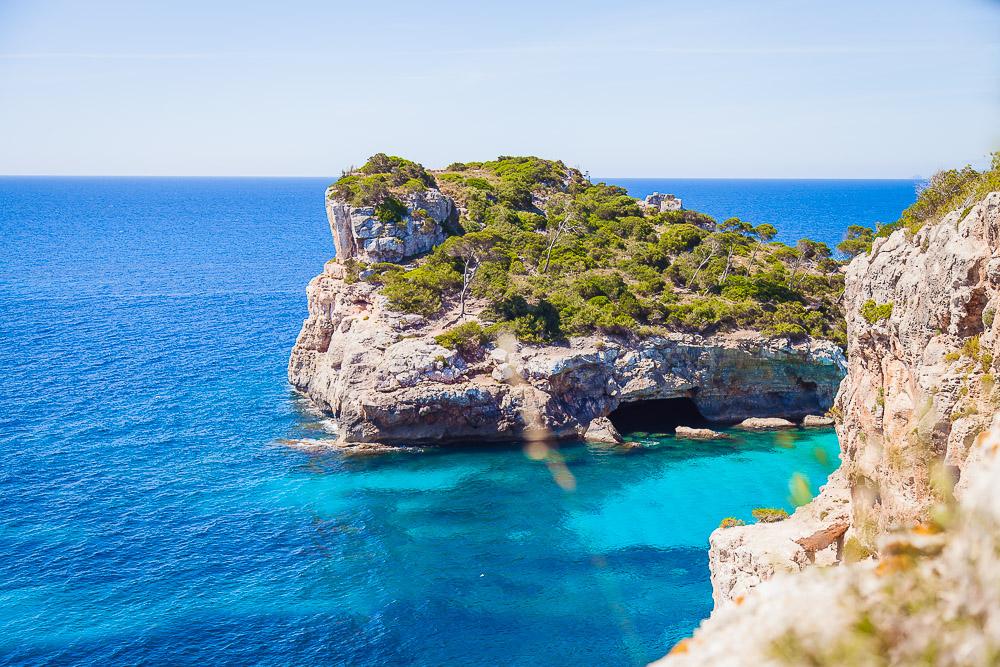 See Es Pontàs – Mallorca's version of the Azure Window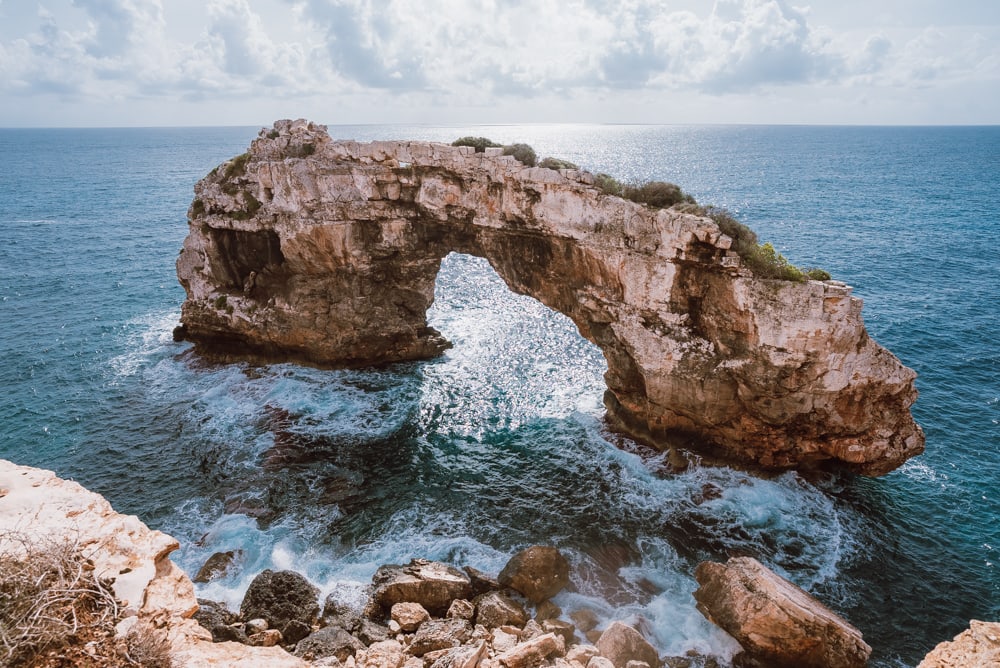 Es Pontàs is a big natural arch in the water that looks kind of like the Azure Window that recently collapsed on Malta. It's right by Cala Figuera and worth visiting if you're in the area.
Eat lunch in Santanyi
Mallorca really does seem to have two completely different sides to it – the resort towns that are full of huge hotels, English pubs, and souvenir shops, and the lovely little Spanish towns and villages where you'll struggle a bit if you don't speak any Spanish (hello, that's me).
While staying in Cala Figuera, I accidentally drove through Colonia Sant Jordi, a big resort town, and it was so grim. Or at least, it was so not somewhere I wanted to be. But then I drove through Santanyi and immediately fell back in love with Mallorca. Santanyi has a lovely square with little restaurants and cafes and is the perfect place for a quiet stop for lunch or coffee.
Spend a few nights in Colonia de Sant Pere
Colonia de Sant Pere was the most "holiday-y" place I've stayed on the island – my hotel even had a pool!
Colonia de Sant Pere has lovely views and a good beach holiday feel without being crowded or bland. I'm actually surprised this town isn't more popular – the mountain backdrop made the beach all the more lovely, and there were lots of seaside restaurants to choose from at night.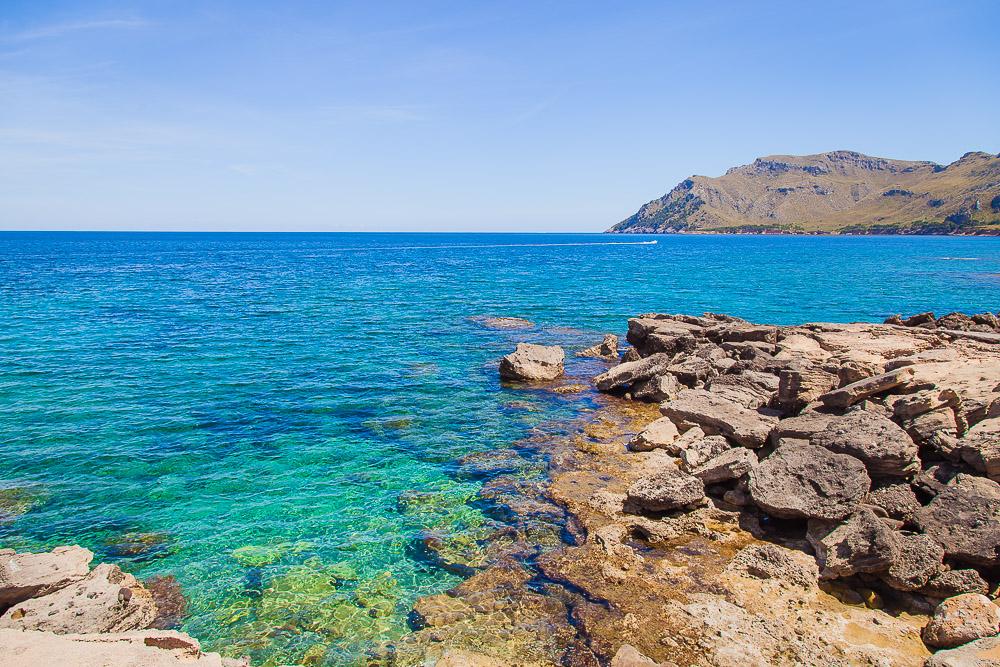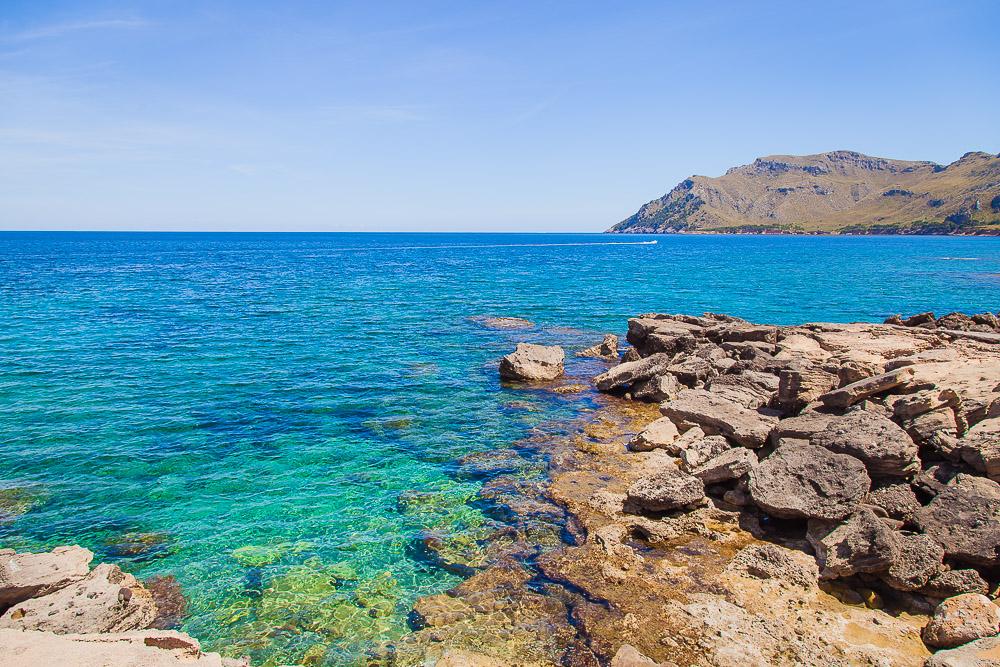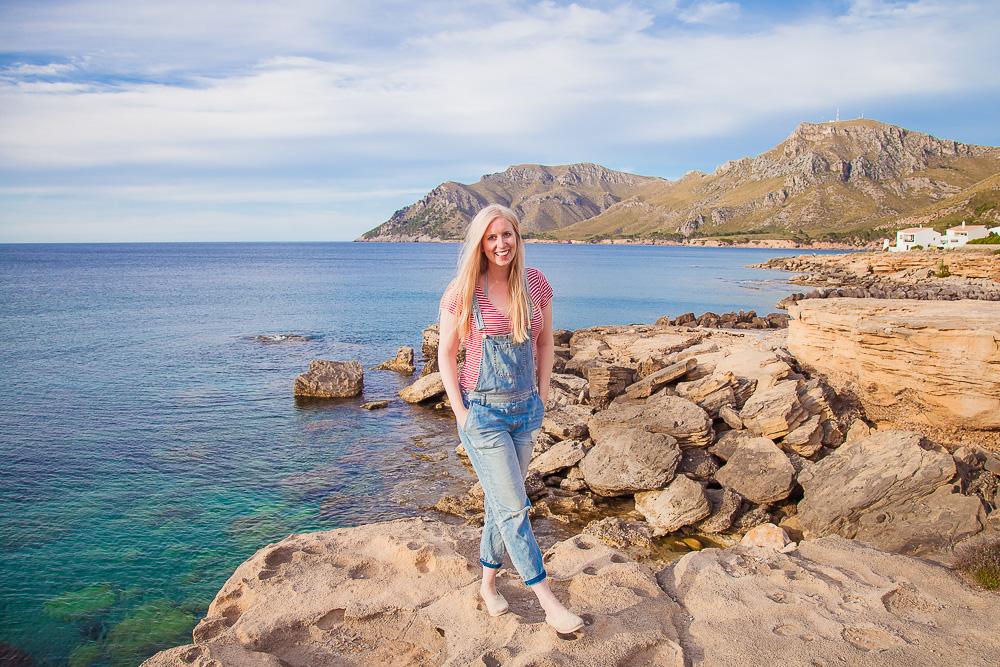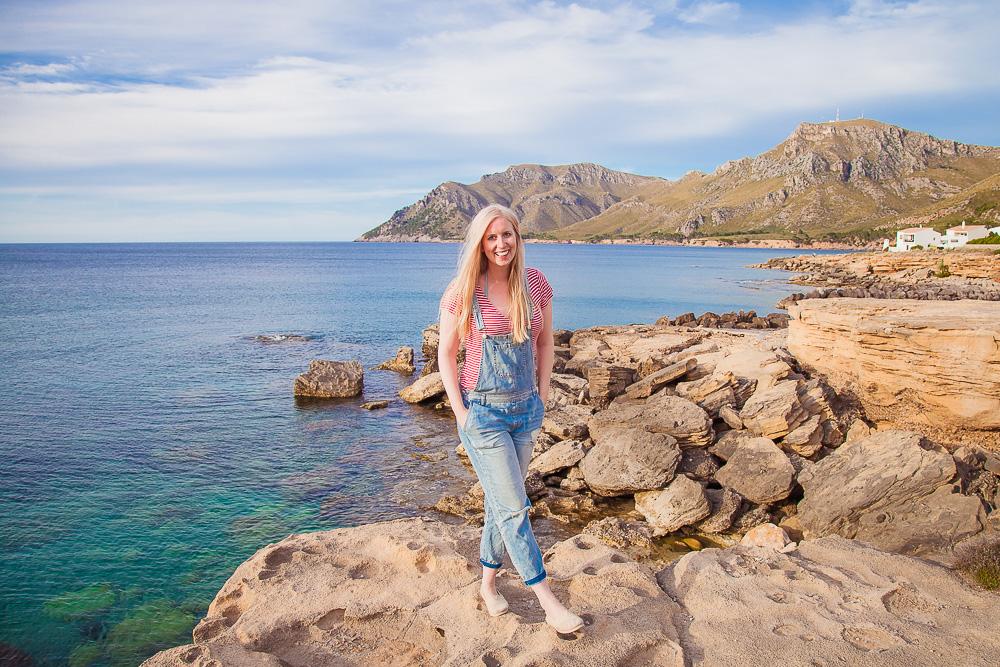 I loved the hotel I stayed at here, Hotel Solimar. It has a beautiful garden and pool and the woman running it was really, really nice. She only speaks Spanish and German (maybe a little English too) so I communicated in German, and she was very eager to help my friends and me enjoy our time in Mallorca.
I also loved the breakfast here, probably because it was just like a German breakfast and the Germans really do know how to breakfast. We ate outside in the garden every morning and if I had just wanted a quiet beach/pool holiday I could have happily stayed here the entire time. Check current rates and availability for Hotel Solimar here
Or at least watch the sunset from Colonia de Sant Pere
Mallorca has some amazing sunsets, and the nicest I saw were from Colonia de Sant Pere. I only managed to get a picture of it on my phone, but it still looks so pretty: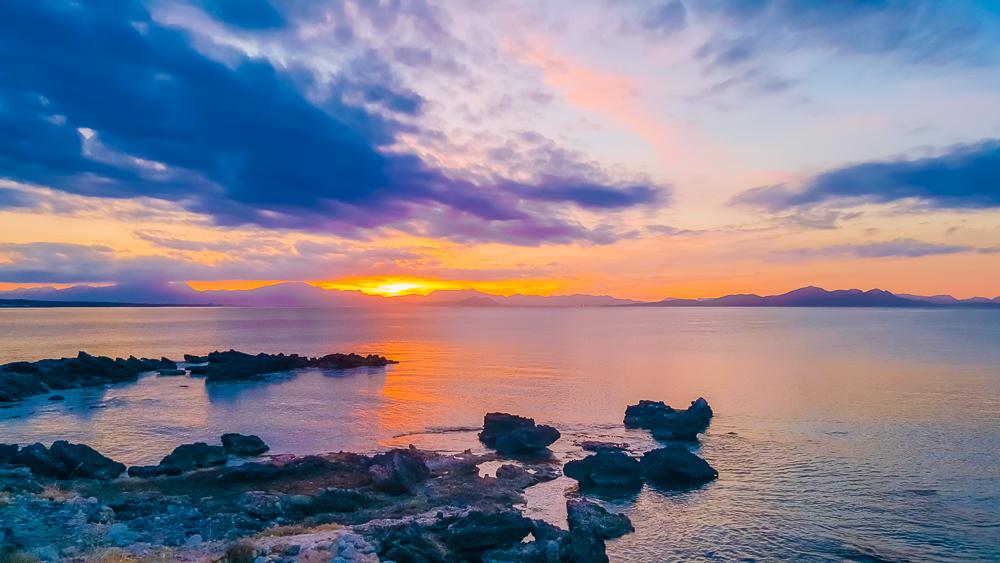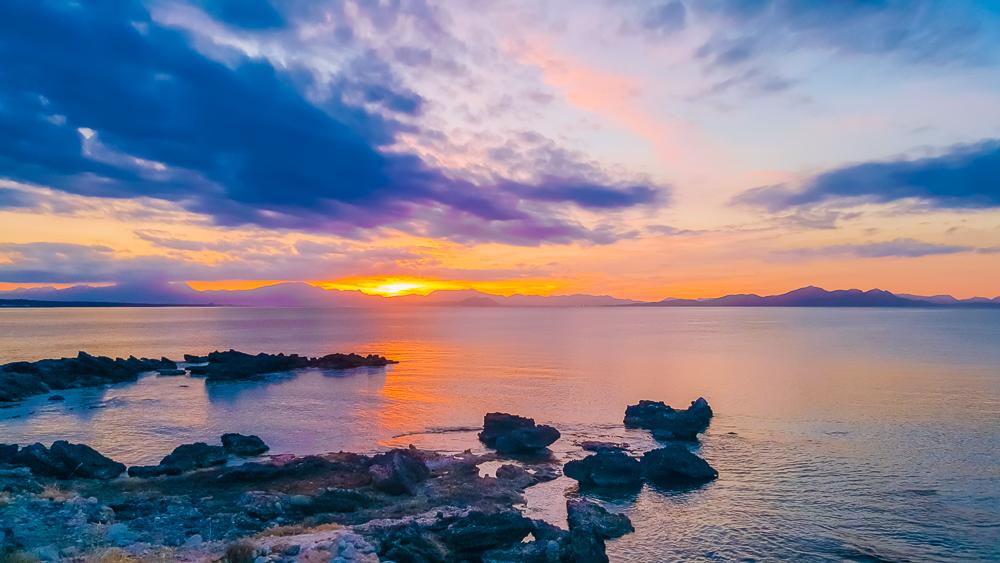 And eat at Restaurant Es Mollet
Colonia de Sant Pere has a lot of quite fancy restaurants that while not too expensive still felt a little too upscale for my tastes, but then my friends and I stumbled on a lovely local restaurant right across from the port, Restaurant Es Mollet.
No one spoke English there and my Spanish is just French with a Spanish accent, so they ended up just choosing dishes for us and they were so good. But aside from the food, I really just loved people watching here, as it seemed to be a bit of a hang out for locals. Everyone seemed to know each other and kept switching tables – eating here sort of felt like being at a wedding.
Have an ice [cream] coffee in Petra
I think just about all of the tourists I saw on Mallorca were German. I don't know if I just happen always to hang out in the German areas or if all the Germans in the world holiday on Mallorca while I'm there, but it was pretty crazy!
But one of the things I loved about there being so many German tourists around was that a lot of the cafés serve "ice coffee," which in most of the world means coffee served over ice, but in Germany means coffee served with a couple of scoops of vanilla ice cream in it. At least, I think this was because of the Germans – or is it a Spanish thing too?
Regardless, I loved it. I'm not the biggest coffee connoisseur (I like my cup about half coffee, half milk) so adding ice cream to it makes me really happy. So yum.
I had this a few times, but the best was in Petra, probably because it's just a totally random village in the middle of the island whose lack of anything special made it really special.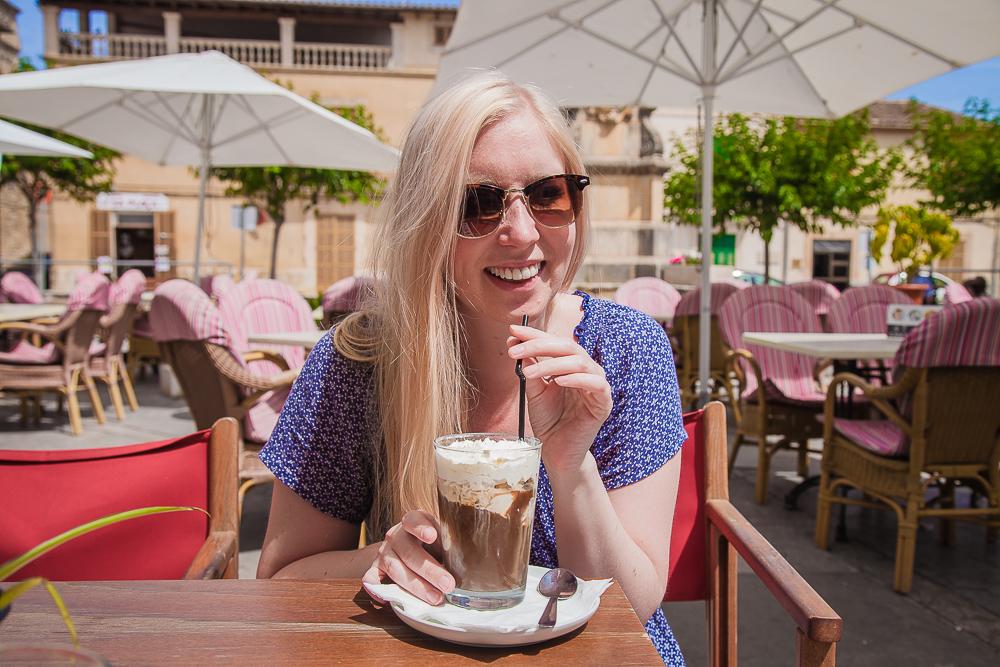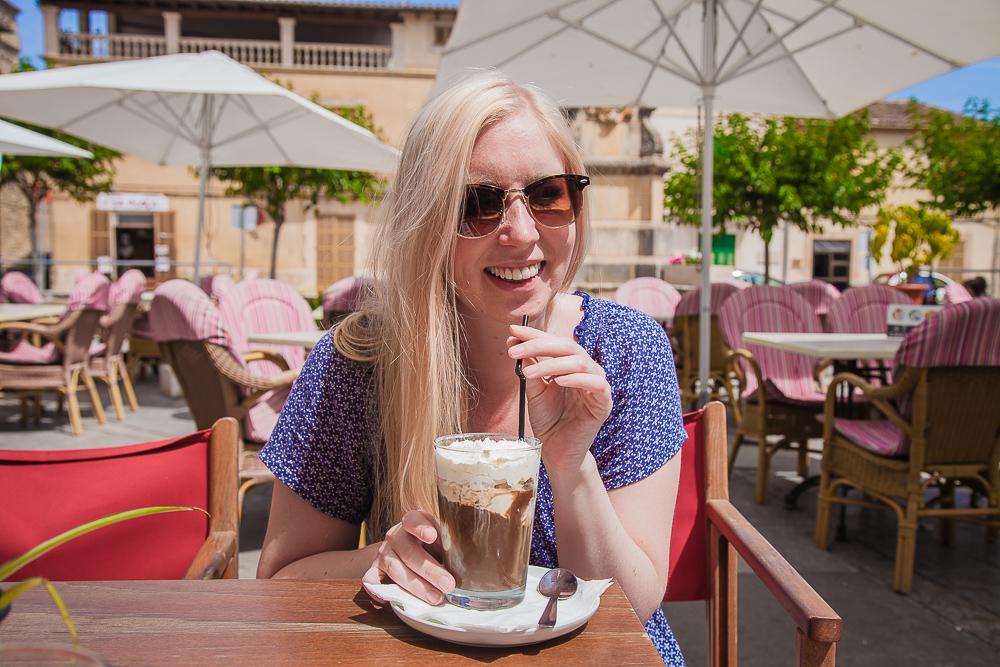 Take a quad biking excursion
If you're up for an adventure, take a quad biking trip around the island. At the end you can even go cliff diving!
Drive up to the Cap de Pera Lighthouse
One of my favorite drives on Mallorca was the drive up to the Cap de Pera Lighthouse, even though all the twists and turns made me really carsick. The views were well worth the nausea! (At least, I decided they were once the nausea subsided.) There are a lot of hikes near here, as well as small beaches, and it's a popular place to watch the sunset.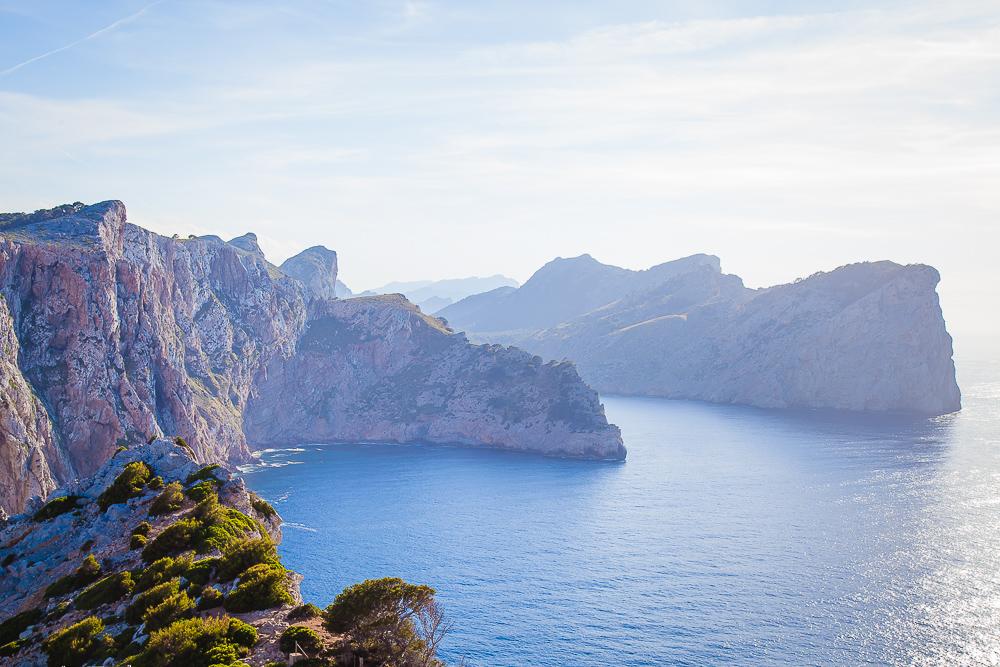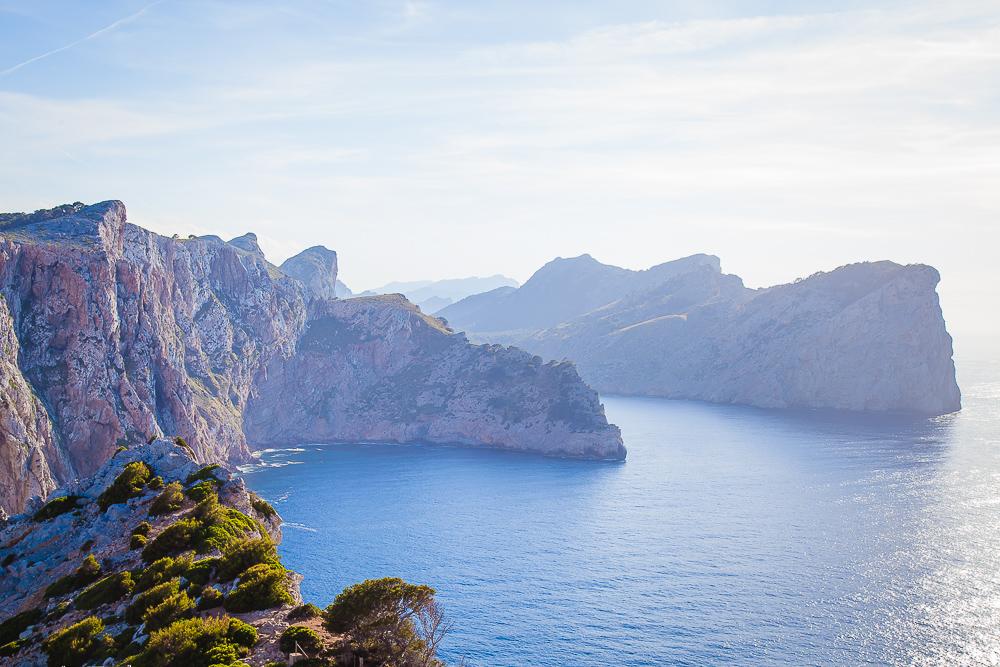 Stop in Montuiri – or any other random villages you pass by
I loved all the tiny villages on Mallorca, with their steep hills, narrow streets, and quiet squares. One of my favorites was Montuiri, I think just because there was nothing to do here besides admire the pretty views.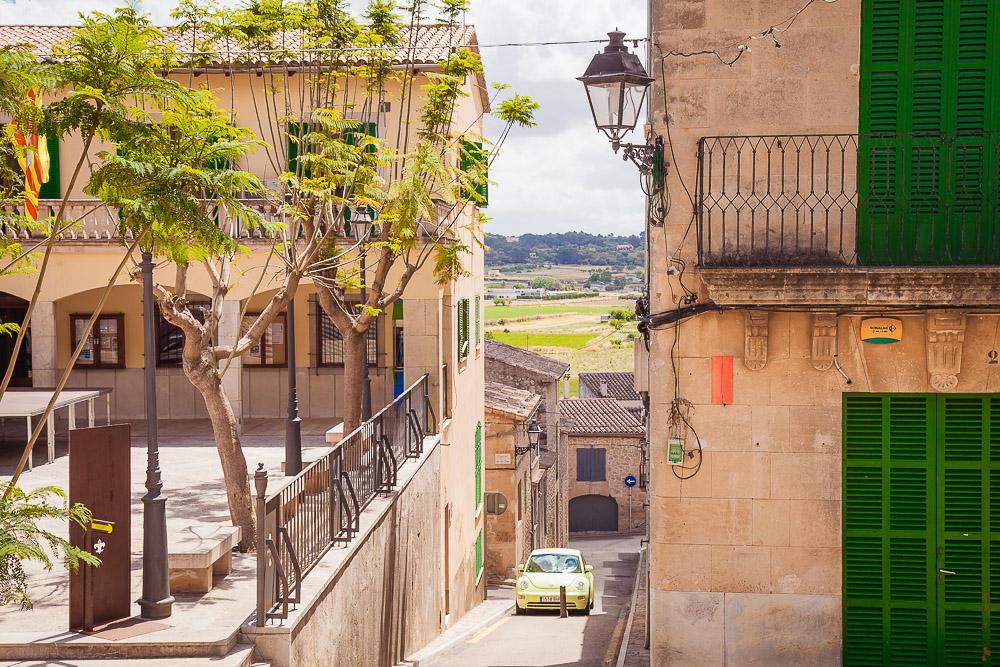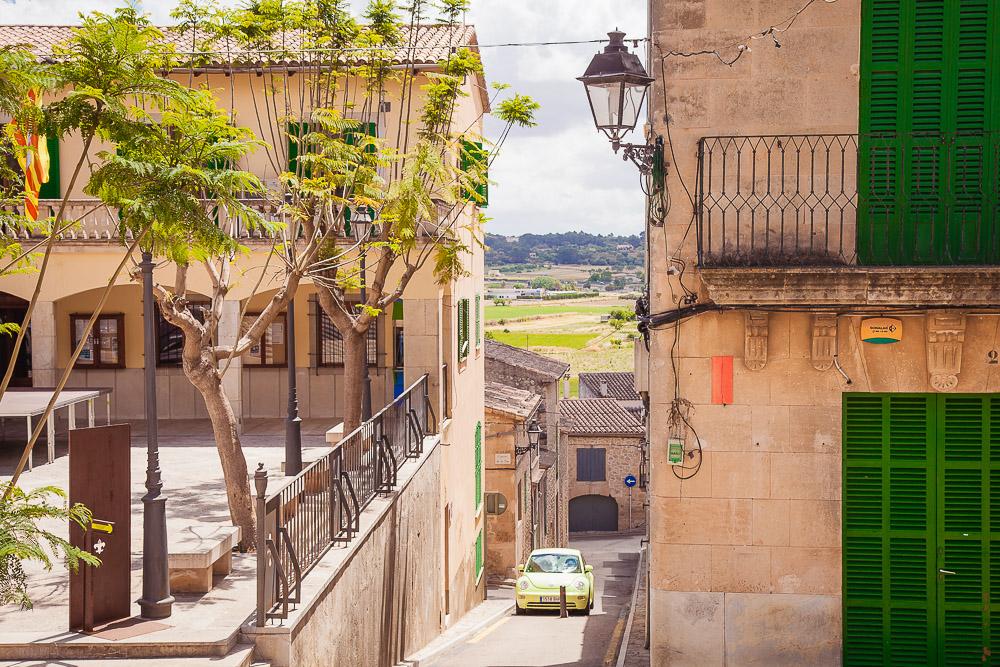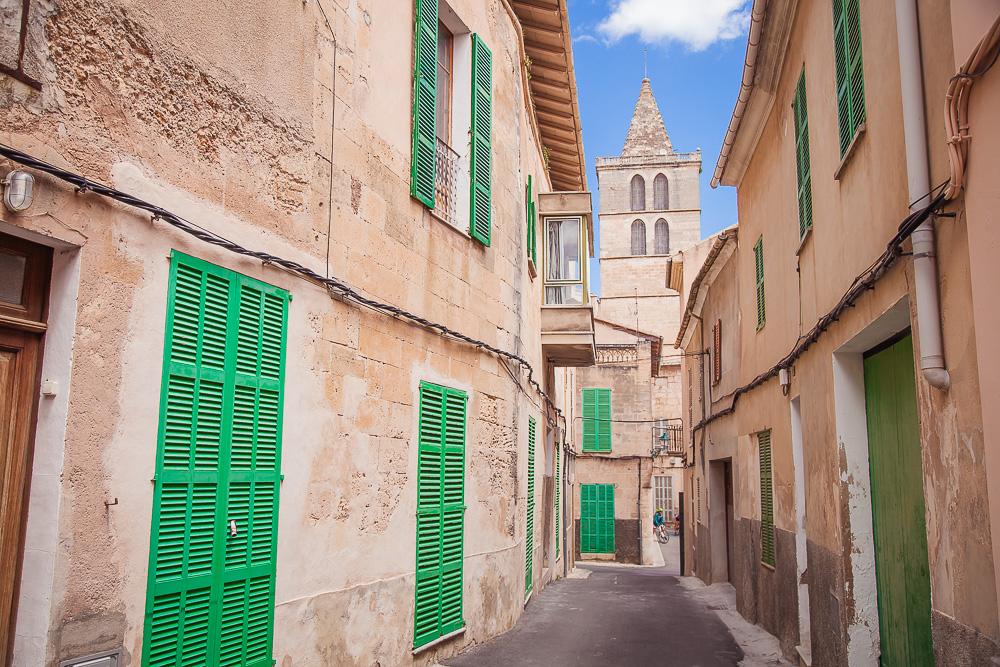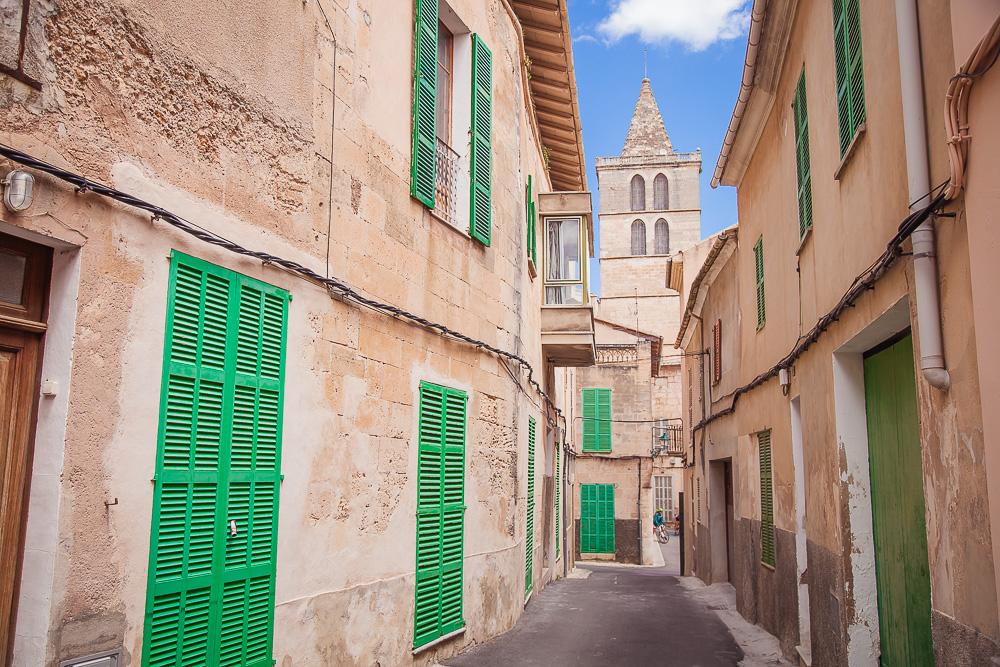 Have an evening drink or meal in the Arta town square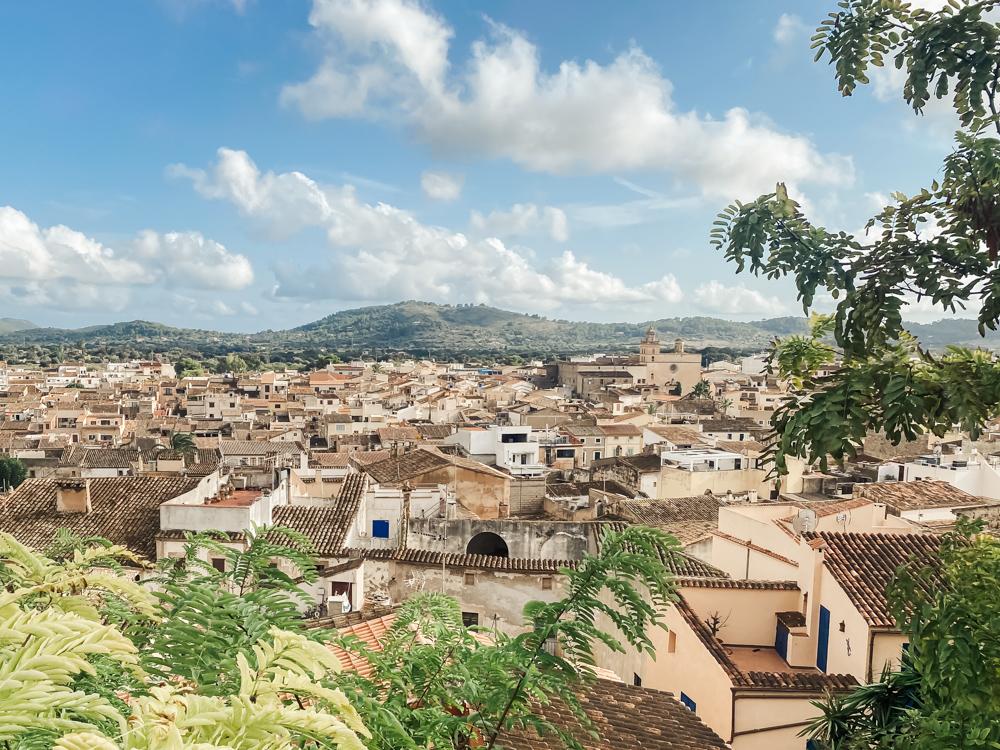 Gemma and I had dinner in Arta after our hot air balloon ride was rescheduled due to bad weather, and we agreed that we were so happy the hot air balloon ride was rescheduled, because it meant we got to see the lovely town. Arta has lots of pretty winding lanes and it feels a bit upscale, with many lovely boutiques and restaurants.
Spend a few nights in the mountains in Sóller
I spent four nights at the incredible Hotel La Vila in Sóller, a town near Mallorca's west coast.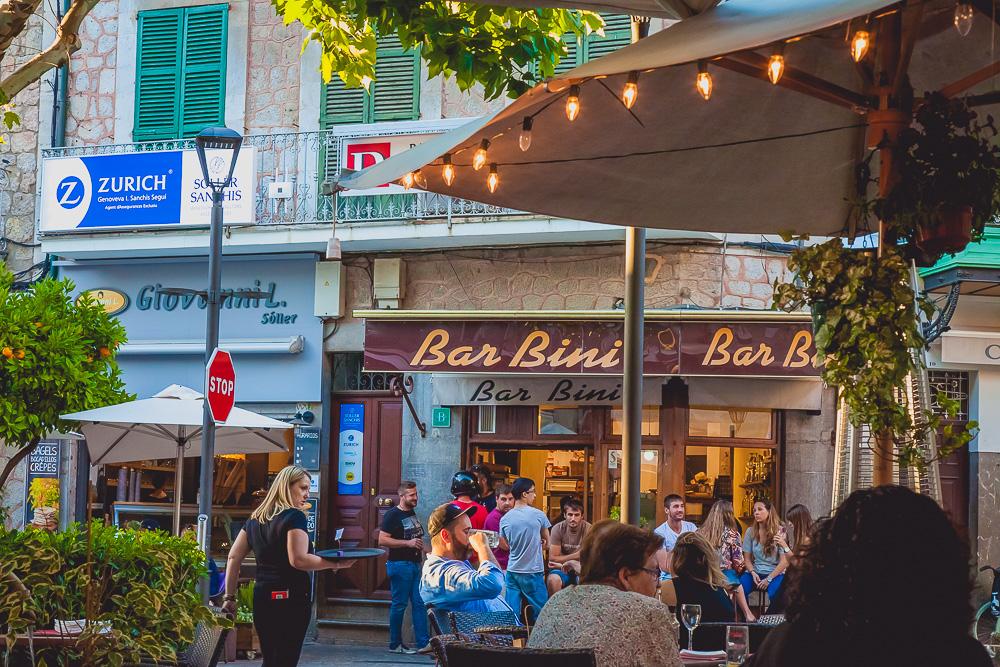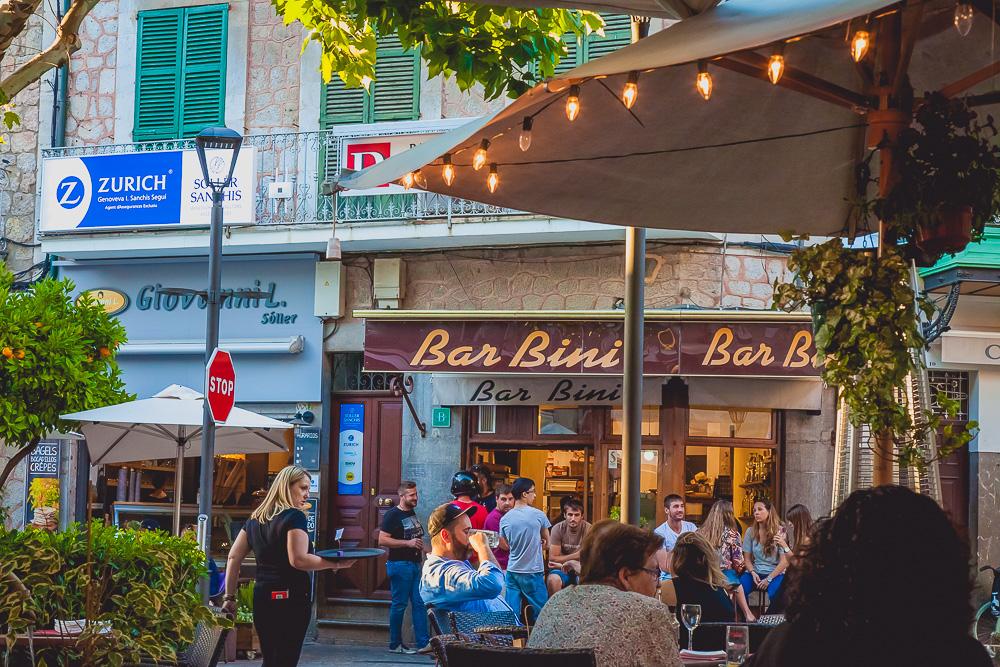 Sóller is up in the mountains and we had actually intended this to be the mountain portion of our trip, with lots of hiking, but I guess Dan and I have become more Norwegian than we realized – all we wanted to do was lie in the sun on the beach! It's so weird – I don't really tan and have always gotten bored quickly when lying on the beach, but this holiday in the sun felt so good. I guess I really am deprived of it here in Norway!
So while Dan did manage to wake up for a sunrise hike in the surrounding mountains, I didn't go on any hikes at all, and while staying here we just kept driving across the island to sandy beaches. Whoops. I'm still really glad we spent some time in Sóller though because the mountains really are beautiful, and the town center is lovely.
Sóller probably has the prettiest town square I saw on Mallorca, complete with an old wooden tram that runs through the town and down to the port.
We also drove down to check out Port de Sóller, but I really didn't like it – it just seemed like it was full of fancy holiday homes. So I'd definitely recommend staying in Sóller over Port de Sóller if you have the option.
If you aren't renting a car, you could instead take the old wooden train that connects Palma to Sóller. It was originally used to transport citrus fruit from the Sóller valley to the capital, and leaves from its own train station (right by the main train and bus station in Palma) and the journey is supposed to be really scenic. Apparently sometimes there's even a photo stop included.
Drive down to Sa Calobra – the most beautiful drive in Mallorca
Oh my goodness guys, this road.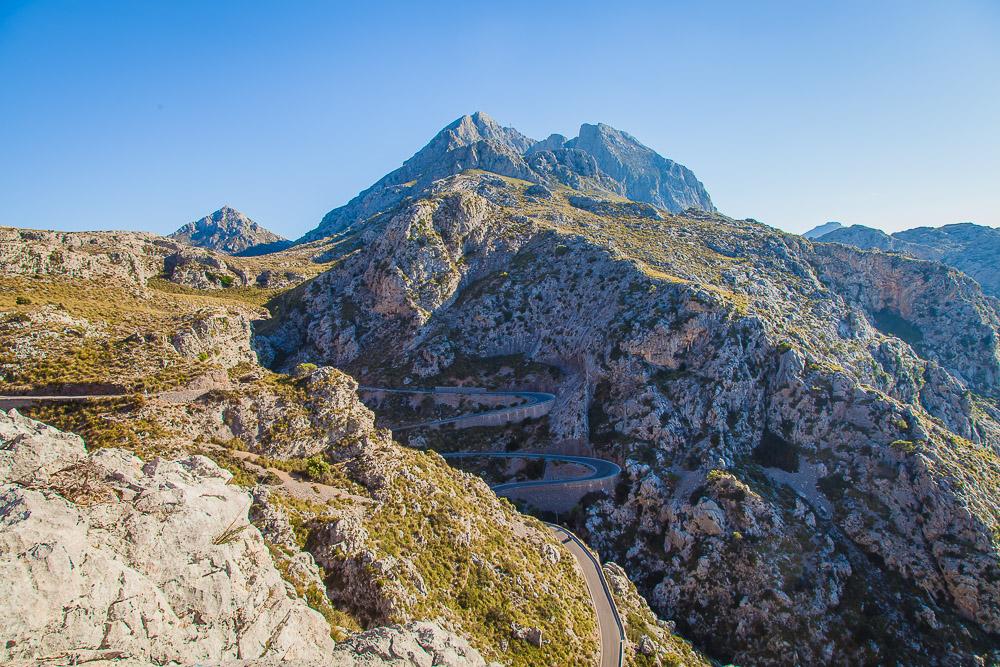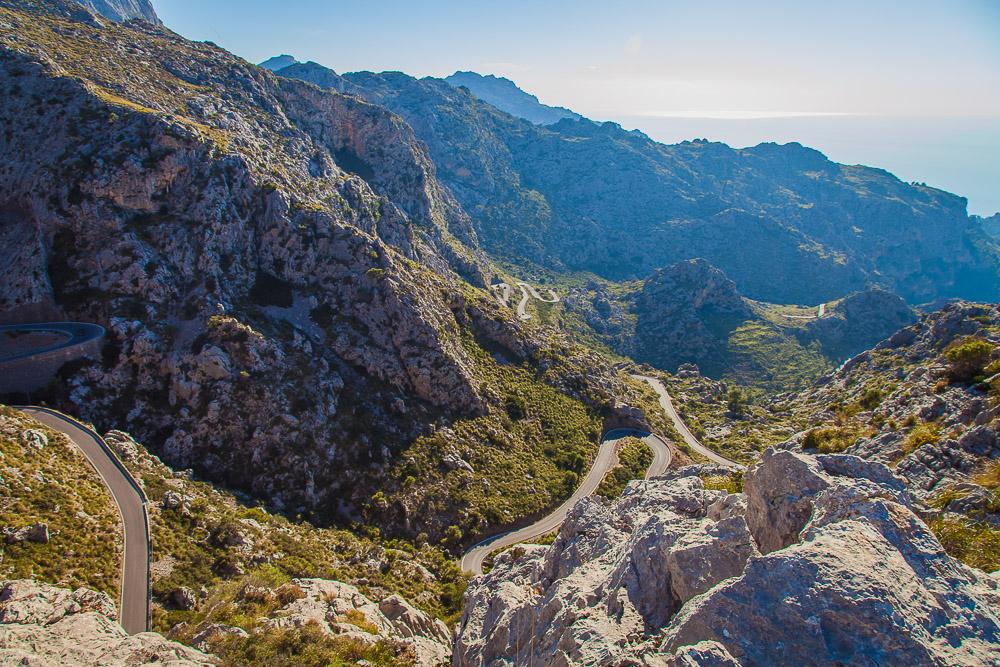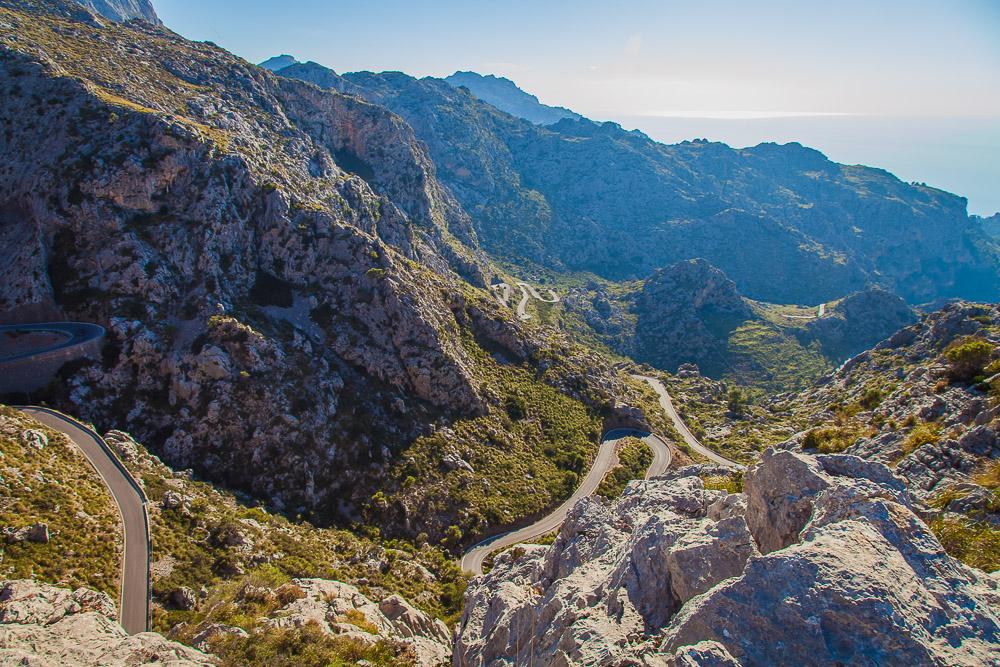 I drove down to Sa Calobra for the beach, but the road down there was the true highlight. I don't know how many hairpin turns it has, but it's like Trollstigen on steroids. Like, Norway is pretty famous for its hairpin roads but I've never seen anything like the road to Sa Calobra here.
It was really hard to capture in photos (partly because I was too scared to get close to the edge) so you will just have to go to Mallorca and drive this road for yourself.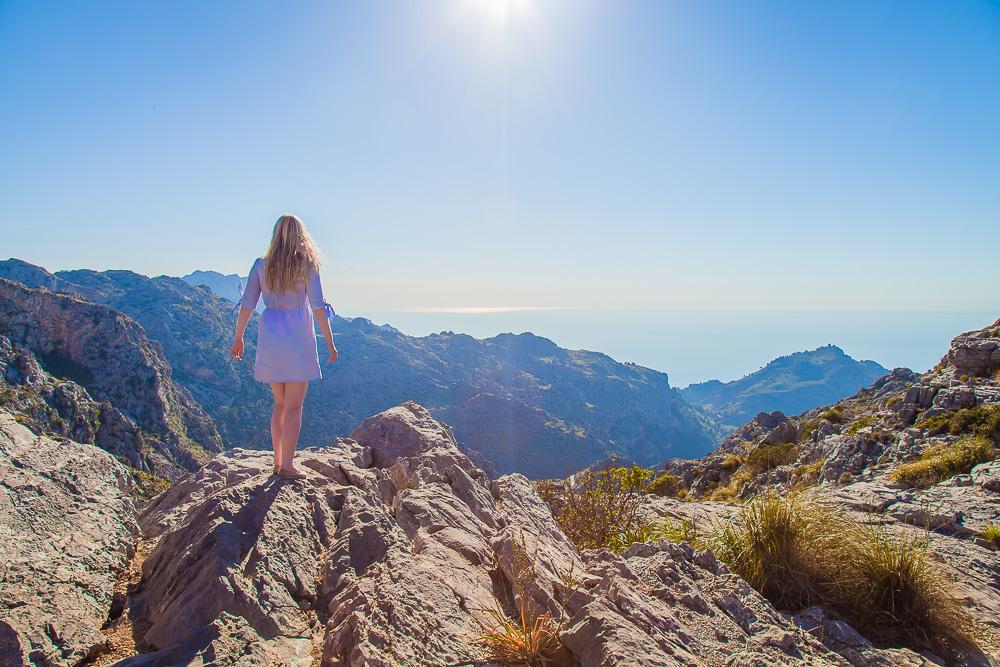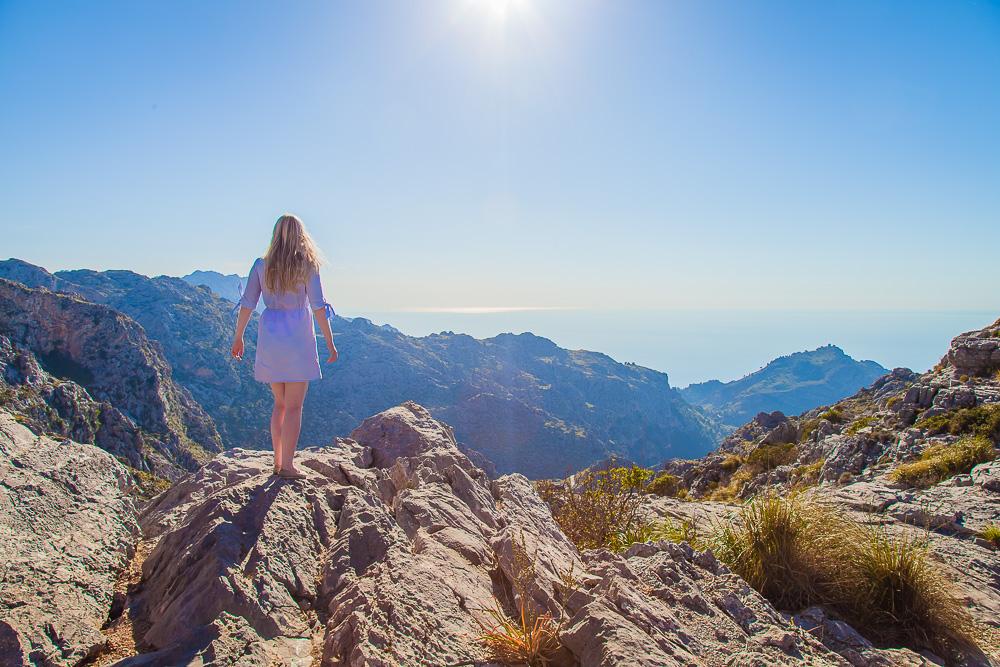 And if the views from the drive aren't amazing enough for you, the beach at the bottom is incredible. So many reasons to go there. So go!
Drive from Sóller along the west coast – but stop before you hit Magaluf!
After leaving Sóller we drove down the west coast, and wow was it beautiful. The beaches here are mostly rocky so a lot of the coastline was pretty deserted – at least until you get a little too close to Magaluf, England's favorite resort destination.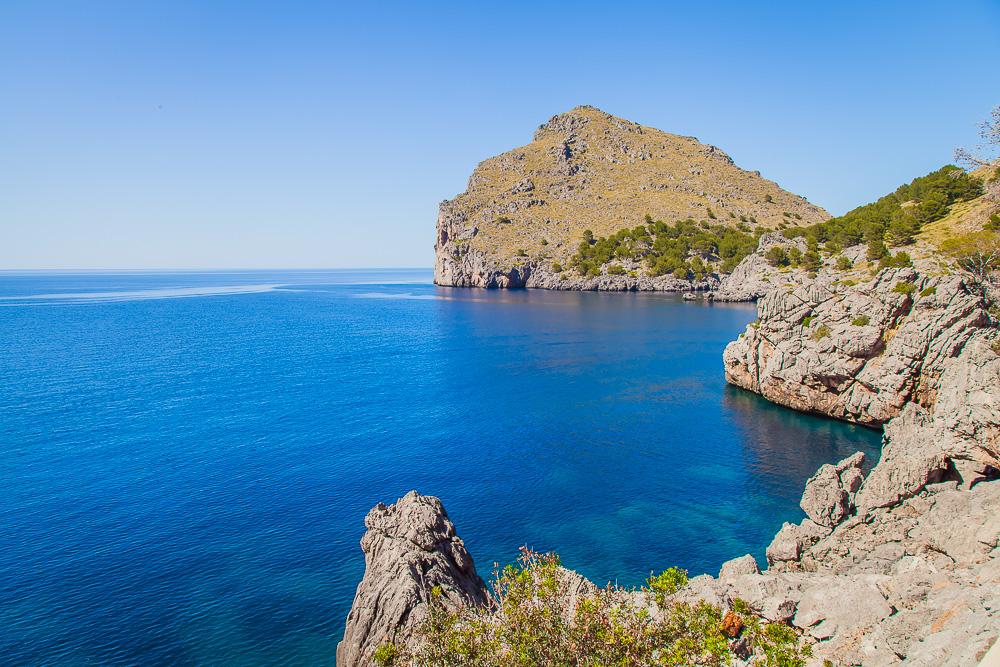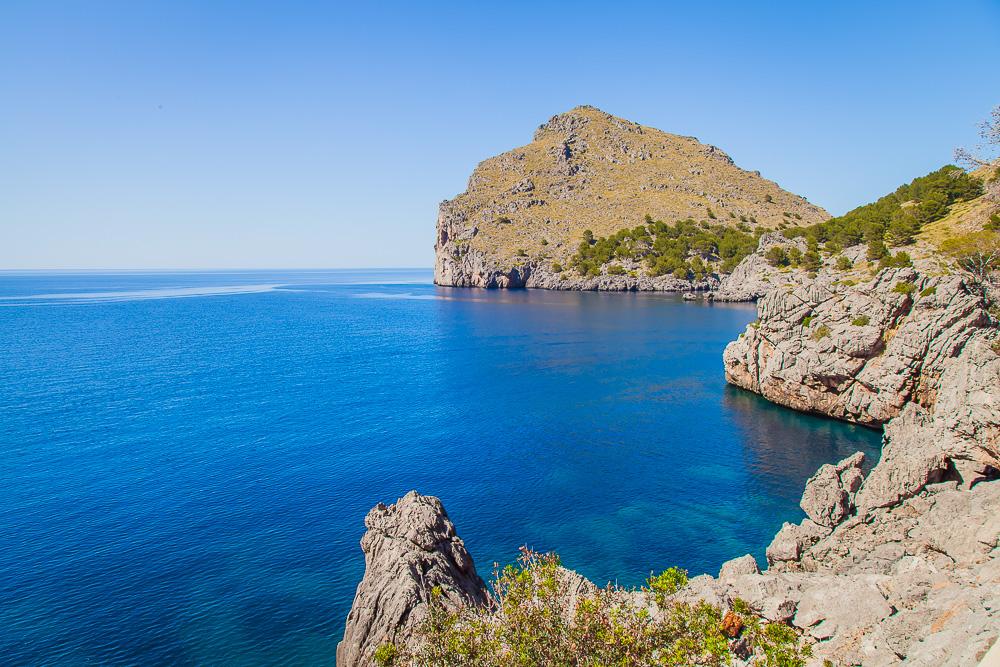 Visit the public health clinic in Pollença
Lol okay, you don't really need to do this while on Mallorca.
But when I visited Mallorca with Dan he had a large graze on his leg that had become infected and so we had to make two trips to the public health clinic in Pollença, and I was so impressed! I think our total wait time was under 2 minutes each visit, and he left with an armful of creams, bandages, and a prescription for antibiotics. He only had to pay for the prescription, which cost 2 euros.
The whole experience made me 1. super grateful for my European health card (thank you, Norway) and 2. even more exasperated with the US health system. Like, why??
Also, Pollença is really beautiful and we had a lovely lunch in the town square, so maybe consider visiting even if you don't need to see a doctor. And the mountain road from Pollença to Sóller is spectacular!
Go for a coffee and a walk in Deia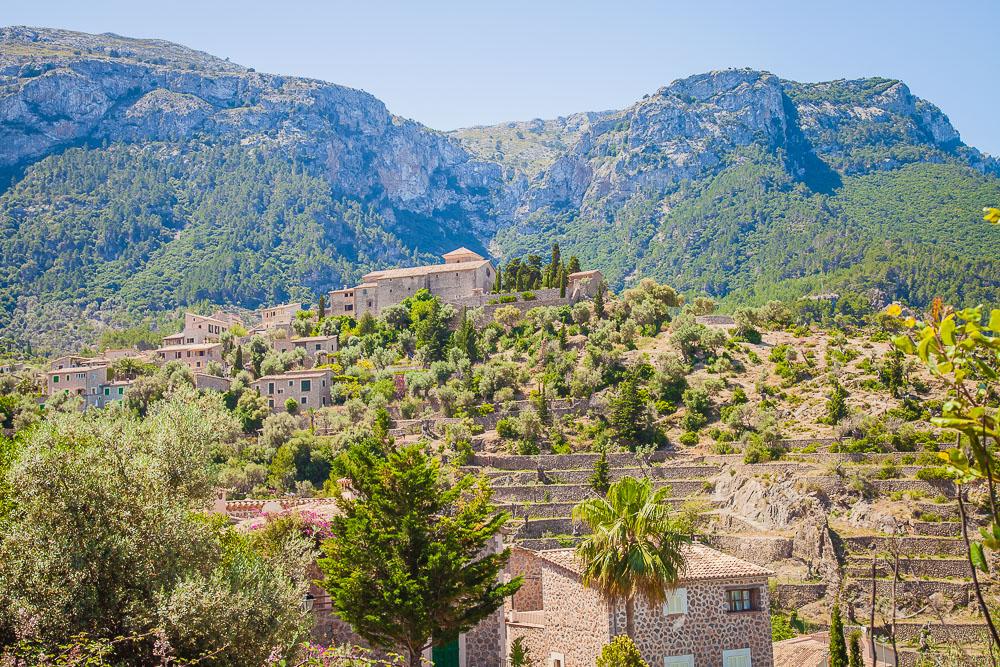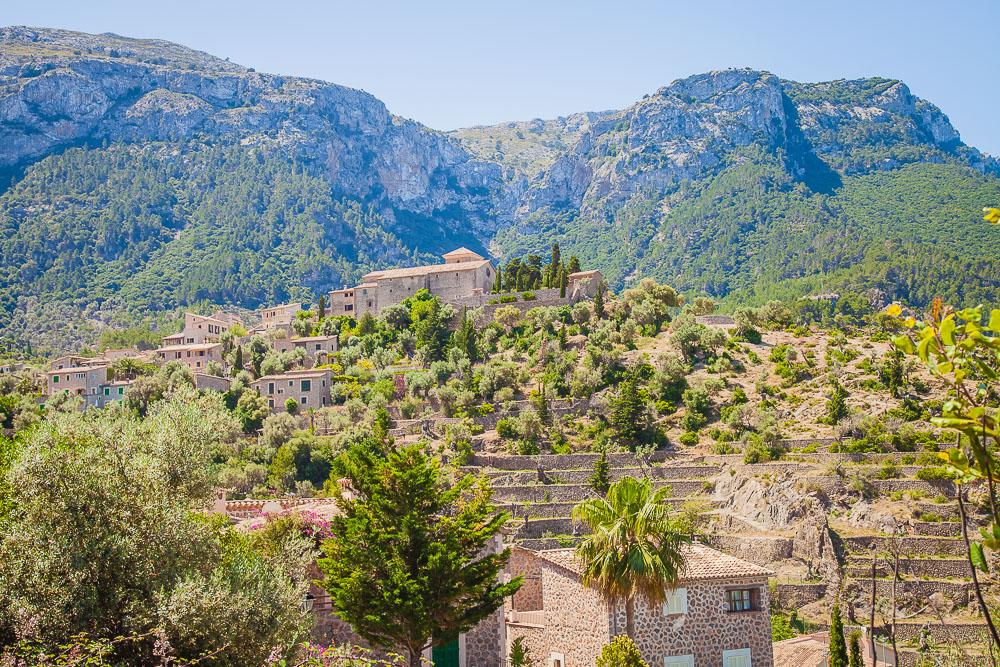 Deia is so lovely. Deia might actually be too lovely. It also happens to be a favorite haunt of a bunch of rich and famous artist types, largely thanks to Robert Graves making it his home in the 1930s.
It's funny, because when I read about Deia it was described as the perfect escape from the resort side of Mallorca. Deia is part of "the other Mallorca," Google told me. And I definitely did get the feeling that there are two totally different Mallorcas – at least until I got to Deia, when I decided that there might actually be three Mallorcas.
There's the tourist resort side, and then there are the quiet Spanish towns and villages. But then there are also places like Deia, away from the tour bus routes, but also filled with foreigners. A lot of the villages we drove through along the west coast were like this – beautiful, with no signs of chain hotels, but also very fancy.
What I'm saying is, I wasn't too surprised to hear that some of these villages were favorite hideaways of millionaires. I appreciated visiting, but they felt a tiny bit artificial and weren't my favorite places to hang out.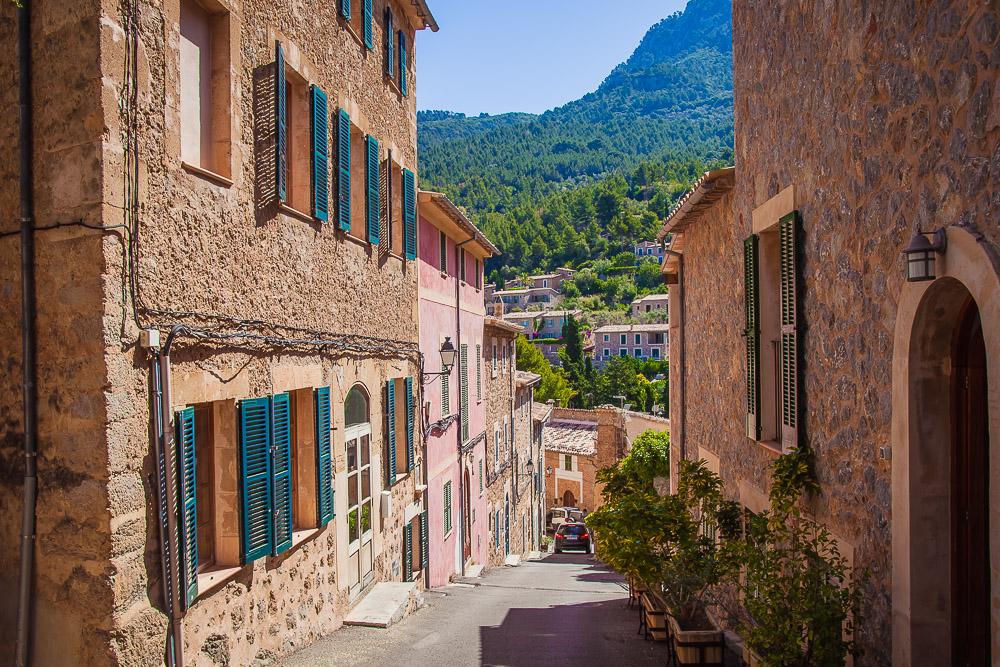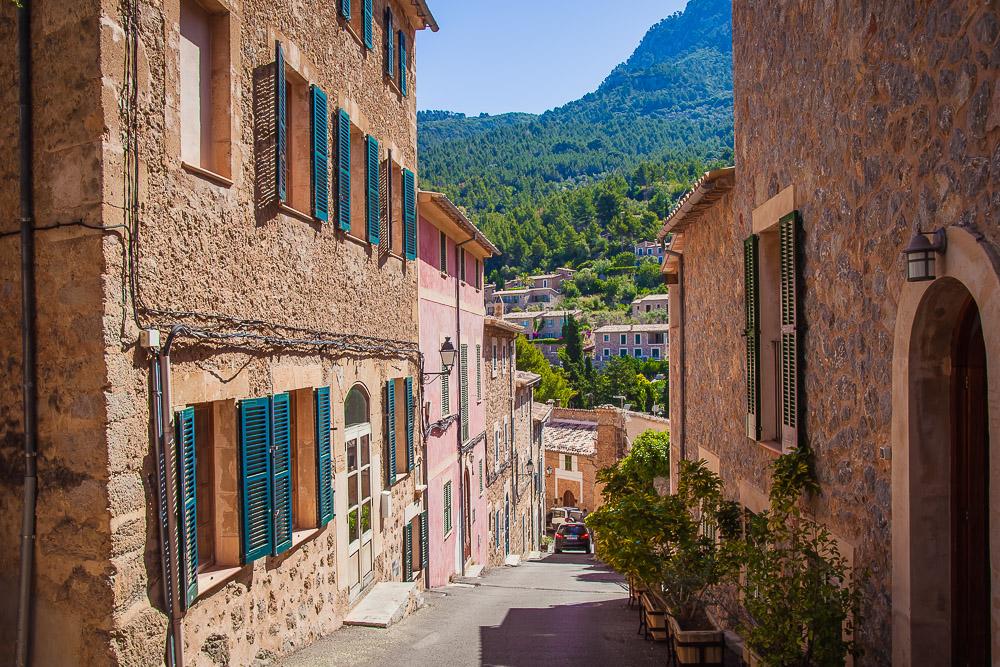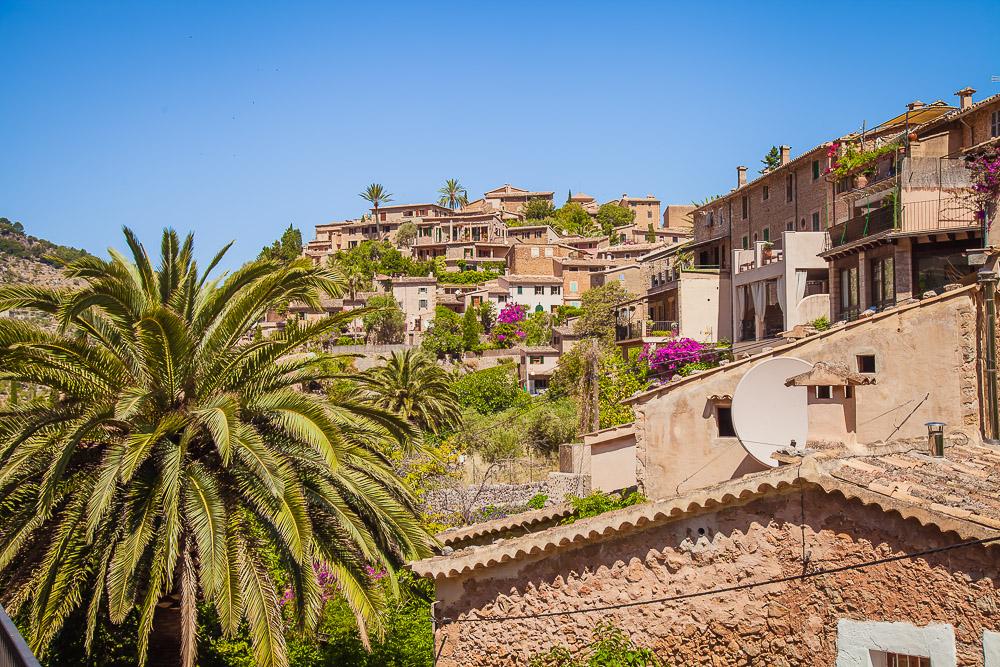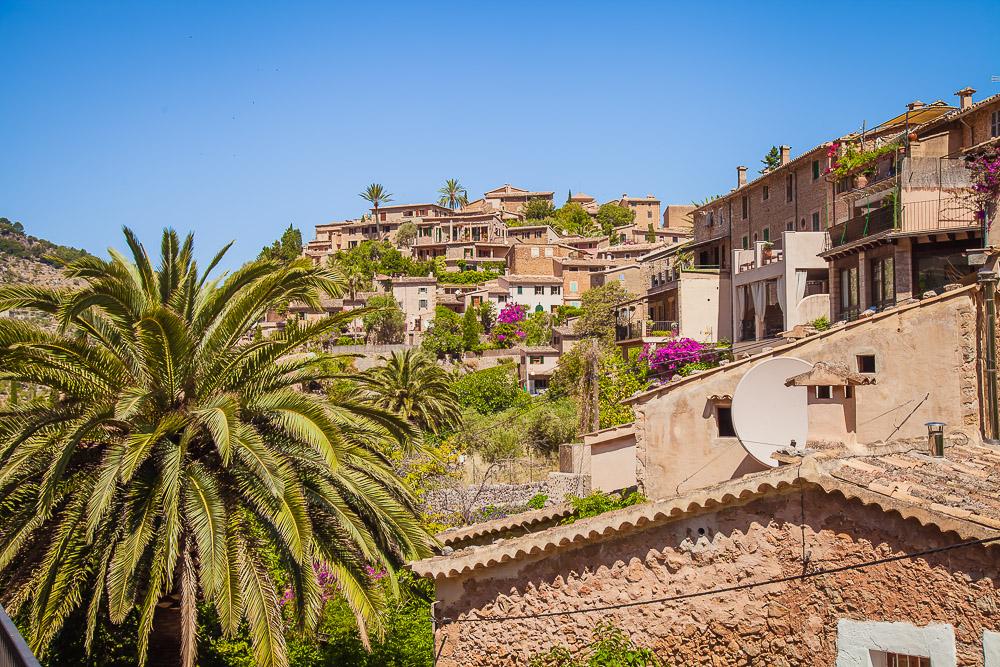 Tour the Son Marroig Mansion
Speaking of wealth in Deia, you can even take a tour of the Son Marroig medieval mansion built on top of a steep hillside with epic views out over the water. In the 19th century it was acquired and remodelled by Archduke Ludwig Salvatore of Austria and now houses a museum where you can learn more about the Archduke and the property.
See the terraces in Banyalbufar
Banyalbufar is another town popular with foreign artists. It's worth stopping here to see the terraces going into the water. Apparently the Moors built these terraces for their vineyards, but now they're mostly just growing vegetables. There's also a beach at the bottom of them that seriously tempted me to get covered in saltwater before my flight to London.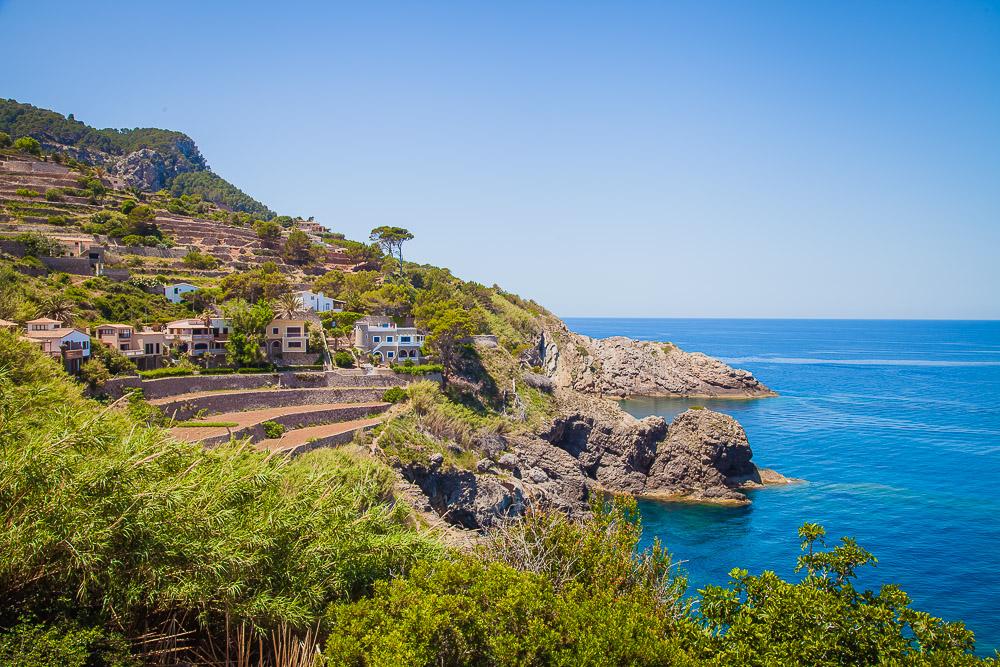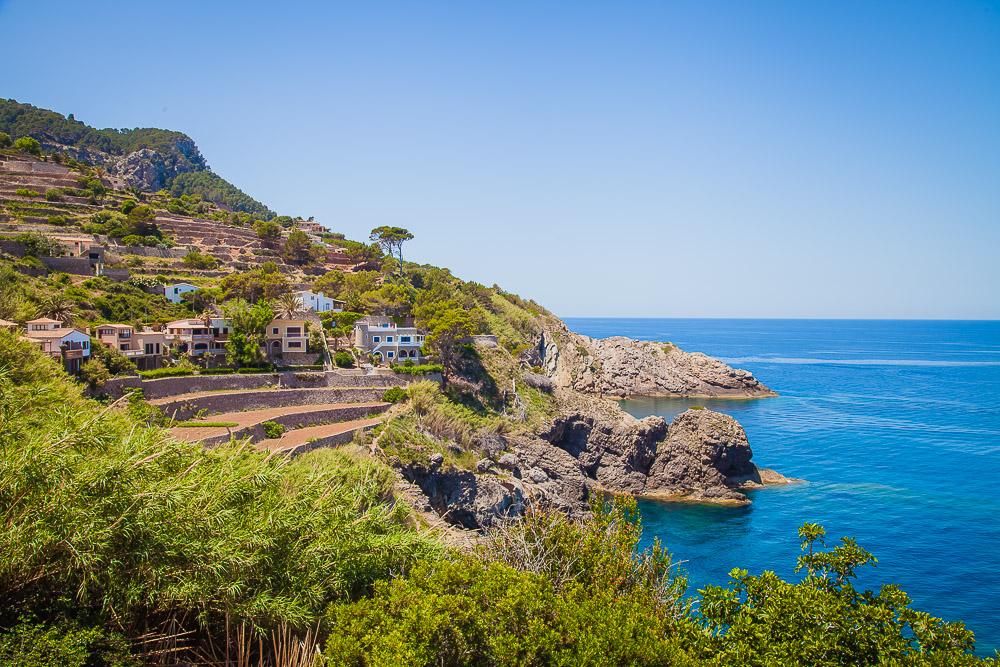 Stop for photos at Torre del Verger
The tower itself isn't so spectacular, but the views from Torre del Verger sure were!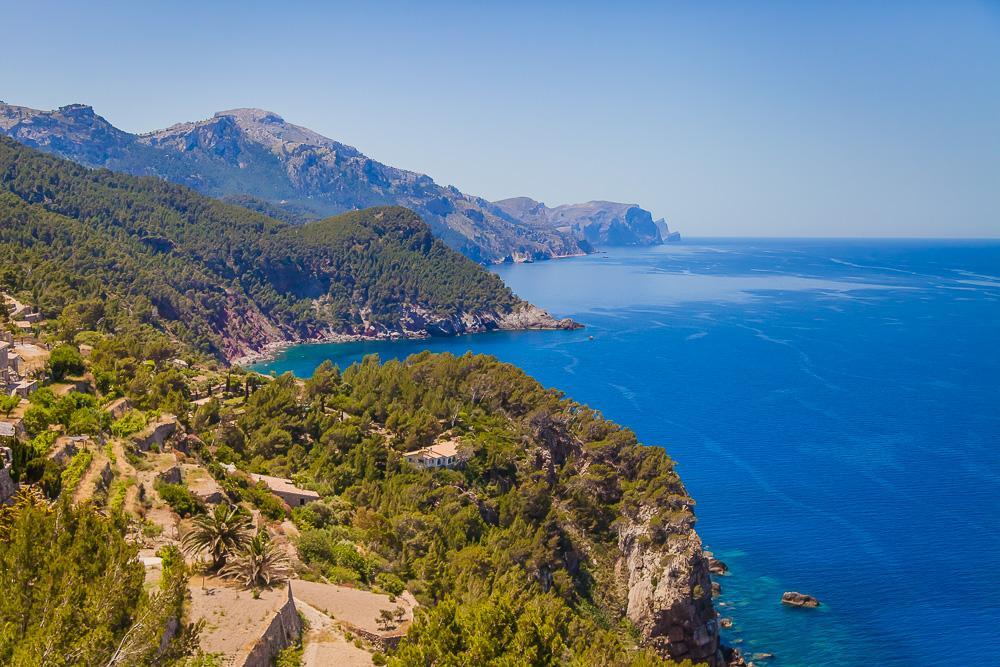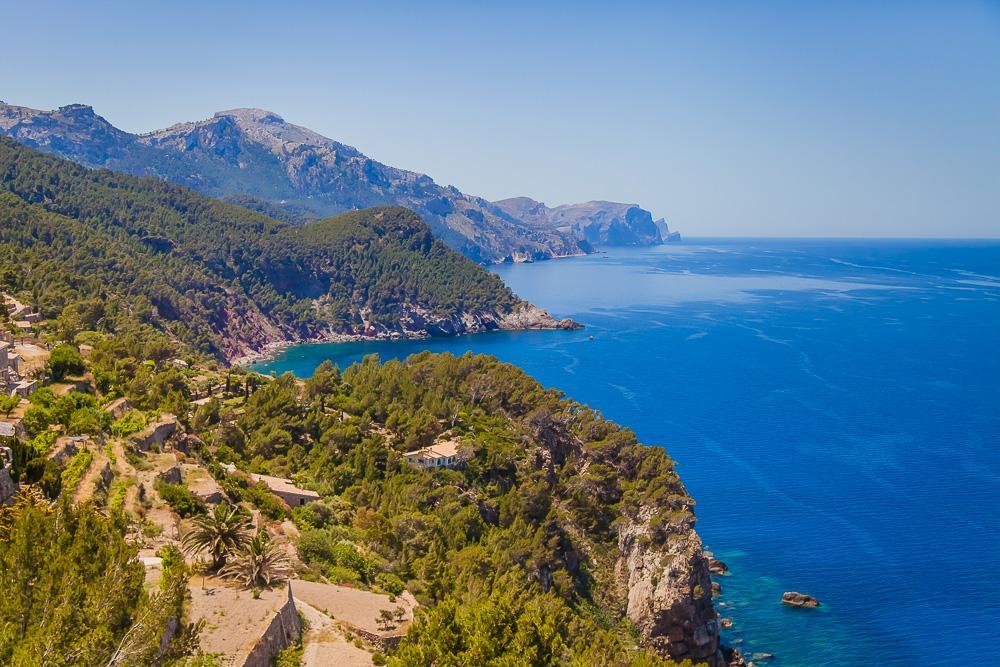 Visit the Santuari de Lluc
Dating back to the 13th century, the Santuari de Lluc is Mallorca's most important holy site and a pilgrimage meeting point. You can tour the beautiful Basilica, as well as a small museum and the surrounding botanical gardens. The Santuari de Lluc is also set in northern Mallorca's Tramuntana Mountains, which are a UNESCO World Heritage Site and offer many hiking opportunities.
And if you want you can even spend the night here right in the Santuari. Check current rates and availability here.
Have you been to Mallorca? Do you have anything to add?