Updated March 2023
After my last detailed post about non-resorty things to do in Mallorca, I thought maybe I should offer some lighter Mallorca reading as well. Because yeah, yeah, it's great to explore new places and all that, but really what I mostly wanted to do on Mallorca was head to the beach!
I definitely expected all the beaches on Mallorca to be super crowded and full of sun loungers and restaurants, so I was pleasantly surprised to find so many little secluded beaches.
In fact, most of the beaches I went to on Mallorca were pretty quiet. I do think visiting in mid-May and early October were both good calls, as the island was definitely quieter than it is in the summer. And it was helpful having a car to get off the beaten path a bit. I've also written a guide for where to stay in Mallorca here.
Plus the weather in Mallorca in May was so perfect – it was hot enough to go swimming (and the water was warm enough!) but not so hot that I couldn't bear being in the sun.
And while during my three weeks (over two trips) in Mallorca I went to a lot of beaches, a few stuck out as clear favorites. So here are my personal picks for the best beaches in Mallorca.
Oh and if you don't want to just look at the sea from the beach, there are tons of boat cruises around Mallorca you can do. My friends did this sunset catamaran cruise that sounds amazing, and it's definitely on my to-do list for next time!
Cala Formentor Beach in Northern Mallorca
Cala Formentor (Playa de Formentor) was my favorite beach in Mallorca, though that might partly be because I visited really late in the day when there were no other people and the evening light was just so pretty.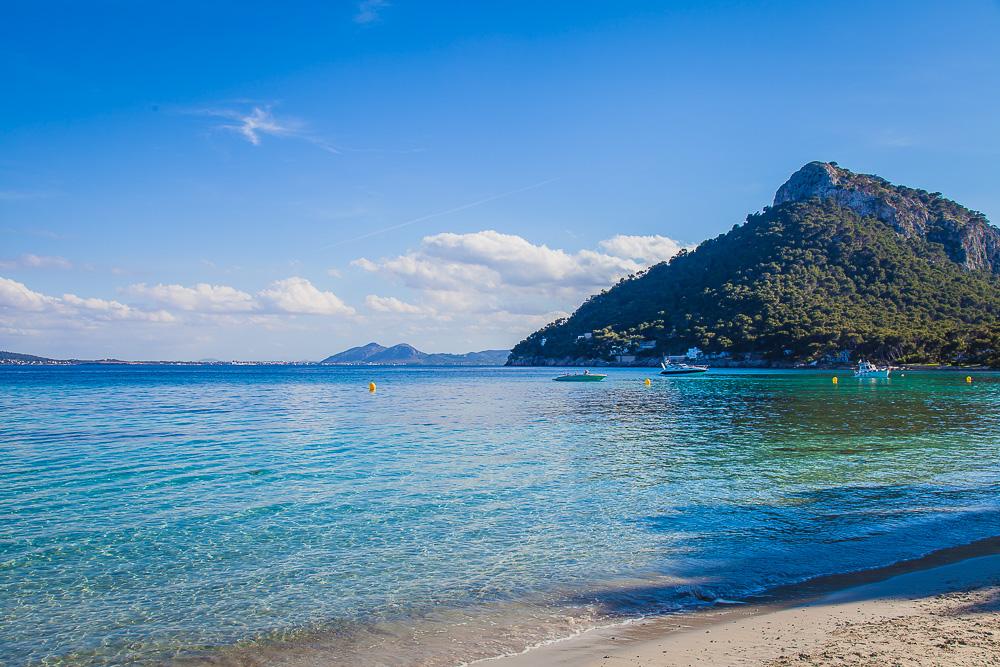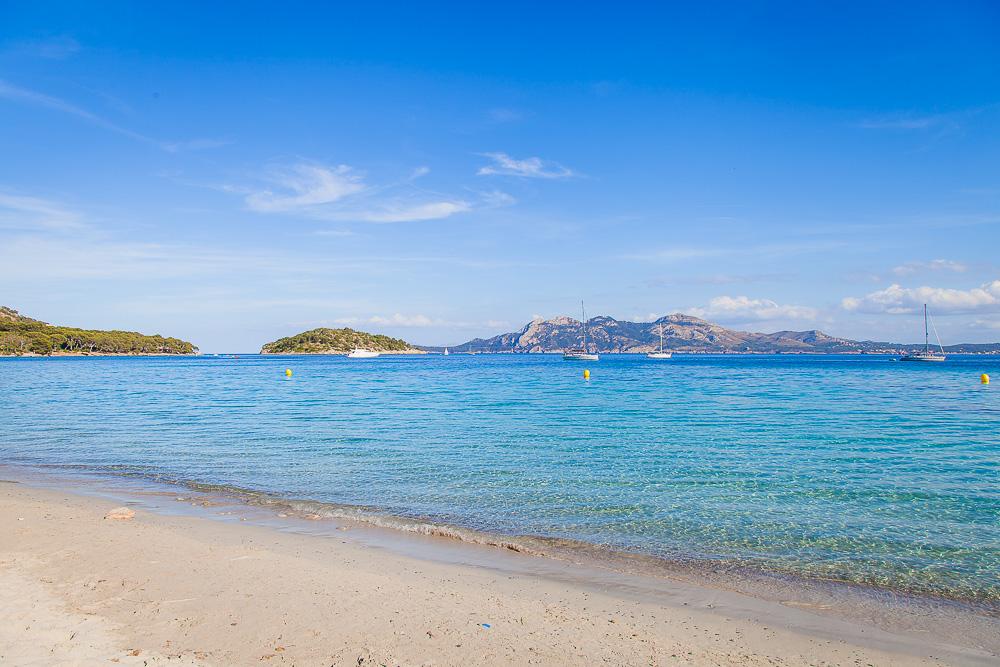 I also loved all the boats hanging around here – something about it just made it feel so "European holiday," if you know what I mean. The water also seemed to be a lot warmer at Cala Formentor, which was a plus in May.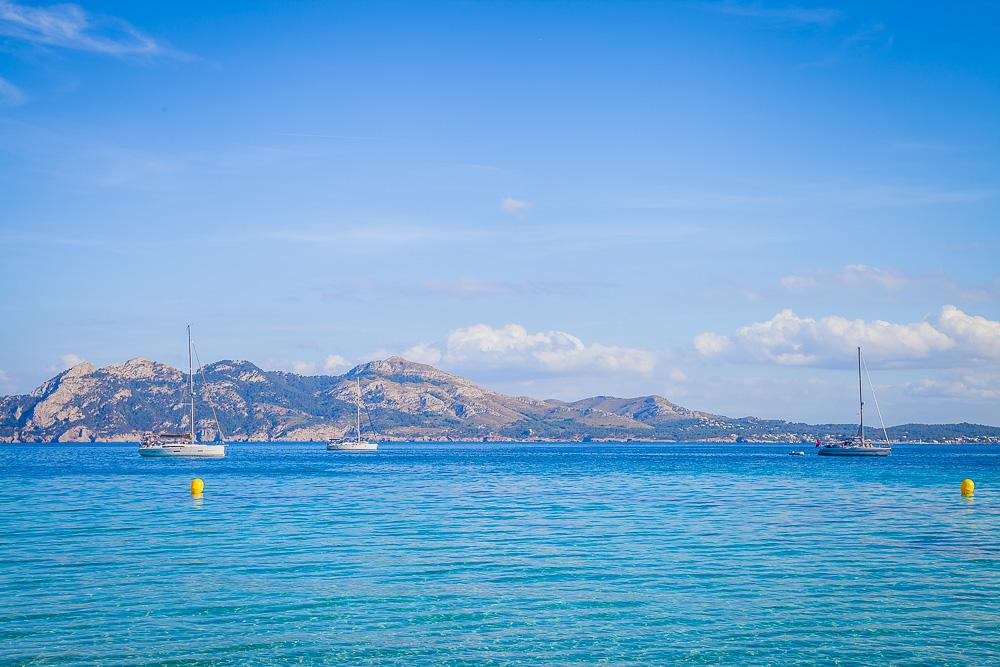 Cala Formentor is in northern Mallorca, so after visiting this beach you could then drive up to Cap de Pera Lighthouse to see the sunset. The drive up to the lighthouse was one of my favorite drives in Mallorca so by visiting Cala Formentor I got two favorites in one trip!
For tours in Formentor, check here.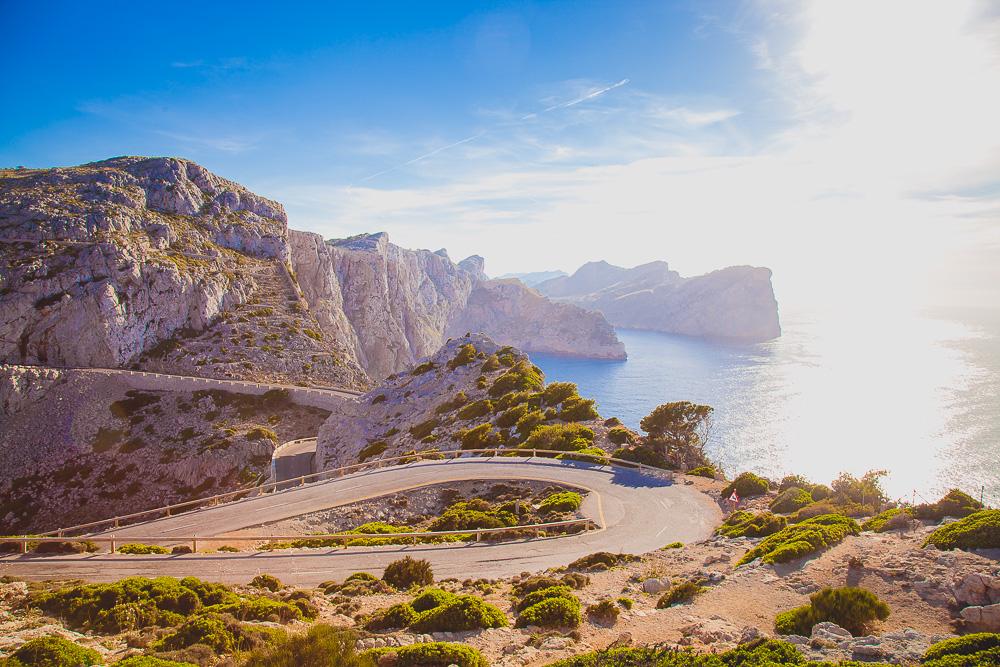 Es Calo des Moro Beach in Southern Mallorca
This must be the most beautiful beach in Mallorca – or at least the most beautiful beach I saw while in Mallorca!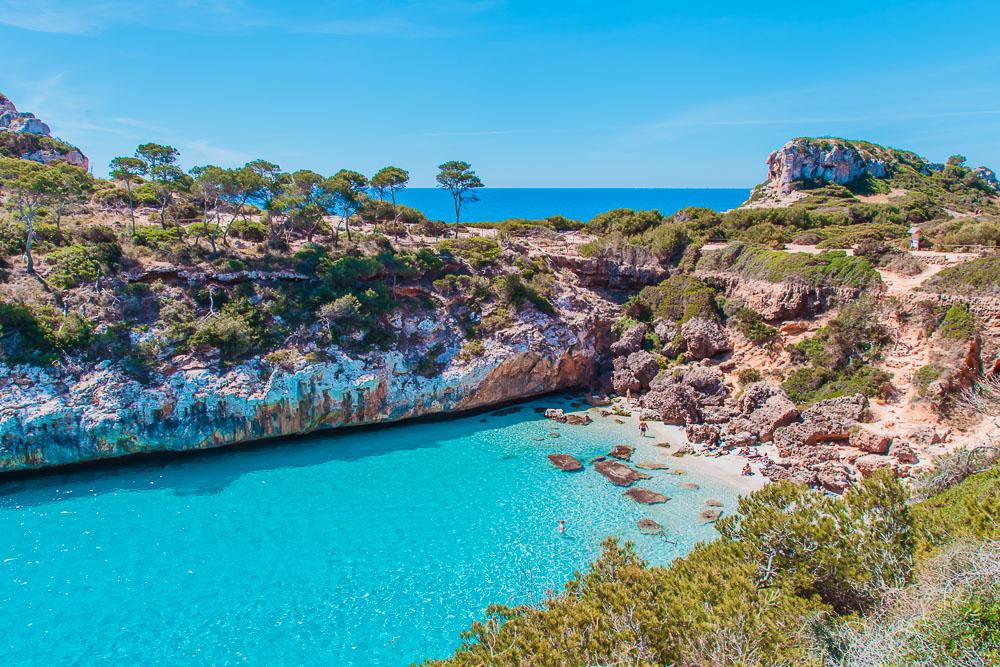 A private foundation owns and cares for this beach, so it's beautifully maintained and you won't see any hotels or beach bars here. You do have to climb down a lot of rocks to get here – or if you're like me you'll get lost and end up maneuvering down a cliffside – but I think the extra effort to get here makes it even more special.
The beach itself is really small, so I imagine in the summertime it could get a lot more crowded than when I visited in mid-May, but there's also a neighboring beach called Cala S'Almonia just a few minutes' walk from Calo des Moro beach.
Cala S'Almonia isn't quite as beautiful, but it's a lot more spacious, so if Calo des Moro is crowded you could always set up your towel there instead.
For accommodation nearby, ICON Valparaiso looks wonderful.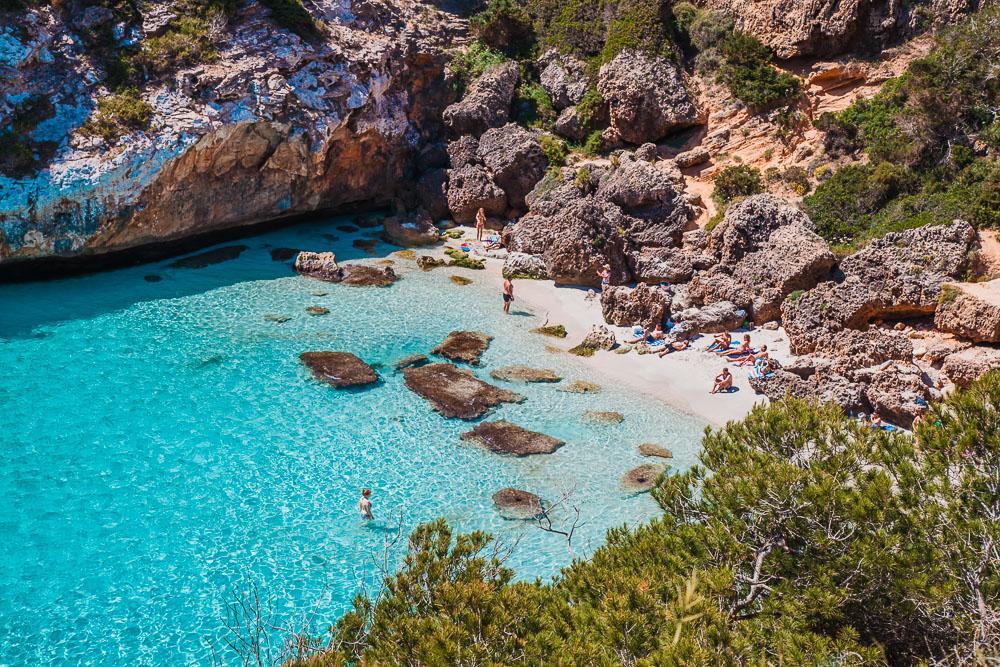 S'Amarador Beach in Southeastern Mallorca
S'Amarador is in Mondrago Natural Park, which means it's surrounded by natural sand dunes, forests, and rocky coves instead of resorts. There are actually three beaches here, S'Amarador, Cala Mondrago, and the smaller Cala d'en Borgit, but S'Amarador was my favorite.
S'Amarador is a pretty big beach, and since it's only accessible by car it wasn't too busy when I went. But it was still lively, and I loved that we could also walk to the other beaches from here. In fact, on my birthday we drove across the island from Sóller just to hang out here!
For accommodation near S'Amarador check here.
Cala Mesquida Beach in Northeastern Mallorca
This was one of my favorite beaches in Mallorca, and one of the few that I keep going back to. I love that the beach is so long – it stretches 300 meters – and the water is shallow pretty far out, which makes it perfect for playing some knee-deep paddle ball.
There is a small resort on one side of the beach and a beach bar near the entrance, but the other side of the beach is protected due to its importance to bird life, so that side is made up of natural sand dunes and pine trees.
I feel like even in the height of summer this would be a really nice beach to spend the day at, as it's so big you'd still easily be able to find a quiet spot.
For accommodation near Cala Mesquida check here.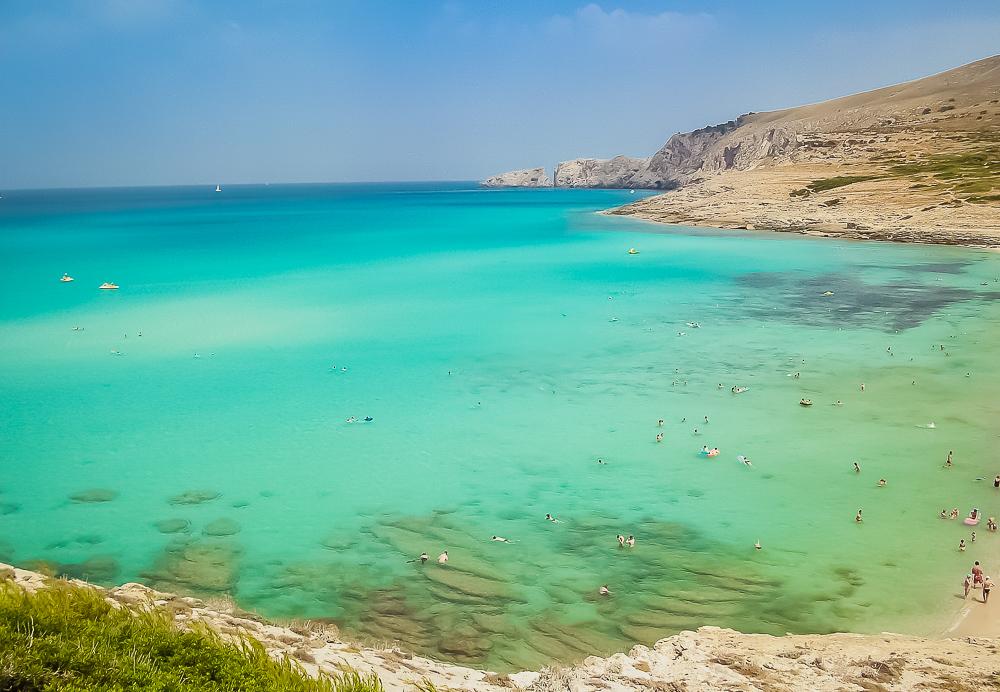 Sa Calobra Beach in Western Mallorca
Okay so I already wrote about the drive to Sa Calobra, which with its breathtaking drops and many hairpins was probably the highlight of visiting Sa Calobra, but Sa Calobra beach was also really nice!
The setting down there is beautiful, and you have to walk through a long tunnel in the mountainside to get to the beach. The beach has small stones instead of sand, but the water is so amazingly clear that I think it's worth it!
This might actually have been the prettiest place I went swimming in Mallorca, as there were lots of fish and the surrounding cliffs made for some dramatic views.
Ahh, I'm getting nostalgic just writing about it!
For tours near Sa Calobra, check here, and for accommodation check here.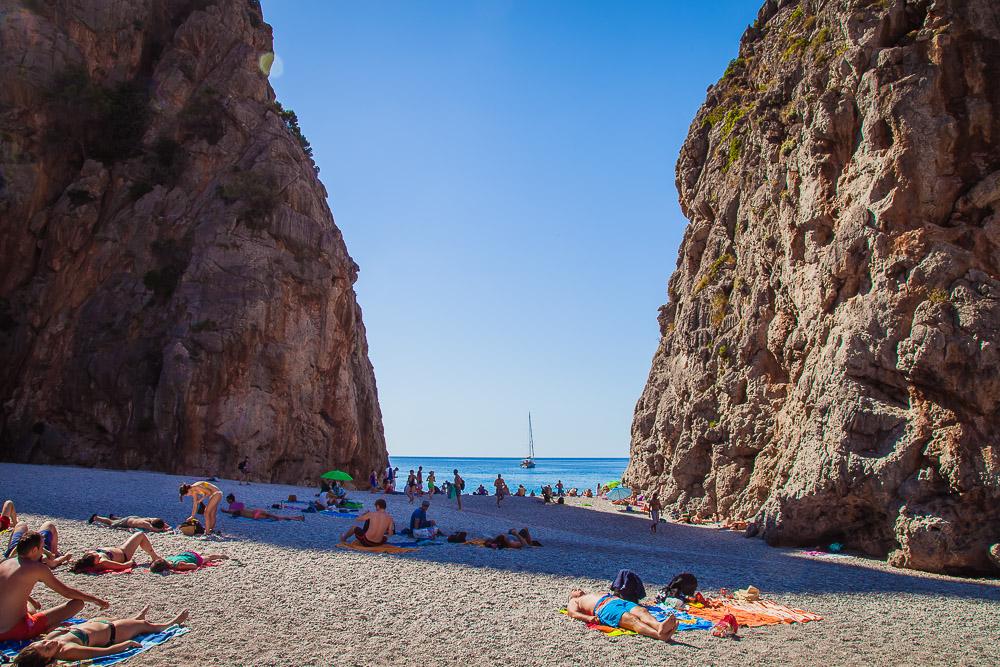 I took this photo really late in the day when there was just a bit of sun left – though the water was still in the sunshine.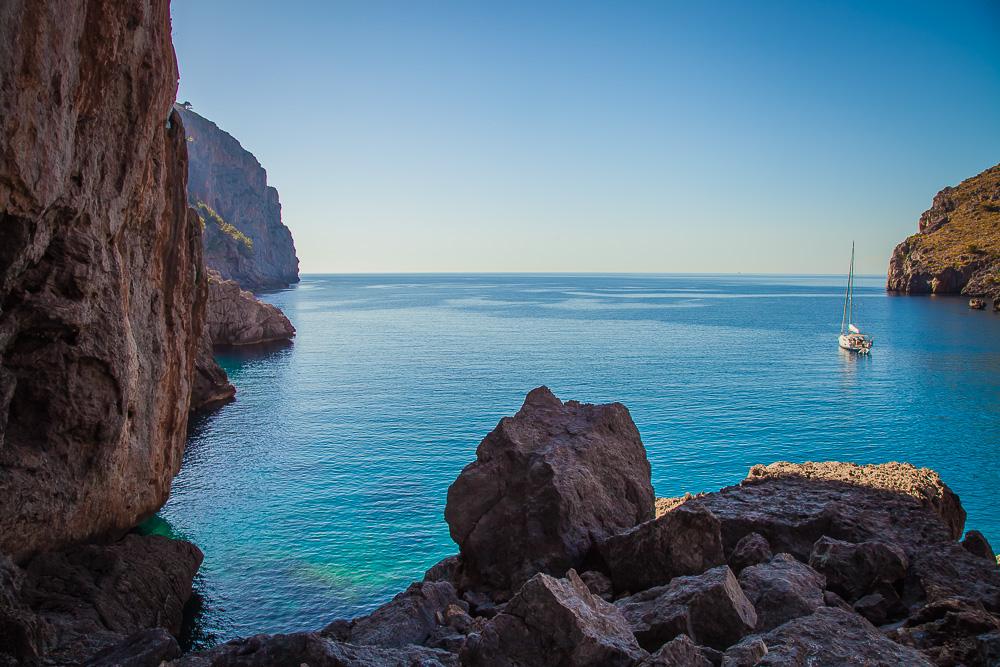 Cala Pi Beach in Southern Mallorca
Cala Pi (Playa de Cala Pi on maps) was one of the busier beaches I went to, but I loved its setting in between tall cliffs and it just had a really nice vibe. There's a beach shack where you can get drinks and snacks, and the beach itself while quite narrow does stretch back pretty far so there's a lot of room to spread out on the sand.
The view as you walk down the steps to this beach is also amazing.
For tours near Cala Pi, check here, and for accommodation, like this aparthotel, check here.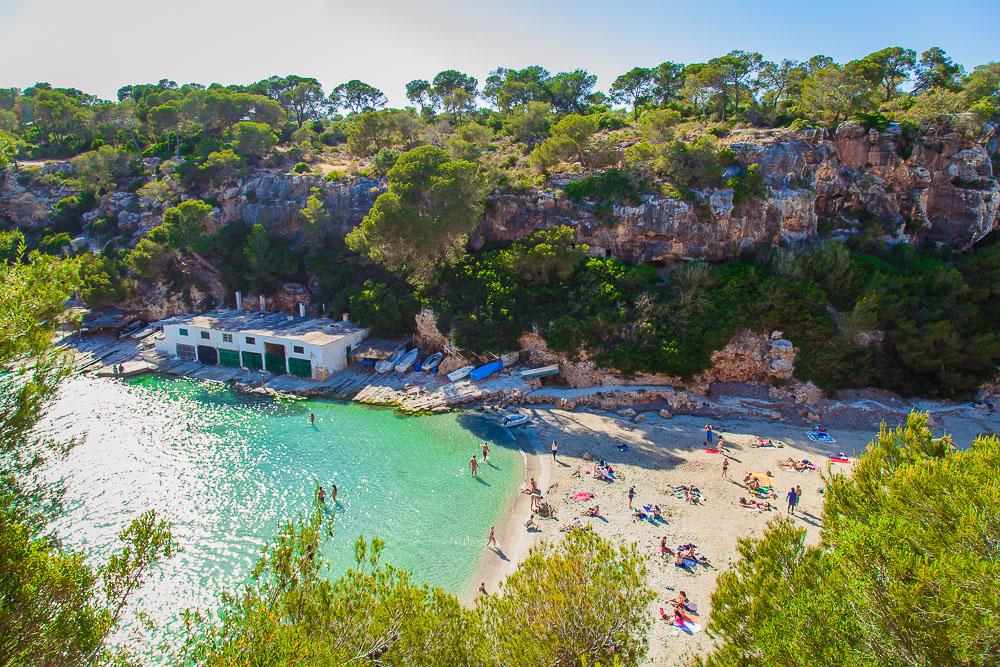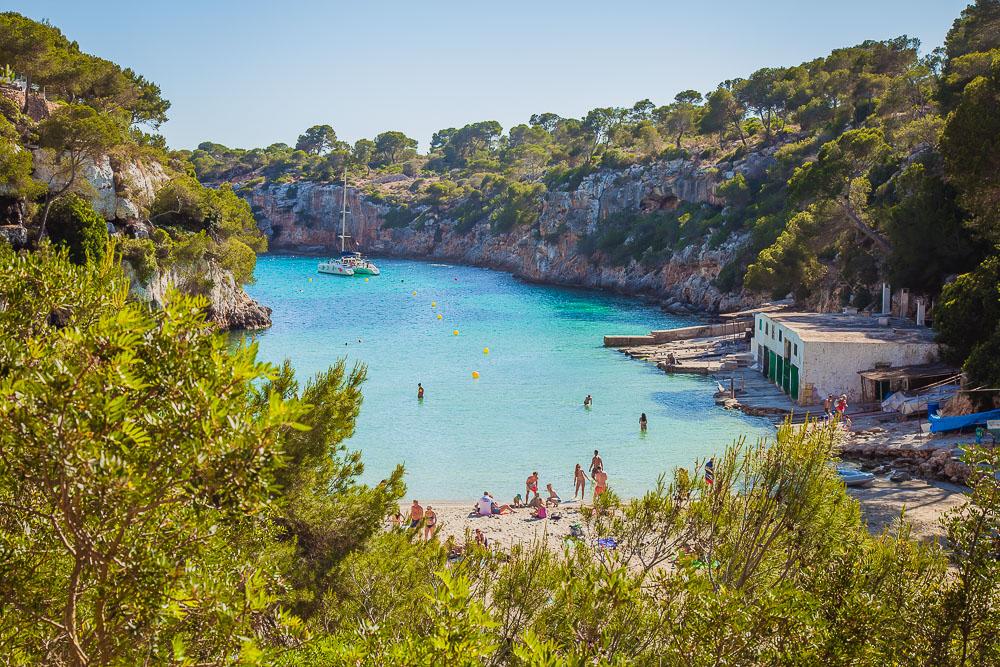 Cala Banyalbufar Beach in Western Mallorca
I didn't actually swim at Cala Banyalbufar, but I did stop here to admire the pretty views! The water at this beach looked so inviting (almost too inviting, as I was on my way to catch a flight!) and the surrounding views with terraced vineyards dropping into the see were just so beautiful.
For tours near Cala Banyalbufar, check here, and for accommodation check here.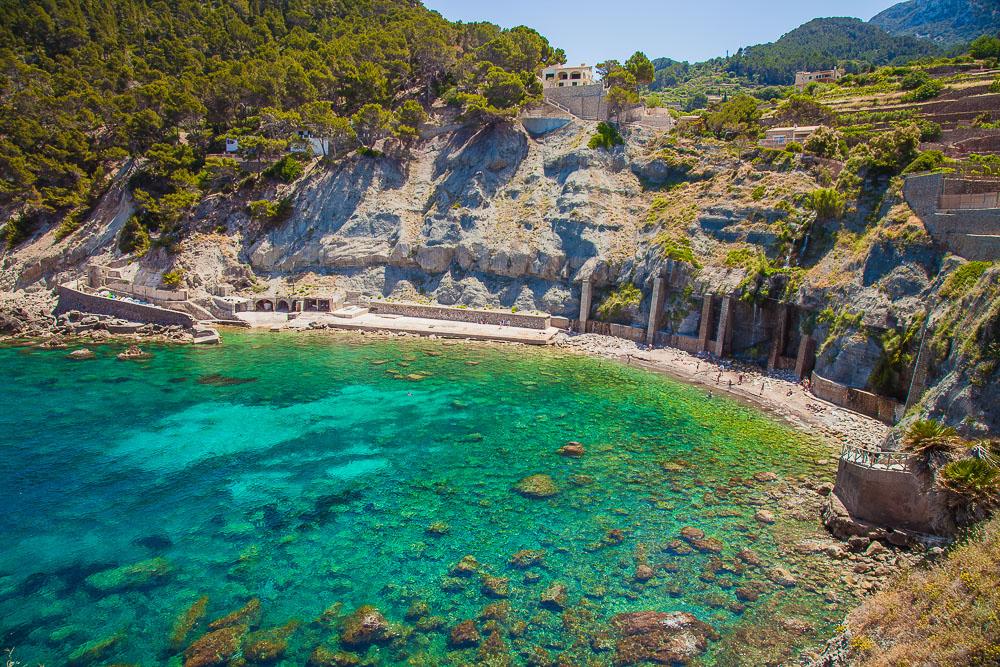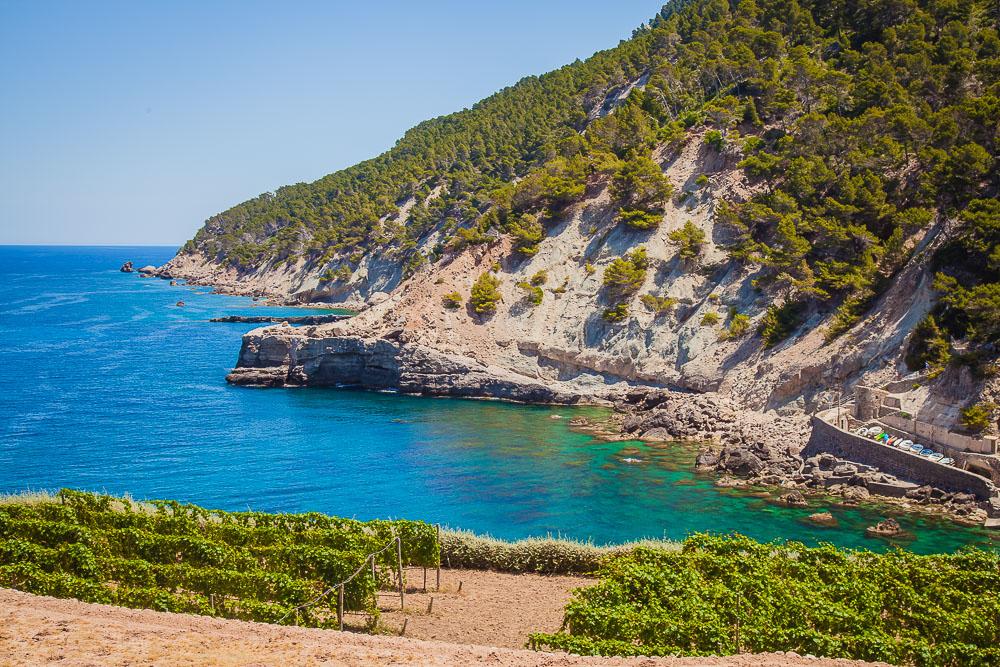 Where to stay in Mallorca
I stayed in 4 different hotels in Mallorca, non of which were resorts but all of which were near some of my favorite beaches.
Cala Figuera
Cala Figuera in southeastern Mallorca was my favorite place I stayed in Mallorca, nearby Calo des Moro and S'Amarador (and all the Mondrago Natural Park beaches). I stayed at Hostal Can Jordi, which had an amazing view over the water and was also such good value – it was the cheapest place I stayed on Mallorca yet one of the nicest. Check current rates and availability here
Colonia de Sant Pere
Colonia de Sant Pere in northeastern Mallorca is a quiet coastal town near Cala Mesquida and Cala Formentor, two of my favorite beaches on Mallorca. Here I stayed at Hotel Solimar, which had a lovely garden and pool and an amazing breakfast. Check current rates and availability here
Sóller
I spent 4 nights in Sóller, which while with its location in northwestern Mallorca isn't close to many sandy beaches, it is nearby two of my favorites: Sa Calobra and Cala Banyalbufar. Plus the drives from Sóller to other parts of the island were so beautiful that it actually made for a nice base from which to reach different beaches on the island. In Sóller I stayed at the beautiful Hotel La Vila, which you can book here.
Palma
I actually really loved staying in Palma, Mallorca's capital city, and there are a lot of nice beaches nearby, including Cala Pi, to give you a taste of both Spanish city life and the beach. Here I stayed at Hotel Colon, which was in a really nice area of the city and in easy walking distance to all the main sites. Check current rates and availability here