I always love visiting Mallorca, not only for the beautiful beaches in Mallorca, but also for the island's lovely towns, delicious food, and friendly locals. I've already written about my top picks for fun things to do in Mallorca, but one of my absolute favorite experiences was definitely taking a hot air balloon in Mallorca. Oh my goodness, what an experience!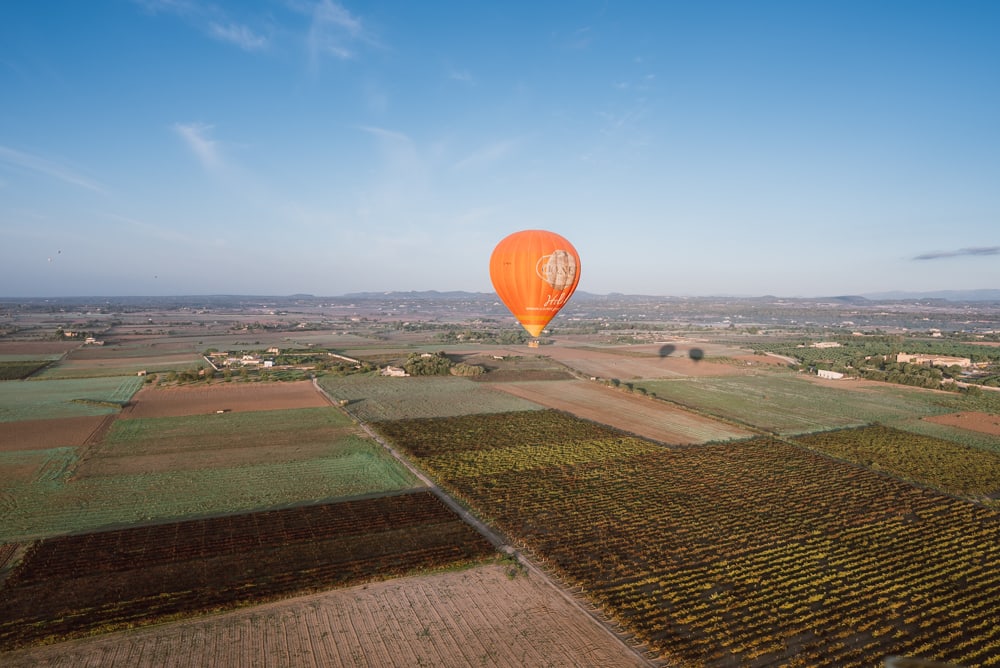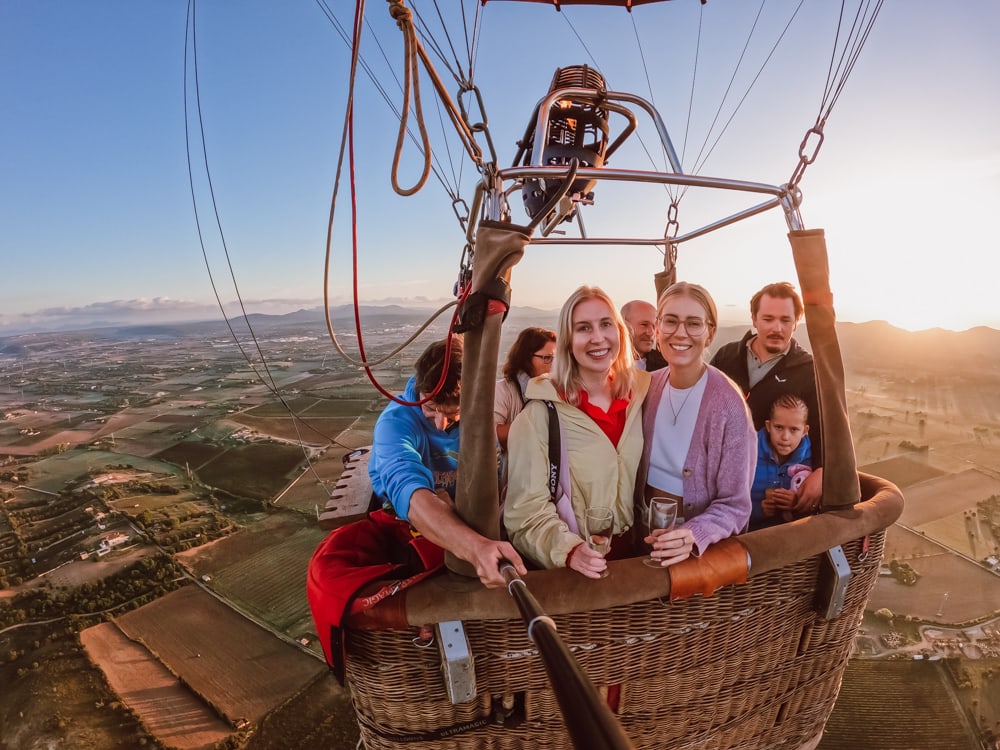 I booked this hot air balloon ride in Mallorca through Manawa here. To be honest I'm a little bit scared of heights, so I was unsure how much I'd actually enjoy the flight, but it sounded like such a unique experience to have in Mallorca that I just had to try it for myself.
I had originally booked a sunset hot air balloon flight, however the weather wasn't great that day, so we had to reschedule for the next day. I chose to rebook it for sunrise, because the weather forecast for the morning looked better, and I was lucky to have perfect weather the next day!
So if you do want to take a hot air balloon flight in Mallorca, I would definitely recommend booking it for earlier in your trip, so that you'll have some time to reschedule it if you're unlucky with the weather like I was.
The guide messaged me the evening before the flight with the location, which apparently changes depending on the wind direction. We met at a gas station in Manacor, so it's definitely easier to do this if you're renting a car while in Mallorca (which I recommend anyway!). I rented my car through RentalCars, which was inexpensive and went smoothly. I'm not always the most confident driver, but I didn't have any problems driving in Mallorca.
When I arrived they were inflating the balloons, which was really cool to see!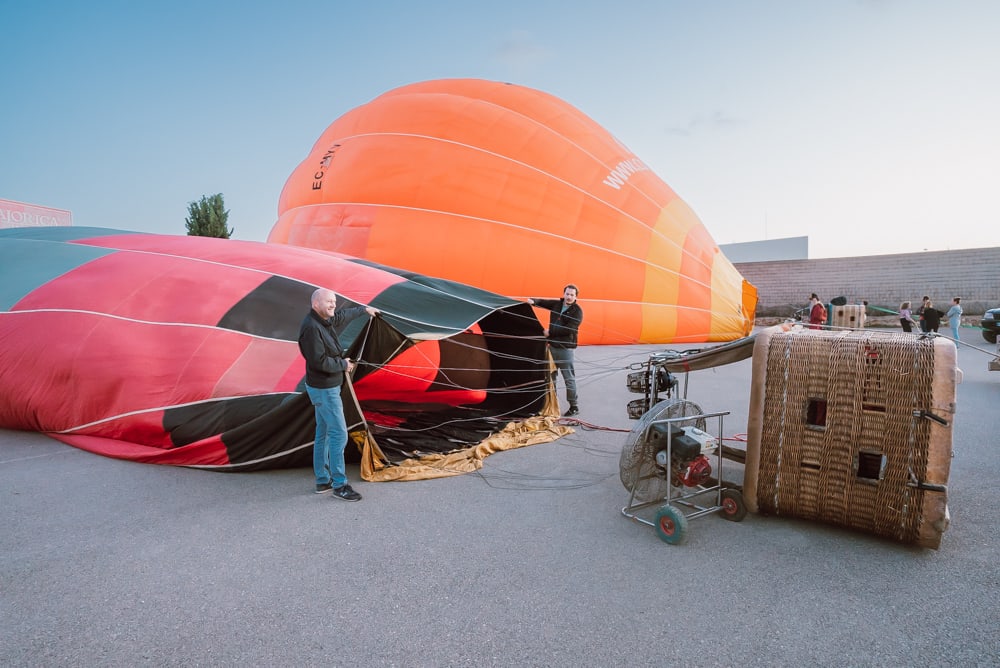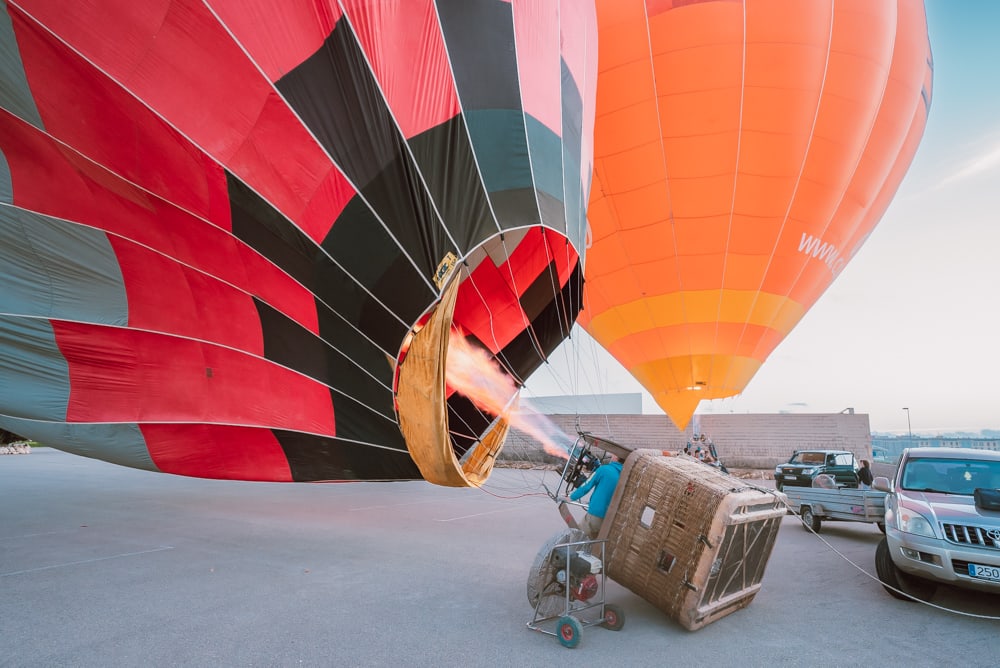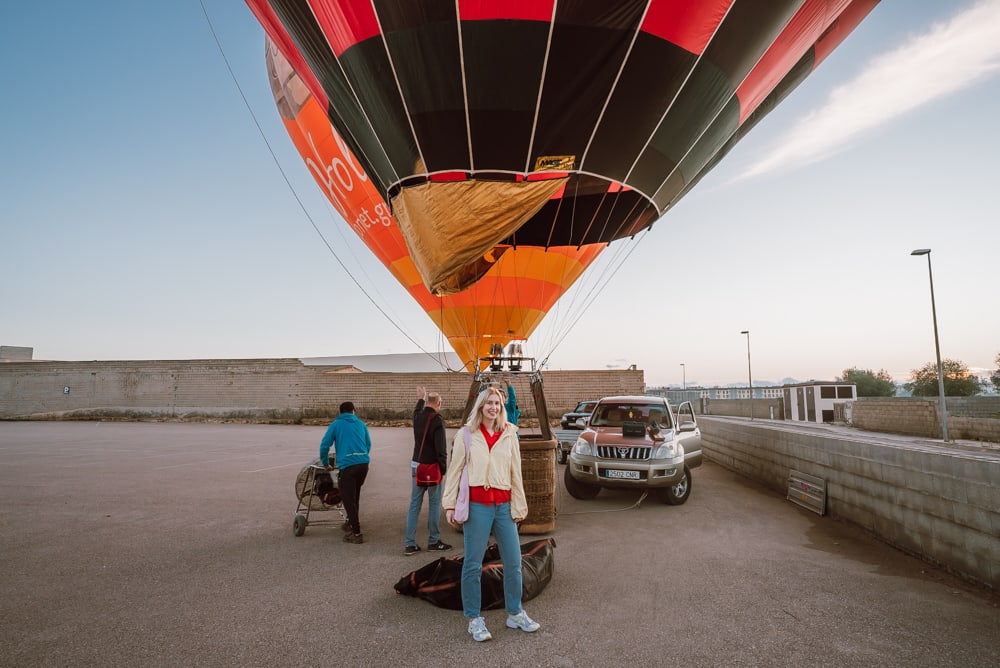 There were two balloons going up, each with six people and one pilot. I brought my friend Gemma, whom I actually met on Bumble BFF! She's from New Zealand and works on a yacht that is based in Mallorca for the winter. I asked if she wanted to join me on the balloon ride, since I thought it would be nice to share the experience, plus of course I love any excuse to meet new friends while traveling.
That said, I think it would be totally fine to take the balloon ride solo as well, as you'll be with other travelers anyway. Everyone in our balloon was so nice, and it is quite a fun bonding experience.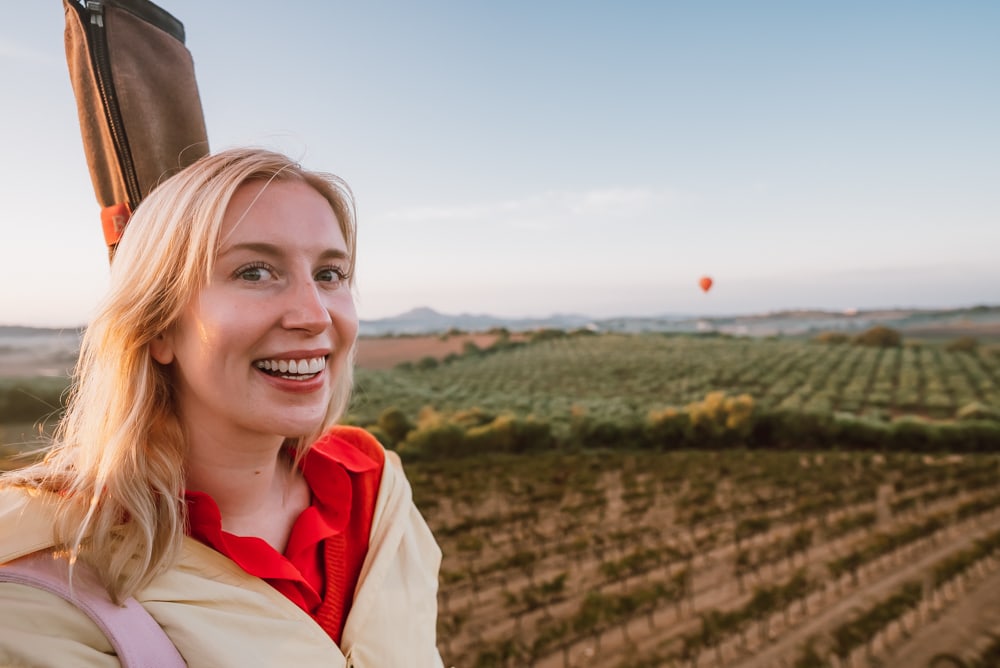 I was a little scared when the balloon first went up, because I wasn't sure what to expect, but the ride was so smooth I actually felt completely safe and comfortable in the balloon. It was also really nice to feel the warmth from the hot air balloon, so we weren't chilly at all even so early in the morning. And the views were incredible!
The balloon ride was a lot more peaceful than I expected, which I really appreciated. For most of the journey we all just stared out over the beautiful landscape in silence – I don't think I stopped smiling the entire time.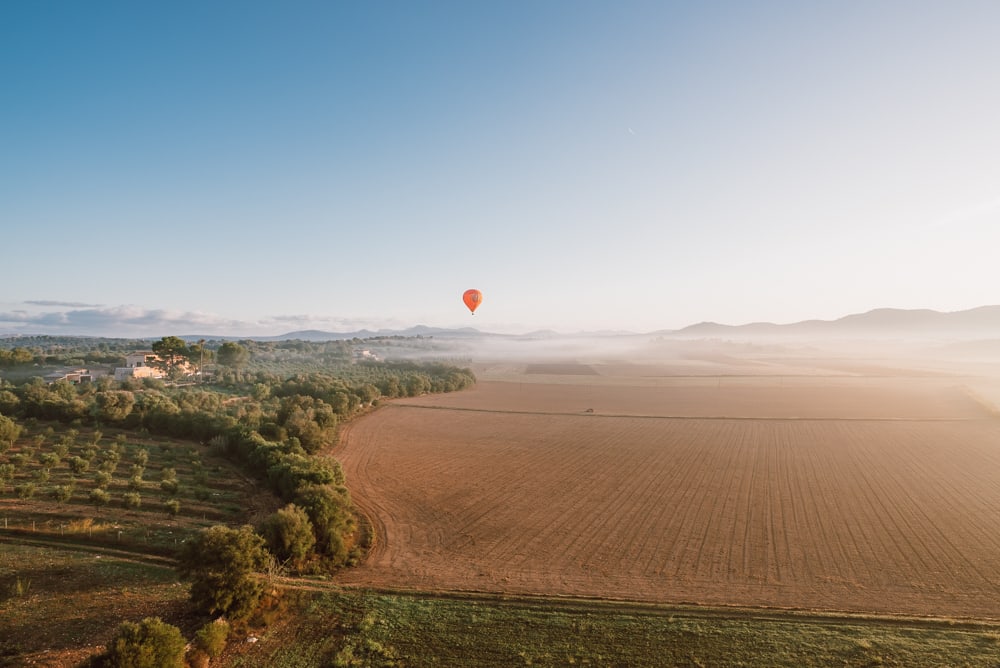 The hot air balloon ride lasted for one hour, and midway through our guide poured us all champagne for a toast in the sky!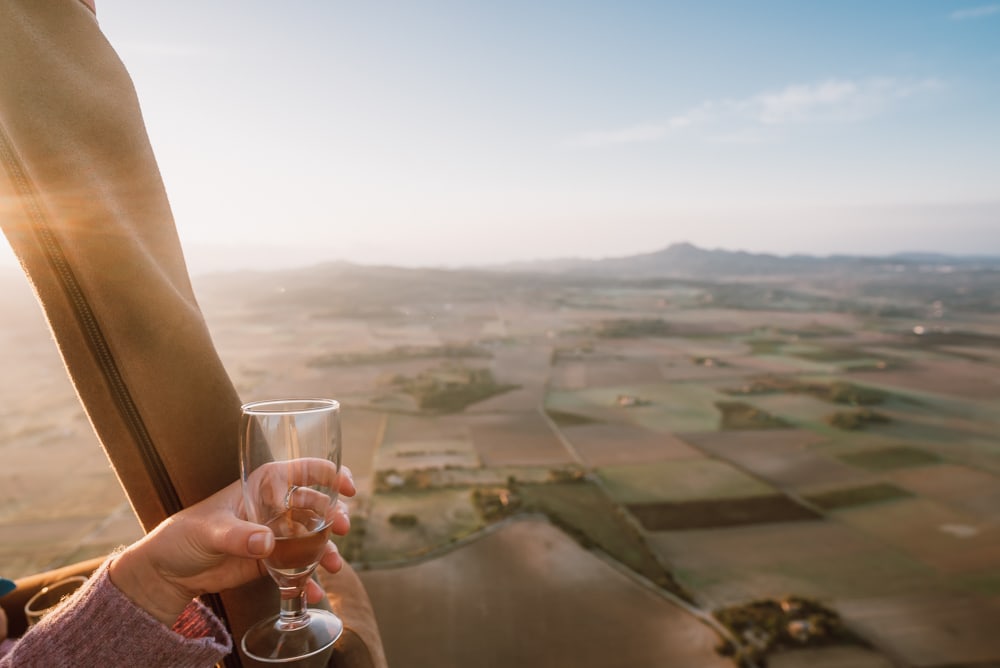 I had been a bit nervous for the landing, but again I was surprised by how easy and smooth it was. The only problem now is that I really want to go on a hot air balloon again!
Being a blogger I of course took lots of photos, but our guide also took a bunch of photos of all of us on his GoPro, which he then sent us a few hours after our ride.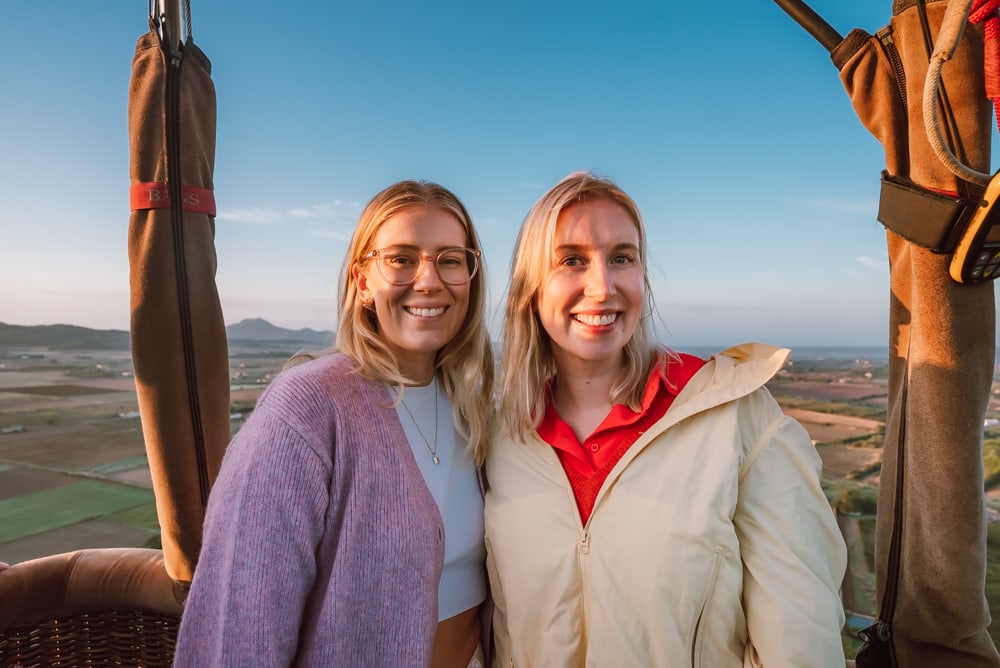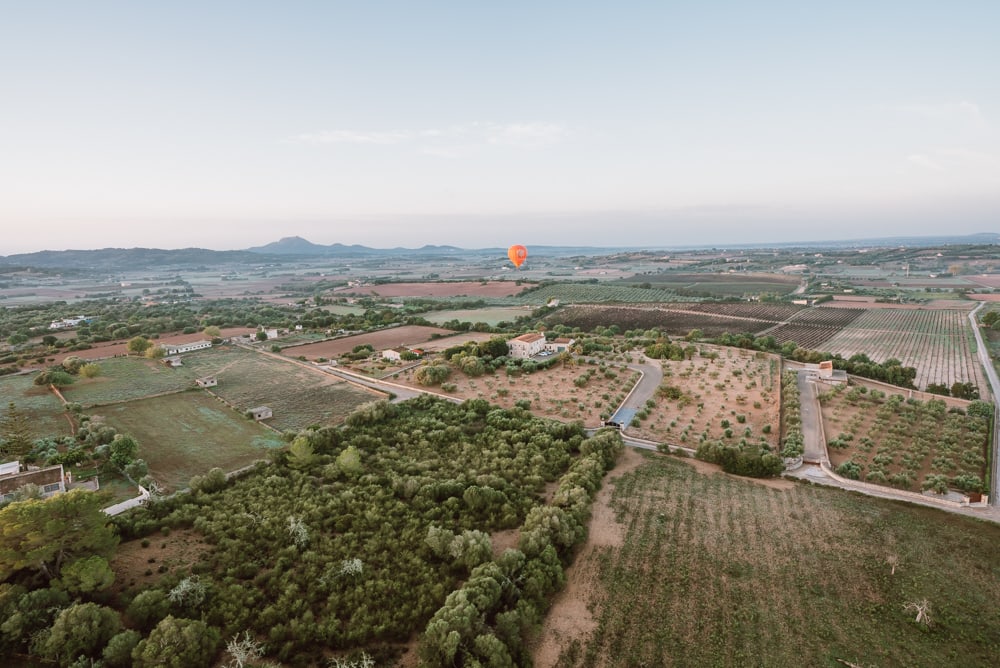 Check prices and availability for hot air balloon rides in Mallorca here.