One very exciting thing about moving to Bergen is that it's much easier to travel around Europe from here. When I lived in Tromsø I would have to take a two hour flight to Oslo or Bergen before even leaving in Norway. So I was very excited when I realized that Bergen even has direct flights to Edinburgh, where my friend Catriona lives!
This was particularly great news for me because I was already planning to spend New Year's Eve in Edinburgh, with Catriona as well as my friend Sam.
This would be my third time visiting Catriona in Edinburgh, so I was surprised to see that I hadn't written about Edinburgh before. It's such a gorgeous city and there are so many fun and wonderfully Scottish things to do in Edinburgh. I did write about island hopping through the Scottish Hebrides with Catriona here.
I first visited Edinburgh in August for the Festival Fringe. Catriona and I had just returned from two years teaching in Japan, and we had a little Japan reunion in Edinburgh with our friend Viv.
I remember having sky high expectations for the city, because my dad had always said that Edinburgh is the most beautiful city in the world. And then I got really nervous, because high expectations usually spell disappointment. But luckily Edinburgh is one of those cities that is even more beautiful in real life than in your imagination.
My next visit was for New Year's Eve. Edinburgh is famous for its New Year's Eve celebration, Hogmanay, which is apparently one of the largest New Year's Eve parties in the world. And yes, Hogmanay in Edinburgh is tons of fun, and their fireworks are spectacular. However the highlight of my Scottish New Year's Eve experience was actually the ceilidh dance we briefly attended.
We didn't have much time at the ceilidh dance last time, so I vowed to return for another New Year's ceilidh someday. And someday turned out to be exactly ten years later!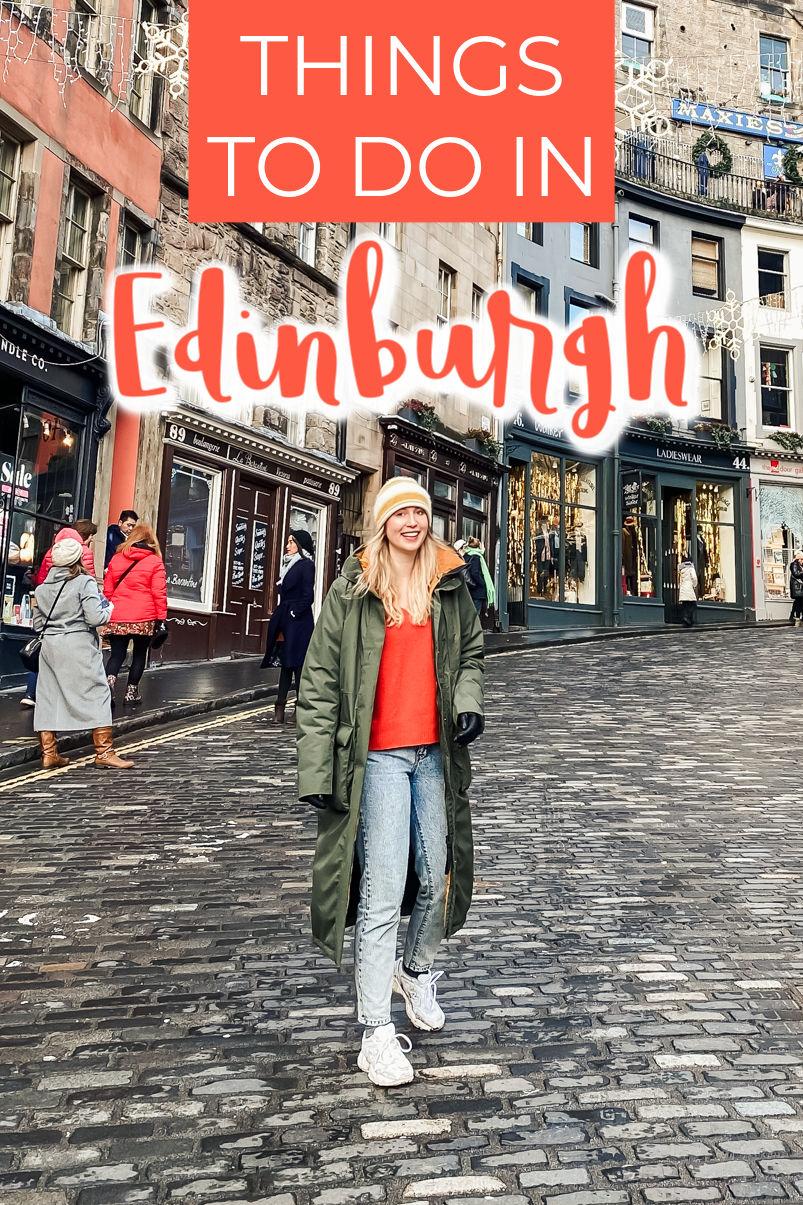 Ceilidh dancing in Edinburgh
A ceilidh is a social gathering, usually involving live music and dancing. Some are informal, but you can also sign up to join an organized ceilidh while visiting Edinburgh. You can see a schedule of public ceilidhs in Edinburgh here.
Catriona and I attended the New Year's Eve ceilidh at Lauriston Hall, which was the same ceilidh we had gone to ten years ago. It was such a fun way to spend New Year's. Sam and her friends went to the Hogmanay street festival instead and when we met up later it definitely sounded like the ceilidh was more fun than the street festival (their main complaint was that the music wasn't good).
If you're interested in joining a ceilidh while visiting Edinburgh but have never danced at one before don't worry, an instructor runs through the steps before each dance, and you're of course welcome to sit out any dances you don't want to do. Catriona learned most of these dances at school growing up in Scotland, but even without a Scottish upbringing I had no trouble keeping up.
Well, I was in an Irish dance company in university, so I did know several of the set dances already, but the ones I didn't know were also easy to pick up! Plus the chaos is part of the fun.
I also love that most of the dances involve changing partners over and over, so by the end of the night I had probably danced with everyone in the hall – something which felt particularly heartwarming considering just a year ago we couldn't even shake a stranger's hand.
Then the next day we went to The Black Bull for some more live music, which was also part of the Edinurgh Hogmanay celebrations. But I'm sure even if you're visiting outside of Hogmanay you'll manage to find some live music at an Edinburgh pub, because Scotland.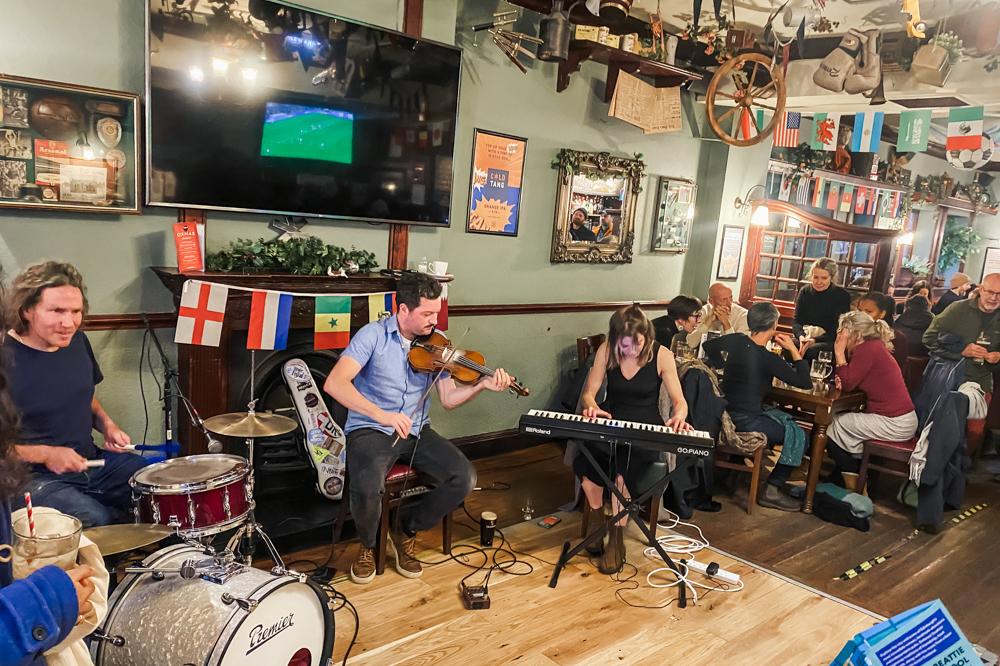 Things to do in Edinburgh when you're not dancing
Walk the Royal Mile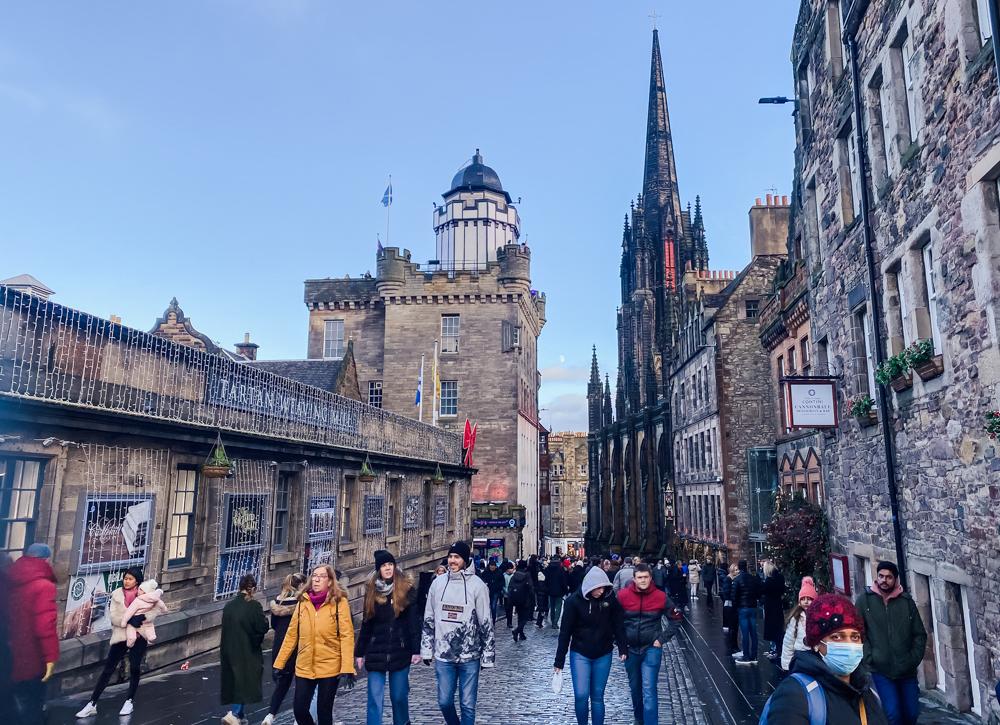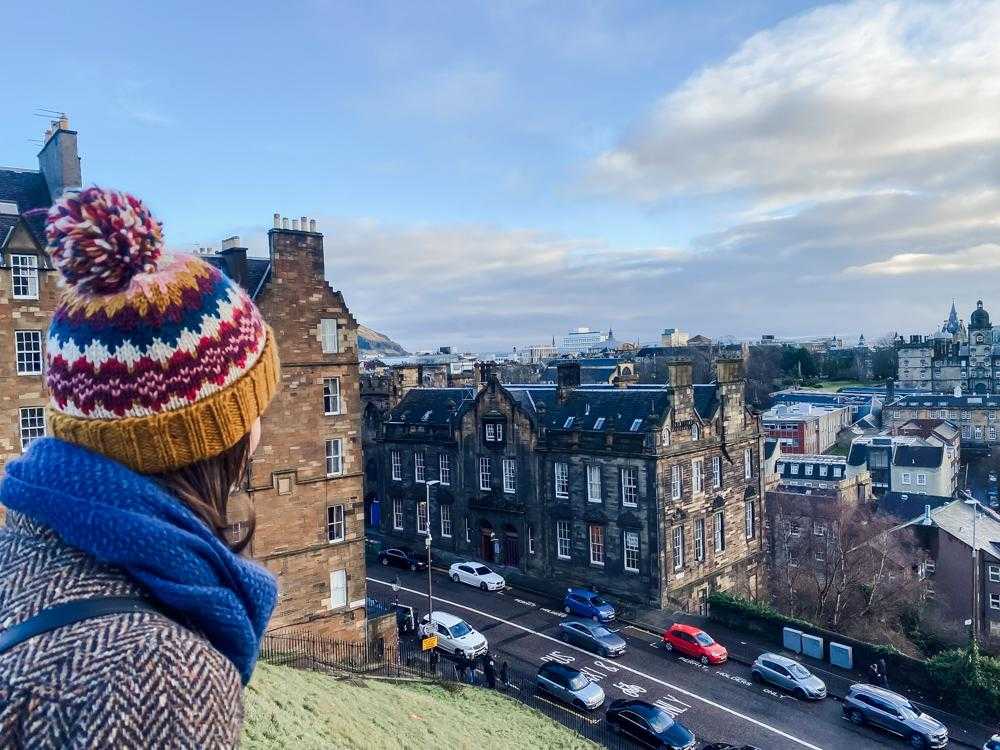 The Royal Mile runs through the heart of Edinburgh's Old Town, from the Palace of Holyroodhouse to Edinburgh Castle. You'll probably find yourself walking along the Royal Mile even if you don't mean too, because it takes you by so many of Edinburgh's sites.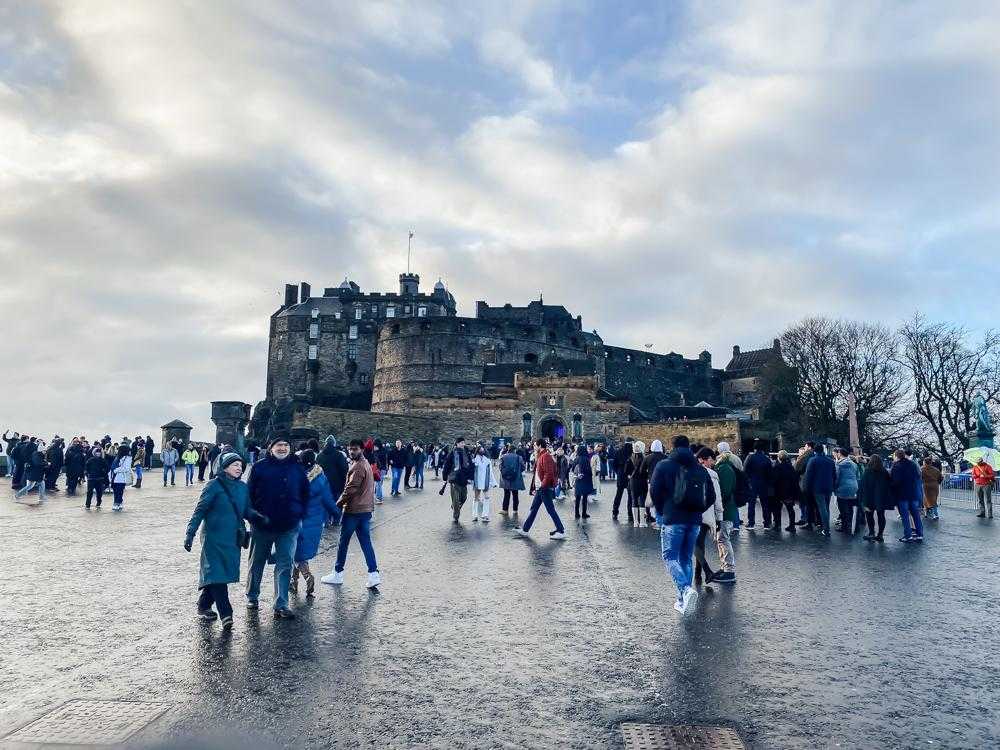 One of my favorite memories from my first visit to Edinburgh was having a Marks & Spencer picnic in the grass below the castle. We were such babies!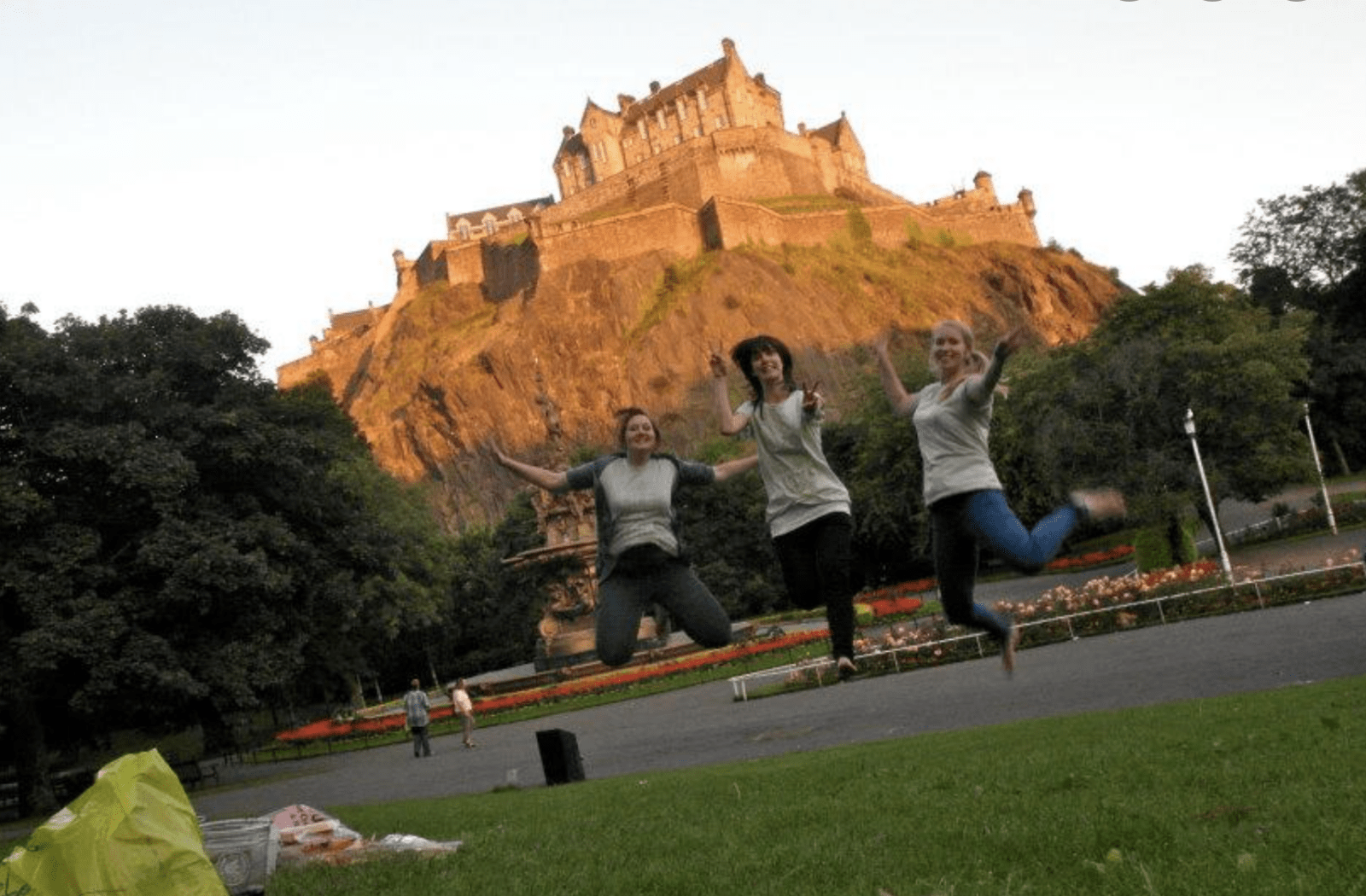 Gladstone's Land
While walking the Royal Mile you'll also pass by Gladstone's Land, which is one of the oldest buildings here, now turned into a museum taking visitors back through three centuries of life at the property. Catriona highly recommends visiting to learn more about Edinburgh history, and she says to be sure to ask the staff to explain the history of the different rooms.
Visit Victoria Street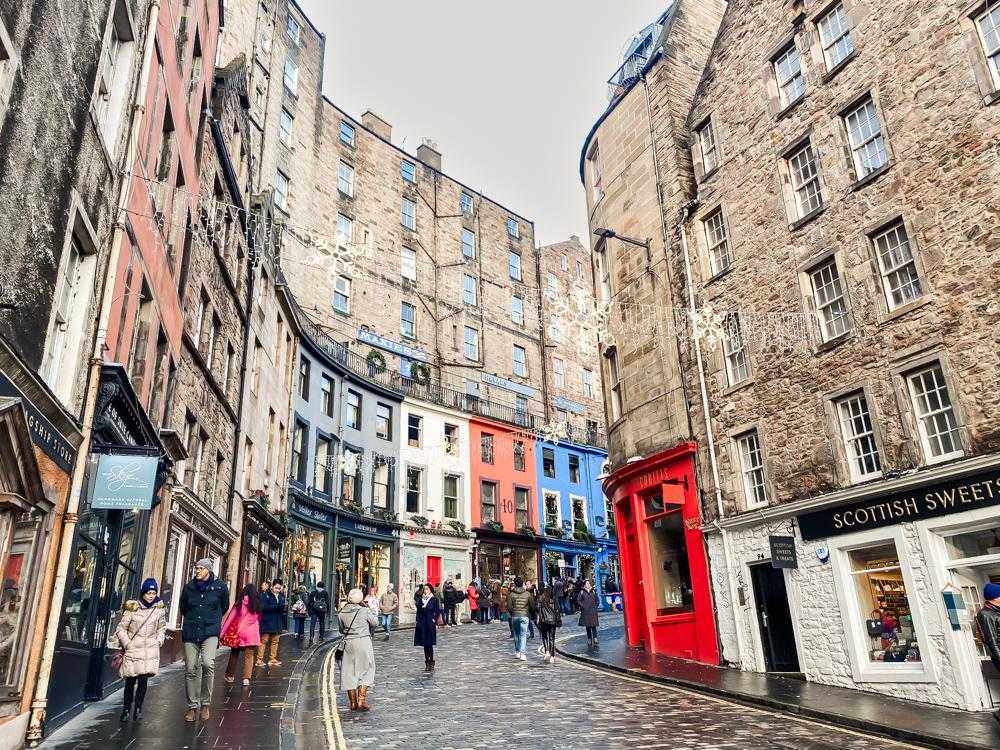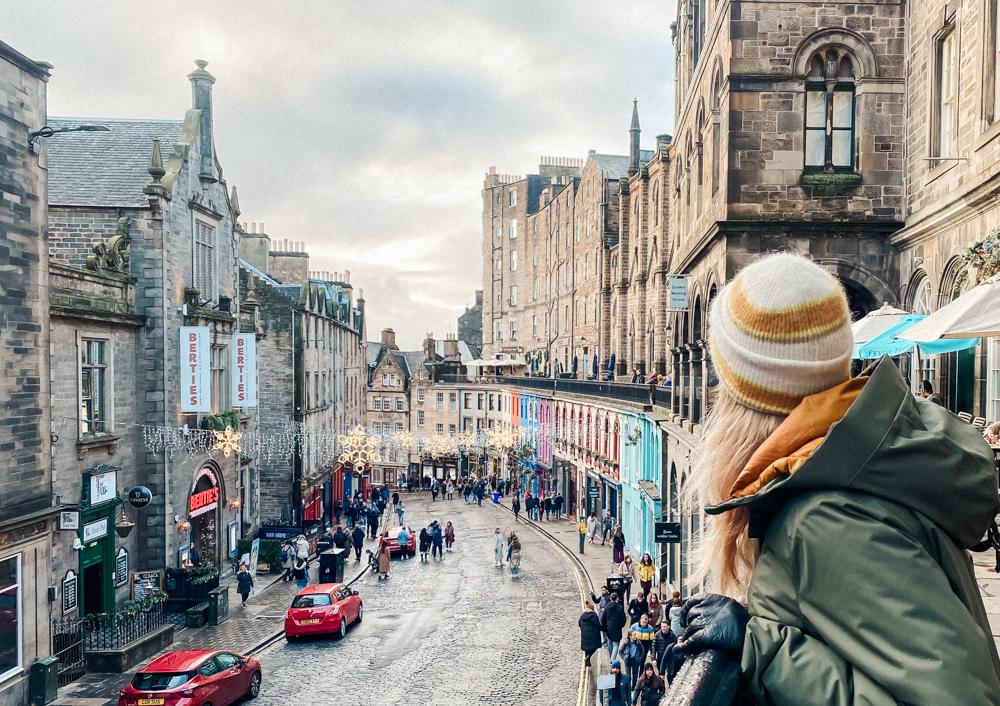 Victoria Street is the prettiest street in Edinburgh (according to Catriona and me). Many Harry Potter fans also call Victoria street a real-life Diagon Alley, as J.K. Rowling wrote some of the earliest Harry Potter chapters in Edinburgh.
Pet Greyfriars Bobby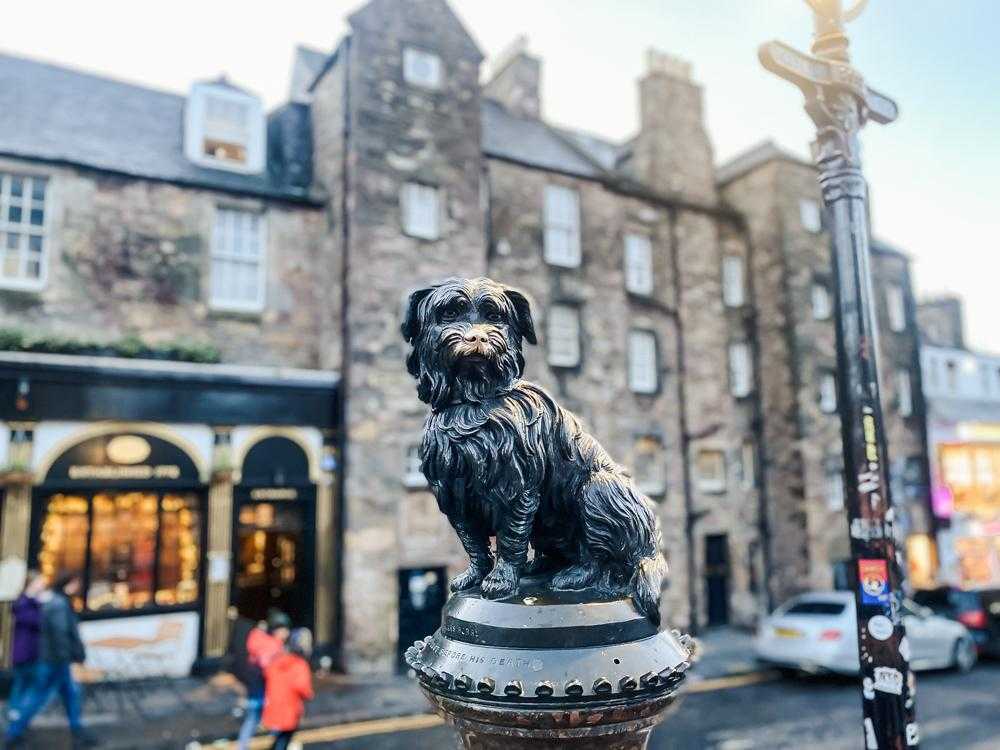 While downtown you can also stop by the statue for Greyfriars Bobby, because don't we all love a story of a faithful dog? Meanwhile my much less faithful dog was in Bergen overjoyed that he got to have a break from me and spend the weekend with my parents instead.
National Museum of Scotland rooftop terrace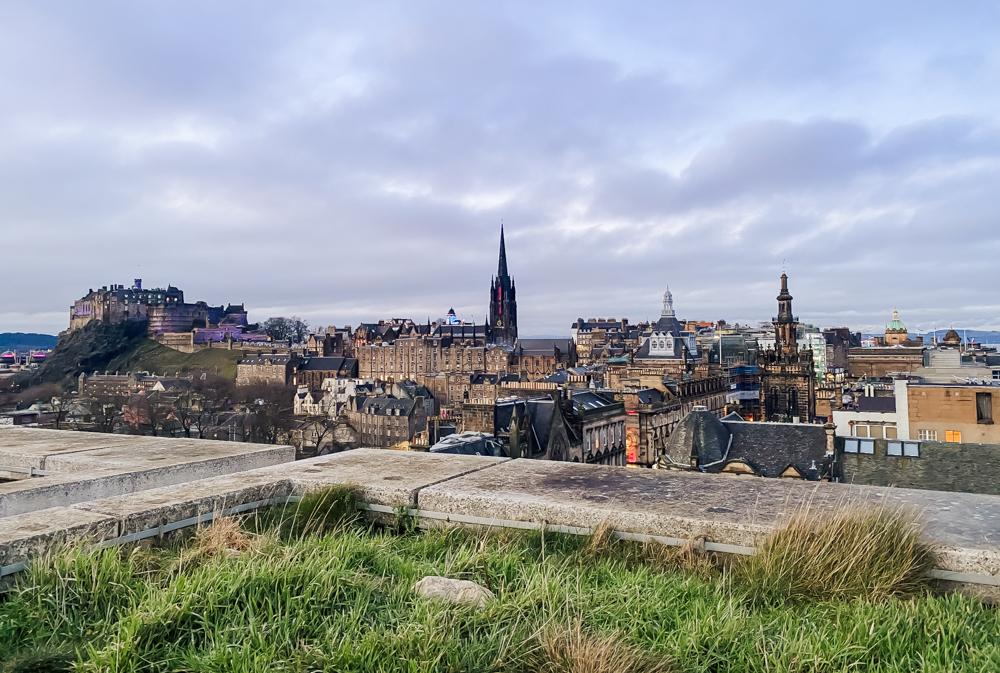 The National Museum of Scotland is free to visit, which is great if you like museums, and also fantastic if you like rooftop views! Catriona and I headed straight to the rooftop terrace, which has beautiful views out over the city. And who doesn't want a rooftop view over the most beautiful city in the world?
Shopping
If you've read any of my other posts from Scotland you'll know that I love doing a bit of shopping whenever I'm in the UK. They have the best shops! And it's cheaper than Norway. Then again, everywhere is cheaper than Norway.
Catriona recommends Armstrongs for vintage shopping and the Scottish Design Exchange for "unique Scottish presents that aren't tat."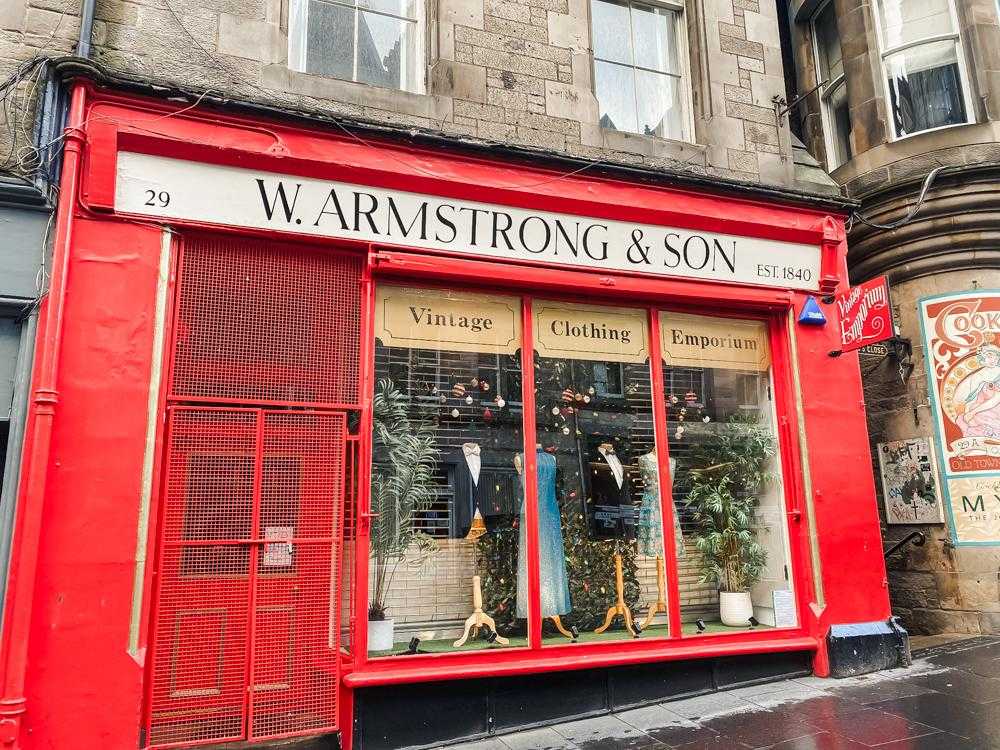 Tron Kirk Market on the Royal Mile also has stalls with lots of cute local handcrafts.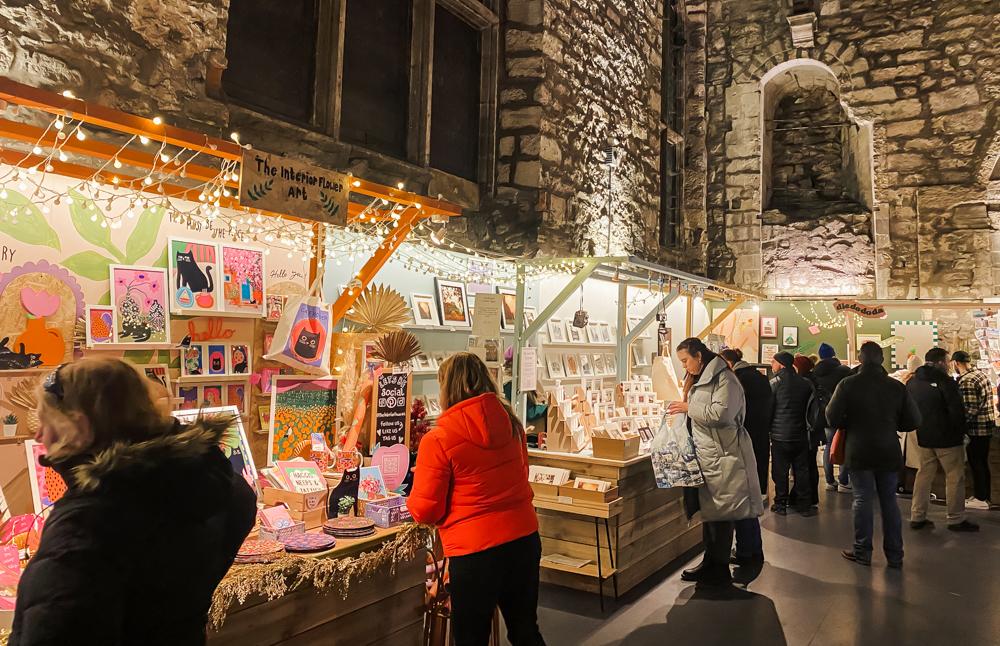 And Isle of Skye Candle Company at the end of Victoria Street (W Bow) has beautiful candles from Skye that I can confirm smell delicious!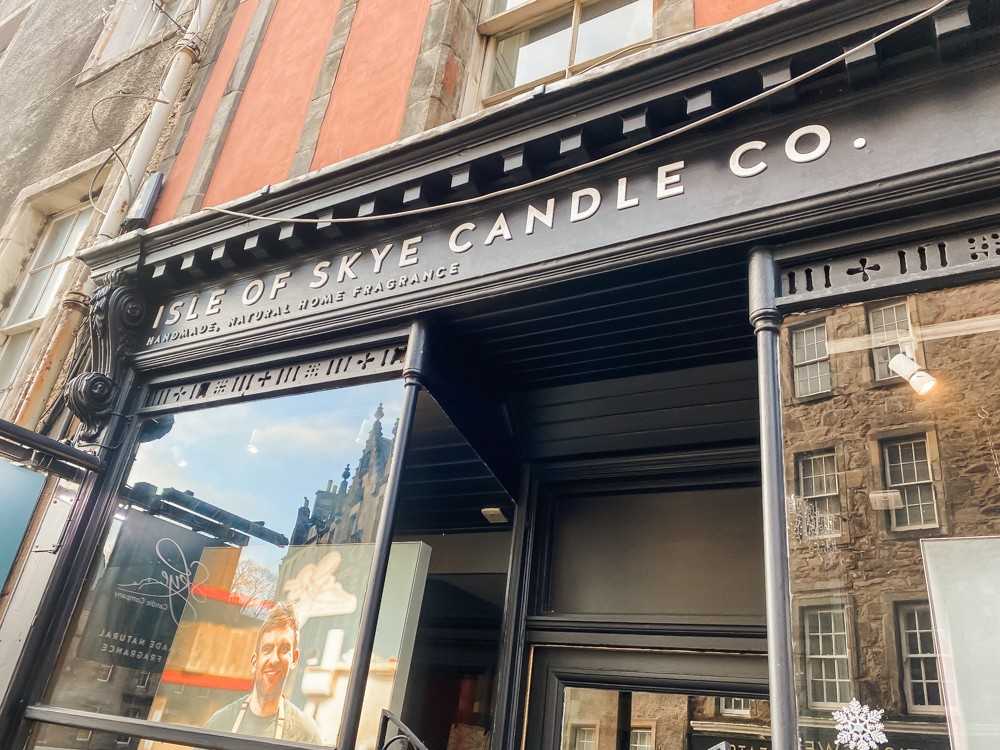 Hike up Arthur's Seat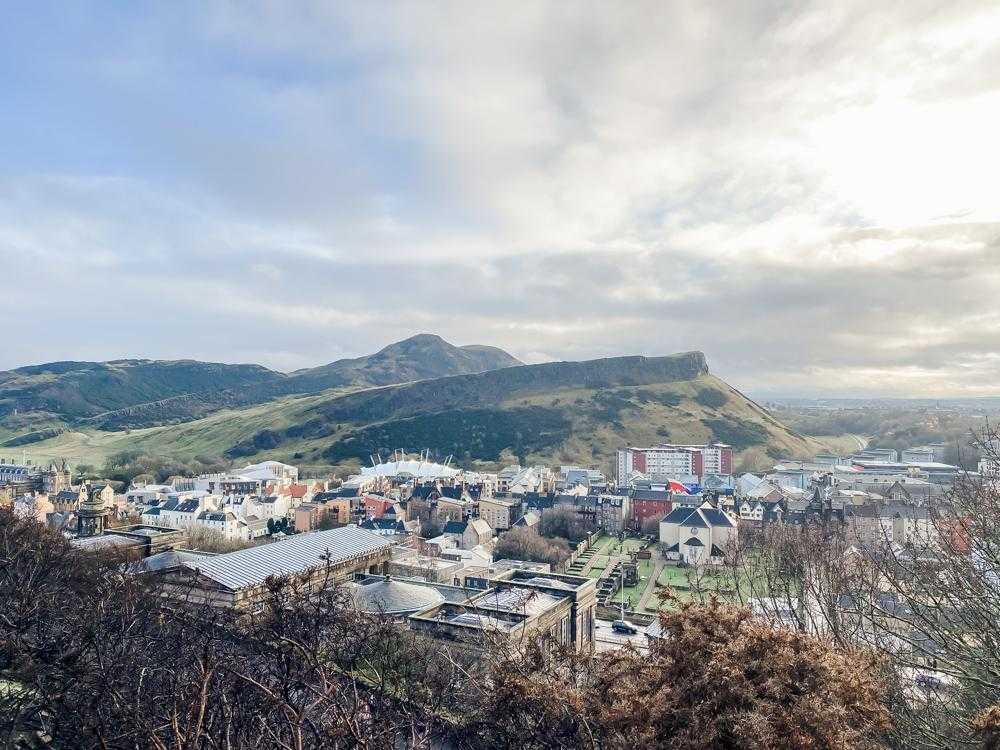 You can't visit Edinburgh without hiking up Arthur's Seat, the remains of a volcano with 360 degree views out over Edinburgh and its surroundings. Well, you can (and I have), but you probably shouldn't. One of the things I love about Edinburgh is how beautiful the landscape around the city is – and I think that's really saying something, considering I live in Norway.
I do remember the hike being surprisingly steep even though Arthur's Seat is only 250 meters high, but that was before I lived in Norway.
Walk up Calton Hill


Catriona really wanted us to hike up Arthur's Seat again on New Year's Day, but after ceilidh dancing my feet off the night before, I begged for a shorter hike instead. Actually I begged for no hike, so we compromised with a walk up to Calton Hill. And I was so glad we did, because the views from the top are beautiful (and the walk up here is really easy).
Join a parkrun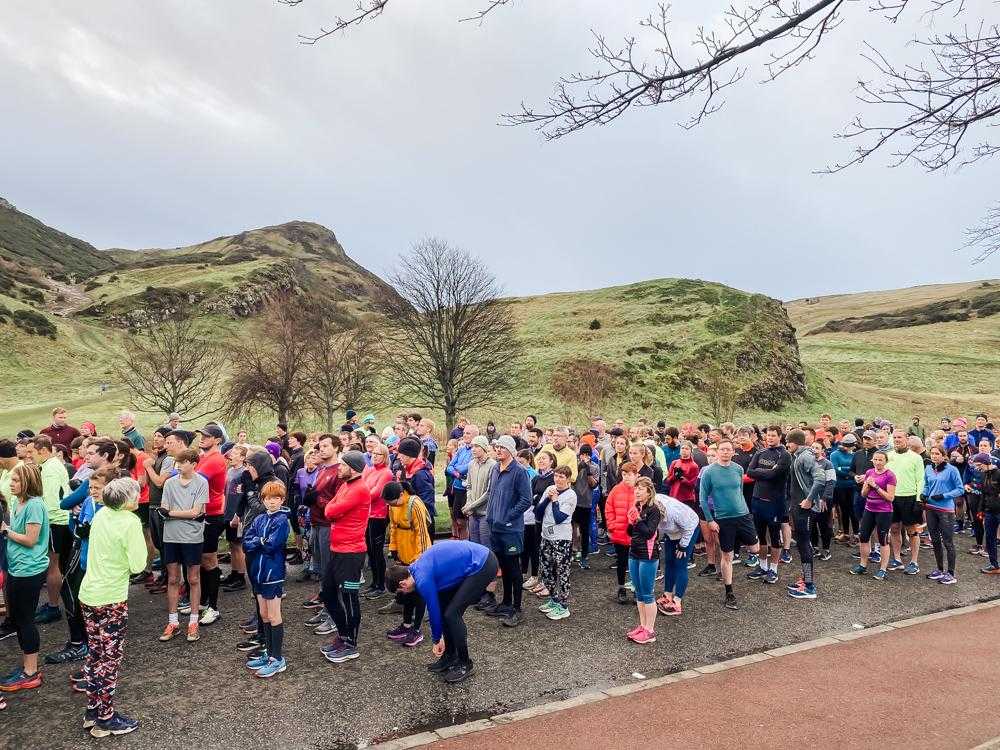 Catriona is a big parkrun fan, so of course my visiting over a weekend meant that I'd have to attend a parkrun. In fact the only parkrun I've participated in was in Glasgow, also with Catriona.
But this time she kindly let us volunteer instead of run! Though Sam actually did run, and seemed to enjoy it.
While I'm not the biggest fan of running, I'll admit that parkrun is a fun way to connect with the local community while traveling. Catriona has actually participated in parkrun in ten different countries!
We volunteered at the Holyrood parkrun. Holyrood Park itself is beautiful, and home to Arthur's Seat, so I can definitely recommend visiting on your own as well.
Venture out to the shore at Leith and Portobello Beach
While I've always stayed around the city center while in Edinburgh, Catriona has promised to take me out to the shore by Leith and Portobello Beach on my next visit (hopefully this summer), which is supposed to be incredible and well worth the short journey out of the city center.
Where to Eat in Edinburgh
Catriona has amazing taste in restaurants and cafés, which was good news for me because it meant that I ate very well in Edinburgh. And it's good news for you, because she also shared more of her restaurant and café recommendations for this blog post.
Hendersons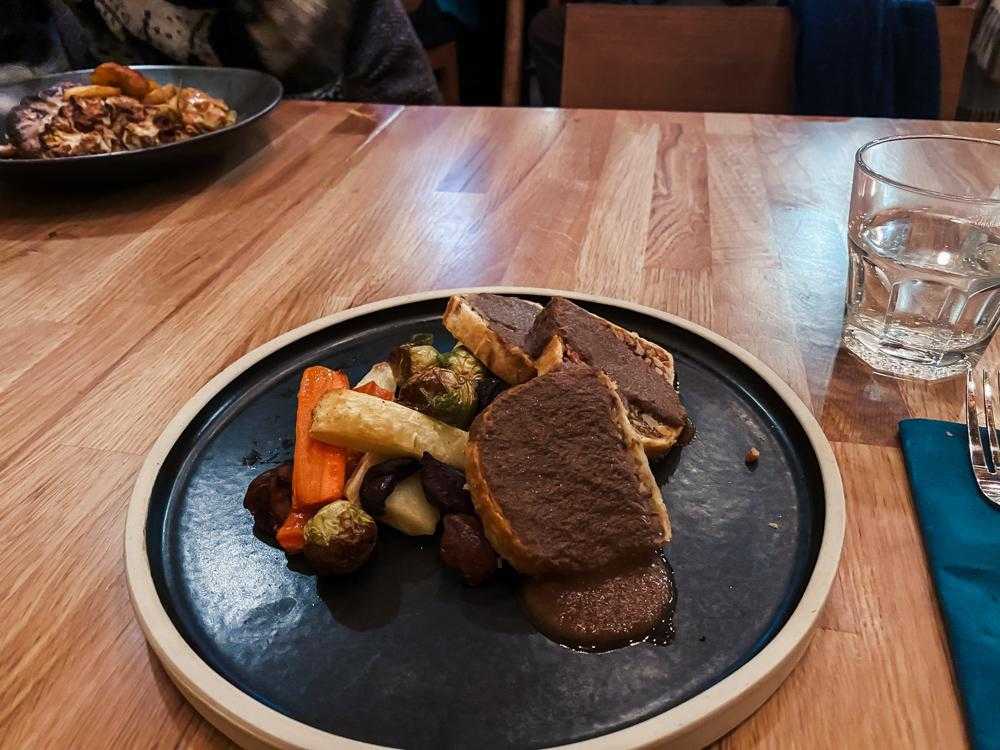 Catriona, Sam and I had dinner together at Hendersons and the food was so good! And while this vegetarian and vegan restaurant is quite new, it also has a lot of history. The original Hendersons was an Edinburgh institution that had to close in 2020 due to the pandemic. The grandson of the owner of the original Hendersons opened this new Hendersons in 2021 to continue his grandmother's legacy, with a menu including some of the original favorites as well as many new dishes. Such a sweet story!
Loudons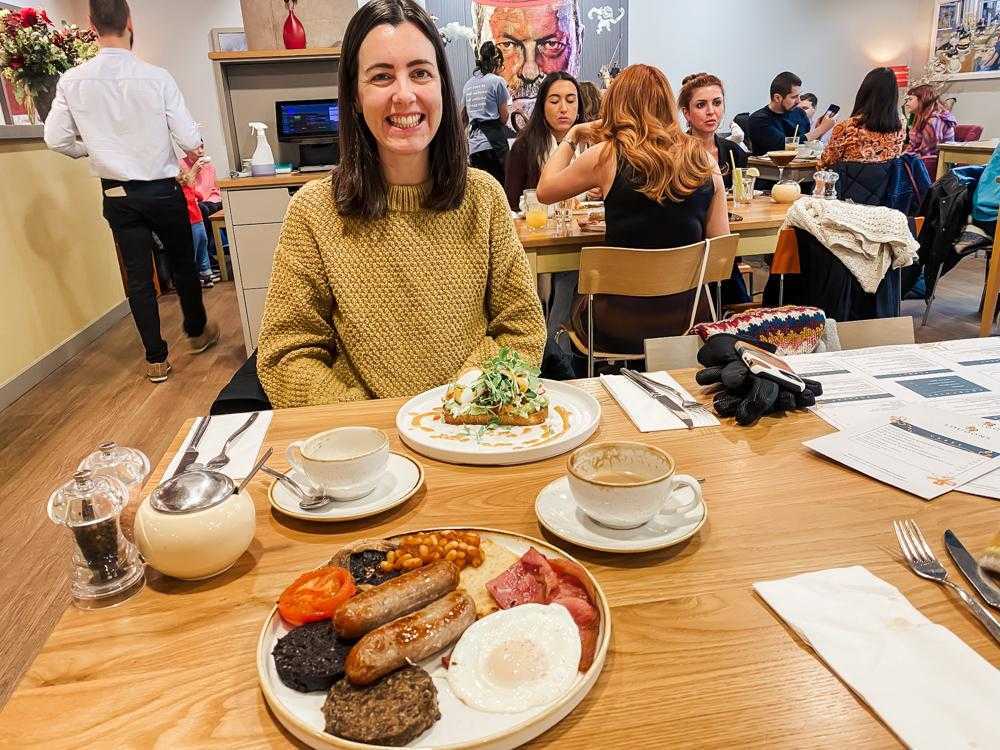 After Parkrun, Catriona, Sam and I went to Loudons for brunch. Sam and I had the full breakfast, which was delicious (and a great way to try some haggis!). Catriona said that this is a great cafe spot because it's so central but right off the main road, so tourists won't really stumble on it unless they know about it.
Salt Café
While Loudons is a great central brunch spot, Catriona's favorite brunch place in Edinburgh is Salt Café in Morningside. Morningside is a bit of a walk from the city center, but it makes for a lovely wander with lots of cute independent shops and cafés.
Dishoom
Dishoom is a popular Indian restaurant in London, but they also have a Dishoom in Edinburgh! I've only been to the one in London (with Catriona, of course), but Catriona assures us that it's just as good in Edinburgh. You can go here for breakfast or dinner, but Catriona especially recommends the breakfast here.
Nutan's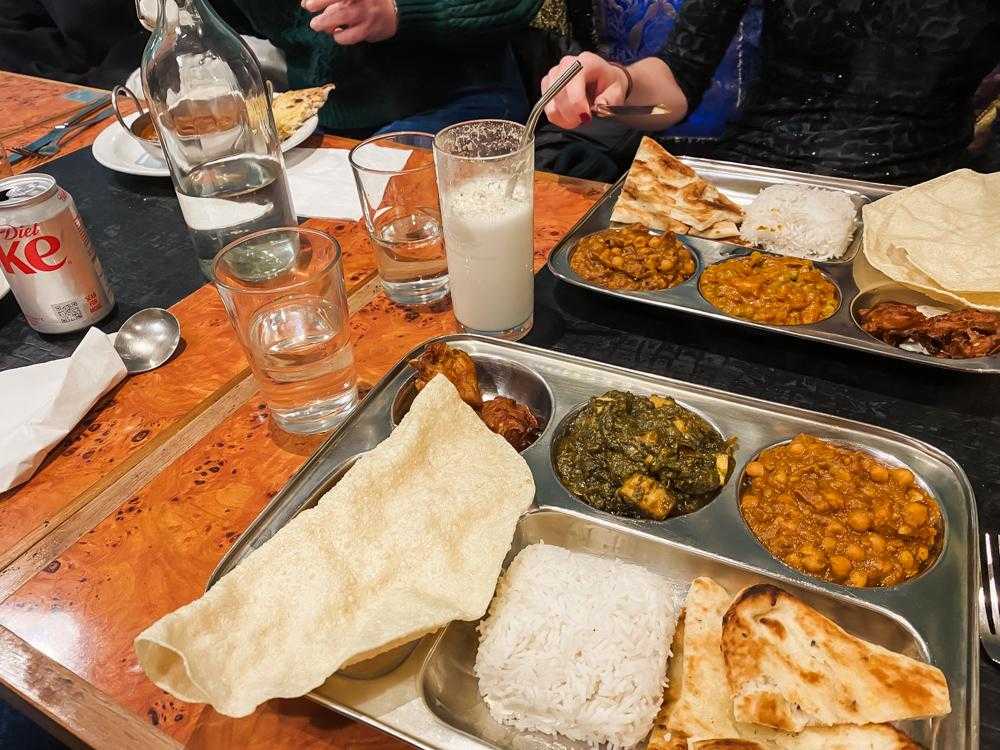 We went to Nutan's for dinner on New Year's Eve and oh my goodness, what a lovely little restaurant! It's run by one woman who cooks all the food downstairs and she was such a delight I didn't even care if the food was good (the food was excellent).
Dinna Tell
If you're in Edinburgh in the summer, or on a day with nice weather, definitely check out the secret garden at Dinna Tell, near Calton Hill. Catriona spent her birthday here last year and says it's perfect for outdoor drinks.
Uplands Roast
Catriona describes Uplands Roast as a "wee hut place" in the meadows with next level hot chocolates.
Krema Bakehouse
Stop by Krema Bakehouse at the bottom of Leith walk for takeaway pastries and cakes and coffee.
Écosse Éclair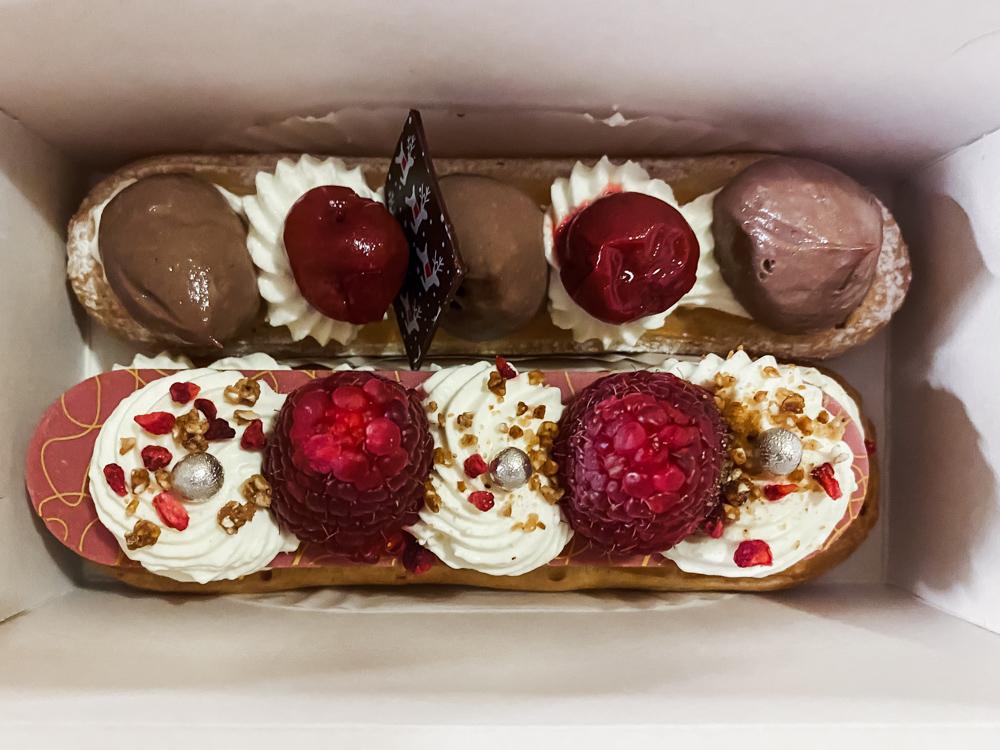 When I first arrived in Edinburgh Catriona and I stopped in Écosse Éclair for oh my goodness, the most delicious eclairs.
A Wee Taste
And if you're into wine, A Wee Taste Wine & Grazing Board Bar is the place to go!