If you were following the news in the 90s, a. you're old (apparently so am I) and b. you probably remember Albania as a war-torn and closed off country, once under the tight control of a brutal dictatorship.
Luckily, the Albania we experienced in 2014 couldn't have been further from that: beautiful white-sand beaches, clear turquoise water, cheap food and wine, and some of the absolute nicest people!
And by nicest we mean that the owner of the first hostel we stayed at didn't bat an eyelash when we showed up sans passports.
Wait what's that? Yeah, somehow we managed to lose our passports at the border.
The story goes that we were on one bus coming from Athens going to a city two hours away from our destination. When we told other passengers where we were going they immediately spoke to another bus driver at the border who would take us to exactly where we needed to go, for free. Perfect, right?
Well no, actually.
As we were sitting on the new luxury bus (exhausted mind you, it was 4 am at this point and we weren't thinking so clearly) we looked at each other and said,
"The border guards gave our passports to this bus driver, right?"
Wrong.
So we assumed we would get them when we stopped at the Albanian border.
Wrong.
The bus never stopped. Once we realized we weren't getting our passports back we spoke ("spoke," there was really no shared language) to the bus driver, who promised to take us back to the border that evening to retrieve our passports.
Fast forward to an hour later and the three of us were standing in the middle of a field next to the bus parking spot, with our driver telling us in a mixture of Italian and broken English that we should go take a nap at his apartment.
He loved Americans! Especially Bill Clinton. Why? "Because of Monica," he told us with a grin and a wink.
Um, help?
We thanked him for everything and hurried off to find ourselves a hostel.
By the time we arrived at Saranda Backpackers it was almost 6 am. The owner Tomi, upon hearing our dilemma, took down all of our information and sent us to bed.
Two hours later he was waking us up, telling us our passports had arrived. We never did figure out how he did it, but let's just say we were grateful. I mean, we had heard of U.S. passports selling for thousands of dollars in Albania so…
Saranda, Albanian Riviera
Small yet lively beach town. We were there pre-season but there were still plenty of people. The prettiest beach, Ksamil, was just a 15-minute bus ride away.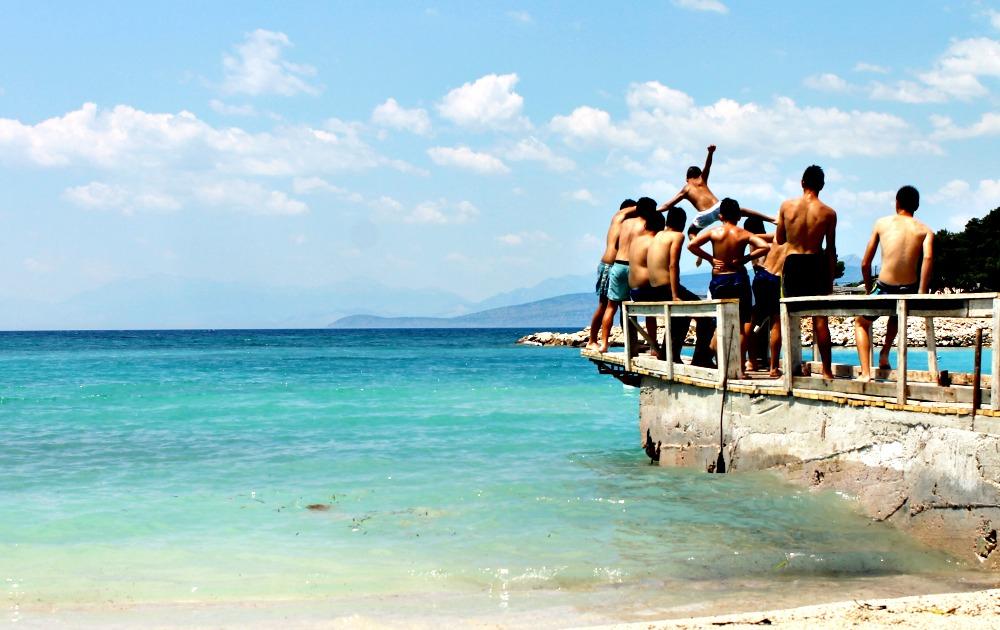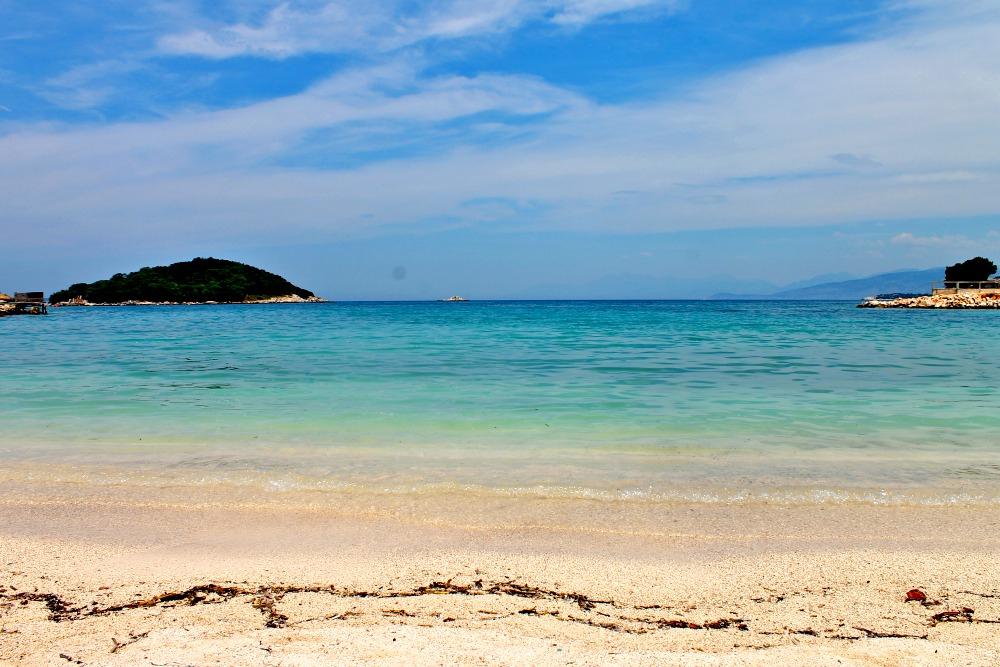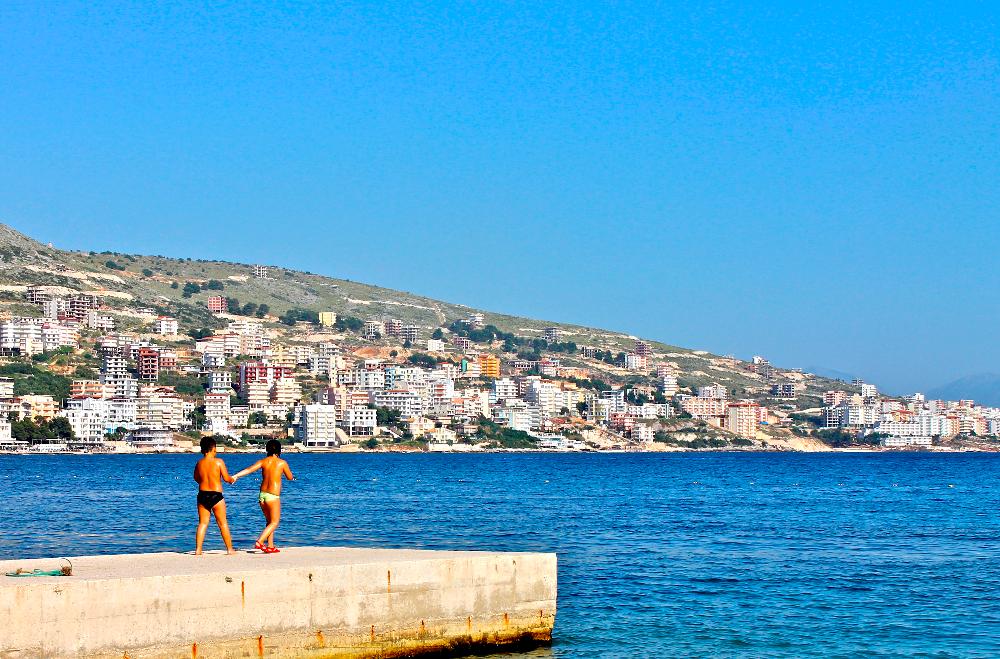 There's plenty of fresh, cheap seafood along the coast. We found a nice, local seafood restaurant – just walk about 20 minutes north on the main road until you get out of the touristy area.
Read also: The Ultimate Guide to a Budget Beach Holiday on the Albanian Riviera
Stay at Saranda Backpackers ($12/night, dorm) and don't sleep through breakfast (yes, I'm speaking from experience here)!
Himara, Albanian Riviera
An even smaller but possibly more beautiful beach town. It was pretty dead when we were there but it still quickly turned into a favorite. The vibe is just so relaxed and once again those Albanian beaches did not disappoint. 
The ride from Saranda was stunning. It will rival any other coastal drive you have ever done. We hitchhiked, which was relatively easy and how we got around the entire country. Hitchhiking in Albania is incredibly easy with the warm and welcoming locals – highly recommended!
By asking around when we arrived in Himara, we were able to find a random room for $10/night each.
Vlora
Big and built up beach town. We came here specifically to visit an Albanian-America couple who had given us a ride from Saranda to Himara in their Pennsylvania-licensed car! (Have we mentioned yet that Albanians are the nicest?)
Vlora has pretty beaches but it was a little crowded for our taste. We wouldn't have gone if not for our new friends, but if you're looking for a lively city on the beach, Vlora is your spot.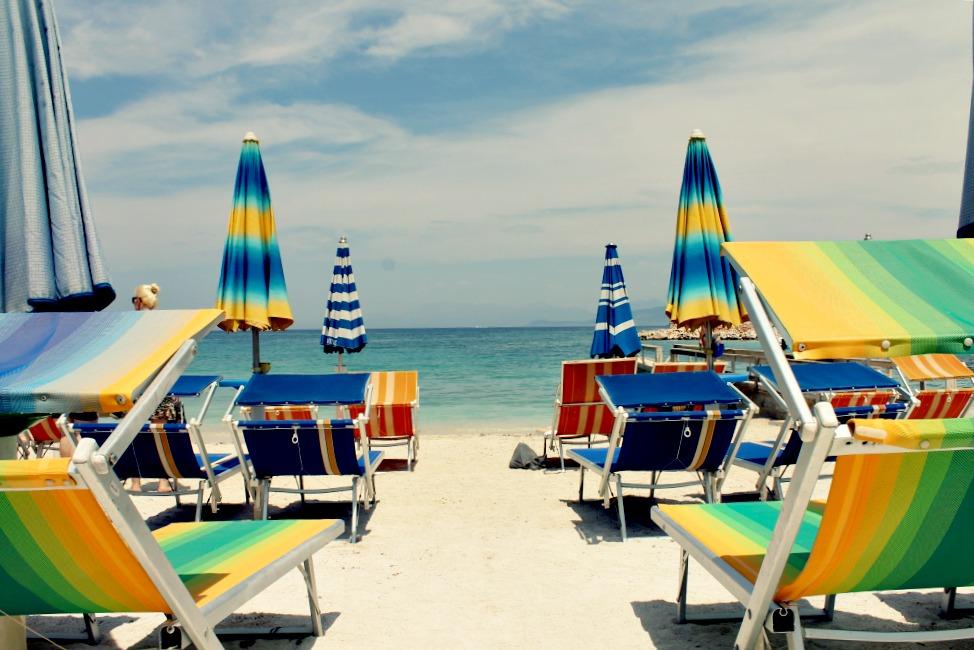 Tirana
Albania's capital is a beautiful European city with lots of street side cafes and bars.
We got $3 haircuts, our first since Tajikistan (9 months ago!).
We would love to tell you more, but we spent the entire time hanging out with our Couchsurfing host and eating pizza.
Update: You can read about my return to Tirana with more details on what to do in the city here!
I didn't think it was possible to get sick of pizza but it is! That being said, eat pizza while you're here – the Italian influence is noticeable but the prices are cheap!
Otherwise there's always Albania Fried Chicken!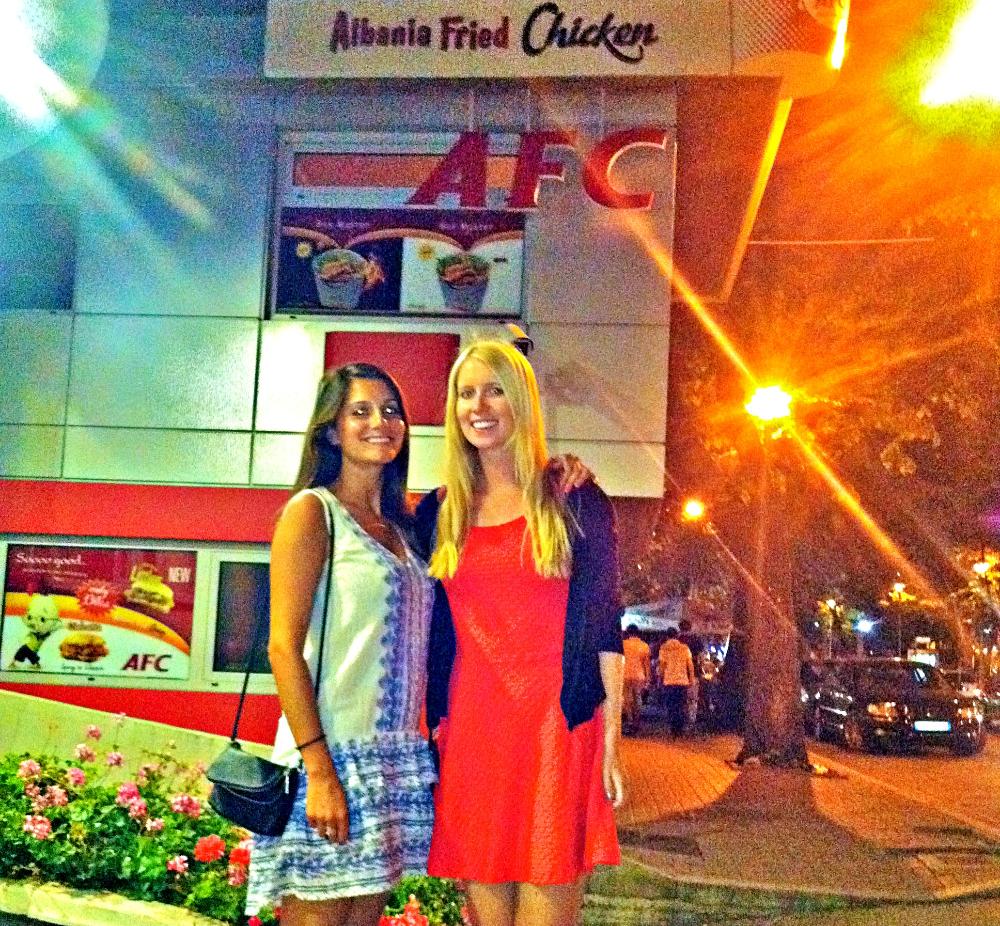 This post was written together with Danielle and also appears on her blog The Roaming Coconut.