When Danielle first said she was going to visit me in Norway in January I got super excited. And then the stress hit. Danielle isn't a big fan of the cold and I knew she was pretty much only coming to see me, but I wanted to make her trip as worthwhile as possible. Plus I'm always trying to show people how magical winter in the north actually can be, so I wanted to show her the best time ever here.
And I think I succeeded!
When I put together our itinerary I focused on checking off what I consider to be the top Arctic bucket list experiences, as well as taking her to the prettiest spots in Norway.
So I thought I would share our itinerary with you guys as well.
Now, this isn't our exact itinerary as I actually drove my car up from Mosjøen, which wouldn't really make sense if you were renting a car. And then there was that huge blizzard that closed the main highway so I was two days late picking Danielle at the airport (this is why you should always get travel insurance when visiting Norway – the weather here can seriously mess with your plans!).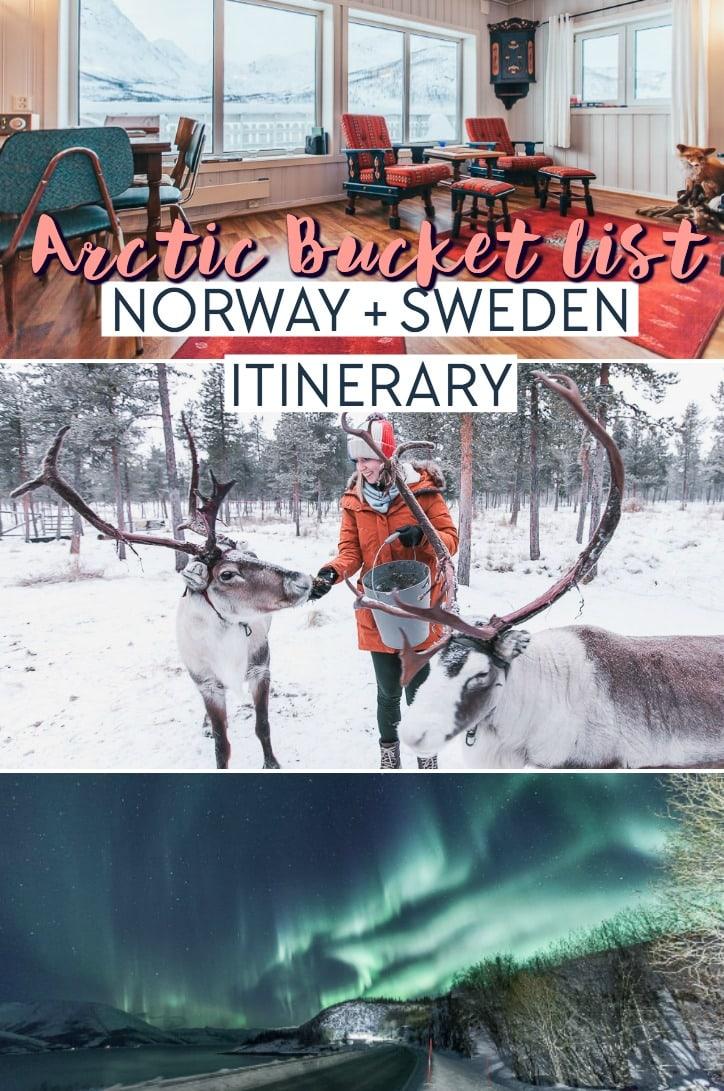 Day 1: Narvik
You'll most likely get an international flight into Oslo or Trondheim, but then book a flight directly up to Evenes Airport in Narvik. You'll rent your car for the week from here. I always rent from Sixt when I'm in Norway as they tend to have the cheapest rates and are always reliable, but you can also check RentalCars.com to compare prices at different rentals.
Once you get your car drive straight to Narvik, where you'll be spending the night in an Arctic Dome!
This is one of my top Arctic bucket list experiences, as sleeping in a clear dome under the Northern Lights is probably the best thing ever. But even if you're traveling in the summer sleeping in a dome is amazing, as you get such beautiful views all night long. The dome also has curtains if you want darkness while you sleep.
You can read more about our stay in Narvik's Arctic Dome here. It's pricey, but so, so worth it. And if you're new to Airbnb you can get a discount by signing up here.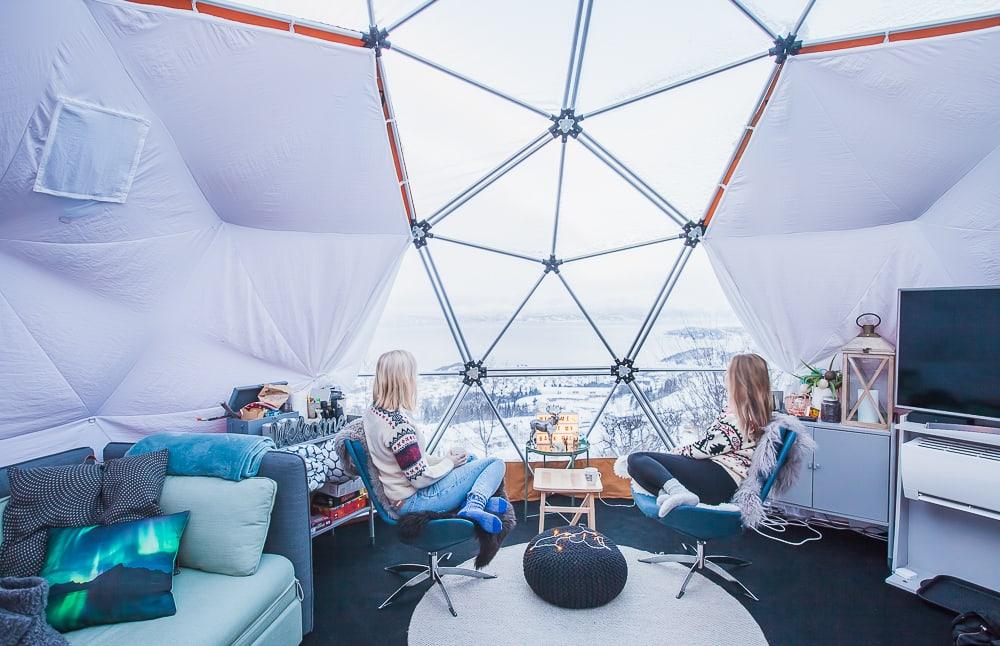 Day 2: Abisko/Kiruna
Today you'll head over to Sweden!
Or at least, head over to Sweden if you're visiting from October to March. In the summertime I actually would skip Day 2 and Day 3 of the itinerary, as the main reason for coming here is for higher chances of seeing the Northern Lights. I don't think Kiruna is particularly beautiful in the summer, but of course it's up to you if you still want to visit.
Cue all the Swedes coming to Kiruna's defense, haha.
No, but Kiruna is great in the winter because not only is it an easy drive to Abisko, aka the best place to see the Northern Lights in Europe, but it's also a center for Arctic tourism activities. So there's so much cool stuff to do here!
Danielle and I opted for hanging out with huskies at this husky Airbnb, which I wrote more about here. But if you're not a dog person, you could opt for staying at this reindeer Airbnb, which I wrote more about here.
However if you're not interested in reindeer or huskies, I would instead try to stay in Abisko. There isn't as much to do in Abisko during the day, but it is the best place to watch for the Northern Lights, thanks to its microclimate which tends to pull clouds apart from the center of the sky.
Plus Abisko is closer to Norway, so you'll have a much shorter drive from and back to Norway, which is definitely a bonus.
My top accommodation choice in Abisko would be the Abisko Turiststation, where you can also organize Northern Lights tours if you wish. Plus they serve delicious Swedish pancakes at their lunch buffet on Thursdays! Check current prices and availability here
If you're on a budget, I've also heard great things about Abisko.net Hostel & Huskies. Remember that in hostels in Sweden you'll usually have to pay extra for bedding (which usually is obligatory).
Regardless of whether you're in Kiruna or Abisko, tonight you can watch out for the Northern Lights!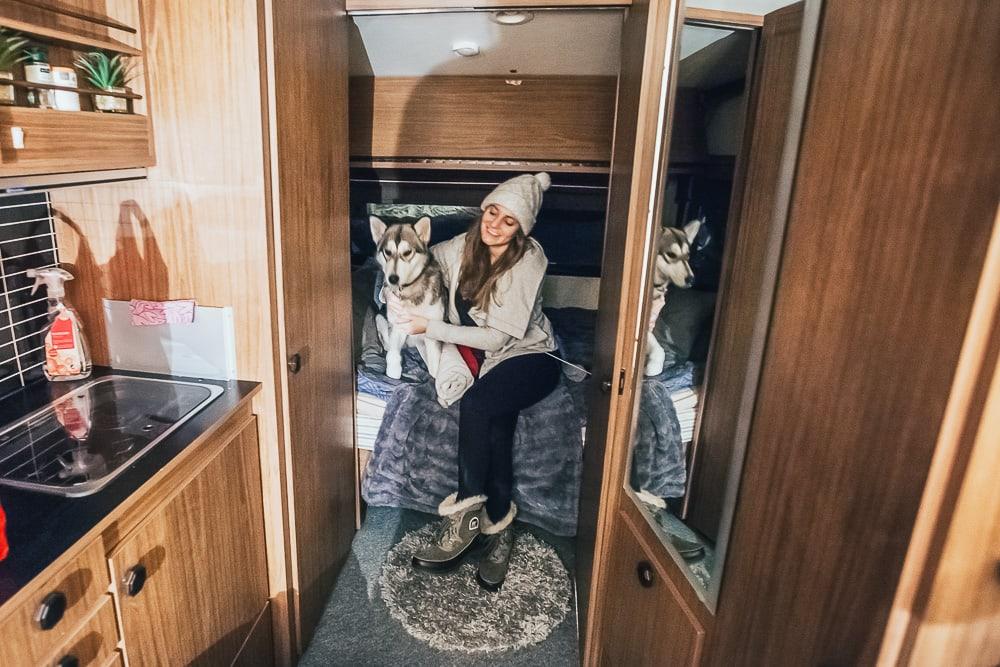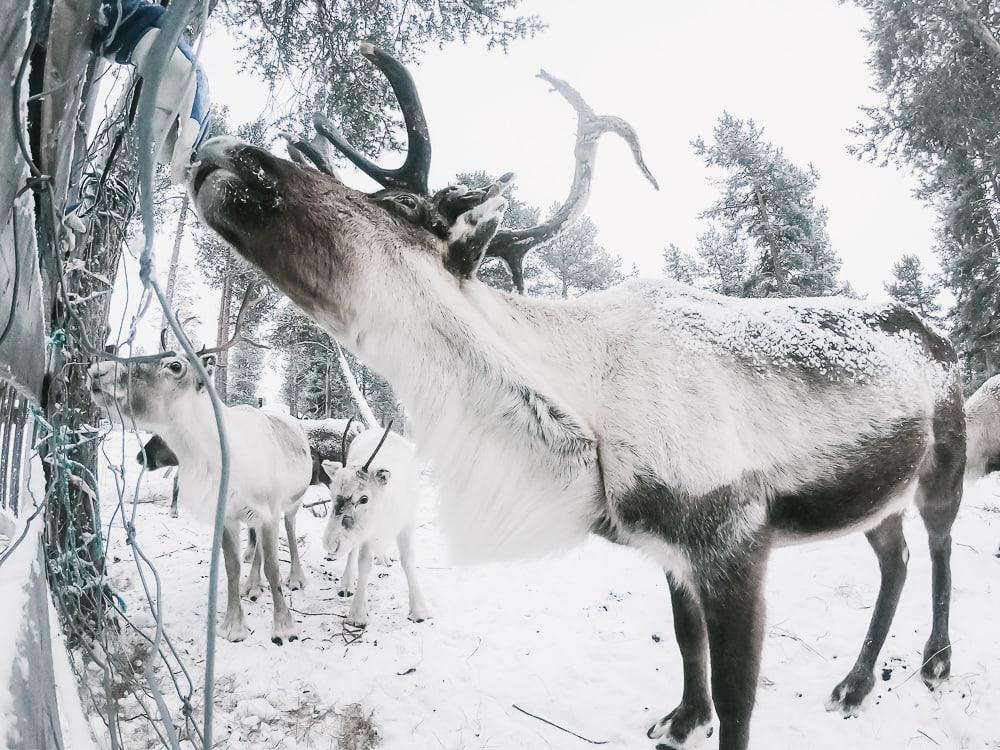 Day 3: Kiruna
Spend today out in the snow! If you're staying with the huskies this is a great time to organize husky sledding, or they also have cross-country skies for rent, and I think they even offer snowmobile tours.
Or if you're staying with the reindeer, feed the reindeer in the morning and maybe see what activities are on offer there.
You could also spend your first night with the reindeer and then tonight move to the husky Airbnb – they're only a fifteen minute drive apart.
And then tonight you can chase the Northern Lights! This is a great place to see them, but if the weather is bad you could consider driving up to Abisko, which has a micro climate and clearer skies.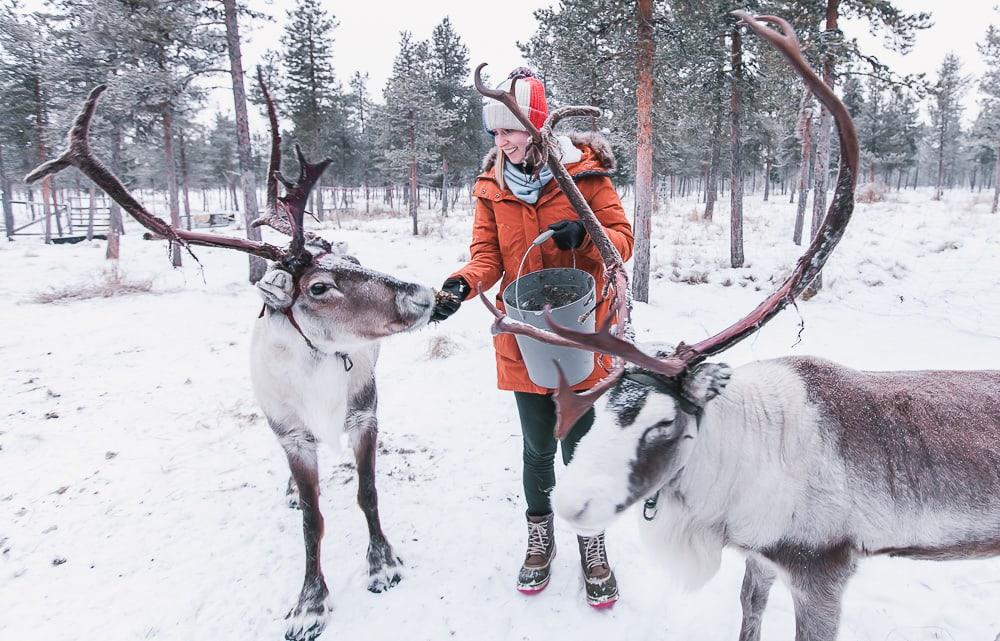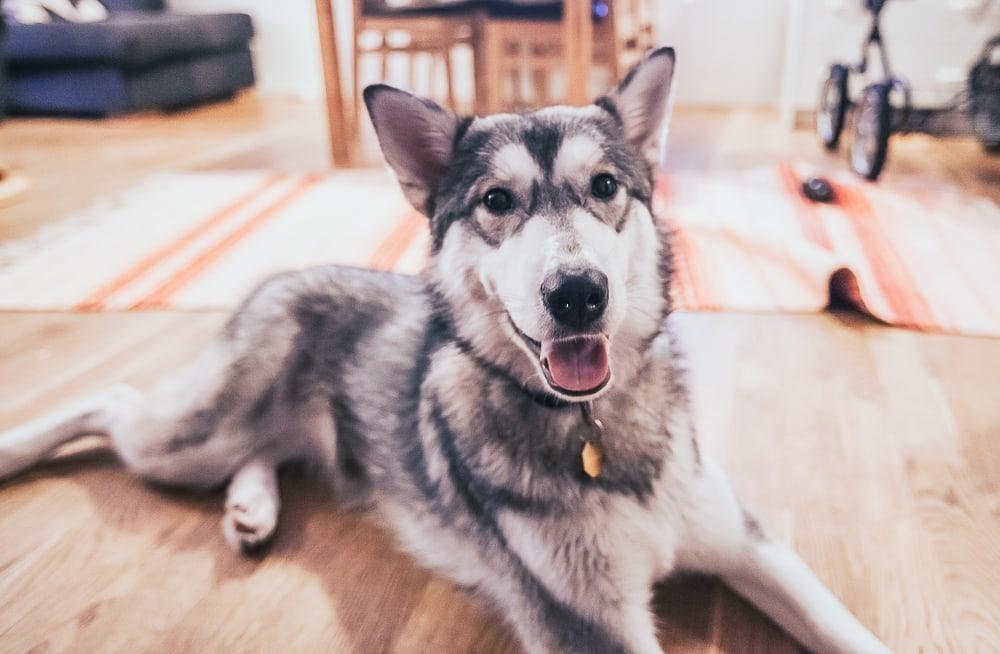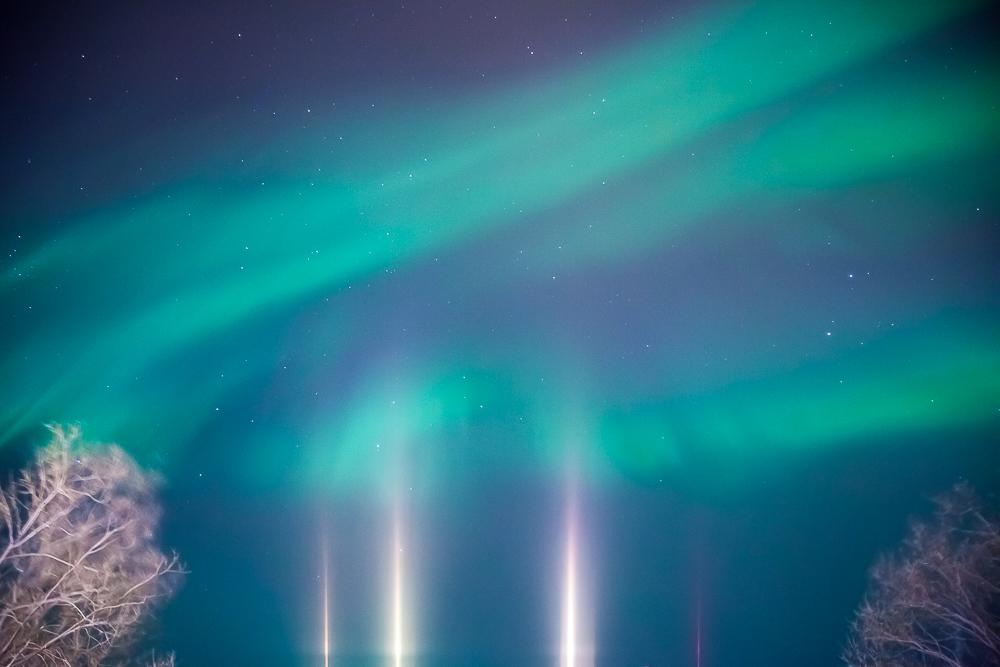 Day 4: Vesterålen
You have about four hours of driving today, but it's a beautiful drive! The route over the mountain back into Norway is lovely, and then you'll be heading to one of my favorite areas of Norway – Vesterålen.
Danielle and I stayed in this incredible cabin.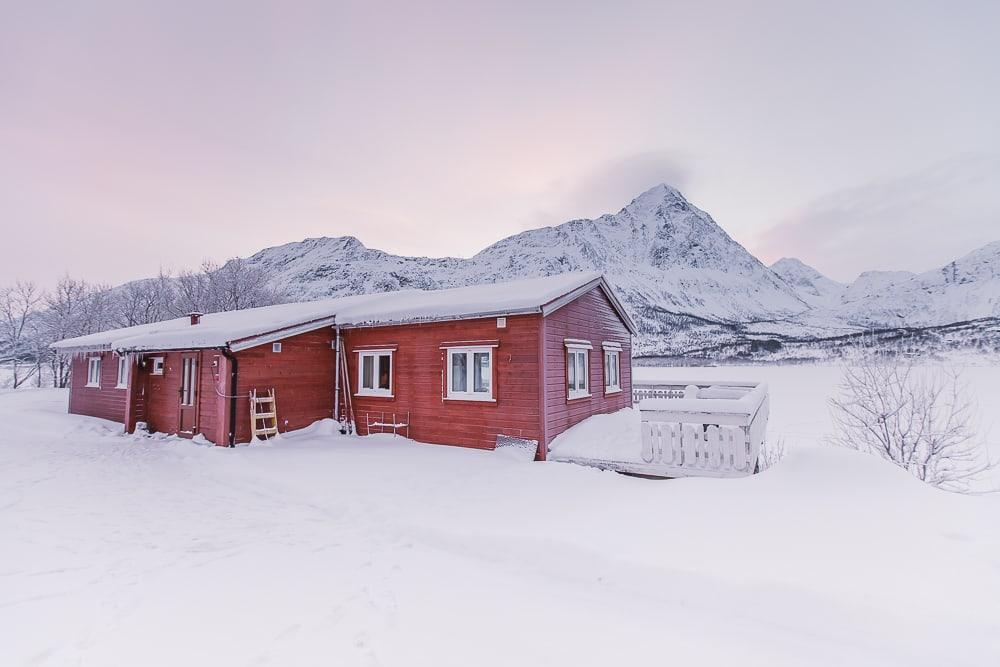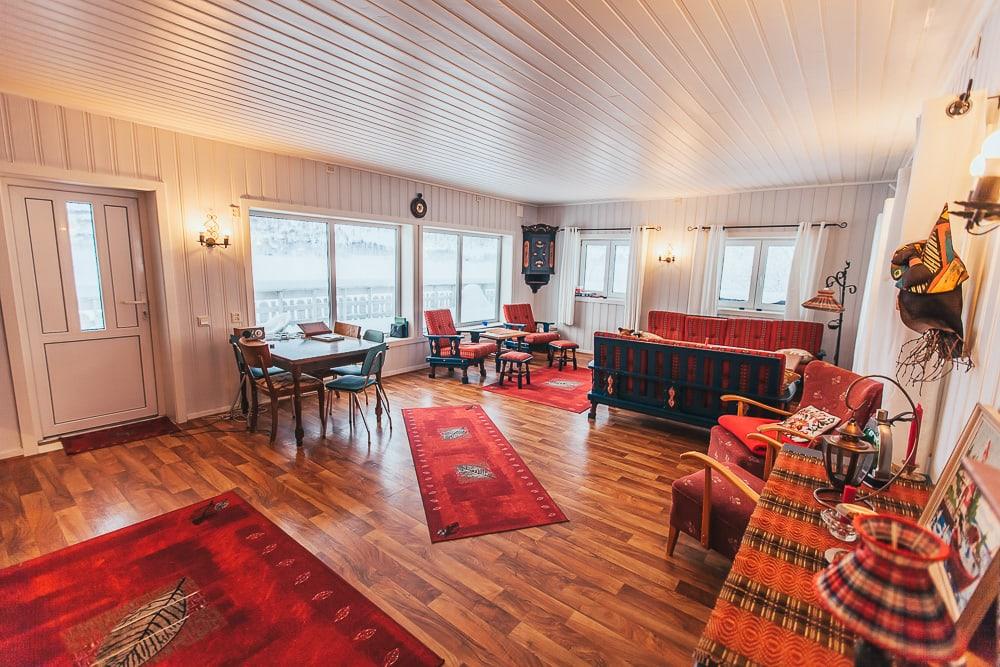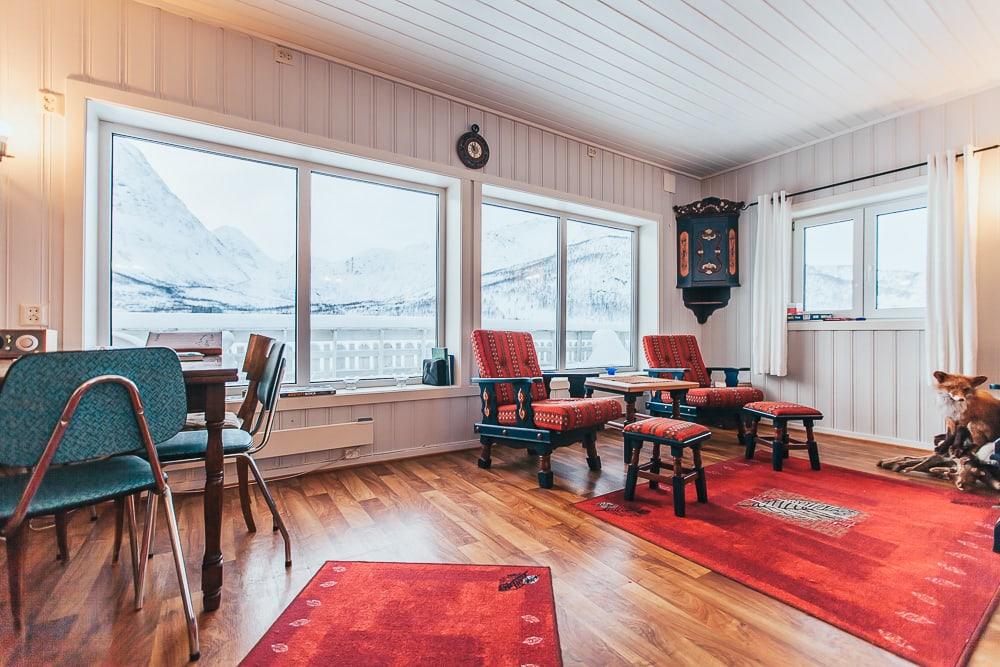 I chose to spend two nights here because staying in a cabin like this is such a Norwegian experience. A lot of people visiting Norway just hit the main tourist spots and activities (which we did as well), but they don't really experience Norway like a local would.
Norwegians love to go to their hytte, or cabin, and often they'll spend their weekends and holidays at the cabin enjoying nature.
And that's exactly what we did. This cabin is huge so you could come with lots of people, but it's also really reasonably priced on Airbnb. And the owner is the nicest guy who also runs a nearby campground.
I would especially love to return here in the summer, as the cabin is right on a lake, which was frozen over and covered with snow when we were there. Though we did see a moose couple enjoying a stroll on the lake one morning!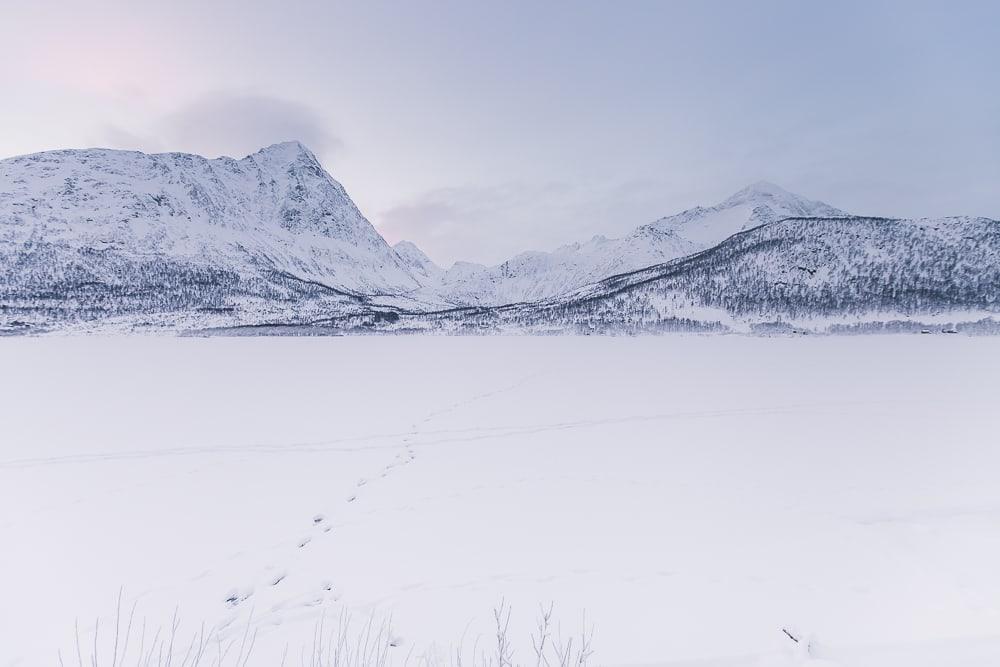 There's also a sauna here, and if you come in the winter you have to have the full experience of jumping out into the snow – it feels amazing, I swear.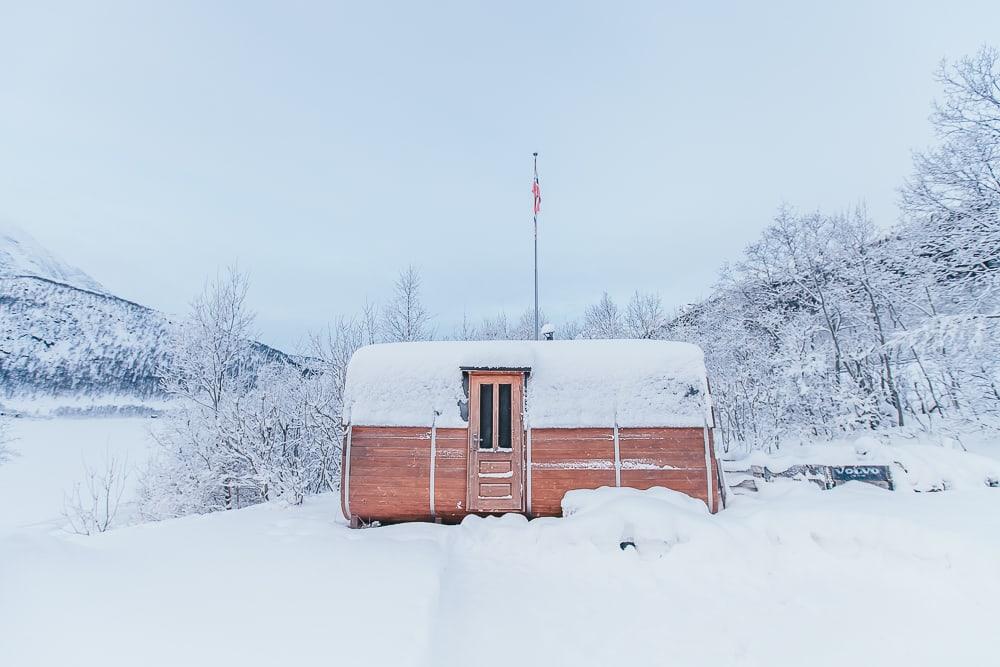 Day 5: Vesterålen
Today you can either hang out at the cabin, do a little road trip around Vesterålen, or drive up to Andenes to do a whale safari.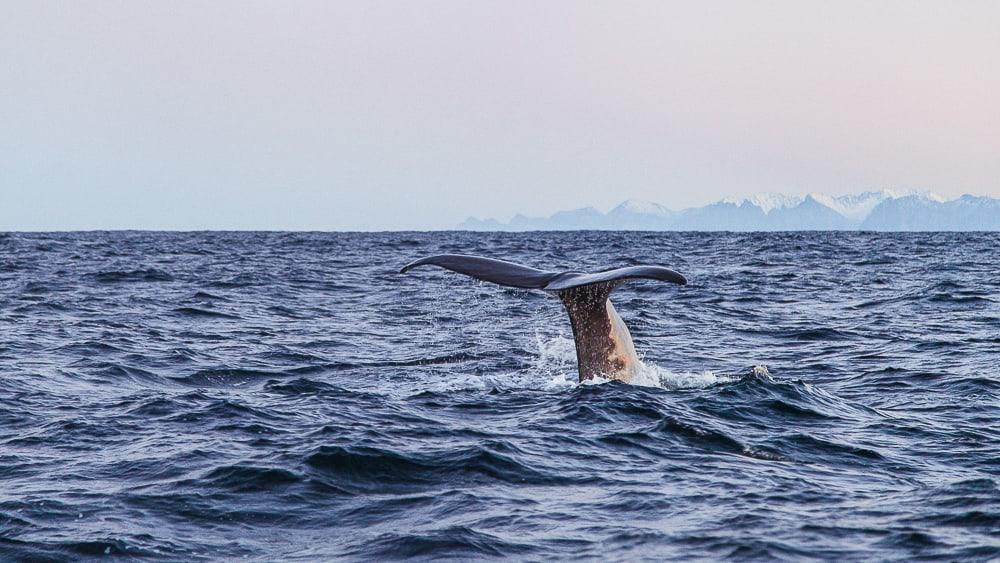 And if you didn't get a chance to see reindeer in Sweden you can drive over to Inga Sami Siida, which is really close to the cabin. You can read more about whale watching, reindeer, Vesterålen's scenic route, and other things to do in Vesterålen here.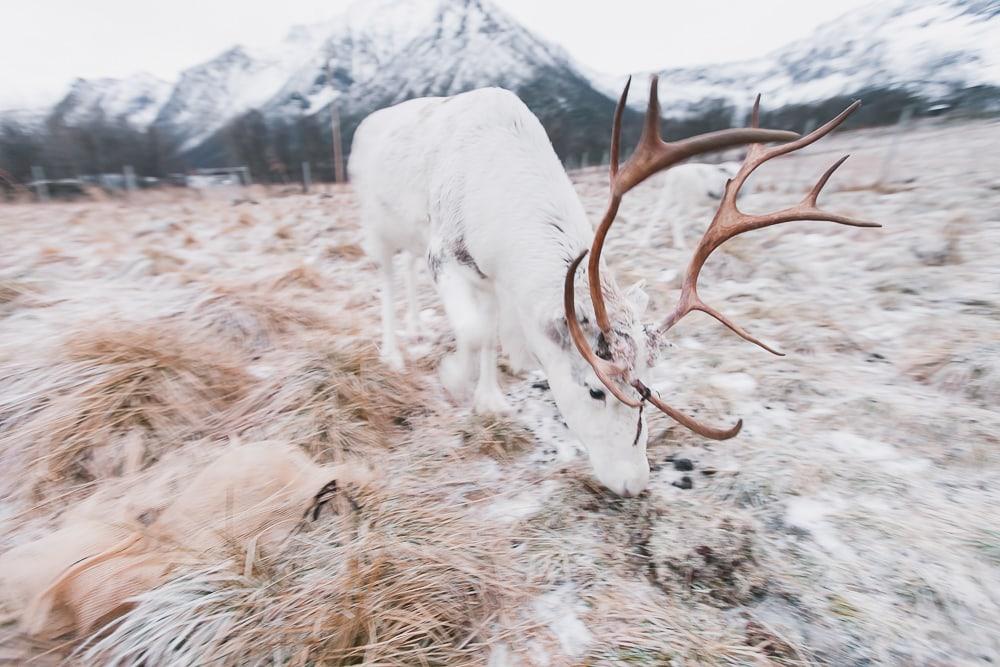 Danielle wanted to go whale watching so we left early in the morning to get to Andenes in time for her whale safari, and then we still had a bit of daylight left so we drove back down along the scenic route.
Then in the evening you can chase the Northern Lights, enjoy the sauna, or just make a fire and enjoy the cosy Norwegian hytte life.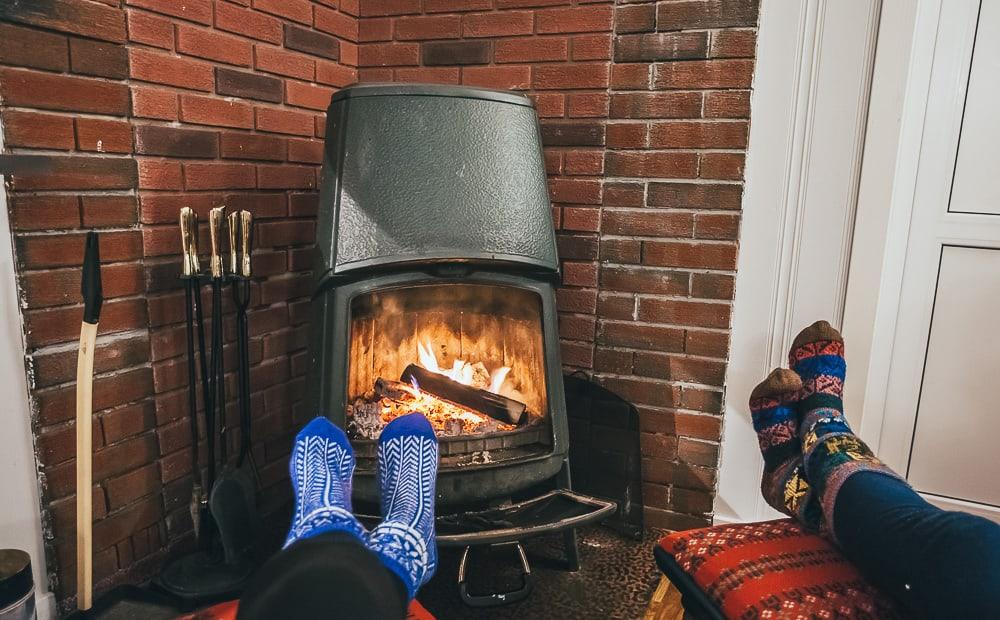 Day 6: Lofoten
Danielle and I only drove down through Lofoten as a day trip because we were short on time after the storm, but I would recommend spending a couple of nights here if you can.
This is the most touristy area on the itinerary, but it's also the most spectacular. Plus I find that the tourist crowds tend to gather in the south around Reine, whereas the rest of the islands are relatively quiet (except maybe in July when tourism hits its peak).
My favorite place I've stayed in Lofoten is Svinøya Rorbuer, which is in Svolvær, the main town in Lofoten. This is a great base for activities, like this amazing sea eagle RIB safari I did, as well as a good starting point for driving around to see the islands. Check rates and availability at Svinøya Rorbuer here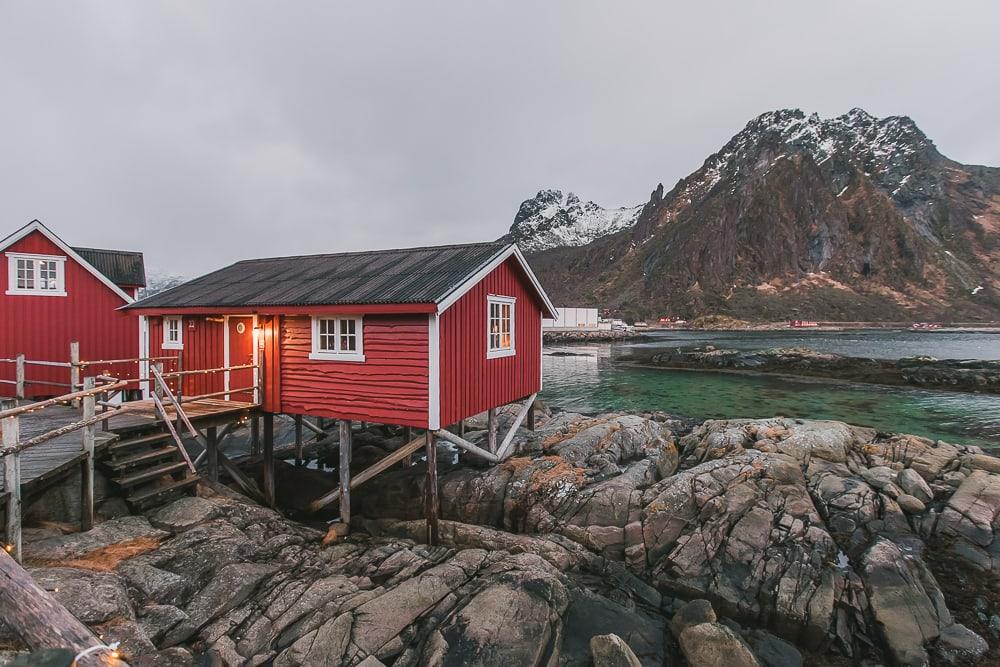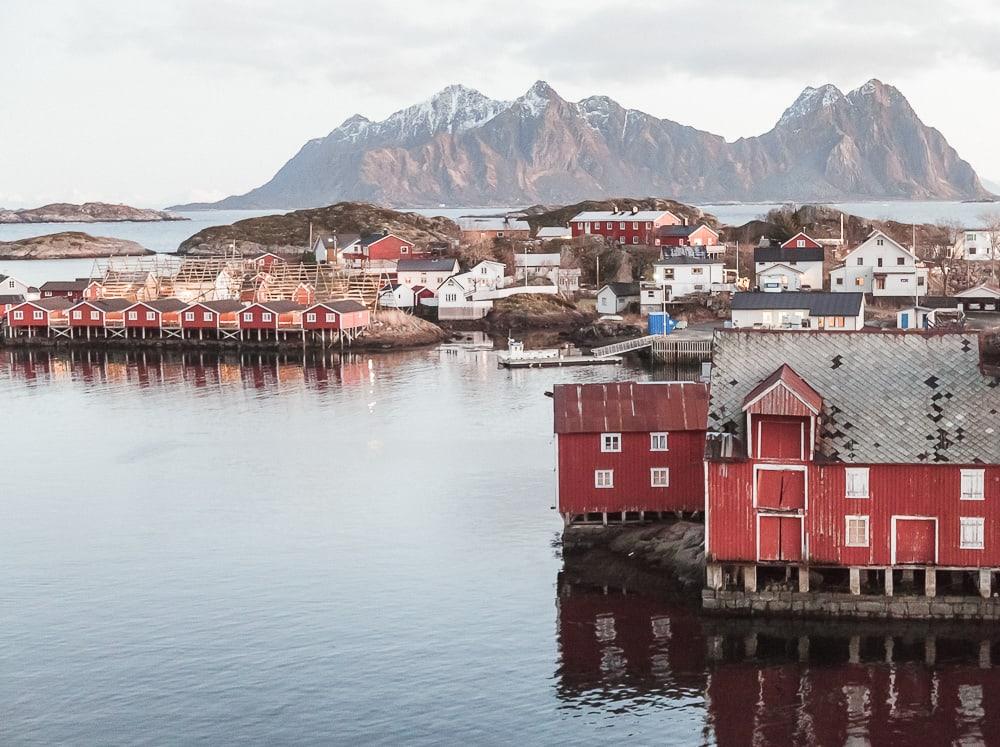 Day 7: Lofoten
Take this second day to drive down the islands. They get more beautiful as you head south. I've written about some especially scenic places to visit on Lofoten here.
And then tonight you can either stay at Svinøya, if you prefer not to move around too much, or if you'd rather stay somewhere new, my second choice for Lofoten is Eliassen Rorbuer near Reine. This is in the most scenic part of Lofoten – in fact you might recognize the red cabins you'll be staying in: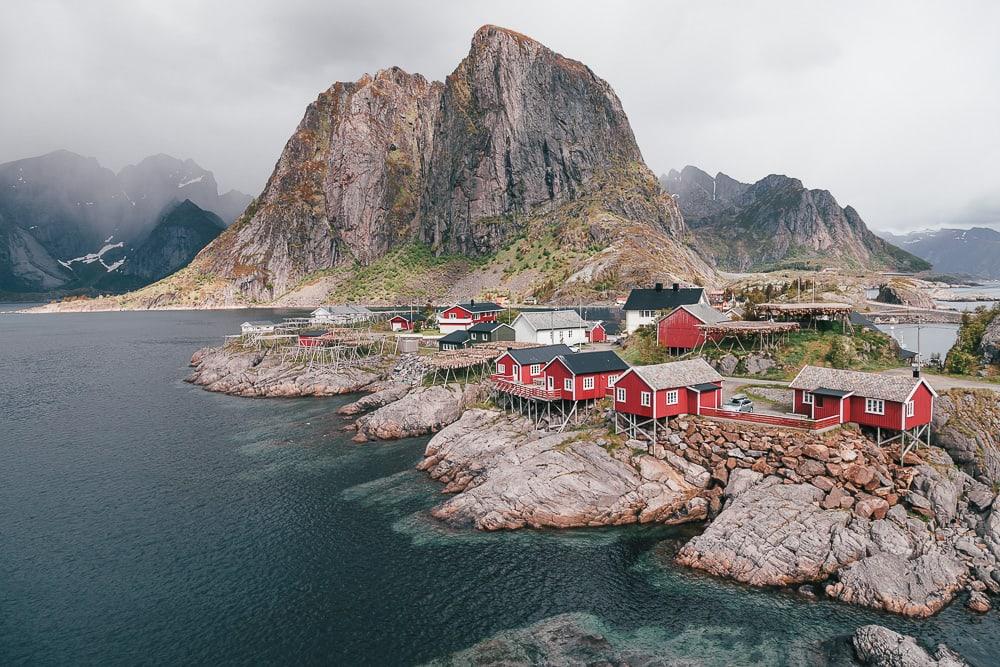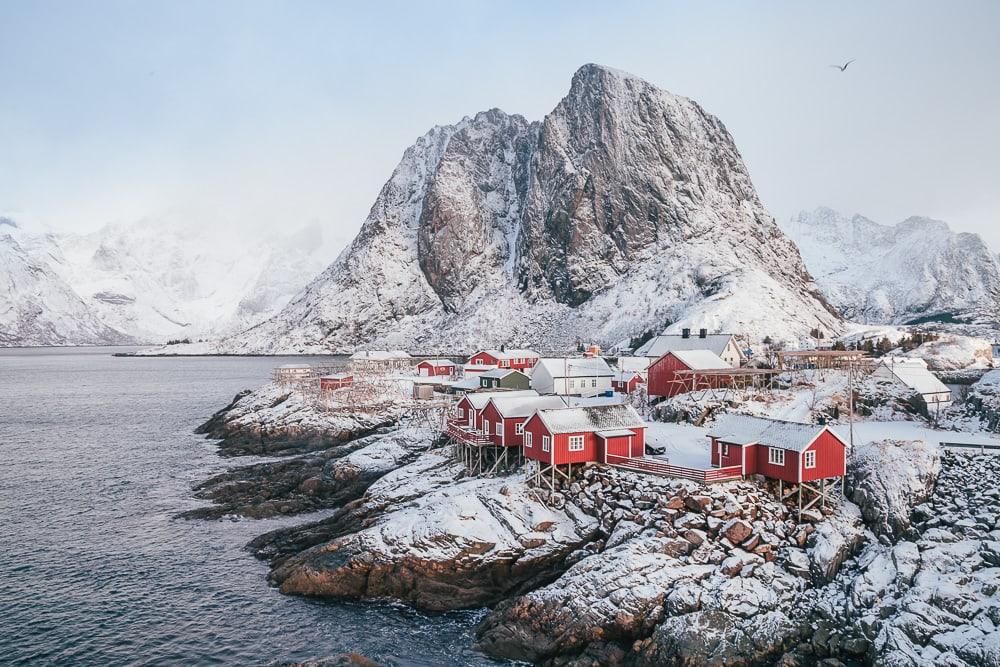 This is also a very touristy area of Lofoten, but aside from July it should be fine. Check current rates and availability here
Day 8: Leave or Bodø
Today you'll return to Evenes Airport and either leave Norway, or if you have a bit more time, you could head to Bodø! Easiest would be to fly, and if you book your flight early it will actually be cheaper to fly than to take the bus.
If you end up taking the bus you'll need to first get the airport bus to Narvik, which takes 75 minutes, and then the bus from Narvik to Bodø, which takes about six hours.
If you fly into Bodø in the morning you'll have all day in the city. You can read more about things to do in Bodø here, and visiting Bodø in winter here.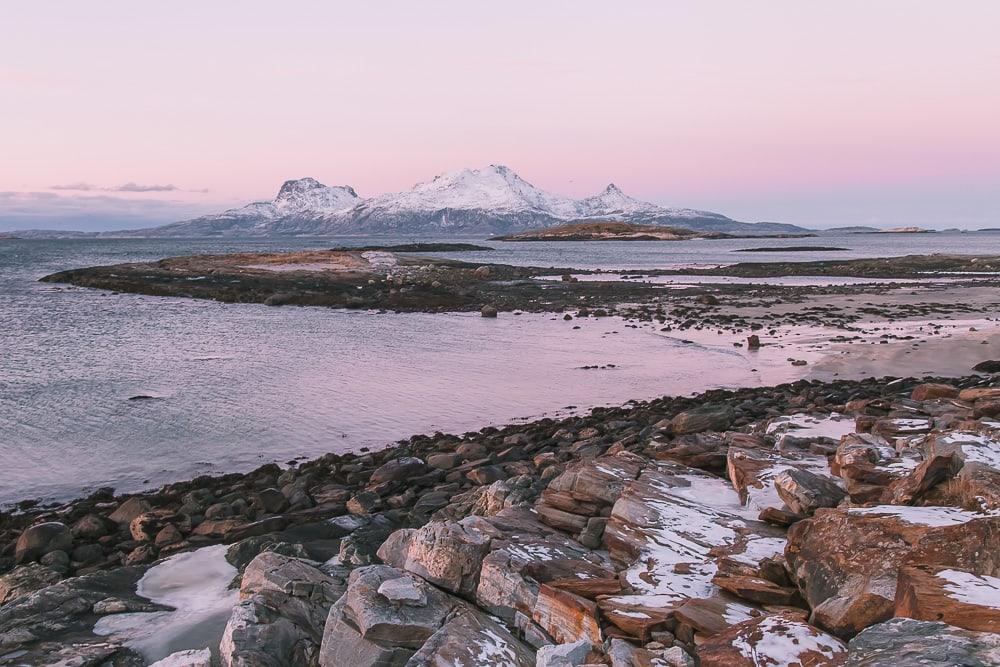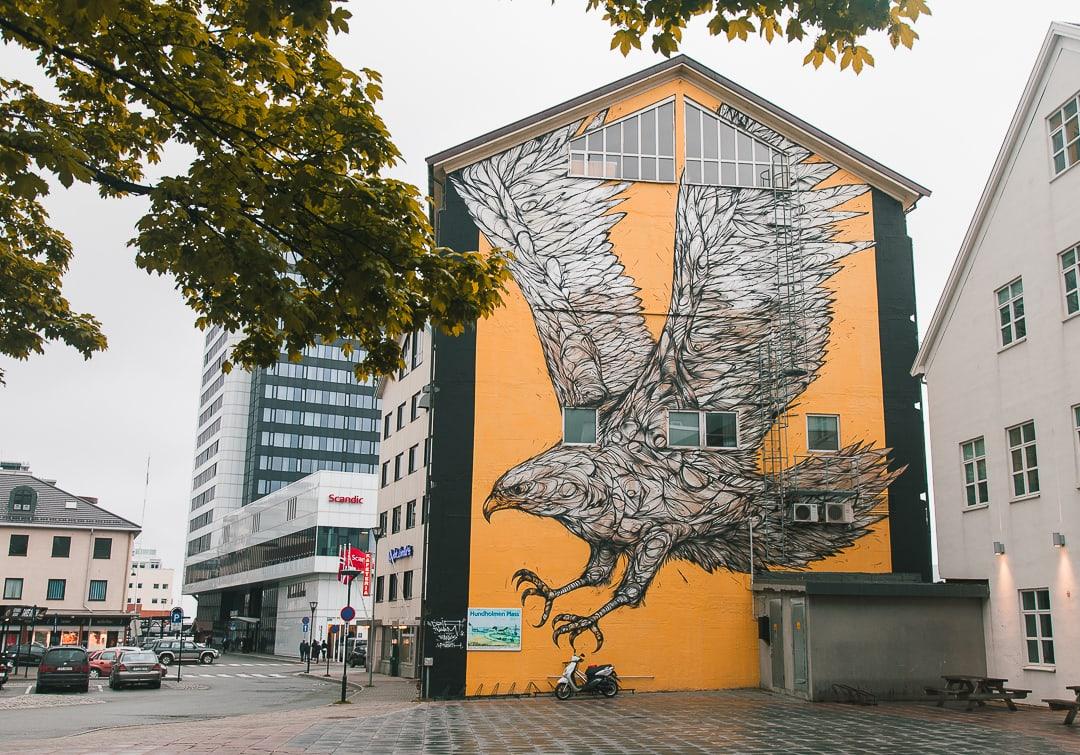 My favorite hotel in Bodø is Thon Hotel Nordlys, which has my favorite buffet breakfast in Norway. Check current rates and availability here
Bodø also has a bunch of great Airbnb options, which is especially helpful if you're on a budget as they tend to be cheaper and have self-catering options – eating out in Norway is pricey.
Day 9: Mosjøen
Today you'll get the train from Bodø to Mosjøen. Be sure to book your train ticket as early as possible (earliest possible is three months in advance), as early bird "mini price" tickets are heavily discounted.
Okay, so Danielle and I of course included Mosjøen in our itinerary because I wanted to show her my new home! But actually I think Mosjøen is worth a visit even if you don't have a bff here.
Mosjøen is such a pretty town, and personally I think the train ride from Bodø to Mosjøen is the most beautiful train ride in all of Norway – take that, Flåm. And the downtown is right by the train station, so you won't need to worry about renting a car here.
Tonight you can stay at Fru Haugans Hotel, which is right at the end of Sjøgata, Mosjøen's famous old street. Dating back over 200 years, Fru Haugans is Northern Norway's oldest hotel and also has two great restaurants inside. And apparently it has always been run by women! Check prices and availability here
If you're on a budget, Airbnb also has a couple of great options in downtown Mosjøen.
Or you could stay at Mosjøen Hotel, which has a nice old fashioned vibe and is conveniently right across the street from the train station.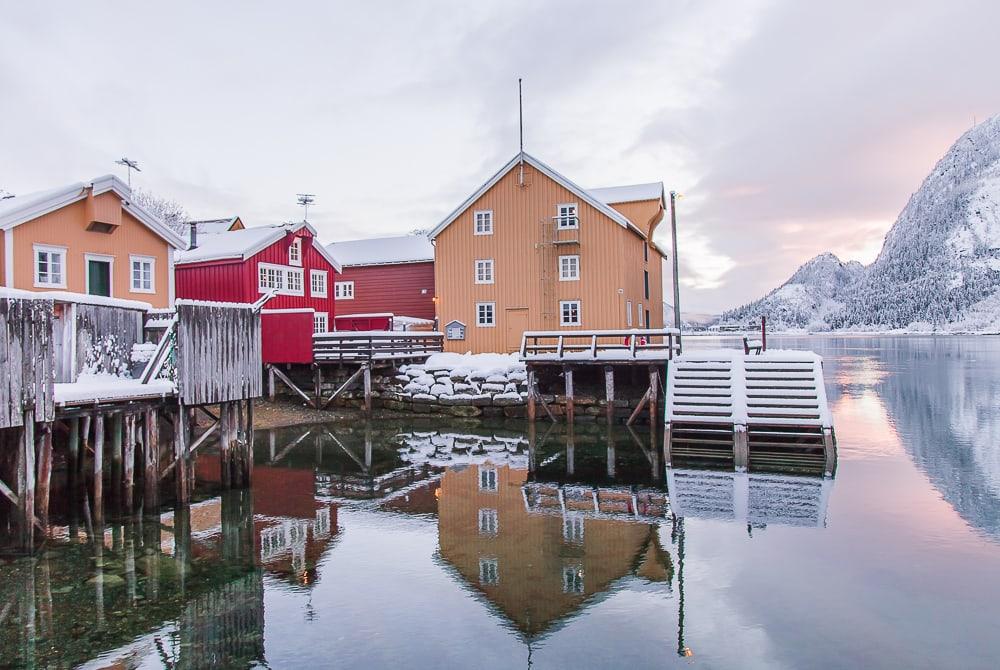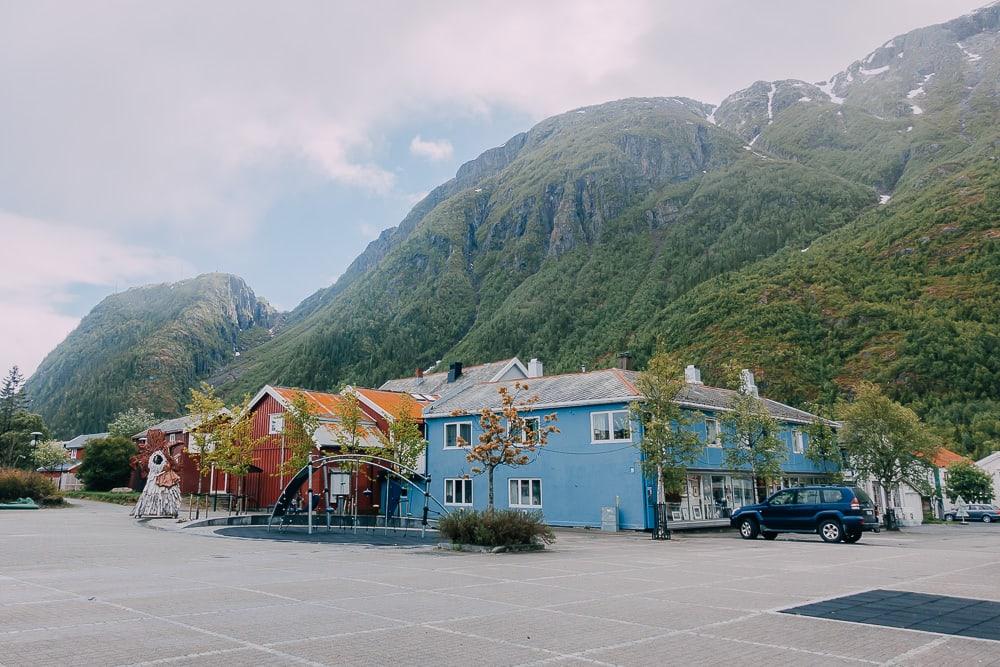 Day 10: Mosjøen
It's definitely worth spending another day in Mosjøen if you have the time.
You can read more about things to do in Mosjøen here.
And if you're visiting in the winter, this will be your last chance on the trip to see the Northern Lights. We see them over the town fairly often, so you don't even need to worry about getting somewhere dark.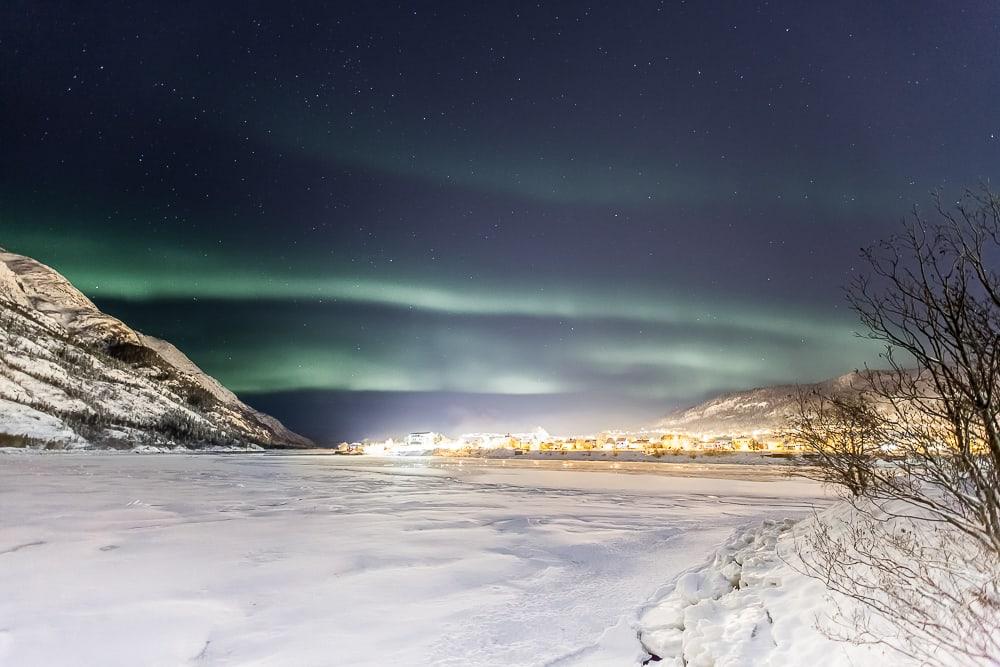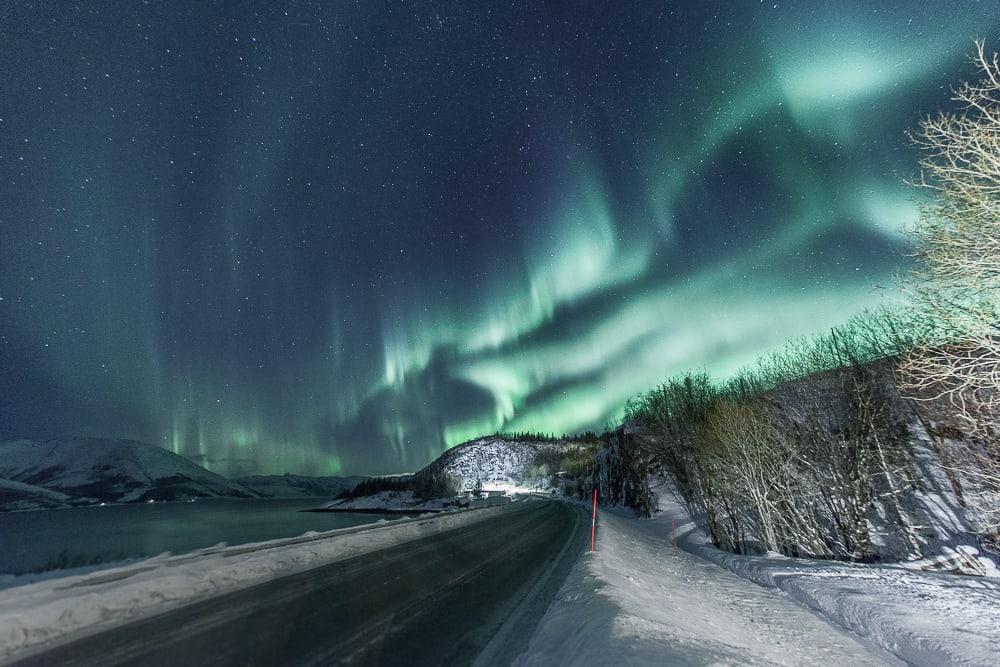 Day 11: Trondheim
Danielle got an international flight out of Trondheim, and if you can do the same then you could take a couple of more days to see Trondheim as well!
If you get the morning train from Mosjøen that leaves around 9:30 am you'll be in Trondheim by 2:30 pm, so you'll still have a good portion of the day to explore.
I used to live in Trondheim and have written a huge guide for things to do in Trondheim here.
I've also written a guide to the best accommodation in Trondheim for every budget here. Currently my favorite place to stay in Trondheim is either in an Airbnb or the Best Western Chesterfield Hotel, which is right by the train station and beautiful (and affordable!).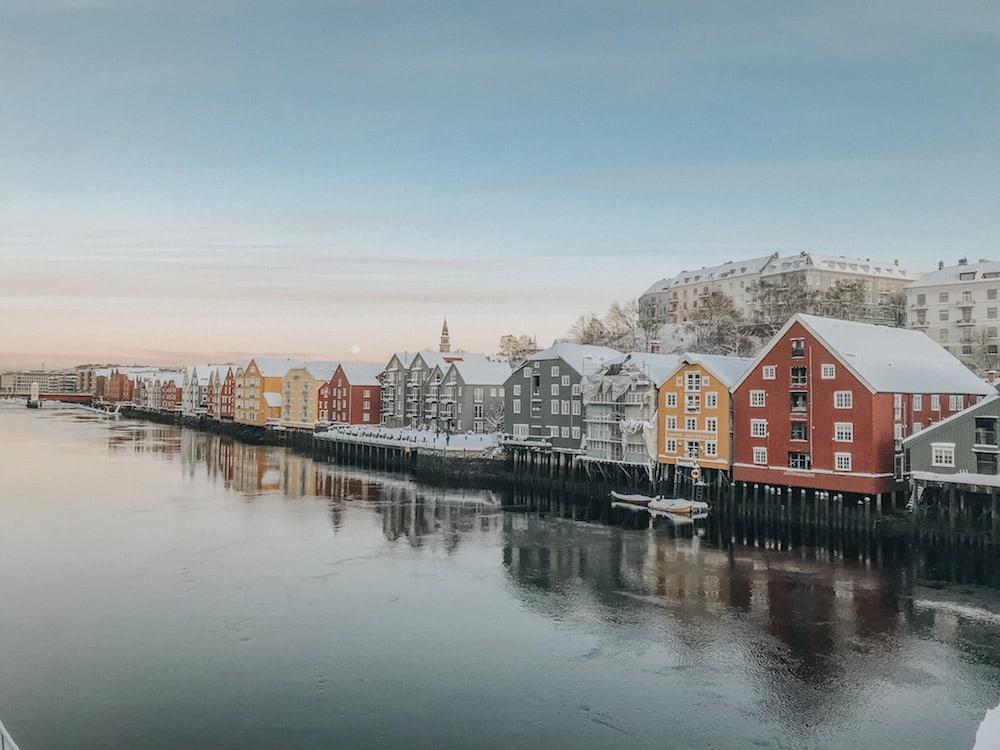 Day 12: Trondheim
You could either leave today or take another day to explore the city. Personally I would try to have a second day in Trondheim, but if you're pressed for time you'll be able to see most of the main sites in your first afternoon in Trondheim anyway.
And that's it!