No, this wasn't my first trip to Tokyo – I would guess that maybe I've visited Tokyo about fifteen times now? Back when I lived in Japan, Tokyo used to be my favorite weekend escape.
Come to think of it, Tokyo has always served as an escape for me, all the way back to when I was six years old and my family had just lost our home in the Kobe Earthquake.
We went to stay with my mother's friend in Tokyo and I remember thinking the city was so magical, not just because we got to go to Tokyo Disneyland (though also, definitely because of Disney!), but also simply because it was still standing. It seemed like actual real life magic to six year old me that a train could take us out of the rubble and into a towering city that hadn't been touched by the earthquake. If only you could always take a train away from life's troubles.
And so was born my love for travel. Just kidding. Though I guess this trip did start a trend, as when I returned to live in Japan as an adult Tokyo always served as a sort of escape for me. I loved the city, and I loved that I could blend in amongst the tourists there – something I sorely missed as the only blonde woman on my small island in Japan.
Which is all to say, Tokyo is a sentimental place for me. So when Danielle and I decided to make Tokyo the first stop on our Japan -> Belarus journey, the pressure was on to show her the best time possible. This was her first time in Japan, and I think it would actually have broken my heart a little bit if she hadn't loved Tokyo.
So, how do you make someone's first time in Tokyo as amazing as possible?
I know there are a lot of different opinions on this, but personally my favorite things about Tokyo are the skyscraper views, quirky shops and cafés, and the food. It's also such an easy place for foreigners, at least compared to more rural areas of Japan where few people speak English.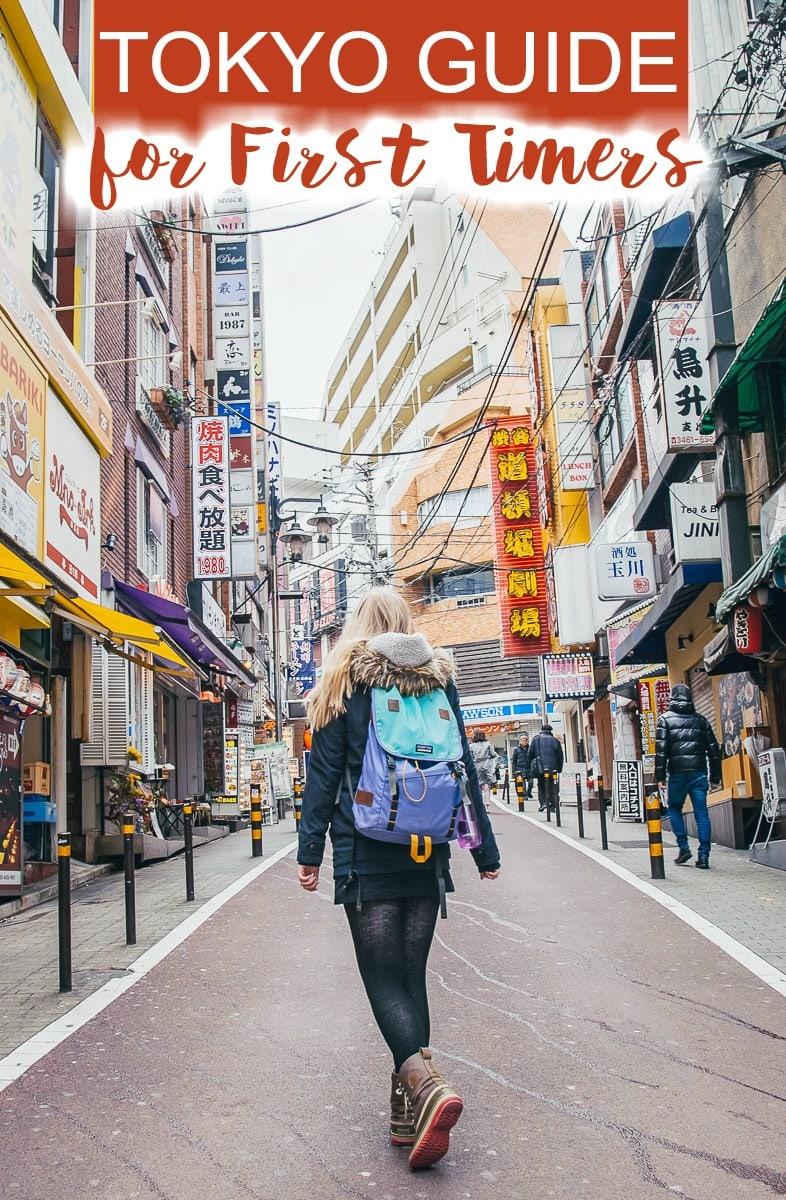 Shibuya
We only had four nights in Tokyo, so I decided to split our time between two different areas of the city. For the first two nights I booked us into a hostel in the heart of Shibuya.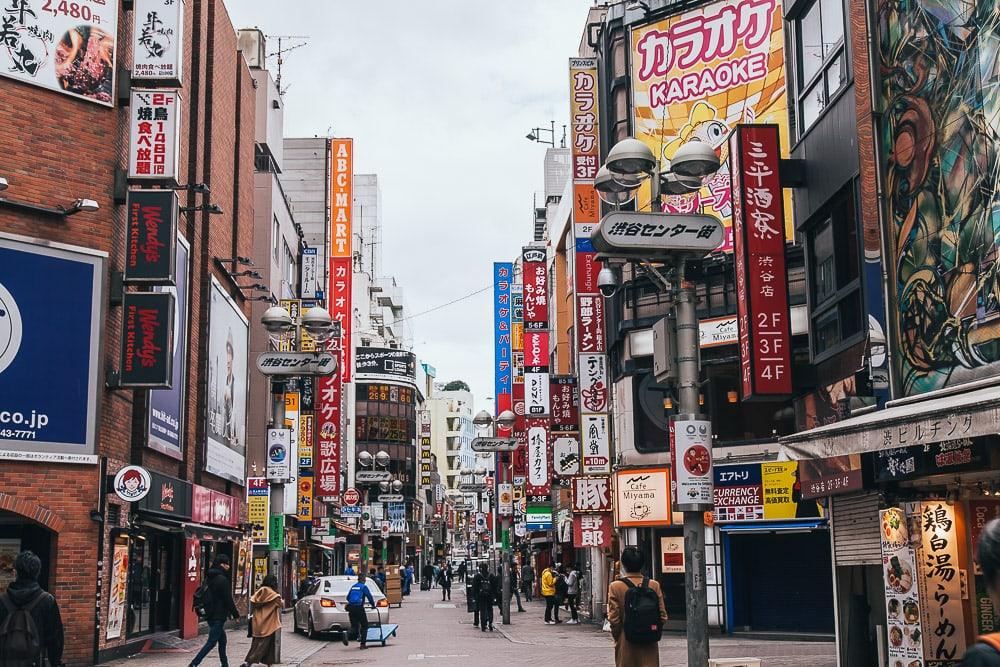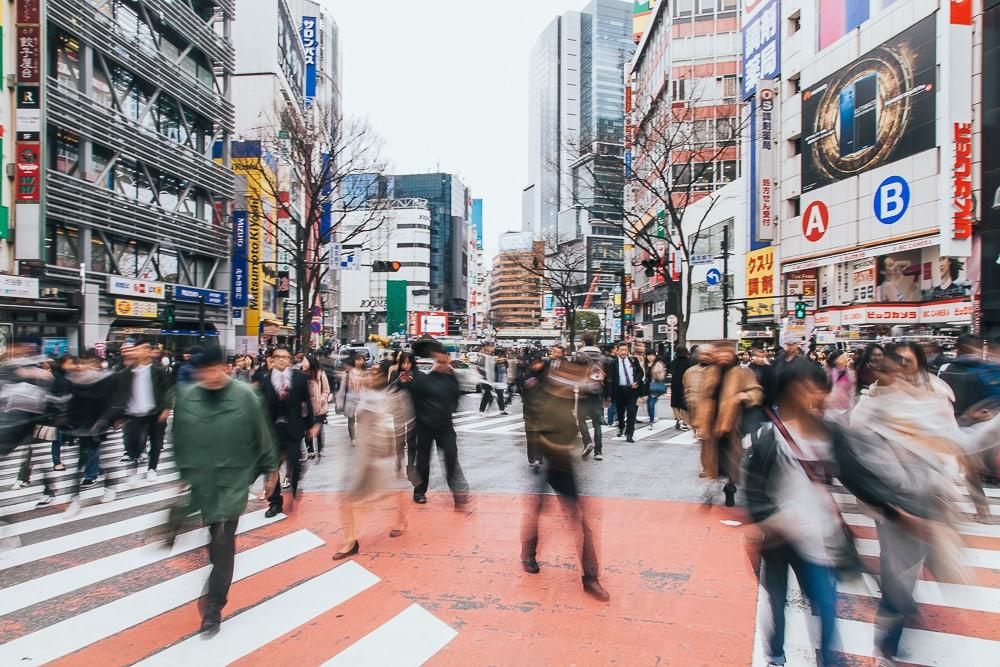 Shibuya is probably the easiest start off point for foreigners visiting Tokyo. There are tons of shops and restaurants, you can get a bus from Narita Airport right into Shibuya if you're too overwhelmed to figure out the train system when you land, it's walking distance to Harajuku, and of course it's home to the famous Shibuya Crossing!
We mostly spent our time in Shibuya wandering through all the shops, sitting in a cafe watching the Shibuya Crossing (I could seriously do that all day), and eating.
Where to eat in Shibuya
My favorite sushi place in Shibuya was Sushi Daidokoya. It's cheap and the sushi is so, so good, and I really enjoyed the atmosphere. If you're in Shibuya, go there.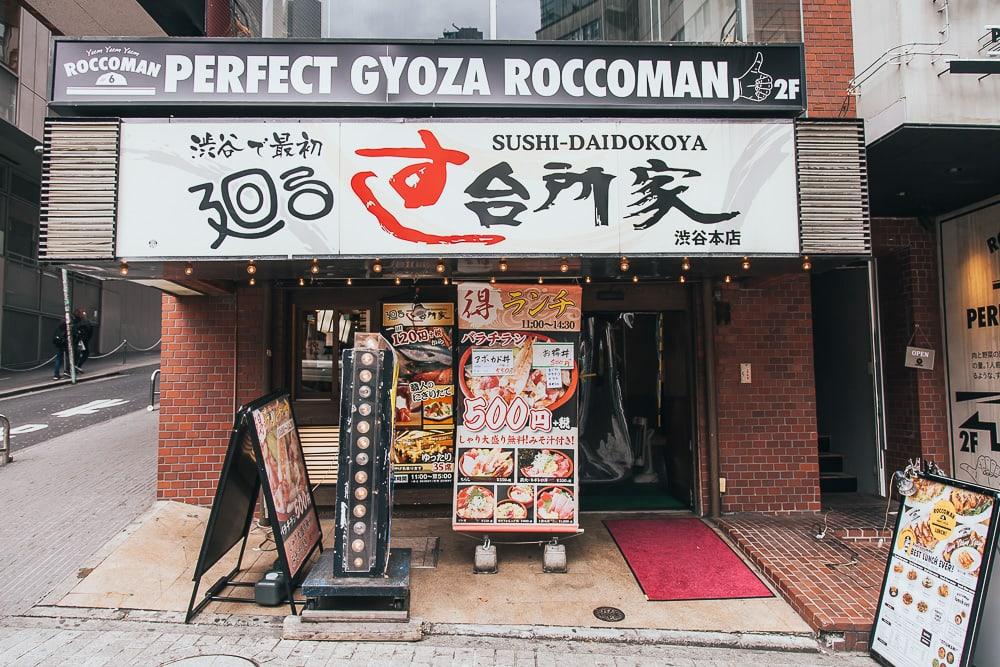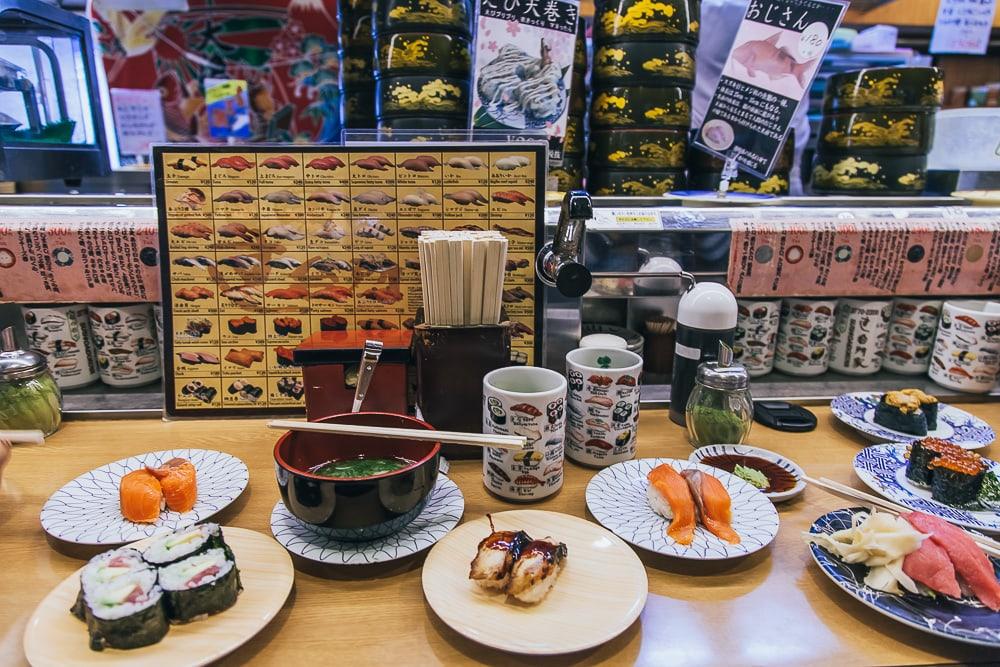 We also had ramen at Ichiran Ramen, which holds some claims to being the best ramen in the world. Apparently there's always a line there, though I was skeptical as to whether that was really because it's such great ramen, or just because it's famous ramen.
To be honest I didn't find it much different to the other ramen places I've been in Japan, and I'm pretty sure I've had better. But really, any Japanese ramen place is going to make really good ramen – Japanese don't mess around.
But I did find the concept really fun, as you order your ramen from a vending machine and then eat it in an individual booth, just you and the ramen. So I'd say it's worth a stop for the fun factor, if the line isn't too long.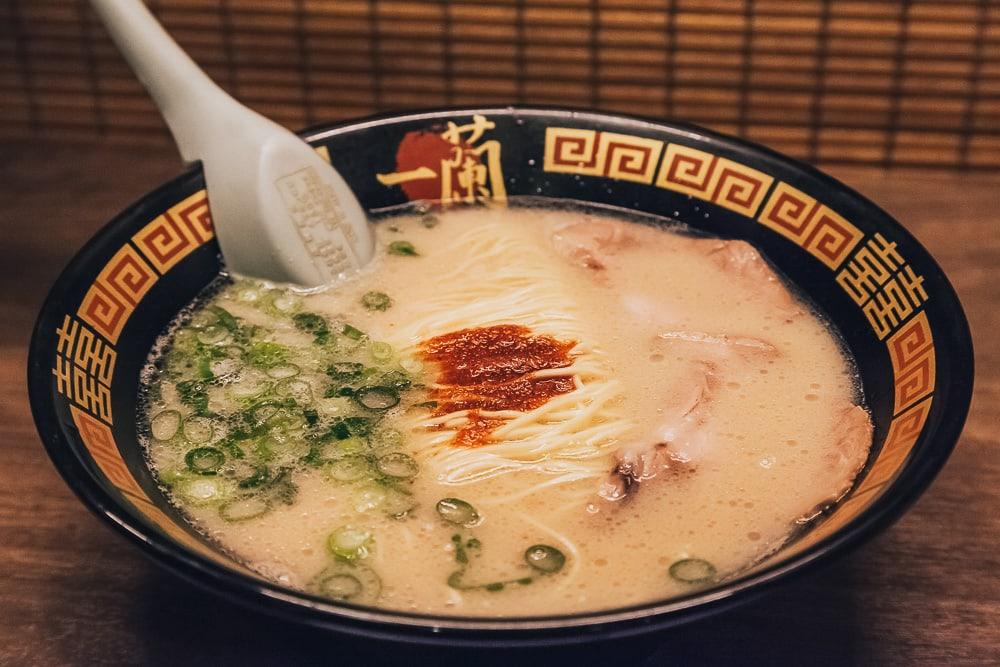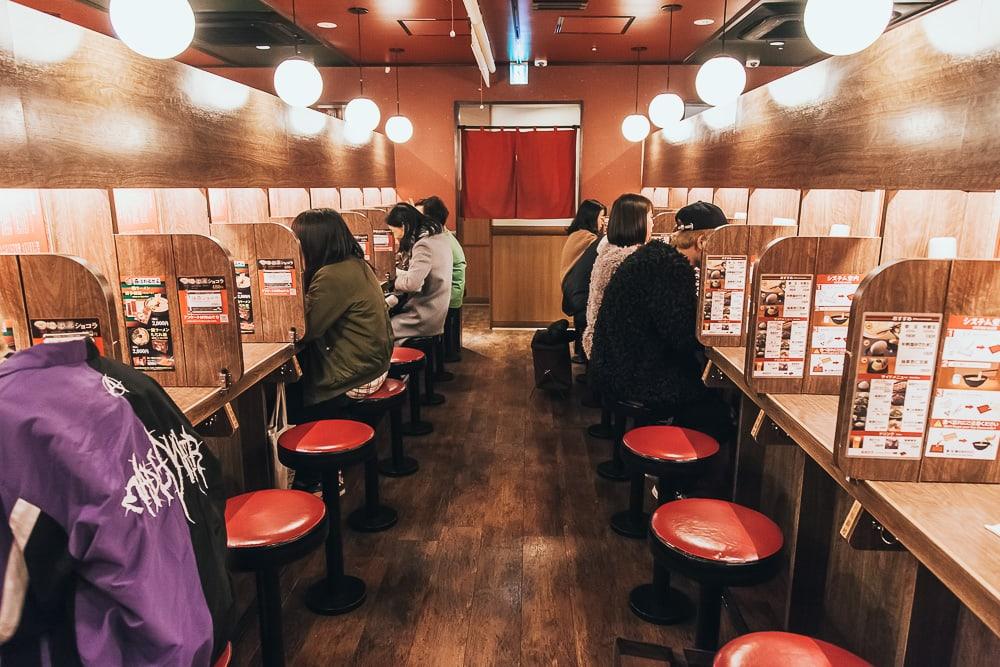 We also stopped in Starbucks for a coffee – wait, don't judge! We weren't actually there for the beverages but for the view, as it's the perfect spot from which to watch the Shibuya Crossing.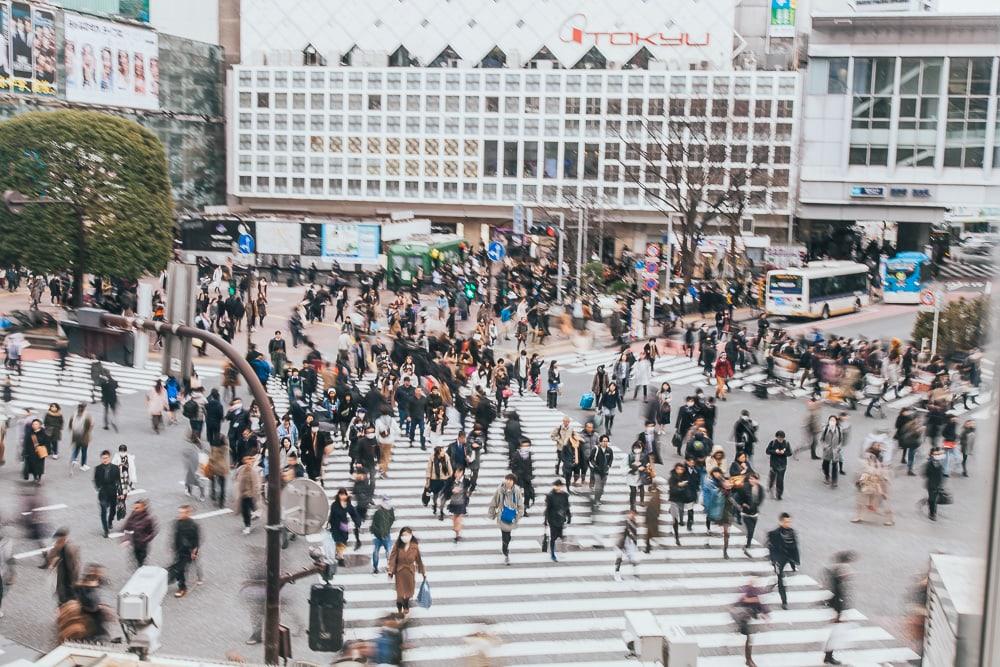 I've also watched the crossing at L'Occitane Cafe, which also is perfectly situated above the crossing for optimal viewing, especially if you get a table by the window. It's overpriced and mediocre as far as French food goes, but the cafe is really cute and I feel like that's what the Japanese obsession with all things French is really about anyway. And actually come to think of it, the desserts there are really good, so maybe go for tea!
Where to go out in Shibuya
Danielle and I were both battling jetlag while in Shibuya so we had pretty early nights, but if you're after nightlife you'll definitely find something in Shibuya. There are tons of bars and izakayas (like a Japanese pub), and you should definitely try out some karaoke while there! Most karaoke booths come with unlimited drinks – you can usually place your orders from a phone in your booth.
We did sample some different sakes at Kurand Sake Market. I'm not sure if it was good or not because I think sake is kind of gross (only because that's how I feel about most alcohol that tastes like alcohol), but the staff were super friendly and let us try lots of different varieties. If you come early you can get their all you can drink menu, or you can just order a glass at a time.
And then we ended the night at Music Bar 45, which is known for their large vinyl music selection and small, cosy atmosphere. I made Danielle try some umeshu, a sweet/sour plum liqueur, which I just Googled to check if it's a wine or liqueur and apparently "can appeal to even those people who normally dislike alcohol," ha!  So that's my recommendation for anyone who's not quite up for sake or shochu.
Where to stay in Shibuya
We stayed at Turn Table Hostel, which I chose partly because they offer private rooms (though the dorm rooms also looked very nice), partly for their central location, but mostly for the traditional Japanese buffet. I'm a huge fan of Japanese food, as are a whole lot of people, but what's maybe a little less common is that breakfast is my favorite Japanese food of all. The Turn Table Hostel breakfast was simple but so Japanese and so delicious.
Staying in a private room there was also a really nice alternative to a hotel, as we still had the same hotel comforts with the added social atmosphere of a hostel. The two private rooms share a little common room together as well, so it was almost like having our own little suite in the hostel (especially as the other room was empty).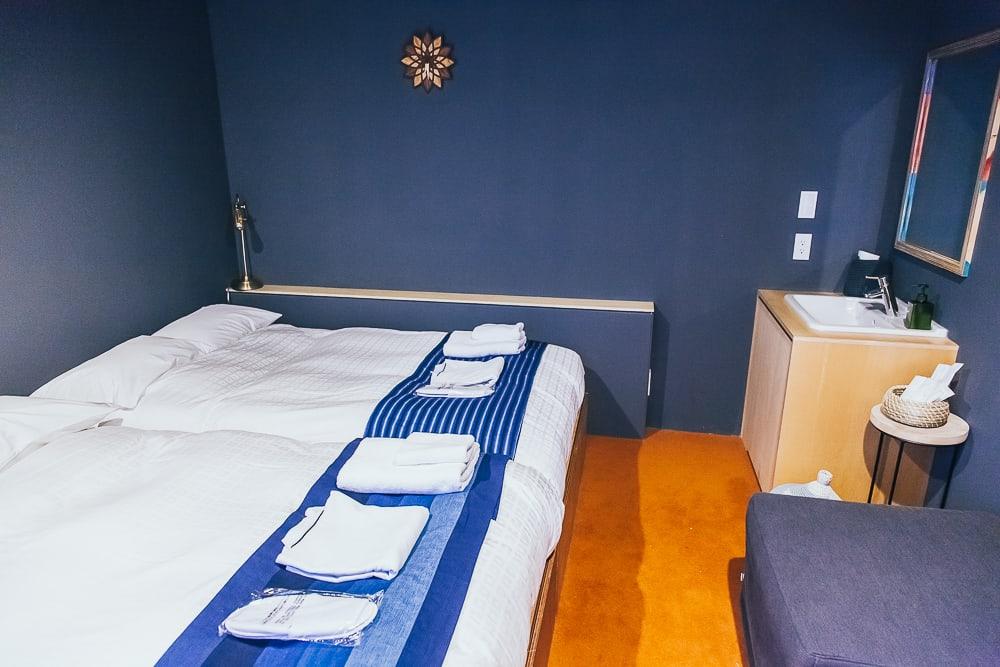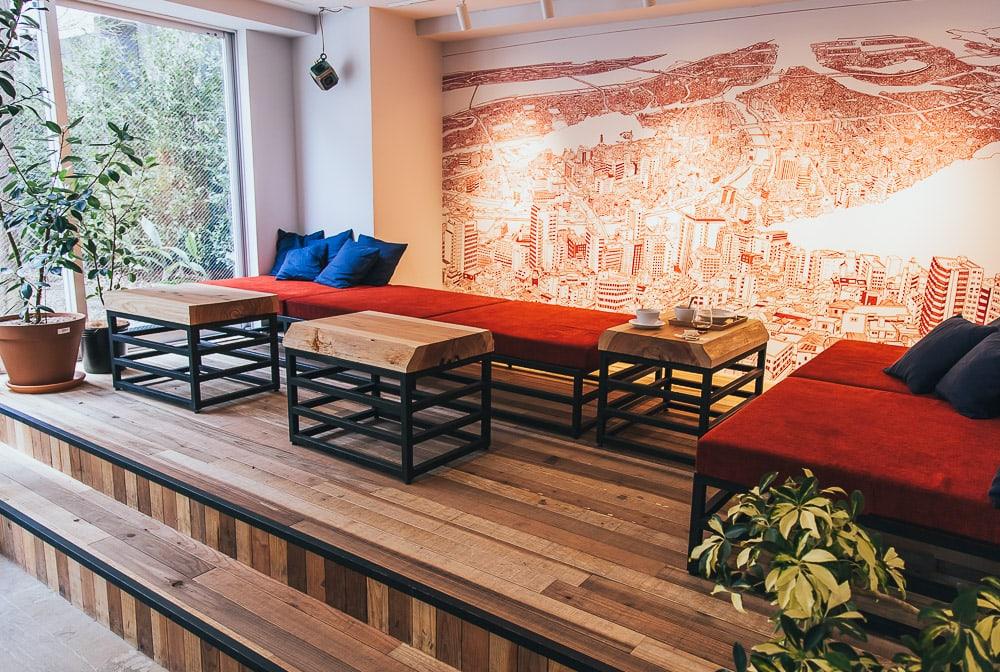 The staff were super friendly and helpful, and I'd say this was definitely on the higher end of boutique hostels – everything was impeccably clean and beautifully designed. I can definitely recommend staying here if you're in Shibuya! Check current prices and availability here
I've also written an entire guide to where to stay in Tokyo here, which goes through the best neighborhoods to stay in (including Shibuya!) as well as all the different accommodation options for every budget.
Harajuku
Harajuku is famous for its youth culture and designer shops, and I think most people include a stop here on their Tokyo itinerary – or at least they should!
If you want to see the youth culture in action, with the bands playing by Yoyogi Park and everyone dressed in their craziest Lolita outfits, then you should try to come on a Sunday. Though you'll still be able to catch a lot of the Harajuku atmoshpere during the week as well.
Harajuku is an easy 15-minute walk from Shibuya, and there are some interesting spots along the way, so I think it's worth skipping the metro and going here on foot instead.
We headed up to Takeshita-dori, which is where the teenagers hang out, as it's full of lots of cute/weird shops. It's definitely a sensory overload and I'm not sure Danielle liked it as much as other parts of Tokyo, but it's also like no other place I've been so at least worth a short trip!
We shared a crêpe from one of their famous crêpe stands (SO good) and then stopped in several shops here to buy cute Japanese things (I stocked up on sparkly socks, Danielle bought a I <3 Menu wallet, because she hearts menus). And we checked off one of the most important bucket list items for any trip to Japan: purikura!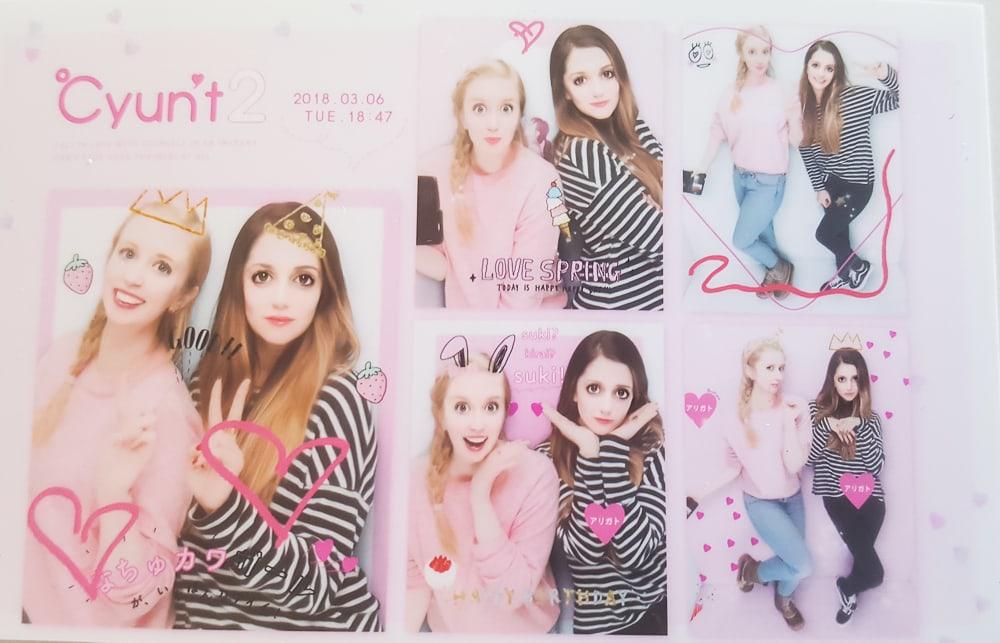 And then we checked off another important Tokyo bucket list item: visiting a quirky café. Tokyo is full of cafés with unique offerings. Cat cafés, maid cafés, cuddle cafés, toilet cafés – you name it, Tokyo probably has it. Which was good news for us, because it meant we could visit a hedgehog café!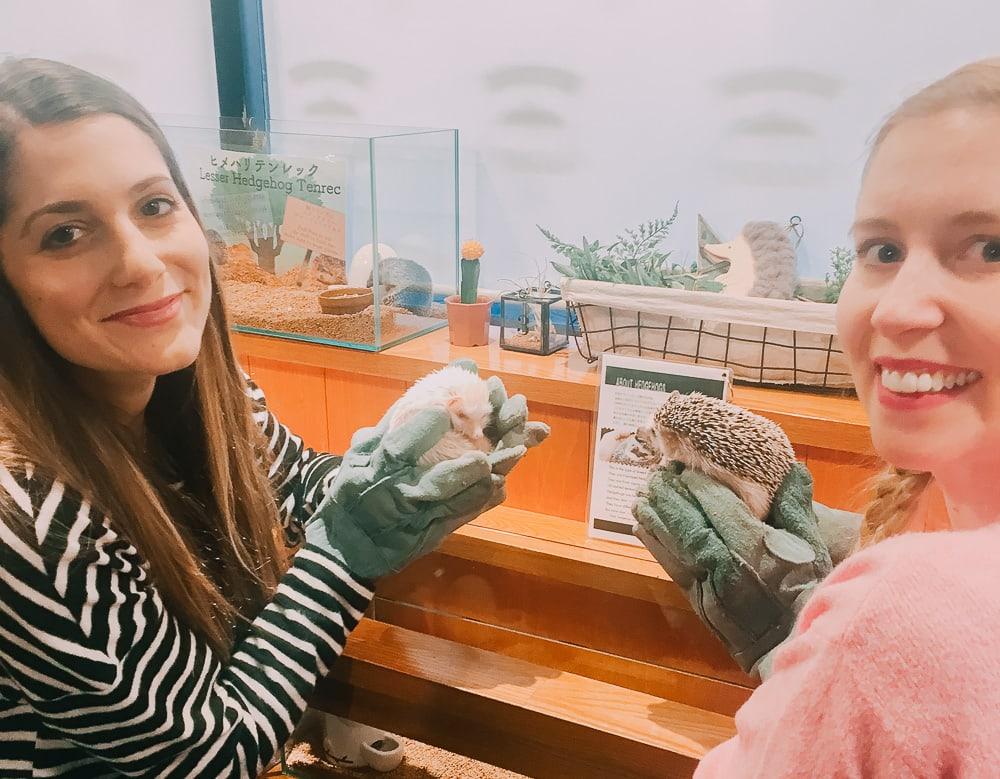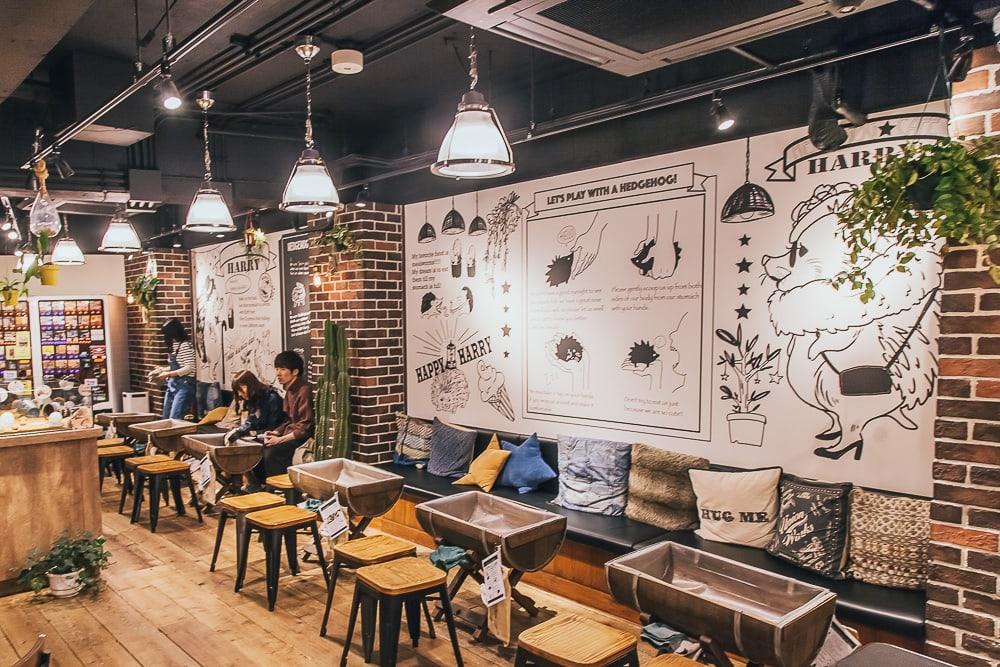 At HARRY Hedgehog Cafe you pay 1,400 yen to play with a hedgehog for 30 minutes, with a drink included.
You can see our experience at the hedgehog cafe in my vlog from Shibuya + Harajuku:
Ginza, Shinbashi & Shiodome
After two nights in Shibuya we moved to another part of Tokyo: Ginza!
Ginza is Tokyo's high fashion center, with lots of upscale shops and restaurants, though I chose it mostly for its location near the Tsukiji Fish Market, and because I really wanted to stay in one of Park Hotel Tokyo's famous Artist Rooms. The hotel is technically in Shiodome, which is adjacent to Ginza and Shinbashi, though the area is quite small so we spent our time covering all three places.
Where to eat in Ginza & Shinbashi
You can't go to Japan without trying okonomiyaki, so on our first night in Ginza Danielle and I went to ChinChikuRin, right by Shinbashi Station.
The food was delicious, and as this whole area is a popular hangout for businessmen after work, it made for a lot of fun people watching. Though there's no English menu and not so many photos, so it could be tricky eating here if you don't speak any Japanese.
The best meal I had in Ginza – and my entire stay in Tokyo – was Danielle's birthday dinner at Umegaoka Sushi No Midori. It's incredibly popular, so when we arrived at 7 pm we had to get a ticket from a machine outside the restaurant and wait for our number to be called, which took about an hour. I was super skeptical, but guys, it was soooo worth the wait!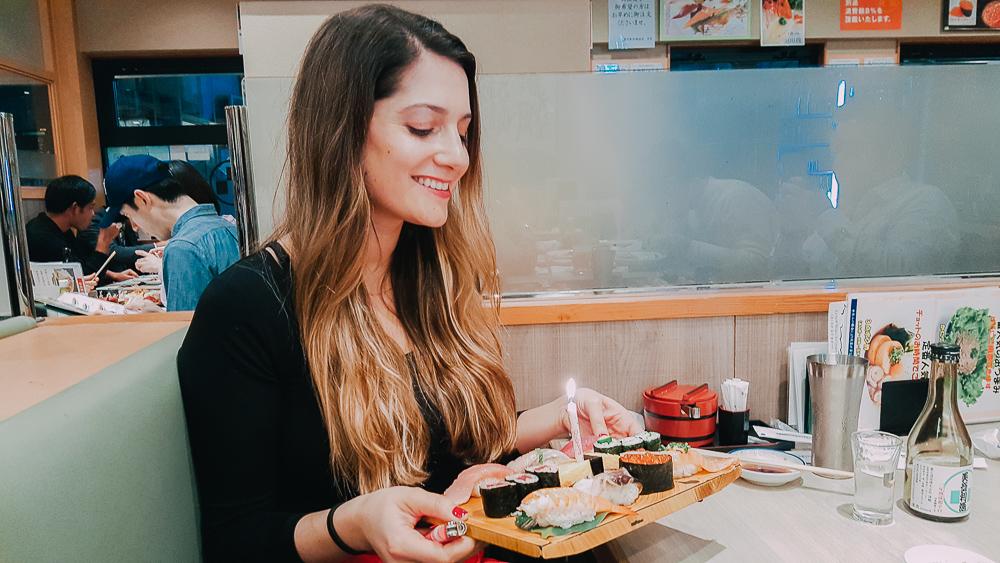 This was the best sushi I had during our time in Tokyo, and the portions were enormous, so it was a really good deal as well.
Where to go out in Ginza & Shinbashi
We went to a few places for Danielle's birthday, but my favorite was actually hanging out in the area around Shinbashi Station.
Shinbashi is known as the "salaryman capital of Tokyo," meaning that after work hours are over the bars and restaurants fill up with suits. We hung out in a laidback izakaya (I don't remember the name, but there are loads of them!), and then afterwards we went for a late night ramen in one of the many noodle shops in the area.
Where to stay
We stayed at the Park Hotel Tokyo in Shiodome, in one of their incredible Artist Rooms.
These rooms are way up on the 31st floor and have each been individually designed by different artists. We were in the "Sumo Room" by Hiroyuki Kimura and it was so cool. The murals were amazing, and they had added lots of cute little sumo touches around the room as well.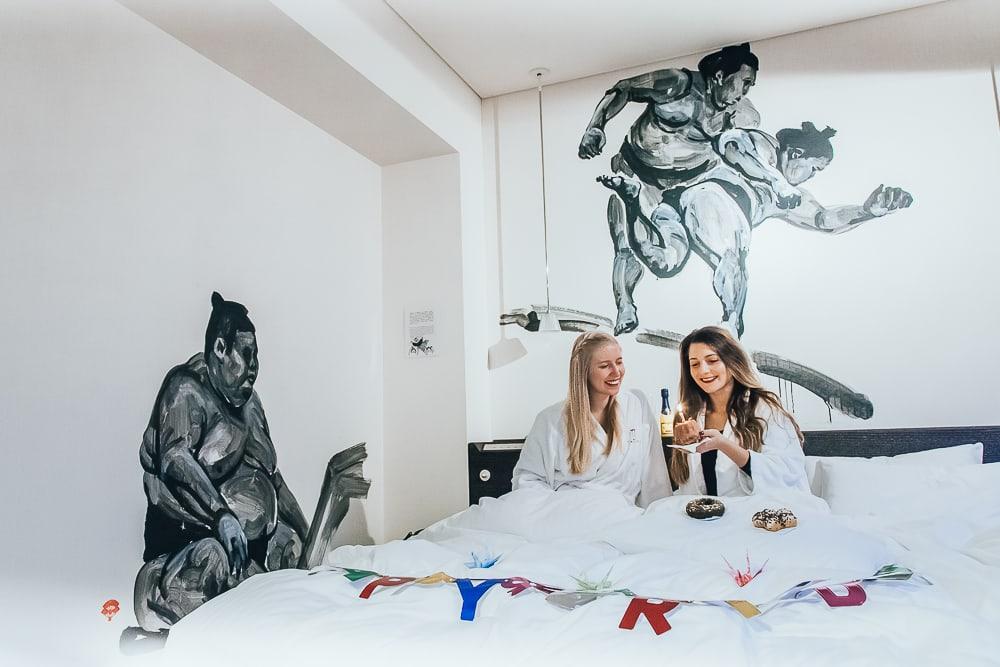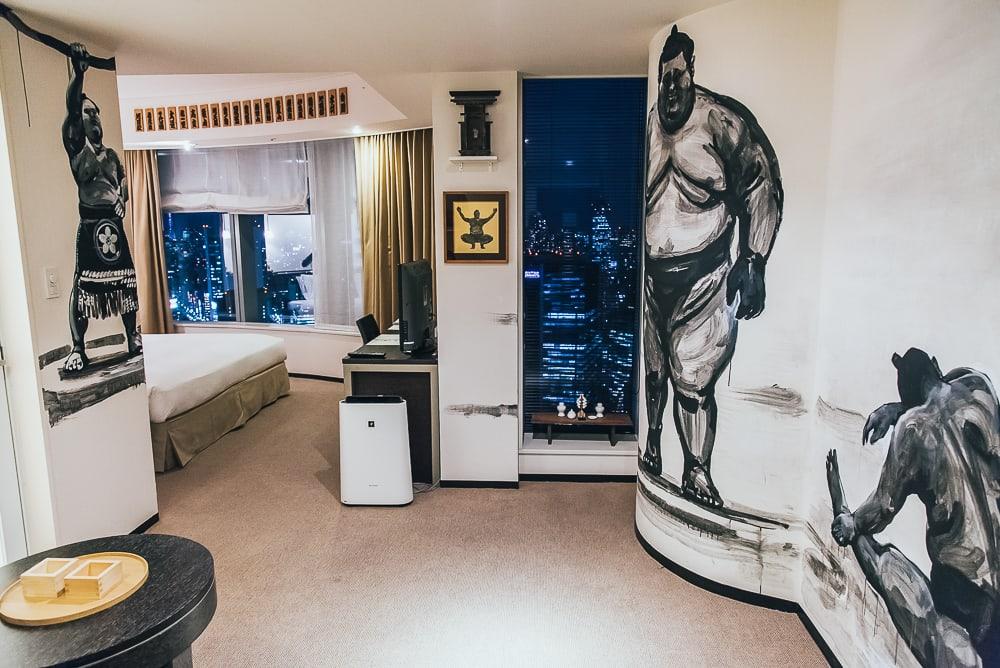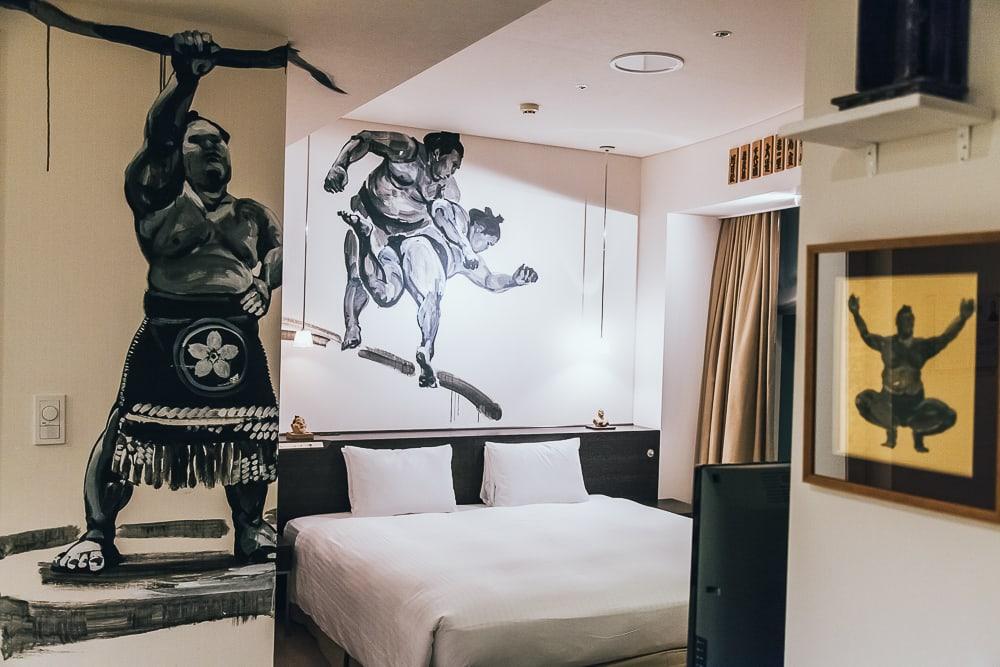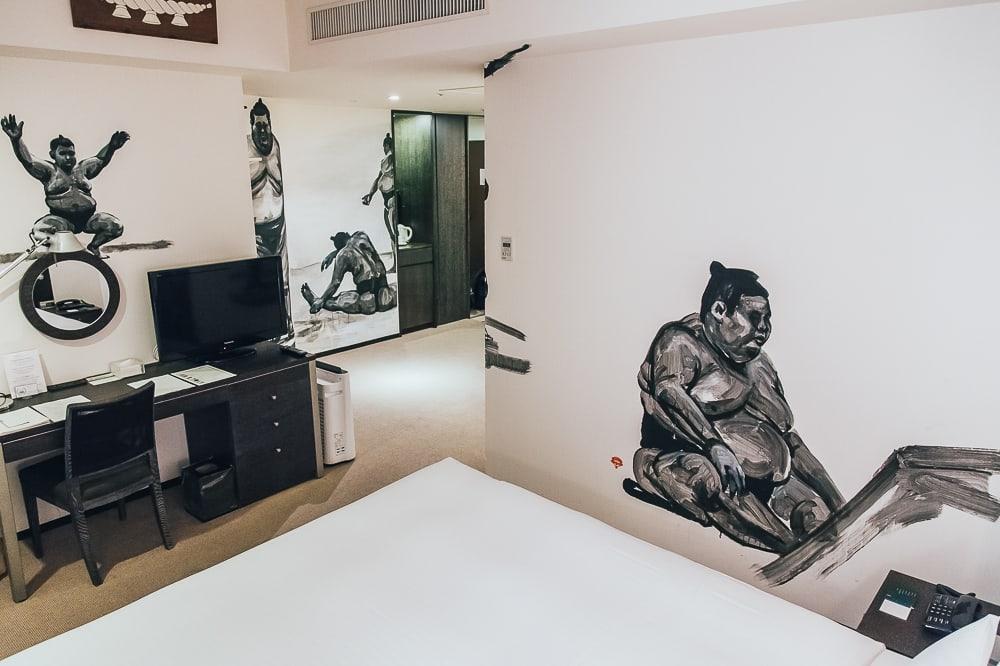 We noticed that some of the other rooms on the artist floor had been left slightly ajar, which I took to mean that we were allowed to have a peek inside – at least I hope we were, because that's what we did!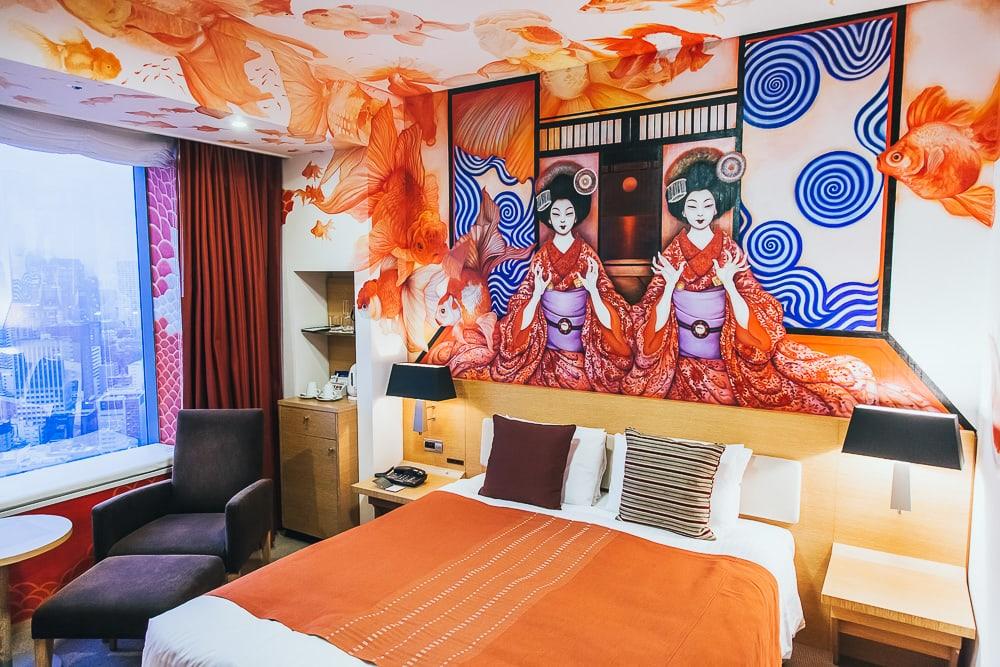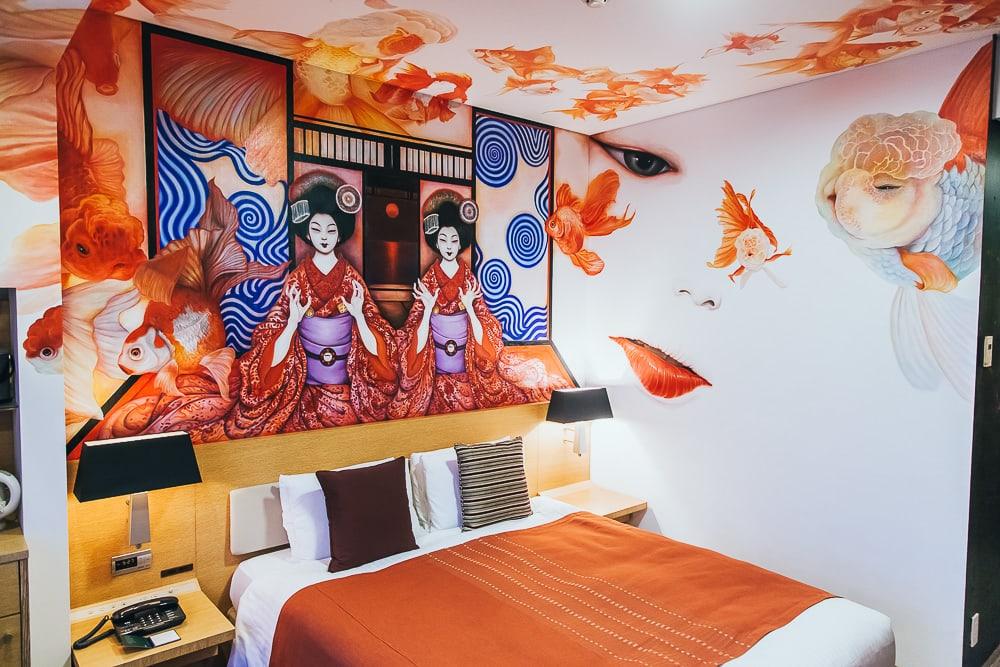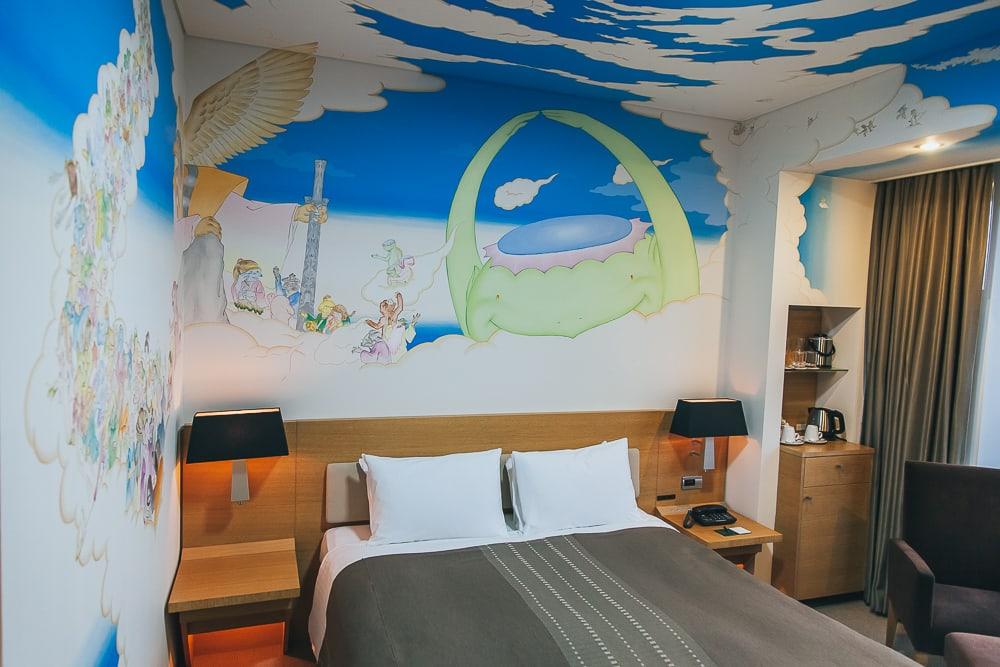 But even if we hadn't been staying in an Artist Room I would have been obsessed with Park Hotel Tokyo. The hotel lobby is on the 25th floor, making the whole hotel feel like it's floating above Tokyo, and I was excited to see that the breakfast buffet didn't only feature Western standards (which is often the case in big Tokyo hotels) but also had all of my favorite Japanese breakfast staples.
And the location was perfect – right by Ginza and Shinbashi, and also easy walking distance to Tokyo's famous Tsukiji Fish Market. Check current prices and availability here and you can read my full review of the hotel here.
Tsukiji Fish Market
Danielle and I love markets, and I love fish, so Japan's largest fish market had to be a win in my book, right?
Um. Kind of? But also, not quite? Actually, just no.
I've been to a lot of fish markets in Japan, and I've always loved them. You can watch the fish coming in and being prepared and you can buy the freshest sushi ever from the vendors, at a fraction of the usual price. Seriously, the sushi I ate at the Karato Market in Shimonoseki was the best I've ever had, and the ratio of fish to rice was crazy.
But I didn't really find any of that at Tjukiji Fish Market. We waited until 10 am, when visitors can go to the inner wholesale market to see vendors setting up and preparing the fish, and the building was pretty amazing. Though the market is actually set to move to a new location in October 2018, as it's outgrown this space.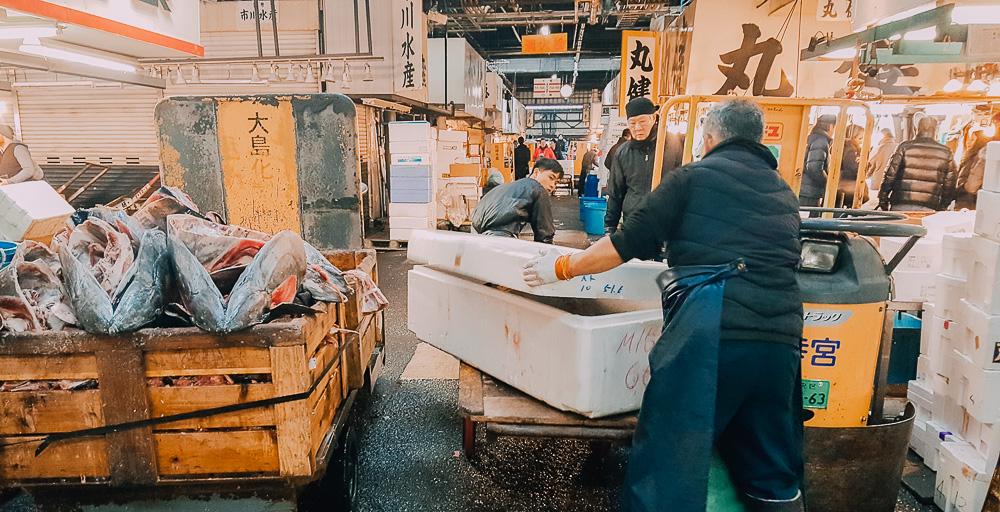 Entrance to the inner market is strictly limited to certain times, and if you want to go to the tuna auction at 5 am you have to apply in advance, as they can only take a few people. This is because the market wasn't set up to be a tourist destination, and I did feel sort of uncomfortable going into the wholesale area as a tourist – it's clear they don't really want visitors there, which makes total sense.
Tourists are instead encouraged to visit the outer market area, which is full of stalls and small restaurants, though to be honest I found it, well, touristy!
I think I may have enjoyed it if it were my only experience at a Japanese fish market, so if Tokyo is your only stop in Japan with a fish market then it's probably worth going. But I couldn't help compare it to other, less touristy markets I had been to in the country, and I left wishing I could have taken Danielle to the Karato Market instead.
You can see more about our time in Ginza and the Tsukiji Market in this video!
So, final verdict on Danielle's first time in Tokyo? She loved it! Or at least she said she did, to spare my feelings. No, actually at the end of the trip she said Tokyo was probably her favorite part. My favorite part, however, was yet to come – read about it here!