While exploring the Gardens by the Bay and Singapore's impressive shopping district were at the top of my itinerary, I also wanted to see something a little different than the top tourist spots. I considered heading out to the suburbs or finding a beach, but then I stumbled on this Tripadvisor review of Haw Par Villa:
I do hope that they will not close down Haw Par Villa as it really teaches one to be honest and not do harm unto others if not the bad will befall you.
This place was educational AND it could help my morals? Sold.
Haw Par Villa certainly didn't disappoint, and I think it was in fact quite educational. For example, I learned that if I cheat, curse, waste food, or lie, this could happen to me: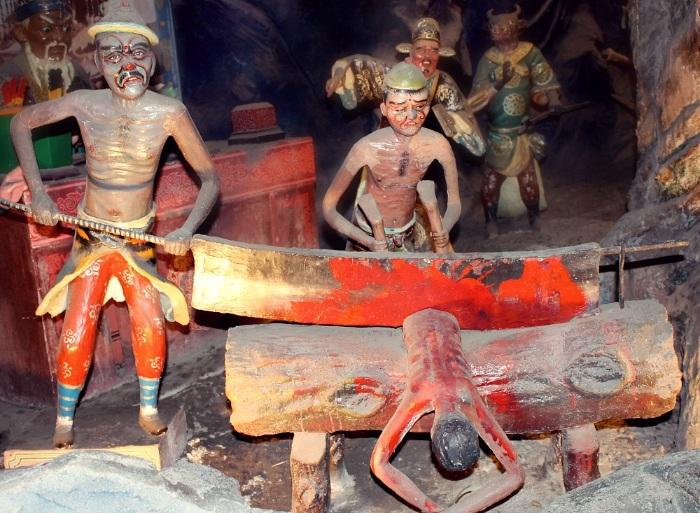 True confession: I totally lied about the Tripadvisor review – I actually read that particular one after going to Haw Par Villa. I'M SORRY YOU GUYS!
Haw Par Villa
Built in 1937, Haw Par Villa was originally called the Tiger Balm Gardens, as it was made by the same two Burmese brothers who developed everyone's favorite muscle rub.
On first entering Haw Par Villa, it seems like a typical, albeit somewhat rundown, asian theme park. Enormous, brightly colored statues make the perfect backdrop for silly photo shoots – an asian staple – with the perfect Asian blend of adorable and bizarre.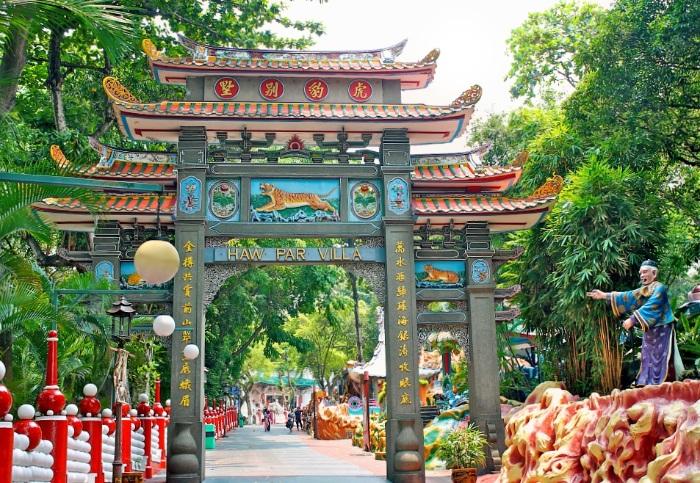 But then I came to this warning sign, and suddenly the park was no longer about playful animals and random foreign monuments:
So if you're a child, or have an aversion to kitsch or gore, STOP READING.
Uh, I probably should have posted that warning before the first gruesome image, ugh I'm the worst.
I hope not!
This isn't quite the peaceful Buddhism presented in Western yoga and meditation brochures. However, as all religions, Buddhism has its dark side too. Did anyone read about Yomadic's visit to a similar site in Sri Lanka? I can understand why these places haven't exactly topped the tourist charts, but they do offer a great insight into the different facets of Buddhism, and the ways in which cultures have integrated their own folklore into the religion.
In fact, Haw Par Villa's Ten Courts of Hell is based on gruesome depictions of hell in Buddhism, Confucianism, Taoism, and Chinese mythology. A walk through the Ten Courts shows the visitor what punishments they can expect from their different sins.
Singaporean parents are said to bring their children here to learn about morality, but I actually deleted a lot of my photos because they were too gruesome. It's amazing how effectively some red paint can manage to turn my stomach.
Finally at the Tenth Court, the sinners drink a magical tea where they'll forget the horrors their wrongdoings brought upon them, before they are reborn through the wheel of reincarnation to a new life of sin – or morality!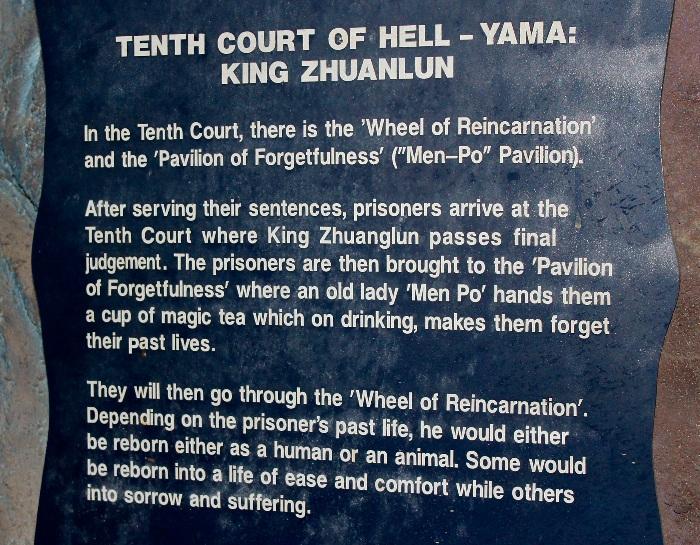 Bizarre? Yes.
Will I be making more of an effort to obey my siblings? Um…  Totally!
Getting to Haw Par Villa
The park is located right next to the Haw Par Villa MRT Station, so it's incredibly easy to get to!
Admission is free.