I visited Shetland as part of a paid partnership with VisitScotland, PromoteShetland, and NorthLink Ferries 
Shetland consists of over a hundred islands, fifteen of which are inhabited, which means there is a lot to see here.
I only had a week for my trip to Shetland, so I was never going to manage to see all of the islands. There's so much to see and experience here. But the great thing about collaborating with local tourism boards is that they have the local inside knowledge to plan the best itineraries. And I really think they did!
I covered a lot of ground in a week, and I felt like I got a feel for lots of different aspects of life in Shetland. And so I thought I'd share my itinerary with you so you can plan an equally amazing Shetland trip.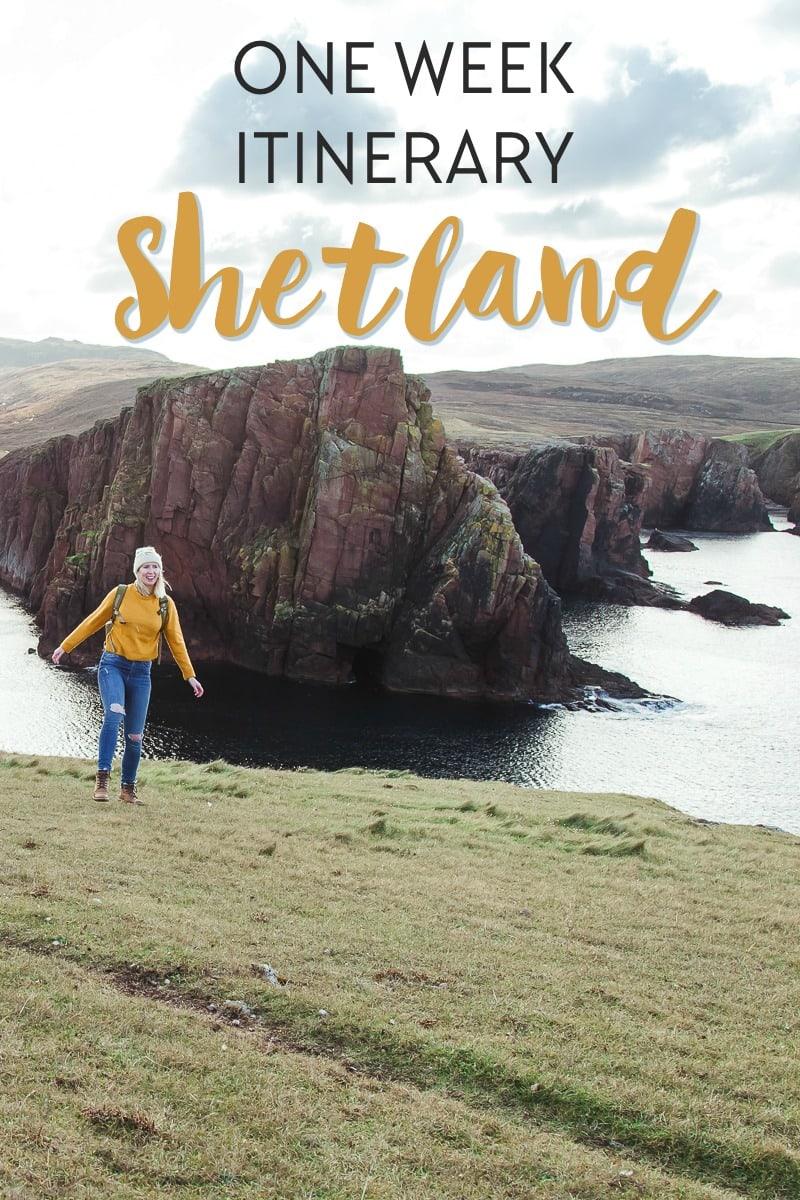 I will say that my itinerary was quite packed and you might not want to do all the things included here, but instead pick and choose what appeals most.
I've also made a video featuring the highlights of my trip (including lots of adorable Shetland ponies!):
Day 1: Ferry to Shetland
I already wrote about my experience on the NorthLink ferry from Aberdeen to Lerwick in my previous post about Shetland, so you can read more about it there. The ferry leaves at either 5 pm or 7 pm, depending on whether it will be making a stop at Orkney, and then it arrives around 7:30 am, but you can stay on board until 9:30 am so you can enjoy a leisurely breakfast.
You can also fly to Shetland, but personally I love taking ferries and I would say the boat journey is part of the whole Shetland experience! I stayed in their "cabin twin outer" which had two beds and a big window looking out to the sea. But there are a bunch of other ticket options as well. You can book your ferry ticket here.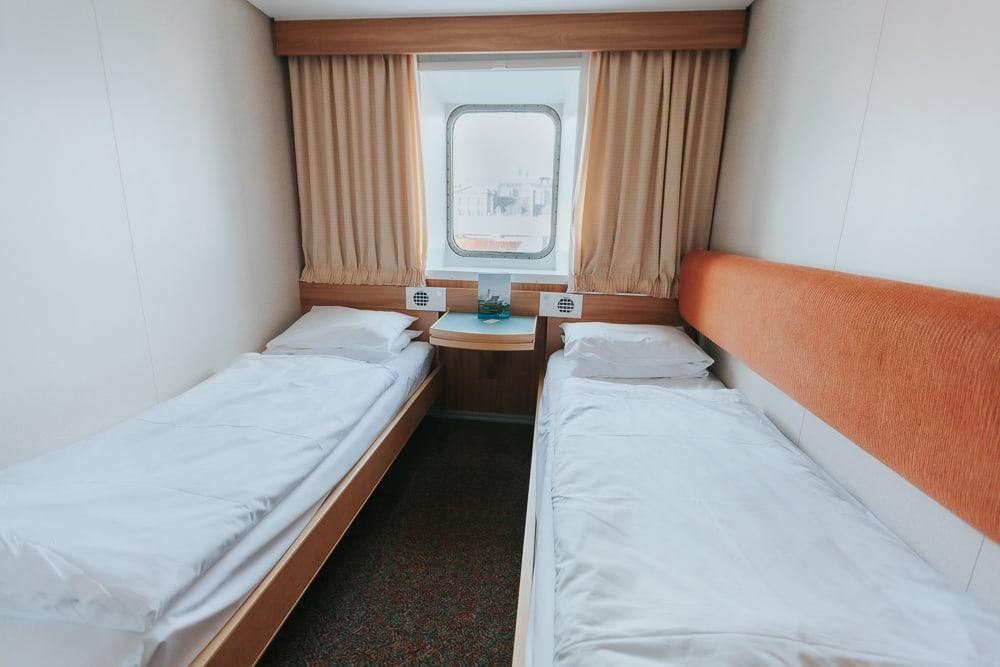 Day 2: Burra
First up on my Shetland itinerary was the town of Scalloway, about a fifteen minute drive from the ferry terminal in Lerwick.
I had been a bit nervous about driving a manual car on the left side of the road and kept asking my British friends to review the UK roundabout rules with me (multi-lane roundabouts are a rarity in Norway!), but once I headed to Scalloway I had to laugh at myself because driving in Shetland is actually really easy. There isn't much traffic outside of Lerwick, so if you're nervous about driving in Shetland, don't be.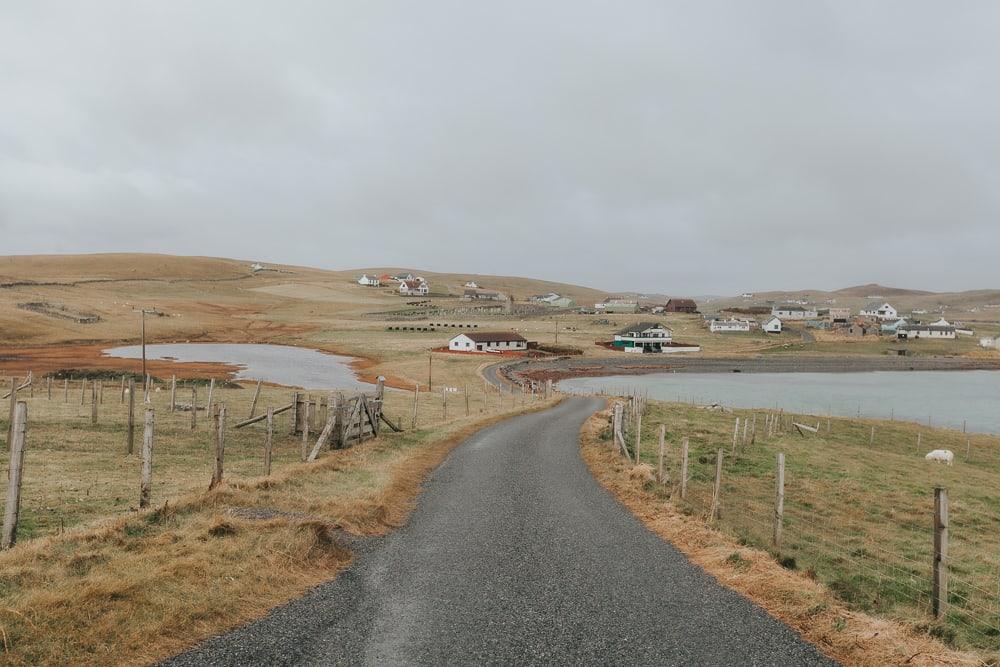 I first stopped by Sarah Kay Arts and Gardens, which is part of Shetland's Craft Trail. Sarah wasn't around when I visited, but her cat kindly showed me around the gardens, which have a stunning view out over Scalloway.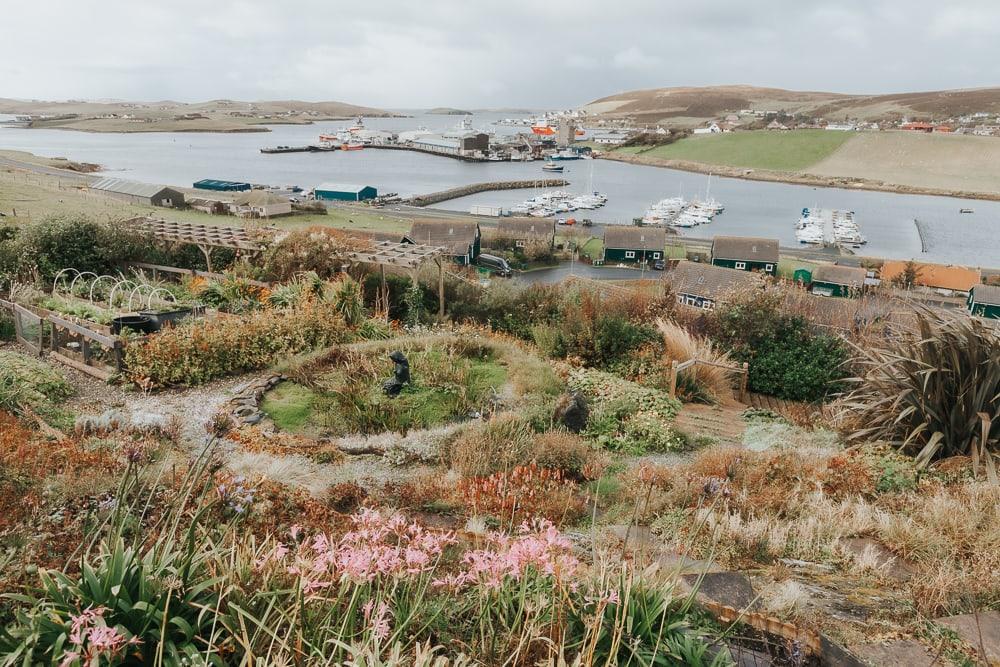 I then headed to the Scalloway Museum, which has some history about Scalloway, including the earliest settlers. And there's also an exhibit about the Shetland Bus, which was a clandestine operation linking Shetland and Norway during World War II.
And then next to the museum you'll find Scalloway Castle, built in the late 1500s, which is free to visit, and you can even go inside. If it's locked you can get the key from the museum.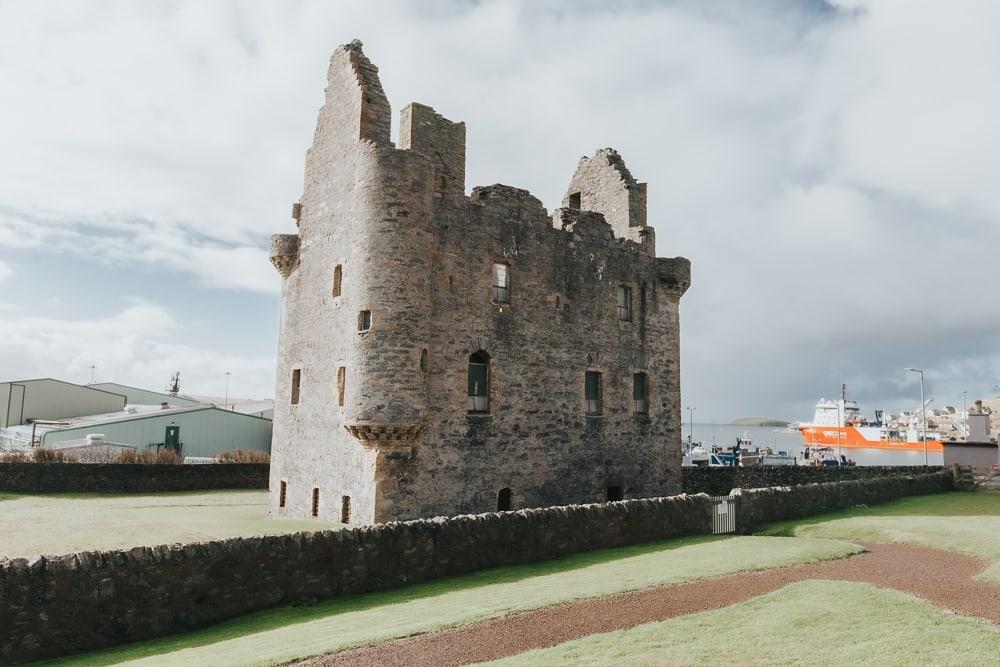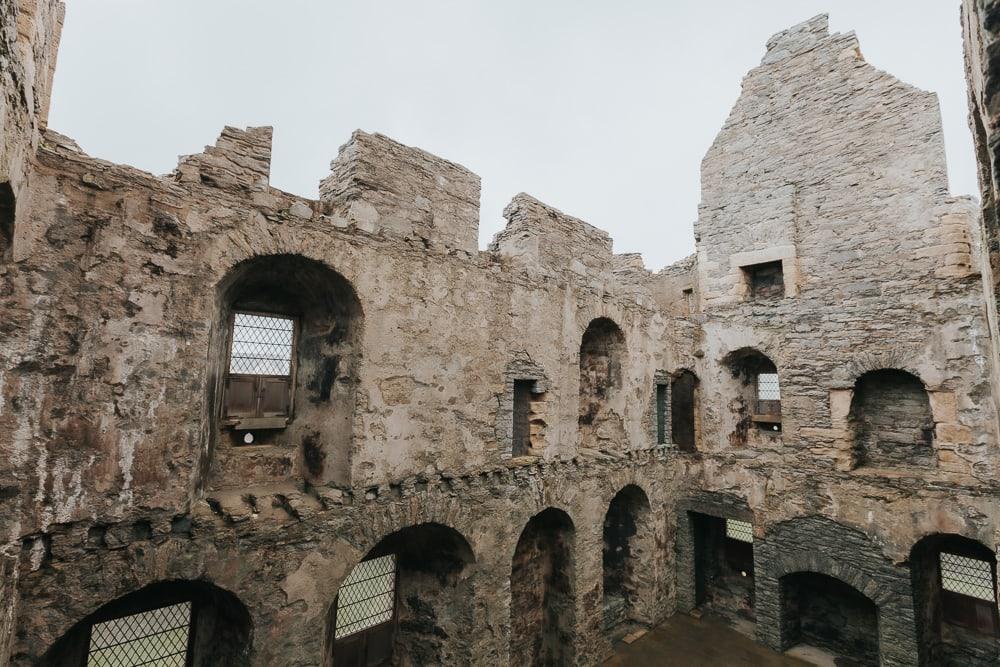 And then I stopped by the Scalloway Hotel for a delicious lunch of crab linguine while watching the football on TV with some locals. I loved the cosy pub atmosphere here, and I imagine it would be a nice place to overnight as well.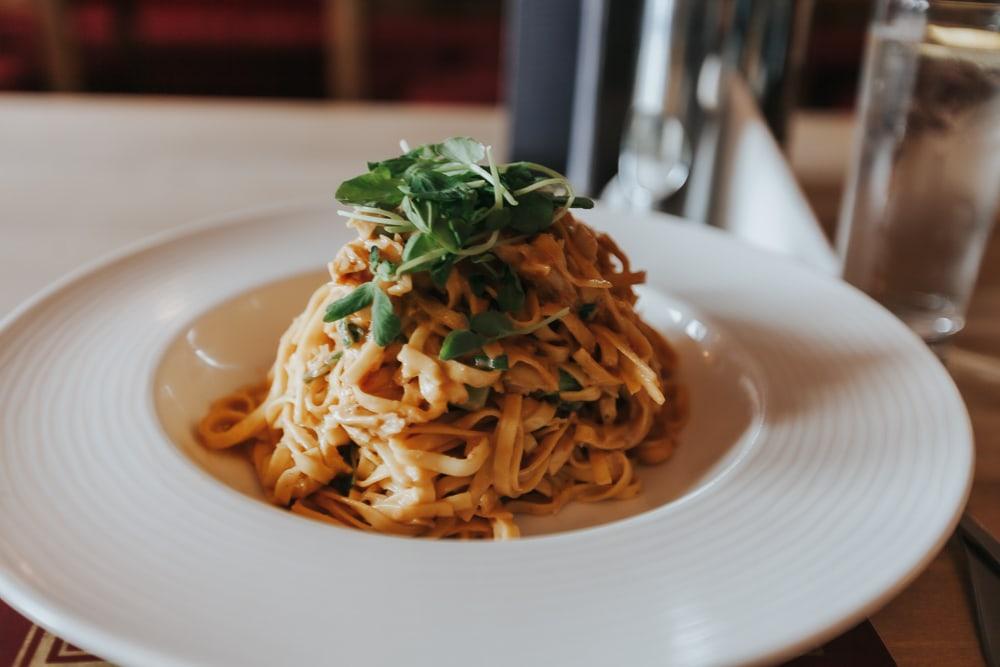 After lunch I headed to Bridge End for the Shetland Pony Experience, which ended up being a highlight of my entire week in Shetland. Seriously, you have to do this when you come to Shetland!
Shetland ponies are just the cutest, and it was great to learn more about them – especially at the start of my trip, so I felt comfortable petting all the other ponies I saw around the islands.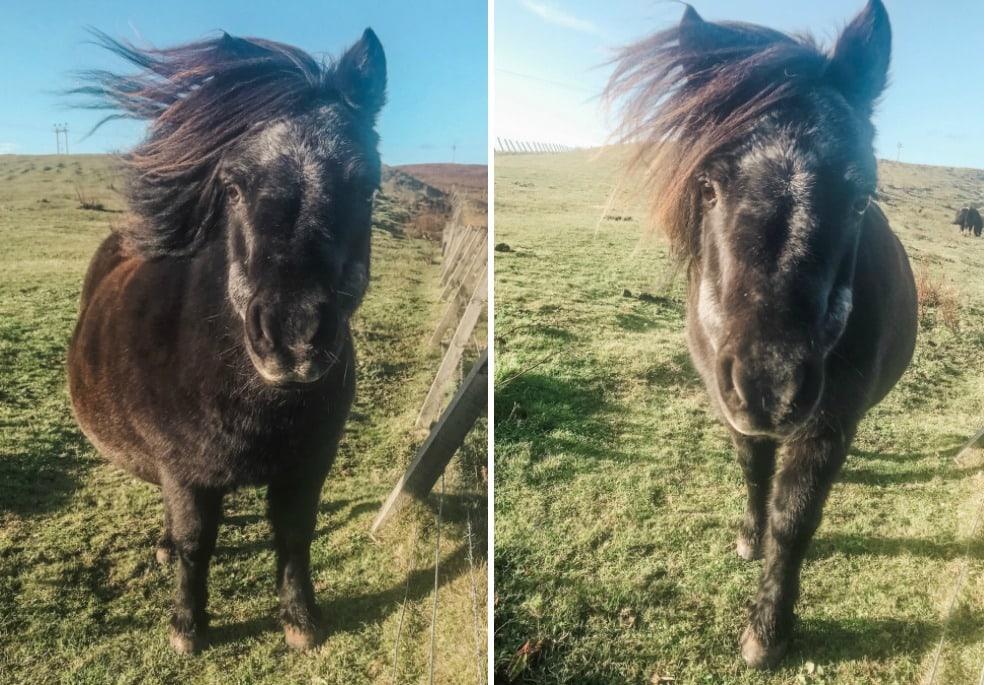 After leaving the ponies I took the afternoon to explore more of the Burra peninsula, walking along Banna Minn beach and Kettle Ness.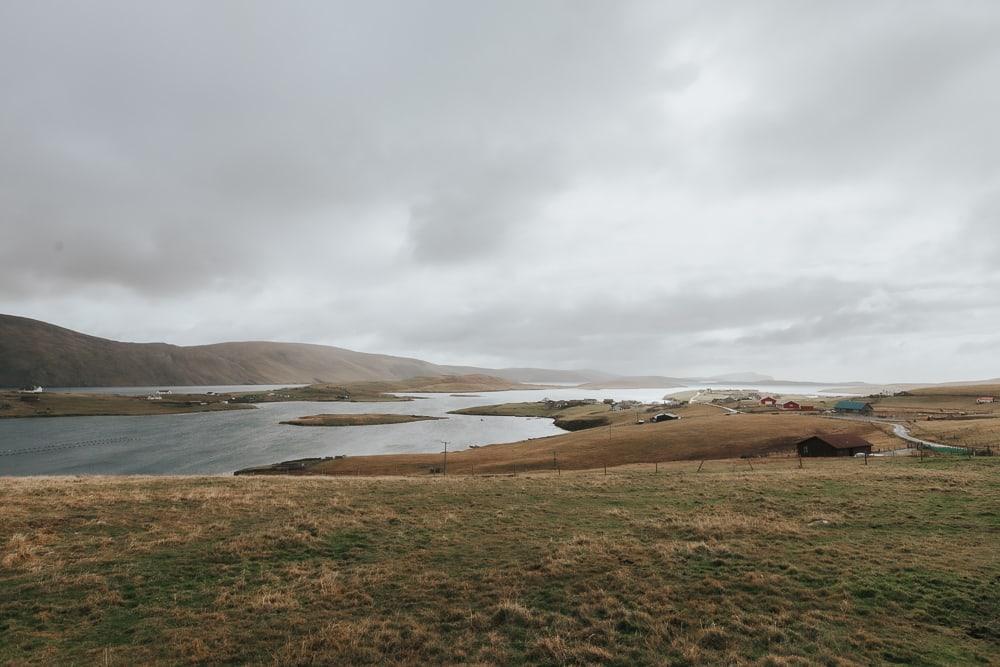 The weather was quite stormy, so after a while I was happy to warm up at Mike Finnie's Red Houss Shetland, another workshop along the Craft Trail. Mike is a man of many talents, once working as an architect and now painting watercolors, hand printing Shetland images, and crafting silver jewelry inspired by the Shetland Islands.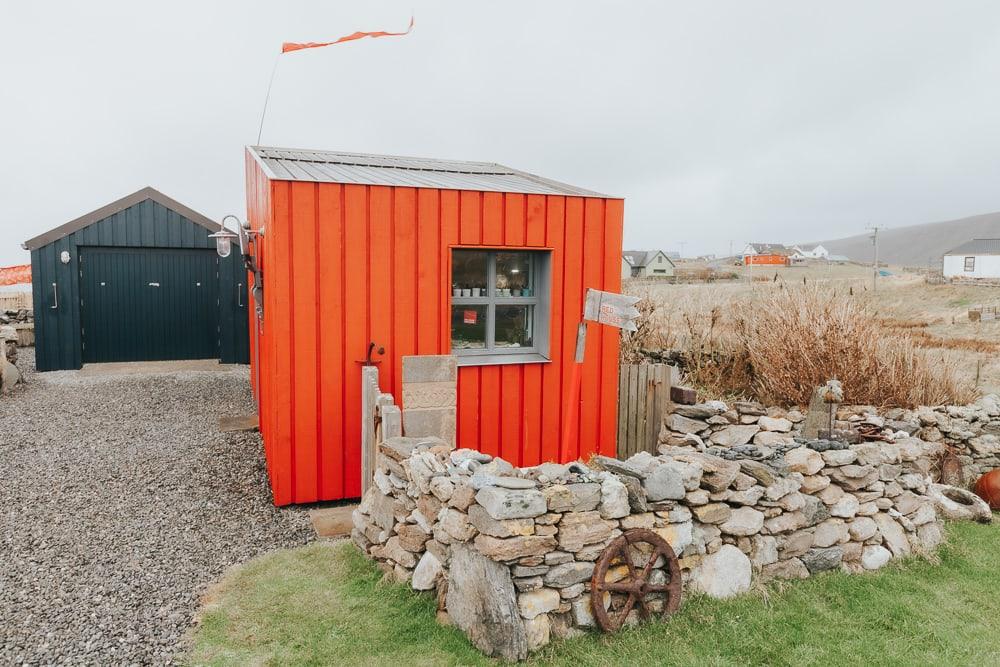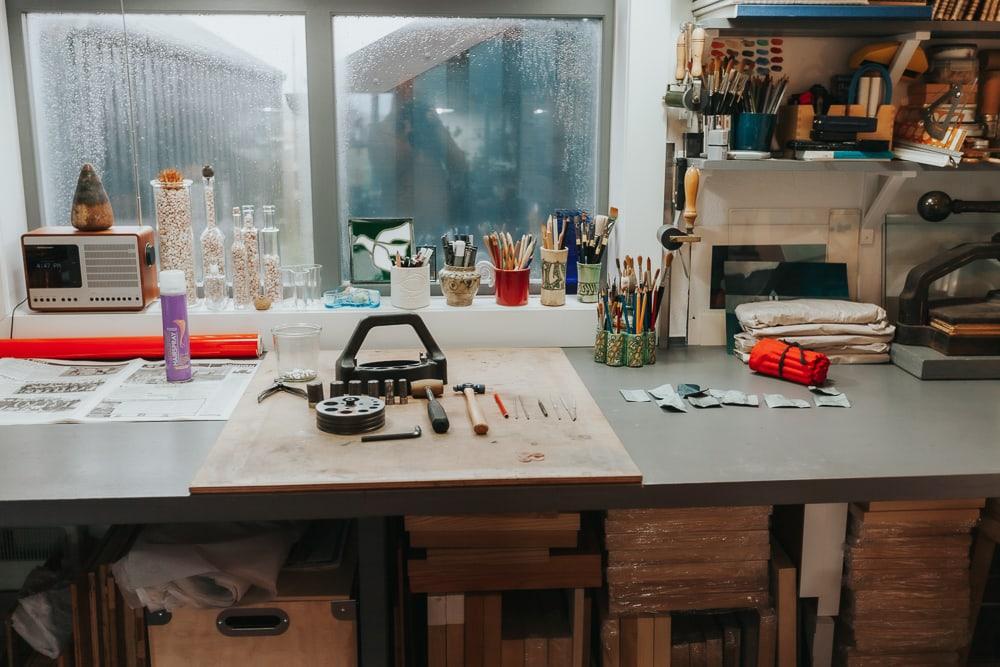 Mike was finishing off a silver Fair Isle button making workshop when I arrived, so I took the chance to chat with his wife over a cup of tea. I'd definitely try to finagle a tea invite while visiting Red Houss, because the inside of Mike Finnie's home is another work of art. I also later heard several people mention his button workshop as one of the highlights of Shetland Wool Week.
And then I walked up the street to the Burra Bears workshop, where Wendy first began transforming Fair Isle jumpers into teddy bears.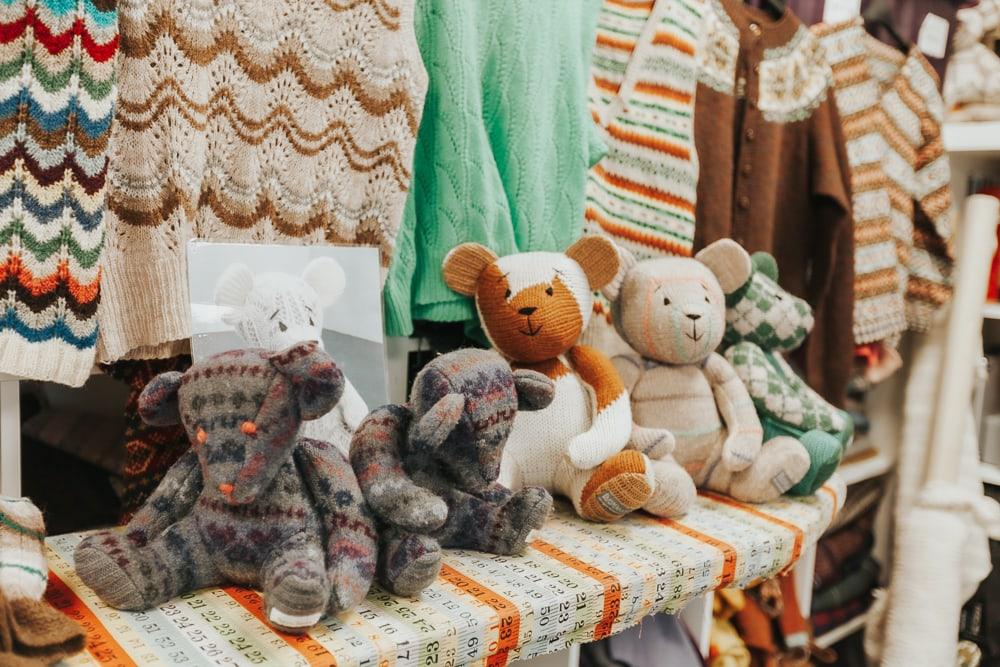 These days Burra Bears design their own Fair Isle fabrics, which are knitted at the local textile college. In fact Wendy proudly told me that everything about the bears is local, from the fleece on the sheep all the way to the finished product, so the first time these bears leave the islands are when they're off to their new homes.
Wendy has so many touching stories about the adventures her bears have been on, and while I hadn't thought about it before, a teddy bear really is the sort of item that is going to be treasured and even passed down through generations. And it was heartwarming to hear how excited this makes Wendy – like I don't know when I've talked to someone who is so passionate for their work. Which is all to say, I highly recommend visiting Burra Bears, and I'm sure you'll leave her workshop feeling inspired.
I was exhausted by this point of the day, so I was very happy to drive to Brae to check into Busta House Hotel.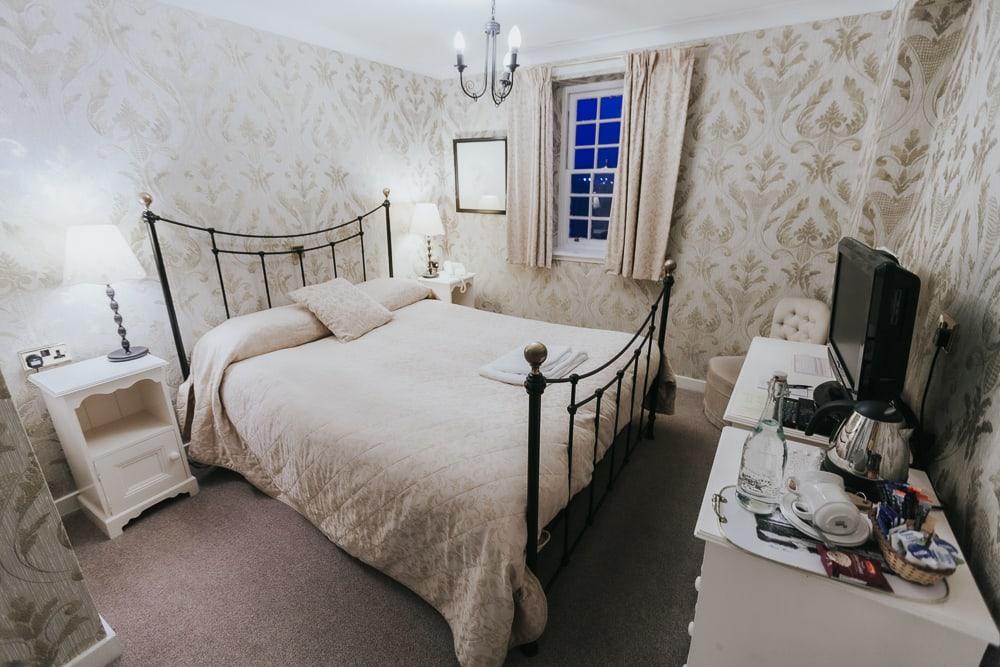 As I said in my last post, Busta House is no ordinary hotel, and when I think back on my time in Shetland I think I'll always remember my stay here.
I also had dinner at Busta House in their gorgeous dining room and the food was delicious. Highly recommended! I also enjoyed eavesdropping on the table of a dozen Swedish women next to me – I would love to return to Shetland with a group of friends like that when I'm older, and it sounded like they were having such a fun time.
Day 3: Wildlife & Eshaness
I wasn't exactly thrilled to see a 7 am wake up on my itinerary for today, but this morning actually ended up being another highlight of my Shetland trip.
I met up with Richard Shucksmith of Shetland Photo Tours for a morning of tracking otters and whales off the coast. Richard is a photographer (you can see his images on his Instagram and Facebook pages), so on his tours he'll help you get shots of the wildlife you see. Unless like me you're more interested in watching through your binoculars. If I had been taking photos, mine would have looked something like this: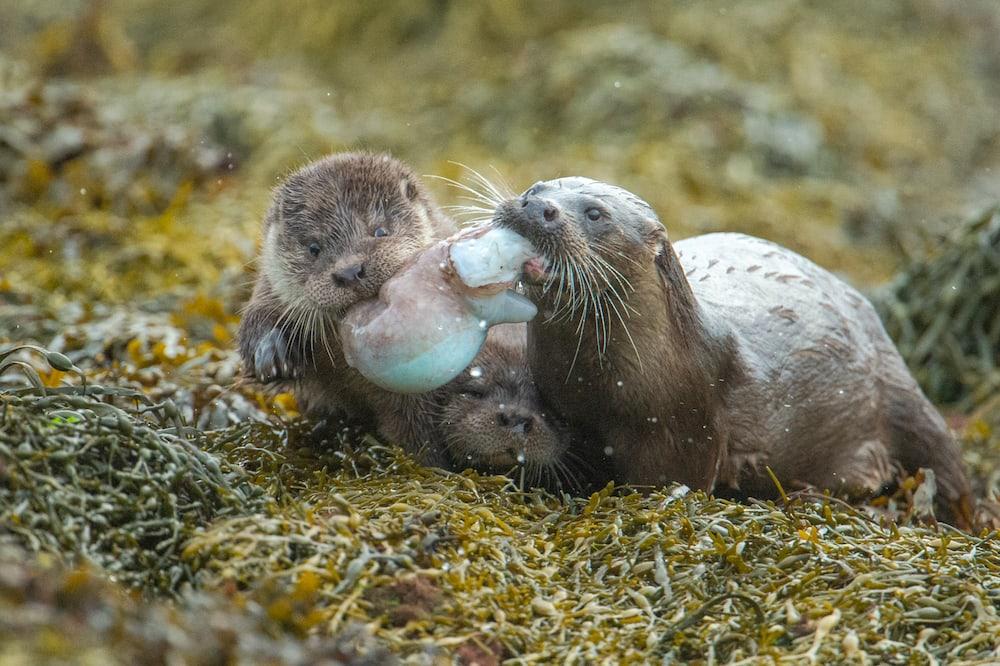 Ah if only. This photo was taken by Richard Shucksmith, of course.
We spent the morning following an otter along the coastline, and I was impressed by how well Richard could predict the otter's movements. It was quite exciting to follow along with someone who knew so much about otters.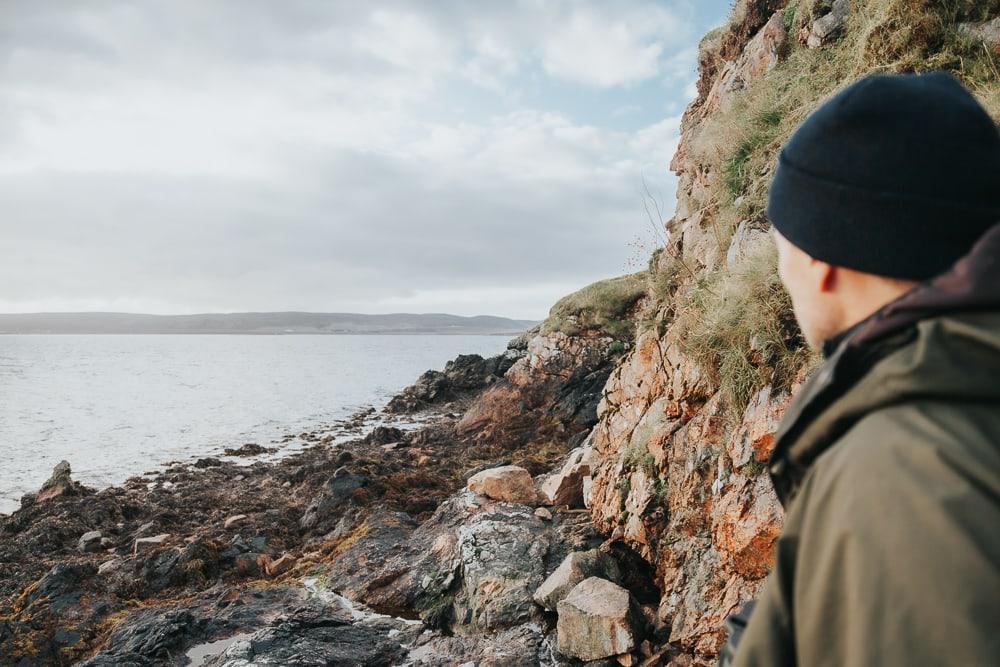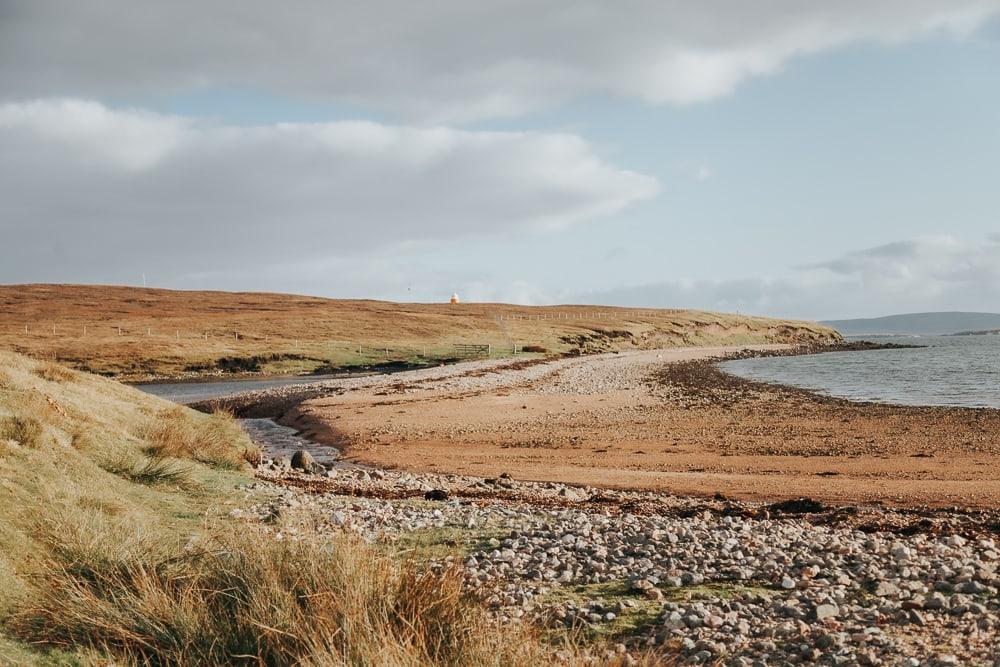 We then drove to a different area to try to spot some killer whales, but we were unlucky with our timing, as they didn't show up until a few hours after we had left.
The morning was still great fun though, and I'd say that of everything on this itinerary the Shetland Pony Experience and Shetland Photo Tours were the two most exciting experiences I had in Shetland and really shouldn't be missed.
I then stopped at the Braewick Café & Caravan Park for a delicious lunch with what I imagine must be the best view of any restaurant in Shetland.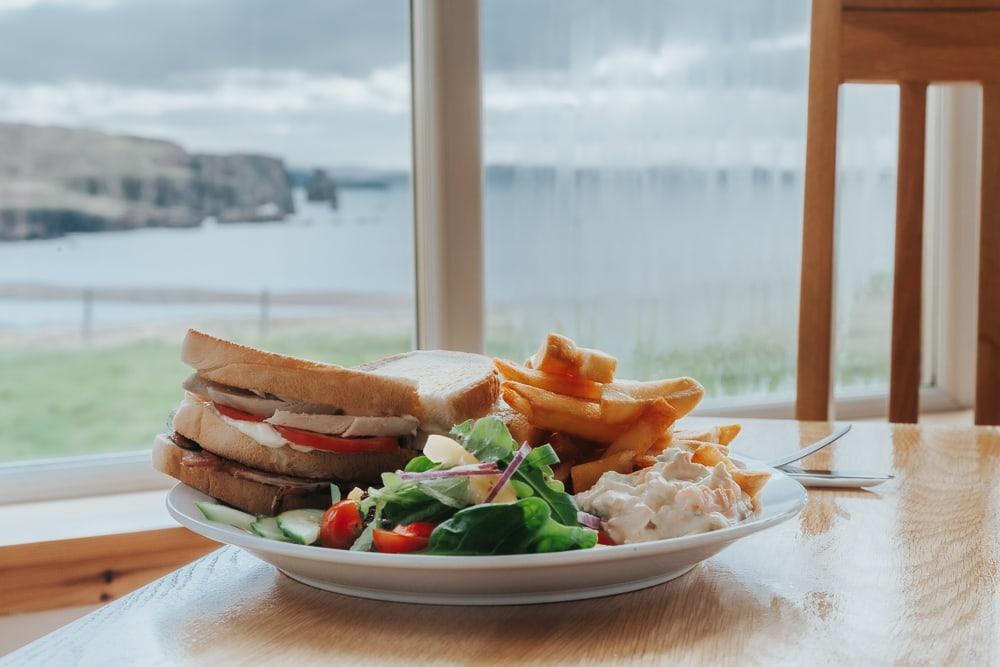 Wanting to take in even more incredible views, I headed to the Eshaness lighthouse and followed the Eshaness coastal walk from there. And oh what views! I couldn't believe that I was all alone for my hike here – in many other places a walk like this would have been crowded with tourists.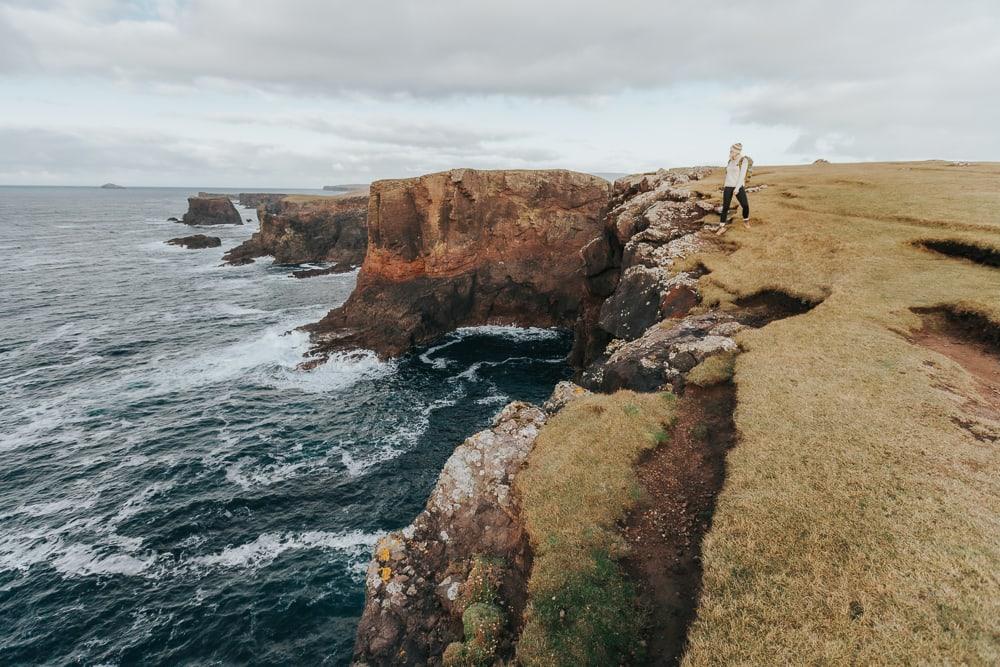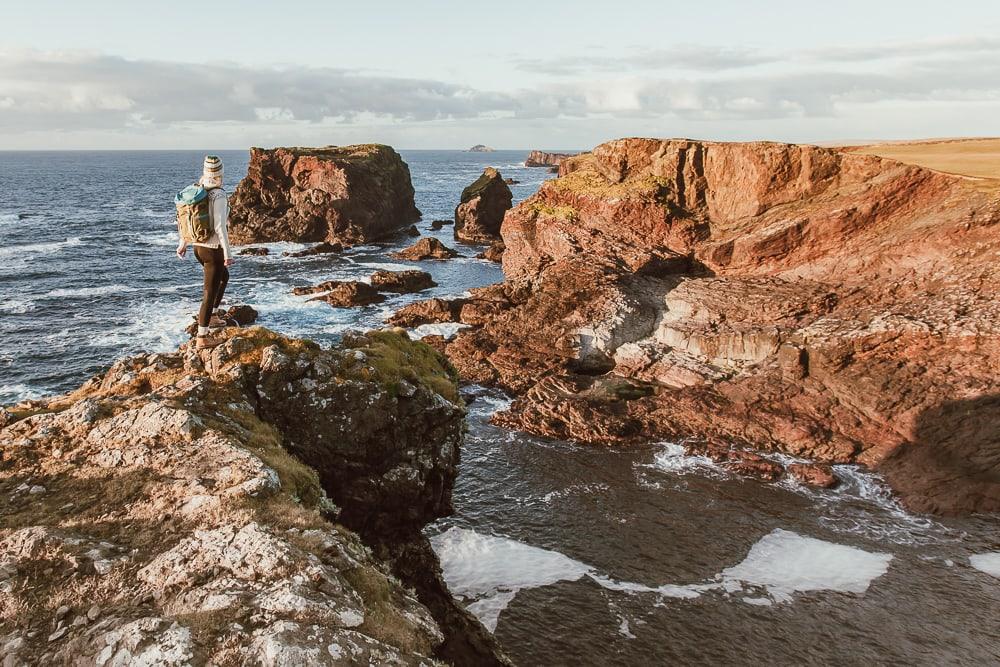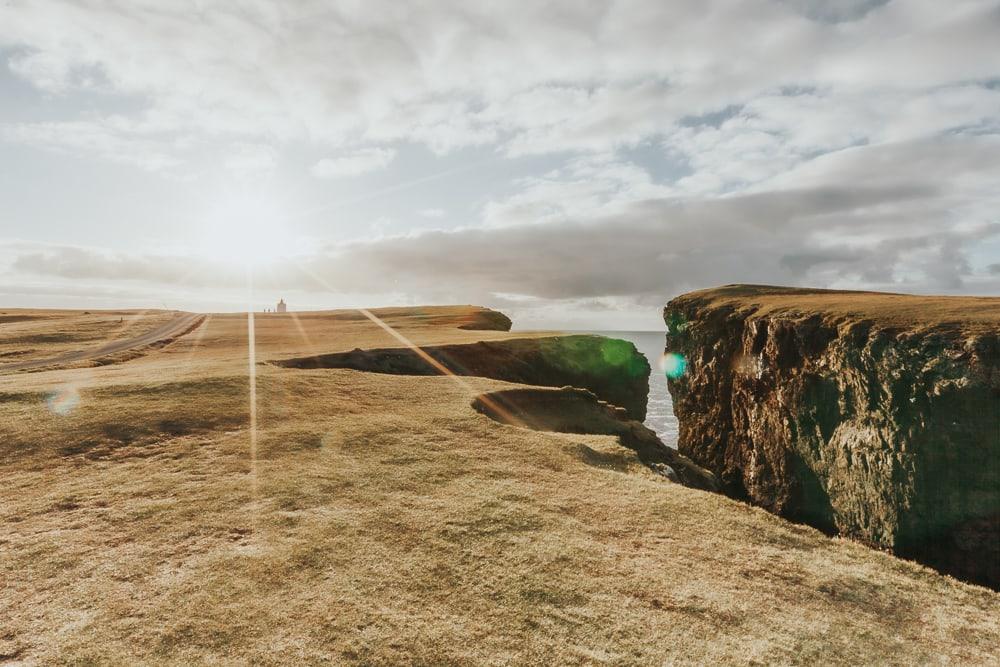 I also drove over to Stenness Beach and walked along the coast from there, which offered some more beautiful coastal views.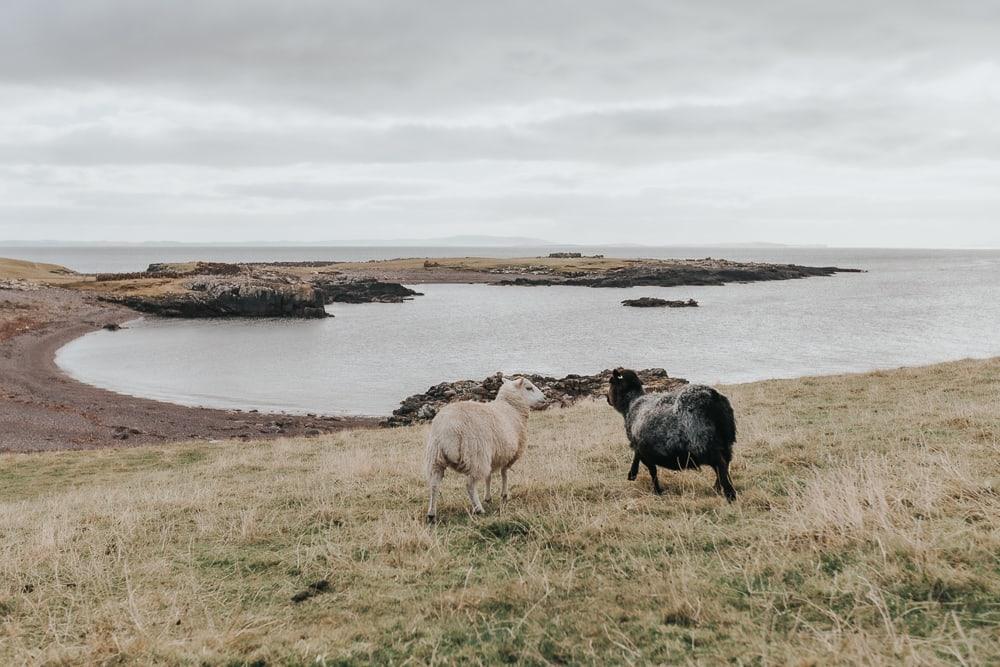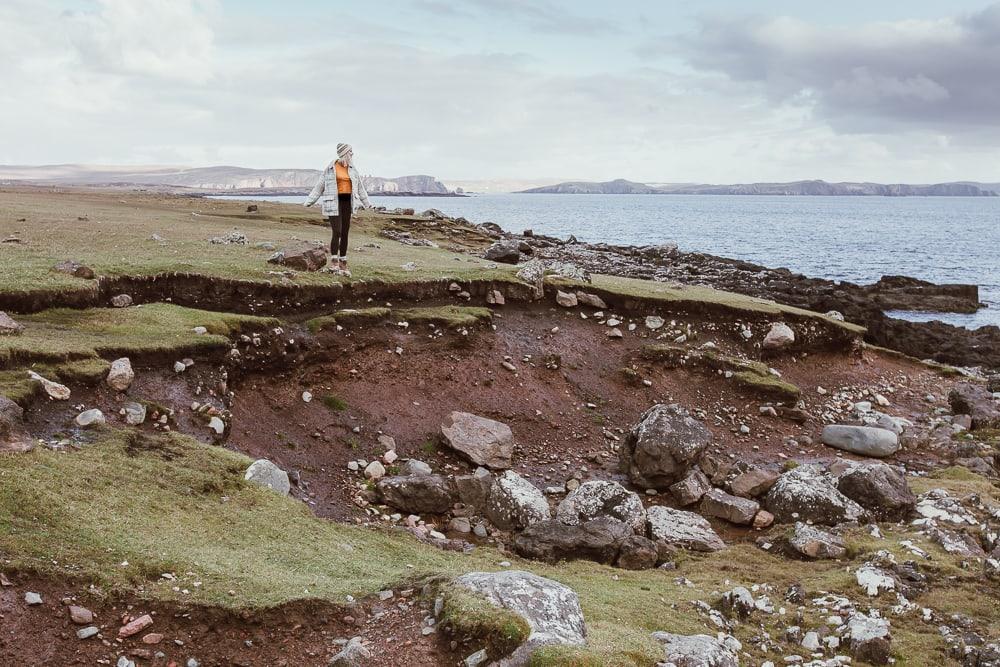 And then at the end of the day I had dinner at Drumquin Guest House, which was one of my favorite meals in Shetland. They source local produce wherever possible, and I loved the cosy atmosphere here. You do have to order from their menu in advance, so they can go out and get supplies for your meal. You can see their menu here.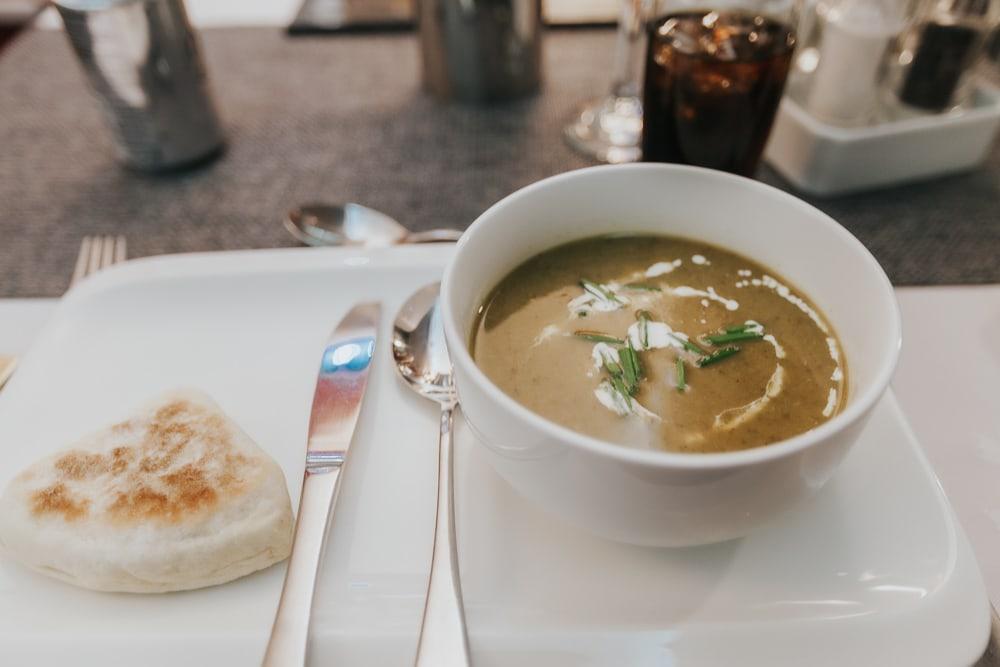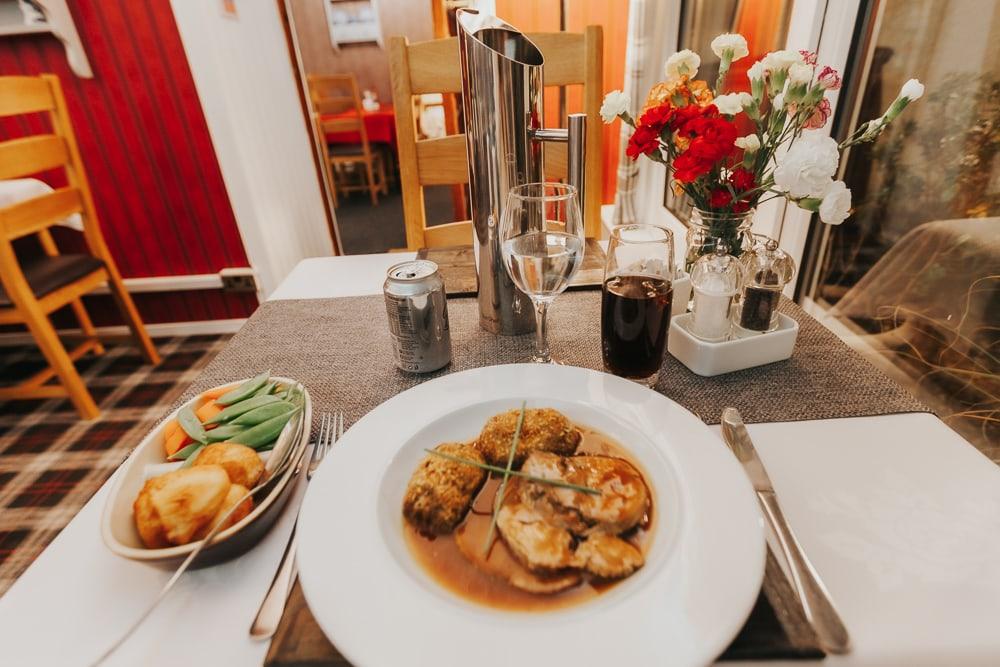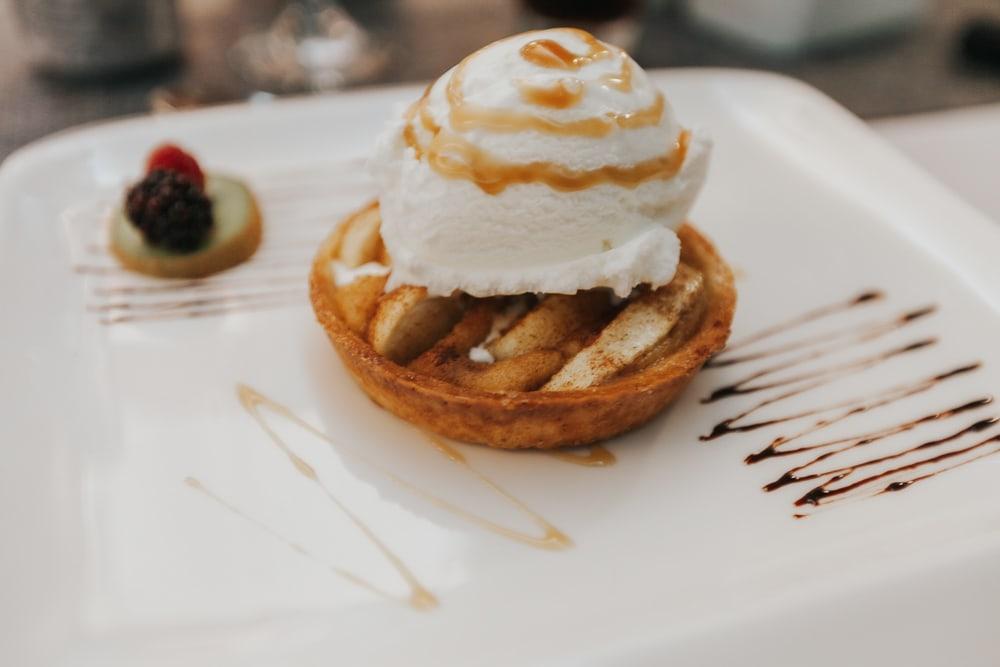 Day 4: Muckle Roe & Lerwick
I checked out of Busta House this morning and then headed to Muckle Roe for a hike.
I walked along the coast to the Hams of Roe, which took about five hours, and I'd say this was my favorite coastal walk I went on in Shetland. The views were incredible, and again I was alone here – I think I saw three other people the entire time.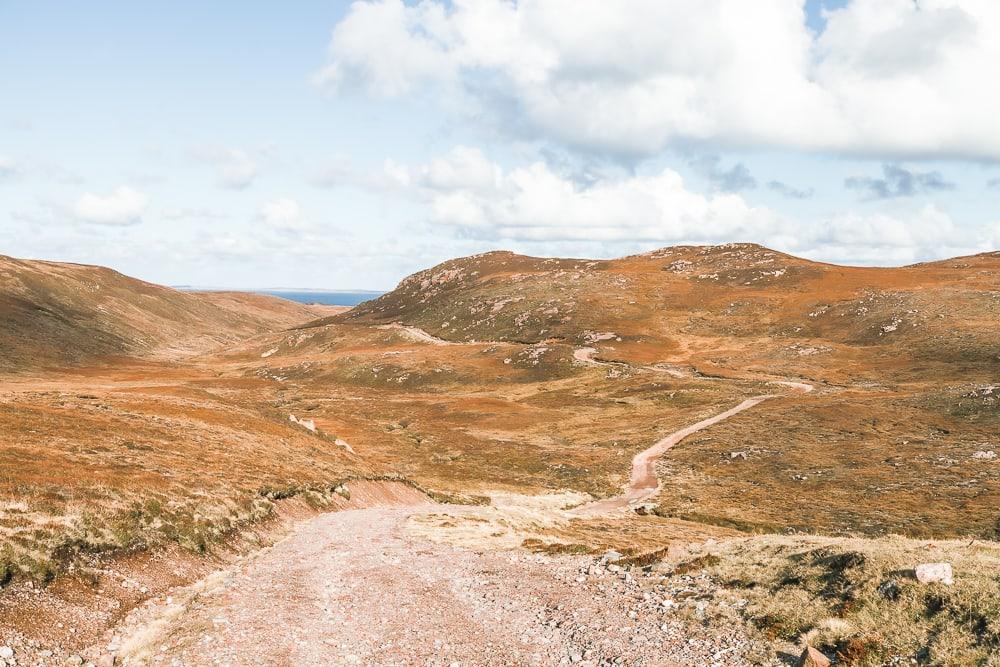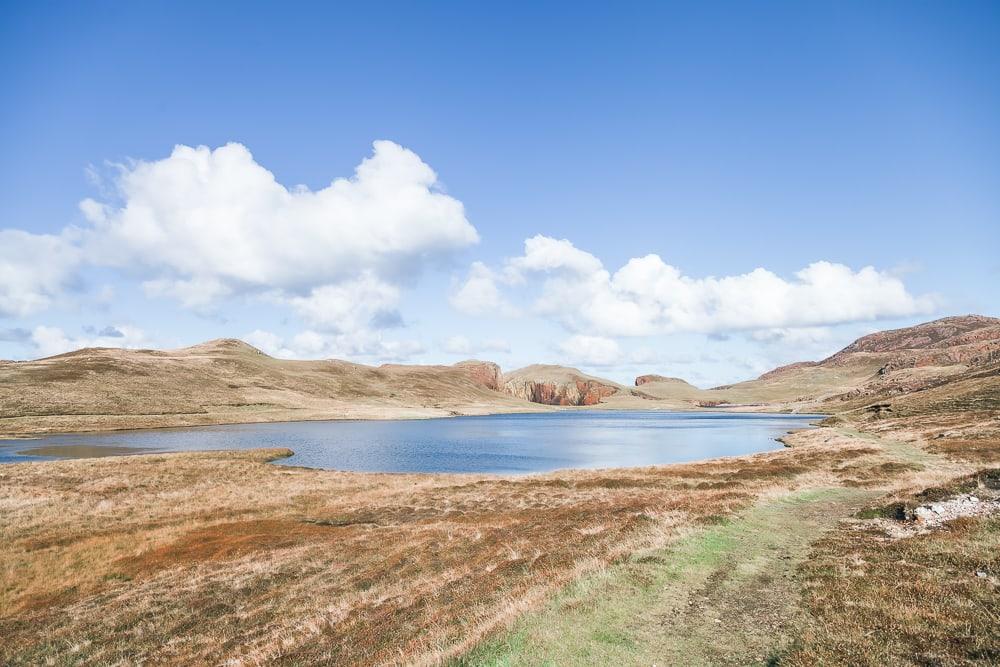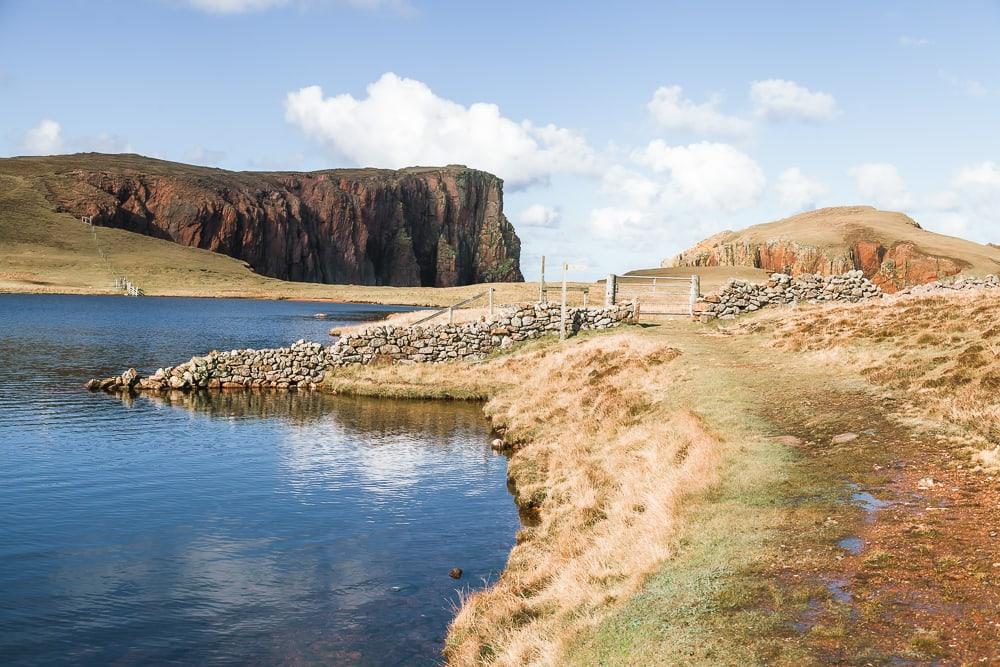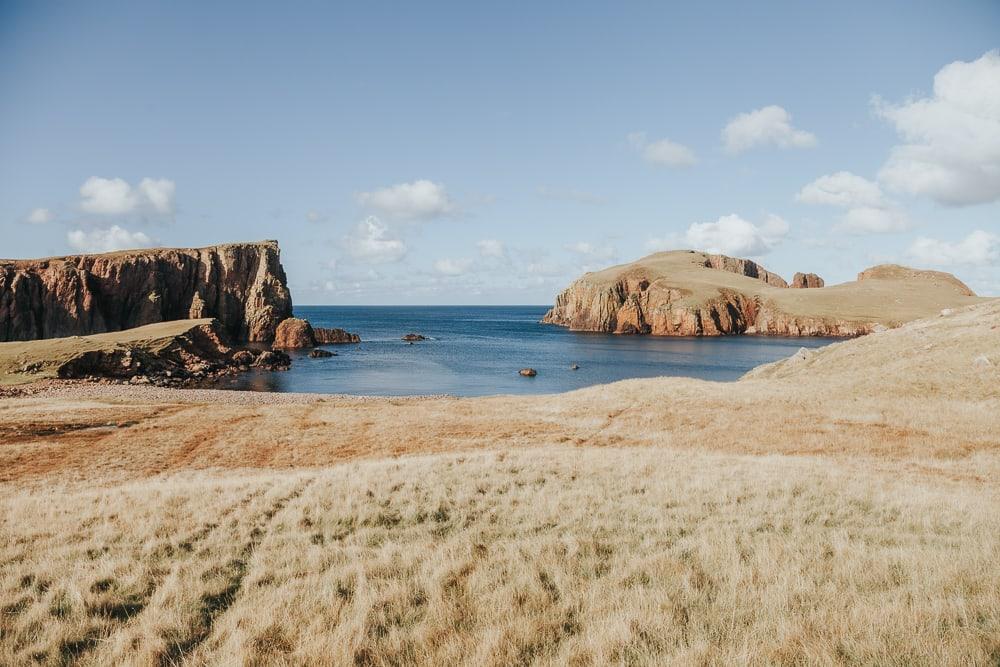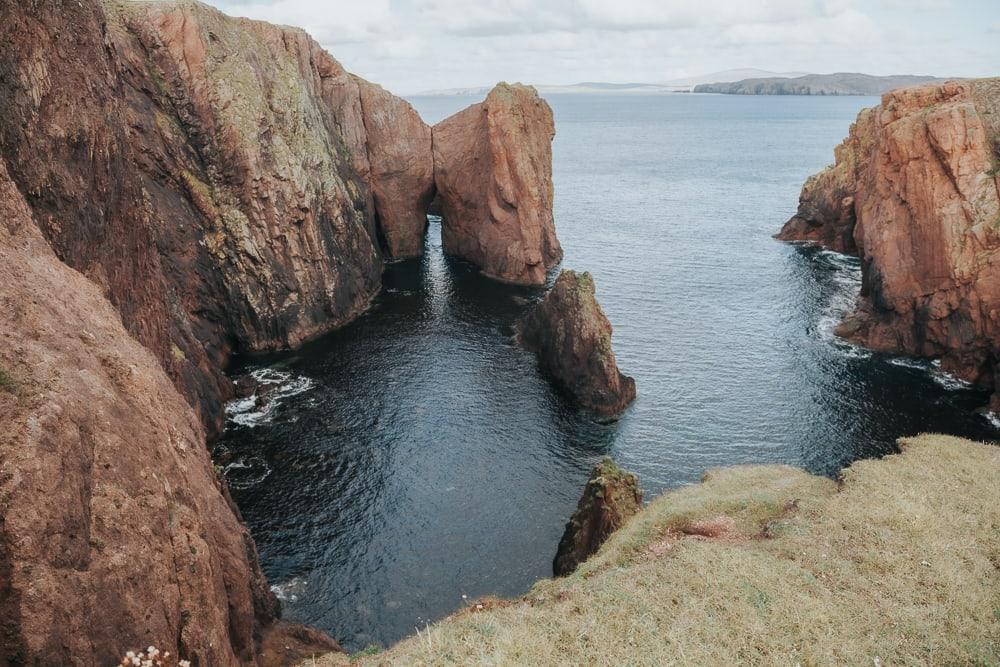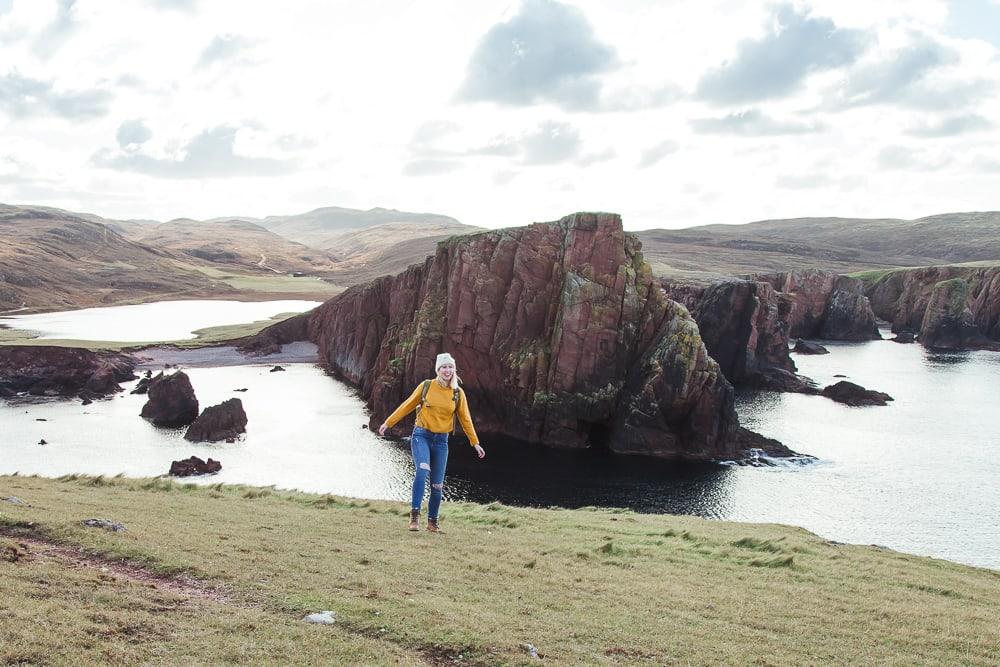 The route is a little confusing in places, so I do recommend pulling up the route guide and map beforehand so you know which turns to take (and no, my phone didn't have reception here).
Afterwards I headed to Frankies Fish & Chips in Brae for a much deserved, delicious lunch.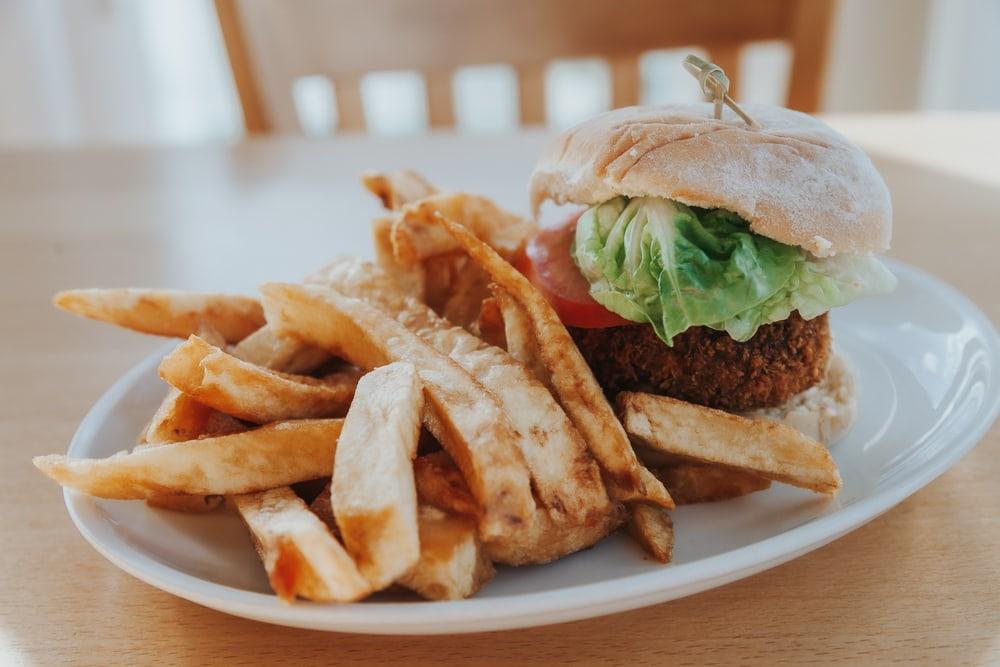 My final stop for the day would be Lerwick, but on my way I drove by the Bonhoga Gallery and Café, which I couldn't recommend more highly. The staff are lovely and super chatty, and the gallery, gift shop, and café are all worth your time. It was also exactly the afternoon pick me up I needed after my morning hike!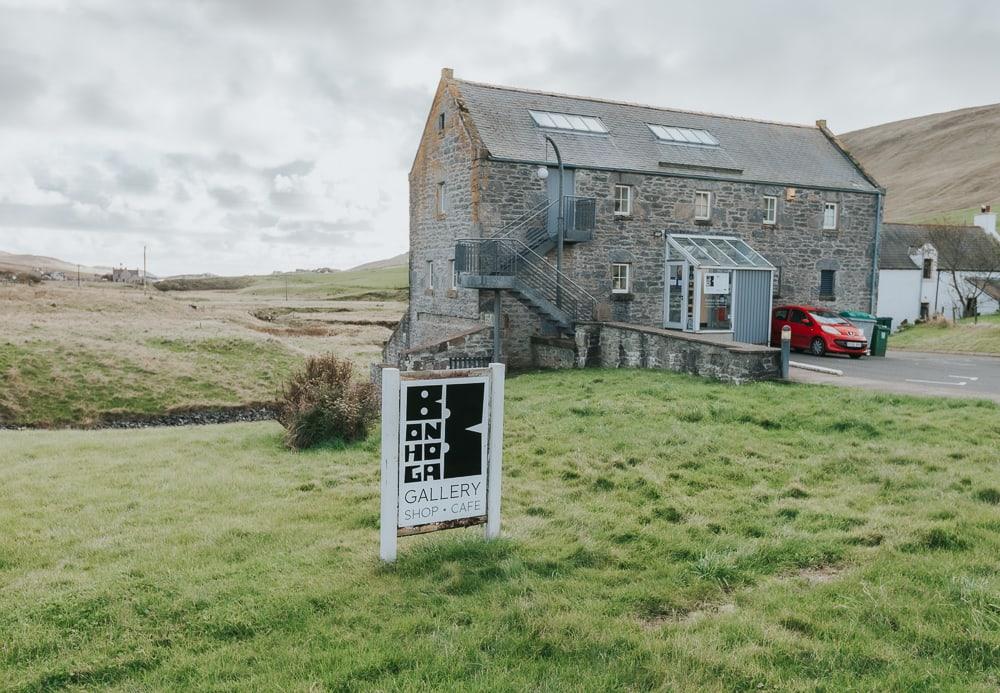 When I got to Lerwick I stopped in at Kathy Coull's Mini Taatit Rug Workshop, which was part of Shetland Wool Week. Kathy is from Fair Isle, which she told me is Shetland's most remote inhabited island.
It was fun to get a bit of a taste for Shetland Wool Week, and what struck me most was that none of the participants I spoke to were here for the first time. I mean, I'm sure there were plenty of first-timers at Wool Week this year, but it also seems that if someone attends once, they are going to come back again (and again, and again).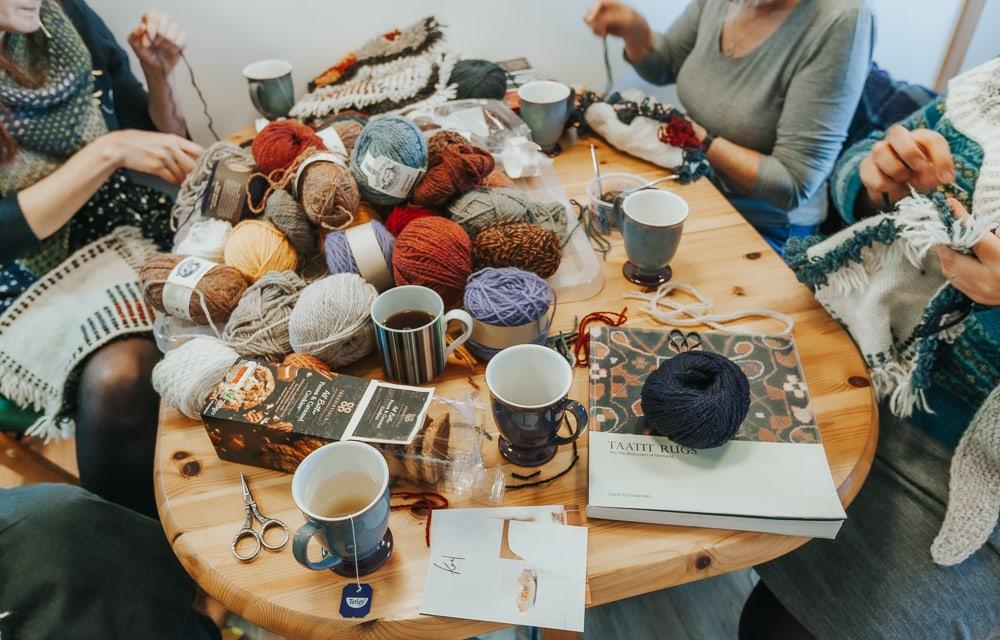 And that's how I feel about visiting Shetland in general. I'm sure I'll return again, as there's simply so much to see in Shetland, and it's such a unique destination.
After the workshop I drove over to the Mareel Art Centre for an evening concert. As I've said before, you should definitely try to catch a concert while in Shetland as music is a beautiful part of the Shetland experience.
I finished off the day with dinner at The String Cafe in downtown Lerwick. The atmosphere there is lively and the food delicious, plus it was conveniently right down the street from my guest house.
In Lerwick I stayed at Fort Charlotte Guest House, which is a very cosy guest house with the most incredible breakfasts. It's also right in downtown Lerwick and very budget-friendly.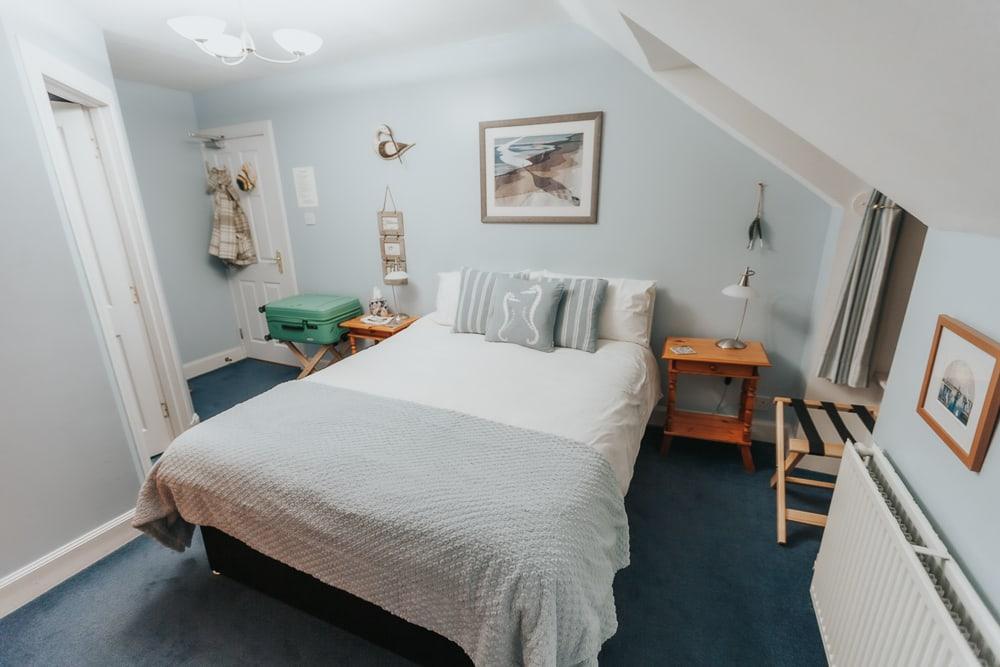 If you stay here just be aware that it is a family-run guest house and they don't have a staffed reception, which means that you will need to call them when you arrive to check in. Just wanted to give you a heads up, in case you're coming from abroad and don't have a local sim card to make calls.
Day 5: South Mainland
After an incredible breakfast at my guest house, I drove to Sumburgh Head Lighthouse. Standing up at the lighthouse felt a bit like standing on the edge of the world, maybe partly because it was so windy that day.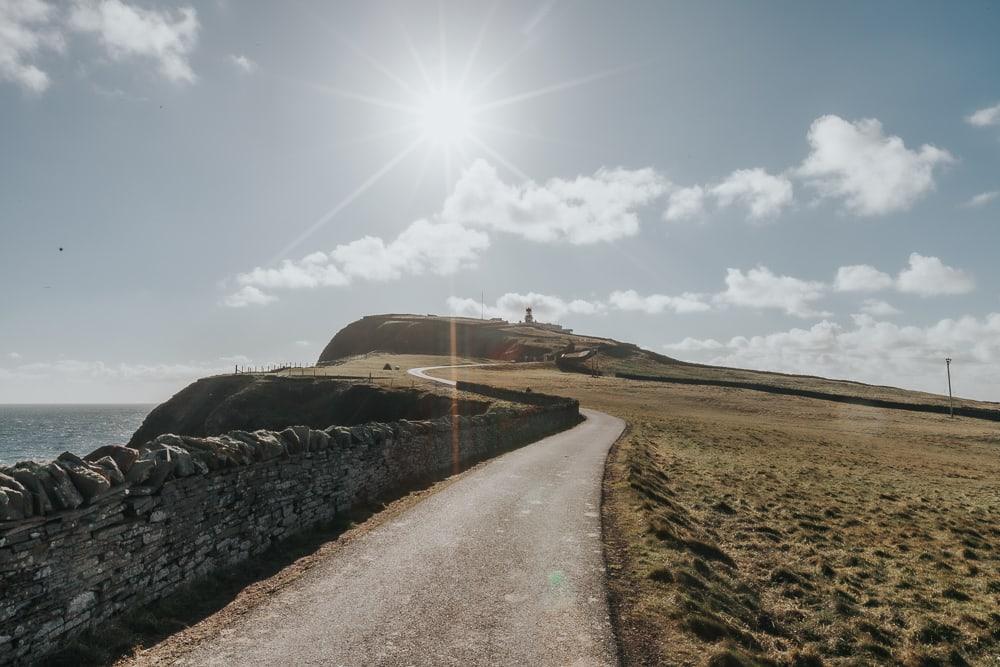 And then from the lighthouse I drove down to the Jarlshof Prehistoric and Norse Settlement, which houses a huge range of archaeological findings covering over 4,000 years of Shetland's history. The location is also stunning, right along the water.
After that I drove to Bigton to check out Paparwark Furniture, another stop along Shetland's Craft Trail. Here Cecil Tait uses traditional techniques to create a blend of traditional and modern furniture pieces inspired by Shetland's history. He also takes custom orders to create unique pieces special to his customers' specifications.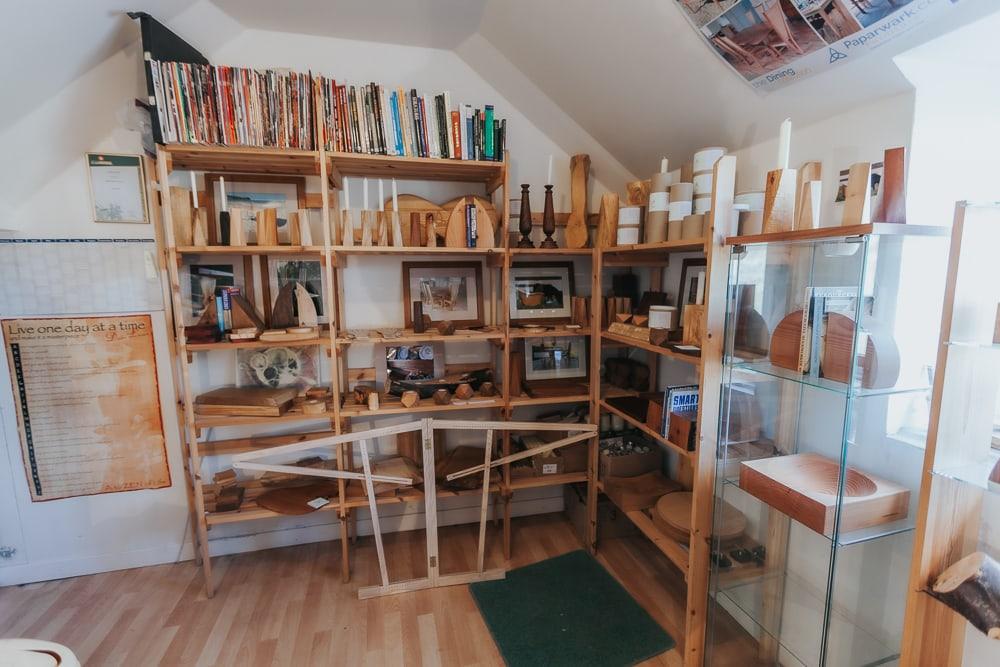 But one of the best things about Paparwark Furniture is the workshop's stunning location overlooking the Isle of St. Ninian's. And in fact Cecil also runs an Airbnb here that I think would make for the loveliest quiet escape in Shetland. He also has a flock of sheep that he'll let you help feed, which I can tell you is a surprisingly entertaining experience. I don't know why I find sheep so funny, but Shetland sheep are especially cute and hilarious.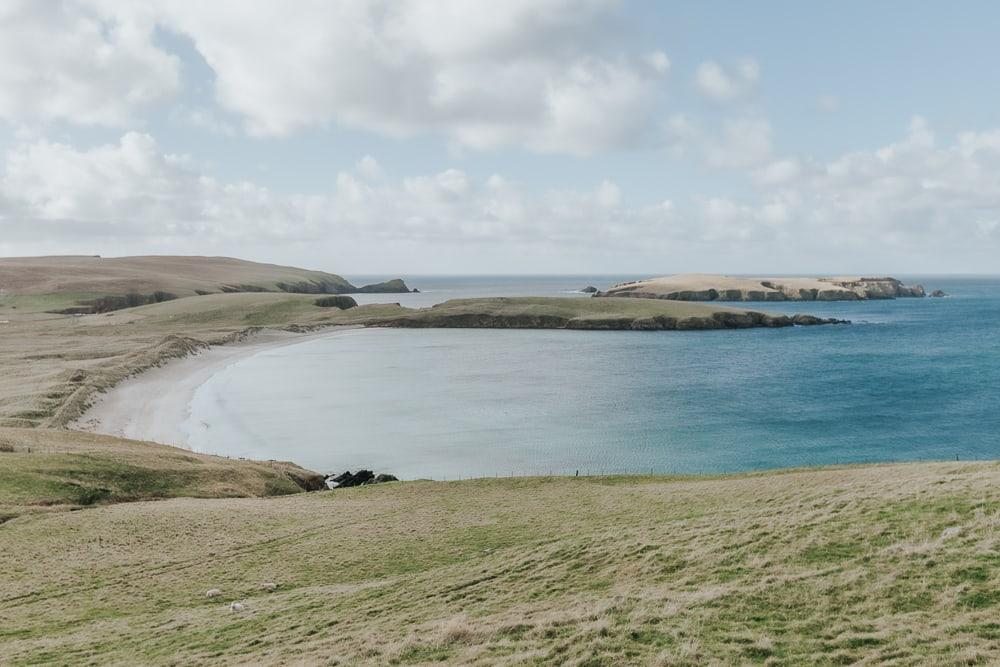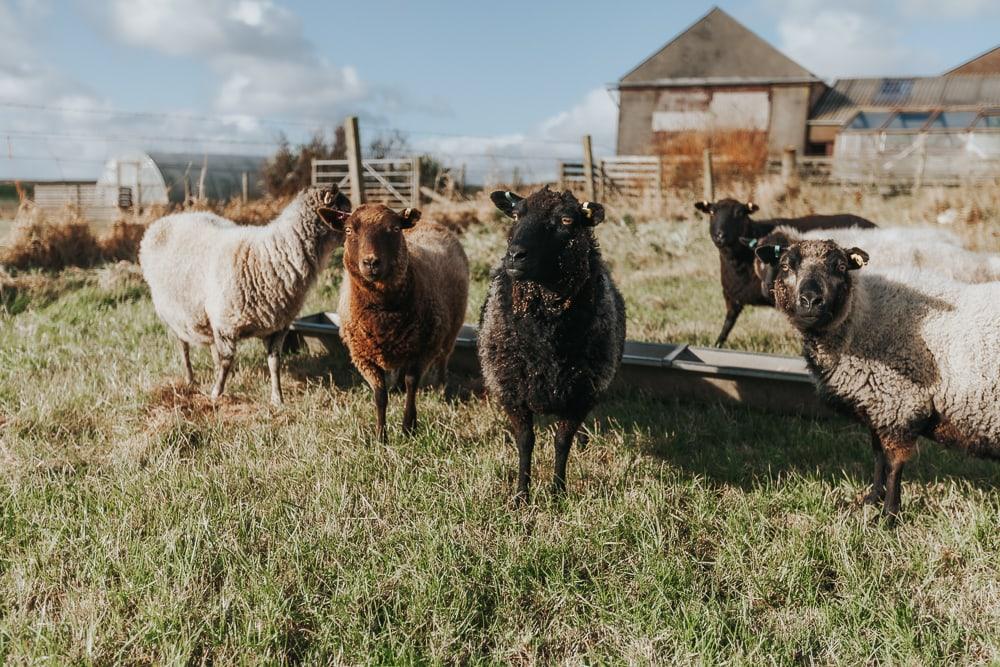 Of course after leaving Paparwark Furniture I had to explore St Ninian's and its beautiful tombolo beach some more. I followed this circular walk. I will say that this was the most crowded coastal walk I did in Shetland – there were a lot of people here, maybe partly because of Shetland Wool Week? Or maybe simply because the scenery here is spectacular.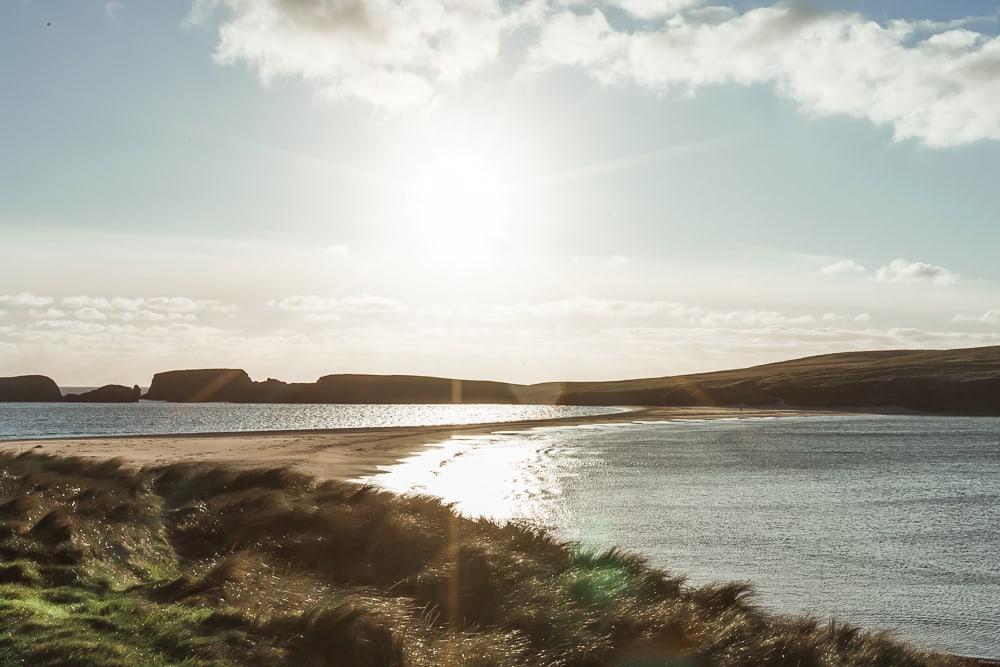 I then returned to Lerwick for the evening, and had dinner at Fjarå Café Bar. The food here was so good. As an added bonus, of all the places I ate in Shetland I'd say this was one of the best for solo diners, as the scattered high table setup meant that I wasn't staring awkwardly at the table in front of me.
Day 6: South Mainland & Lerwick
My final day in Shetland! This is where I'd insert a sobbing emoji if I were telling you all this over WhatsApp. But don't worry, I still managed to make the most of my last day here.
After checking out of my guest house I drove to Hoswick to check out Nielanell Design Studio.
Niela Kalra was at the shop, so I got the chance to speak to her about her contemporary knitwear designs, as well as her other art projects – she is a woman of many talents!
Nielanell is a must-visit if you're looking to buy some knitwear while in Shetland (I mean, what better souvenir?), but also if you're interested in learning more about Shetland knitwear.
While my mother was always knitting when I was growing up and I've knitted my fair share of scarves over the years, I don't otherwise know much about knitting, something which Shetland Wool Week had highlighted for me.
So chatting with Niela was like taking a crash course in Shetland knitwear. I learned so much in our short conversation, and I imagine if you are more knowledgable you'd learn even more from her. I especially loved that while we mostly talked about knitting, I left Niela's studio with a much deeper understanding of Shetland heritage and culture. How did she do that?
While in Hoswick you should also stop by the Hoswick Visitor Centre, right down the street from Nielanell, to learn a bit more about the area and chat with locals at the café. To be honest I was tempted to skip the walk I had planned and stay here for the rest of the afternoon instead.
But I'm glad I didn't! The coastal walk to No Ness and the Broch of Burraland was the perfect way to finish off my time in Shetland. I followed this route, which took about three hours, including lots of stops for photos.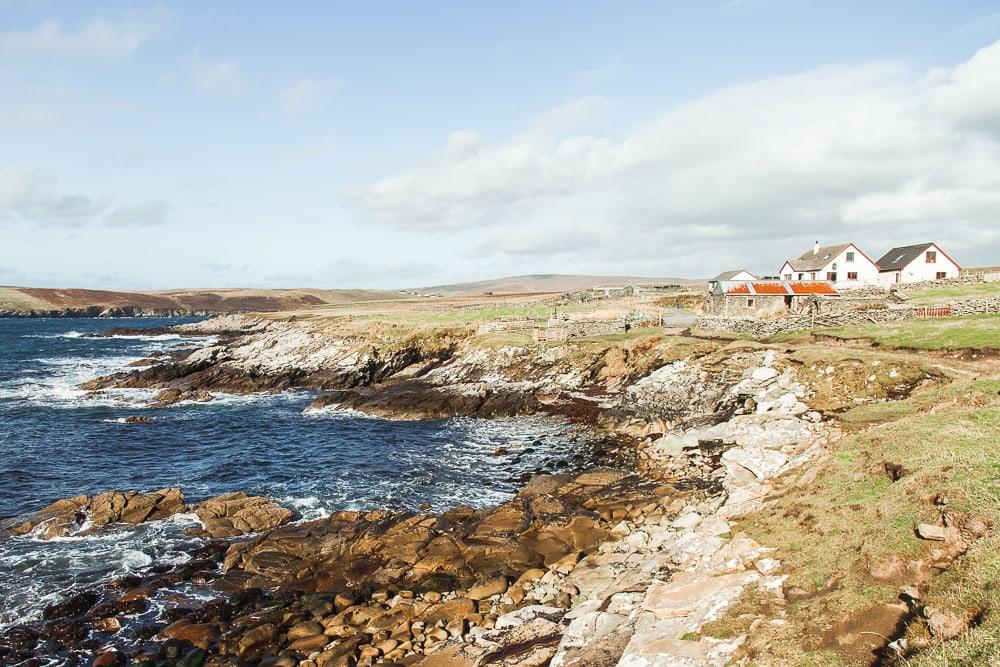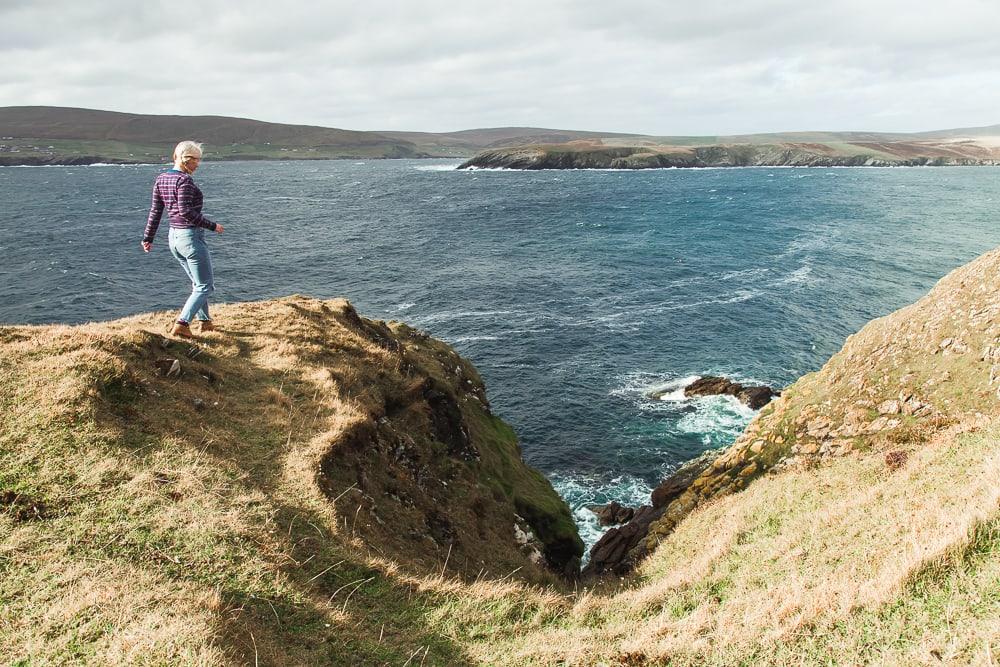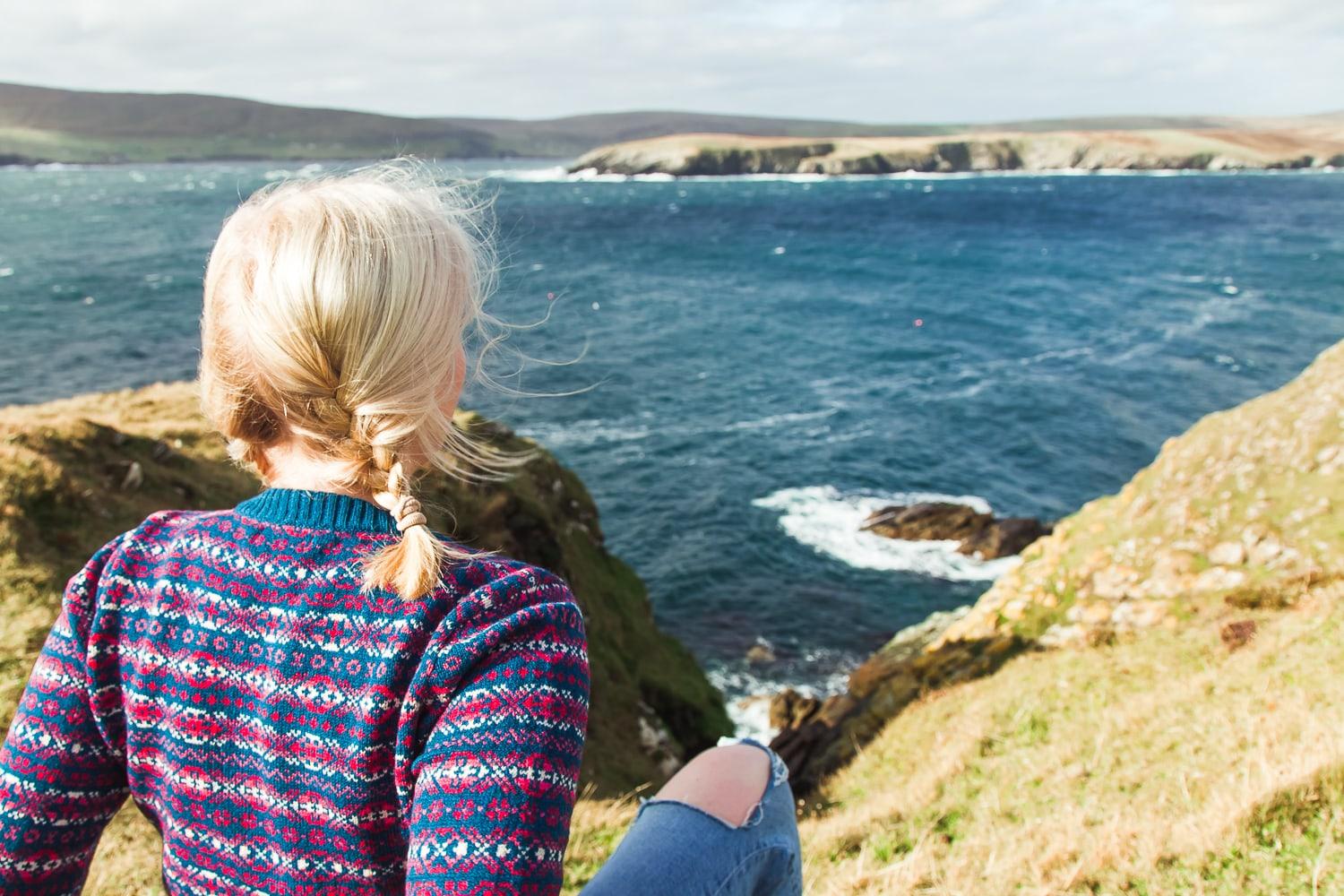 And then I returned my rental car to the ferry terminal and got on the ferry back to Aberdeen.
Day 7: Aberdeen
We arrived in Aberdeen at 7 am the next morning. I had a morning flight so headed straight to the airport, but Aberdeen itself is a lovely city that I'd definitely recommend spending some time in.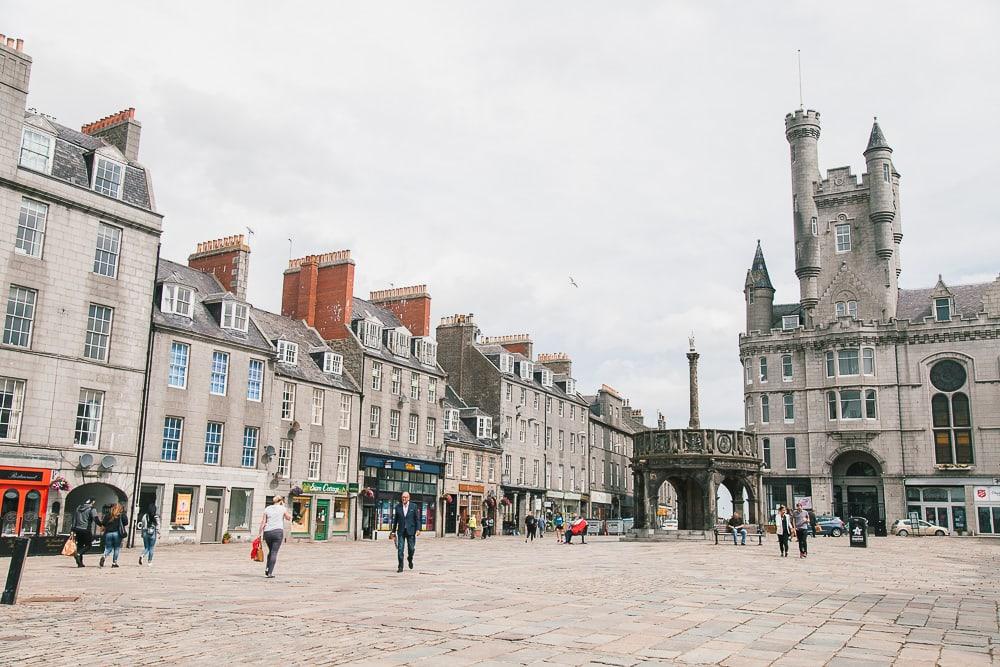 Also I found it quite stressful getting to the airport in time for my flight, as the taxi I had pre-booked never arrived, and then the replacement taxi they sent also never arrived. I finally walked into the city and managed to hail a taxi, and while I technically arrived to the airport after check in had closed I still managed to get on my flight, phew. Lesson learned: Aberdeen airport taxis aren't super reliable, so make sure to schedule lots of time between your ferry and flight!
I really love Aberdeen, and I've written more about visiting Aberdeenshire here and here.
And if you're looking for a place to stay, I spent the night before my Shetland trip at the Carmalite Hotel, which I couldn't recommend more highly.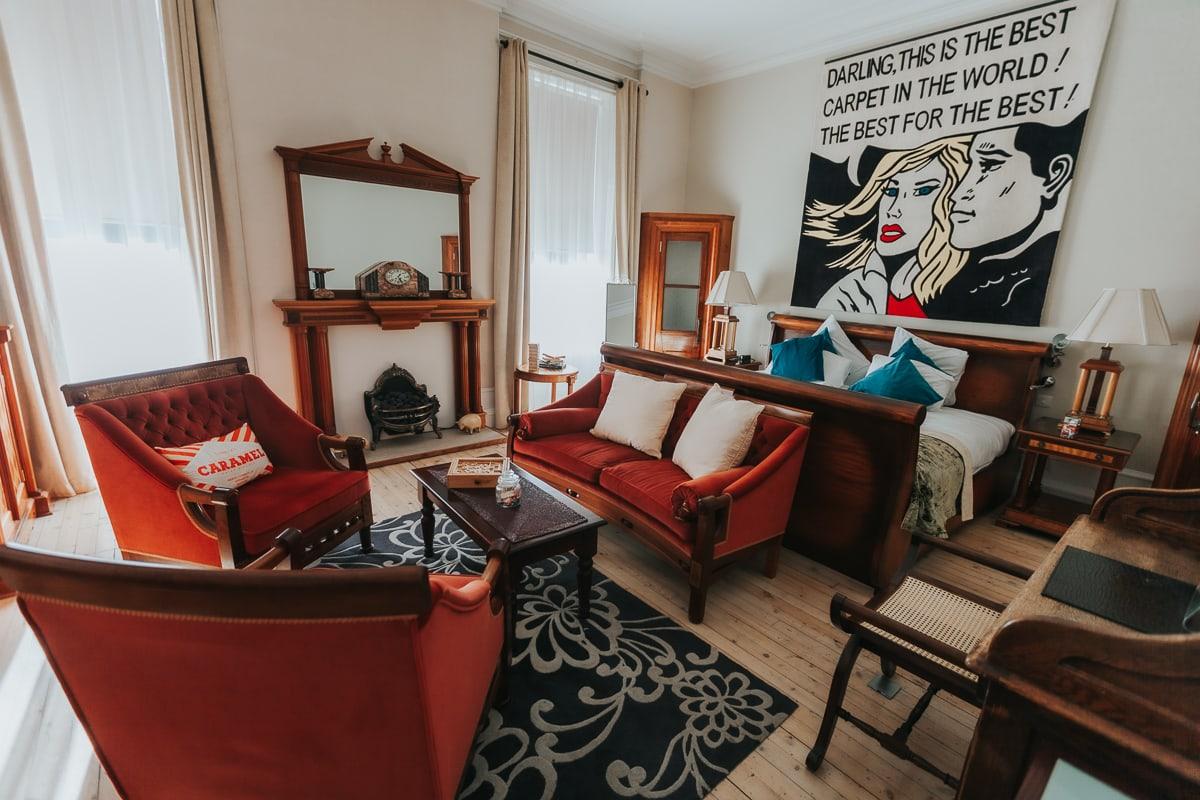 If you like a hotel with character you will love the Carmalite. And I particularly like that they offer a wide range of rooms from very affordable standard rooms to lavish designer suites, so you can stay here on pretty much any budget. It's also just a short walk to the NorthLink ferry terminal, so you won't have to worry about getting a taxi.
You can find more information about planning your Shetland trip at Shetland.org and NorthLink Ferries