I've visited Strasbourg several times over the years, but my past two visits to the city definitely were the best because I was shown around by people who live there. And those people just so happen to be my parents!
My parents moved to Strasbourg at the end of 2019. You know how I can never decide where I want to live and I keep moving to a new place every couple of years? Apparently I do not get that from my parents, because they love Strasbourg so much I'm sure they will stay there forever. Maybe I should move to Strasbourg too?
Or maybe I'll just continue visiting.
I used to always think of Strasbourg as that city in France that looks like it's in Germany, I guess because in my mind half-timbered houses are German. Of course they're French as well, as you'll find this beautiful architecture all over Alsace. Then again, the Alsace region of France has been handed back and forth between France and Germany so many times that my confusion isn't entirely surprising.
In fact Strasbourg was once, or actually several times, part of Germany, and when France and Germany weren't busy snatching Strasbourg back from each other the city managed to serve as a cultural bridge between the two countries. And now Strasbourg has extended that bridge across Europe as the seat of the European Parliament.
Best time to visit Strasbourg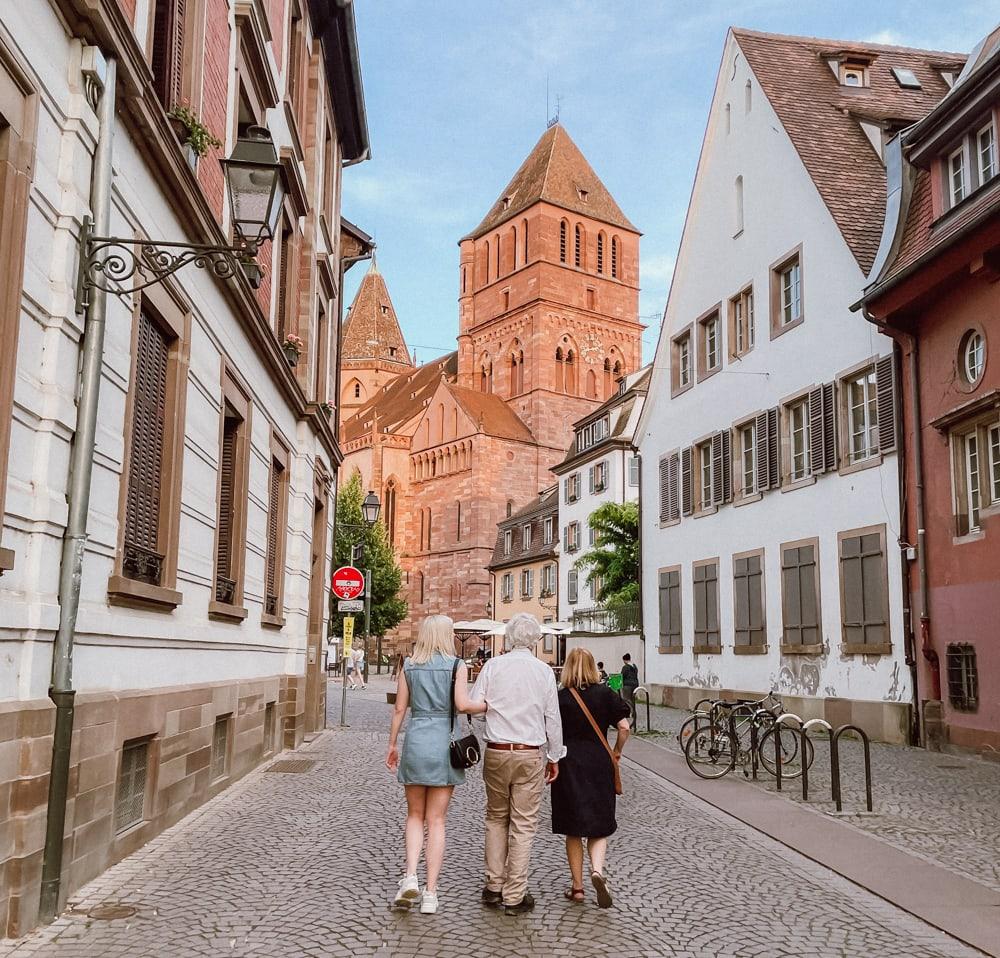 Strasbourg is probably most famous amongst tourists for its epic Christmas markets. But you know what? Strasbourg is beautiful in every season, so it's certainly worth a visit outside of Christmas as well. My friend Sam and I visited in early May and seeing the city all abloom was almost enough to tempt me to urge you to skip Christmas and visit Strasbourg in spring instead.
I also visited my parents at the end of February 2020, which wasn't quite as beautiful. Though of course I'm glad I chose to visit them so early in the year, as that ended up being my last international trip for quite a while.
I asked my mother when the best time to visit Strasbourg is and she said May, June, September, October, and December are the nicest months in the city.
For hotels in Strasbourg my parents recommend Hotel Leonor (luxury), Hotel Rohan right by the cathedral (mid-range), and Ciarus (budget).
What to See in Strasbourg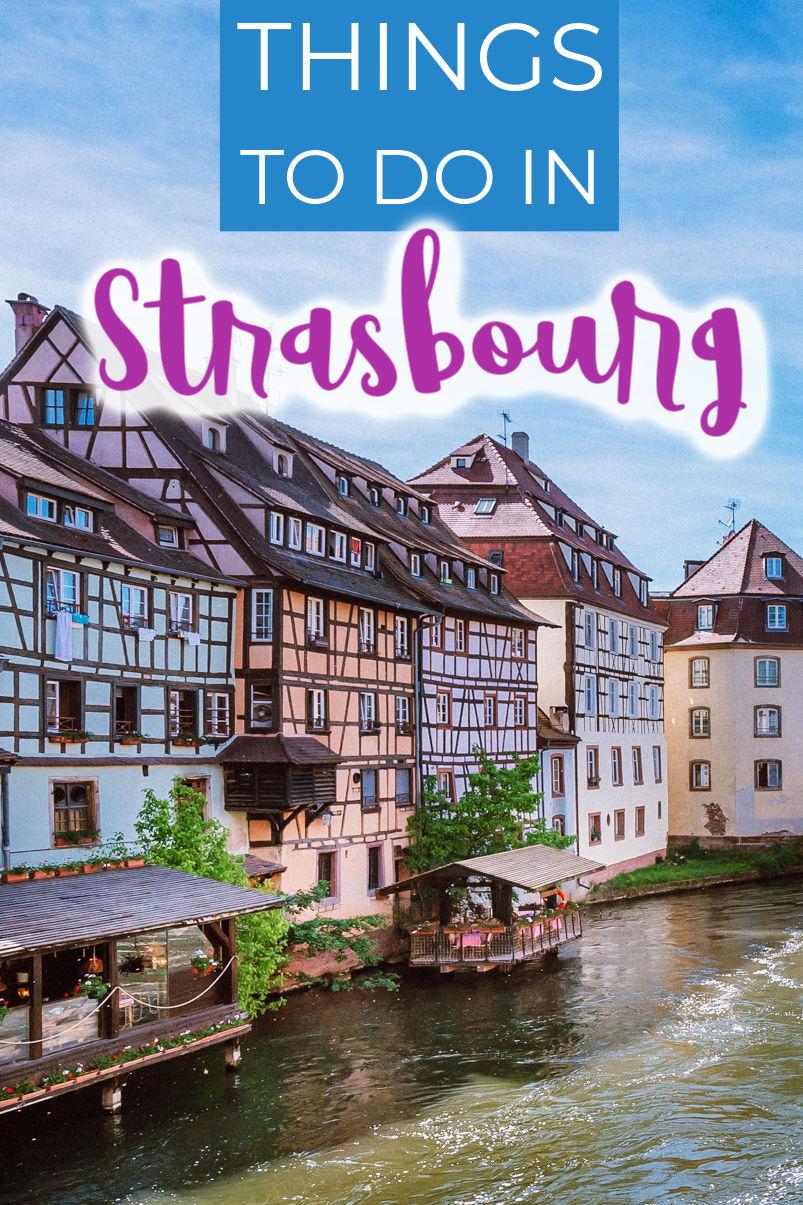 I always like to start off my time in a new city with a walking tour, so I can get a feel for the place. While my parents served as excellent tour guides for my visits, if your parents don't happen to live in Strasbourg this customized private walking tour of Strasbourg looks excellent, or this guided tour that also includes a river cruise, or if you're a foodie, this traditional food tour of Strasbourg.
The Grand-Île
The Grand-Île, meaning "large island," is the island that serves as the historic core of Strasbourg. Here you'll find many of Strasbourg's most famous sites, including Strasbourg Cathedral de Notre-Dame, Eglise Saint-Thomas, and Place Gutenberg.
The Grande-Île was listed as a UNESCO World Heritage Site in 1988 for its diverse monumental heritage, combining French and Germanic influences from the late Middle Ages to the present day.
Strasbourg Cathedral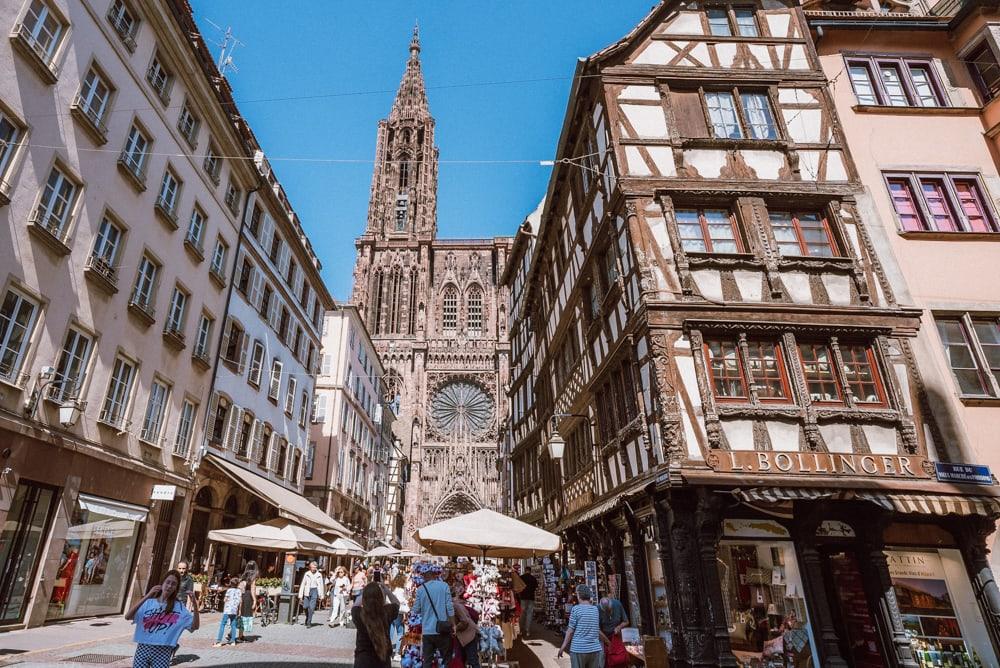 If you see one site while in Strasbourg, make it the Strasbourg Cathedral de Notre-Dame. And that won't be hard to make happen, as it's very tall. In fact, at 142 meters high the Strasbourg Cathedral was the tallest building in the world from 1647 to 1874.
Place Gutenberg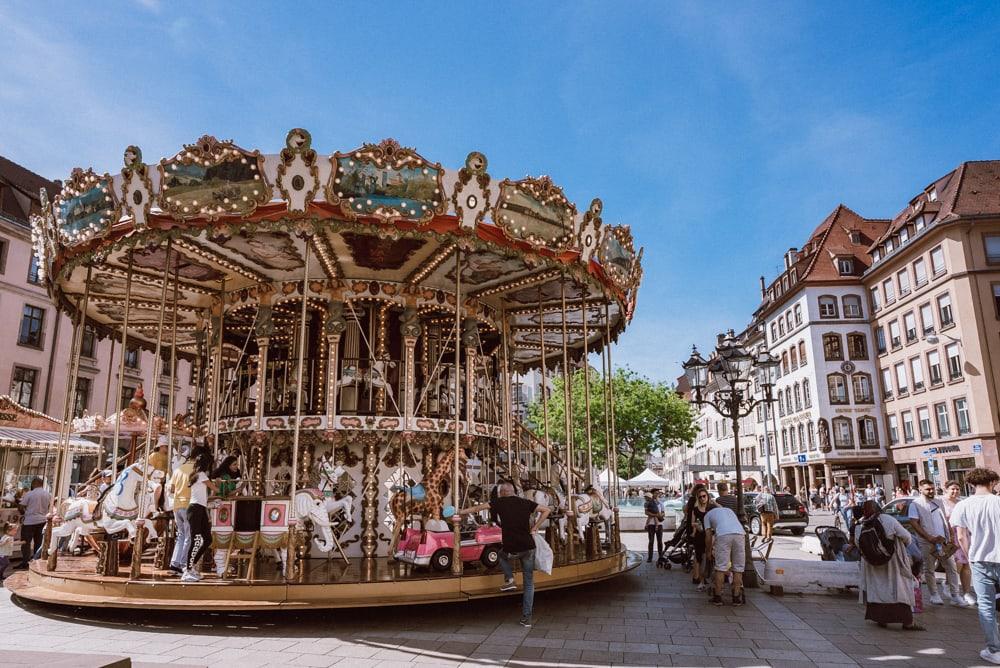 The Place Gutenberg is a beautiful square by the Strasbourg Cathedral that owes its name to Johannes Gutenberg, the inventor of the modern printer who once lived in Strasbourg.
I know this is an important square in Strasbourg because my dad talked a lot when we were here. Unfortunately for you, I often zone out when my dad talks about history, so I can't tell you much more about it myself.
I'm kidding, I'm kidding. Here you'll find a statue of Johannes Gutenberg sculpted by David d'Angers in 1840, featuring Gutenberg holding a parchment with the words "Et la lumière fut" (And then there was light) from the Book of Genesis.
And you'll also see the chamber of commerce, housed in a Renaissance building that has become a landmark of the Old Town UNESCO World Heritage Site.
Église Saint-Thomas
You'll want to go inside this church, because there's an organ that Mozart once played!
La Petite France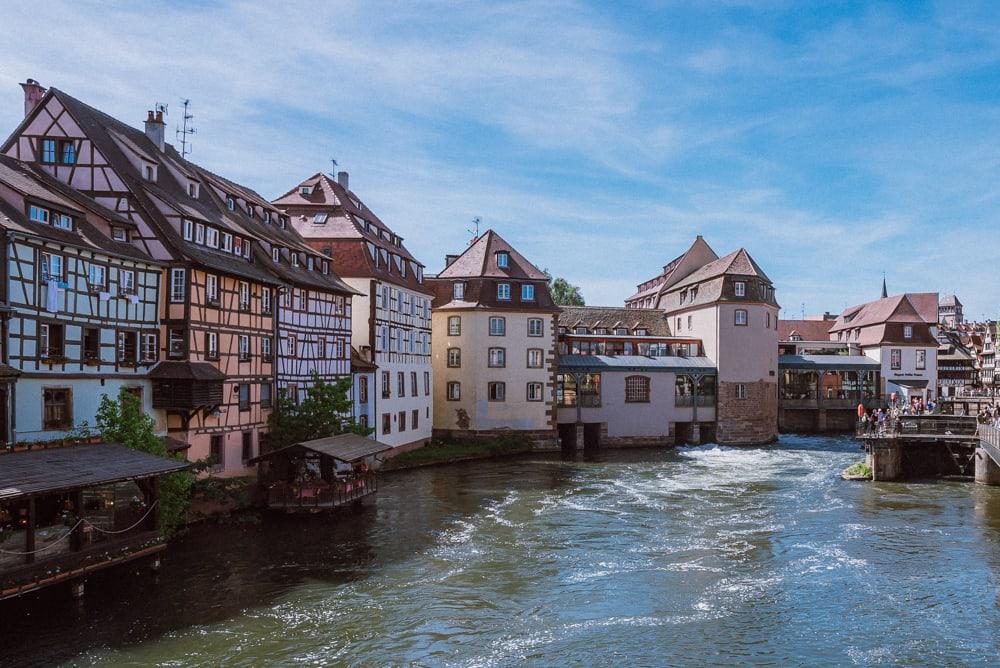 From the Grande-Île you can walk across the Pont du Faisan, a small bridge built in 1888, to La Petite France. The bridge spans over a narrow canal and surrounded by beautiful half-timbered houses that date from the 16th and 17th centuries.
La Petite France is the postcard-perfect tourist center of Strasbourg, spread across five arms of the Ill River. This is definitely the place to bring your camera if you want to capture some of Strasbourg's most charming views. There are also several lovely traditional Alsatian restaurants here (see my Strasbourg restaurant recommendations below).
Barrage Vauban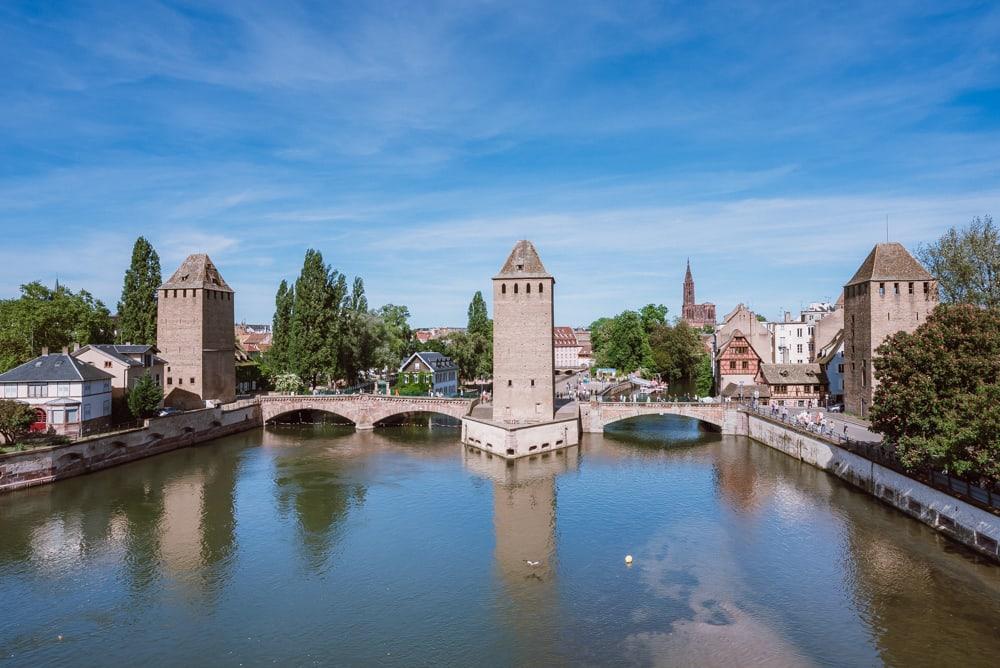 My parents took us to the Barrage Vauban, a stone bridge and dam from the 17th century, for one of the best views over Strasbourg. From the top you can see the Strasbourg Cathedral, as well as the Ponts Couverts, a series of four towers and three bridges that date back to the 13th century.
Place Kléber
Place Kléber is the main square of Strasbourg, with lots of shops and cafés. I somehow didn't take any photos here, but then I remembered that my parents definitely sent me some photos of them in front of Strasbourg's Christmas tree, which is at Place Kléber every December. But then I remembered that I don't always remember to save the photos my parents send me, which today makes me a bad daughter and bad blogger.
Neustadt
Neustadt is a UNESCO World Heritage Site with a mix of Italian Neo-Renaissance, Neo-Gothic and Art Nouveau architecture styles. It also happens to be home to the most photographed school in Strasbourg, the Lycée International des Pontonniers: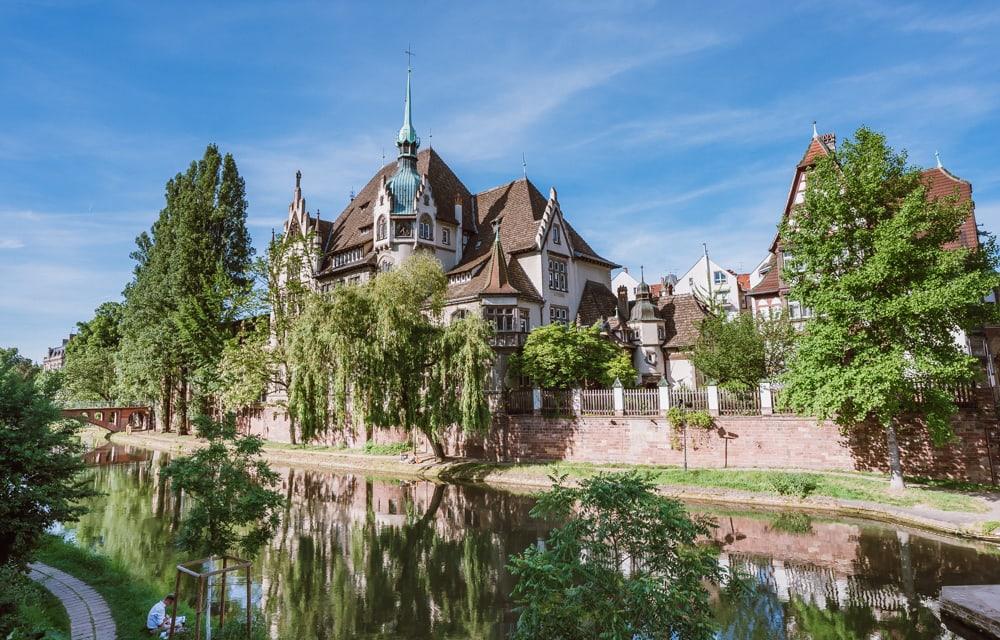 The Krutenau
The Krutenau is another lively district in Strasbourg, with lots of cute shops, restaurants, and bars.
Quai des Bateliers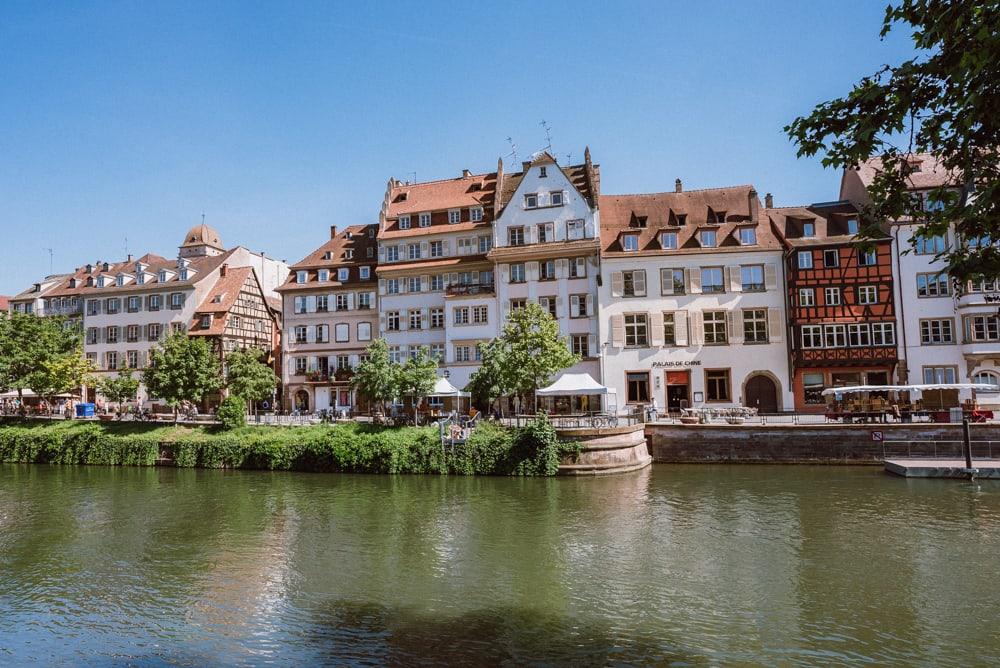 My mother, Sam and I spent one of my favorite afternoons in Strasbourg reading on the Quai des Bateliers, right by the Krutenau. This is a nice peaceful area of the city, with little shops and cafés and lots of space to walk or sit along the water.
Orangerie
The Orangerie is Strasbourg's oldest park, famous for its many storks, which are also the symbol of Alsace.
My parents are incredibly enthusiastic about the Orangerie. We went when I visited in February 2020, and then they wanted to take Sam and me there again in May. But to be perfectly honest, I don't really get the appeal? It's a pretty park, but I'm not coming to Strasbourg for pretty parks. But this might be because I live in Norway. It's like how I'm no longer impressed by waterfalls, because Norway has so many beautiful ones.
So if you don't live in Norway, maybe you should visit the Orangerie while in Strasbourg!
Edit: I just looked up the Orangerie, and apparently it's "the favourite destination for young lovers, joggers and Sunday strollers." My parents aren't joggers, but they are very much in love and always take a Sunday stroll, so I guess that explains it.
European Parliament
While you're at the Orangerie you can also venture down the street to the European Parliament building. They offer tours and exhibits, but it's also exciting simply to see the outside!
Strasbourg Museums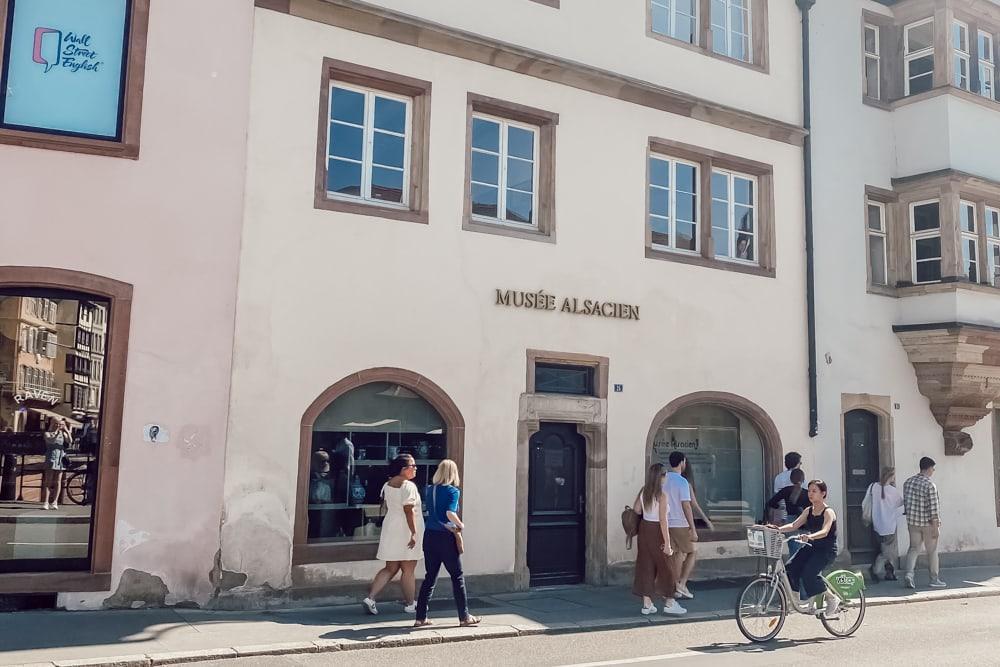 Any regular blog readers will know that I'm not a fan of museums. And actually I think my parents are to blame for this, because they really love museums. I was dragged through so many as a child, and my parents' enthusiasm meant that we'd have to spend at least four hours in each one – at least that's how I remember it.
This is all to say that I have not visited any museums in Strasbourg. However my parents have visited all of them, probably multiple times, and here are their top recommendations:
Musée Tomi Ungerer // an Alsatian artist and writer
Musée Alsacien // charming look at life in Alsace
Musée de l'Oeuvre Notre-Dame // across from the cathedral, containing many originals removed from the cathedral to protect them from the pollution
Palais Rohan // also next to the cathedral, with three museums. My mom prefers the small museum of decorative arts.
Strasbourg Christmas markets
Strasbourg is probably most famous for its Christmas markets, and my parents can confirm that they are indeed worth the trip here. And my parents lived in Germany for many years, so they know a lot about Christmas markets. They were particularly excited that after the pandemic the city set up many smaller Christmas markets throughout the city, in addition to the huge ones at the cathedral and Place Kléber.
You can read more about the Strasbourg Christmas markets here.
Where to stay in Strasbourg
Luxury
Sam and I stayed at the Hotel Régent Contades in Neustadt. I stayed here on my previous visit to Strasbourg as well and liked it so much I stayed again. I did largely choose it because it's down the street from my parents' apartment, but I do think it's a great area to be in, and I like that it's a bit out of the tourist center, but still an easy walk to the cathedral and Petite France. I recommend booking without breakfast, so you can have breakfast at the cute cafés in the area instead. Check current rates and availability here
If you want somewhere even more central, I just booked Hotel Rohan right by the cathedral for my Christmas visit to Strasbourg – my parents' friend stayed here last year and loved it. And if you're looking for a spa hotel, Hotel Les Haras also looks wonderful.
Mid range
Hôtel LÉONOR looks beautiful and would be especially convenient if you're visiting during Christmas, as it's right by the main Christmas Market. Check current rates and availability here
The Hotel Beaucour is in one of my mom's favorite areas of Strasbourg and the rooms look so unique and charming. Check current rates and availability here
Or if you'd prefer to stay in your own apartment with a kitchen, Studio La Mésange is right by Place Kléber and the Christmas Market. Check current rates and availability here
Budget
Ciarus is a hostel in the city center that offers both beds in dorm rooms and affordable private rooms. I particularly love that they have female dorms, so you can get a break from those snoring men. Check current rates and availability here
Where to eat in Strasbourg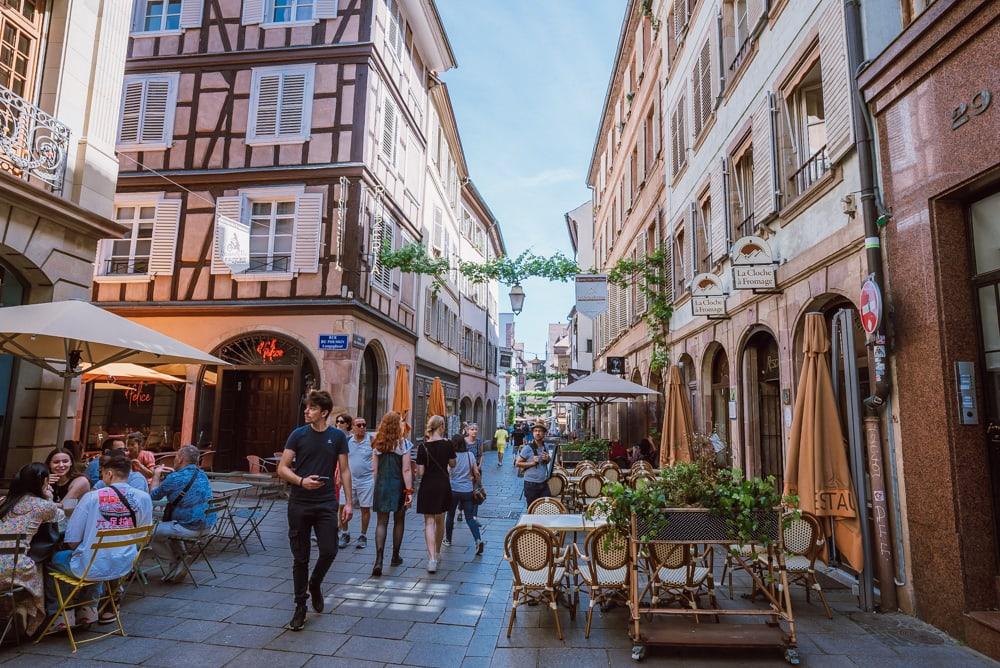 My mom is the best cook in the world, so really the best food in Strasbourg is at my parents' place. But they haven't opened their kitchen to the public yet, so I asked them for a list of their favorite restaurants in Strasbourg so that you can enjoy Strasbourg's (next) best food.
My parents suggested Sam and I go to Café Atlantico for brunch and it was so good. It's right on the river, so it's a great place to go on a sunny day, though you can also sit inside. It's actually open until 1:30 am, so it might be a fun night hangout too.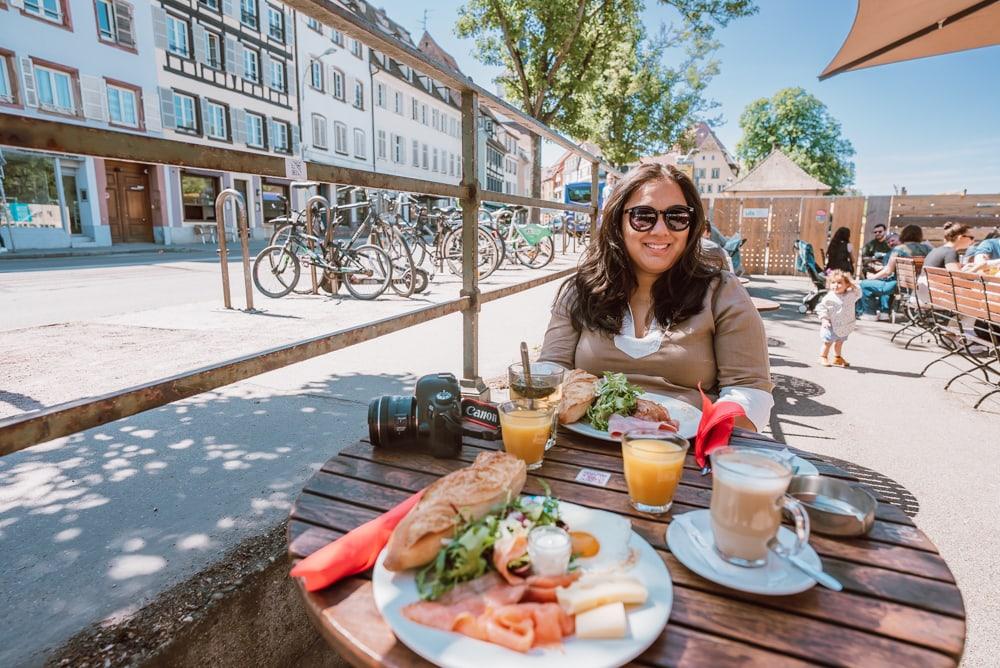 And then the next day we had breakfast at Hey Mama, which is a super cute (very Instagram aesthetic) brunch spot. The food was good, but more American than French – I missed those croissants and baguettes!
And then on our final morning in Strasbourg we had breakfast at Le Michel, which was definitely my favorite breakfast in Strasbourg – and very French. Our waiter was very chatty and I think I spoke more French here than the rest of my time in France combined.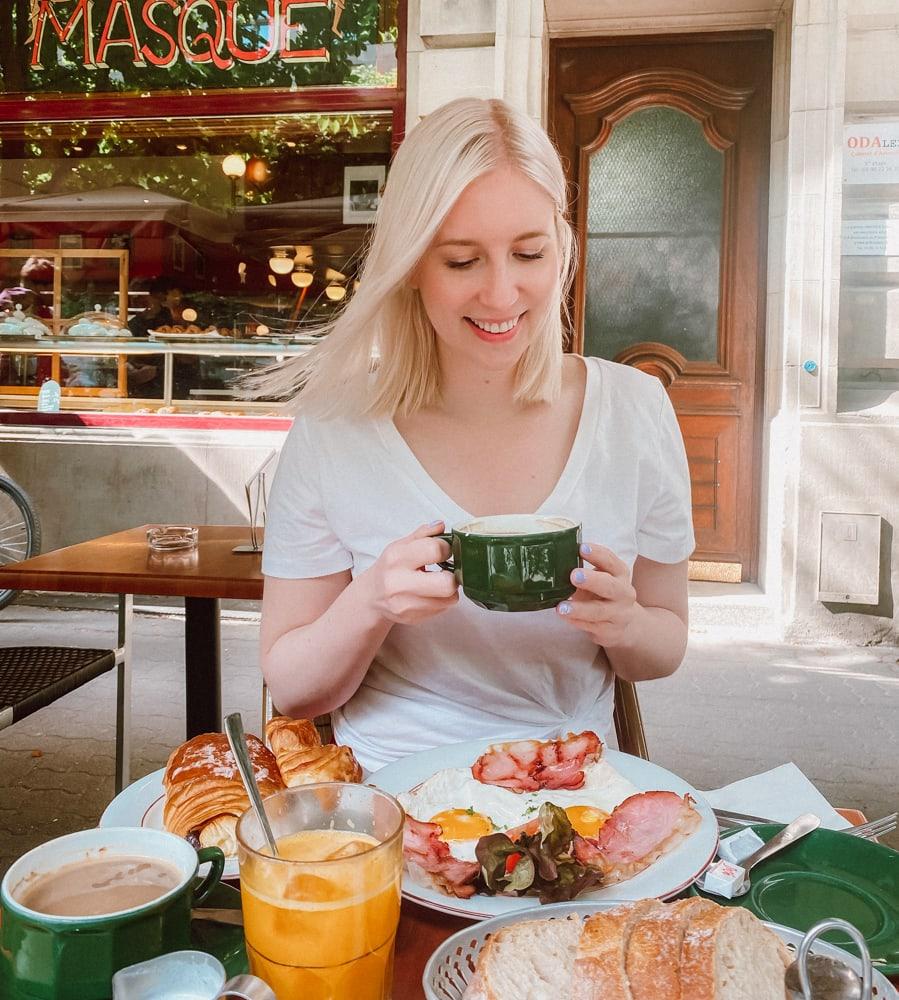 We had dinner out one night at Chez l'Oncle Freddy in La Petite France, which serves traditional Alsatian food in a beautiful old building.
My parents also recommend: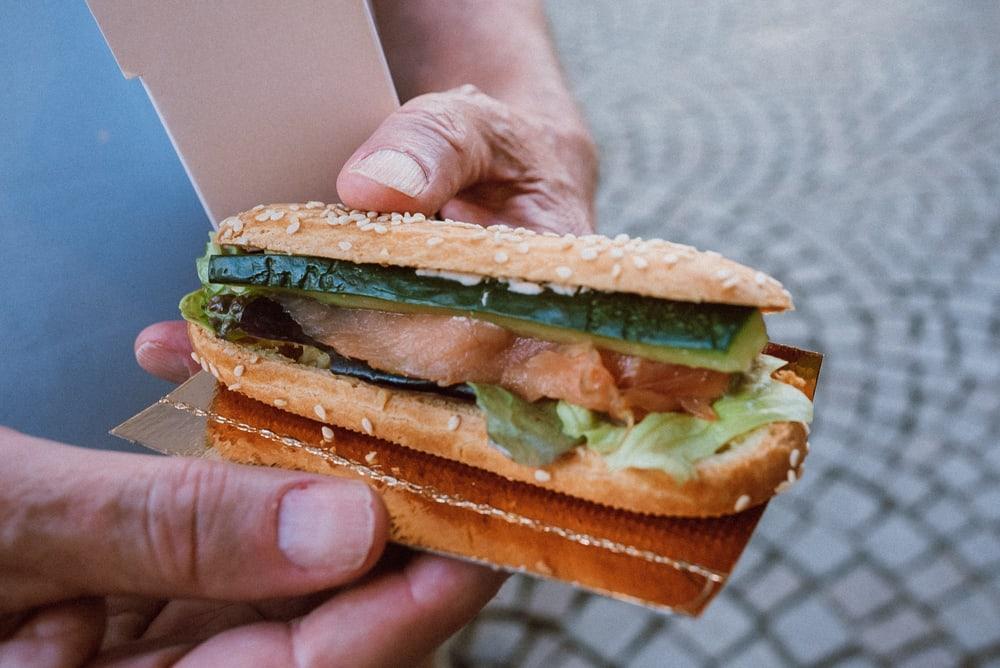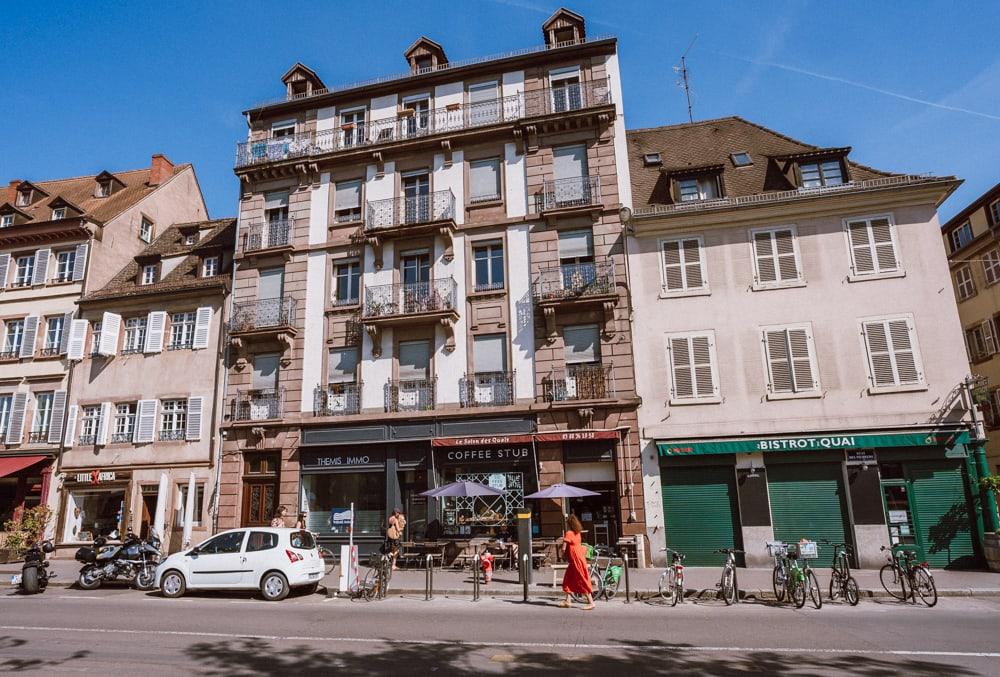 Day trips from Strasbourg
Colmar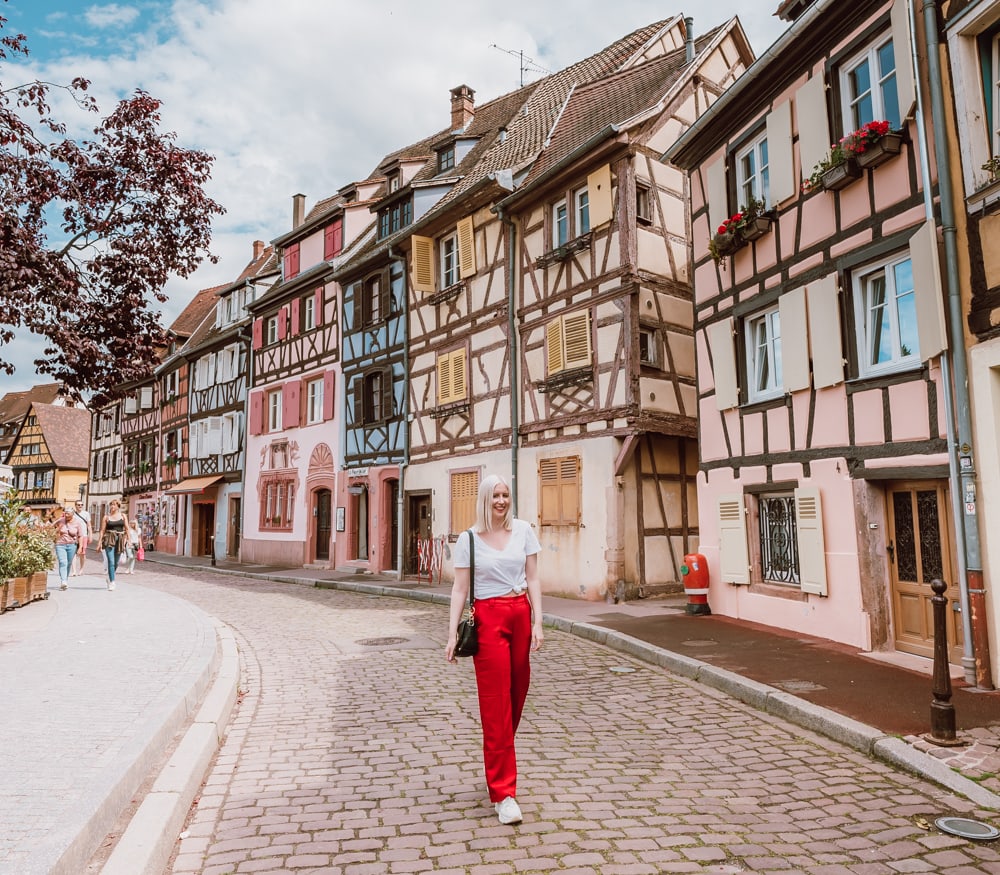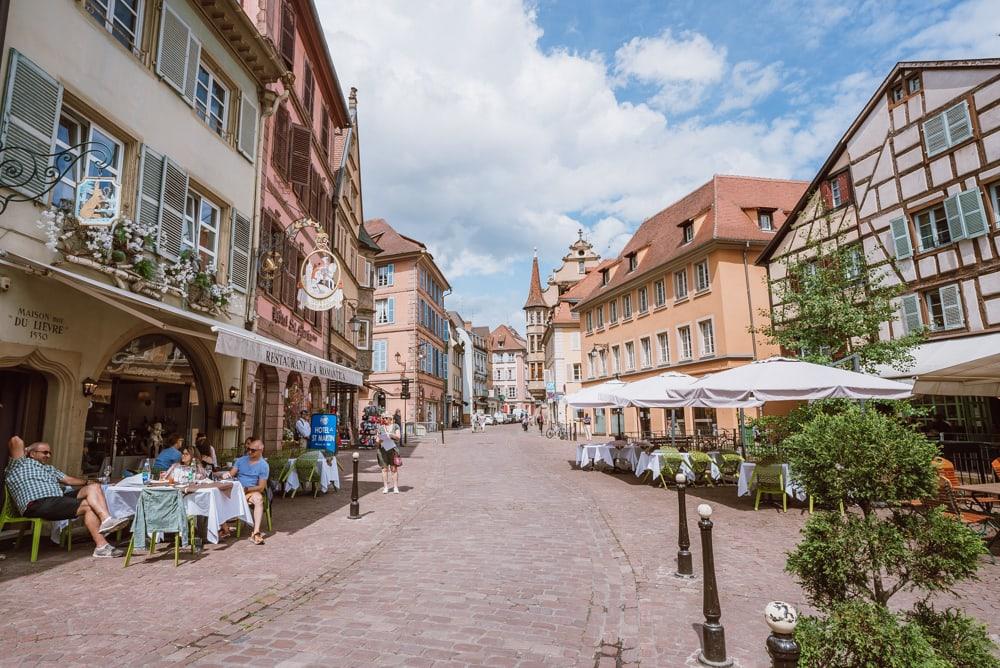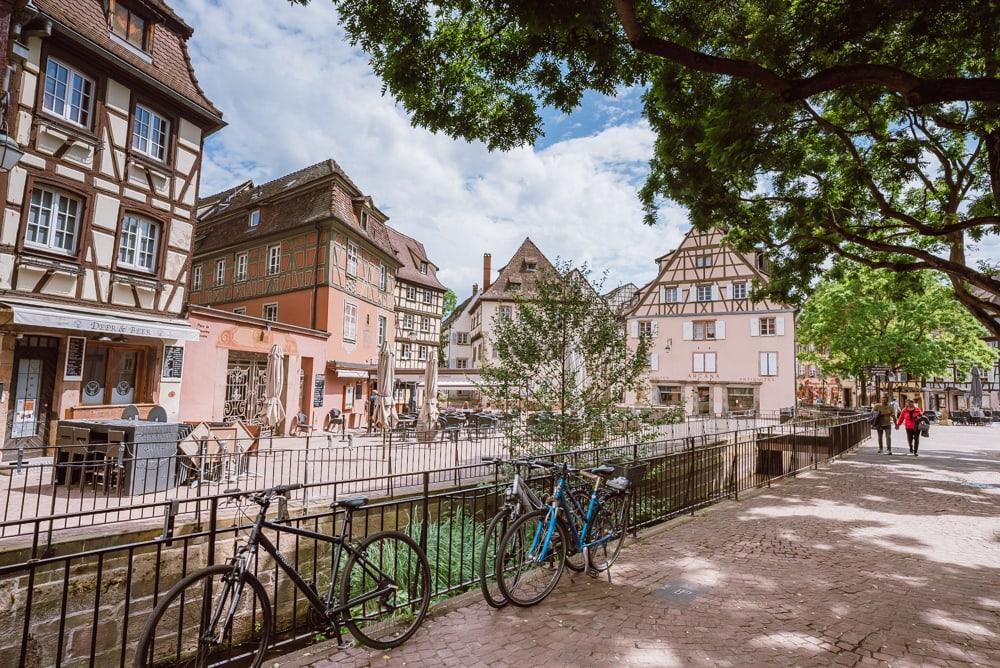 If you want to take a beautiful day trip from Strasbourg, Colmar is just an hour train ride away. Colmar is famous as the inspiration for Howl's Moving Castle, and it certainly lives up to the hype. There's also a direct train from Colmar to Paris, which is very convenient.
Sam and I chose to extend our time here and spent the night at the Hotel Maréchal, which I absolutely loved. The hotel is in a traditional Alsatian style house and the bathroom was super modern with a huge whirlpool bathtub. I wish we had stayed here longer.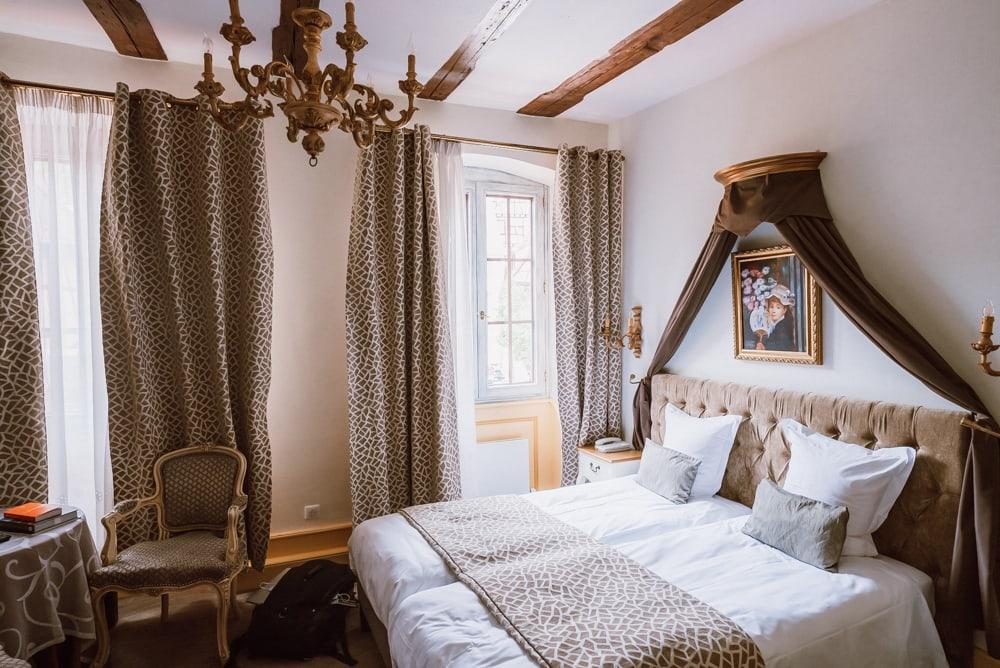 And then if you want go deeper into fairytale mode, rent a car and explore some of the smaller towns around Alsace, which are also said to be the inspiration for Beauty and the Beast. Check car rental prices here
Though to be honest, I actually preferred Colmar to the smaller towns, I think because the smaller places were so full of tourists – and we weren't even visiting in peak tourist season (we visited in May). Plus if you only visit Colmar then you won't need to rent a car.
But it was fun to drive around the French countryside, and the small Alsatian towns really do look like a picture book.
Kayserberg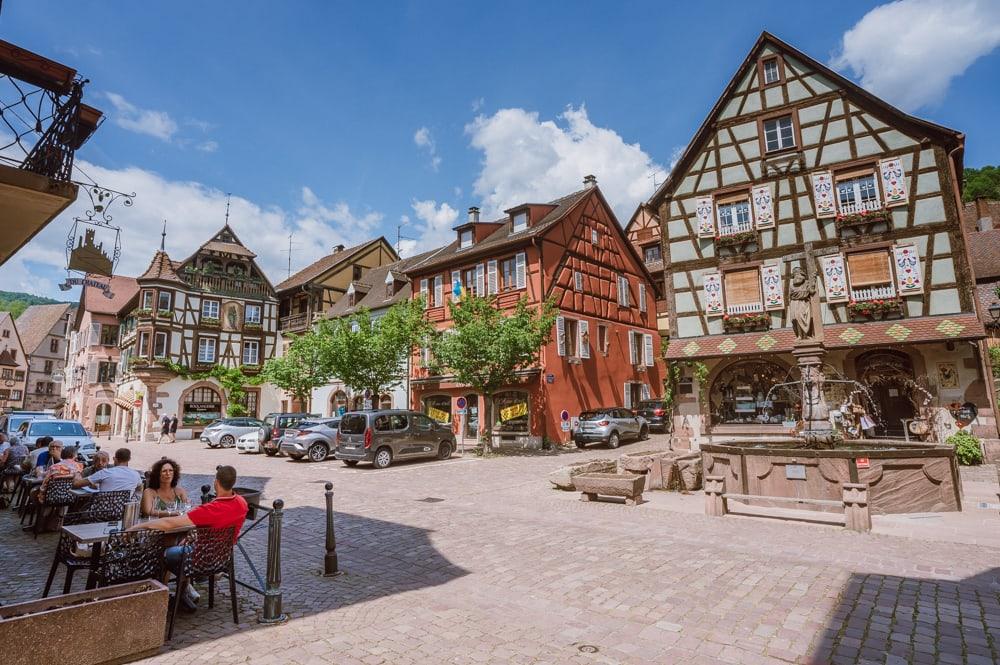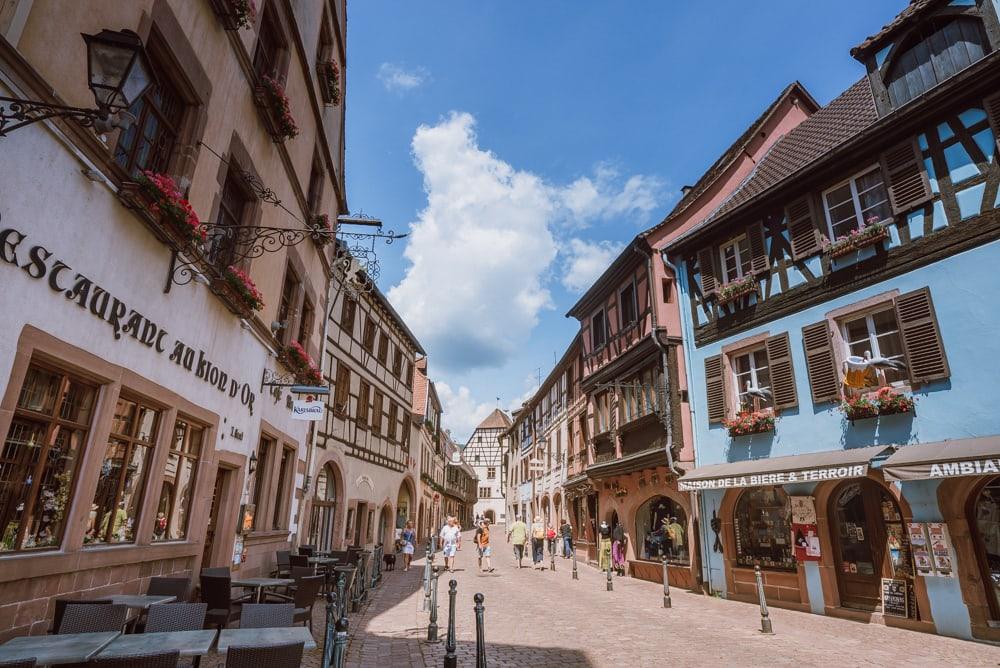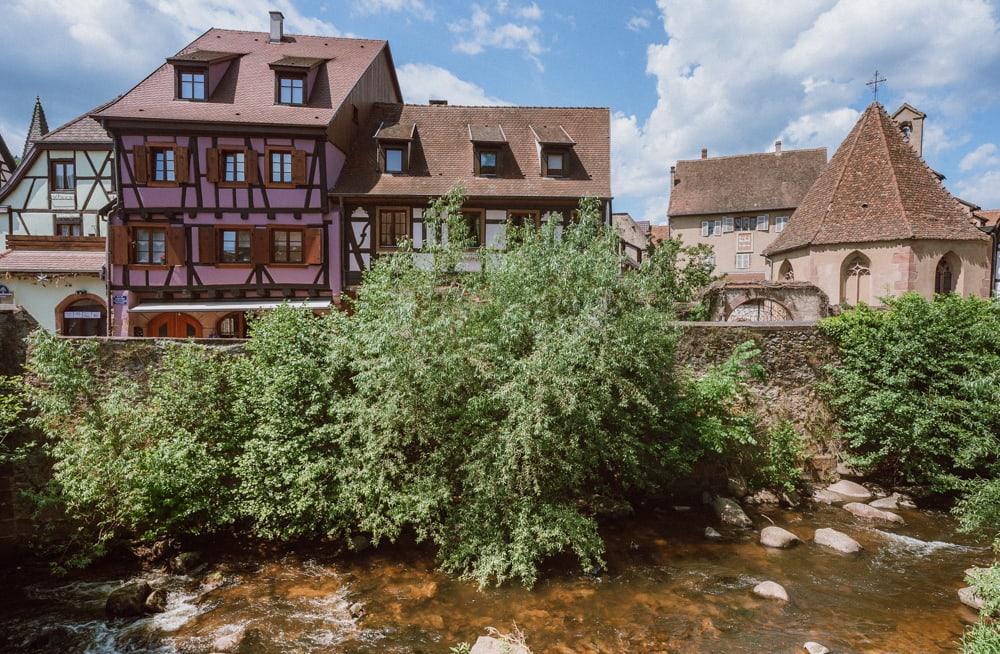 Kayserberg was probably my favorite of the towns we visited, though really it's hard to choose – they're all so beautiful (and quite similar).
Château du Haut-Koenigsbourg Alsace France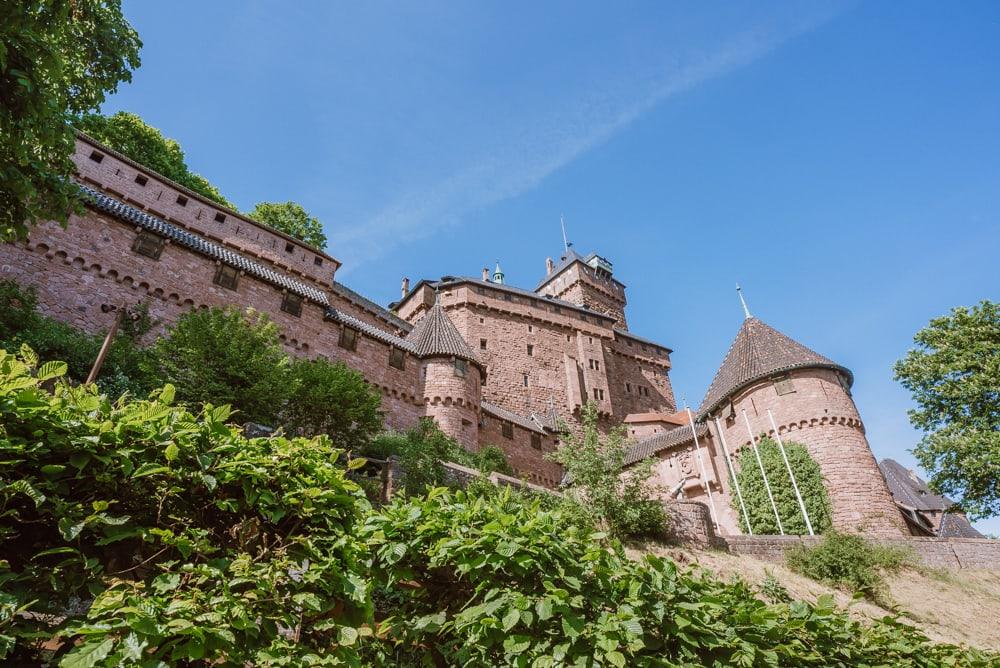 My mom recommended that we stop at the Château du Haut-Koenigsbourg on our way to Ribeauvillé. We didn't actually go inside, but the views from the outside were great.
Ribeauvillé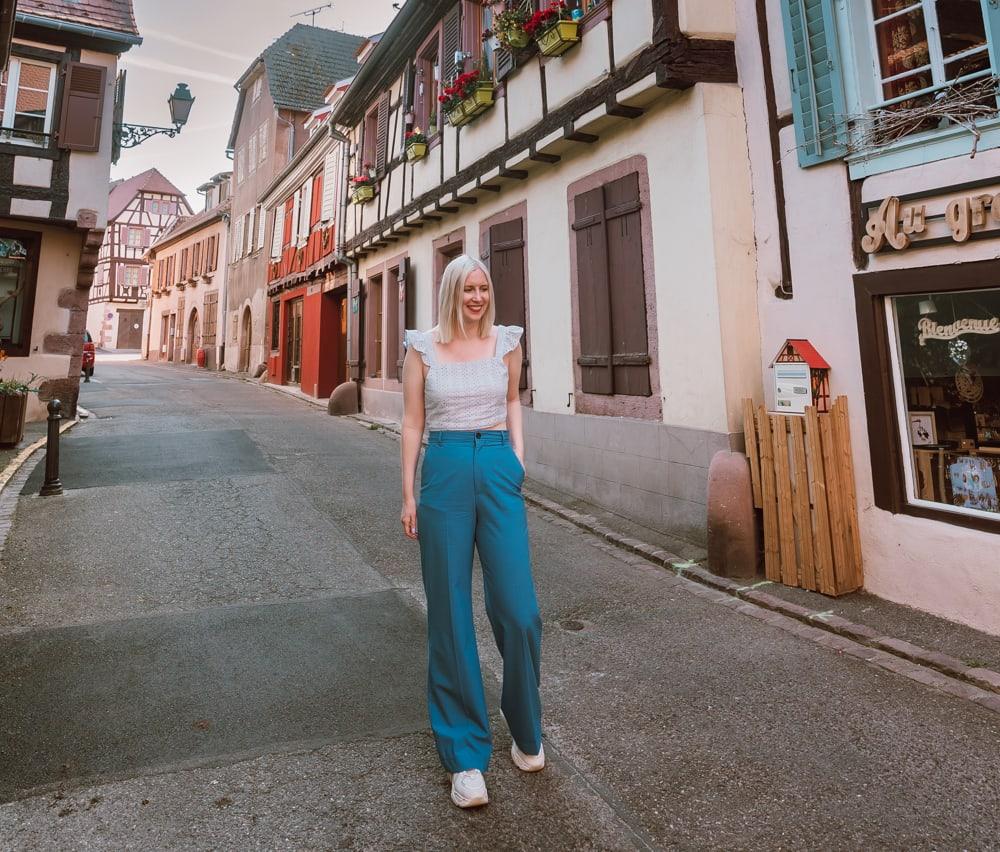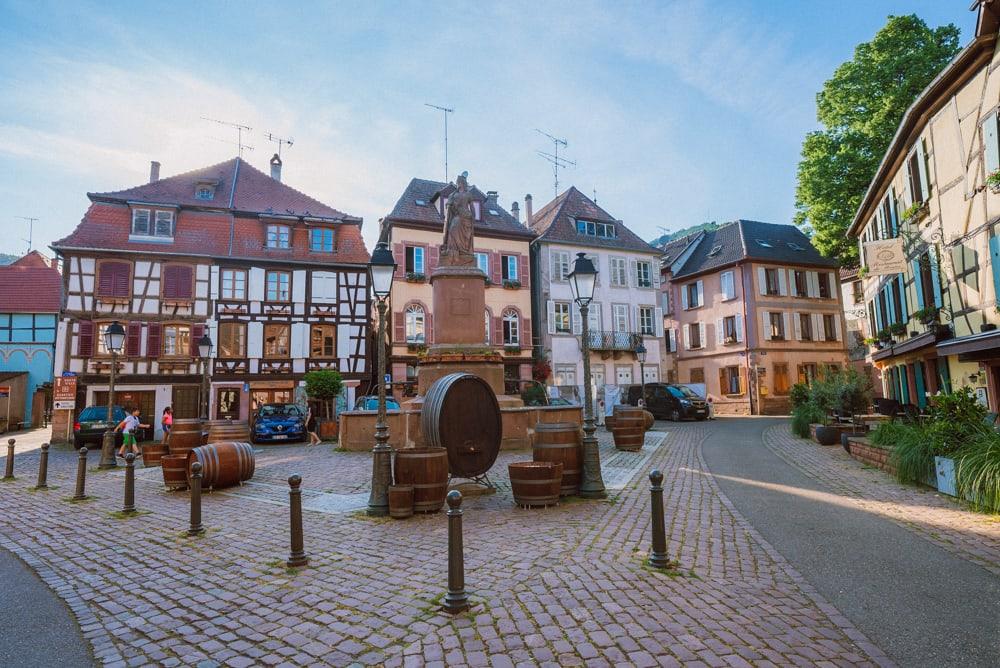 Ribeauvillé is so incredibly pretty. Sam and I spent one night here at Le Ménestrel Hotel, which was lovely and just a short walk from the Old Town area.
And we had one of my favorite dinners of the entire trip at Wistub Zum Pfifferhus – definitely eat here if you can! They have traditional Alsatian food in a really cosy setting, and our server was very friendly.
Riquewihr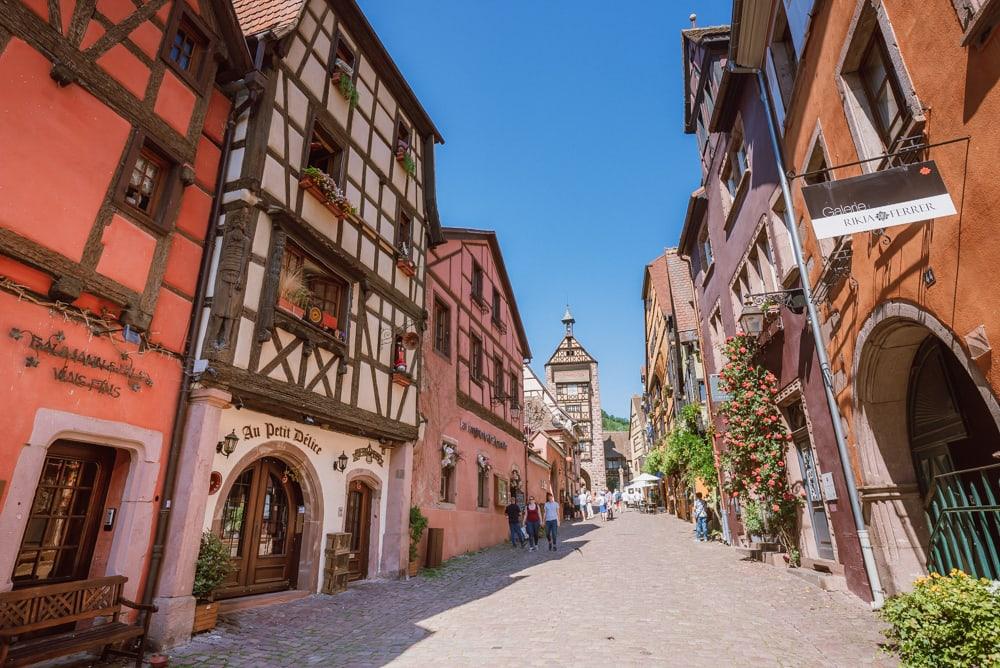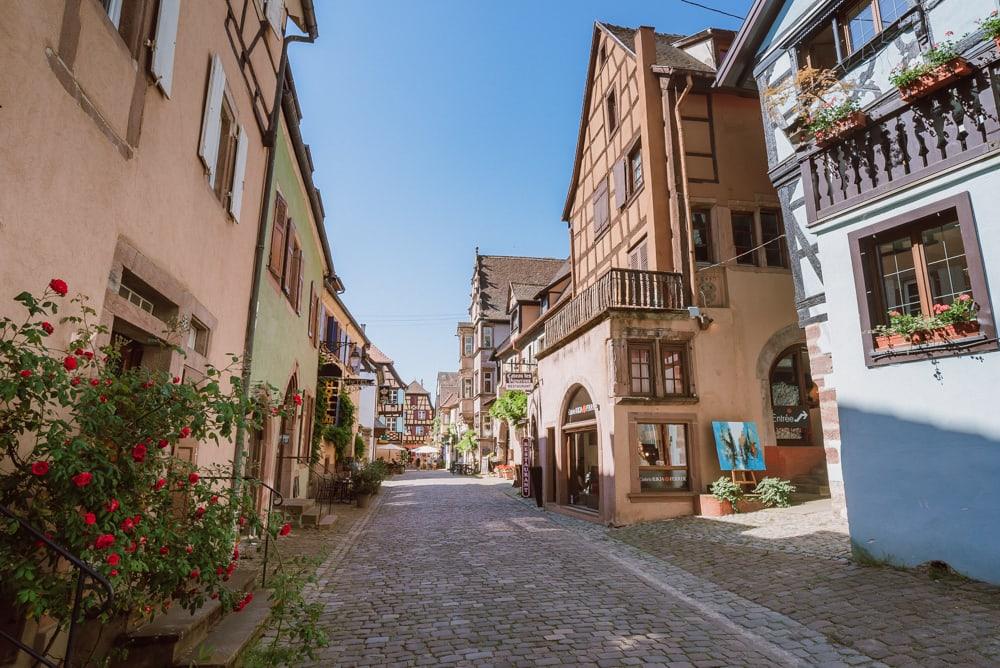 Riquewihr basically felt like a smaller version of Ribeauvillé. If you don't have much time, I would probably only visit one, as they are so similar. But both are beautiful!