If you follow me on social media then you know that I just spent the past couple of weeks in Rwanda, the Congo, and Uganda, and it was amazing!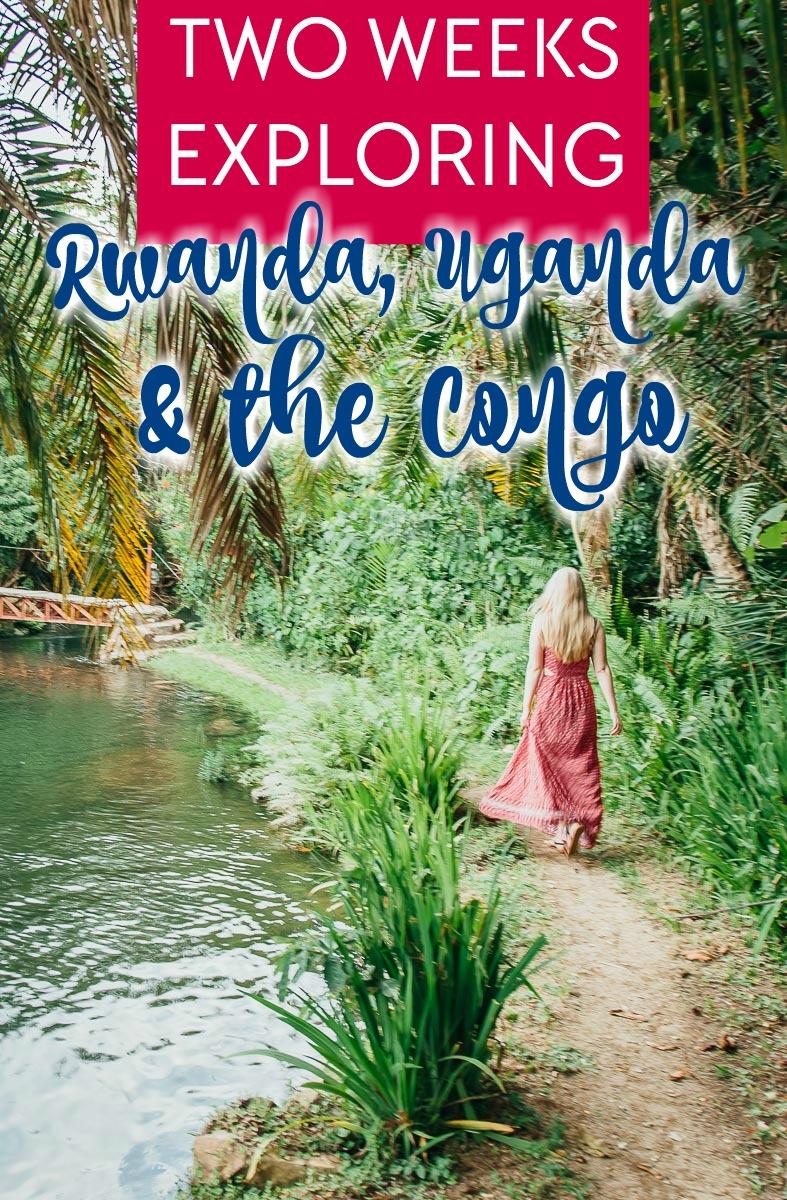 As in, I totally cried on my flight home and had to pretend that the tears were over my book. Though I don't think the British couple decked out in expensive looking khaki next to me believed it, maybe because I was already hiccuping by the time I thought to pull out my book. They were unimpressed. I mean, I was unimpressed with myself too – shouldn't I be better at leaving places by now? I can always return!
But the thing about this trip was, it wasn't just three African countries I had fallen in love with. I was also heartbroken over leaving my six new favorite travel buddies.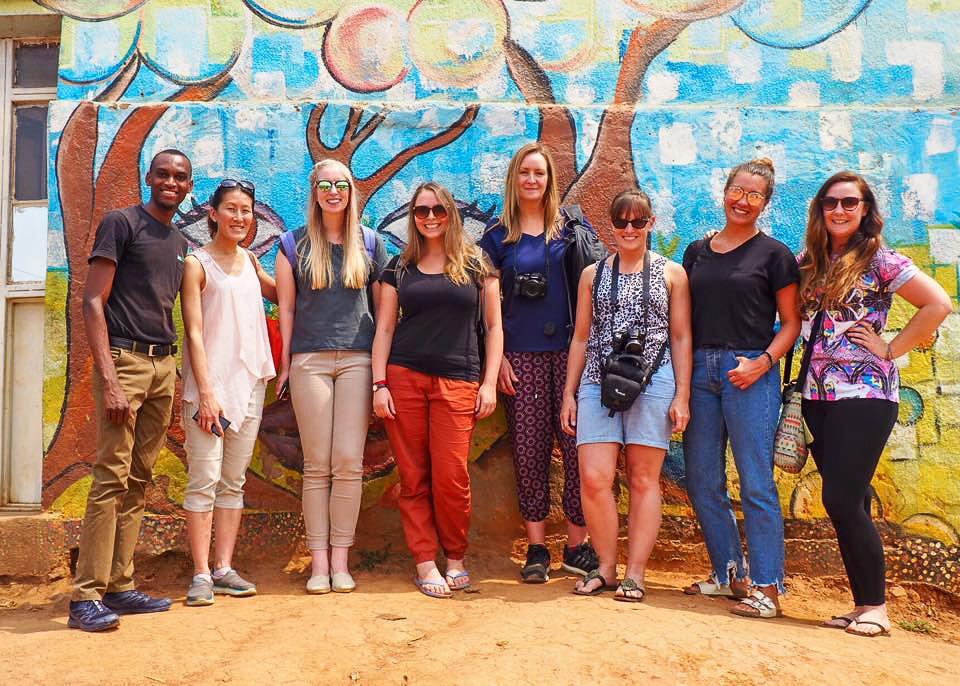 You see, my first trip to sub-Saharan Africa included another first: my first time traveling on a tour!
Anyone who knows me and my travel style might be raising their eyebrows right about now, which is exactly what I did when Helen emailed me a few months ago inviting me on one of her Rock My Adventure tours. But luckily I had the sense to put those eyebrows back down where they belong and join her for what became one of my favorite trips yet. Seriously though, I wasn't even getting carried away when yelling best trip everrrrr off the side of our boat on the sunset cruise down the Nile my last night in Uganda.
But before I get into recapping my trip and sharing all the photos (guys, so many photos), I thought I'd begin by telling you what the deal with this tour was, and why I loved it so much.
Rock My Adventure was started by Helen of Helen in Wonderlust, whom if you've ever read any blog posts about Africa you probably already know, as she's kind of the Africa expert in the travel blogging world. These are small group tours – not more than 8 people – and a bit different than the big name tour companies operating in Africa. Helen first went to Africa in 2009 and if you read about her Africa adventures on her blog you can get a good idea of what her tours are like.
Basically being part of a Rock My Adventure tour felt just like backpacking with a bunch of good friends, except that we had made our Africa expert friend do all the planning for us. This was definitely on the fancier end of backpacking – we mostly shared rooms with one other person, or dorms just with the group members – and our ages ranged from mid-twenties to late-thirties.
We also all seemed to fall into two categories: either backpackers wanting to start off their Africa adventure with an organized trip to get into the African swing of things before setting off solo, or people with full time jobs wanting to make the most of their holiday time. Okay, I realize I don't really fit into either of those categories, but ugh, do bloggers ever fit in?
What I really loved was that we were all totally on the same page when it came to travel, and I think a big reason for that was that we had all read about Helen's travels on her blog, so we knew exactly what we were signing up for.
I took Helen's Uganda, Rwanda, and DRC tour, and Helen described us as her "hardy" group, as none of us minded going into the Congo. In fact I think most of us actually signed up because this tour went to the Congo, so I guess that already meant we'd have something in common when it came to travel choices.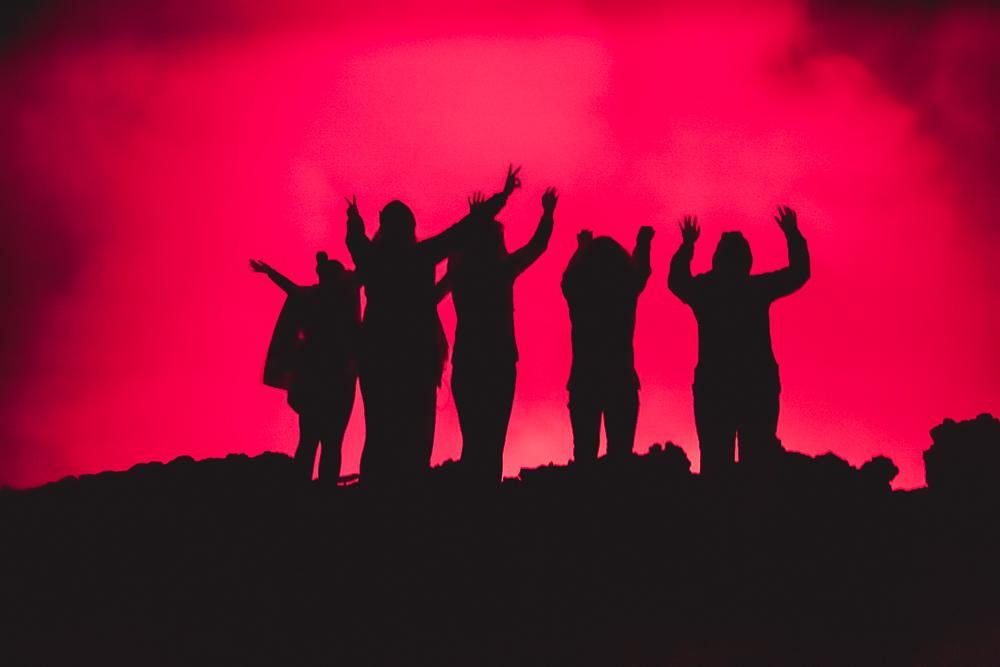 and we made it to the Congo!
Plus, Helen made sure that we had time in our schedule to go off and explore independently, if we wanted, so it didn't feel like we were just being led around the entire time.
Another thing worth mentioning about Helen's tours is that she's set up her tour company properly so everything is totally above board. It's becoming more and more popular for travel bloggers to offer tours, but a lot of them aren't actually setting up tour companies and instead just have participants sign waivers, which seems a little sketchy to me, so I felt a lot better about signing up with a legally established tour company.
Helen is one of those people who will make any situation really fun. This girl could make a tour through my mildewy basement seem like a blast, so having her introduce me to sub-Saharan Africa was pretty much the best thing ever.
Okay, so what did we do?
I'll definitely be sharing more details about my favorite parts of this trip in future posts (volcanoes! gorillas!), but this was our basic itinerary:
Kigali, Rwanda
We started off in Kigali, where we explored the city, drank some of that famous Rwandan coffee, and visited the Genocide Memorial. We also had one of the best dinners at Heaven, which is a lovely boutique hotel and restaurant in town that also has a gallery featuring the works of local artists.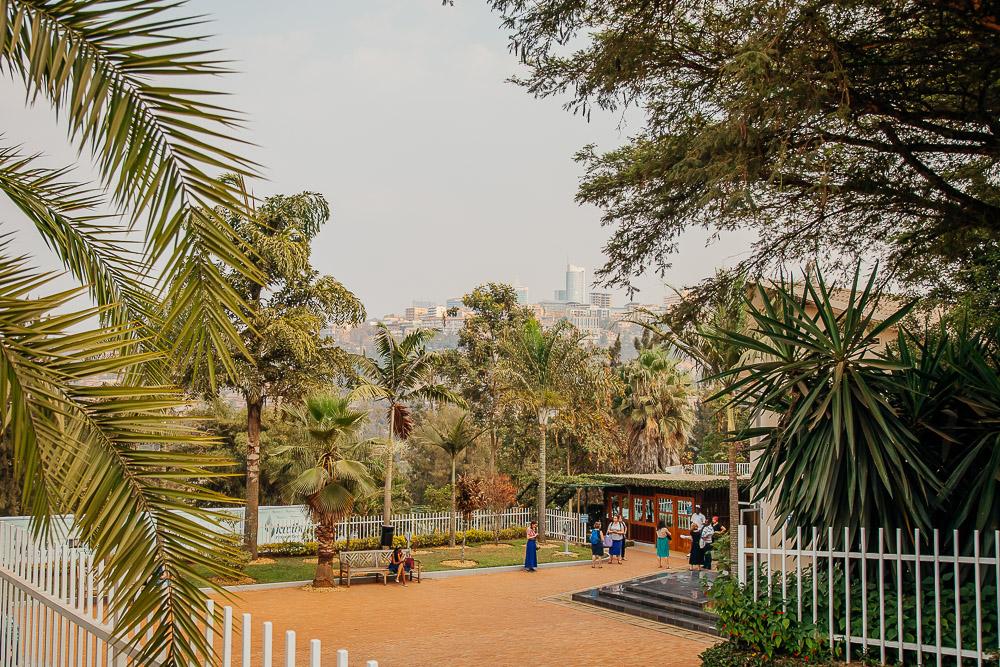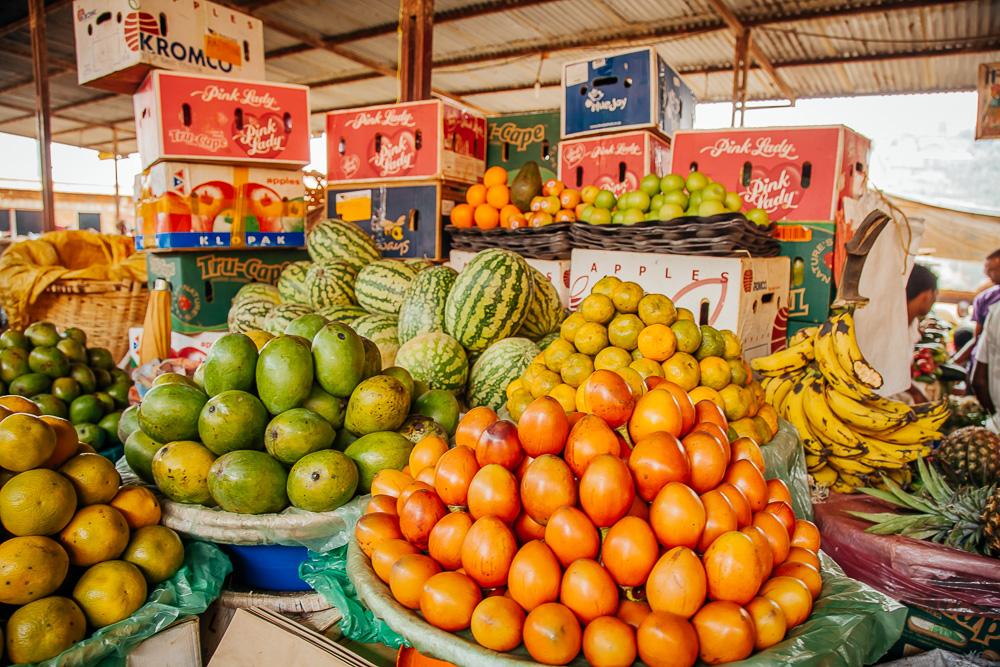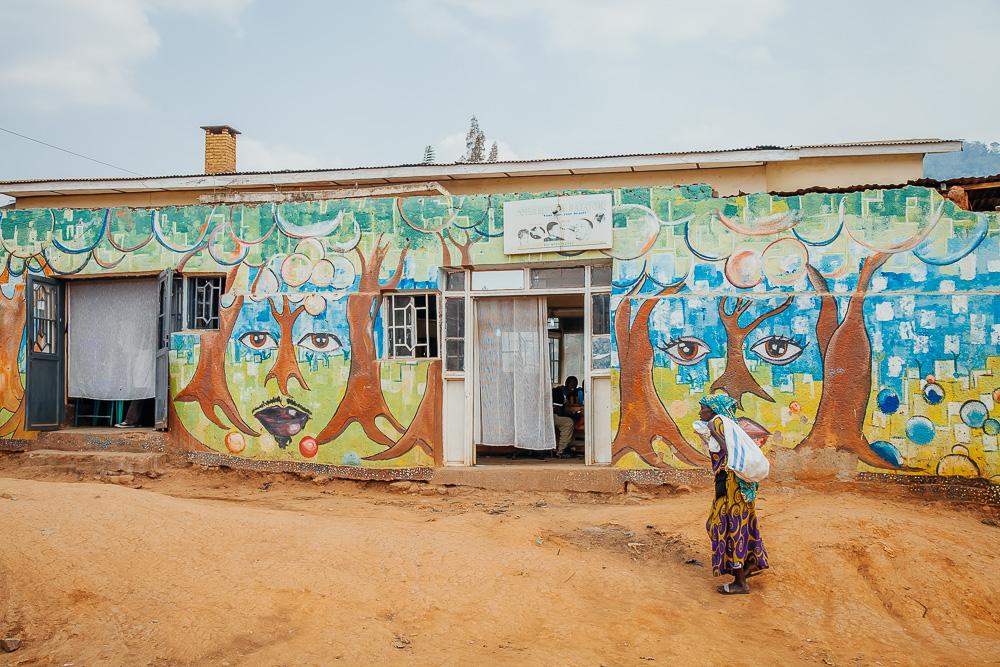 Climbing Mt. Nyiragongo in the Congo
I've written more about climbing Mt Nyiragongo here, and it was probably the highlight of the trip for me (though also included several of the trip's lowlights too – SPOILER: that hike is hard). But it was all worth it because the top of Mt Nyiragongo was one of the most breathtaking places I have been in my life.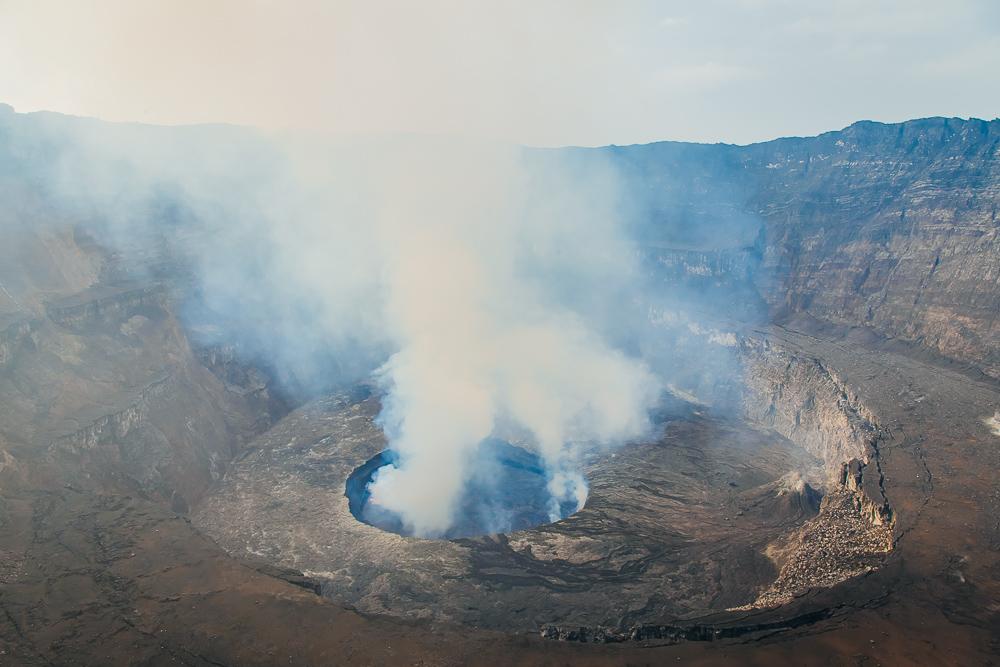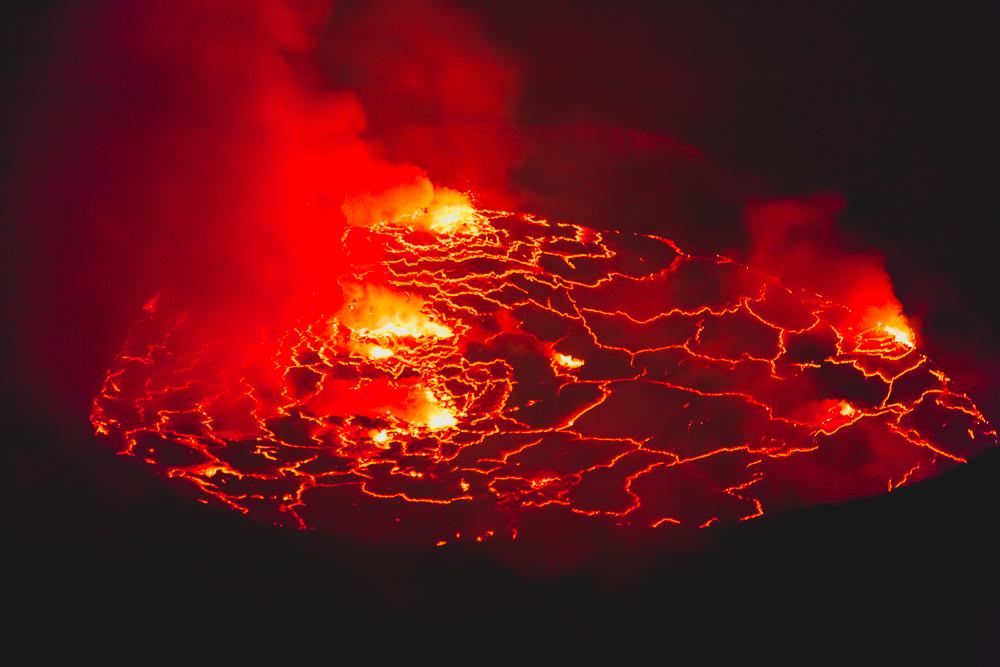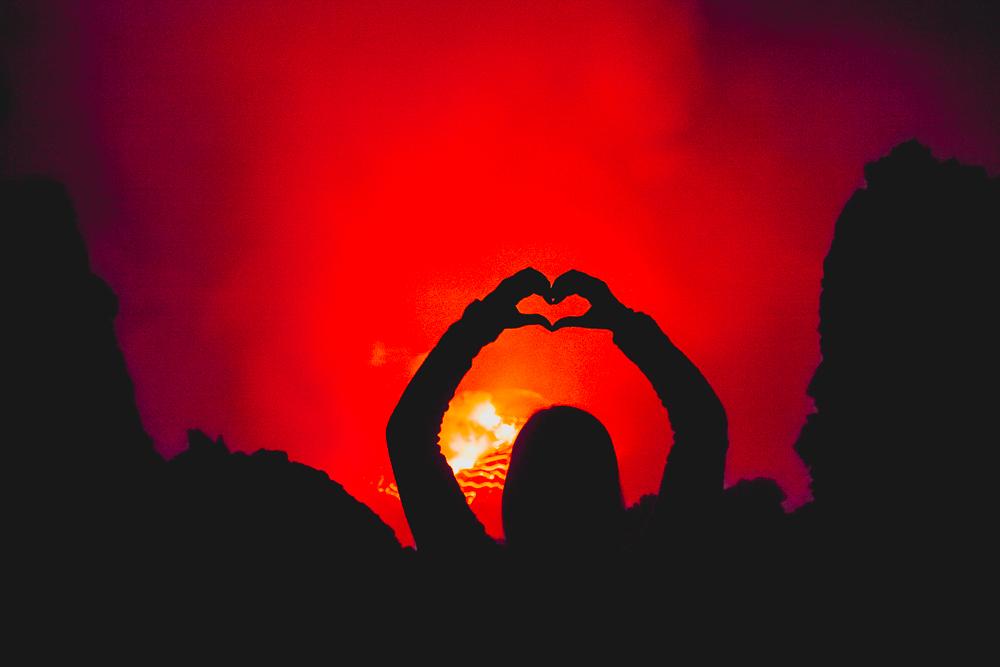 Lake Bunyoni, Uganda
After hiking Nyirangongo we made our way to Lake Bunyoni in Uganda to recuperate for a couple of nights before our next intense hike.
We stayed at Byoona Amagara on Itambira Island, which was such a lovely retreat. There were lots of other travelers there too, so it would be a good place to meet people if you were on your own.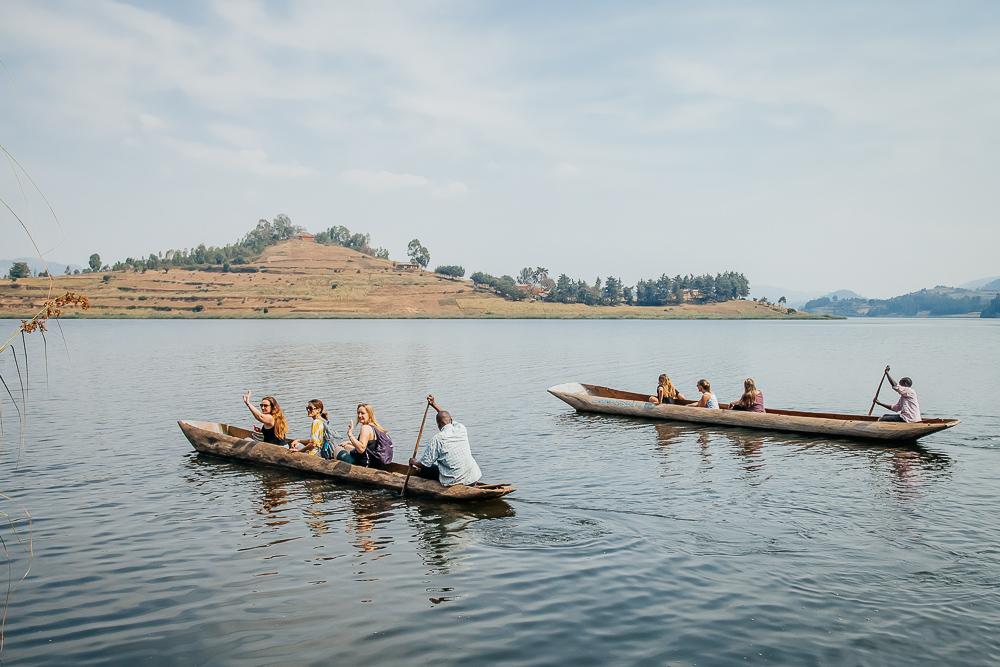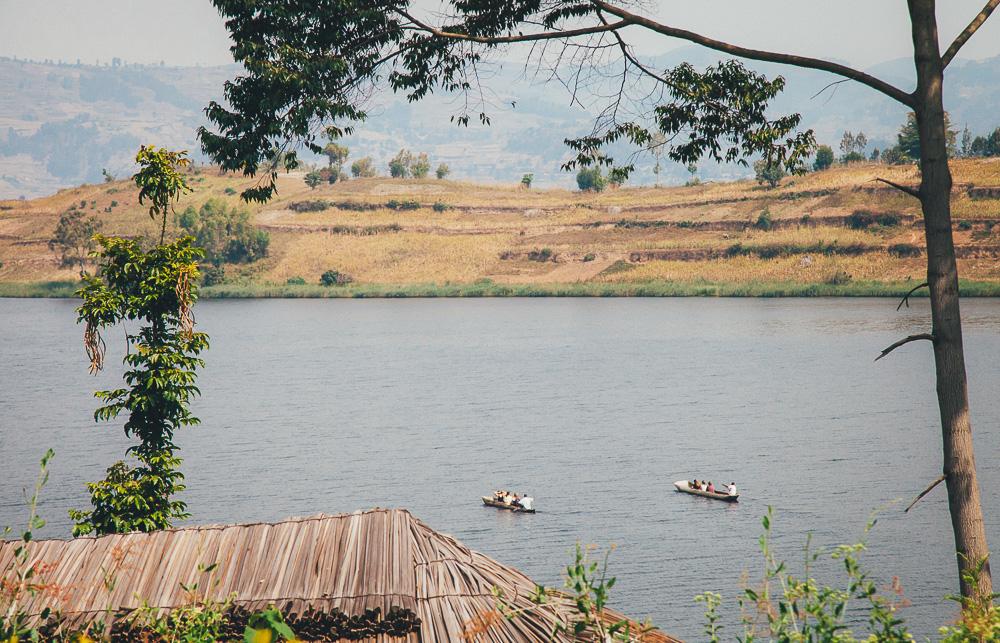 Gorilla Trekking in Bwindi National Park
And then we hiked back into the jungle to hang out with some gorillas! I've written about my experience gorilla trekking in Uganda here.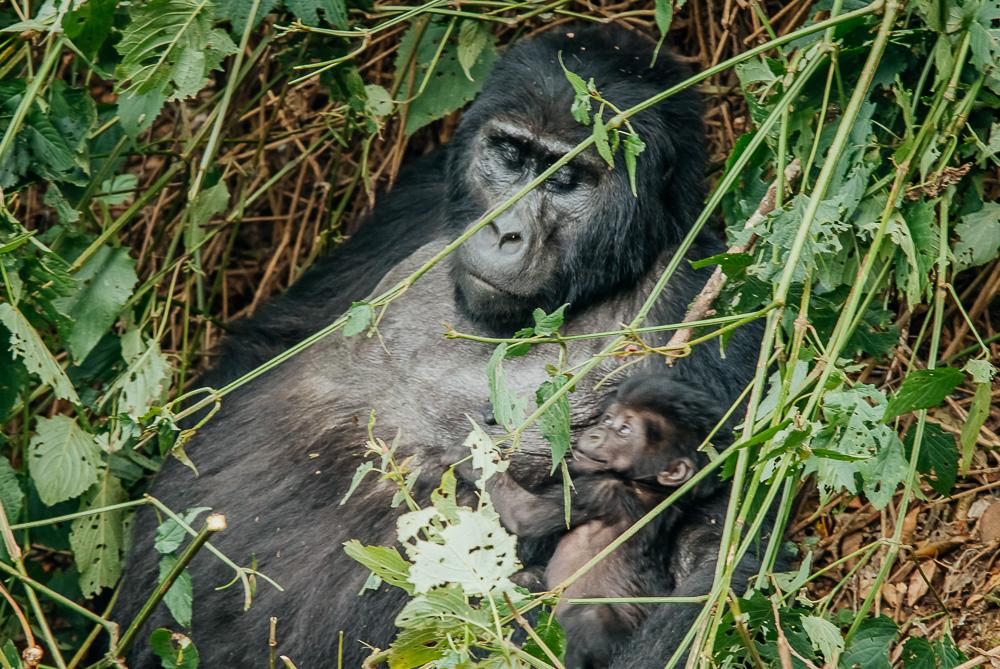 Safari in Queen Elizabeth National Park
After Bwindi we headed into Queen Elizabeth National Park to catch some glimpses of lions, elephants, and all sorts of other animals.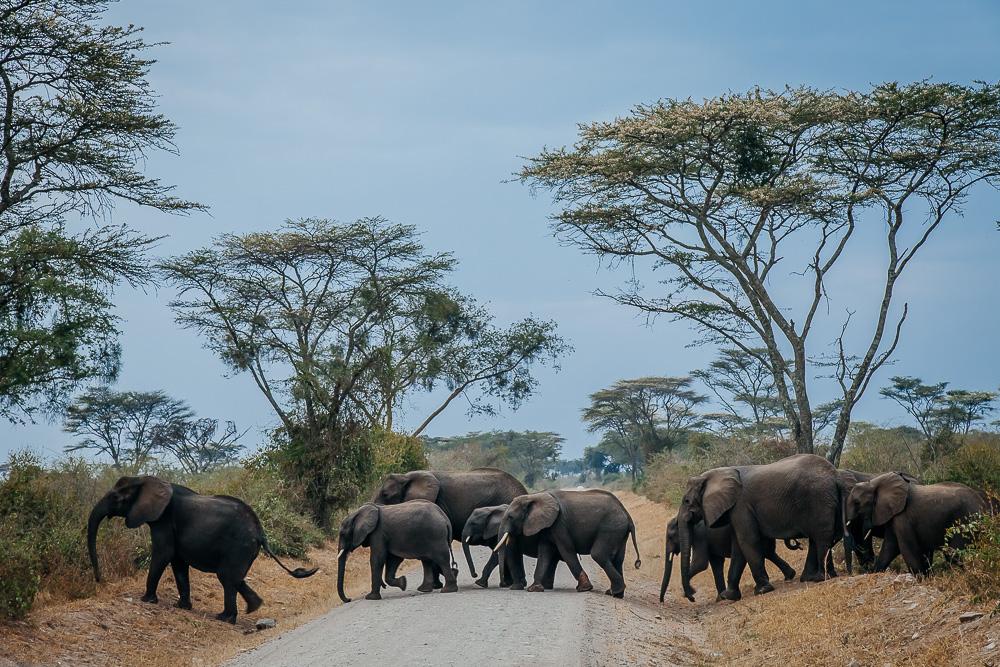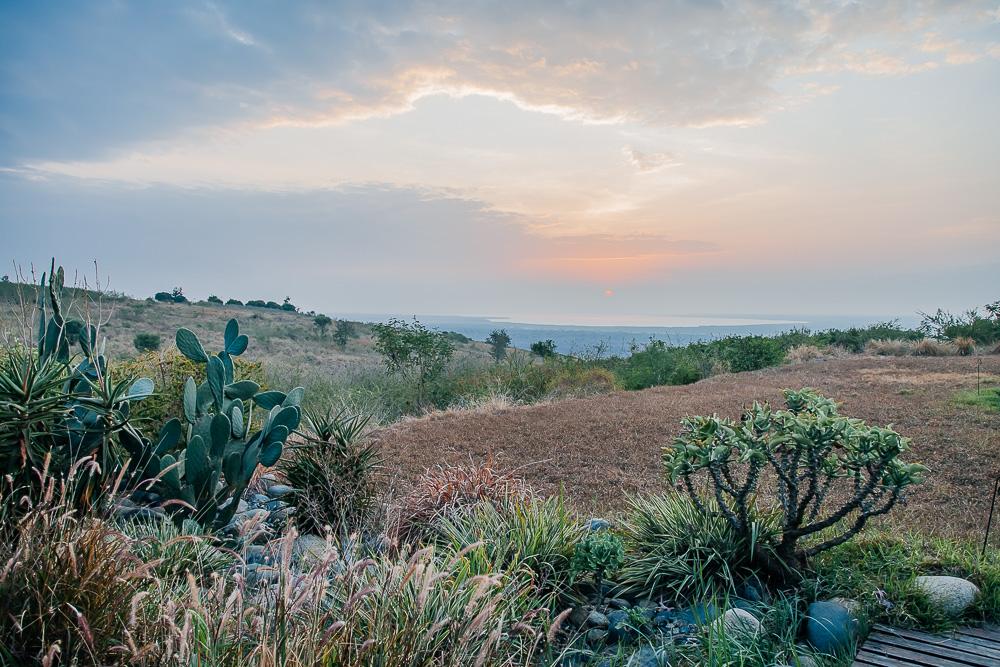 Chimpanzee Tracking in Kibale National Park
This was an optional activity on the tour and one that Helen and I both skipped because we were in desperate need of getting some work done – it's really hard to take a proper holiday when you're self-employed.
Though my overflowing inbox might just have been an excuse, as ever since a certain traumatic incident I've been pretty scared of monkeys. Okay, I know chimps aren't monkeys, and I did love hanging out with the mountain gorillas, but chimps seem a little less laid back than gorillas. Remember when that chimp ripped that woman's face off?
But if you're interested in chimpanzee tracking, I did get all the details from the girls in the group who did it!
You can either go for a full day or half day, and after hearing everyone's experiences I'd definitely go with the full day program.
The half day groups apparently spent most of their time staring at black dots high up in the trees, and then when one of the chimps did come down, all the different half day groups in the jungle ran after it with their cameras. And while a chimp being chased by 40 paparazzi might sound like material for a good joke, I think in reality it was a little disturbing.
The full day group, on the other hand, was able to spend some quality time with the chimps away from the other groups and their experience sounded downright amazing.
While in Kibale we stayed at Kibale Forest Camp, which was my favorite accommodation of the entire trip. We shared twin tents in the sweetest little bungalows, and it was by far the fanciest "camp" I've ever stayed at – they even woke us up with tea and made our beds in the morning!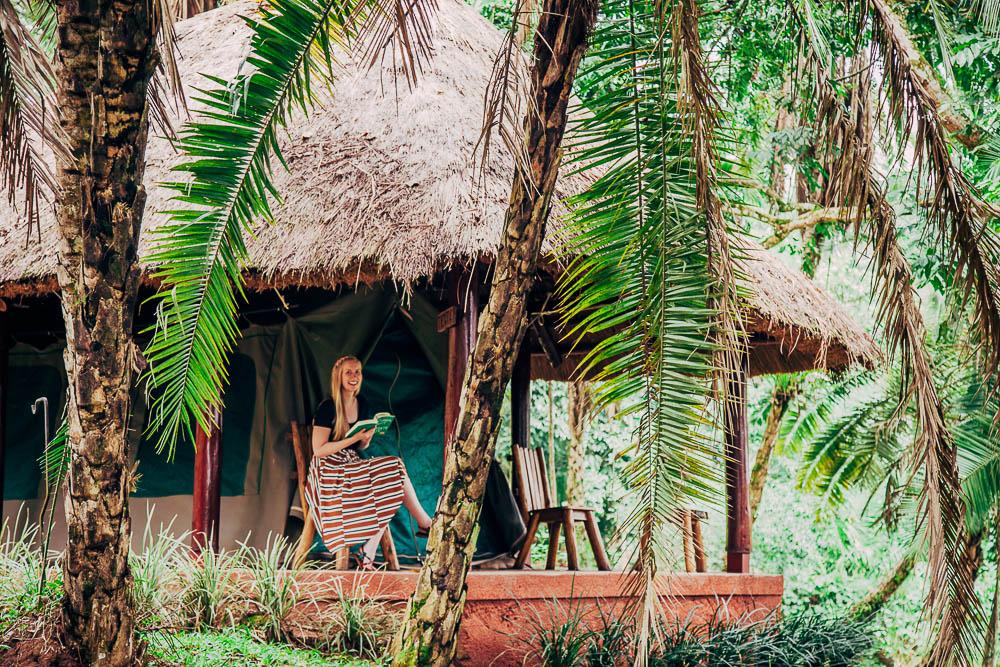 Hairy Lemon Island
After a few more 5 am wakeup calls than I'm used to, it was really nice to then head to Hairy Lemon Island for some serious relaxation. The island doesn't have electricity or much of anything to do besides relax along the Nile, and that's exactly what we did.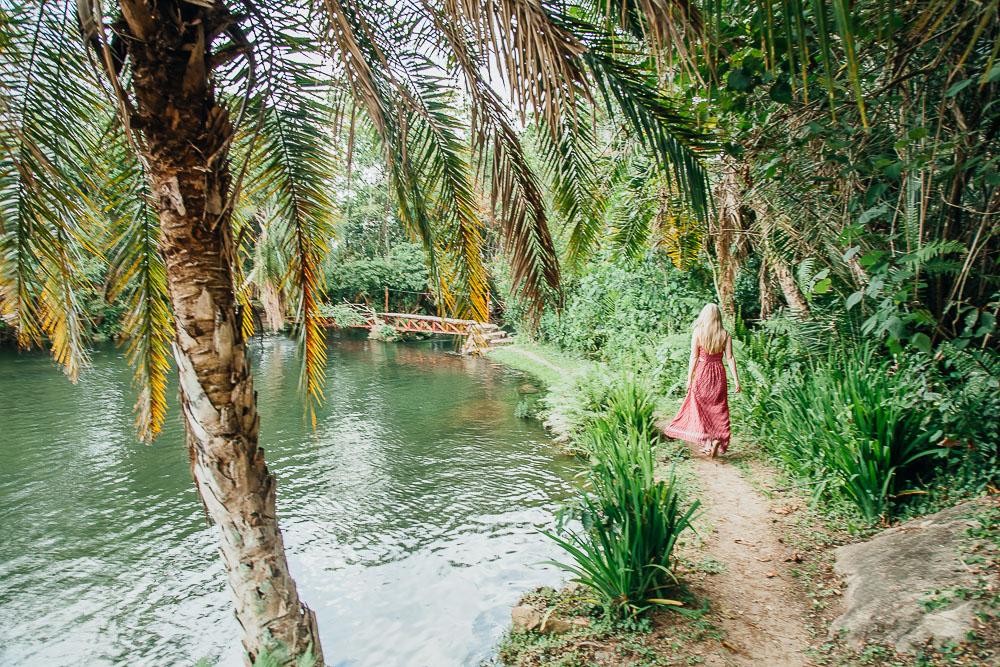 Nile River Explorers in Bujagali, Jinja
We ended our trip in probably the most backpackery place we stayed – Nile River Explorers. Travelers come here for white water rafting and other adventure activities, but it was also just a great place to meet other backpackers and sob our farewell tears into the Nile.
And then I went home!
Though that really doesn't deserve an exclamation point. Ugh sometimes returning home can just be so hard. I haven't fallen so immediately for a region of the world since Central Asia the Caucasus Siberia (okay fine, I guess I'm always giving my heart away to new places). But I guess that's a good thing, because it means I can't wait to go back – and I can't wait to share more about this trip!
Okay so tell me, what other countries in Africa do I need to visit?