This post contains affiliate links.
Running a travel blog, especially one called "Heart My Backpack," I get so many emails from luggage brands asking me to try out their backpacks. And I always delete all of them, because I already have a backpack I love, and more often than not, fancy new backpacking systems tend to be more gimmicky than practical. Like, I probably don't actually need my backpack to charge my phone.
But when Kosan wrote to me about their 5-in-1 travel pack system I hesitated deleting the email just long enough to read that the system is designed by travelers who believe more businesses should be accountable to our planet, and who believe in creating products that are ethically and environmentally sourced.
And then I clicked on the link to their Kickstarter page and was entranced by GIFs showing how the system works. Seriously, I think I watched GIFs of the backpacks transforming into messenger bags for a solid five minutes.
Okay, so here's what I love about this system, and why, for once, I found this backpack worth blogging about: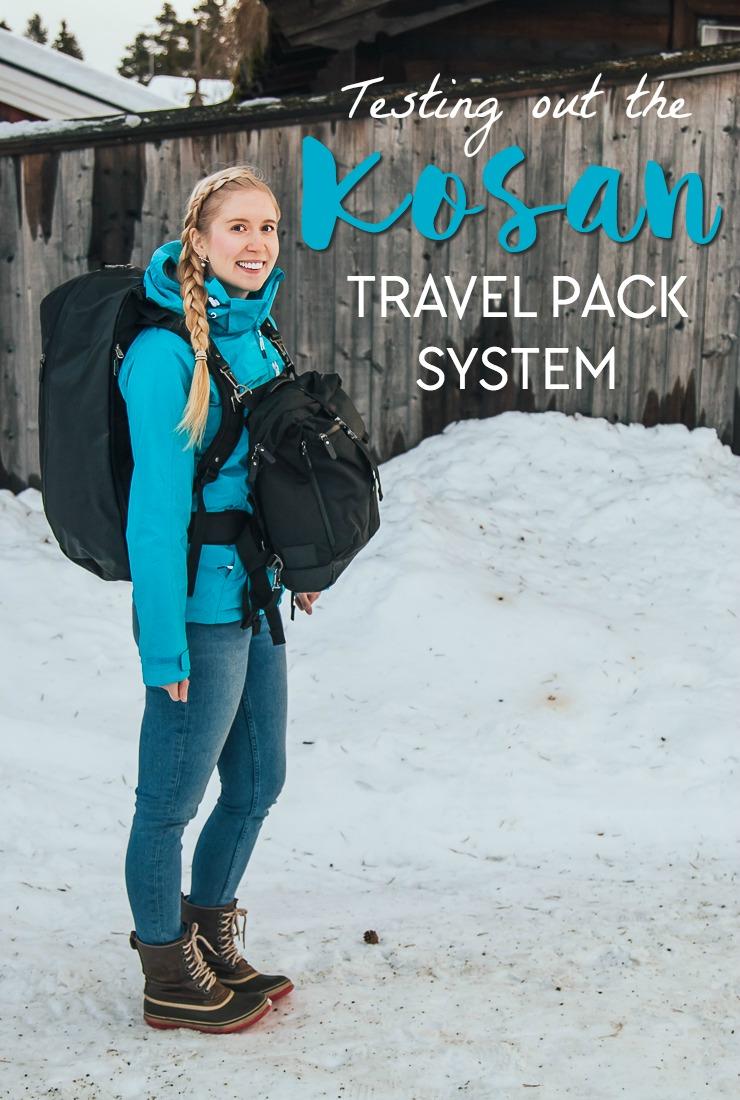 The 5-in-1 system is actually really clever
You know those travel dresses that supposedly can be worn 30 different ways, except you'd only ever actually wear them one or two ways? Yeah, the Kosan travel packs aren't like that.
The Kosan 5-in-1 system includes two backpacks, each of which can also be worn as a messenger bag, and you can also clip them together to wear them both at the same time.
Perhaps the best part of this system is that, unlike most other travel pack systems, the daypack doesn't attach to the back of the larger backpack, but instead to the straps in front. This keeps the weight better balanced, but more importantly, it gives you easy access to the daypack.
I feel like the dream is to only travel with one backpack, but that never actually works out because you'll almost always need front access to your stuff. I have left on so many backpacking journeys with just a large backpack, only to quickly add either a daypack worn on my front or an extra shoulder bag, neither of which is exactly comfortable or good for my back.
But because the Kosan daypack clips to your front, the weight stays balanced, and you can move around freely without worrying that the daypack will slide off.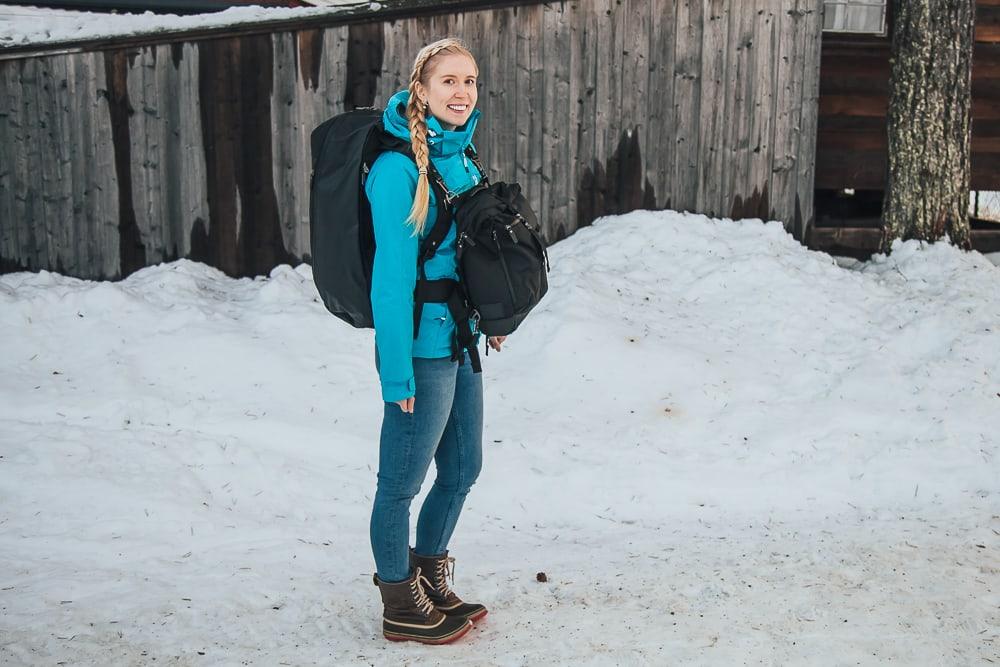 I also really appreciate that the bags can be worn as messenger bags.
I think it's especially handy for the daypack, as while I usually prefer to carry around my stuff in a backpack since my camera gear is pretty heavy and a backpack is easier on my shoulders, there are times when I don't want to be carrying my stuff where I can't see it.
With the Kosan daypack I can quickly and discreetly switch the backpack into a messenger bag when I'm in a crowded area, or want easier access to my camera.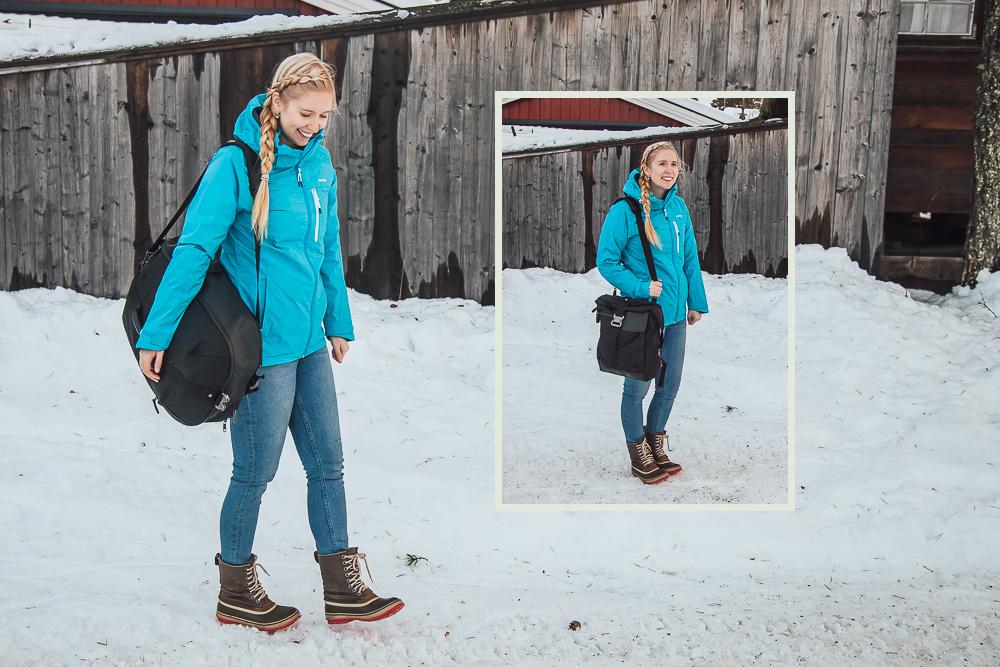 The carryall backpack unzips like a suitcase
I don't even want to tell you how many silent temper tantrums I've had while trying to find things in my 65 liter backpacking backpack. Most large backpacks only open from the top and a section at the bottom, which can make it tricky to find your stuff or pack neatly. Even when I use packing cubes I struggle to find the right cube without unpacking my entire backpack.
So I love that the front of the carryall backpack unzips like a suitcase. It even includes a bunch of handy compartments to keep things organized, so it really is like traveling with the organization of a suitcase but the flexibility of a backpack. Win win!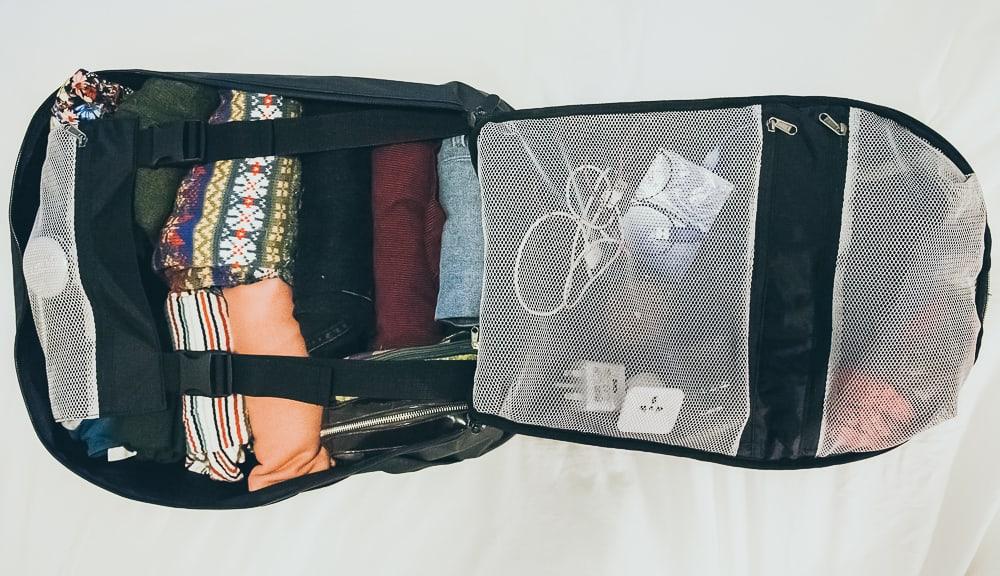 The size
The carryall backpack is 35 liters, while the daypack is 15 liters, offering pretty much the maximum you can pack while still flying carry on only.
The carryall backpack fits the carry on restrictions of most major airlines. It is two centimeters longer than the Ryanair limit, but it's also considerably more narrow, so you should be able to squish it to fit if you haven't crammed it full. And the daypack will easily fit under an airplane seat, so you should be able to bring it as well on any airlines that allow a carry on bag + personal item.
Now, the carryall bag will be on the small side if you're planning to travel over many months through multiple climates, but that also means it will force you to pack lighter so you don't kill your back with unnecessary weight. And it's also small enough to bring on shorter trips – I'll be bringing it with me on a 6-day trip next week.
The design
I hate how most backpacking backpacks have really sporty designs and colors – just because I travel with a backpack doesn't mean I'm sporty! So I love that the Kosan packs are a neutral black and have a sleek design.
I also really appreciate that they don't look like traditional backpacking backpacks – I feel like the carryall bag could pass for a gym bag, so it doesn't scream "I'm carrying my life around with me in this backpack." And maybe hotel staff won't be as quick to judge me as a dirty backpacker with this luggage.
Seriously, as someone who stays at hotels but also prefers traveling with a backpack over a suitcase, I have been met with so many judgmental eyebrows when checking into accommodation!
You can also tell that these bags were designed by travelers, as all the compartments have a use. I like that the daypack has a laptop sleeve, and I love that the front pocket is big enough to slide a boarding pass into without getting it crumpled.
Security
The main compartments on both bags, as well as the outer access laptop compartment, all have lockable zippers, and the straps are slash proof. The daypack even has a hidden phone pocket and an RFID blocking passport/valuables pocket.
The bags are built to last a lifetime
The bags are made with really high quality materials, including leather accents, metal hardware (I've had so many plastic clasps on my bags get smashed), water resistant materials, rain covers, and waterproof zippers.
The Kosan system also comes with a lifetime warranty, so Kosan will fix any damages to your bag – for life!
The price
I'm sure the price on these bags will go up in the future, but right now they're on Kickstarter for 338 CAD (267 USD) including international shipping. That's a lot cheaper than most other high quality pack systems on the market, which is why I'm sure the price will go up once the Kickstarter is over. You can also buy each bag separately, if you prefer.
Because this is a Kickstarter campaign, the estimated delivery isn't until April (earlier, if things go well), but the campaign has already met its fundraising goal so you should definitely receive your bags. And you have a deadline to purchase – the campaign is only running until December 16, and it looks like right now there are only 21 bags left at 30% off.
See more details and get your Kosan packs here