During my years living in northern Norway I've visited Lofoten over a dozen times, and every time I made sure to stop in Reine, Lofoten's most scenic village. Ready my full Lofoten guide here.
Lofoten is an archipelago, and while as a whole I would say all of Lofoten's islands do look very distinctly "Lofoten," some islands are more spectacular than others. And if you want Lofoten's most beautiful views, you should head all the way down to Reine.
The village of Reine, Norway has a tiny population of about 315 people, but the village is also home to Lofoten's most beautiful islands. The main part of the village lies on the island of Moskenesøya, and then Reine also connects by bridge to several small islands including Sakrisøy and Hamnøy.
Reine has been an important fishing village in Norway since the 16th century, particularly famous for cod and stockfish, which you can see hanging on wooden platforms in Reine.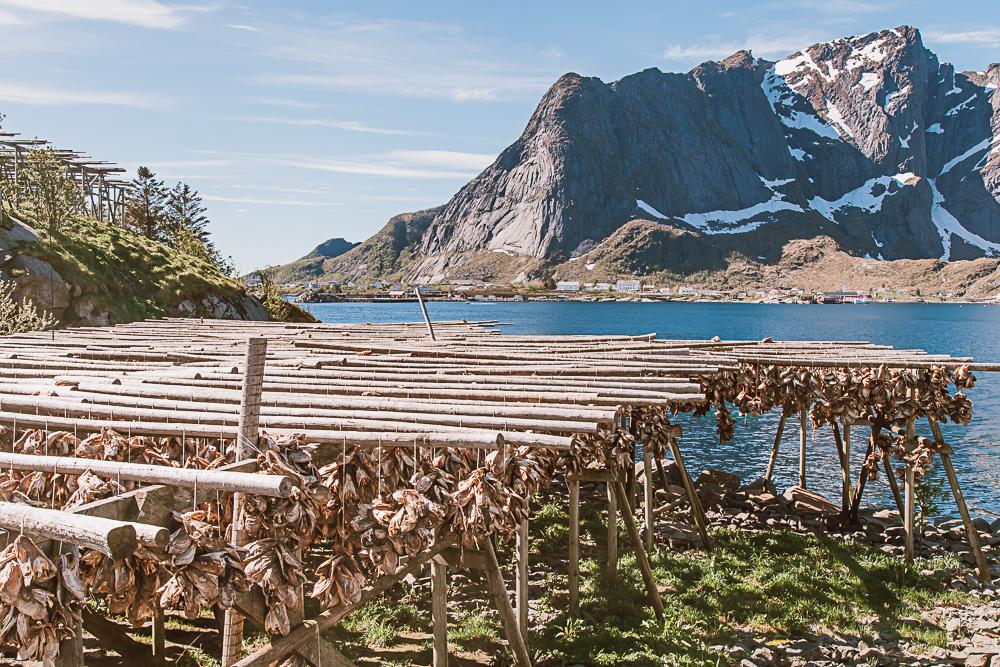 But more recently Reine has soared in popularity as a tourist destination, with photos of this little fishing village flooding everyone's Instagram feeds and gracing the covers of the world's biggest travel publications.
But don't worry, Reine's newfound popularity hasn't spoiled the village in the least. In fact having personally visited Reine before the big tourist boom, after Instagram made Reine famous, then later during the pandemic when no tourists were in Reine at all, and most recently now that tourism in Reine is higher than ever, I can assure you that now is still a wonderful time to visit Reine.
Before tourism in Reine soared it was a bit difficult to find nice accommodation here, but now there are so many lovely rorbuer, or fisherman cabins, that have been converted into super cosy tourist accommodation.
Not only that, but Reinebringen, Reine's famous hike – and perhaps the most beautiful hike in all of Lofoten – has been upgraded to make it much safer and to protect the local environment from damage from humans.
Things to do in Reine, Norway
Stay in a scenic Reine rorbu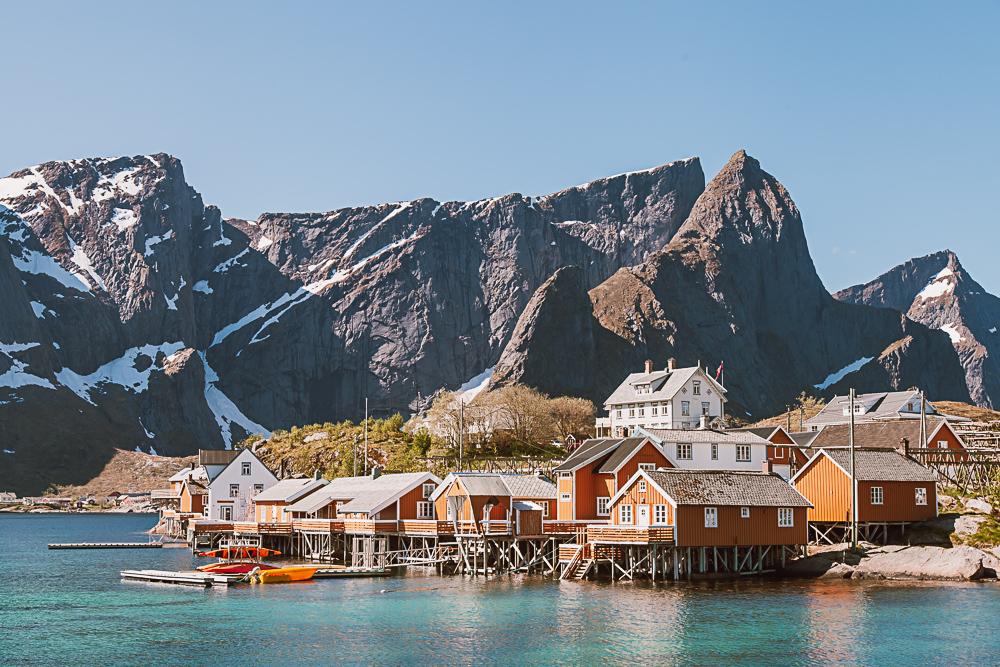 The main reason I always make the journey all the way down to Reine when I'm in Lofoten is because I love staying in Reine's beautiful rorbuer right on the water. You can stay in rorbuer all over Lofoten, but in my opinion the Reine rorbuer have the best views!
I've stayed at a bunch of different rorbuer in Reine, but my three favorites are:
Madelhea Cabins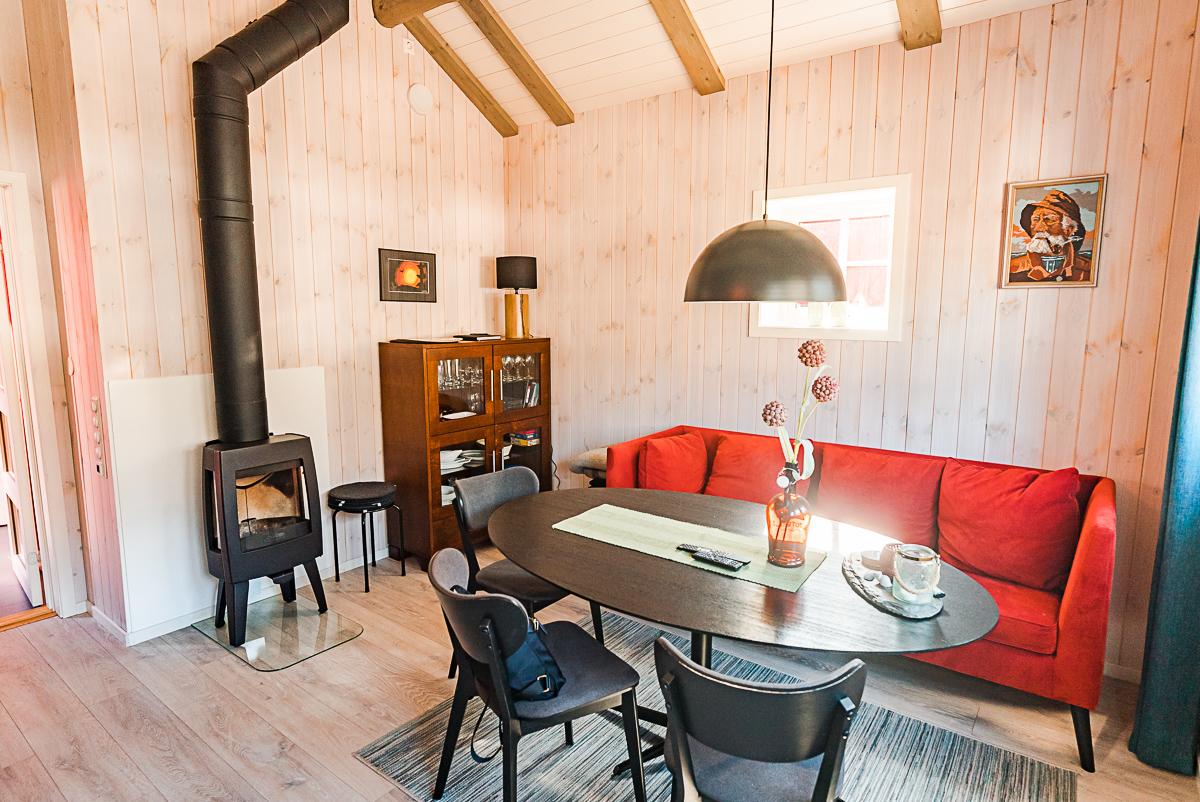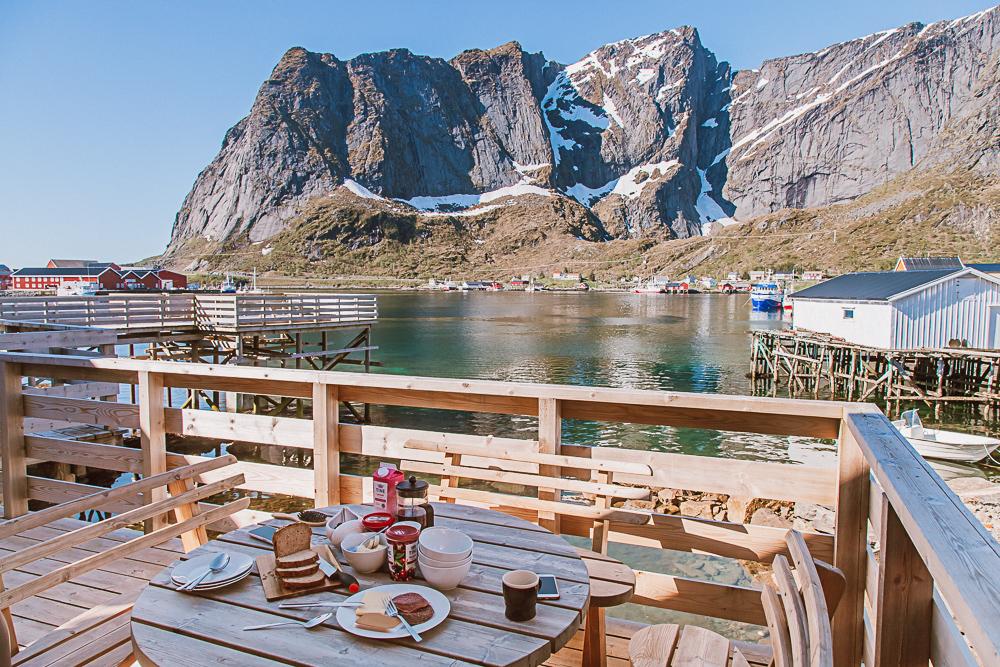 On my most recent trip to Lofoten, my friends and I stayed at the Madelhea Cabins on the small island of Sakrisøy, which is right on the water with incredible views. I especially loved that we had our own balcony here with a table so that we could eat outside. And there's also a wood burning oven for if the weather is bad and you want to be cosy inside.
As of now, this would be my top choice for the Reine area. But be sure to book it now, as it fills up months in advance! Check current rates and availability here.
Rostad Retro Rorbuer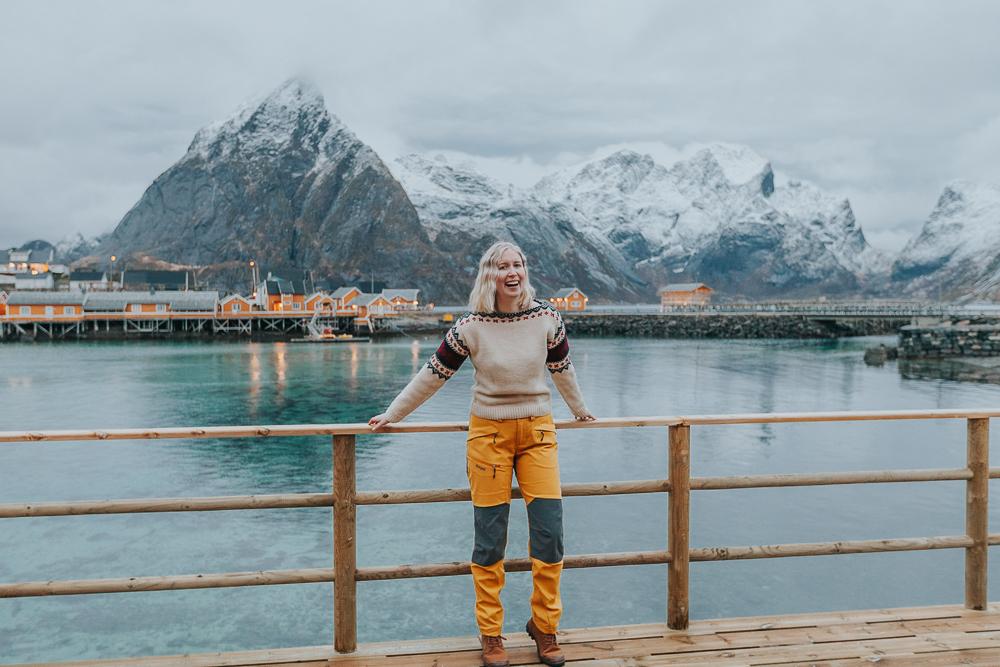 I also really loved staying at Rostad Retro Rorbuer, which is also right on the water on Sakrisøy. I loved the view from the terrace here! And if it's all booked Sakrisøy Rorbuer is another great option.
Eliassen Rorbuer
And then of course I have to include Eliassen Rorbuer, home to one of Lofoten's most famous views: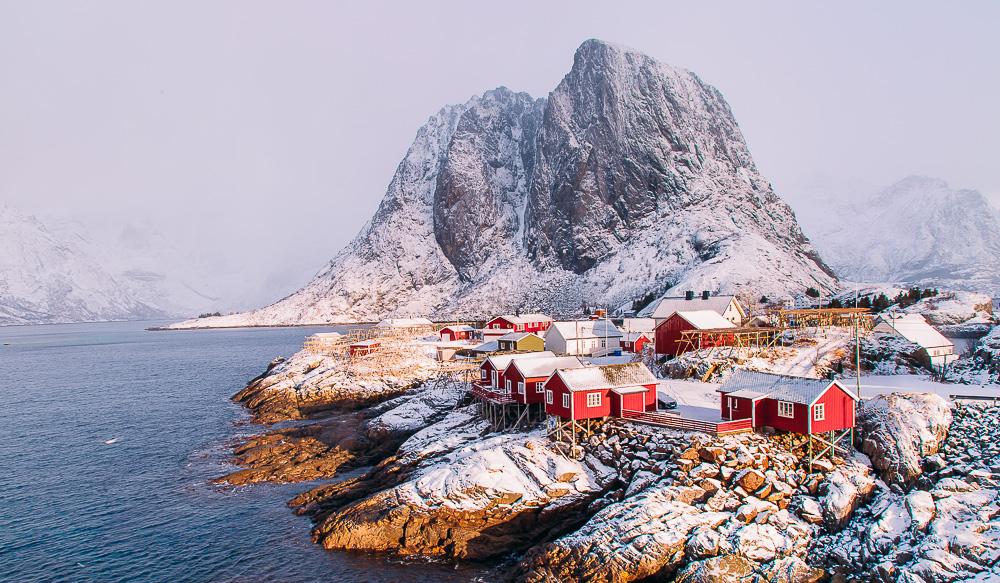 Yes, you can stay in one of those cute little red cabins! I stayed here with my friends way back in 2017. And while Eliassen Rorbuer has definitely gained popularity since then, they're still fairly affordable. Check current rates for Eliassen Rorbuer here
Hike Reinebringen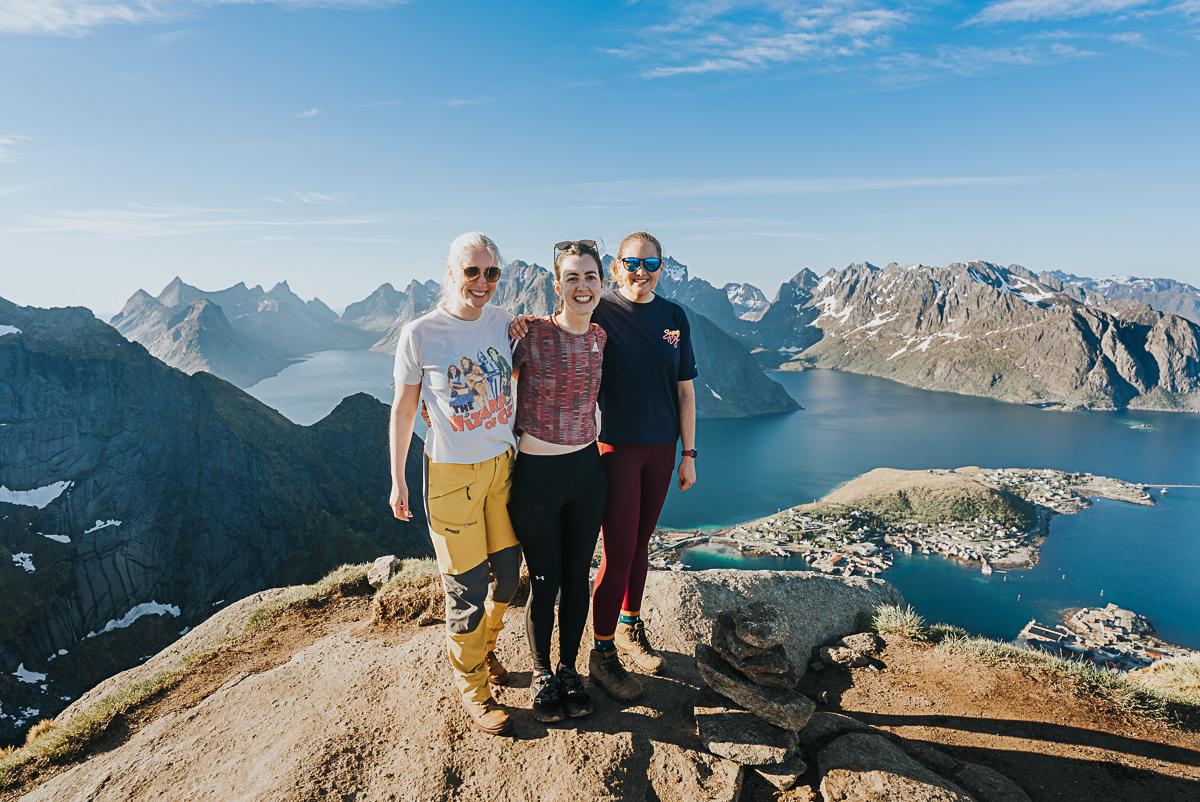 Lofoten has so many hiking opportunities, but I think the best views are from the Reinebringen hike.
I used to find the Reinebringen hike kind of scary if I'm being honest, especially because there were many accidents and even fatalities here, but now the hiking trail has been totally redone with large stone steps laid by sherpas from Nepal. This makes Reinebringen a much safer (and kinder to the environment) hike than it was before.
There are about 2,000 steps up to the top, which took my friends and me an hour and ten minutes to hike up, with many rest stops. We did this hike in June 2022.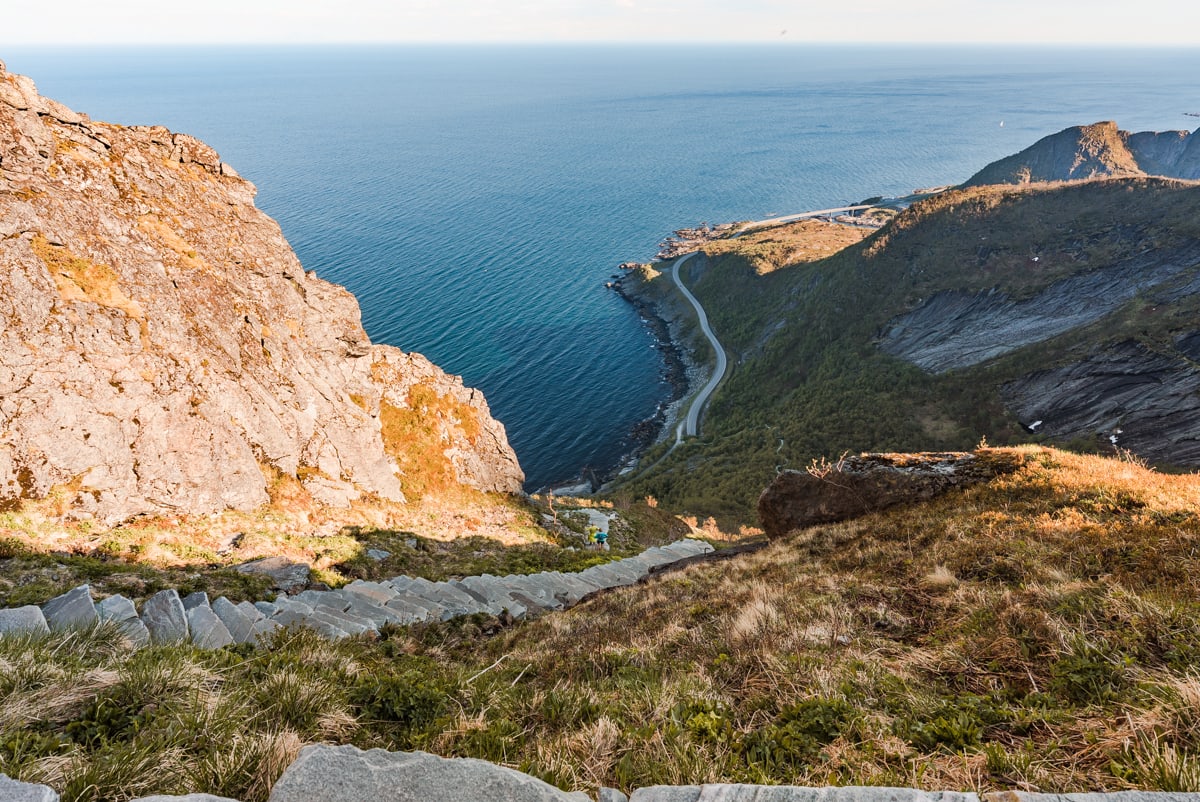 This is a very steep hike and my friend Catriona and I both got a bit of vertigo on the way up. I was really worried about getting down, but hiking down was actually easier than it looked – I just made sure to keep my eyes down on the steps and not look out at the drops. Still, if you are very afraid of heights, I would skip this one.
Kayak through Reinefjorden
I always say the two best places to see Lofoten are from the mountaintops and the water. This 3-hour kayaking excursion takes you along the calm waters in Reinefjorden by the picturesque rorbuer of Reine. You don't need any prior kayaking experience, and your guide will not only offer kayaking assistance but also tell you all about the rich history of the area.
Have a fish burger at Anita's Seafood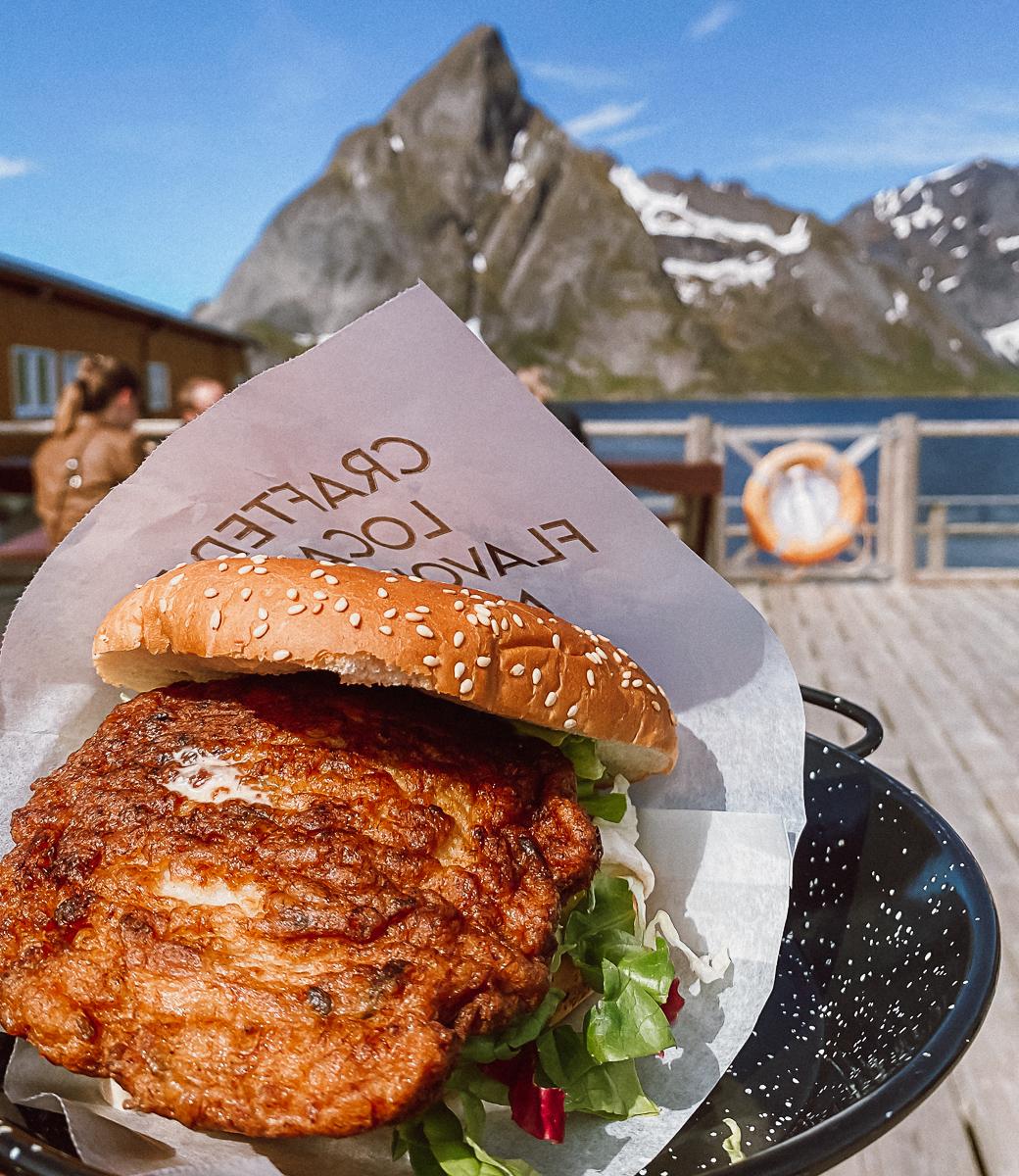 My favorite lunch spot in Reine is definitely Anita's Sjømat (Seafood) on the island of Sakrisøy. Everything on the menu is delicious, but my top recommendation here would be the fish burger (I do also really love their fish soup)! There are several different versions, but I like the fish burger topped with shrimp.
There's also a little shop in the restaurant where you can buy local products and trinkets, so it's worth stopping here even if you're not hungry.
Explore Reine by foot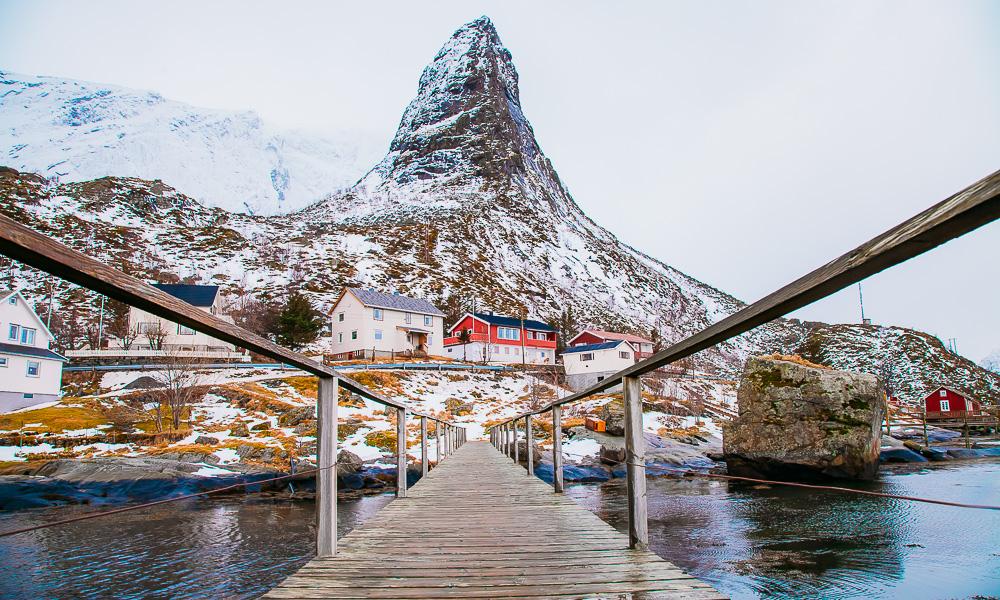 A lot of people drive through Reine only stopping at the popular photo spots. But if you walk through Reine, and across the bridges to Sakrisøy and Hamnøy, you'll find many special spots that you'd miss by car. If you're up for it, take a day simply to explore the islands by foot and really get a local feel for the area.
Have dinner at Gammelbua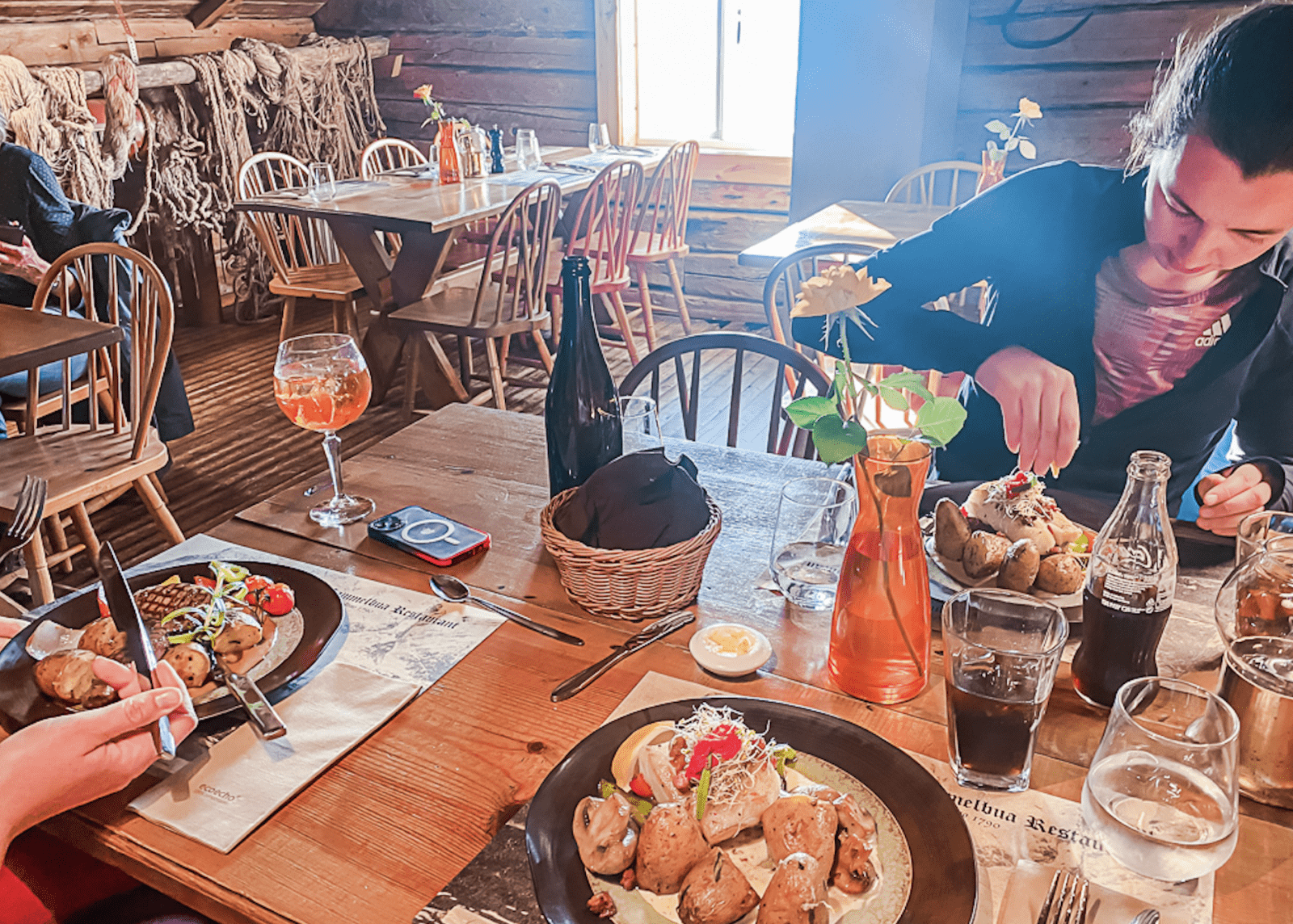 Whether you've been exploring Reine from above while hiking Reinebringen, from the sea by kayak, or by foot – or all of the above – you're sure to have worked up quite the appetite. My favorite dinner spot in Reine is Gammelbua. It's a bit pricey, but the decor is super cosy old Lofoten style, and they serve all the best traditional Norwegian dishes, including Lofoten stockfish, reindeer, and whale.
Take the ferry to Vindstad (Bunes Beach) or Kjerkfjorden (Horseid Beach)
If you have an extra day in Reine and want to take a day trip to a beach, you can take the express boat from Reine to Vindstad or Kjerkfjorden. There are three departures a day, so you can leave in the morning and get the evening boat back. You can check the ferry schedule here. The departure stop in Reine is called Reine hurtigbåtkai (Moskenes), and then you can look for departures to Vindstad and Kjerkfjorden.
Bunes and Horseid are both beautiful beaches, but if I had to choose I'd say Horseid is the most stunning. However it's also the harder one to get to. The hike from the ferry stop to the beach takes a couple of hours each way, while the hike to Bunes Beach only takes one hour each way. This also means that Horseid gets fewer visitors, as usually people only visit if they will be camping here for the night.
Bunes Beach (Vindstad)
Vindstad is about a twenty minute boat ride from Reine, and 45 minutes back to Reine, and a one-way ticket costs about 85 kroner. You'll buy your ticket on board, but if you're visiting in the summer (especially July) be sure to arrive early as there will likely be a long line of people and the boat can fill to capacity.
The hike to Bunes Beach from Vindstad takes around an hour. Once in Vindstad, turn right when you leave the pier, walk through the village for a couple of kilometers, and then eventually you will see a sign for the trail to Bunes on your left.
There is a toilet here, but bring any other supplies (food and water) that you'll need. Remember to keep enough time to return to the ferry, unless you plan to camp here for the night.
Horseid Beach (Kjerkfjorden)
It's a bit of a trek to Horseid Beach, and not one I would ever want to attempt in bad weather, but if you're lucky with a sunny day I think it's worth the effort.
The boat from Reine to Kjerkfjorden takes about 45 minutes and costs about 100 kroner. Once in Kjerkfjorden, turn right when leaving the ferry pier. Start walking through the village and after passing a small stream you'll see a sign pointing to the trail on your left. The trail takes you up between the two mountains, eventually descending steeply towards the beach.
Bring all the supplies you'll need for your time here. There are some waterfalls and streams with fresh water before you reach the beach.
Play disc golf in Reine
I was recently introduced to disc golf and was surprised by how fun it is! In 2022 Reine got its own disc golf course and while I haven't played here myself, I imagine the views are incredible. It's also a fun free activity to do in Lofoten, if you already have your own frisbees.