Over the weekend I realized that I've now been blogging full time for five years! And wow, a lot has happened in five years. My life – and the whole world – feels so different from the beginning of 2017.
I realize it's been a while since I've written a proper life update. Maybe the last was when I got Alfie? Almost exactly a year ago (January 15th)!
The truth is, I have felt a bit bad sharing the things I've been doing in Norway, because I'm so grateful to be in Norway right now. It sounds silly saying it like that, but I've just been so thankful to be in Norway during this pandemic, and I guess that feels a lot like saying I'm thankful for not living anywhere else instead, and that doesn't seem like the best message to be sending out to anyone reading my blog from outside of Norway.
I know a lot of people have found ways to continue traveling the world during these times, but I've been perfectly content staying in Norway. I explored Norway's prettiest fjords, I finally went to Røros and Træna, I stayed in some of the coolest northern lights hotels, and I went on one of my favorite road trips through Northern Norway.
And then there's the pandemic puppy curled up next to me right now.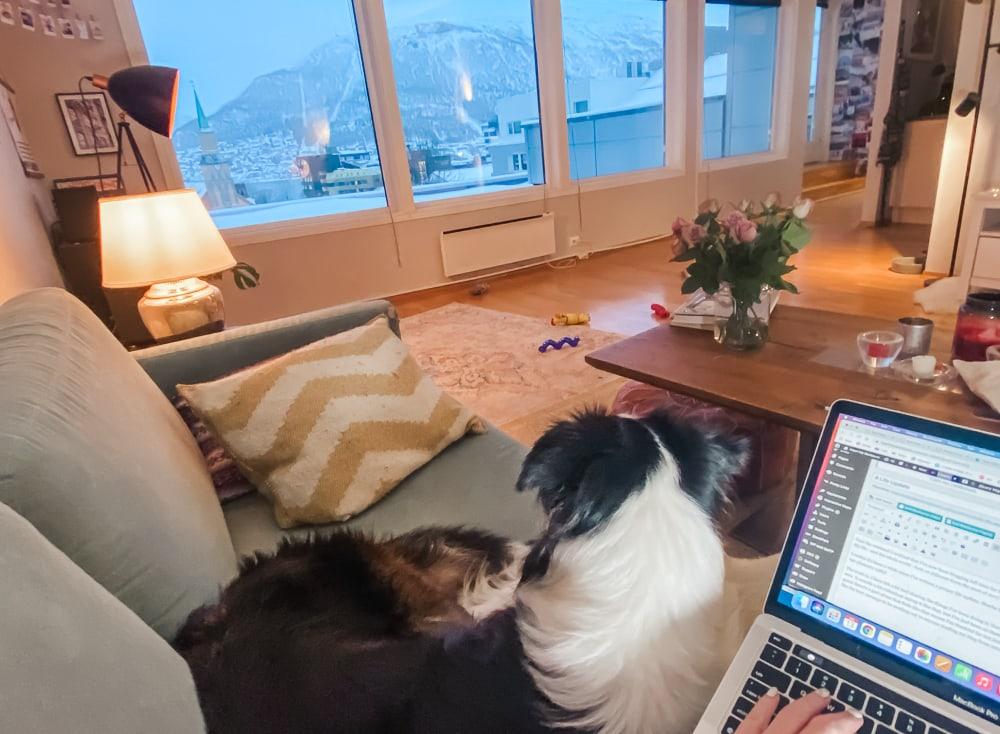 Yes, I got a dog because multiple lockdowns alone had me feeling lonely, and because I had always wanted a dog and now this period without travel seemed like a good opportunity. But when I got Alfie I was also making a decision that the period of my life where I was traveling internationally every month is over. And I feel really good about that!
I've seen so much of the world now, and while there will always be more corners of the globe to explore I feel like my current big adventure is learning to travel closer to home and to, well, have a home. I don't know yet if Tromsø will be that home, but at least for now I'm practicing this whole home thing with Tromsø. And perhaps I'm learning that home might not be a particular place for me, as nothing feels more home to me now than Alfie.
I joined a dance studio in Tromsø and have classes almost every day, I take lots of walk around Tromsø with Alfie, often while the northern lights dance above us, and I'm loving having easy access to so much beautiful nature. Oh and in a few days the sun will finally return to Tromsø after months of polar night! In other words, I'm quite happy here in Tromsø.
Travel is of course a crucial part of my work, but my most popular articles are all about Norway, so from a business perspective I'm better off writing about my travels around Norway anyway.
The trouble is, Norway is still pretty much closed to people who don't have the EU vaccine passport, as everyone without that precious QR code has to quarantine on arrival. And so it feels awkward to announce that actually, I don't feel like traveling abroad right now, I just want to travel around Norway. But you can't!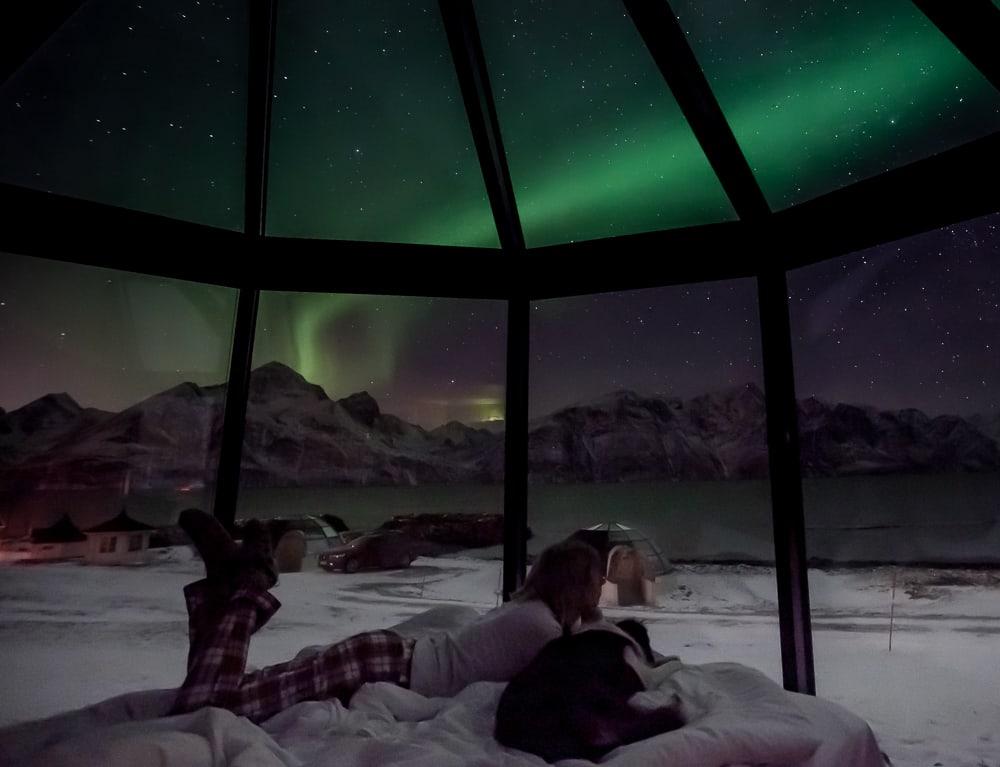 Speaking of my work though, maybe you're wondering how it's going now that I'm not publishing as often. I have still been hard at work, but over the past year I've put most of my time into updating old posts instead of writing new ones. I've published hundreds of blog posts over the years, and thanks to Google, people continue to find those old posts everyday, which can be a bit embarrassing (and unhelpful) when they're totally outdated. So I've been updating them.
It might sound like boring work, but it's been so fun reading through my old travel guides and thinking back on all the incredible trips I've documented here. Like wow, I really have seen a lot of places! And I think on some level I've felt a lot more comfortable taking this time to look back on the past, as right now the future still feels so uncertain.
This pandemic feels like a thick fog obstructing my view into future plans and goals. I used to be such a big dreamer, but now I find myself not really thinking more than a week or two ahead. Do you feel that way at all?
I guess all those cancelled plans have taken a toll. But I also suspect that focusing more on my present and less on my future life has been good for me. Maybe it will even help this dreamer better to appreciate the future when it comes around.
Okay I guess this blog post was just a long, rambling way of saying that I've really been enjoying my time in Norway, but I feel sad that it's still so difficult for people to visit from abroad, and that's probably why I've been a bit quiet lately on here. And I'm hopeful that soon that will change!