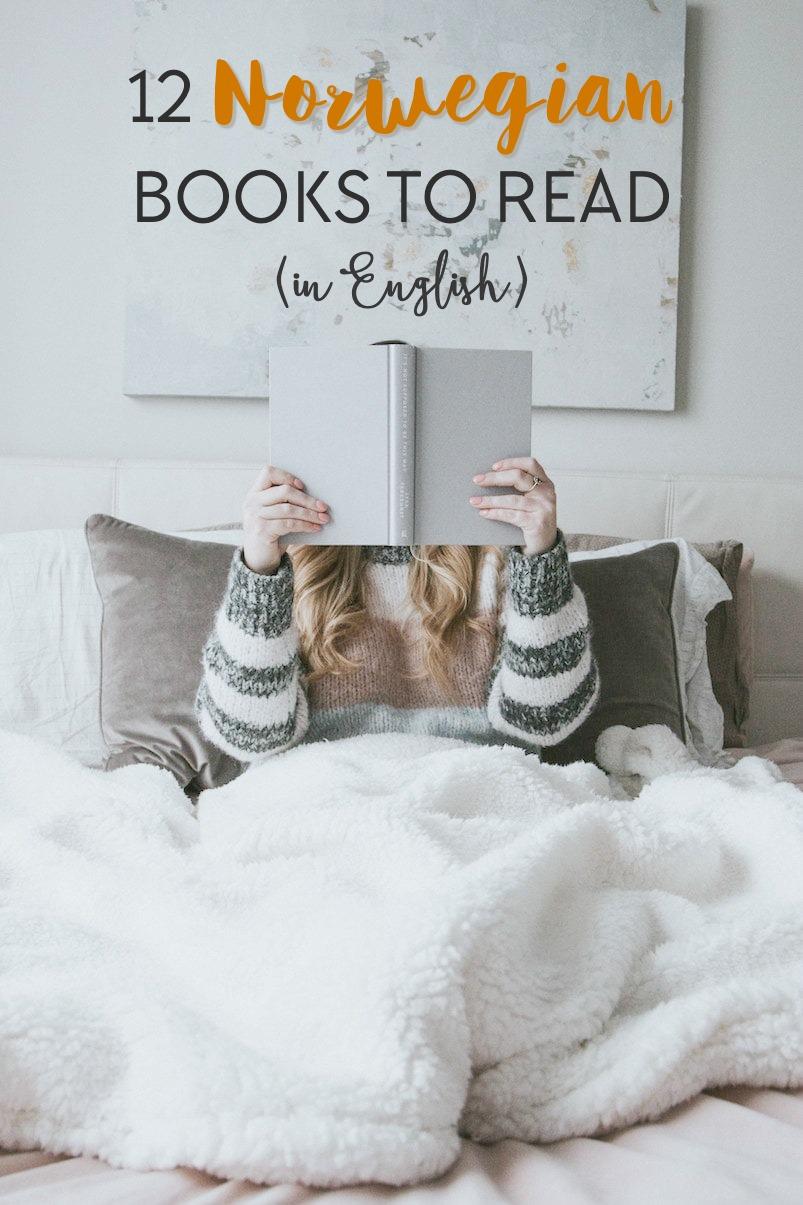 I've always been a fan of reading before bed, but with all this extra time at home these days I've been reading a lot more than usual. Whenever I'm feeling anxious or stressed I'll put on some classical music, make myself a cup of tea, and curl up on the sofa with a book. And it always makes me feel so much better!
I've been trying to read only in Norwegian, since I'm not speaking Norwegian quite as much these days, and reading Norwegian books has also been a nice way of learning more about the history and culture here. So I thought while you're waiting on your Scandinavia trips maybe you'd like to dive into some Norwegian literature as well.
When putting together this list I consulted my mother, who has the double benefit of being both Norwegian and a comparative literature professor – and also because apparently this blog is now a family endeavor. In fact my sister is half Norwegian, should I add her books to this list as well?
My mom gave me her copy of A Modern Family when I visited in early March, and I was a little unsure if this would make for a good corona read since the last Helga Flatland book I read made me cry for a month. Stay If You Can. Leave If You Must, was incredibly sad but also so, so good, but it's not available in English! Luckily A Modern Family is, plus it's a much lighter read, which is probably better for us these days anyway.
If you haven't read this trilogy I am so jealous – I would love to read it for the first time again. Though I've never read it in Norwegian, so maybe I'll put it next on my reading list. I'm sure I have a copy already, as does probably (hopefully!) every Norwegian household.
Set in the middle ages, the trilogy follows the life of Kristin Lavransdatter, and while it might sound like a heavy read it's so engaging that you're not going to want to ever put it down. But actually though.
And if this gets you on a Sigrid Undset kick, my mom also recommends Jenny. She said her students loved it, and if college students can love it as required reading just imagine how much you'll enjoy it as an adult.
I picked this up at a used book shop because I recognized the author's name. His most famous book is Naïve. Super, which I haven't read. But actually I think Doppler is the perfect read in these corona times, as a lot of the social commentary is particularly relevant now.
It's a strange little book about a man who abandons his family to live in the woods outside of Oslo, where he befriends an elk calf called Bongo after killing its mother. As I said, it's strange. But it's also really funny, in the most Norwegian way. If you want to know what Norwegian humor is like, this is it.
Hunger by Knut Hamsun
After Kristin Lavransdatter this is probably one of the most famous Norwegian novels, and it's another one that you won't be able to put down. Like Doppler, this is also a particularly interesting book to be reading right now.
From Hamsun my mom also suggests Pan and Victoria, both of which are sitting in my bookcase and neither of which I have read. Hopefully this stay at home period lasts a bit longer!
Oh my God, did I just say that?
Kon-Tiki by Thor Heyerdahl
In 9th grade my English class had to do oral reports on a nonfiction book and I chose Kon-Tiki, and after I gave my report everyone was like, um Silvia, you were supposed to choose a nonfiction book. That's how unbelievable Thor Heyerdahl's epic raft journey across the Pacific Ocean in 1947 was.
If you read this, when you visit Oslo you should definitely stop by the Kon-Tiki Museum!
I can't decide if this is the perfect book to read right now, or the worst book to read right now. There's a dystopian future element that might feel a little too real at the moment, but it's uplifting enough that you should finish it feeling hopeful. Also, wow bees are so cool.
I don't think it would even be much of an exaggeration to suggest my mom is the world's biggest Ibsen fan. Growing up we had multiple Ibsen posters hanging up at home and even an enormous wooden carving of his face.
So you'll have to promise to never, ever tell my mom that the only Ibsen I've read is Hedda Gabler. And I read it for a class! I'm sure she's unfriending me on Facebook as you read this.
This is another one I'm not sure whether is super famous, or just famous in my household because my dad taught philosophy. It's a delightful journey through the history of philosophy, and if that sounds boring to you I promise it isn't. Plus I feel like we could all use some more philosophy in our lives right now.
This was also one of the first books I read in Norwegian, which must mean that it's an easy read.
When I first moved to Norway I asked my mom for a list of Norwegian authors so that I could start working on my Norwegian during my evening reads, and because I had moved to Trondheim she suggested Anne B Ragde, who is from the area.
Berlin Poplars seems to be her only book translated into English, which is a shame because it's the first in a series about this family. So if you enjoy it as much as I did maybe you'll have to just go ahead and learn Norwegian.
You can find my foreign language learning tips here!
I feel like I have to include Jo Nesbø on this list because he's probably the most popular Norwegian writer right now. I'm just not a fan of crime novels, so I haven't read any of his books. But my mom loves them, as do a lot of people apparently – his work has been translated into over 40 languages and sold 33 million copies worldwide. So I guess he's a big deal.
I did watch "The Snowman" because it was filmed in Rjukan, near where I used to live, but it was pretty bad. Even the film's director agreed.
I had never heard of Cora Sandel until my mom suggested this for the list, but Amazon just informed me that she is one of the most important Scandinavian writers of the 20th century, so I guess I had better add this to my basket. It does sound really interesting.
My Struggle by Karl Ove Knausgaard
This is another I haven't yet made it to. My Struggle is a six-volume autobiographical novel that dives into life's great questions. My mom anticipated our reaction to this being six volumes, so she also suggested his Seasons Quartet series, which is much shorter.
Do you have any other Norwegian books to add? Share in the comments!