5 Ways Travel Will Change Your Life
Why Every Woman Should Travel Solo At Least Once
Buy A Plane Ticket and Begin Your Life
I could go on with this list, but I think you get the point. They're the articles that pop up in our newsfeed and have us sighing with wanderlust, the articles that give us the drive and courage to take the plunge into travel, and the articles that we repost to show our friends and family that, see, we're not crazy, we will be fine, and our lives are awesome!
But they're also the articles that can make us doubt ourselves during those times when travel  isn't so fun, life changing, or exciting. The low times. When we wonder… are we doing it wrong?
Yesterday I received the 753rd (or maybe just the third) email from a person telling me that reading blogs like mine inspired them to travel, but now that they're on their big adventure they're feeling overwhelmed or burnt out, and then guilty for those feelings because it means they're not making the most of their travel time.
You know who else feels guilty? Me, for ever suggesting that travel is only ups without any downs.
While I do sometimes write about bad travel experiences, I usually try to remain positive about my experiences because the last thing I want to do is discourage someone from traveling. But the truth is, there are always lows, and I think that's perfectly fine.
Especially when traveling long-term, it's normal to go through periods where you're not as excited or energetic, or just aren't enjoying a place as much as usual, but that doesn't mean that you're not getting anything out of your travels.
But what's more, I experienced low points even during my all-time best travel experiences. These are things that I quickly forgot in retrospect because overall my time was so amazing, but maybe it's good to sometimes be reminded of the bad because chances are, if you're going to have a truly life changing experience, something about it is going to be difficult.
Iran
Anyone who's ever read my blog is probably sick of me going on about Iran – I just can't shut up about how much I loved my time there! Funny then how I've had no problem shutting up about the fact that smack dab in the middle of my Best Trip Ever I canceled my plans to go to Yazd and instead booked a night in a hotel room in Tehran to unwind.
I was sad to miss out on Yazd, but I knew that two straight weeks of Couchsurfing and socializing would be too much for this introvert. I needed 24 hours by myself to gather my thoughts and recharge, even if that meant "wasting" a precious day of my visa.
Central Asia
Another trip that I annoyingly bring up again and again, Central Asia quickly became my favorite region in the world to travel through. I tell everyone that they need to go (especially to Kyrygzstan and Tajikistan!), and it's number one on my list of places I want to return.
I seem to have forgotten that while on this amazing backpacking trip I fought with the two girls I was traveling with nearly every day. Three can be a tough number to travel in and as the only Russian speaker in our group, I felt constantly overwhelmed by having to do all the communication. I think either Danielle or I cried just about every day we were in Tajikistan – a country that I now list among my top three places I've ever visited.
I remember responding with skepticism when Sasha told me that we would probably forget all the fighting when looking back on our time in Central Asia, but it turns out she was right!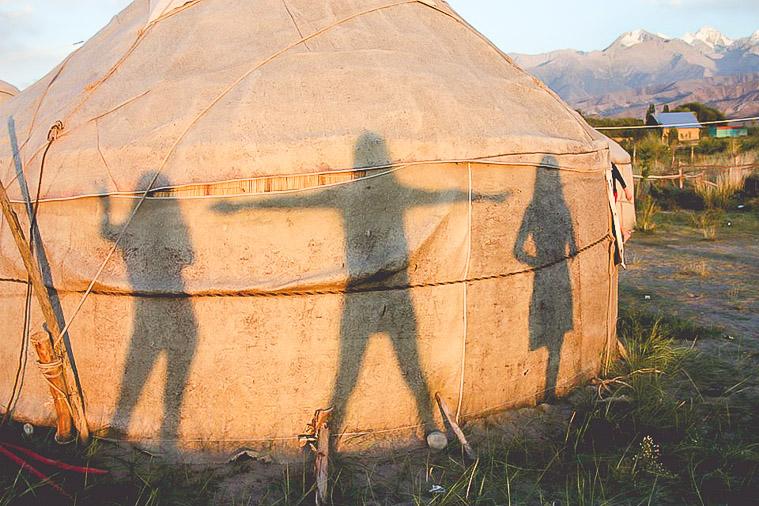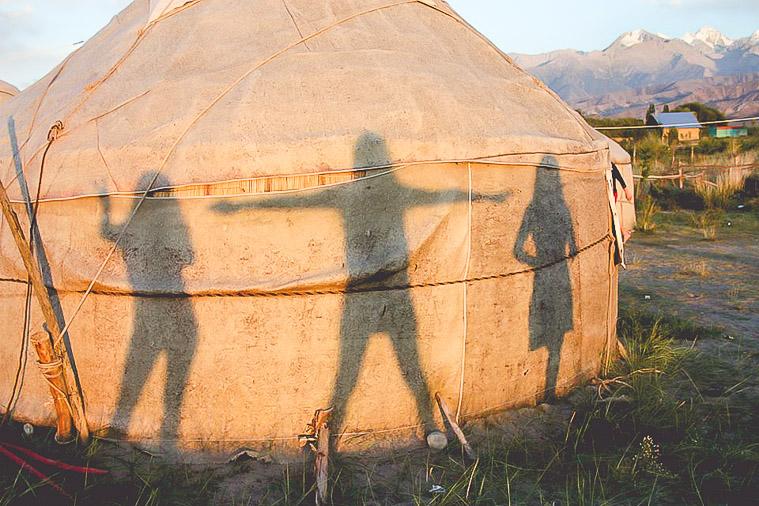 Lake Baikal
It's difficult to describe the feeling of standing on the frozen surface of the deepest lake in the world. The water was crystal clear, meaning I could see deep into the lake – something that had my legs wobbling just a bit (a lot).
Visiting Lake Baikal was definitely one of my top travel experiences, but I wasn't sure I could include it here because there weren't any lows. I asked Dan and he agreed that nothing bad happened there, "Well, except for the fact that you couldn't breathe."
Oh right, I was deathly ill at Lake Baikal! In fact, I left with a cough that would plague me for the rest of my month in Russia, yet now when I look back on that trip all I remember is that Russia was amazing.
Shaky from the view or because I'm about to faint?
Albania
It's no secret that I adore the Balkans, and Albania might just be my favorite place there. But in between lying on the beach and swimming in the Albanian Riviera's gorgeous turquoise waters there's a chance you would have found me sobbing into my burek.
The truth is, I was freaking out over Dan and my five month backpacking trip coming to an end. I was nervous about trying to start a "normal" life in Norway, worried that Dan wouldn't even like Norway, and, well, just plain scared. They say travel changes you, but change can be scary! Backpacking felt familiar and safe, so even though I knew it was time for something new, a huge part of me was dreading the change.
The Norwegian Mountains
Every time you hear me go on about an amazing trip into the Norwegian mountains – which is going to be often, because I do love the mountains here – you can be sure that what I'm not mentioning is that I was also horribly carsick. I don't do well with winding mountain roads, and for some reason Norway's seem to be the worst for me. But it's a pain I'll go through for those views!
Basically what I'm trying to say is, sometimes travel sucks or I just have to indulge and be super lazy for a day or two, but that doesn't mean I should have stayed home!
How do you deal with low points during your travels?