My friend Vanessa is spending Christmas with me again this year (you can watch our videos from last Christmas in Tromsø here). We're renting a cabin in Dividalen for Christmas, but since the cabin doesn't have running water we decided to bake our favorite Norwegian Christmas cookies here in Tromsø before heading to the cabin tomorrow. And oh boy have we baked a lot of Christmas cookies.
Traditionally Norwegians make seven types of cookies each Christmas, and if that sounds like a lot of work, it is. But the fun part is that every family chooses which seven they want to bake, so then when we exchange with friends and colleagues we can end up with thirty different kinds of cookies! It's okay, we need a bit of fat on our bones to survive these cold temperatures.
I only made 3.5 types of cookies because I'm only half Norwegian. I think that's how the rule works? I made three types myself, and then I helped Vanessa whisk the meringue for hers, so I'm counting that as the final half. But if I were going to go all out, these would be my seven Norwegian Christmas cookies: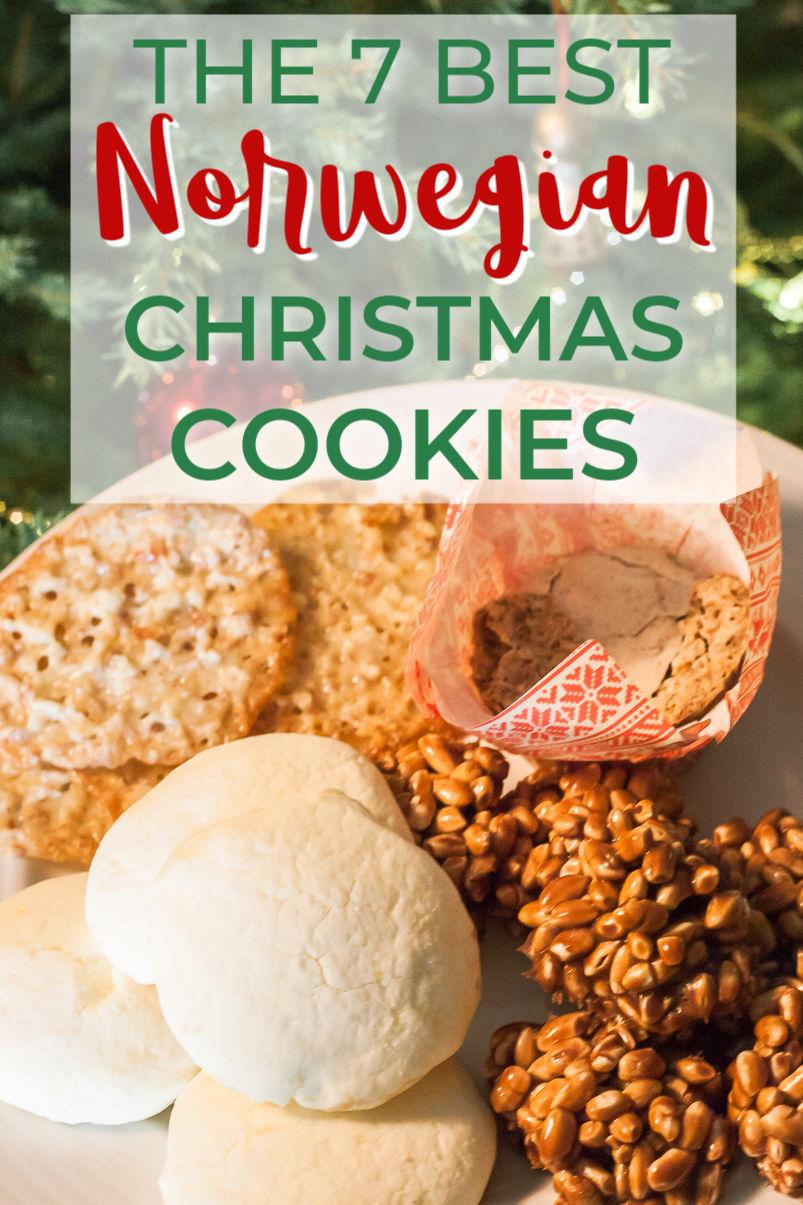 Sandkaker | Sand cookies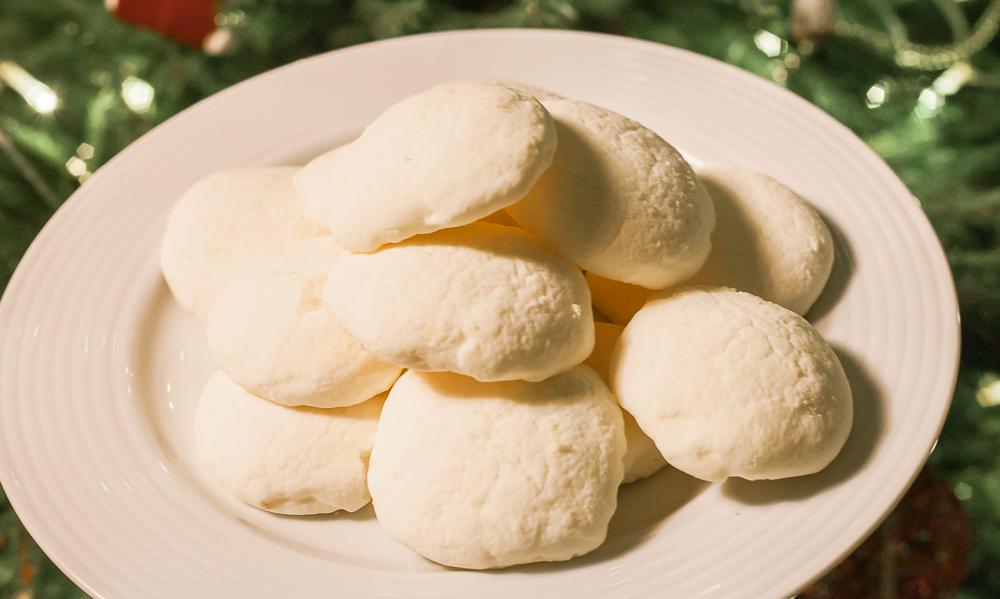 Sandkaker, or sand cookies, also called sandnøtter, are a simple shortbread cookie, but they're actually my favorite Norwegian Christmas cookie! Though I remember my Aunt Hege making a bunch of different Norwegian Christmas cookies for her American friends in the US one year and saying that the sandkaker were the least favorite amongst her friends, so maybe they don't appeal to everyone? I still think they're the best.
There are a lot of slightly different versions, but the best are with lemon zest! I used this sandnøtter recipe (it's the third recipe on the page), which is nice and lemony and also happens to be gluten free. It's in Norwegian, but I checked Google translate and it makes total sense.
Risboller | Chocolate puffed rice balls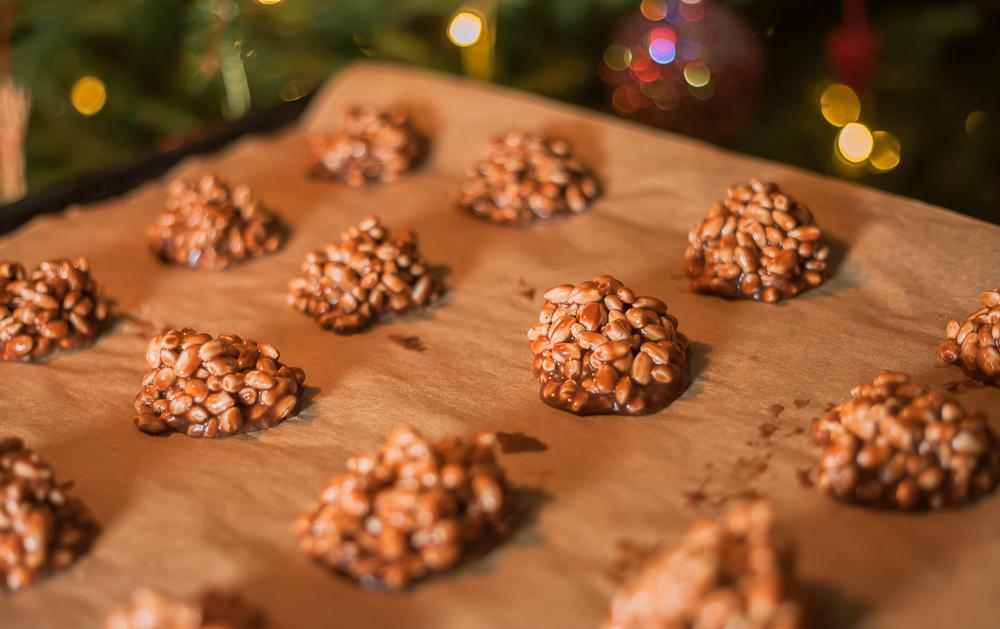 I decided to make risboller this year for the first time in a long time. My Aunt Hege always makes these, and I've never managed to make them quite as delicious as hers. She gave me her recipe once when I was younger but mine turned out nothing like hers, so I definitely think she's holding back on a secret ingredient. If I knew I would share with you!
Come to think of it, that might be why she's keeping her secret from me.
I used this recipe this year and while they still weren't quite as good as Hege's, I've already eaten a third of them so I guess they're okay. I used coconut oil instead of delfiafett, but I think it's basically the same (and not Hege's secret ingredient).
Mandelflarn | Almond lace cookies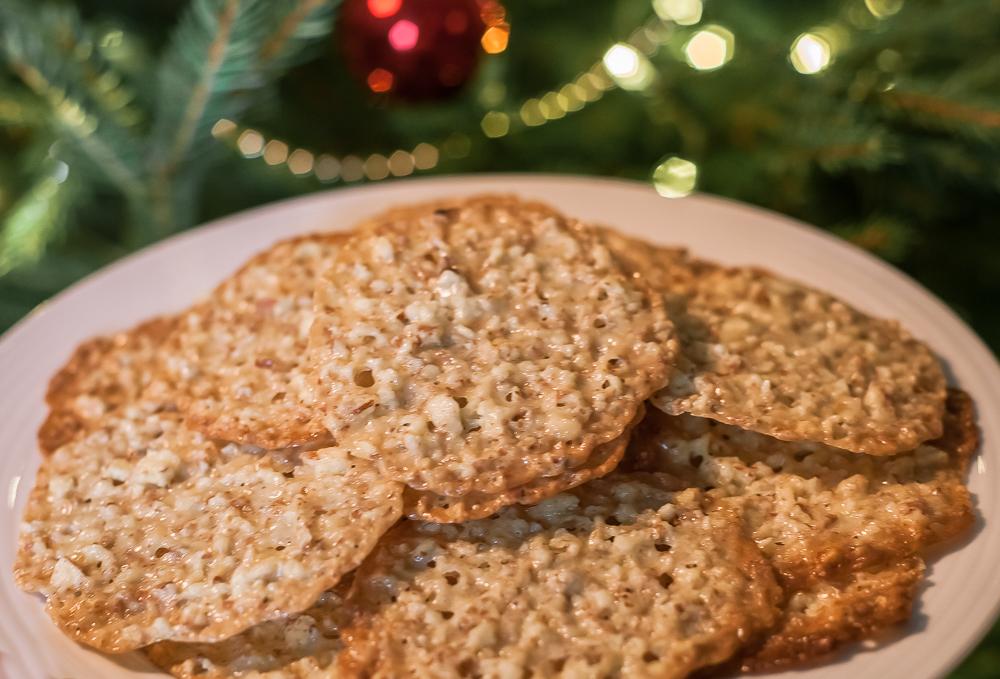 My grandmother always included mandelflarn, or almond lace cookies, in her Christmas cookie boxes, and they are so delicious. I decided to make them this year even though I remember them being really difficult. But it turns out they're super easy – the only difficult part is shaping them into cylinders, which my grandmother always insisted on, but I skipped that step and am enjoying the flat cookies just as much.
I used this mandelflarn recipe in Norwegian, but this almond lace cookie recipe looks similar and is in English. Make sure you only use a small teaspoon of dough per cookie, and give them lots of space on the baking sheet to spread out. Oh and keep an eye on them in the oven, as they burn quickly. The recipe said to bake for seven minutes, but mine were done in five!
Vepsebol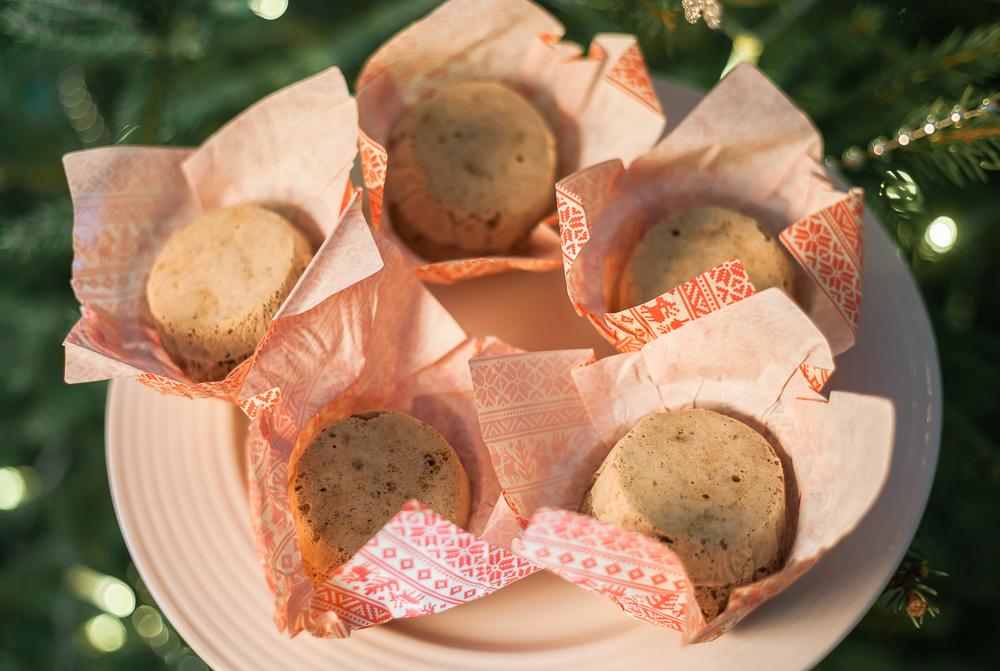 I had never had vepsebol before, but Vanessa decided to make them this year and now I'll definitely be including these in my Christmas seven! But next year I really should buy an electric mixer because wow, beating meringue is not easy. At least now I'll be strong enough to carry my Christmas tree downstairs in January.
Vanessa used this vepsebol recipe, but she made them with a mixture of almonds and hazelnuts, which was extra delicious. We couldn't get the eggs quite stiff enough, so we baked them in cupcake forms so they would keep their shape.
Krumkaker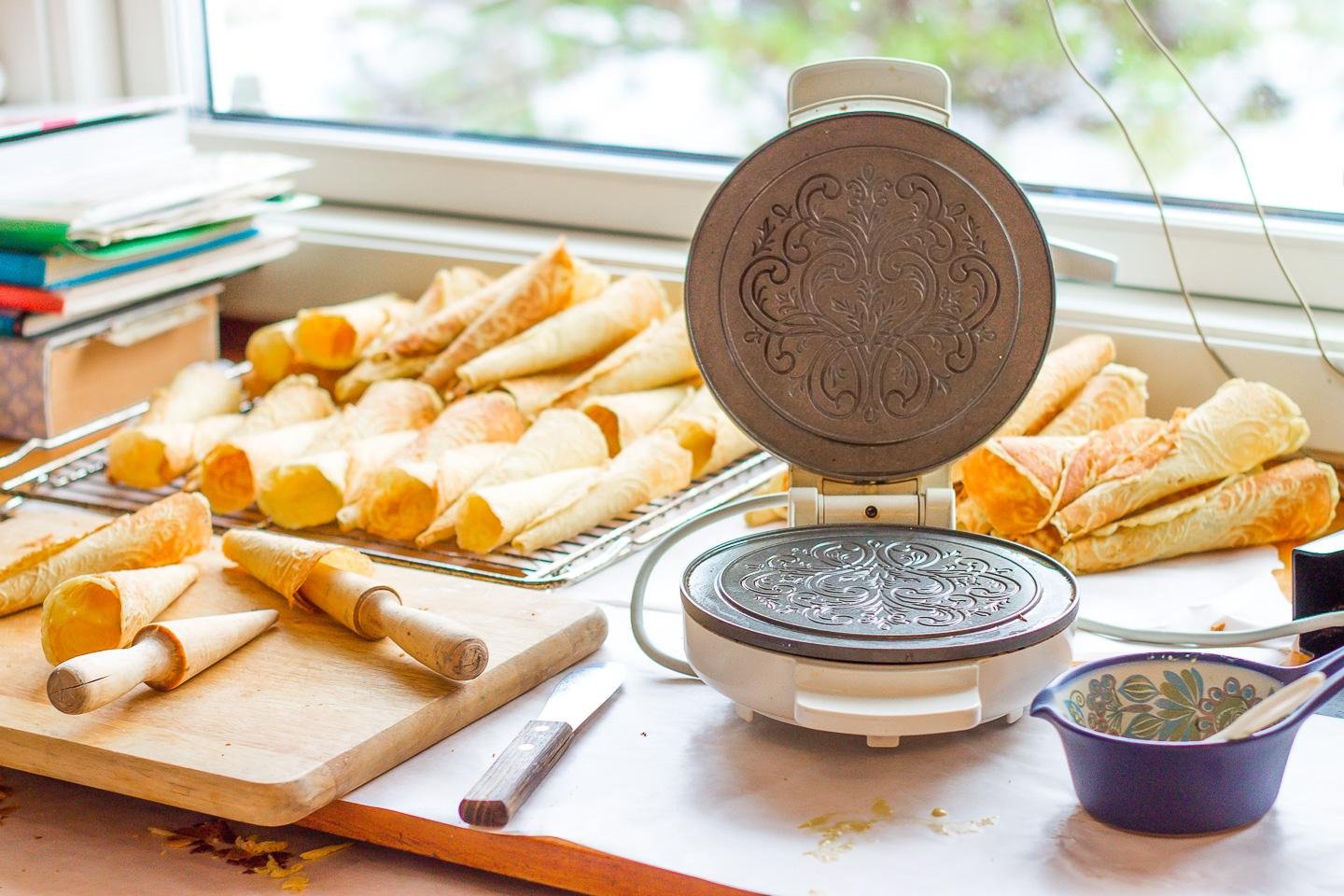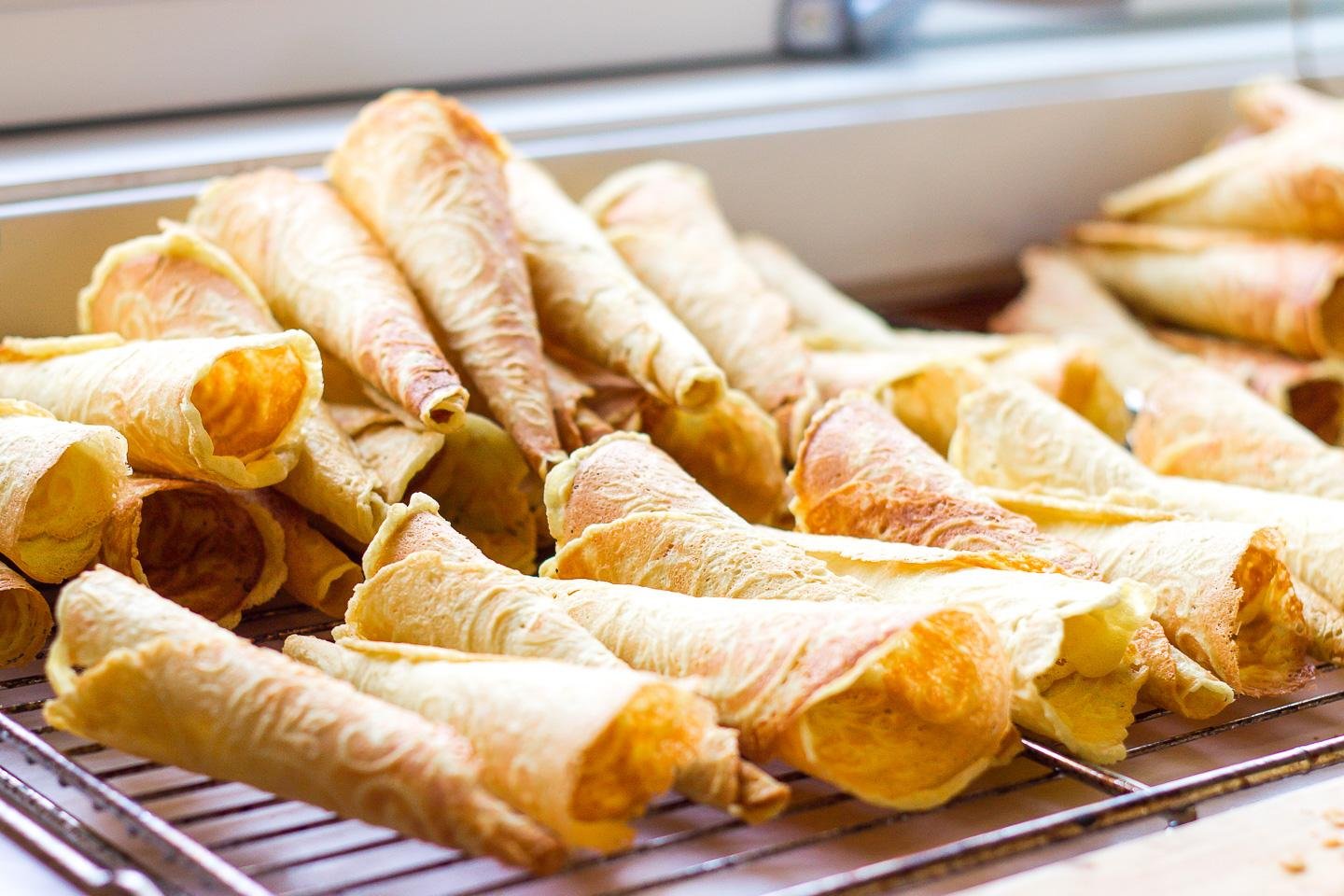 Norwegian krumkaker are so delicious, but if you want to shape them into cones get ready to burn your fingertips. Usually after baking these my fingers will be nice and calloused by the time I'm ready to decorate the Christmas tree, which helps a lot when dealing with those prickly pine needles.
You will need a special krumkake iron for these, which I agree is not ideal if you're short on storage, as krumkake irons can really only be used to make krumkaker. But the good news is that krumkaker are so delicious you could absolutely make them year round to really get your iron's worth.
Sarah Bernhardt
Sarah Bernardt cookies are technically Danish, and named after a French actress, but they're beloved in Christmas cookie boxes in Norway.
These are one of my absolute favorite Christmas cookies, but I never make them because they're a ton of work (and again, I could really do with an electric mixer). But if you want to go all out I promise these won't disappoint. This is the Norwegian recipe I would use.
Fattigmann | Poor man's cookies
Fattigmann are probably my least favorite on this list as I'm not a big fan of fried sweets, but they're also so nostalgic I have to include them. These date back to the Middle Ages and since they're cooked on a stove, people without ovens could make them. They're called poor man's cookies because they're made with historically expensive ingredients like butter, flour, and cream, so after making them you'll be poor. I guess they're also a metaphor for Christmas.
Here's a recipe for them. I would probably double the cardamom, as I like them extra spicy.
Smultringer
Smultringer are basically an extra delicious old fashioned donut. I always buy these in the grocery store instead of making them from scratch, but my grandmother's neighbor always used to make these so I do know that the homemade ones are even tastier. I would use this Norwegian recipe for smultringer.
Does your family make seven Norwegian cookies for Christmas? I'd love to know which ones!