The Country
Kyrgyzstan
The Place
Arslanbob
Why You Need to Visit
One word: walnuts!
But if one word isn't enough (or maybe you suffer from a nut allergy?), Arslanbob is a beautiful village nestled under the snowy cliffs of Mount Babash Ata (4,427 m). But most importantly, Arslanbob is home to a large walnut forest – doesn't that sound like the setting for a fairytale? Locals are incredibly proud of the Arslanbob walnut, which was Kyrgyzstan's first known export to Europe!
Arslanbob is probably on a lot of travelers' Kyrgyzstan itineraries, but seeing as how few bucket lists Kyrgyzstan seems to have made it onto, it still feels pretty far from the beaten path. The great thing about Arslanbob is that it not only offers lots of beautiful places for visitors to explore – from the walnut forest to large waterfalls to mountain hiking trails – but it's also surprisingly well set up for tourists (something that isn't yet the case everywhere in Kyrgyzstan).
How to Get There
Arslanbob is around 8-9 hours from Bishkek, and 3-4 hours from Osh. I shared a taxi from Bishkek to Bazaar Kargon for $24, and from there caught a marshrutka (public van) to Arslanbob for $1.50.
Where to Stay
When my friends and I stepped off our marshrutka in Arslanbob we were enthusiastically greeted by Hayat, who runs the Community Based Tourism (CBT) office in Arslanbob. Apparently he had heard that there were some foreigners on their way to the village (my blonde hair didn't exactly help me blend in in Central Asia).
He took us to his office where we read through brochures highlighting the village's best sites and outdoor activities – and I promised myself to return in winter when I could take advantage of the many cross-country ski trails – and helped us choose from a list of 18 host families to stay with.
We each paid $8 a night to stay with a local Uzbek family (host family #18 on the list), which included delicious breakfasts and dinners. I did a lot of home stays while traveling through Central Asia, but this was one of the most memorable. The family was warm and welcoming, the food fantastic, and the setting couldn't be beat. Seriously, I still find myself telling other backpackers that they have to make their way to Arslanbob someday – it's just such a special place!
Taking an organized tour of Kyrgyzstan and surrounding countries in Central Asia
Travel through Kyrgyzstan (and all of Central Asia) can be difficult, especially if you don't know any Russian, but I assure you it's worth it! However if you're worried about your trip you can always leave the organizing and planning to someone else and take a tour.
I haven't done this myself, but I've heard back from several blog readers who chose to do Central Asia tours with G Adventures and they loved them. The tours organized everything for them, but I think the best part was seeing the region with a group of likeminded travelers.
The two best options for seeing Central Asia would be:
The Best of Kazakhstan & Kyrgyzstan // this is a 9-day trip that actually covers more of the two countries than I managed to. I would love to go back and do this very trip someday! Check current tour prices and the full itinerary here
Central Asia Adventure – Almaty to Tashkent // this is the ultimate Central Asia tour, taking you through Kazakhstan, Kyrgyzstan, Tajikistan, and Uzbekistan in 14 days. I love that this one covers so much ground while still spending time in each place, and one reader wrote back to me after doing this tour saying it changed her life, so it must be good! Check current tour prices and the full itinerary here
I wrote more about travel in Kyrgyzstan, including summaries of places to visit and tips for getting around here.
Is Kyrgyzstan on your bucket list yet?
PIN IT!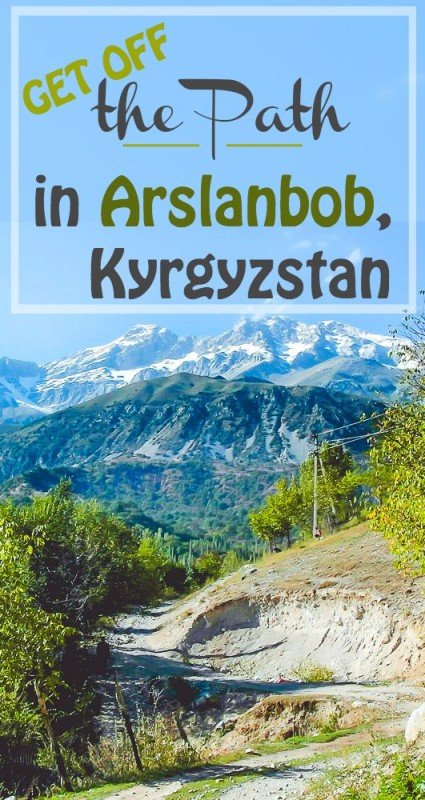 I'd also love to open this series up to other people's experiences, so if you have a place you'd like to share email me at heartmybackpack@gmail.com with the destination and I'll send you some questions to answer about it!