Most people first visit Norway to see the beautiful fjords, mountains, and northern lights here. But when they come back to Norway, they're returning for the delicious Norwegian desserts!
Okay, maybe they're coming back to see more of Norway's fjords, mountains, and northern lights. But I think there's a good chance they're also returning for some of Norway's baked goods and treats. I mean, personally I credit skolebrød (school bread) with 90% of my decision to move to Norway.
Though perhaps I didn't think that decisions fully through, because it turns out you can totally make all of my favorite Norwegian desserts at home in other countries as well. And I guess I should have known that, because a lot of these are the desserts I grew up with my Norwegian mom making at home in the US.
So here is a list of all of my favorite Norwegian desserts along with recipes so you can make them too! Or you can just book a flight to Norway to indulge. Or if you're like me, you can move your entire life here.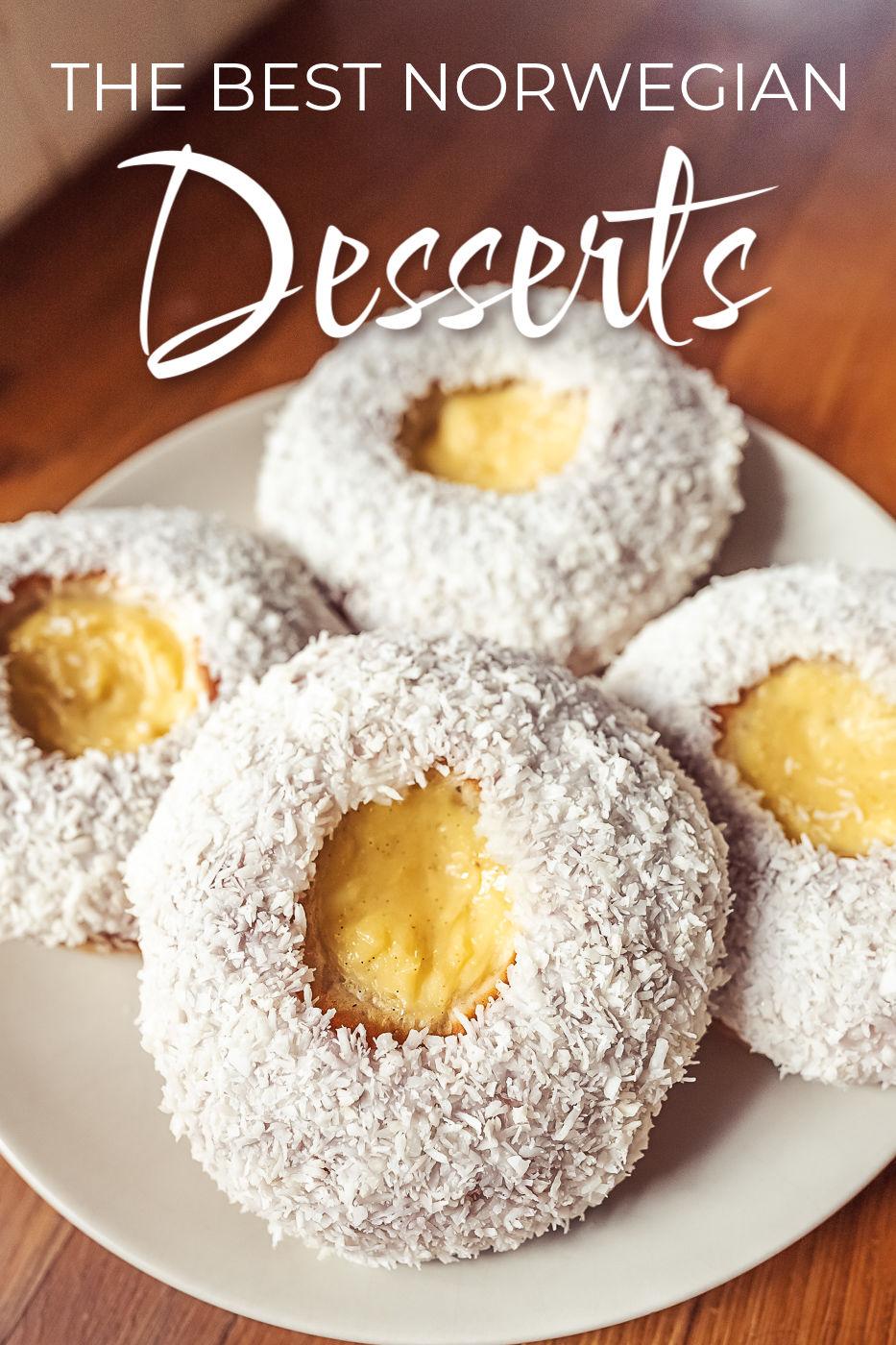 Success cake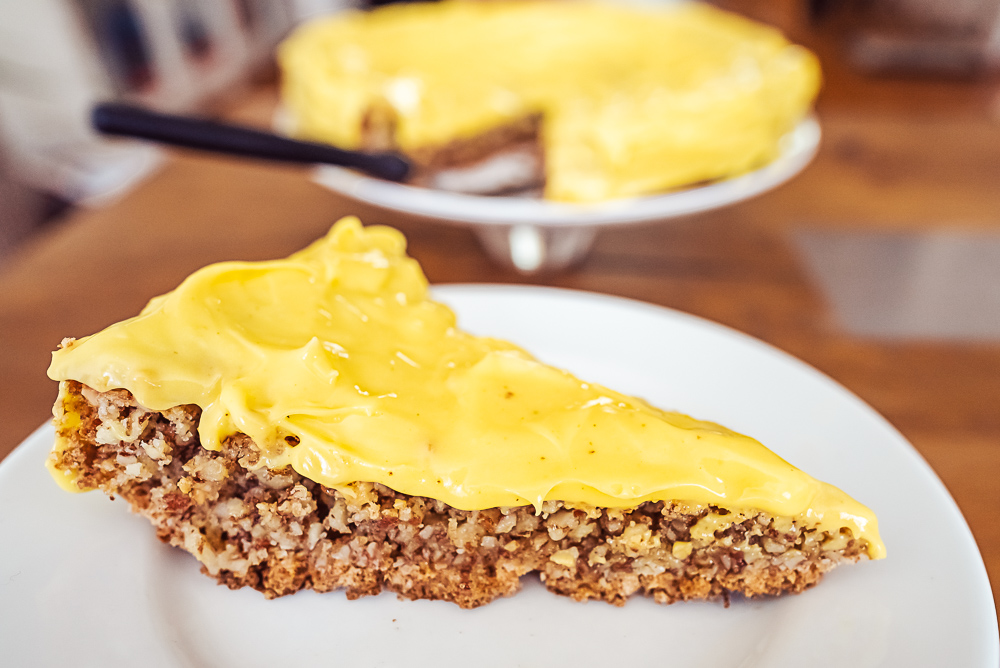 Probably my favorite Norwegian dessert of all is suksessterte, also called suksesskake and gulkake, or success cake in English. Suksessterte is a Norwegian almond cake with a creamy egg cream frosting.
Suksessterte is quite literally always a success – I have never seen anyone try my mom's success cake and not instantly love it.
The almond base is very simple, made with just eggs, almonds, sugar, baking powder, and a couple spoons of flour, and the yellow cream is equally simple, made with egg yolks, sugar, vanilla, and heavy cream. I've shared my mother's success cake recipe here. This is the best success cake I've tasted, and I've sampled a lot of different success cakes while living in Norway.
And if you want a similar dessert in cookie form, these Sarah Bernhardt cookies with yellow cream are sort of like mini success cakes dipped in chocolate.
Skolebrød (School Bread)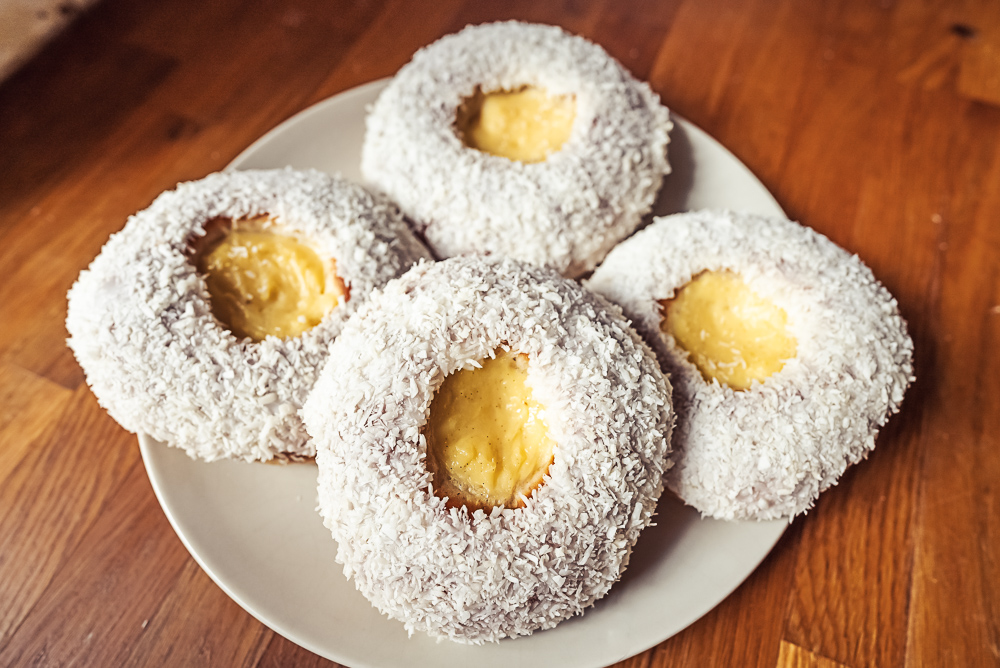 Perhaps one of Norway's most famous desserts is skolebrød, or "school bread," also called skoleboller, or school buns.
Skoleboller are made with a light cardamom dough, filled with vanilla custard in the center, and then coated in icing and dipped in shredded coconut. These Norwegian coconut and vanilla buns are an instant favorite amongst everyone who tries them – well, as long as they like coconut.
You can find skolebrød at pretty much every Norwegian bakery and grocery store, but I think the homemade version are even better. I've shared my skolebrød recipe here.
Krumkaker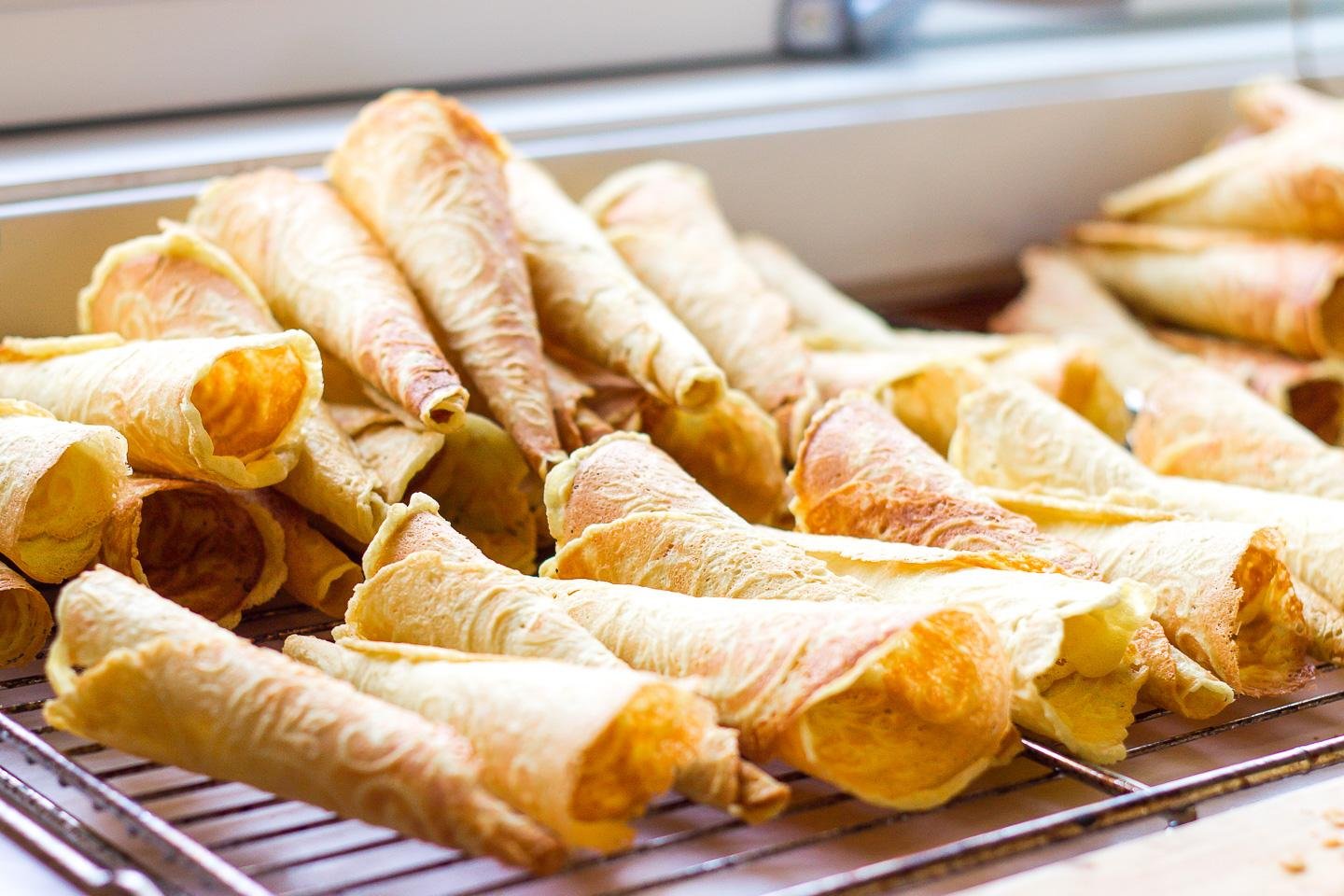 Krumkaker (the plural of krumkake) are thin buttery cookies with a hint of cardamom usually rolled into a cone or shaped over a glass to make a small bowl. Krumkaker are popular Christmas cookies in Norway (often one of the seven Christmas cookies Norwegians make each year), but you'll see them other times of year as well, often served with cream and cloudberries or alongside ice cream.
You will need a special krumkake iron and wooden roller for these, which I know is a bit annoying, but these are such easy yet beautiful cookies that I think you'll get a lot of use out of them. You can find my krumkake recipe here.
Vafler (Norwegian Waffles)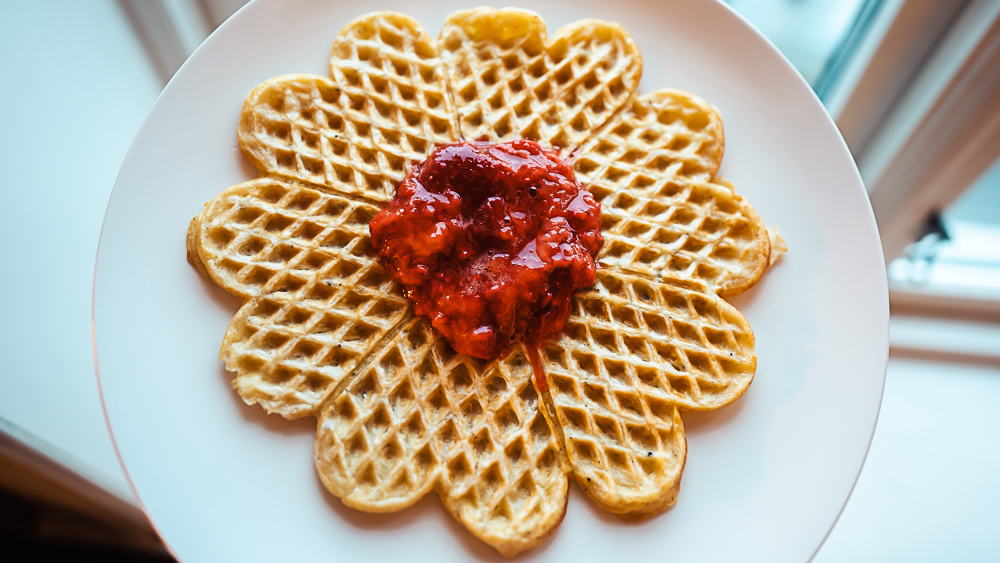 I've had waffles in many different countries, and I still maintain that Norway has the best waffles of all. I always make them for my friends visiting Norway and they agree. Norwegian waffles are thin and buttery with a hint of cardamom. Norwegians usually serve their waffles topped with berries (or berry jam), sour cream, or brown cheese.
You will need a Norwegian waffle iron, like this one, for these. The cute thing about Norwegian waffles is that they're heart shaped! I've shared my Norwegian waffle recipe here.
Lefse & Kling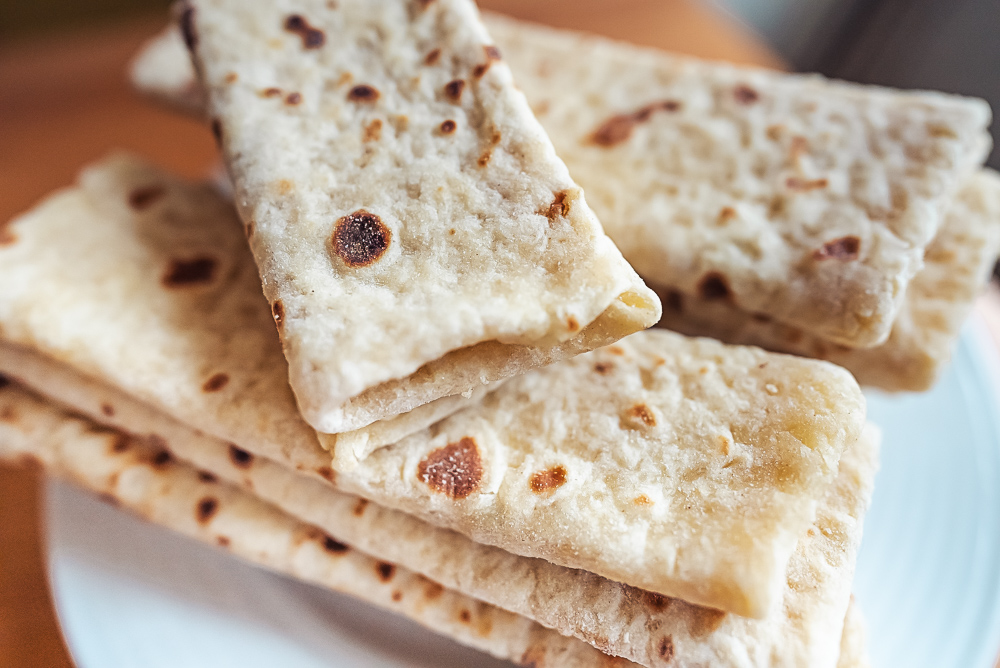 Lefse is perhaps the most famous Norwegian food, but interestingly these days it seems like lefse is more popular with Norwegian Americans in the US than with Norwegians in Norway. We do still eat a lot of lefse here, but I don't think it has quite the cultural significance here that it does amongst Norwegian Americans.
Lefse is a traditional soft Norwegian flatbread made with flour and sometimes potatoes, which is filled with butter and sugar to make kling. It's often eaten as a snack or sweet dessert.
Kling is actually one of my favorite Norwegian desserts, but I don't really like the store bought version, so if I want to enjoy it I have to make it myself. I've shared my lefse and kling recipe here.
Fyrstekake (Prince Cake)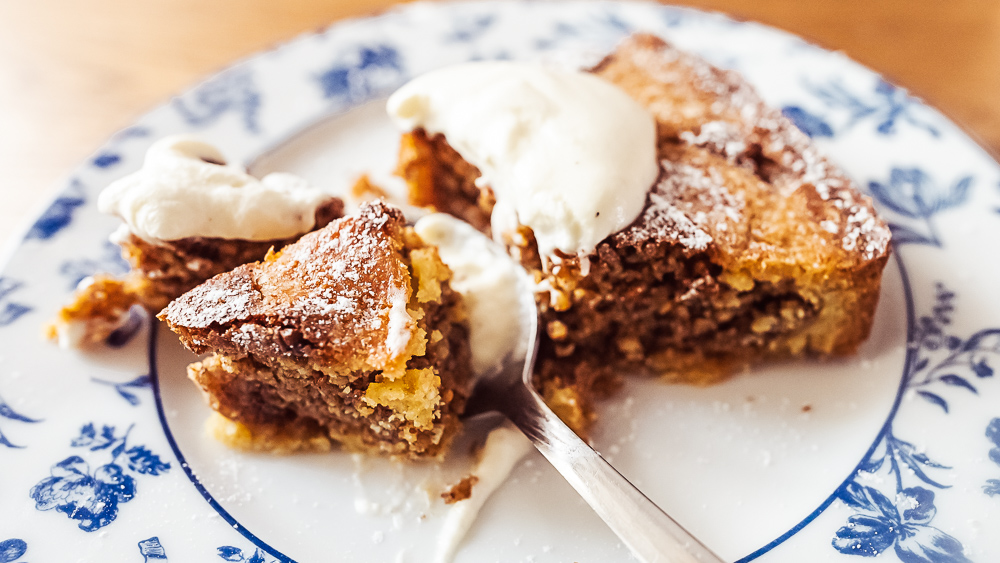 Fyrstekake, or prince cake in English, is a classic Norwegian cake dating all the way back to the 1860s, when Erichsen's Bakery in Trondheim developed this recipe. It's considered a bit old fashioned in Norway now, but it's still one of my favorite Norwegian cakes. If you like almond desserts you will love Norwegian prince cake.
Norwegian prince cake is a vanilla lattice pie with a soft almond filling. Prince cake tastes great warm out of the oven topped with whipped cream, but it might be even tastier the next day.
The cake can look a bit messy – in fact I don't know if I've ever seen a "perfect" looking fyrstekake – but otherwise this is a fairly easy cake to make. And regardless of what it looks like, this is one of those cakes that always tastes good. You can find my fyrstekake recipe here.
Kransekake
Another classic Norwegian almond cake that you'll see at all sorts of celebrations in Norway is kransekake, which translates to "wreath cake." Kransekake is a chewy almond cake made of a set of rings piled on top of each other to form an impressive tower. You will need a set a special kransekake molds to make this Norwegian cake – you can buy them on Amazon here.
I haven't yet shared a kransekake recipe, but this kransekake recipe looks pretty good. You want to make sure to use ground almonds, not almond flour!
Solskinnsboller (Sunshine Buns)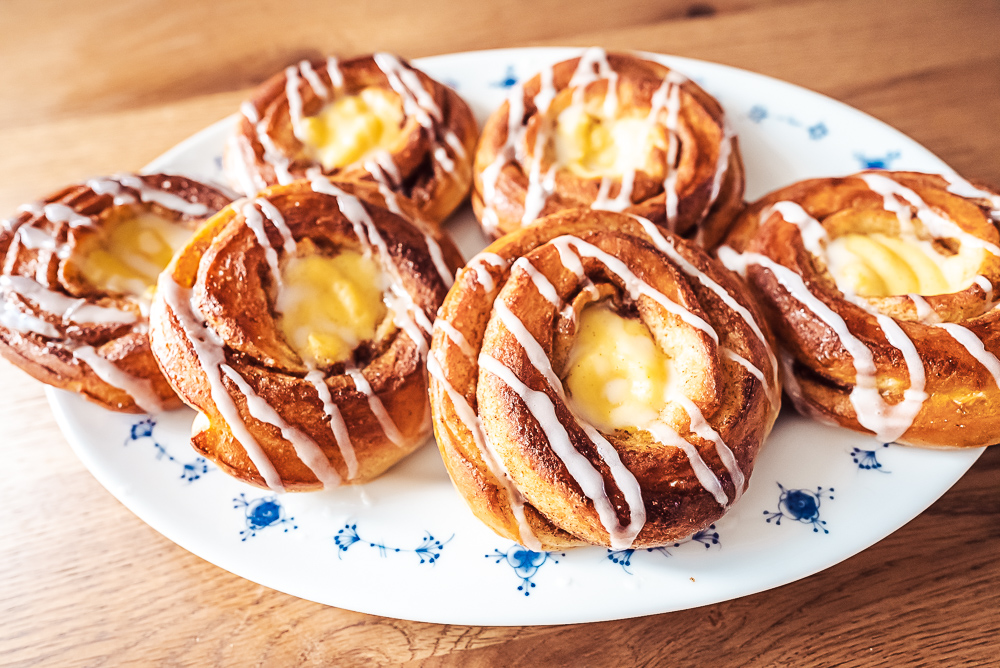 Solskinnsboller, or "sunshine buns" in English, also called solboller, or "sun buns" are made with a sweet cardamom dough, rolled with cinnamon and sugar, filled in the center with vanilla custard, and drizzled with icing on top. Norwegians make many different kinds of custard buns, but solskinnsboller are some of the most popular Norwegian custard buns.
They might not be quite as well known abroad as Norwegian school bread, but I actually think solskinnsboller are even better than skoleboller. Plus they're a great alternative for people who don't like coconut! It took me a while to perfect my solskinnsboller recipe, but now I'm super proud of it – I really think these are the best solskinnsboller. I've shared my solskinnsboller recipe here.
Sandnøtter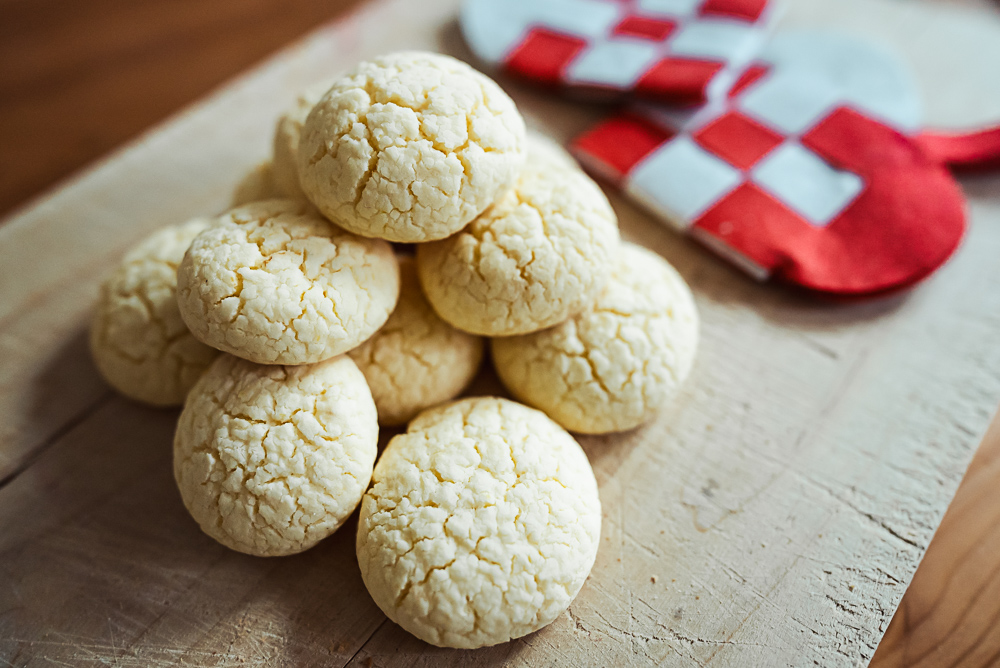 Sandnøtter are a light shortbread cookie that are especially popular in Norway as Christmas cookies. A lot of Norwegians make vanilla sandnøtter, but my family always makes a lemon version of sand cookies, which I personally think is so much better.
The lemon makes these cookies quite refreshing and appropriate for other times of year outside of Christmas as well. They're made with potato starch instead of flour, which gives them such a lovely crumbly texture. I've shared my sandnøtter recipe here.
Mandelflarn (Almond Lace Cookies)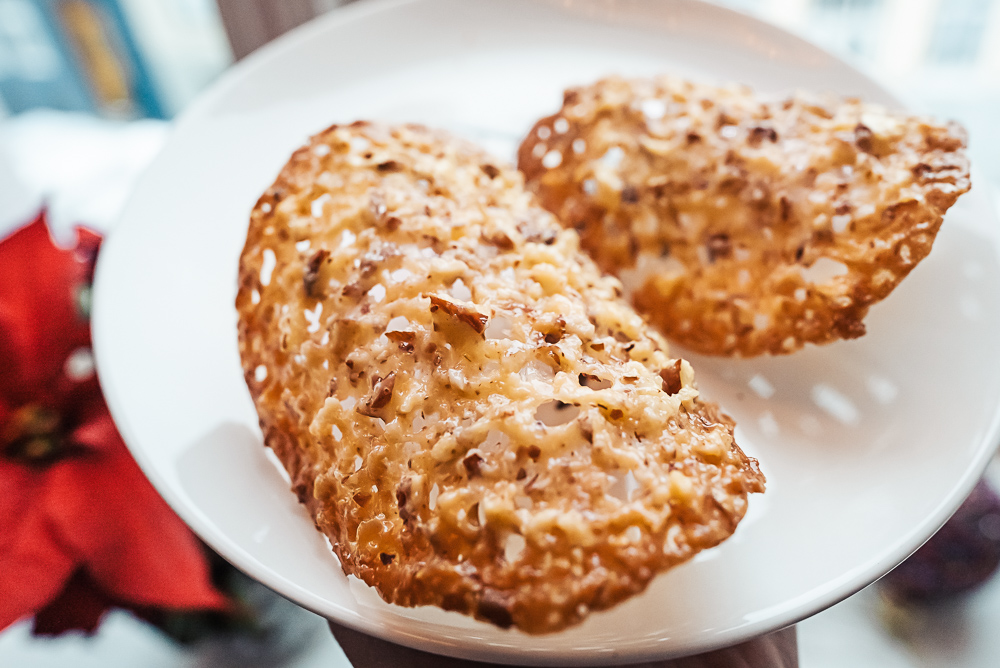 Mandelflarn, or almond lace cookies, are popular Norwegian Christmas cookies, but I like to make them any time of the year. They're quite simple, made from almonds, butter, sugar, cream, and a dash of flour, but they look so luxurious with their beautiful lace shape.
They're especially tasty served with ice cream. I've shared my mandelflarn recipe here.
Mazariner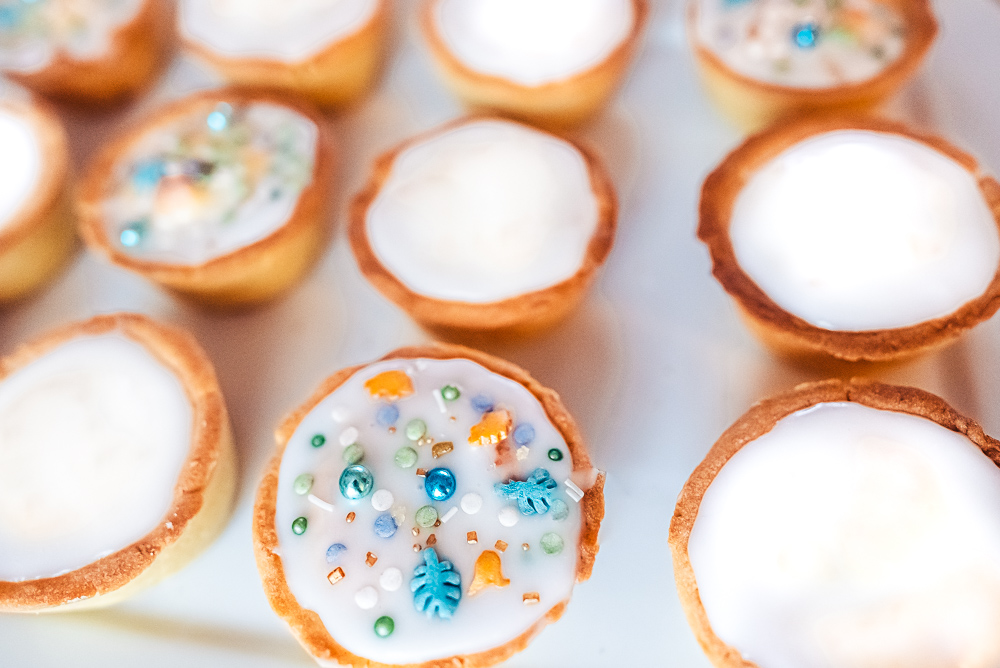 Okay I have to include one final almond based dessert here. What can I say, Norwegians really love baking with almonds!
I guess mazariner are technically Swedish, but they're such a popular dessert here in Norway that I'm including them on this list. Mazariner are almond tartlets with a shortbread cookie shell and almond filling. They're sort of like marzipan tarts, though while I'm not a huge fan of marzipan I love these.
I've shared my mazariner recipe here.