First he told us all about visiting Suriname, and now Nick is back to talk about Eritrea!
I didn't know all that much about Eritrea before Nick contacted me suggesting a guest post about his recent Eritrea trip, and the little I did know was not super positive. So I was curious to see what he had to say about visiting the country, and guys – actually, I won't spoil it for you. Read on for Nick's experience and tips from Eritrea.
And if you're interested in getting off the beaten path in Africa yourself but are wary about going alone, my dear friend Helen runs guided small group Africa trips. I went on her two week trip to Uganda, Mozambique, and the Congo and it was seriously one of the best trips of my life.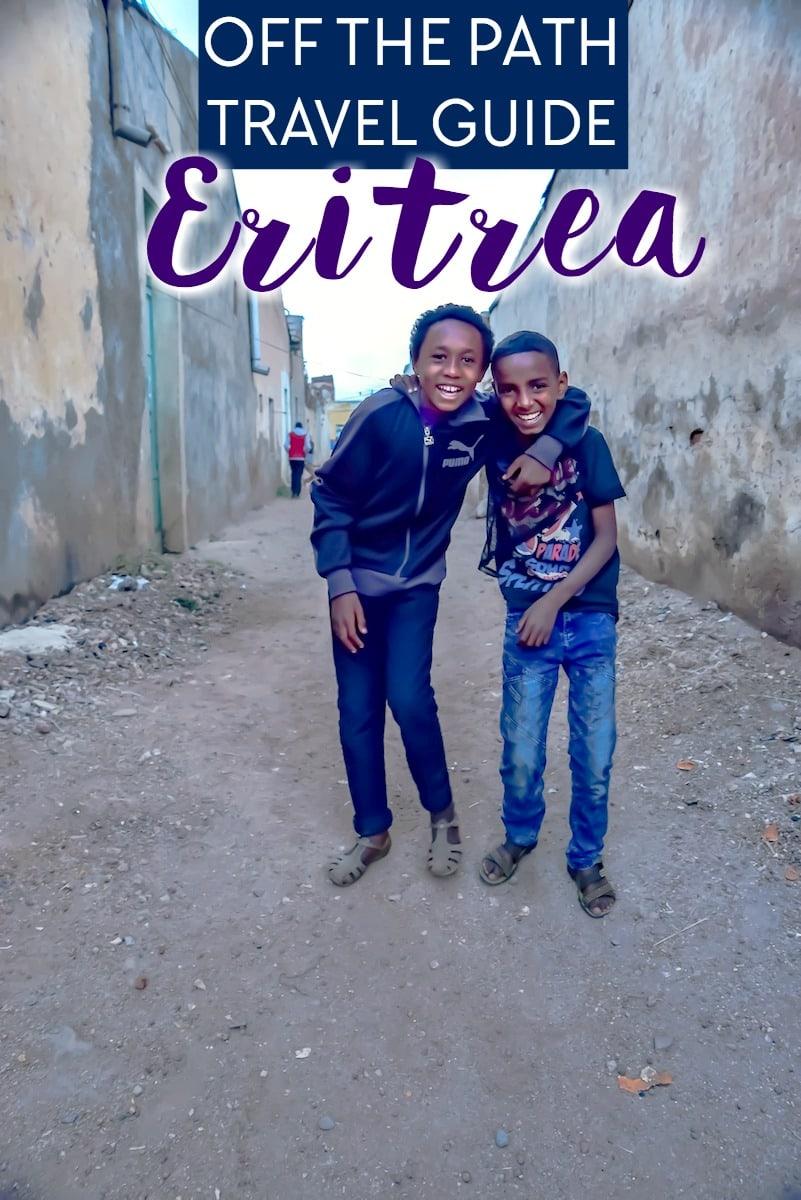 Why Eritrea?
I'm generally obsessed with modernist architecture. I don't know how it happened, but at some point in time (c. 2014, maybe?) I saw a gallery of photos from Asmara, Eritrea, and it stuck with me.
We resisted going to Eritrea for a long time because of our lack of patience for dealing with bureaucracy (Eritrea has one of the strictest – and most fickle – visa policies in the world), but we sure are glad we did. In addition to seeing some of the best-preserved examples of Italian fascist architecture, we met some of the friendliest most curious people ever on our travels throughout the world.
Eritrea is also fascinating because of its current geopolitical position. It exists as a pariah state, often referred to as the "North Korea of Africa." Eritrea is at odds with the international community for a couple major reasons: first, the overwhelming swell of Eritrean refugees leaving the country, and second, for its informal policy of indefinite conscription of youth into the Eritrean army.
While it's true that Eritrea exists under a strict military regime, I believe there are ethical ways to travel there. Unlike North Korea, there are free(ish) markets in Eritrea, so it's very possible to support the local population. If you choose to go to Eritrea, make sure to do your research and be respectful. Inviting conversations about politics will get you nowhere in Eritrea. Educate yourself on the country's history and current events, and you'll be able to make a better-educated decision if travel there is right for you.


How to get there and the best time to visit Eritrea
Getting there is rather easy, surprisingly. There are daily or near daily flights to and from Cairo, Egypt (on Egyptair), Dubai, UAE (on flyDubai), and Istanbul, Turkey (on Turkish Air).
That said, for whatever reason connecting from North America to Africa is always super expensive (I'm not sure, is this true for Europe as well?), so it'd be wise to use miles to get there. We flew over via Frankfurt, Athens, and Cairo on Lufthansa, and back via Cairo and JFK on Egyptair, both on the Star Alliance network – there was reasonable availability on award calendars for these routes, though Lufthansa does charge quite a bit in taxes and fees.
There are always rumors in the air that Eritrean Airlines will start flying to Milan, Frankfurt, or some other nebulous European city, but I checked flights incessantly leading up to our trip, and am not sure these routes will begin operation anytime soon.
Eritrea is located near the equator, so there isn't a huge amount of variance in weather throughout the year. We were there in January, and Asmara was pleasant for two dudes coming from the Pacific Northwest. Around 20C/70F during the day, and down to 5C/40F at night. It was comfortable.
There's no real "high season" for tourism in Eritrea, as very few foreigners travel there – you won't be bothered by crowds with selfie sticks.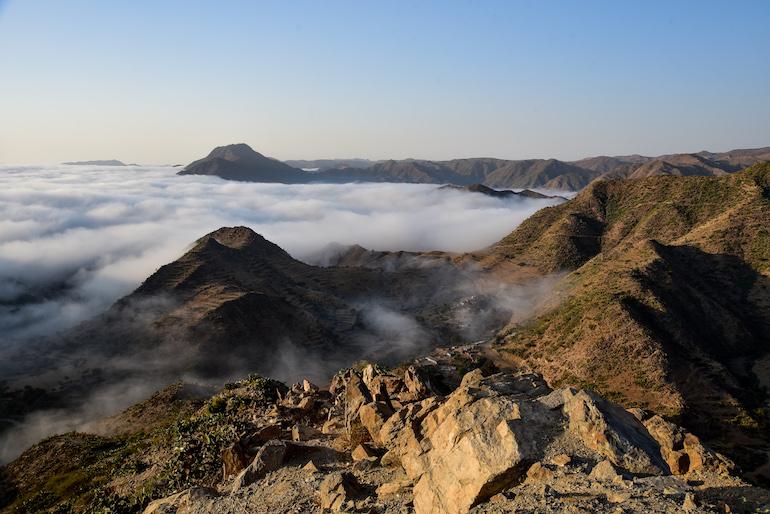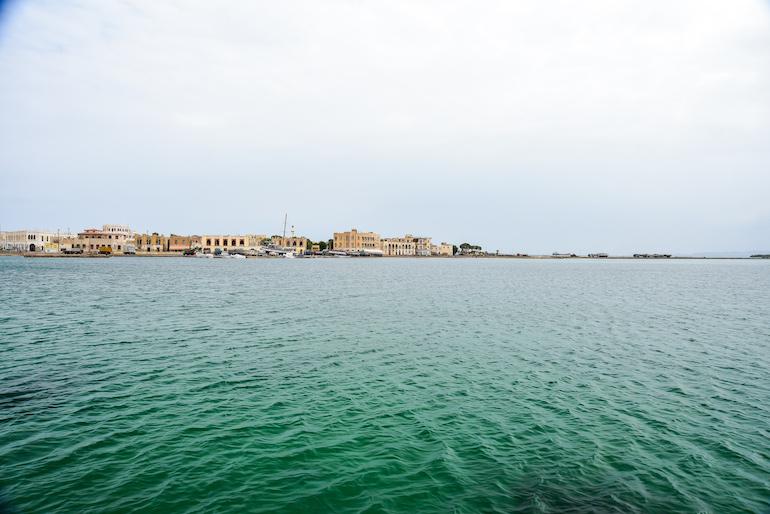 What to see in Eritrea
Every tourist entering Eritrea will land in Asmara, the capital. Asmara has a wealth of sights to see, and you're honestly best to aimlessly wander its streets rather than follow any specific list of sights.
Asmara was just added to the UNESCO World Heritage list for its Italian colonial core, famous for art deco/futurist/fascist architecture. The most famous buildings are the Fiat Tagliero Service Station, the Cinemas Impero and Roma, Enda Mariam Orthodox Church, and Medebar Market, but you'll find secret hidden gems in remarkable condition throughout the city.
We also spent a night in Massawa, located on the Red Sea coast, and absolutely loved it. Architecture in the city's old town is moody and Ottoman-influenced, and you're more likely to hear Arabic than Tigrinya on the streets.
From Massawa, it's possible to take an easy day trip to Green Island (20 minutes by boat from the Dahlak Hotel), or trips further afield to the Dahlak Archipelago (a much costlier option – cost for an overnight excursion to the Dahlaks can cost over $1000USD, so much out of the price range of your average intrepid traveler).
The final city in the Eritrean trifecta of authorized places for foreigners to visit is Keren. We didn't make it there, but it's home to a famous camel market every Monday. Keren was home to heavy fighting during World War 2 between Italian and combined French and British allied forces, and today it's considered a cultural capital.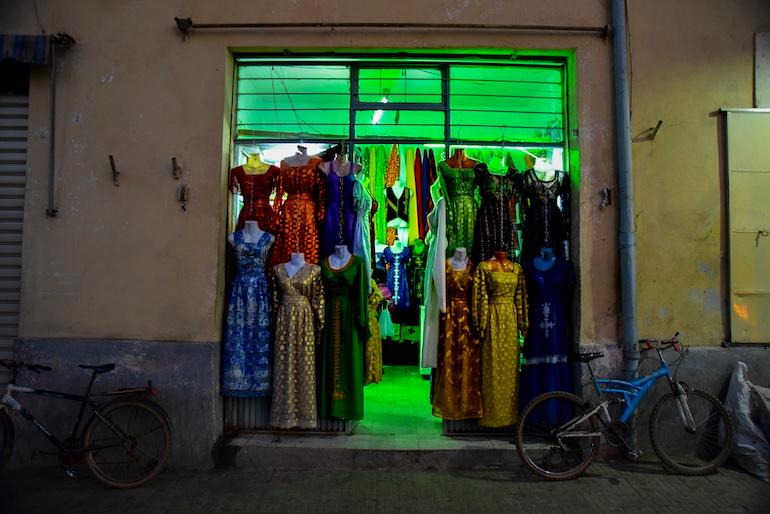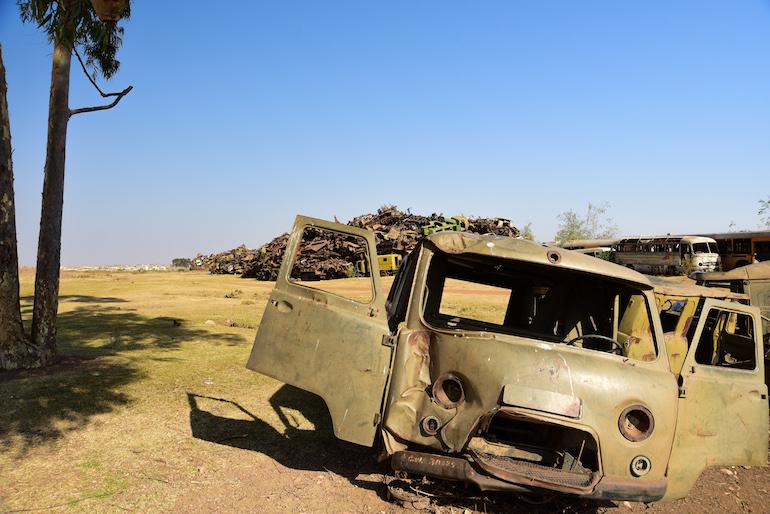 Getting around Eritrea
Within Asmara, it's super easy to just hoof it. We walked everywhere we wanted to see, and typically covered 15k each day we were there. If you're tired at the end of the day and want a taxi back to your hotel, the ride shouldn't cost more than 75 Eritrean nakfa (about $5USD) if you're within the historical core of the city.
Foreigners traveling inside Eritrea are not authorized to travel in between cities on public transportation. Also, to leave the Asmara legally, you're required to obtain individual permits for each place you want to go.
We used a travel agency for all this mess, and it was super easy. For our trip to Massawa, we paid $200 for a Land Cruiser each way, and our tour company was able to get us travel permits within a couple of hours. To save on costs, try to share a ride with any other travelers you meet in Asmara. That is, if you meet any!
Eritrea accommodation
Hotels in Asmara range from scary to acceptable. If you want to spend less than $100USD per night, don't expect hot water AND working electrical outlets – but probably one of the two.
We stayed at no fewer than three hotels during our four days in Asmara and can heartily recommend either the Crystal Hotel or Hamasien Hotel in the diplomatic quarter. Hamasien Hotel had an open courtyard and served the most delicious, ice-cold beer I've ever tasted, and Crystal Hotel had hot water heaters and intermittently functioning internet.
Did I mention that Eritrea has the lowest percent of household internet penetration in the world?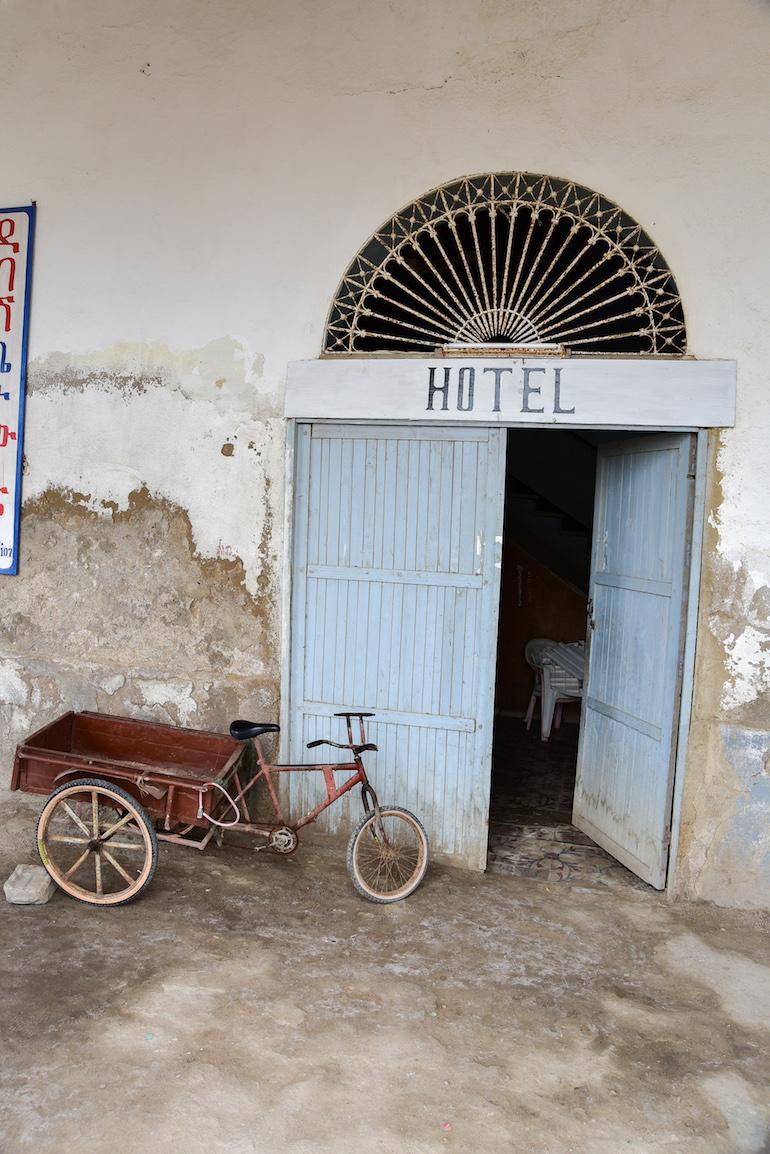 What to eat in Eritrea
Eritrean food is very similar to Ethiopian food – relying on injera as a starchy base, and mixed with various, heavily spiced and seasoned dishes including meat (lamb, goat, beef) and various veggies (lentils, split peas, okra, carrots, cabbage, collared greens, and sweet potatoes).
Menu reading in Eritrea was tough, as typically there was only English offered for the foreign dishes (fast food-types of things, usually). But we were able to eat local at a couple places around town – the New Fork restaurant, located behind the Ambassador Hotel, was particularly good.
You can also buy sambusa (think Indian samosa or Central Asian samsa) on the street filled with who knows what, but I was recovering from a parasite I'd gotten after casual street eating in Kyrgyzstan two years previous, so I passed.
In Massawa, we ate at a tremendous restaurant that had fish on offer caught the same day in the Red Sea. We picked the fish we wanted to eat, and the chef grilled it whole with lemon, pepper, and berbere. Dining in near darkness on the freshest fish imaginable, surrounded by crumbling Ottoman arches and the odd vibrating neon sign was a real highlight of our time there.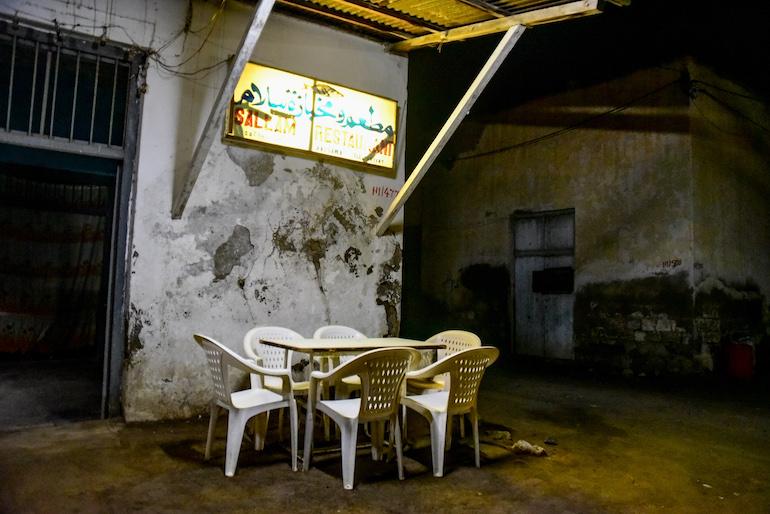 What to pack for Eritrea
The key to packing for Eritrea is to pack for multiple climates. The weather in Asmara, sitting on a plateau at 2,300m, can be vastly different from in Massawa, in a desert climate on the shores of the Red Sea. You'll want lighter, more breathable clothes for the coast, and maybe a pullover in the highlands on cool nights. That said, you are in Africa. So it's warm.
Be modest – we didn't wear shorts and rarely wore short sleeves.
Locals, especially in Asmara, dress to the nines. Men and women dressed in their finest Italian threads stroll up and down Harnet Avenue, the city's main thoroughfare, to see and be seen.
Don't be afraid to pack a nice pair of slacks and shoes (or a light dress, ladies) for passeggiata, the tradition appropriated from the Italians of a twilight stroll for socializing and drinking a coffee or cocktail.
About the author: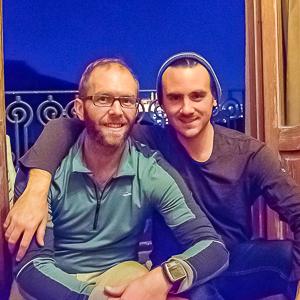 Nick is the eccentric traveler behind concrete and kitsch, a blog dedicated to traveling lesser known parts of the world.  He and his husband, David, have been traveling the world together for four years, hitting destinations ranging from Armenia, to Kosovo, Laos, Kyrgyzstan, and Guyana.
Nick is a consumer insights professional by day, and an obsessive trip planner by all other times, and makes the most of his limited paid leave each year, typically taking two to three international trips per year.
While on the road, you would most likely find Nick and David scouting modernist and/or brutalist concrete architecture (occupied or otherwise), scouring flea markets, or making friends with any dog in sight.  This year, in addition to gallivanting around Suriname, they plan on celebrating Eurovision in Kiev, running a marathon in Riga, and visiting far too many wooden churches in Maramures, Romania.  You can follow their travels on their blog, concrete and kitsch, and as well as on Instagram and Facebook.
Have a special place off the beaten path you'd like to share? From far off countries I can't pronounce to hidden streets in Paris, I would love to hear about your secret finds. Email me at heartmybackpack@gmail.com with the destination and I'll send you some questions to answer about it!