This post was written together with Danielle and also appears on her blog The Roaming Coconut. 
After two weeks traveling through Israel, it was time to go somewhere new. I was already obsessed with visiting the Balkans and Danielle really wanted to go to Greece, so after a bottle of wine and a call to my airline we had yet another three-week adventure planned. A ticket to Athens with enough time to visit Albania and Macedonia as well. And the kicker? A 16-hour layover in Belgrade!
We were excited to be heading to Serbia, but leaving Israel turned out to be more difficult than we had anticipated. 
At the airport security counter Silvia got through with little problem, but when I put my bag through I received some suspicious looks. Phone calls were made and suddenly I was being introduced the very serious (yet strikingly handsome) head of security. I was peppered with questions.
"Why are you in Israel? How many times have you been here? Do you speak Hebrew? A little Hebrew? Where did you learn? Who taught you?"
I was starting to doubt myself. Had someone planted a bomb on me? Was I going to be able to board the flight? What had I done?!
After about five minutes of questioning, the man looked at me and sternly said,
"You have a knife in your bag."
Whoops. Suddenly my genius idea of always carrying around a butter knife (so useful for cutting tomatoes and spreading hummus!) seemed much less genius. On the other hand, you can be sure that Ben Gurion's airport security is always on point! Ultimately I had to forfeit my knife but was allowed to pass. Phew.
We arrived in Belgrade's city center around 11 pm and would have to leave for the airport at 11 am the next morning. I know what you must be thinking: sounds great, that's just enough time to get a good night's sleep in Belgrade!
Not quite.
We had heard that Belgrade has a great nightlife, so I contacted fellow blogger Megan Starr for advice, and she immediately put us in touch with Nate and Phillipa of Yomadic fame, who generously offered to host us for the night. Not only are they currently based in Belgrade, but they actually run tours of the Balkans, so we could not have asked for better hosts!
Even though it was already late on a Tuesday evening, we set out with Nate and Phillipa intent on seeing as much of Belgrade at night as we could. Our first stop was Bigz, a semi-abandoned, graffiti-adorned former printing press, which houses a jazz bar on its tenth floor.
(sorry for the low-quality iPod photos, eek!)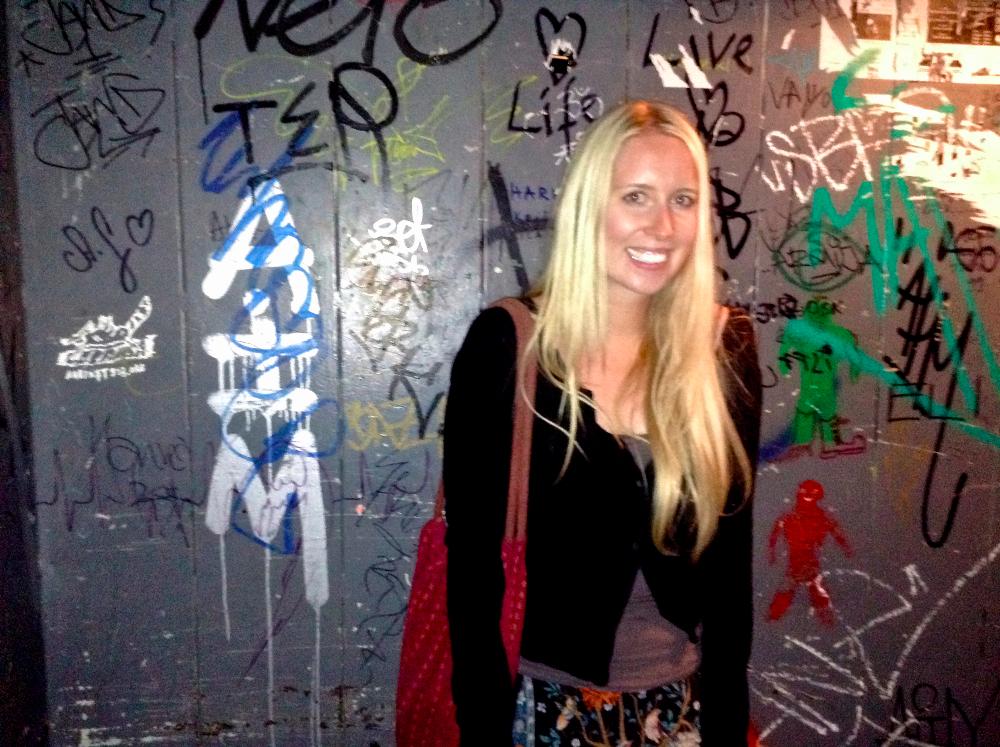 Unfortunately it was closed by the time we got there but we still enjoyed the urban art and definitely plan on checking it out when we're next in Belgrade!
Don't worry, readers, we eventually found a bar that was still open. And we also found an extremely fat dog!
We spent the night talking to Nate and Phillipa about Belgrade, life and traveling. I had become a bit obsessed with Yomadic while planning my trip to Iran, so after talking to Nate and Phillipa in person? Basically I really want their lives. Please. 
By the time we were watching the sun rise over the city, it was safe to say I was also obsessed with Belgrade. Seriously, I don't know how a city could steal my heart so quickly, but I was definitely in love with Belgrade. We ended our night with pizza and crepes, unable to make a decision because after Israel, everything just seemed so cheap!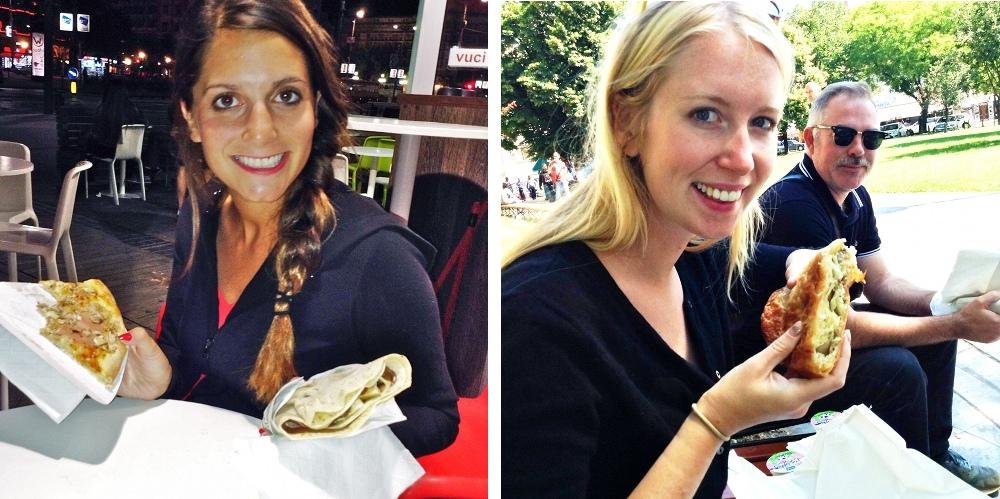 Three hours of sleep and a run to the local bakery to pick up some meat burek later, we sadly had to return to the airport. We'll see you again soon, Belgrade!
As for now, if anyone has any tips on Greek islands, send them our way!