Sad Silvia fact: I've traveled to a whole bunch of countries and continents but have never been to South America. Ugh, I know! I'm in Morocco at the moment with my friend Danielle, who has traveled a lot in Central and South America, and I'm just filling up with FOMO. I want to visit Patagonia and Brazil and Peru and like, all of Central America.
I know what you're thinking: what about Suriname?
Lol, maybe not. Unless, that is, you are Nick of concrete and kitsch. I was pleasantly surprised when an email from Nick popped up in my inbox asking if I'd be interested in an Off the Path post about Suriname. I barely knew anything about Suriname before Nick told me about his experiences there, so I'm very excited to get to share with you his guide to the South American wild west:

The country
Suriname
Why You Need to Visit Suriname
As a geography nerd growing up (I assume this to be commonplace with most travel bloggers), I found Suriname intriguing because of its physical location.  North of Brazil, and east of Colombia and Venezuela, it seemed like the South American wild west.
I confirmed this suspicion in my adulthood, when I found that the nation was the least visited in all of South America.  In fact, the most googled thing about Suriname is "Where is Suriname?"
The multicultural and colonial history is also fascinating: the culture there is shaped by no fewer than six distinct ethnic groups, who all live in relative harmony (at least compared to other parts of the world).
My travel style in general is to visit places my friends won't be able to locate on a map, and considering most thought it was in Africa, Suriname achieved this goal perfectly.
Also, "What is Suriname" was the answer to the only true double daily double in Jeopardy! history.  That may have been what planted the seed in my adult years when I became able to afford to travel abroad independently.
How to get to Suriname and the best time to visit
Suriname sits right above the equator, so instead of having traditional "seasons" with varying temperatures, there are only rainy and dry seasons.  Locals there tried to explain them to me, but I never quite understood when was supposed to be rainy or dry.
My husband and I were technically there during the dry season, despite the Suriname River being extremely high.  Though, to be fair, the weather was good, and we only experienced a couple days of your typical apocalyptic rain and thunderstorms, each lasting only about 30 minutes each.
According to the almighty Google, the best times (aka the dry season) to go are between August and November and February and April.
Suriname is notoriously hard to get to from the US, and only slightly easier to reach from Europe.  We're from Seattle, and found cheap tickets ($250 RT) from Miami on Surinam Airways, which flies to Paramaribo via either Georgetown or Aruba several times per week.
Other ways you can get there are to fly via Georgetown from New York, or via small Caribbean Airlines jets that hop there via Trinidad and Tobago, Curacao, or Aruba (or sometimes a combination of all three).  There are also direct flights from Amsterdam on Surinam Airways or KLM – though I think these are typically rather expensive.
I will say that Surinam Airways has the best airplane food I have ever eaten – long beans and curried chicken?  Don't mind if I do!
Must-see places to visit in Suriname
The biggest draw for folks coming to Suriname is the unspoiled nature.  Over 90% of Suriname is covered in primeval rainforest – the largest proportion of any nation in the world.
We spent a night and two days at a jungle lodge in Suriname's interior, where we were able to swim in river rapids, see caimans and other endemic fauna, and visit a local Maroon (the group of people descended from escaped slave populations during the Dutch colonial times) village.
Though, to be quite honest with you, the highlight for us was Paramaribo, the capital.  The city is extremely walkable, and the people are among the friendliest we've ever met on our travels.  To be fair, we have spent most of our travels in Eastern Europe and the Former USSR, or places not known for their outward warmth toward outsiders.
There is a wealth of Dutch colonial architecture in various stages of decay (the Waterkant, or Waterfront, of Paramaribo, is a UNESCO World Heritage Site), and there are numerous guesthouses in 19th century buildings.  The food, also, was a major hit, combining Hindi, Creole, and Indonesian elements.
Paramaribo is also home to the only place in  the world (to my knowledge) where you can see a synagogue adjacent to a mosque. Editor's note: Abraham's tomb in Hebron is also like this!
Spoiler alert: if you Google "Paramaribo," it's likely one of the first images you'll see.  The racial and religious harmony was refreshing, especially in these particularly politically charged times.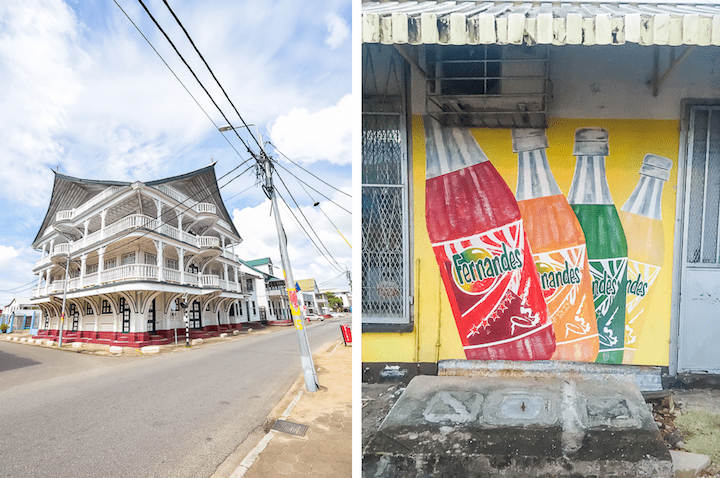 Transportation in Suriname
Paramaribo is a very walkable city – we walked everywhere we wanted to go.  If you're planning a trip to the interior, you'll likely take a bus organized by whichever interior lodge you're staying at, then a boat downriver from Atjoni, where the only road to the interior terminates.
If you go further inland, to places like Kasikasima or Julianatop, you'll likely take a bush plane from Paramaribo's domestic airport, Zorg en Hoop, conveniently located in Paramaribo proper. If you're not a fan of tiny planes, pack dramamine or Xanax…or both.
Where to stay in Suriname
Accommodation wise, Suriname is not a particularly budget friendly place.  The major hotels in the region, the Torarica and the Marriott, will run you over 100 USD per night.
We opted to stay in a converted Dutch colonial house about a half mile outside of the center, the Greenheart Hotel, which had lovely rooms, included breakfast, an amazing cook, and a pool, for 60 USD per night.  Their sister hotel, the Pied a Terre, is just down the street and costs about 40 USD per night.  There's no air conditioning, but the open plans of both hotels allow for ample air flow to keep you cool.
What to eat in Suriname
I'm not a foodie traveler typically – my husband, David, is a vegetarian – but Suriname had by far the most amazing food of anywhere we have ever traveled.  Surinamese Roti, a beautiful marriage of Creole and Indian spices with local ingredients, is something I could eat every day for the rest of my life.
A typical dish would consist of a large piece of roti, or Indian flatbread, and a mix of side dishes.  You can choose whichever type of meat you want (typically lamb or chicken), and then sides of vegetables (pumpkin, potatoes, and long beans were the most common).  You eat it with your hands, and can get sides of infamously hot pepper sauce made from scotch bonnets.  The dish is available all over the city, but the most famous shops are Roopram (with several outlets in Paramaribo) and Joosje.
Indonesian food is also very popular there, and there are many warungs (think Indonesian mom and pop joints) all over the city selling dishes like gado gado (salad with peanut sauce and tempeh) and nasi goreng (fried rice) everywhere you turn.
We made some friends on our trip to the interior who we met up with later in our trip and bough food for eight people for 70 Surinamese dollars – about $9USD.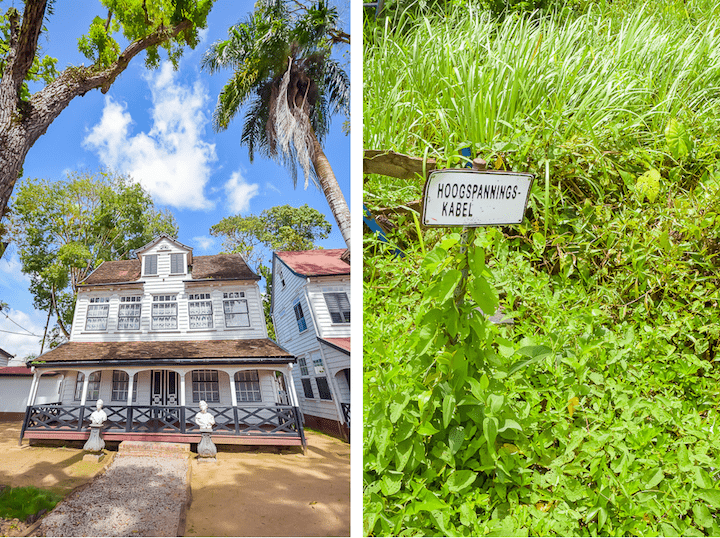 What to pack for Suriname
DEET!  Because of the climate, it's an insect heaven.  We treated all of our clothes with DEET before we went, and were able to stave off most of the bugs, but the most resilient were able to bite us even through our clothing.
Also, if you have stamps in your passport from nations that have incidence of Yellow Fever, you'll need to bring your Yellow Fever vaccination certificate.  If you don't have the vaccination, it's spendy – about $200USD in the United States.  That said, the vaccination is valid for your entire life, and we're stoked that we can now eliminate that expense for hypothetical future trips to West Africa!
About the author: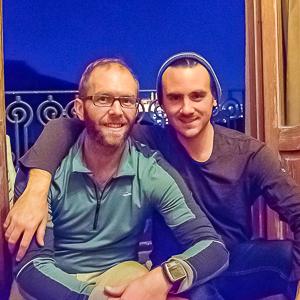 Nick is the eccentric traveler behind concrete and kitsch, a blog dedicated to traveling lesser known parts of the world.  He and his husband, David, have been traveling the world together for four years, hitting destinations ranging from Armenia, to Kosovo, Laos, Kyrgyzstan, and Guyana.
Nick is a consumer insights professional by day, and an obsessive trip planner by all other times, and makes the most of his limited paid leave each year, typically taking two to three international trips per year.
While on the road, you would most likely find Nick and David scouting modernist and/or brutalist concrete architecture (occupied or otherwise), scouring flea markets, or making friends with any dog in sight.  This year, in addition to gallivanting around Suriname, they plan on celebrating Eurovision in Kiev, running a marathon in Riga, and visiting far too many wooden churches in Maramures, Romania.  You can follow their travels on their blog, concrete and kitsch, and as well as on Instagram and Facebook.
Have a special place off the beaten path you'd like to share? From far off countries I can't pronounce to hidden streets in Paris, I would love to hear about your secret finds. Email me at heartmybackpack@gmail.com with the destination and I'll send you some questions to answer about it!