Confession? I didn't know much of anything about the Hebrides before this trip, and if Catriona hadn't basically planned the whole thing herself I probably never would have visited some of these islands. I mean, Tiree isn't exactly brimming with tourists (or locals for that matter).
But the Isle of Skye? Oh, Skye I had heard of.
While Catriona was hard at work booking guest houses and planning transportation, my travel planning for this Hebrides island hopping trip basically consisted of scrolling through Scotland hashtags on Instagram. And basically every photo I paused to drool over was from Skye. Luckily for me when I double checked with Catriona it turned out that yes, Skye is part of the Hebrides and we were totally heading there!
We got a very short ferry from Mallaig to Skye, where we met up with one of Catriona's longtime friends Kirsten, who lives on the neighboring isle of Lewis. And then we immediately drove off of Skye.
Uh, what? I was none too pleased about visiting the famous Isle of Skye for all of about 20 minutes, but my anger vanished as soon as we pulled up to Eilean Donan Castle (and when Kirsten assured me that this was just a short detour, phew).
Eilean Donan Castle must be one of Scotland's most photographed castles ever, and seeing it in real life gave me some real life goosebumps.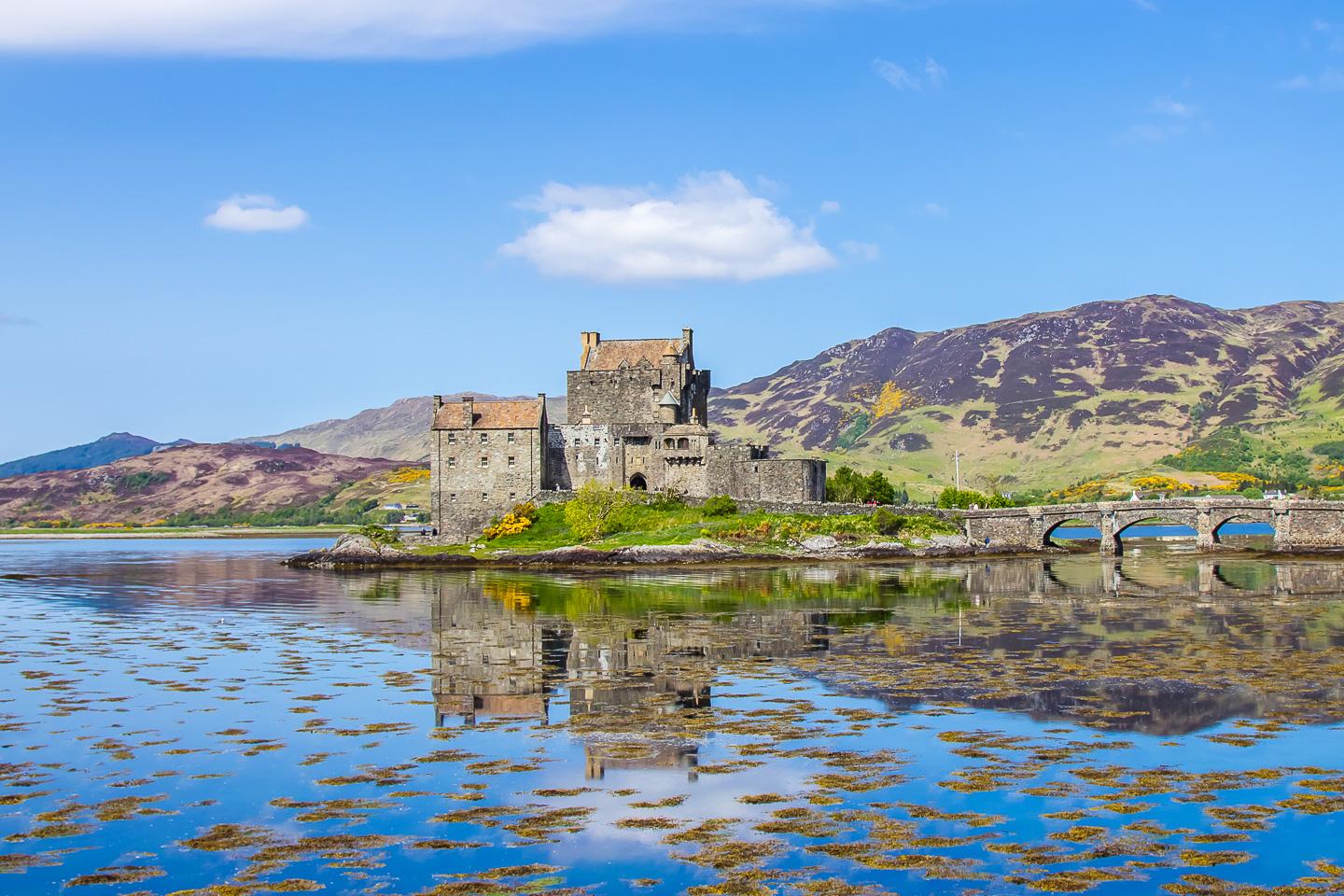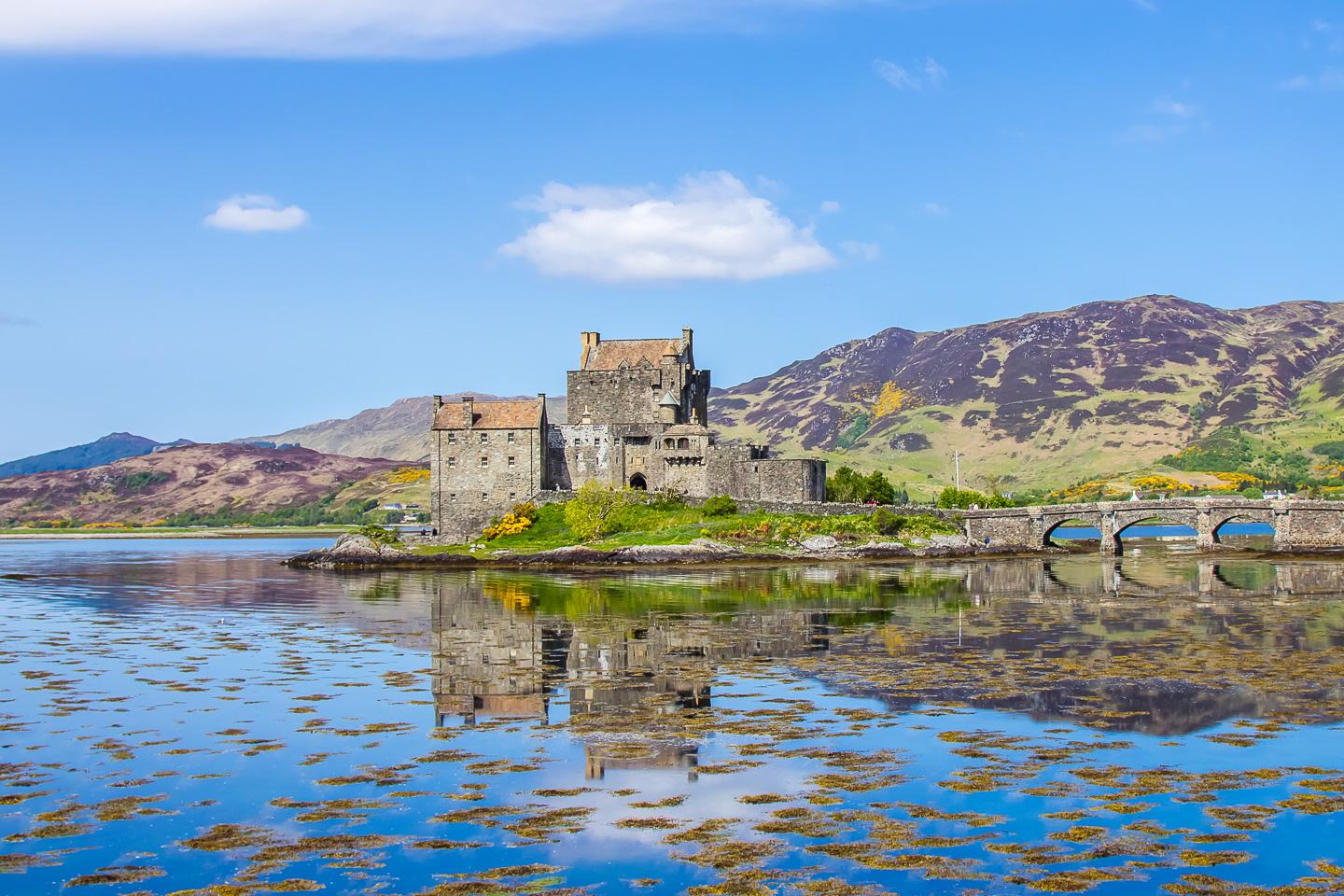 Like, I feel like my photos of Eilean Donan Castled don't even quite look real?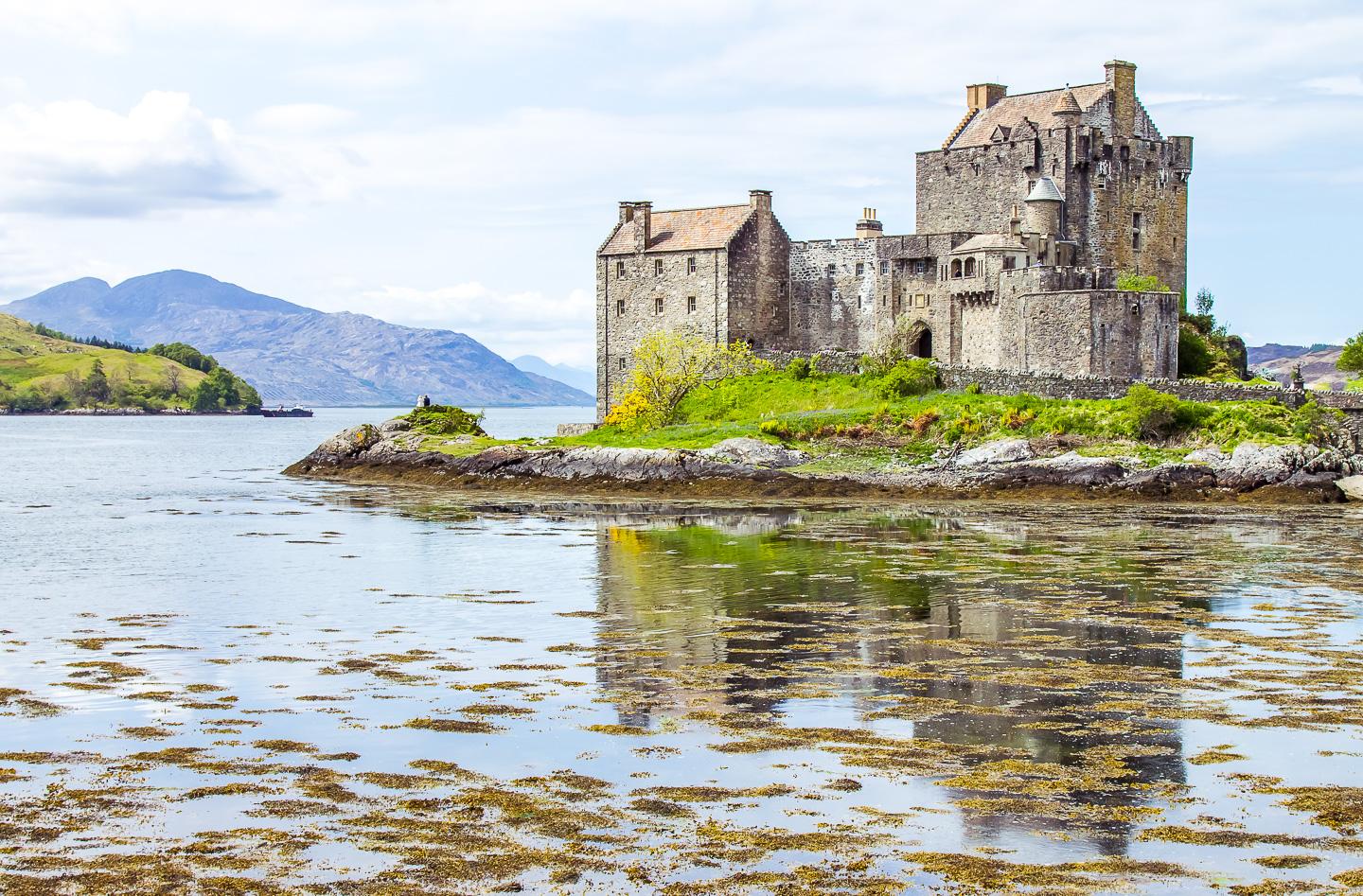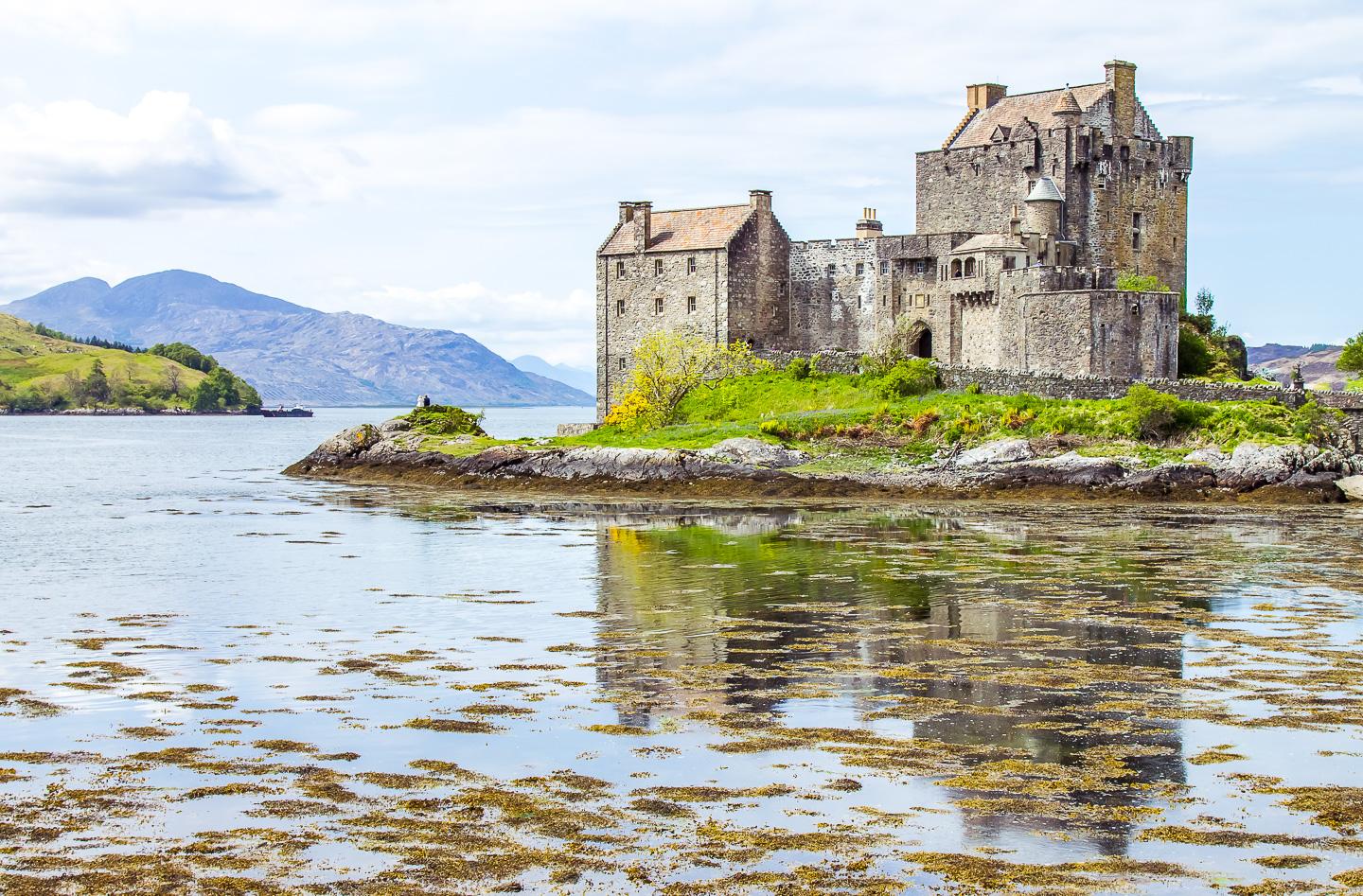 After a casual picnic by the side of the castle where we were all "yeah, we're eating next to a castle, no big deal," we made the short 15 minute car journey back towards Skye, stopping just before we got there for, of course, another photo op! Normally a bridge from an island to the mainland might in a (silly) way dampen the island's magic, but the Skye Bridge is cool enough to keep that Skye magic alive just fine, don't you think?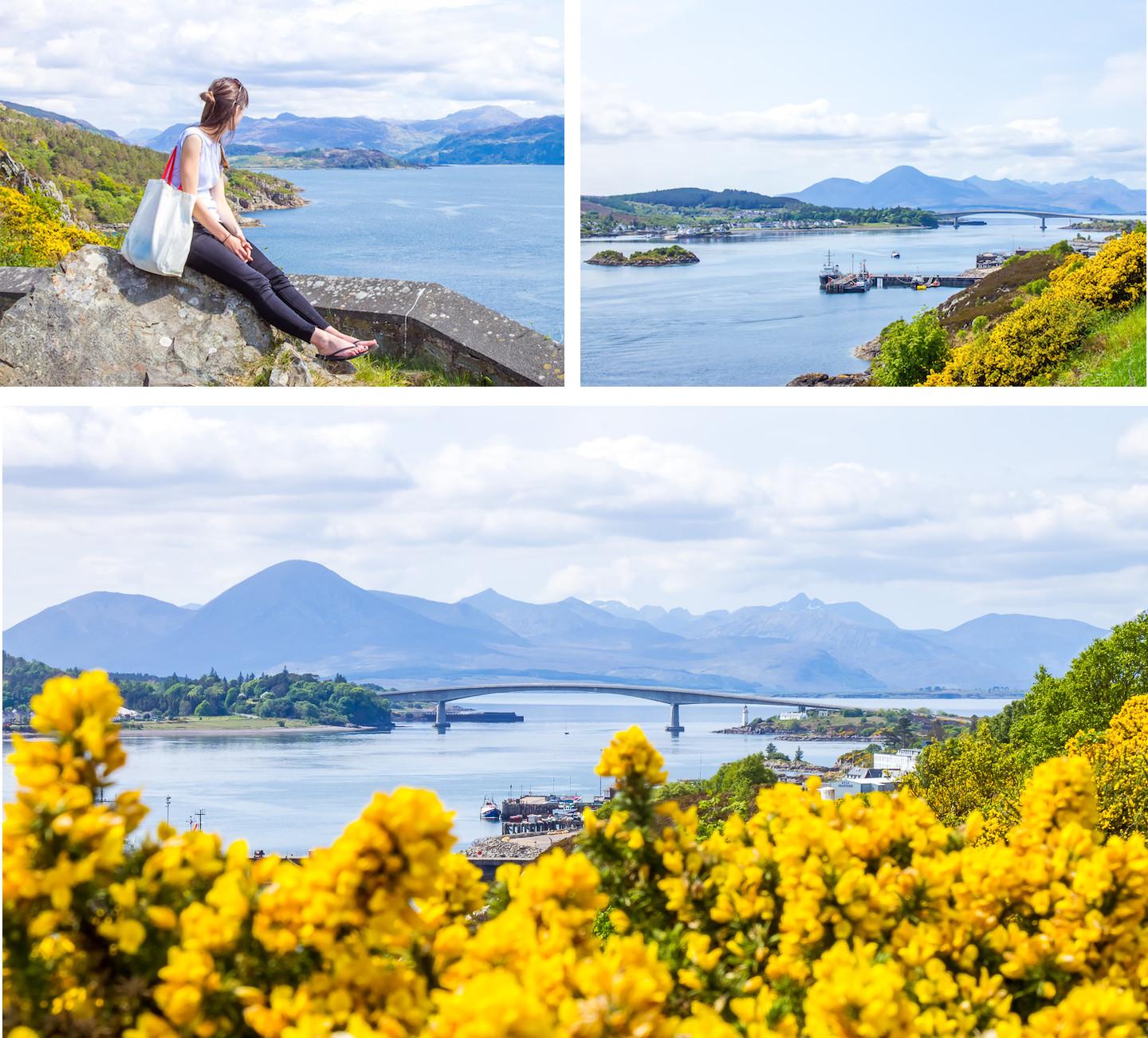 And then, as promised, we returned to Skye. And promptly got lost. Mostly because I was in charge of the map. And this is the random place we pulled over to figure out where we were. This is so typical Skype – stunning around every bend.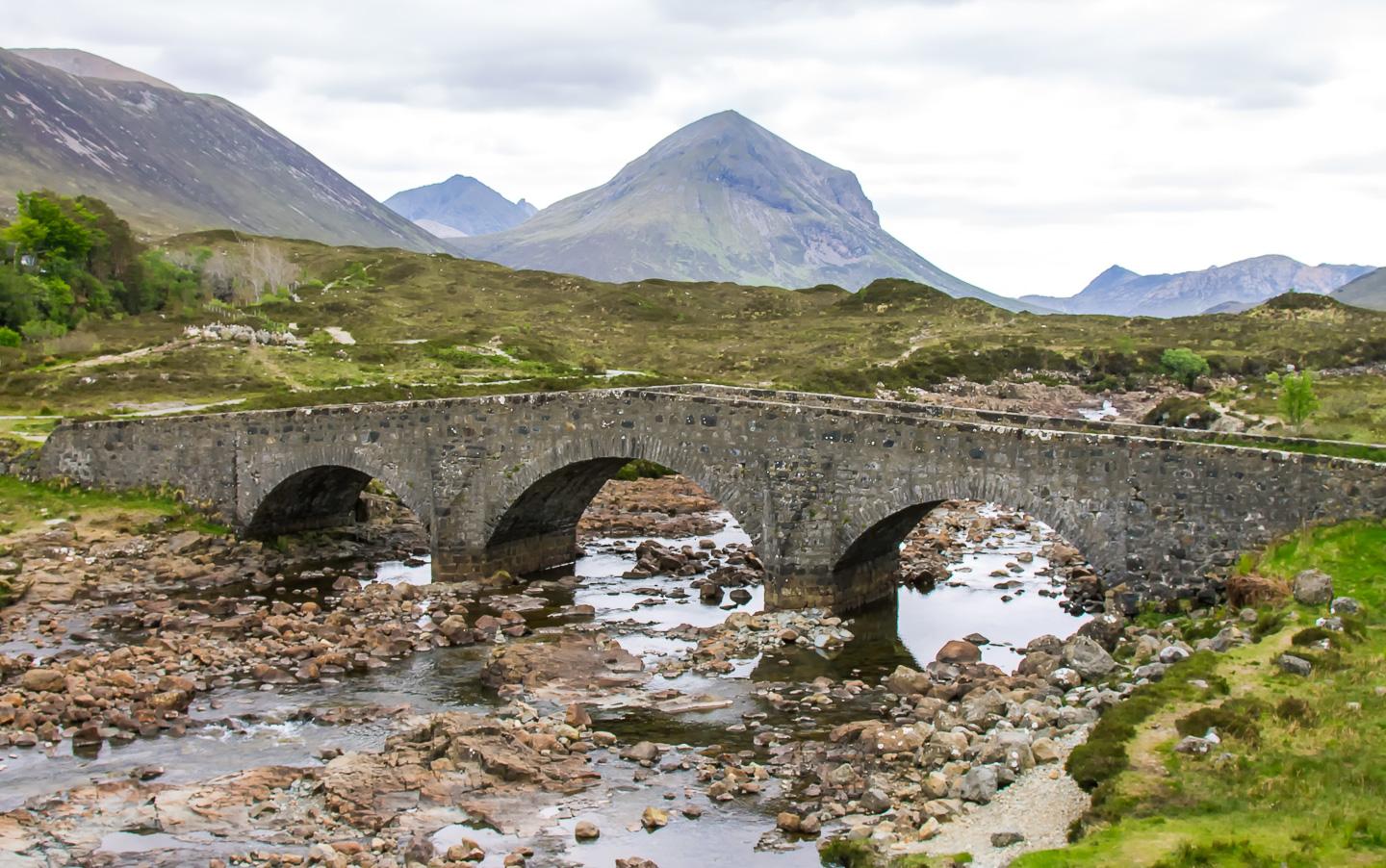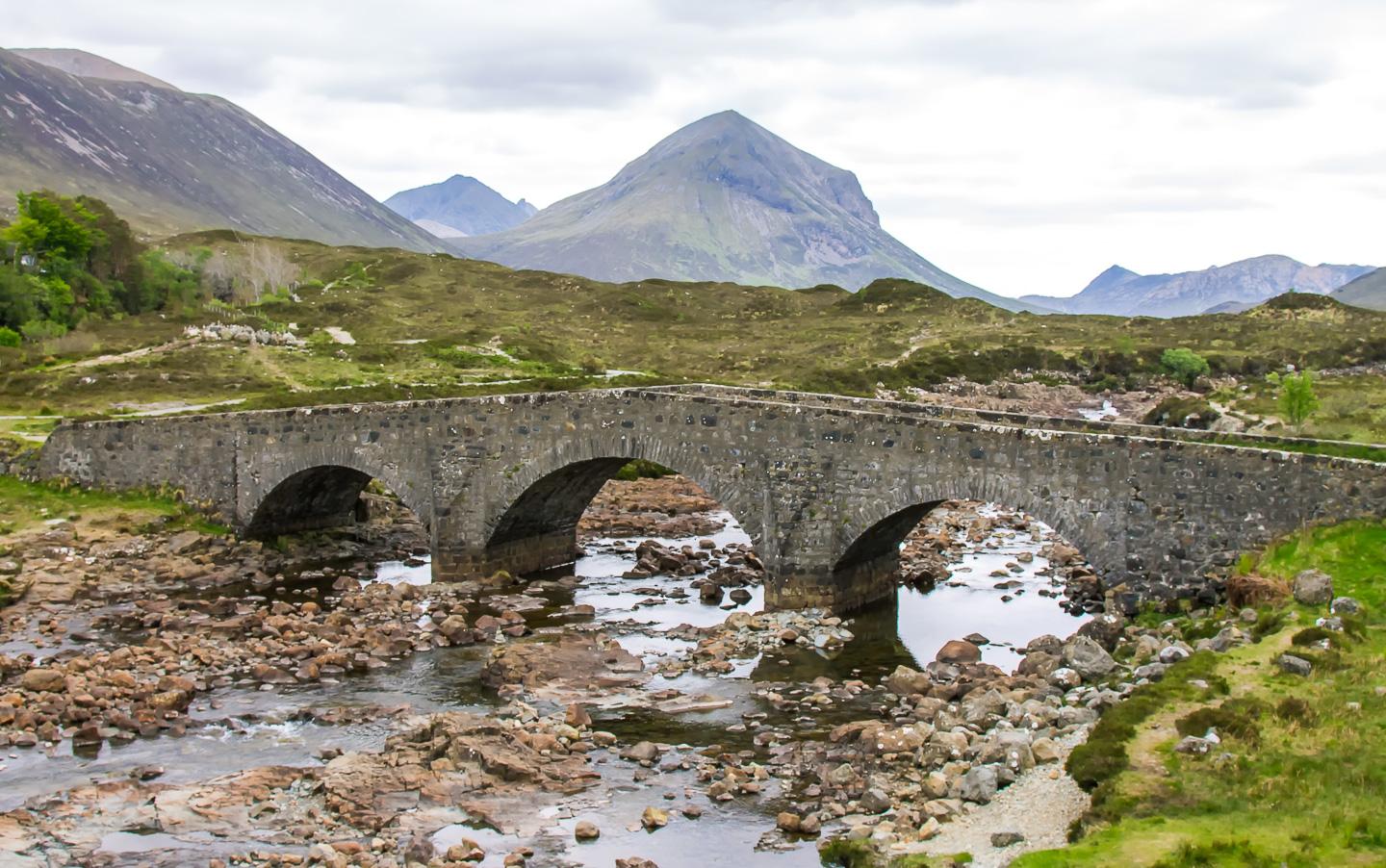 I was all for indulging in picnic #2 by this bridge, but we had more important places to go – to the Fairy Pools!
Um, was there ever a more enchanting name for a place? Not to judge a place by its name, or book by its cover, or whatever the saying is, but anything involving fairies and swimming is going to pique my interest. And I wasn't the only one. Kirsten had always dreamt of swimming on the fairy pools and was horrified that Catriona and I hadn't brought our swimsuits with us to Scotland.
We were less horrified, as while the crystal clear, turquoise water looked like something straight out of the tropics, it was actually really, really, really cold. Like, really.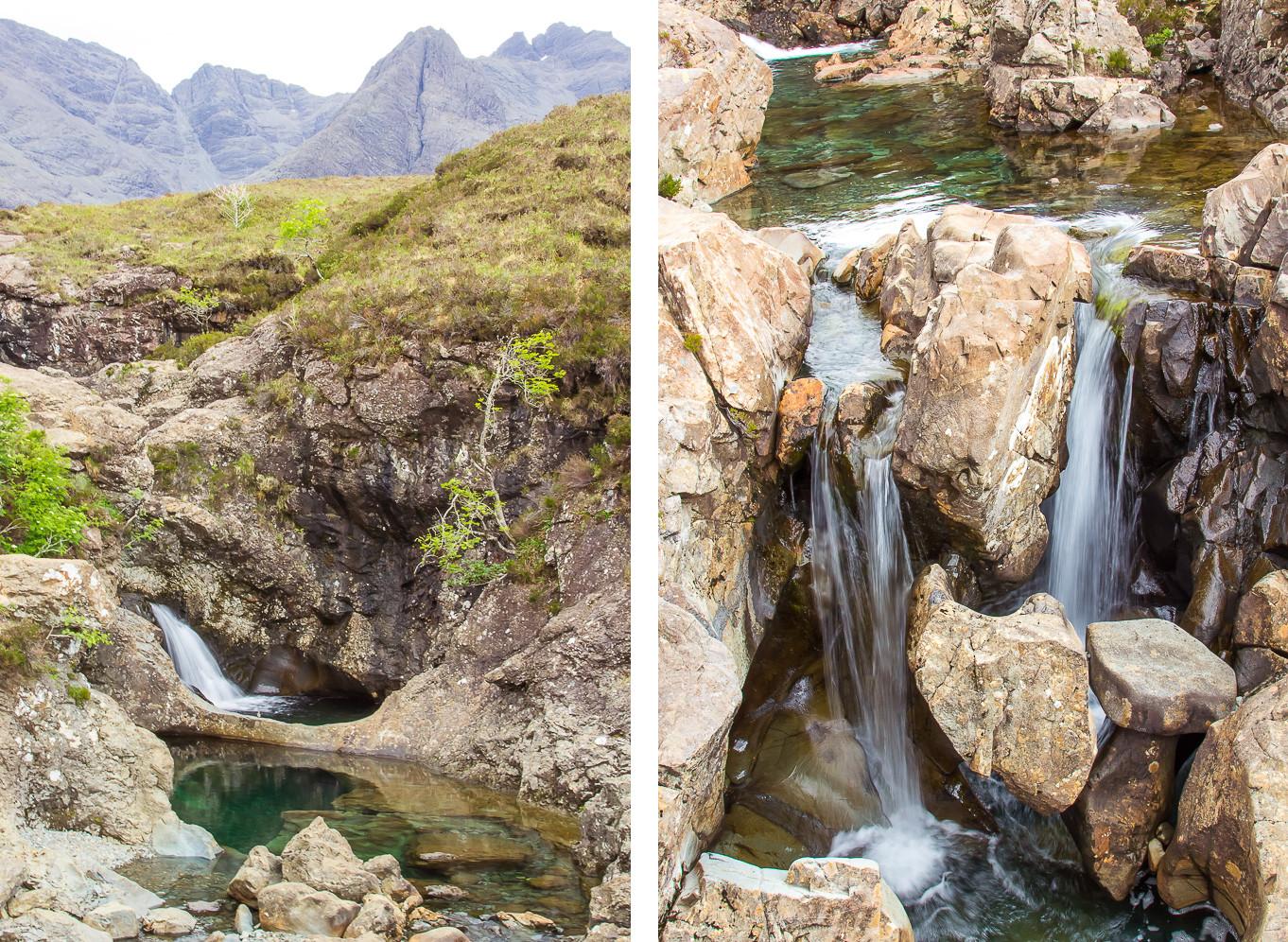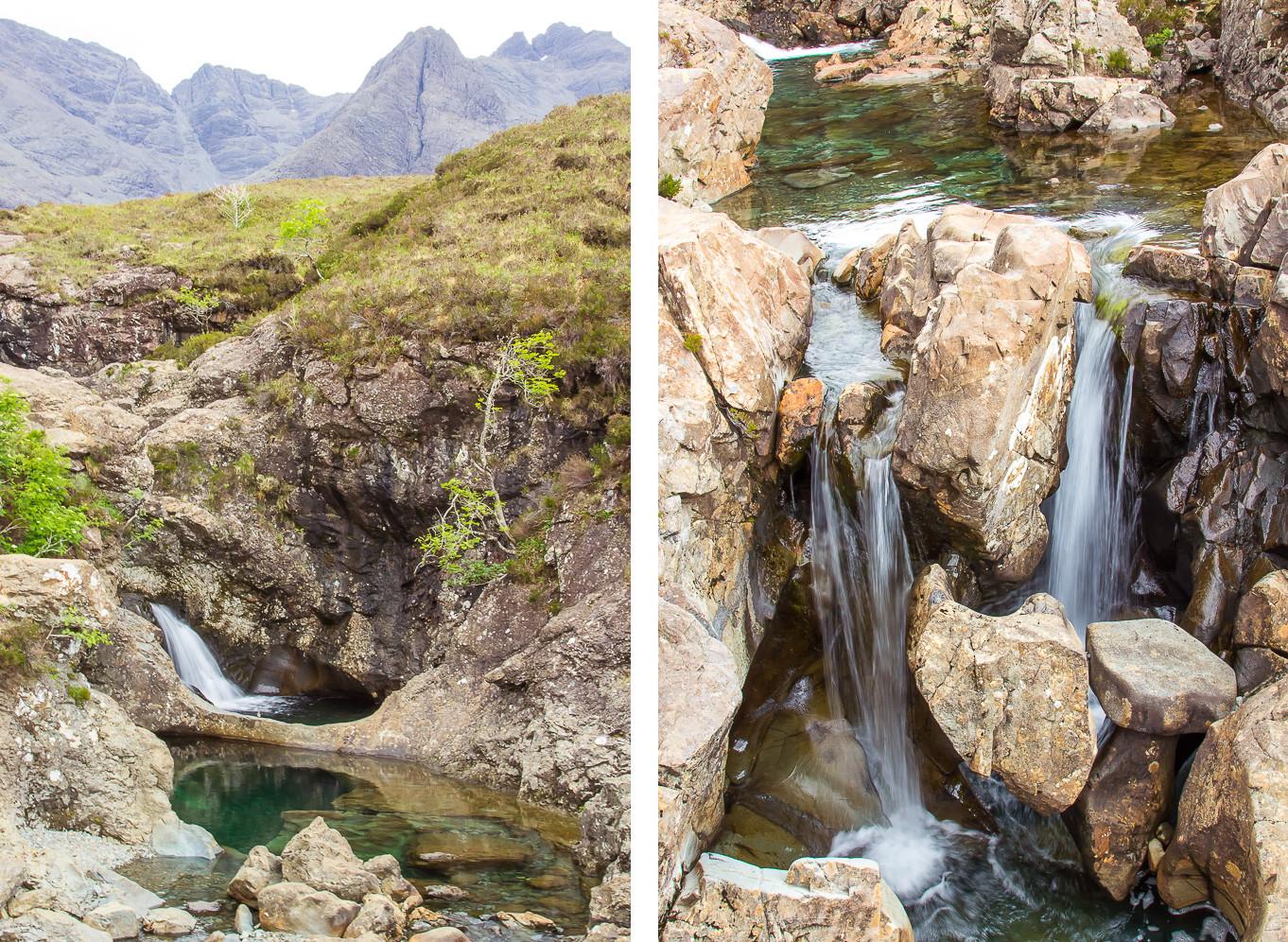 The Fairy Pools are at foot of the Black Cuillins near the village of Carbost on the west of Skye (follow the sign for Glenbrittle) and involve about a 1 – 2 kilometer walk from the roadside. They're quite popular though, so we had to walk up past the first bunch of pools to get past the crowds. But the farther we walked the fewer people we saw – and the more dramatic the backdrop became! I know the Fairy Pools are all about the beautiful water, but I was equally amazed by the mountains rising behind them.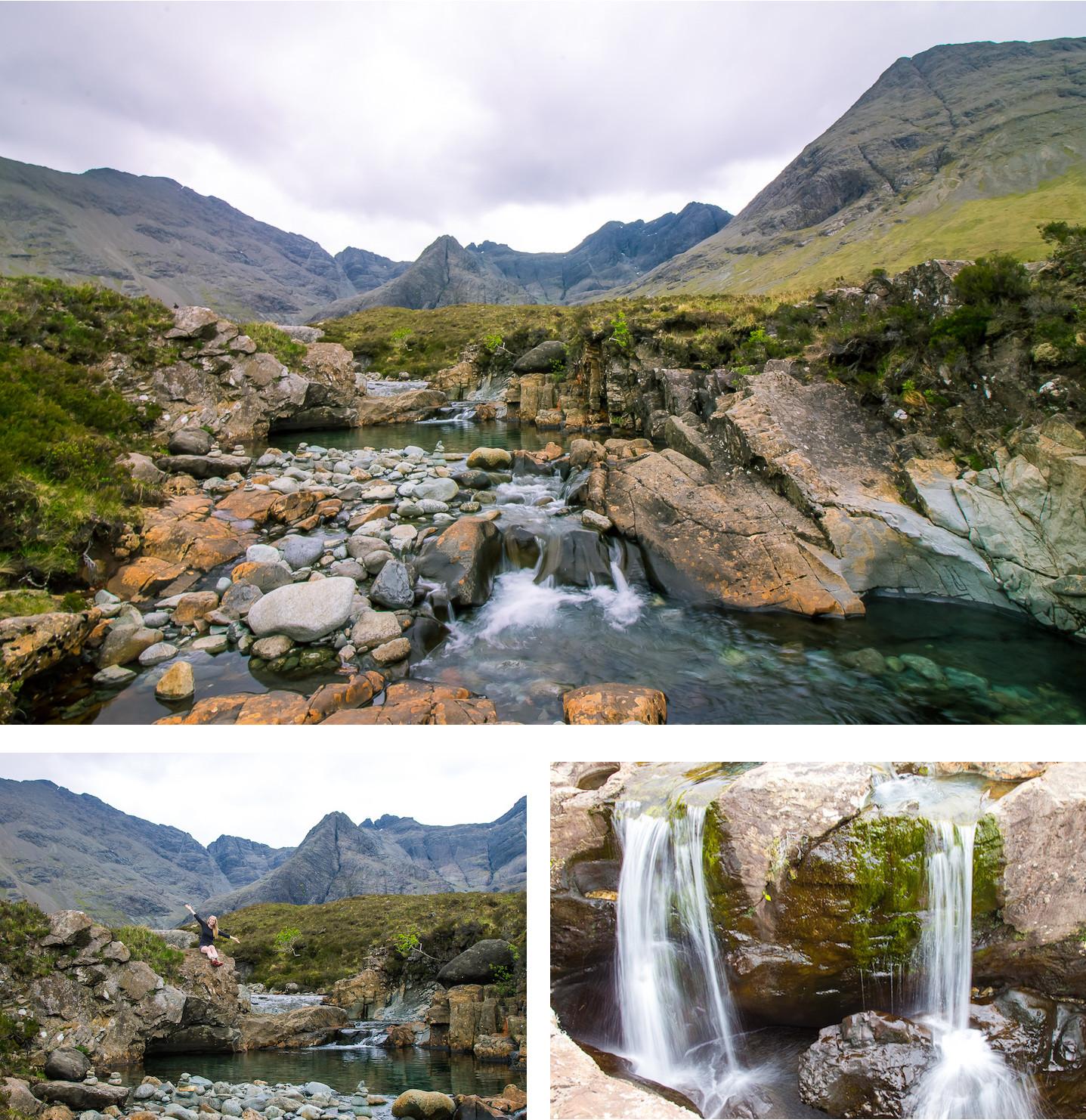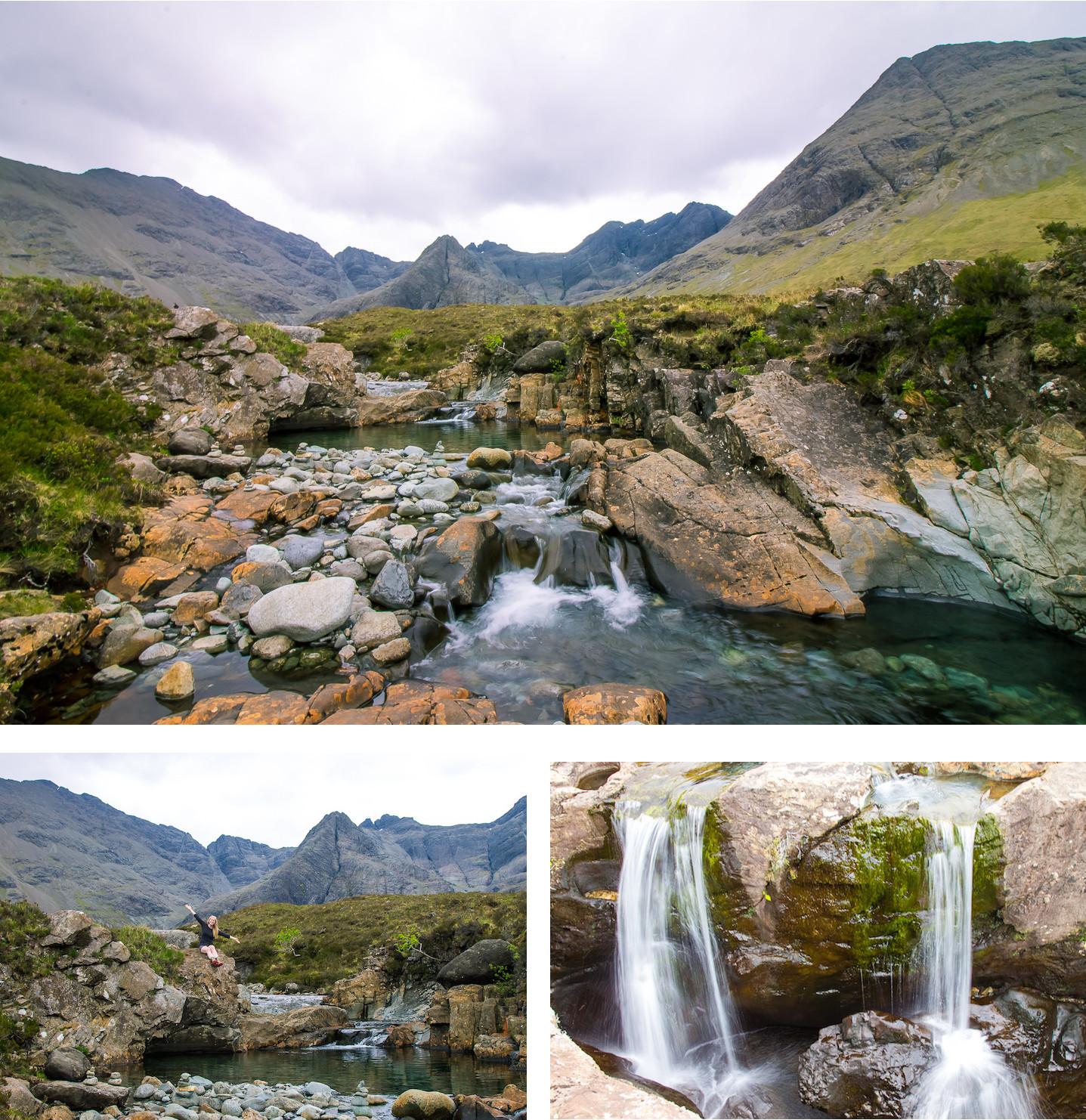 The verdict? All the fuss over the Isle of Skye is about how absurdly beautiful this island is. And yes, I'd say it totally deserves all that Instagram hype.
What do you think?
The ferry from Mallaig to Armadale cost about £5 and took 30 minutes (book ahead with CalMac Ferries if you're taking a car).
We stayed at Skyewalker Hostel, which I wouldn't necessarily recommend – it's perfectly fine, but you can probably do better on Skye – but it was  a five minute walk from Munros Bar (Taigh Ailean Hotel) in Portnalong, which is  the loveliest little pub that serves amazing burgers and seafood, which I'd definitely recommend!
After dinner we went to The Old Inn in Carbost which had live music and felt oh so Scottish.
What to pack for island hopping through Scotland
Scottish weather is unpredictable! I packed a lot of cold weather clothing for this trip, because Scotland, but then it ended up being sunny and incredibly hot for most of the trip. So you'll want to bring a good variety of clothing, so that you're prepared for whatever Scottish weather might throw at you.
Probably most important, though, is rain gear – you don't want the weather to stop you from exploring the islands. I swear by these rain pants. Here are a few of my other top packing essentials for island hopping in Scotland:
PIN IT!