Having grown up amidst continuous news headlines featuring the Israel-Palestine conflict, I rarely hear "Israel" without thinking of Palestine. So of course I wasn't going to spend two weeks in Israel without making a trip to Palestine (or the West Bank if you prefer – I'm not trying to get political).
When planning our trip to the West Bank, Danielle and I of course first looked to Couchsurfing – I mean, what better way to get a quick feel for a new place than staying with a local?
Mo quickly accepted our request, and as he lives in Hebron, we decided to make it our first stop. (Mo loves receiving guests, and gave us permission to link to his account. If you're planning a trip to Hebron, be sure to get in touch with him — he's awesome).
We left from Tel Aviv, and getting there was surprisingly easy!
Getting to Hebron:
1. Take an Egged bus to Jerusalem
2. Exit the bus station and walk straight ahead to the tram. Cross the tracks and take the tram (₪7) to Damascus Gate.
3. Once at Damascus Gate look for the busses with Arabic on the sides. Take a bus to Bethlehem (₪9).
4. Once the bus lets you off at the last stop ignore the taxi drivers and walk straight ahead to the shared yellow vans headed to Hebron (₪9).
5. In Hebron, you can take a shared taxi (which looks the same as a regular taxi) anywhere around the city center for ₪2.5.
The West Bank is divided into three different zones. Zone A is under total Palestinian control. Israelis are barred by law from entering.
Zone B is controlled by the Palestinian Authority and policed by the Israeli military.
Zone C is controlled by the Israeli government and policed by the Israeli military.
You can imagine that this system of governance leads to many issues. It's a weird phenomenon, and one can pass through multiple zones in a single city or stretch of road.
I immediately liked Hebron. It has a distinctly Arab feel, there always seemed to be people socializing on the streets regardless of the time of day, and it makes a great base for exploring the West Bank.
Our first day Danielle and I spent exploring Bethlehem, which is only a 45-minute drive away by mini bus (₪9).
Not going to lie, I was pretty excited to see Jesus' birthplace. As in, I may have stood patiently in line among many devotees, anxiously waiting to kiss it. 
The highlight of our trip to Bethlehem was (I know you guys know I'm going to say something about food) lunch at Hosh Jasmin, an organic farm in the neighborhood of Beit Jala. A little oasis with a great view, delicious homemade food and the chance to try Palestinian brewed Taybeh beer, it's definitely worth a stop. They also offer camping. (We didn't have time, but it is possible to visit the Taybeh brewery or attend their Oktoberfest celebration.)
The following day we headed to Old Hebron, which started with a walk through the bustling market where we tried hard to avoid the many tour guides offering their services. Once we passed through two metal gates and answered the questions of an Israeli soldier, we were officially in Old Hebron.
The area is visibly divided into two sections, though not quite as much as the first time Danielle visited, when there was a literal concrete barrier in the road; Jews on one side, Arabs on the other. This barrier still exists though, especially at the Tomb of the Patriarchs, half of which is in a mosque, the other half in a synagogue.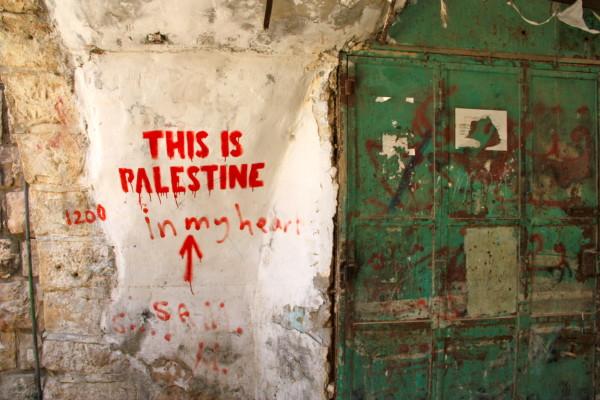 After visiting the tombs we wandered through the Jewish area of Hebron. Crossing the barrier back into Zone C felt like entering a new country, leaving behind the Arab market for a green park filled with school children.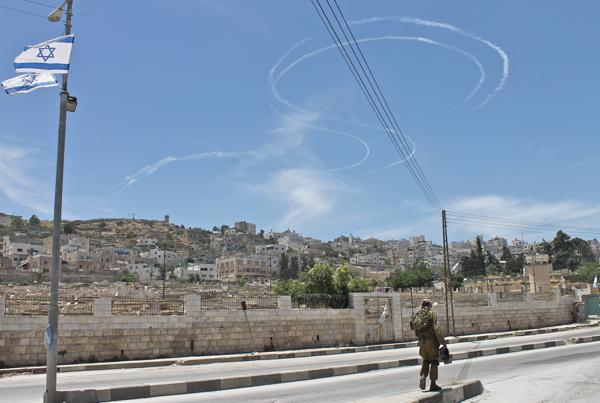 We then returned to Mo's apartment, which is in the new part of Hebron (Zone A). While Old Hebron is incredibly interesting and an obvious tourist destination, we really liked hanging out in New Hebron, which felt much like any other Arab city.
As far as what we did at Mo's apartment goes, there was definitely a lot of food, maybe some singing, and quite possibly a dance off. What I'm trying to say is Mo is the very coolest, and my time in Hebron would not have been half as wonderful without his amazing hospitality!
Our main takeaway from talking with Mo, both Jewish and Arab friends in Israel, and a Jewish settler was that the situation in Palestine is far from encouraging and might just always remain a bit of a mess.
This post was written together with Danielle and also appears on her blog The Roaming Coconut.