It's crazy to think that this time last year Dan and I were busy planning our 5 month journey from our old home in Thailand to our new one in Norway. We planned to fly to Beijing and then travel overland through Mongolia and Russia into Europe, which meant that we would be spending the coldest months of winter in Mongolia and Siberia. Totally smart, right?
Actually, in retrospect our trip was timed pretty perfectly. We got to see Mongolia and Russia in their winter glory, and by springtime we were quickly heading south for some beach time in the Balkans before the summer crowds hit. That said, there are a few things I wish I had known before venturing out with my backpack into the frosty unknown.
The magic of nonslip boots or attachable grips
Perfectly crisp, powdery snow is lovely to walk in. But once the temperature rises a bit it will melt, and then probably freeze again, transforming whole cities into ice rinks. I mean, ice is still lovely, but when you're lugging 15 kilos around on your back? It's not the best.
My boots actually fared quite well on the ice – plus I guess it helps that I had lots of practice on ice growing up in New England – but Dan was slipping and falling all over the place.
A few weeks ago attachable ice grips started popping up in shoe stores around Trondheim, and as soon as I saw them I couldn't believe we hadn't thought of bringing these on our trip last year. They're small and light and would have made all those walks through icy cities SO much more bearable. Plus they only cost around $10. Seriously, if you are headed anywhere icy this winter do yourself a favor and pack these.
I can bring tons of sweaters, but I'm just going to wear my warmest one anyway
Every time I pack for a cold weather trip I stress over fitting all my favorite sweaters into my backpack, but the truth is, when I'm dealing with arctic temperatures the only sweater I'm going to wear is that 100% wool one that my friends say makes me smell like sheep. It might sound gross to wear the same sweater everyday, but there are so many layers between it and my body that I think it's fine (plus that whole it's always just going to smell like sheep anyway thing). Next time I'll save the space and only bring my warmest sweater.
Face it, I'm going to get sick
I'm usually quite healthy and (annoyingly) optimistic, which can be a dangerous combination when it comes to packing medicine, because it means I never do. Tylenol? Cough medicine? Who needs it, I'll be fine!
So, I actually do think it's unnecessary to lug around your drug cabinet in your backpack, as most places you'll have pretty easy access to a pharmacy.
Until you find yourself with a high fever and unbearable cough in the middle of Mongolia, and regardless of how you pronounce Tylenol and paracetamol, no one seems to have a clue what you're asking for. Instead you end up downing a mysterious gray powder that gives you a splitting headache.
The lesson? Maybe traveling with a few packs of cold medicine isn't such a bad idea after all.
If I'm in the north, it's going to be very dark
Okay, I spent enough Christmases in Norway growing up to already know this. But I'm including it here because yesterday while Christmas shopping in town (family, get excited!) I gave directions to a German girl who was thoroughly miffed at how dark Trondheim is now, especially considering how we're still technically in southern Norway. I guess it's easy to forget that even if you're not in the far north, December can be pretty dark in a lot of places – Trondheim gets around 4 hours of daylight in December.
Of course the consolation is that you'll have an even better chance of spotting the Northern Lights!
I'm not going to want to be outside for long
While backpacking, I usually spend most of my days simply walking around the places I'm visiting, which means being outside pretty much all day. This is usually great, but when you can't step outside without your eyelashes freezing, it becomes… less great. I hadn't realized that traveling in the winter would change my travel style so much, but I found myself constantly trying to come up with excuses to stop in at cafes, shops, puppet theaters, even museums! I know, crazy.
On particularly cold days Dan and I had to switch out our aimless wandering for more carefully planned visits to warm spots around town.
Roads might be closed
The thing about snow and ice is that they like to stick to roads. So dumb, I know!
There were a few times when Dan and I would map out a route, only to realize that the roads we were planning to take were closed for the winter. In fact, this even happened in the mountains of Montenegro – in May! We hitchhiked up a mountain and ended up having to turn around and take a much longer route to Durmitor because the roads were still closed for the winter (luckily hitchhiking in Montenegro is super easy, so we still made it to Durmitor before nightfall!).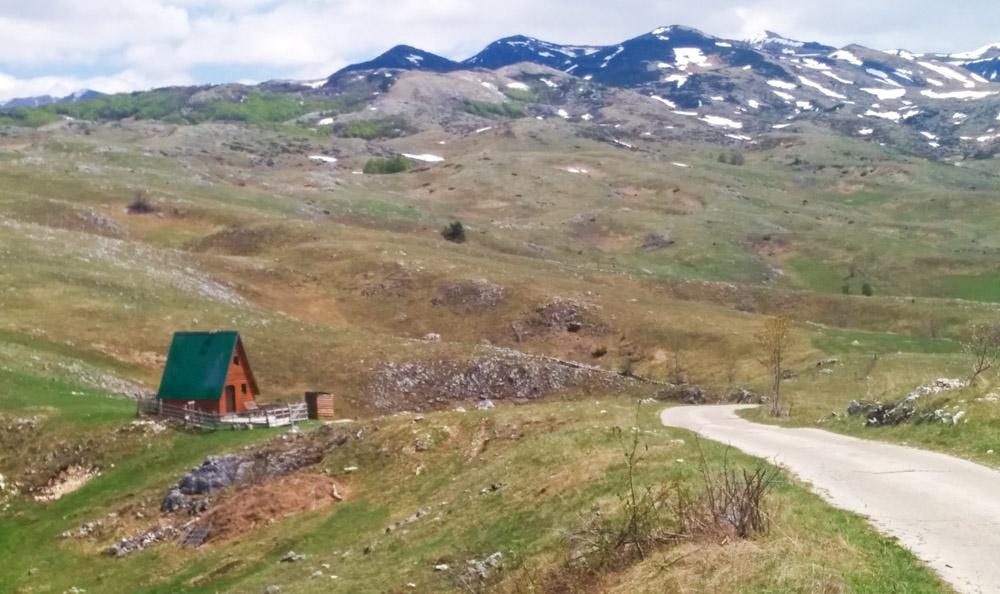 People will be way nicer to me
Traveling off peak can help to save costs and avoid crowds, but I hadn't realized that people would also be so surprised and pleased to see us as well! Seriously, people were SO nice to us while we traveled through Siberia in February. They seemed to think we were insane for visiting in the winter, but somehow their surprise at seeing tourists helped break the ice (oh ha ha, get it?) and we ended up making friends with lots of random locals – even with my questionable Russian skills!
So if you're starting to feel nervous about an upcoming trip, rest assured it will be awesome! Just remember to bring those attachable ice grips for your boots…
Do you enjoying traveling in the winter? Any advice to add? 
PIN IT!