I had high expectations for George Town, the historic capital city of the Malaysian island of Penang. I had only heard raves about its laid back atmosphere and UNESCO worthy sites, and I could not wait to eat my weight in Indian food.
But after loving the big city lights and energy of Singapore, I ended up finding George Town a little… boring.
Luckily I had several days to warm up to George Town, which gave me enough time to fall in love with two things in the city: the street art and the street food.
Street Art in George Town, Penang
Shortly after being named a UNESCO World Heritage Site, George Town began developing a reputation for impressive street art. First, the Marking George Town project set out to tell stories from the city's history and culture with caricature murals. Then when the city hired Lithuanian artist Ernest Zacharevic to paint murals around town, George Town became a destination not only for tourists interested in seeing its famed architecture, but also those wanting to take photos with its beautiful murals.
Of course George Town's beautiful street art is no secret, so if you're planning to visit the city to snap some photos, be prepared to wait in line with other tourists!
I was in town over a long holiday weekend, so the city may have been more crowded than usual. All I can say is wow, so many tourists! On popular streets like Armenian Street and Muntri Street the street art felt a little less urban and a little more theme park, but the murals were still super pretty.
In fact, I think in the end I had the most fun  in George Town just watching people waiting patiently in line to do the same exact poses with certain murals.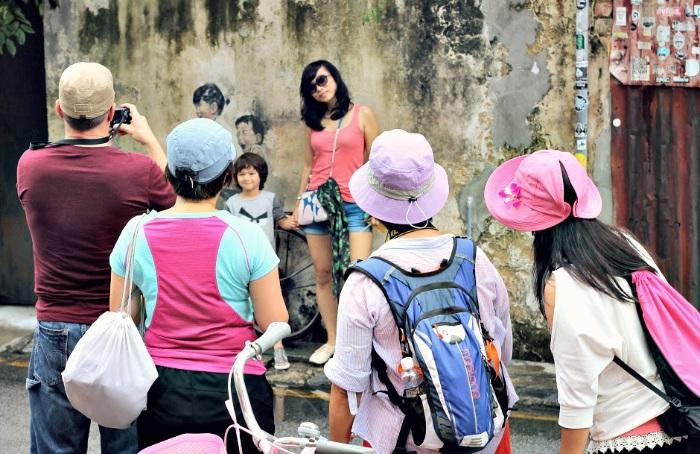 Street Food in George Town, Penang
I loved the mixture of cultures in George Town (and Malaysia in general), where you can wander down an alley of Chinese houses only to stumble into Little India with its vibrant colors and booming Hindi music, and then look up to see the sun setting behind a gorgeous mosque.
But perhaps the best place to experience the city's diverse cultures is in the food. Oh my goodness, that food! I think I averaged five meals a day there – I just had to sample everything!
Sadly this is my only photo of Indian food, even though that's mostly what I ate in Penang. I just always forgot to take photos before digging into all those delicious spicy curries. I mean, a girl's got to have priorities! (You will notice that I've already taken a bite out of this samosa.)
I stayed at B Street Hotel, which is right by Armenian Street and all of the street art. The rooms were clean and I loved being right by Little India and Chinatown. Check current rates and availability here
Pin it!