I visited Idaho as part of a paid collaboration with Visit Idaho
I've already gone on (and on, and on) about how thoroughly Idaho enchanted me. So now you're probably wondering how you can plan your own trip there!
Anna and I had four full days to spend in Idaho and while I could have happily spent longer there, I do feel like we managed to cover a lot of ground and see a nice variety of sights in the state.
This was part of a larger road trip, with us entering from Utah and then planning to head to Yellowstone National Park afterwards, so we didn't head too far north (though next time I would love to!).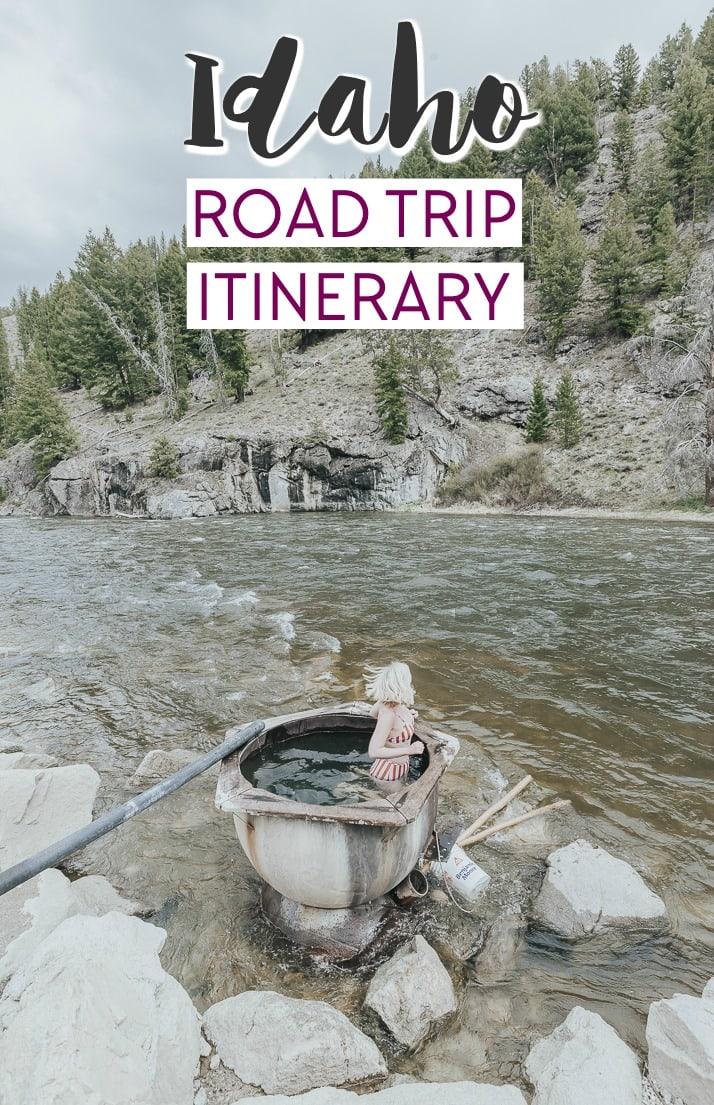 I've also put together a little video with all the highlights from out Idaho road trip:
Day 1: McAmmon
We started off our time in Idaho in McAmmon, which is about a two hour drive from Salt Lake City, Utah.
McCammon itself is a really small town, but it's within easy access to both the world-famous Lava Hot Springs and Geyser Park in Soda Springs.
But the main reason we were staying in McCammon was actually the hotel, The Harkness Hotel.
The Harkness Hotel is a family-run boutique hotel housed in the McCammon State Bank building from 1906. They've updated the rooms with luxurious fittings while keeping some of the original touches – the gift shop is in the old vault, while drawers from the old mercantile store now serve as the desk to their spa.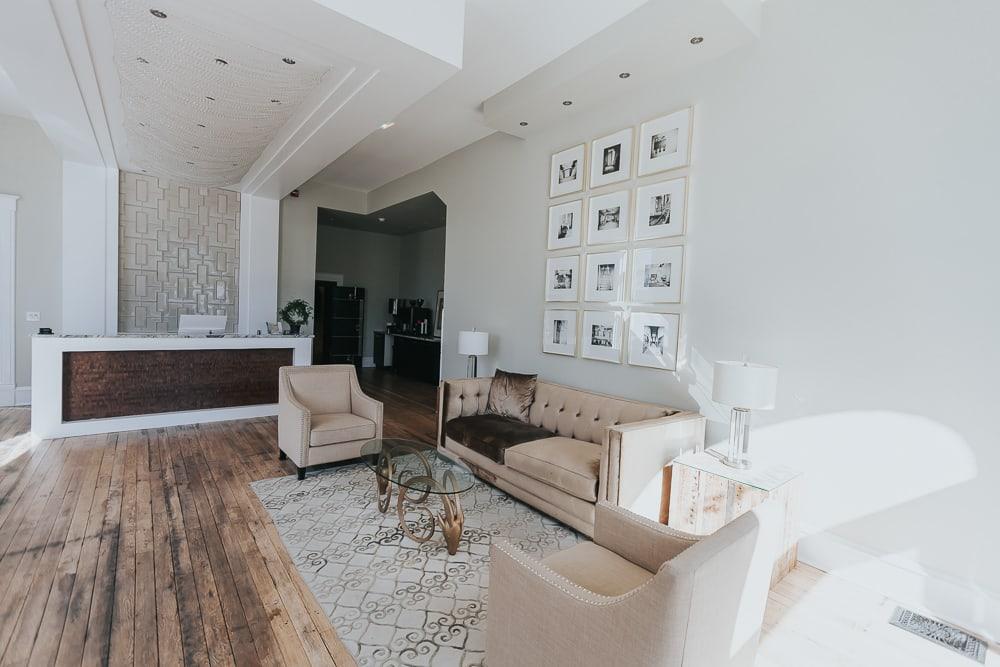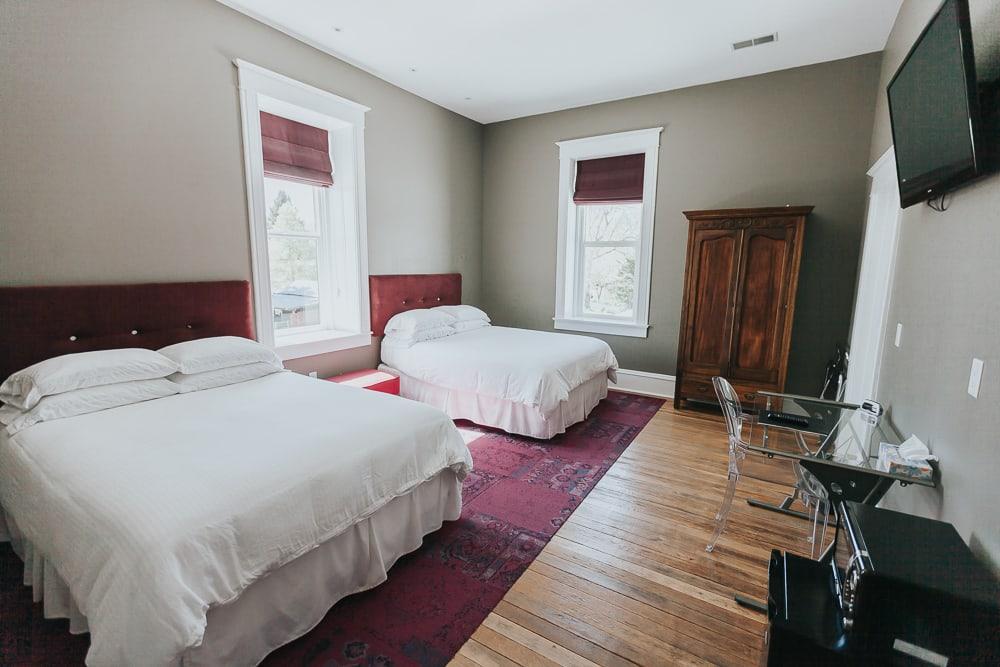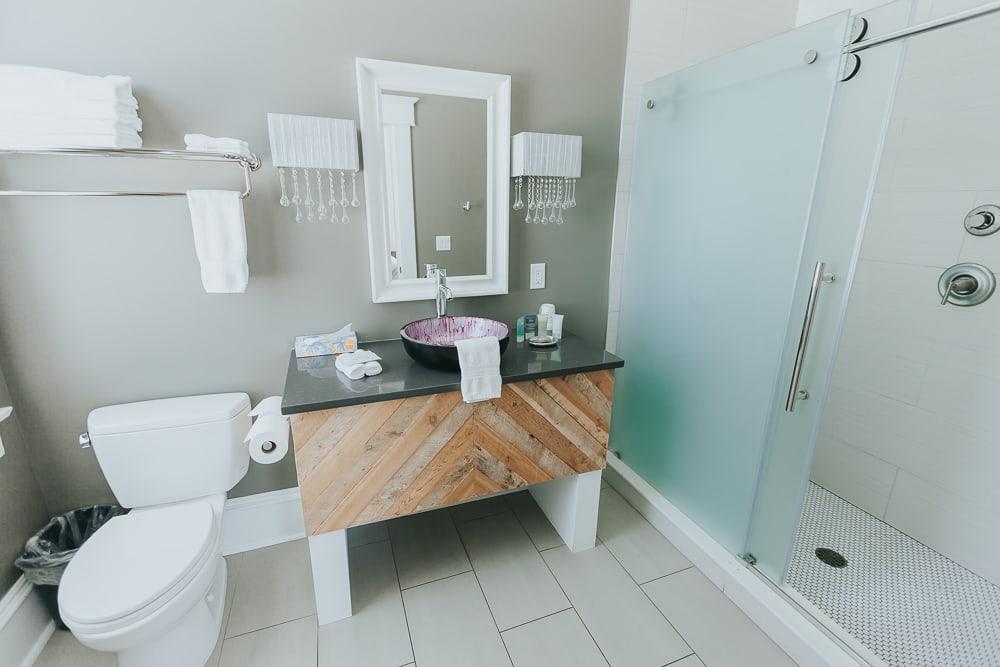 I loved staying somewhere with so much history, and it perfectly set the mood for our next historic stop on our itinerary: Chesterfield. Chesterfield was settled in 1860 but then abandoned by the 1930s, so today it's a ghost town.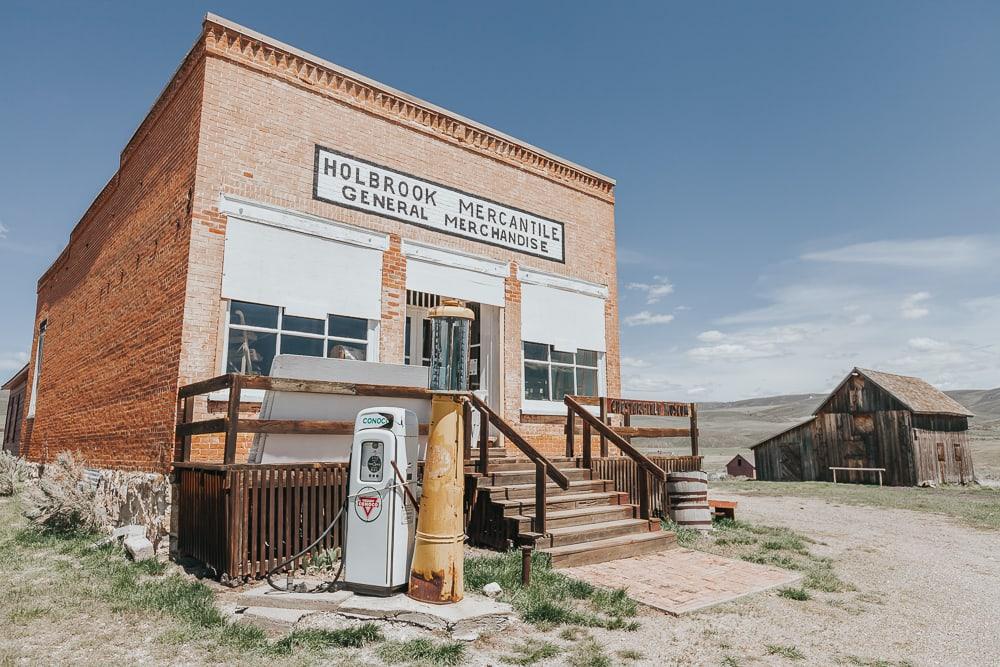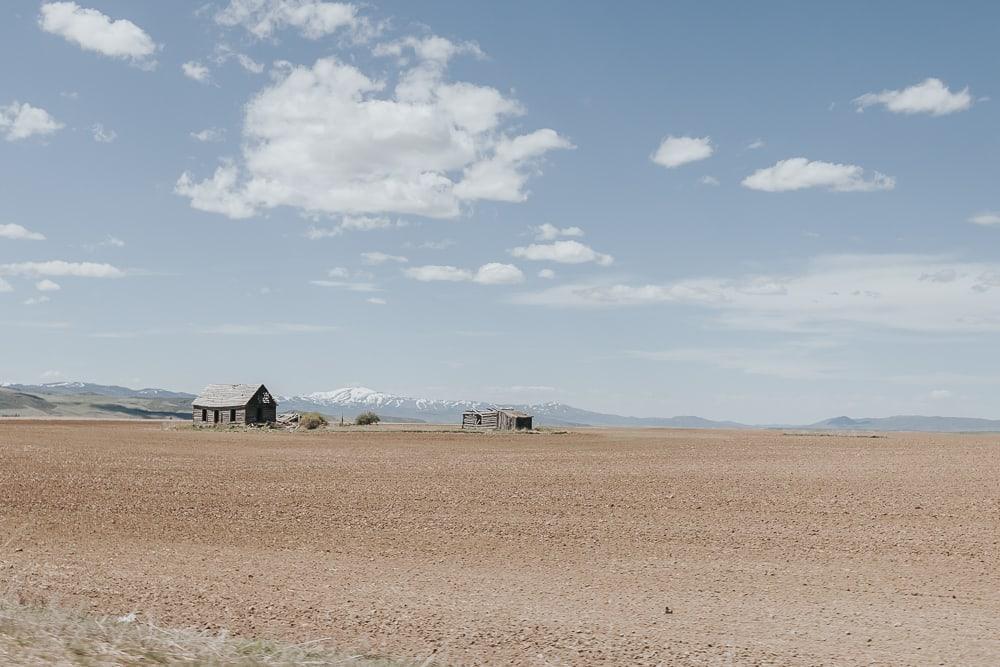 The drive from McCammon to Chesterfield took us along a scenic portion of the Oregon Trail, and then afterwards we headed to Soda Springs to see their famous geyser at Geyser Park.
These days the geyser is capped and only released on the top of the hour so you should try to time your visit accordingly. We had to wait around for about half an hour, but once it started erupting we were glad that we had!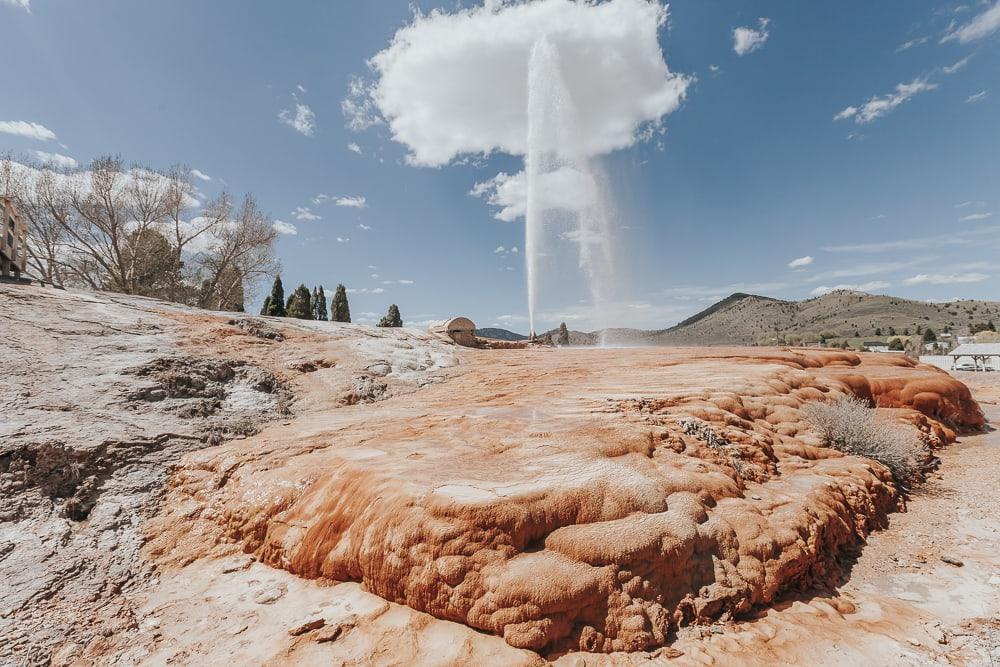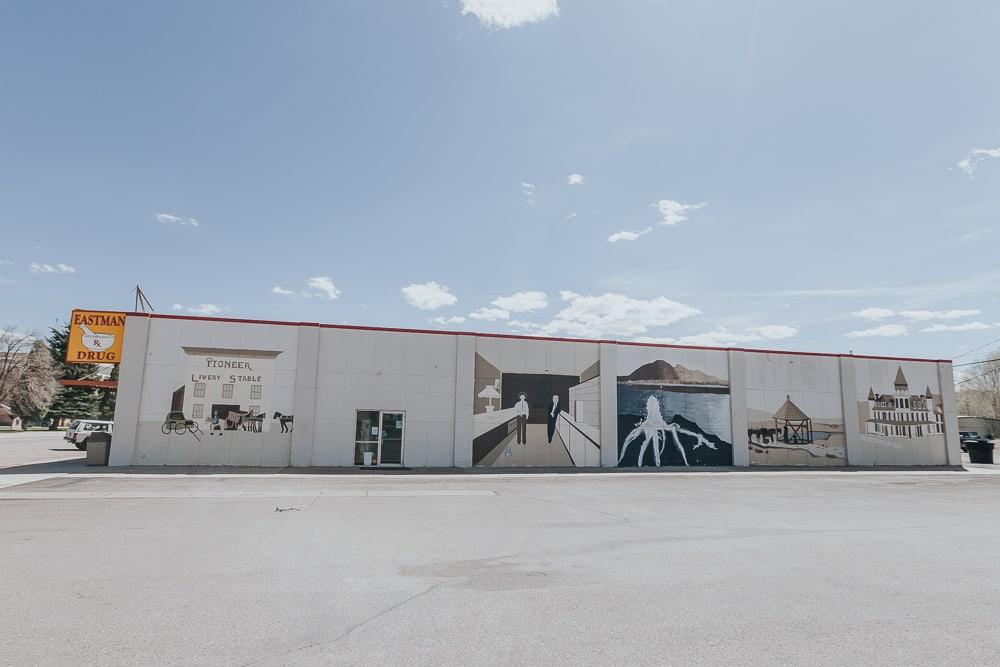 Soda Springs itself is a quiet little town, though we heard that Caribou Jack's is worth stopping by for the barbecue. We visited on a Sunday and they weren't open, so you'll have to tell me how it is when you go.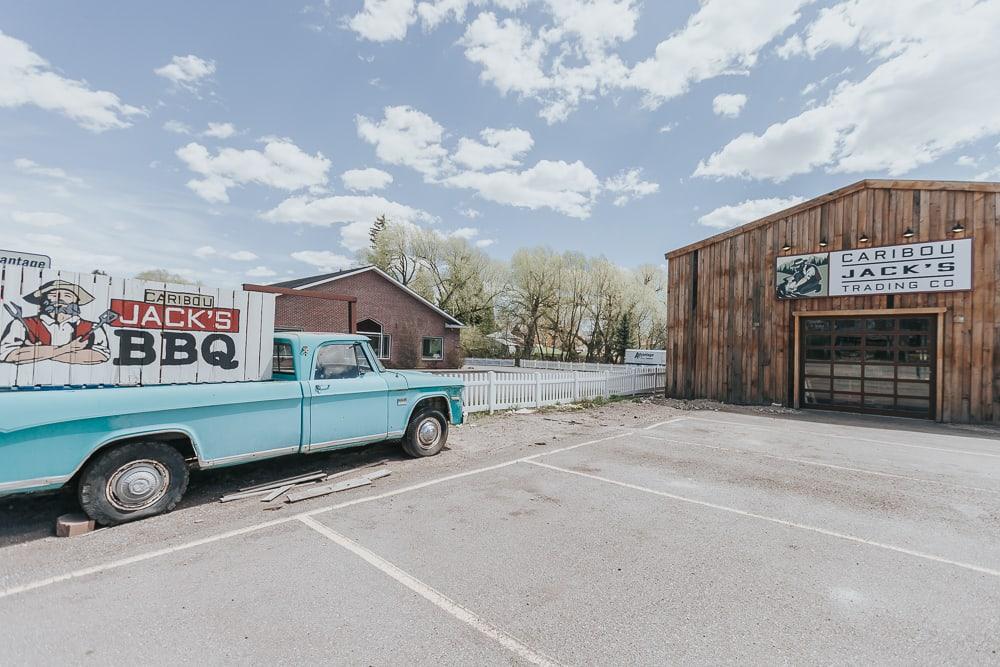 After Soda Springs we made our way back towards McCammon, but this time stopped at the nearby Lava Hot Springs for a soak.
They have several different pools at varying temperatures, and many people believe the minerals in the water are healing. I don't know if that's true, but it was a lovely place to relax with some amazing mountain views.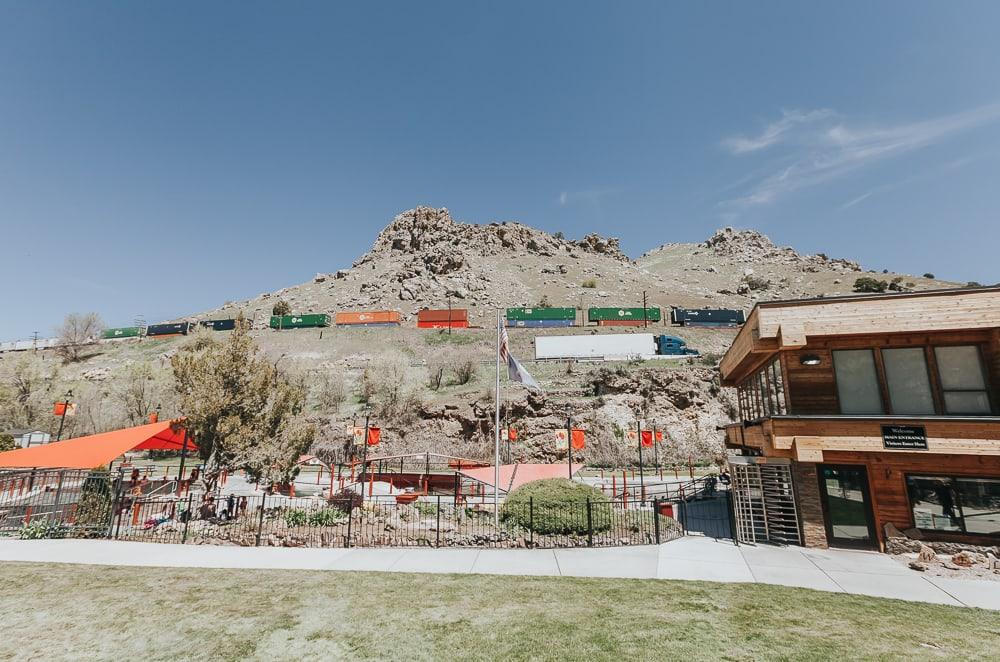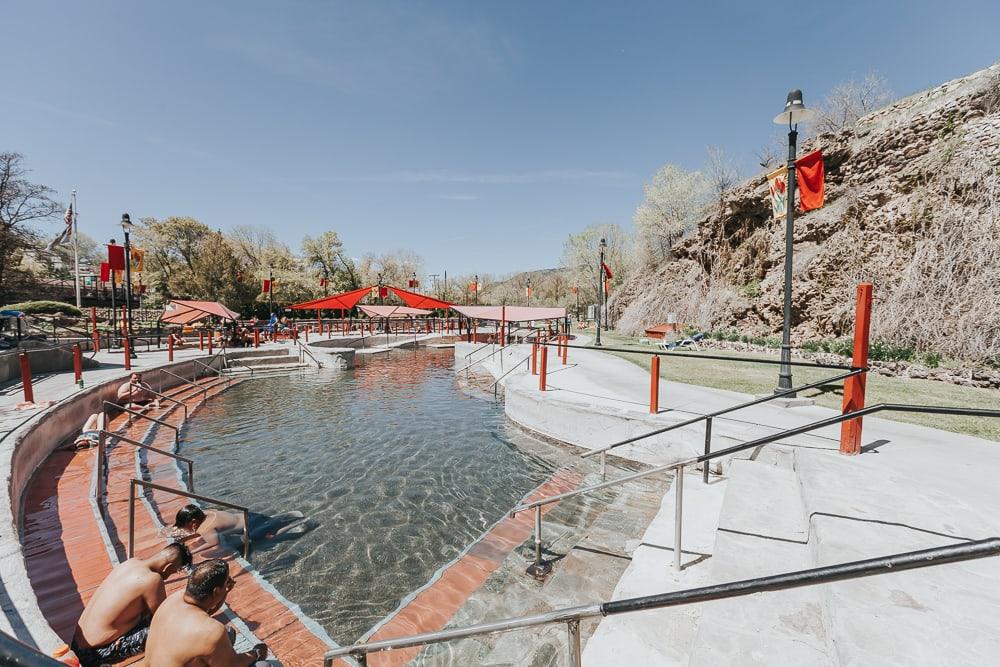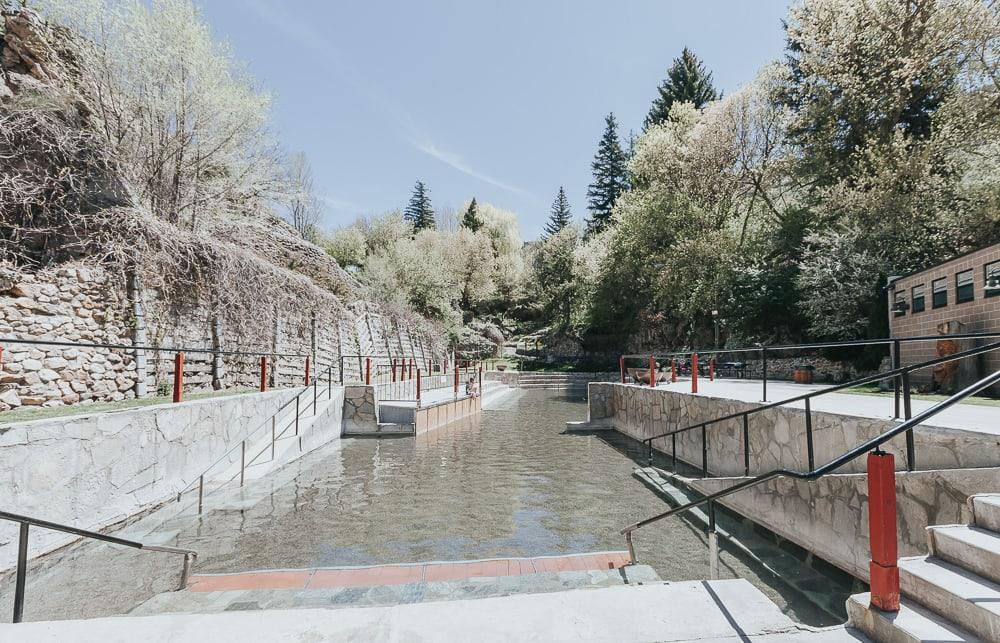 And then we stayed in town for dinner as well. Again, a couple of places on our list were closed, but we ended up at Chuck Wagon, which felt very authentically American – they even had fried pickles!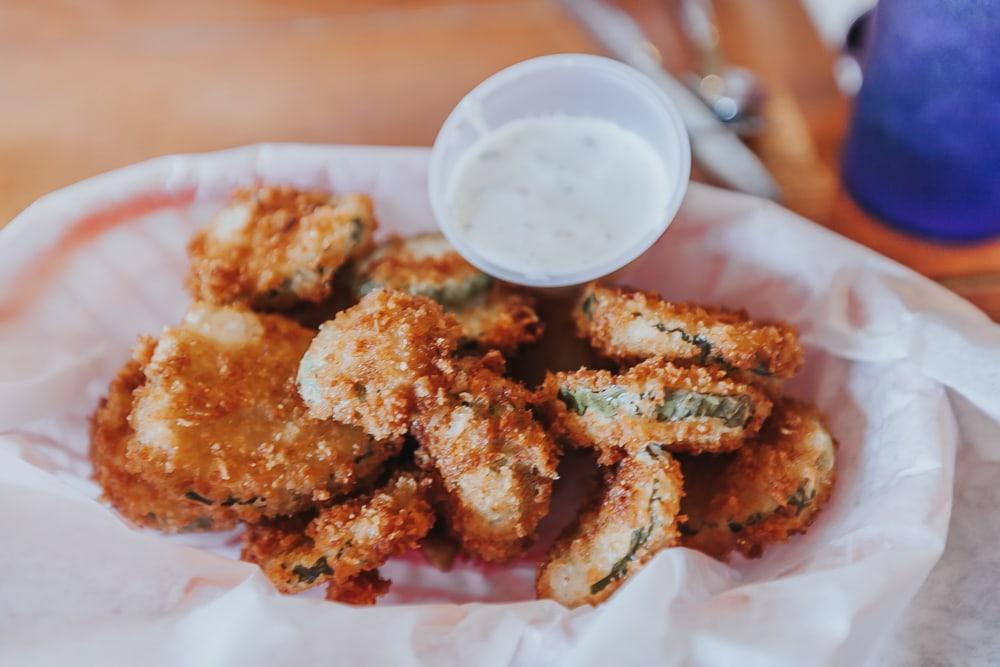 I really loved this portion of our trip, but I feel like I should also mention that Anna was not a big fan. She kept saying how rural it felt, and she had never been somewhere so remote before.
But I loved the sense of history here – I could almost picture the pioneers arriving in their covered wagons – and in fact it didn't feel remote at all to me because we were staying in towns with lots of shops and restaurants. But then again I lived in a cabin with an outhouse for a year, so I guess I'm a big nature fan. If you're more of a city person, you'll probably prefer the rest of the itinerary.
Day 2: Twin Falls
In the morning we drove to Twin Falls, which is about a two and a half hour drive from McCammon.
Anna definitely perked up when we got to Twin Falls, as it feels quite lively with lots of shops, restaurants, and activities on offer.
We headed straight for Waterfront Centennial Park, which is where AWOL Adventure Sports run adventures including ziplining, SUP, and kayaking through Snake River Canyon.
The river is super calm so it was the perfect place for beginner kayakers like us.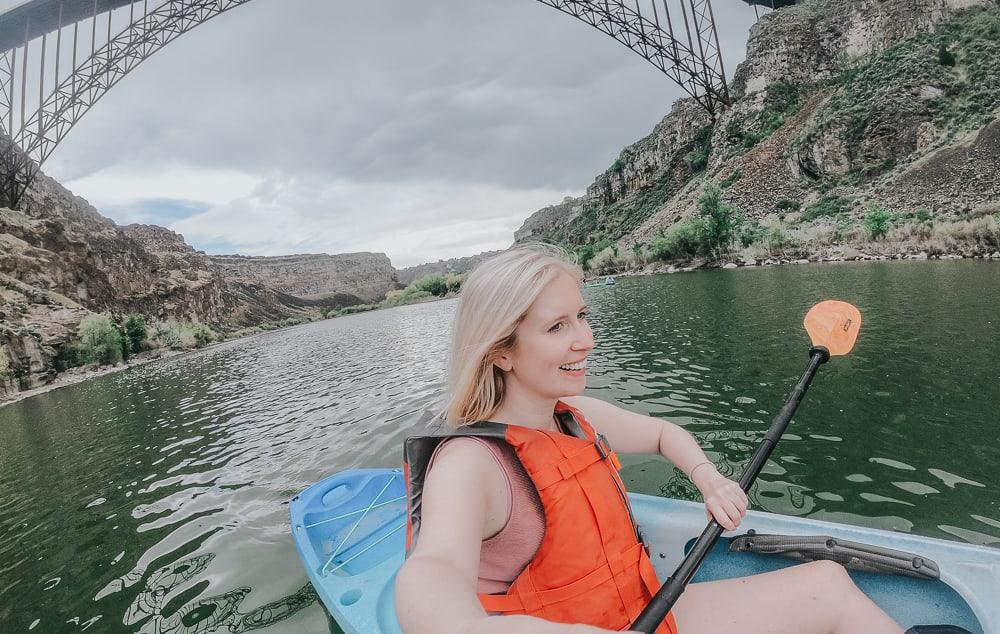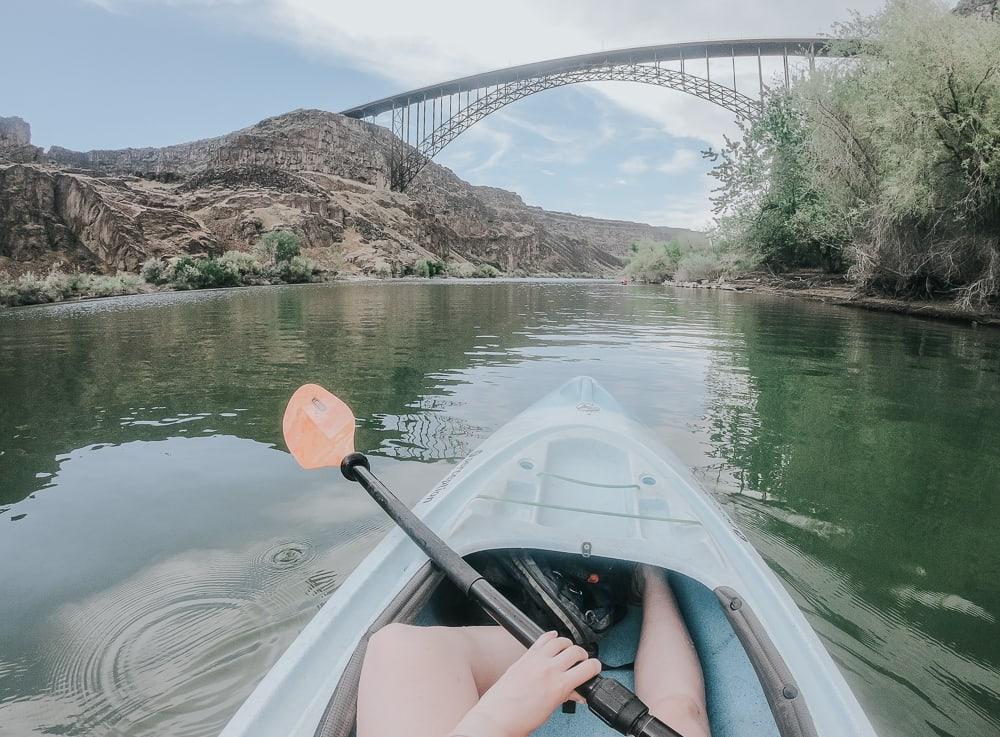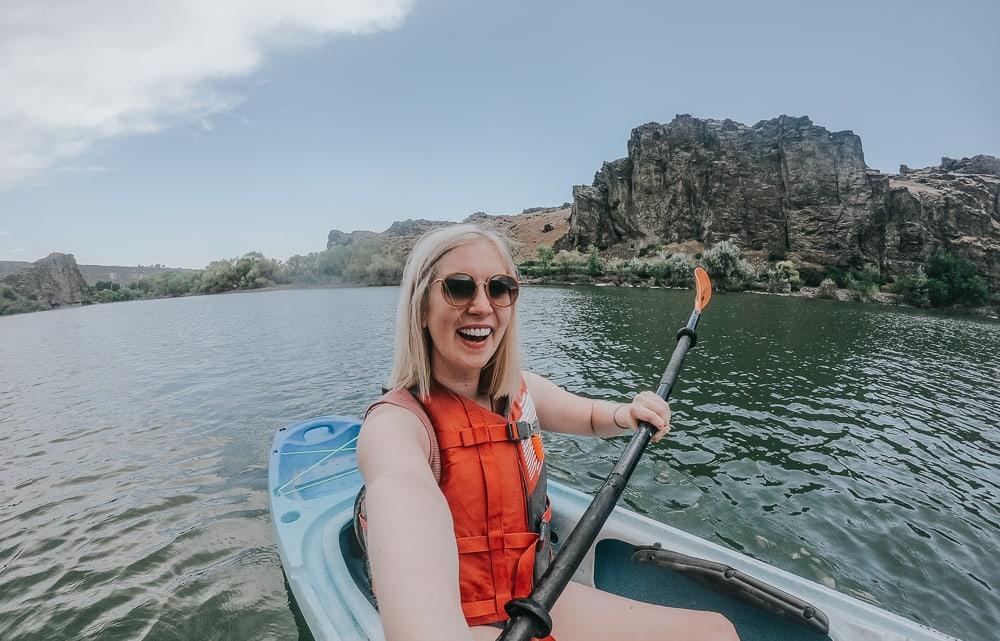 After kayaking Anna was exhausted, but I still wanted to explore a bit so I drove to Buhl to check out Miracle Hot Springs. I booked into a private hot spring bath and it was the perfect way to soothe my muscles after kayaking – I can highly recommend it!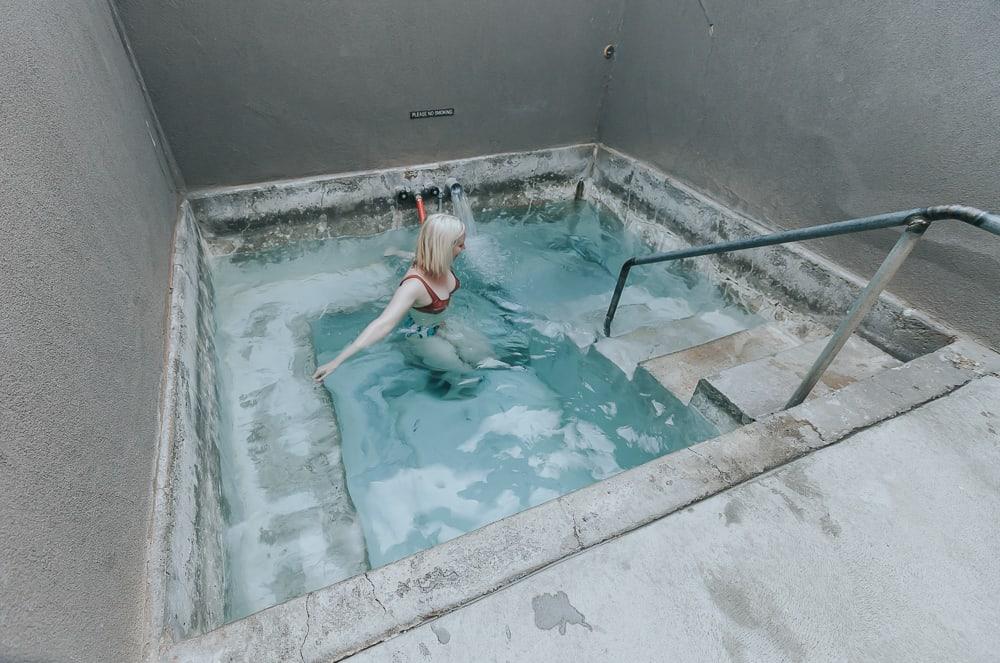 We stayed at the Hilton Garden Inn Twin Falls, which had a lovely spacious room. Check rates and availability here.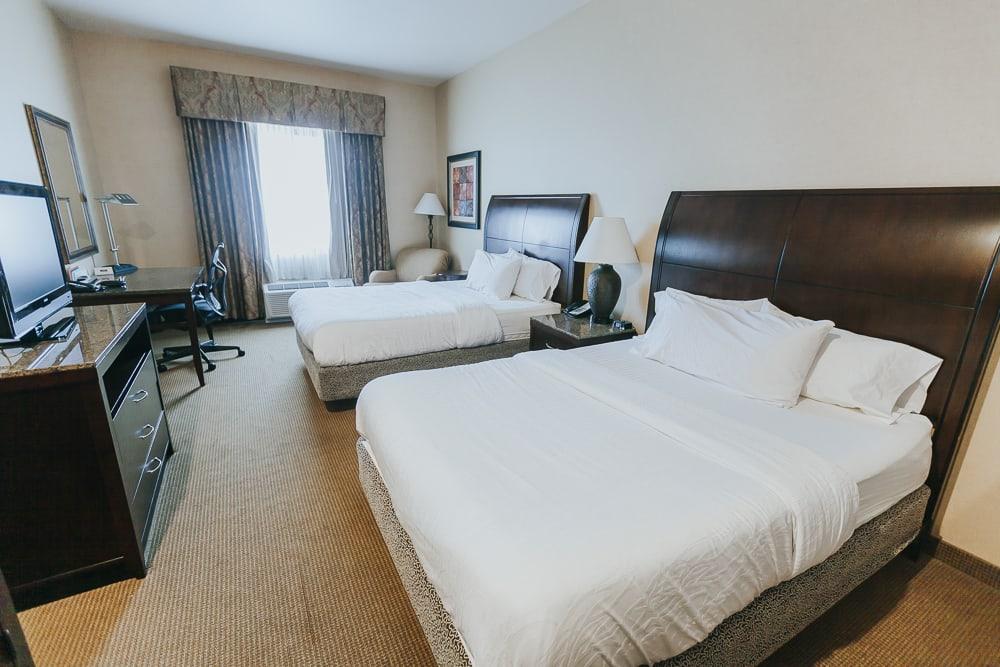 Day 3: Shoshone Falls & Ketchum
Today we headed to Ketchum, but before we left the Twin Falls area we had one important site to check off our bucket list: Shoshone Falls.
Shoshone Falls is known as the "Niagara of the West," but I actually think it's much more beautiful than Niagara Falls.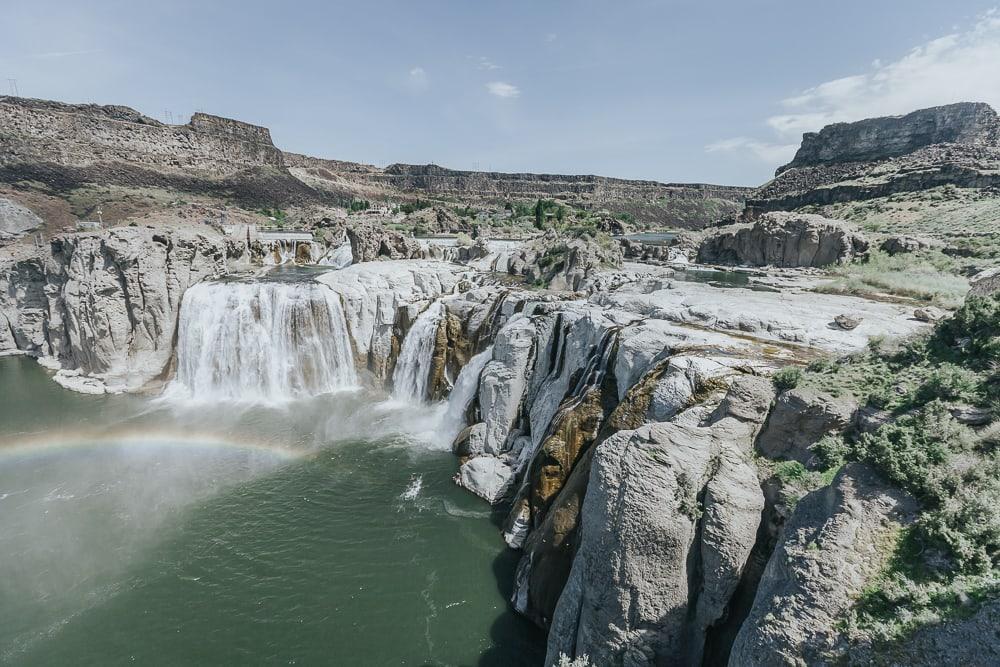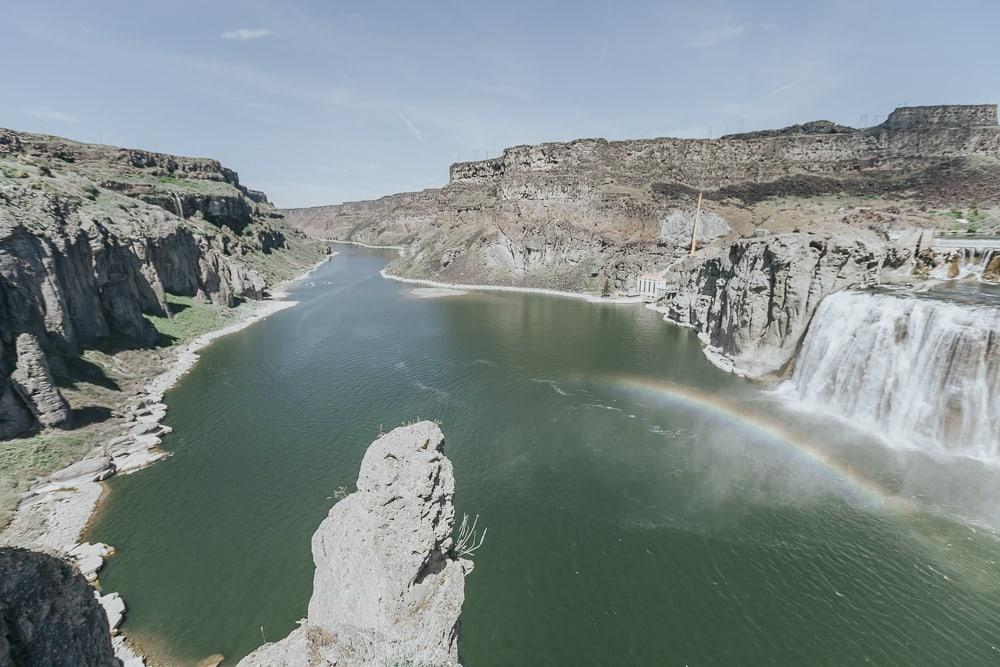 We also wanted to see a bit of Thousand Springs State Park, so we took a little detour by Box Canyon. 
Box Canyon has more waterfall views, though my favorite view was actually from the top of the canyon.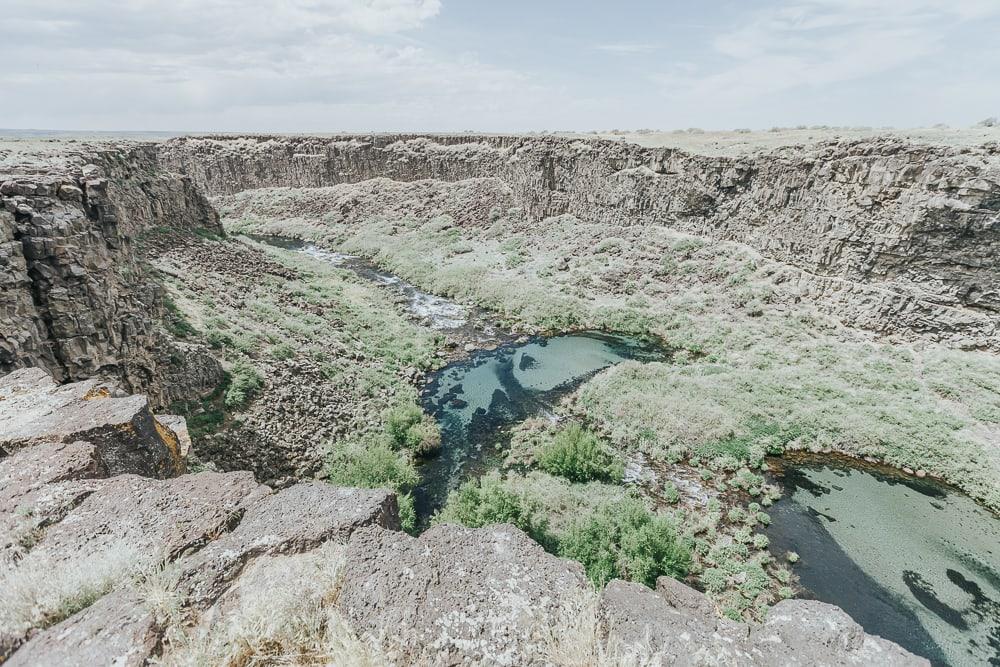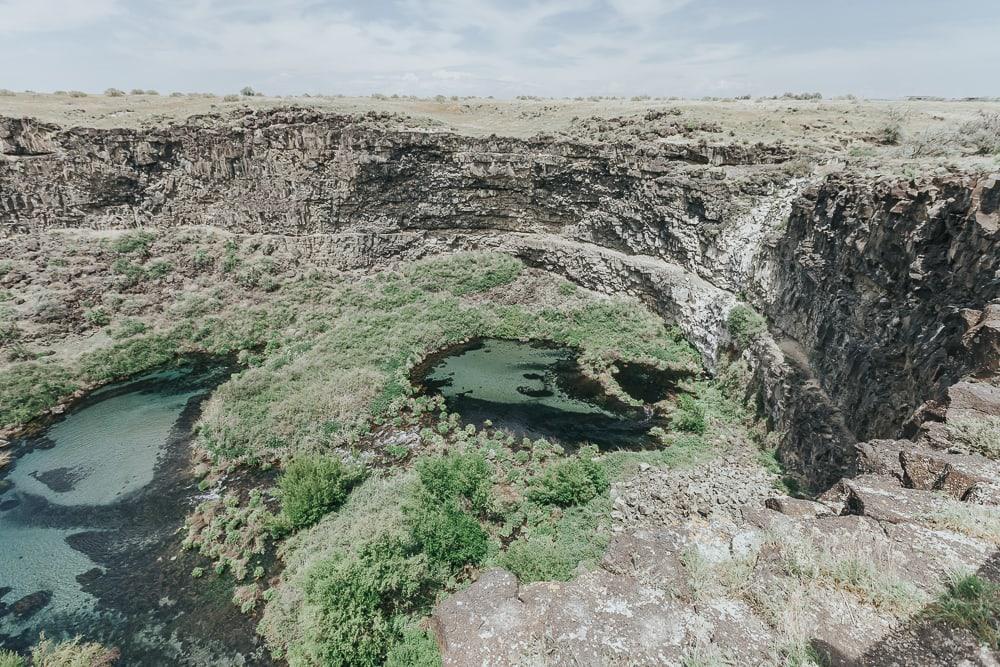 And then we arrived in Ketchum!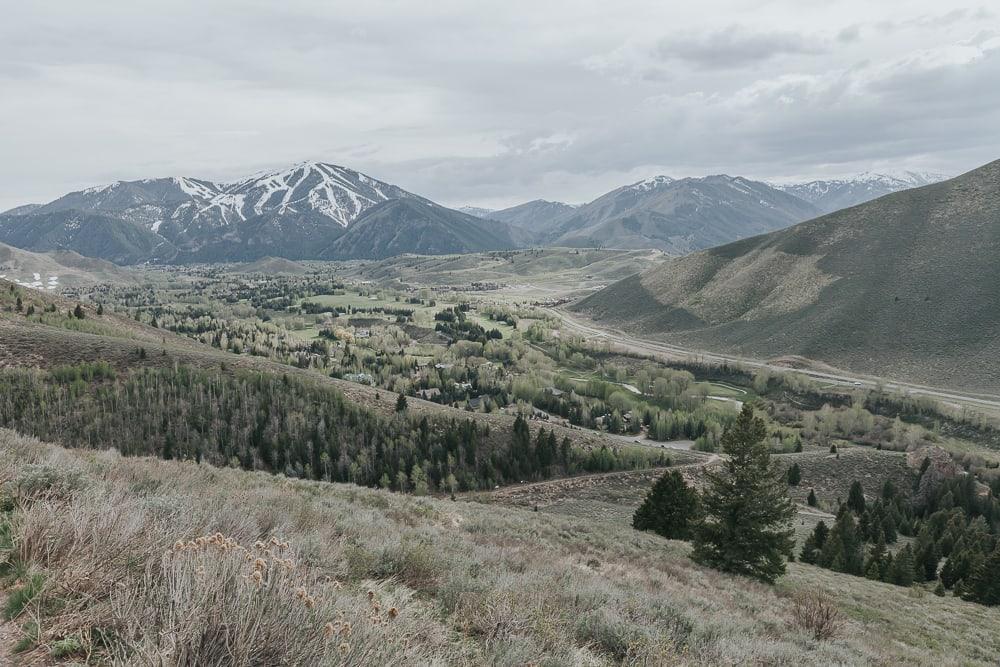 While downtown Ketchum looks unassuming, it's actually secretly really fancy – or at least a lot of very fancy people have homes here. Apparently it's somewhat of a new Aspen type ski area, with lots of celebrities taking ski holidays in the area, however because this is Idaho the town still has a very laid back atmosphere.
In fact I asked a local what he thought about Ketchum's growth in popularity over the years and he said that he's not too worried about it, because "Idaho isn't like Colorado – we won't let the money change us." I mean, I don't know much about Colorado, but I guess that's a good thing?
We stayed at the Limelight Hotel Ketchum, which was my favorite hotel of the trip, so I was extra happy that we had two nights here.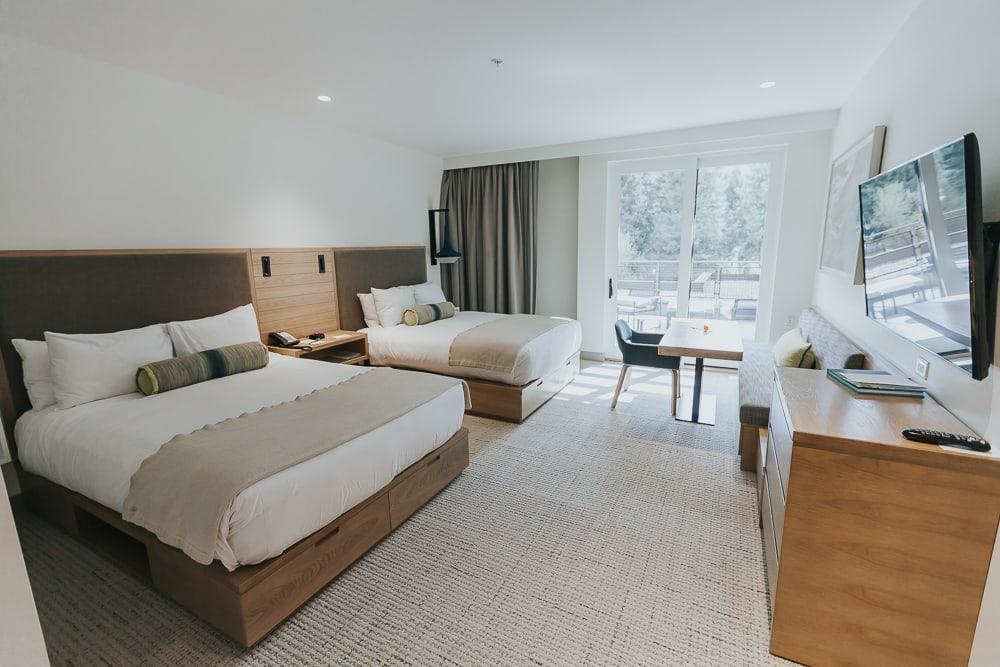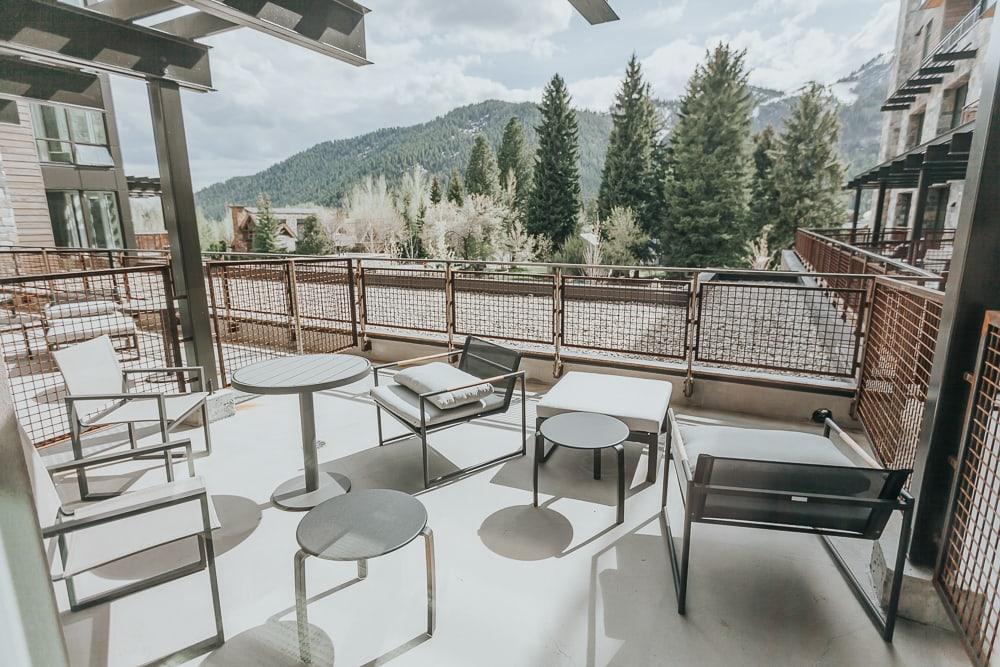 And again, I asked the staff what having such a big fancy hotel has done for Ketchum and they said that the locals are very involved, with lots of local events being held at the Limelight Ketchum. And the hotel also makes a point of giving back to the community through charity projects.
So it looks like Ketchum might be able to keep its character (something which I guess concerns me so much because I used to live in a ski resort town that was rapidly losing everything I loved about it).
Before dinner I opted to go on a quick mountain hike to see some of those famous Ketchum views. The Proctor Mountain loop hike was three miles and quite steep, but worth it for the views on top.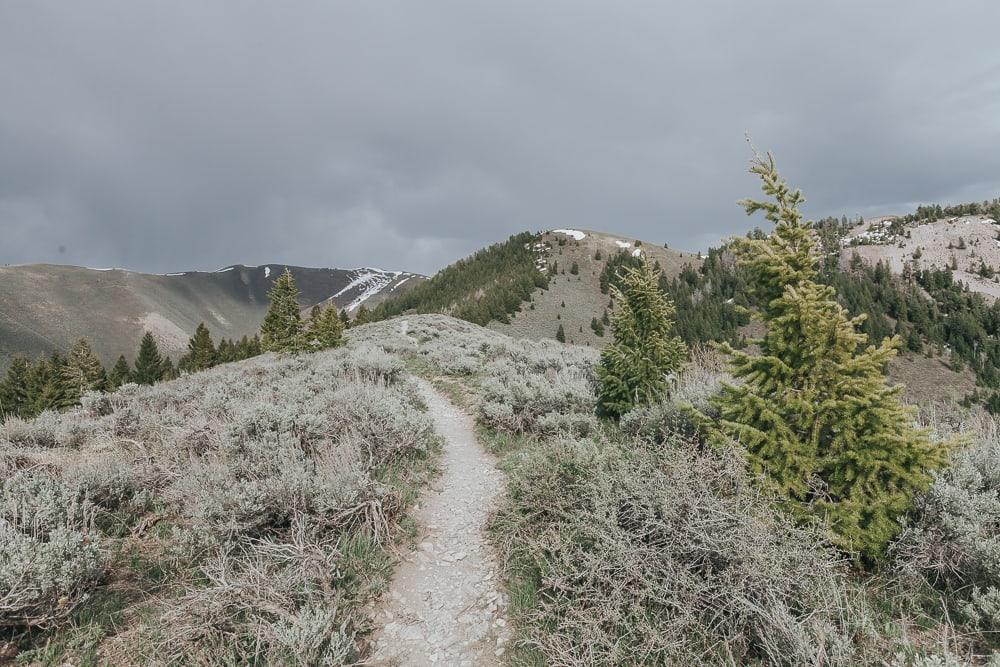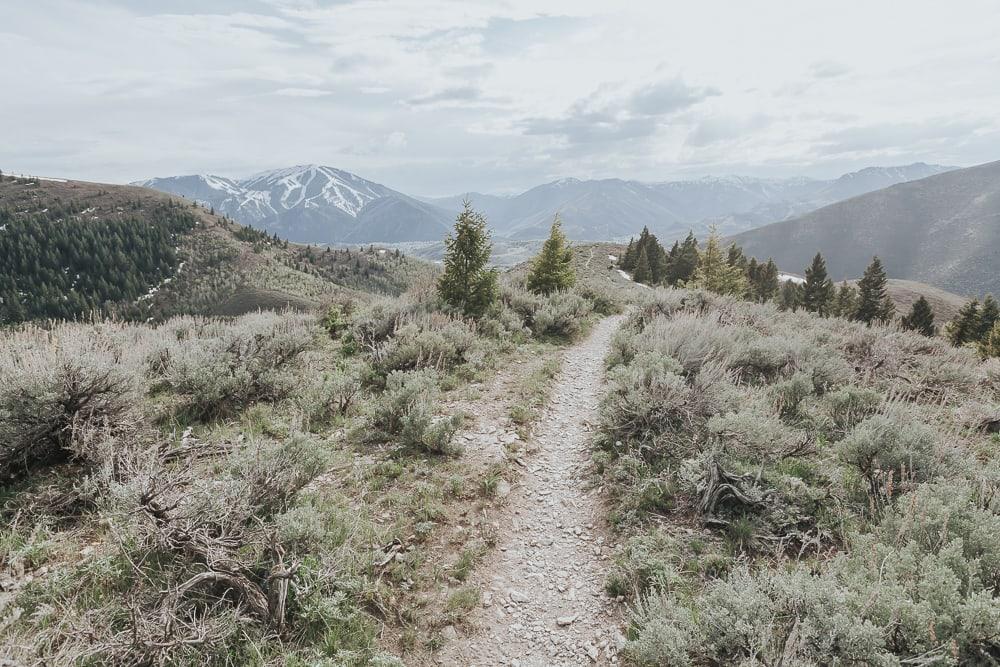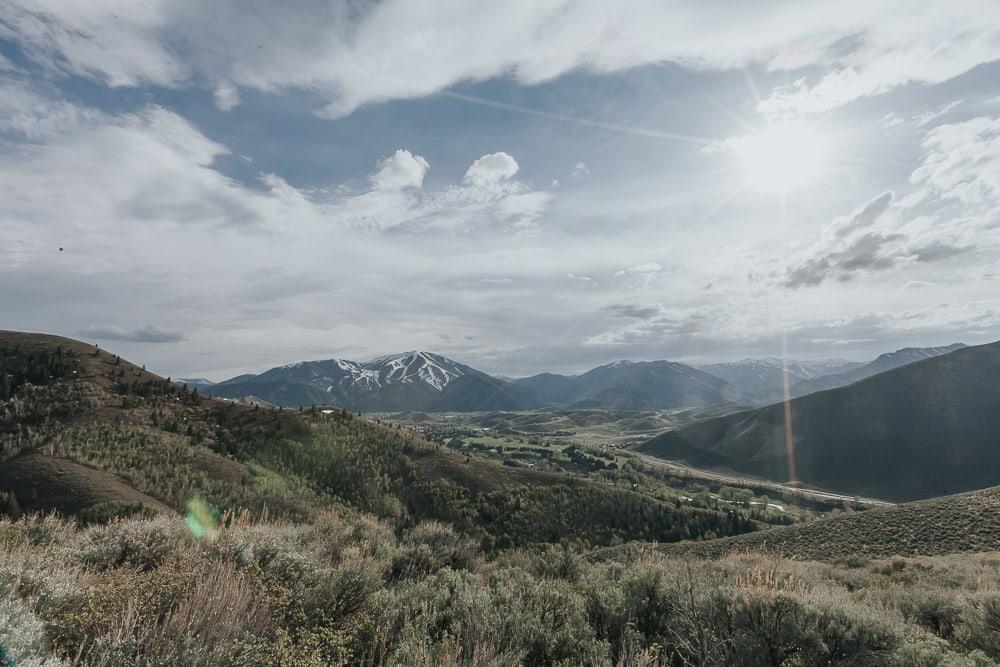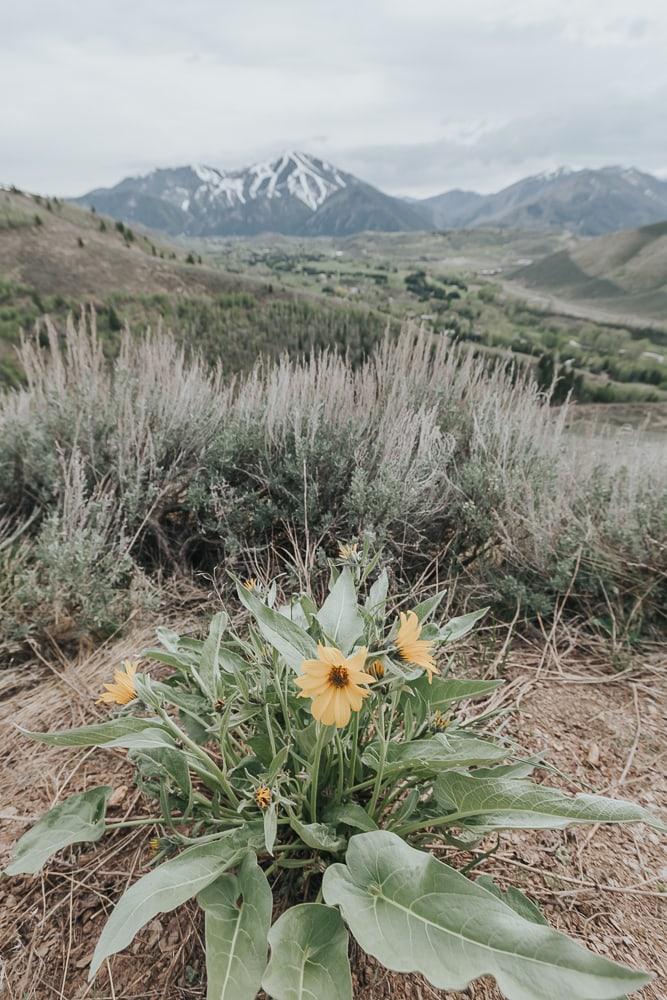 Then Anna joined me for dinner at Warfield Distillery & Brewery, which had amazing food.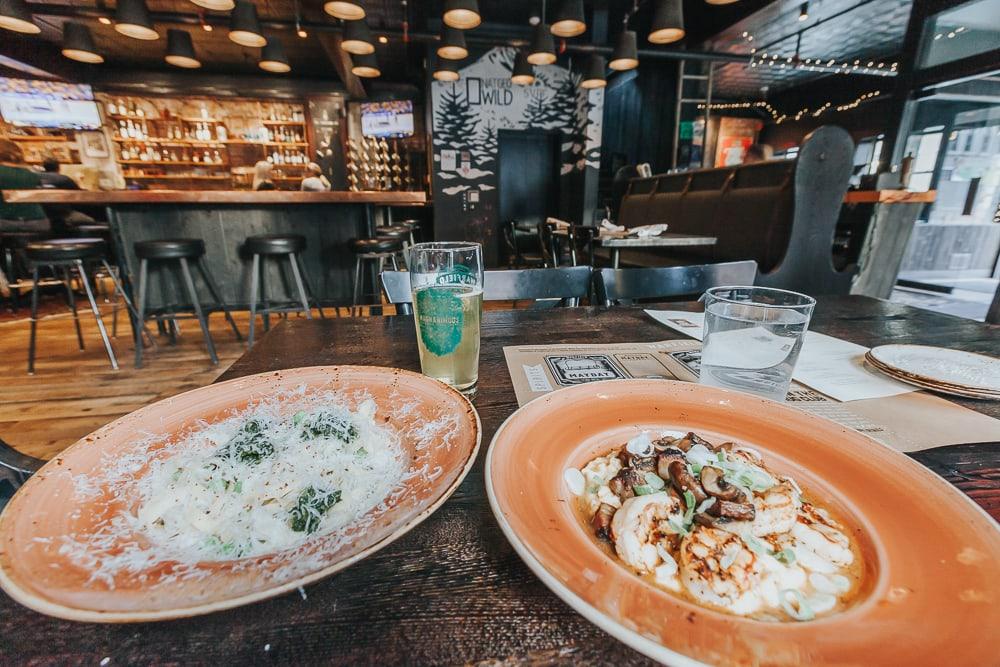 Day 4: Ketchum & Stanley
On our final day we decided to take the scenic drive from Ketchum to Stanley. It's only about an hour and fifteen minute drive from Ketchum, but you'll want to factor in extra time to stop for scenic views and maybe even a dip in a hot spring or two.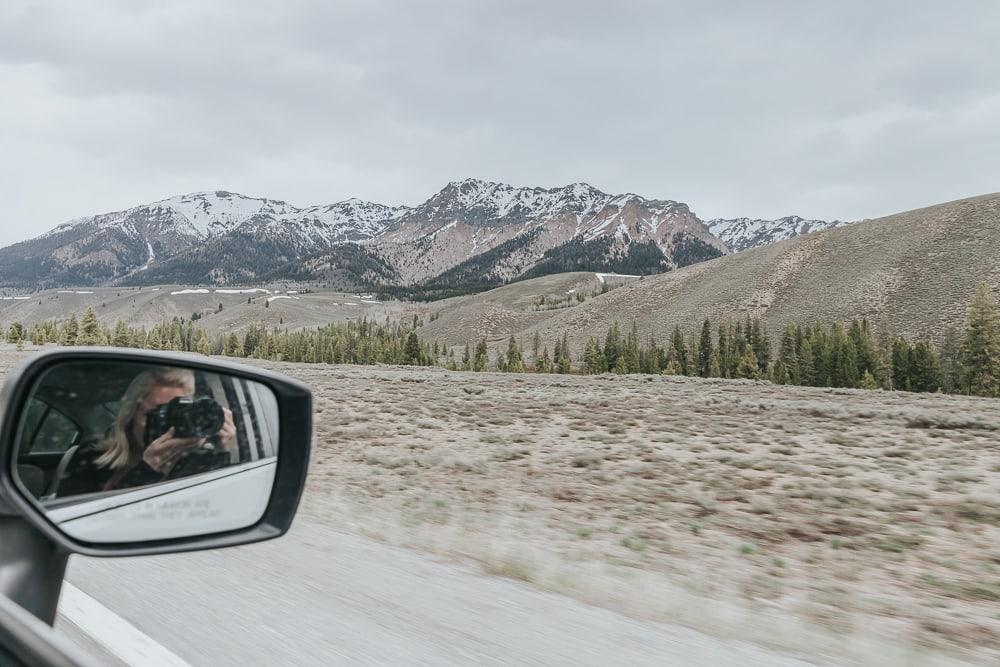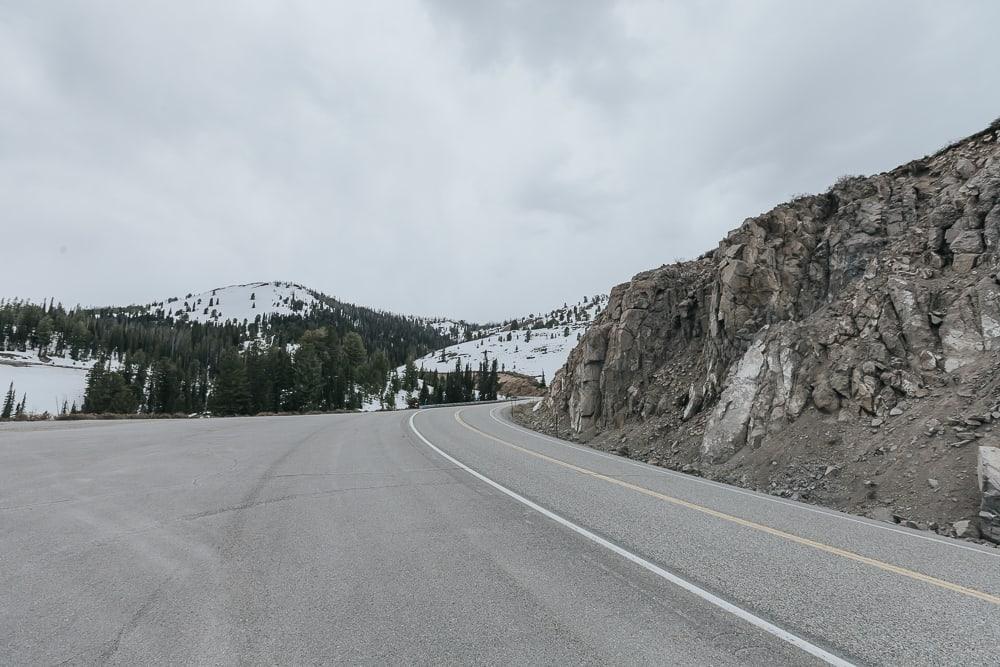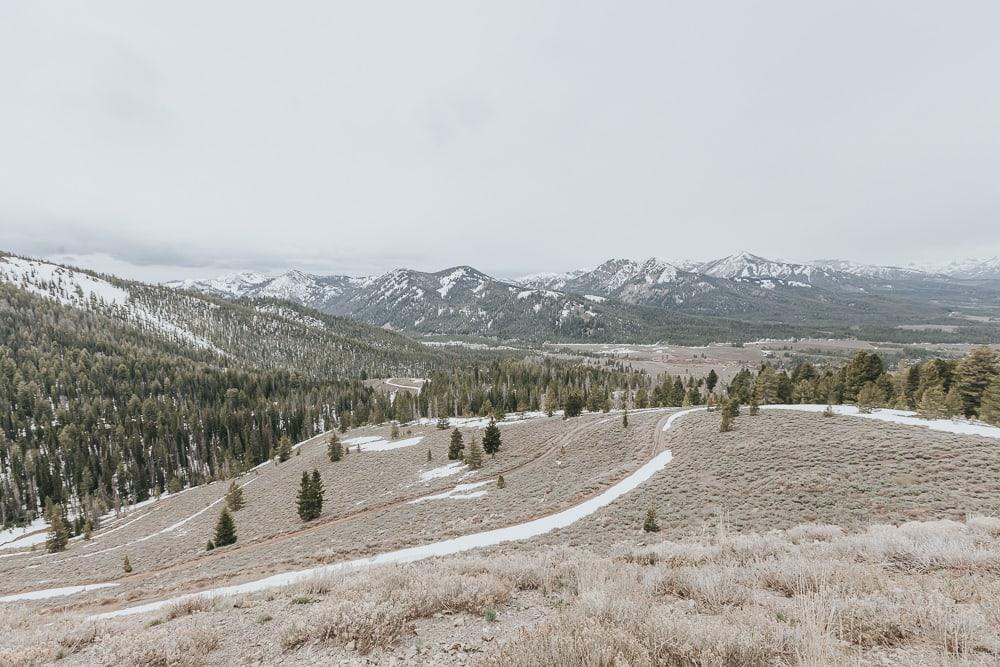 There are a few hot springs right by the Salmon River here, though you'll need to ask a local for exact directions. I managed to find two: Frenchman's Bend and Boat Box.
Boat Box was particularly fun because it's like you're soaking in a boiling cauldron right in the river. There's a bucket for you to cool down the pot with cold river water – and if you're like me you'll dump half the water on yourself trying to lift the bucket into the pot – it's tricky business! But so much fun.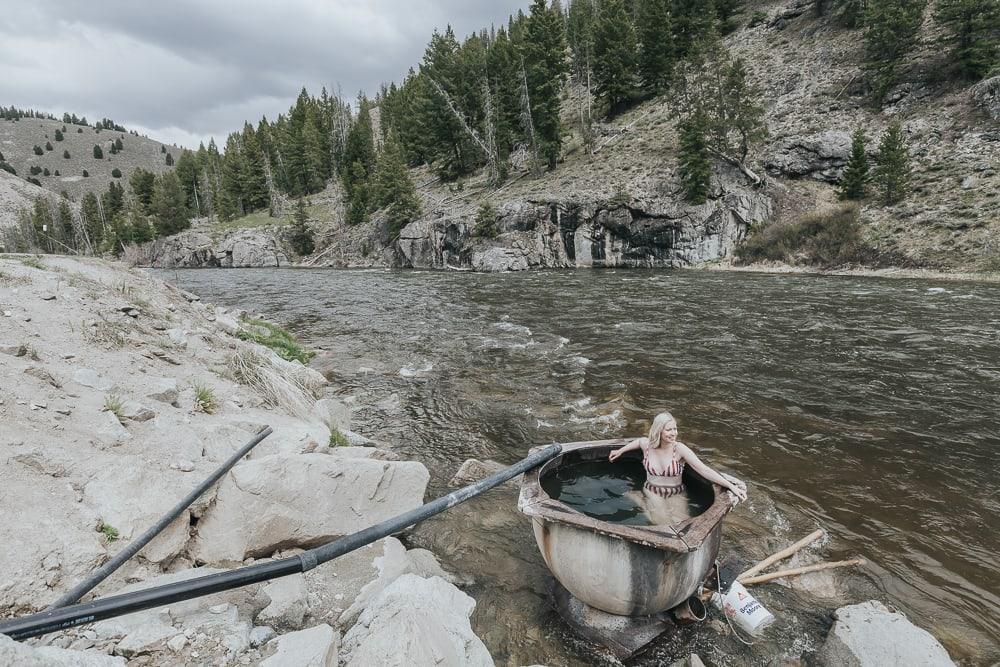 I've heard that this one is quite popular and there's often a line during high season, but luckily we were visiting in early May so we had the place to ourselves.
Stanley itself is right at the foot of the Sawtooth Mountains, so it's a hikers paradise. Though we were quickly rain/snowed out of our hike, so we didn't get to see very much.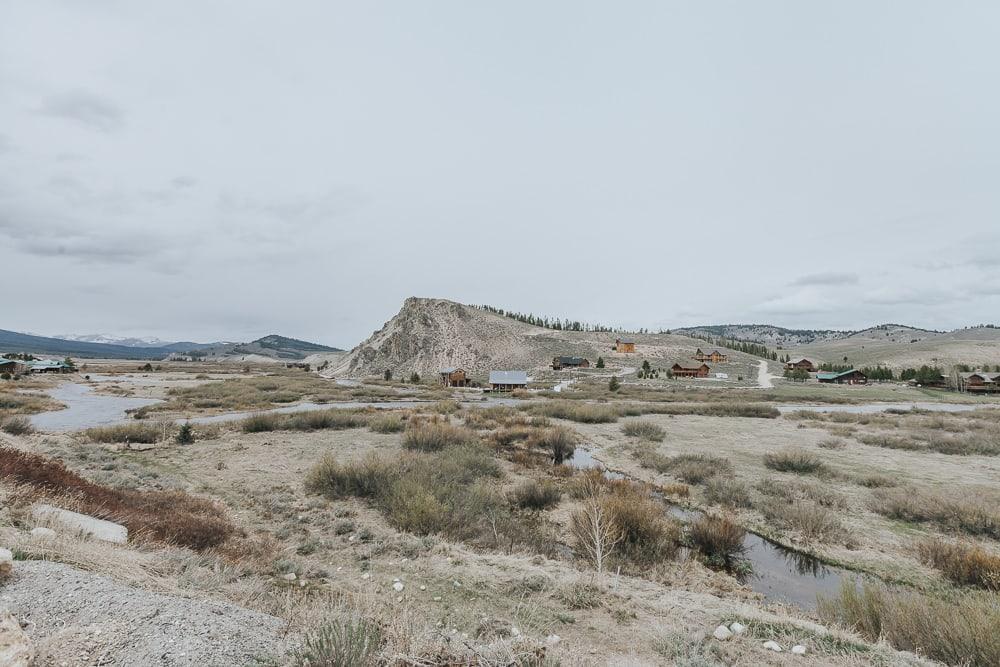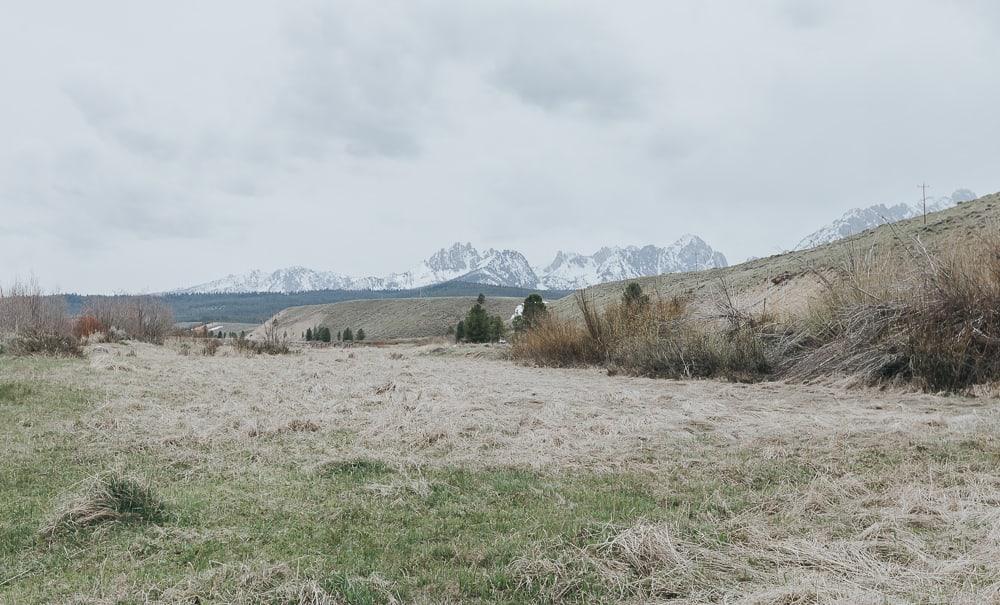 And that's it!
Of course there's so much more of Idaho I'm now dying to see, but I do feel like we managed to get a really good feel for the state in just four days.