Hailandween? Thalloween? Should I stop?
I'm sorry, I just really like Halloween. I blame growing up in New England. But don't worry, this isn't going to be another boo hoo I miss fall in New England post.
Okay fine, it totally is.
If I could pick one holiday to spend in the U.S. it would be Halloween. I get almost as grumpy about not spending it in Massachusetts as I get when I can't spend Christmas in Norway.
My last Halloween in America was one of my favorites, and yes, I dressed up as Taylor Swift, and no, I'm not ashamed. Actually I think it was one of my best costumes, not because it was particularly creative, but because the little girls trick-or-treating were so cute when they were all "YOU'RE TAYLOR SWIFT!!!!"
So there's my hot tip for anyone scrambling for a last-minute Halloween costume: dress as kids' celebrity.
Of course being out of the country doesn't mean I can't still celebrate Halloween!
In Japan I somehow convinced the other English teachers that we needed two weeks worth of Halloween lessons.
When I was volunteering in Mae Sariang I made the Burmese girls I was living with watch tons of Halloween movies (the kids ones – scary movies are too scary!). Because I was living out of a backpack and didn't have my usual arsenal of Halloween costume supplies, we made due by smearing lipstick and black eyeliner all over our faces. Scary stuff.
Last year Danielle and I were backpacking through Dali during Halloween, so once again I turned to lipstick and eyeliner for a costume. We wandered around town pretending to be zombies, but since we were in China we weren't sure if the makeup was getting us any more photos or attention than usual. In fact I'm pretty sure people were still more terrified by my blonde hair.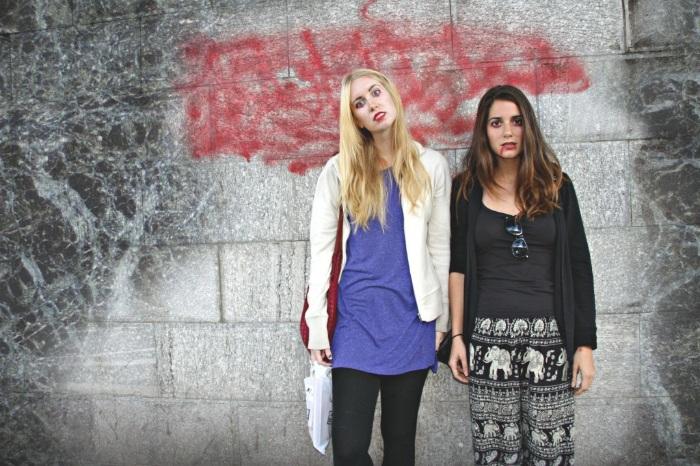 But one of the best things about celebrating Halloween abroad is how exciting it is bumping into other foreigners getting their Halloween on! We spent the evening in Dali celebrating with other Americans – the first we had seen in months – and I'm sure we have Halloween magic to thank for helping us find them!
And this year? My red lipstick was sadly in Danielle's purse when it was stolen in Vietnam last year, so I'm wearing a striped dress instead.
Just like a zebra?
Anyway, now it's time to put on Monster Mash and finish getting ready for tonight's festivities!
Are you celebrating Halloween this year? Where are you? Tell me about your costume!!