I did my visa run in Laos this past summer at the height of the Thai crackdown on tourist visas, and I was a little nervous that I wouldn't be let back into the country. Plus, I had unwisely chosen to stand in line for a very stern looking immigration officer wearing dark sunglasses, yikes.
When my turn finally came, the officer took off his glasses and peered down at me and unsmilingly asked, "why are you so pretty?"
I wasn't sure how to react, but eventually let out a nervous giggle, and we proceeded to laugh awkwardly at each other for a good twenty seconds before the he stamped my passport and waved me through, no more questions asked. At least I didn't cry or puke.
Since then I've often asked myself why things are so pretty, usually as a joke when they really aren't because that visa-run morning I definitely was not looking pretty. But in Boracay I asked myself this question countless times in all seriousness.
Like actually, how can one little island be so freaking beautiful?!
When I was first looking for a beach to go to in the Philippines I didn't even consider Boracay, because I thought it would be too overrun by tourists. But finding coordinating flights from Kuala Lumpur to Manila and then to a beachy paradise (I only had a week so didn't want to waste a night in Manila) proved to be a bit of a nightmare. So when Miriam told me to just go to Boracay and I found a direct flight from KL to Kalibo for $60 I was sold.
In the end I was happy with the decision, not just because Boracay is beautiful and totally deserving of the hype, but also because it was just so easy. The two hour journey from Kalibo airport to Boracay was a breeze, finding accommodation was stress-free, and the beach hawkers, while annoying, knew how to whip up some delicious mango smoothies.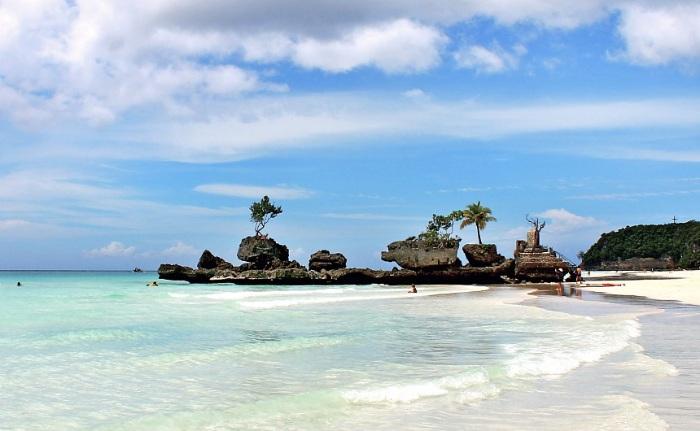 I had read that Boracay was expensive, but while my hostel bed was a little pricey at $14/night, I still easily spent under $25 a day. I rarely paid more than $2 for a meal, and most of the time I was just lazing on the beach, which didn't cost anything.
But if you still want some tips, Justine at the Travel Lush wrote a great budget guide for Boracay.
I spent my first two nights at Trafalgar Cottages on Station 3, where I split a double room with a girl I met on the boat to Boracay. We each paid $6/night without breakfast. The room was very basic with a shared cold shower, but the location was nice.
I also spent a few nights at MNL Beach Hostel on Bulabog beach, where I paid $14/night for a bed in a female dorm with breakfast. The hostel was clean and they provided shower and beach towels, but the staff weren't exactly friendly. I really only stayed there so that I could be in a dorm and meet other travelers.
PIN IT!