Around this time last year, Danielle and I were hatching a plan to get out of Israel (for those who claim you need more than two weeks to explore the country *cough cough Danielle* you don't) and fly to Greece. When our flight included a 16-hour layover in Belgrade I Facebook messaged my blogger friend Megan for tips, and she in turn tweeted her blogger friend Nate, who promptly emailed me to invite us to stay with him and Phillipa and give us a tour of Belgrade.
When I responded to let him know that unfortunately we wouldn't be arriving until 11 pm and would have to leave the next morning he responded simply: "all the better!"
I should have known then and there that this couple is insane.
Insane in a good way, though, so when my blogger friend Kamila told me that Nate and Phillipa were now based in Budapest, you better know whom I tweeted when Dan and I headed to Hungary.
Nate, Phillipa, and I share a love for places described with words like concrete, brutalist, abandoned, Soviet and drug capital, so it seemed funny that we were meeting in Budapest. I mean, let's not get carried away, we were still catching each other in a place once tucked behind the Iron Curtain, but you might not think so by looking at the city.
What I'm trying to say is, Budapest is beautiful. As far as looks go, Budapest rivals – and tops most of – Western Europe's great beauties. The first time I visited Budapest I had just returned to Europe after two years in Japan, and I remember wandering around the city in awe. I had forgotten that architecture could be so pretty.
I really love that while in Budapest you don't have to check any guidebooks for the prettiest areas or main sites (well, of course you can if you're on top of things like that) but you can simply wander around and everything you see will be stunning. That's a promise.
It was also quite a good thing because after being greeted by Nate and Philippa in the evening and bidding farewell to them in the early hours of the morning after endless chats about our travels through Iran, Central Asia, and the Balkans and a pretty stellar late-night deli meal, Dan and I were pretty exhausted on our second and last day in Budapest.
Lucky for us, and most visitors as, let's face it, Budapest is a tourist favorite not just for its pretty architecture but also for its vibrant nightlife, Budapest is the perfect place to aimlessly wander through and fall in love with. Which is exactly what we did.
Forget Norway, and forget Slovakia, maybe I just need to move to Budapest?
Where to Stay in Budapest
Dan and I stayed at Wombats City Hostel Budapest, which made for the perfect base from which to explore the city. Wombats is a huge hostel and felt a lot like a luxury hotel with dorm rooms. The rooms were spotlessly clean, and I especially appreciated our 4-bed dorm's ensuite all-white bathroom – it certainly wasn't the typical hostel shower where you need to wear flip-flops! Check current rates and availability here
After sleeping on a dangerously rickety metal bunk at Wild Elephants the night before in Bratislava, I also was so happy to see sturdy wooden bunk beds in the dorm. I slept like a baby!
As Wombats is a very big hostel, it's probably most ideal for groups traveling together, though the downstairs bar and common area were always full of people for solo travelers to meet as well.
What do you think the prettiest city in Europe is?
PIN IT!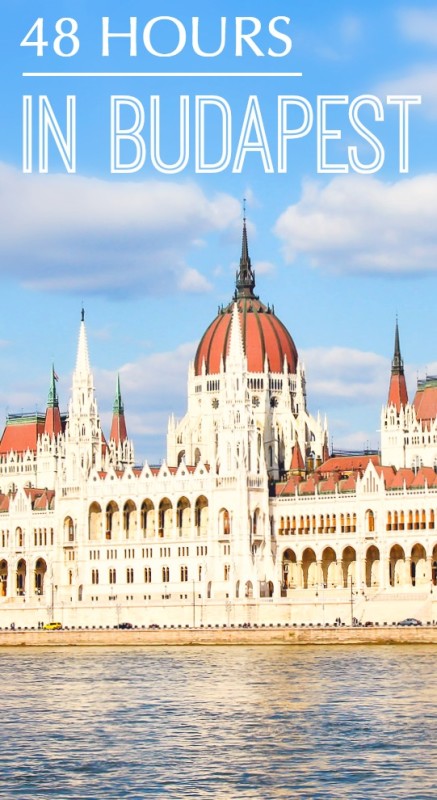 Many thanks to Wombats City Hostel Budapest for hosting us during our stay in Budapest. As always, all opinions are my very own!